Layered Lemon Jello Cups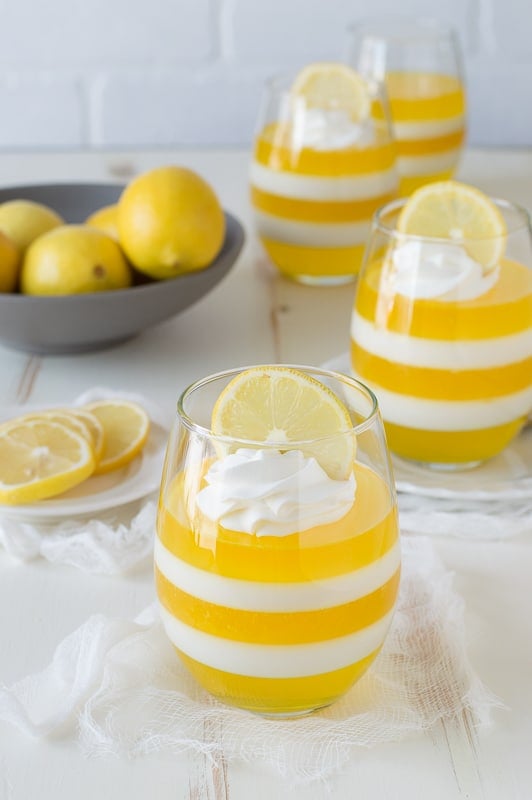 Say hello to the jello cup! If you've been around for a while, this isn't the first jello cup you've seen.
Our jello cup craze all started with these layered strawberry jello cups which we shared for Valentine's Day. I thought they were going to be more of a seasonal thing people come to the blog for, but ever since I shared the recipe, it's still one of the top 3 recipes people are coming for each day! So if the people like jello, I will give them more jello! I might just give you a jello cup recipe for every holiday and in every color under the rainbow. Speaking of rainbows, if you like the idea of rainbow jello, we have a recipe for rainbow jello squares!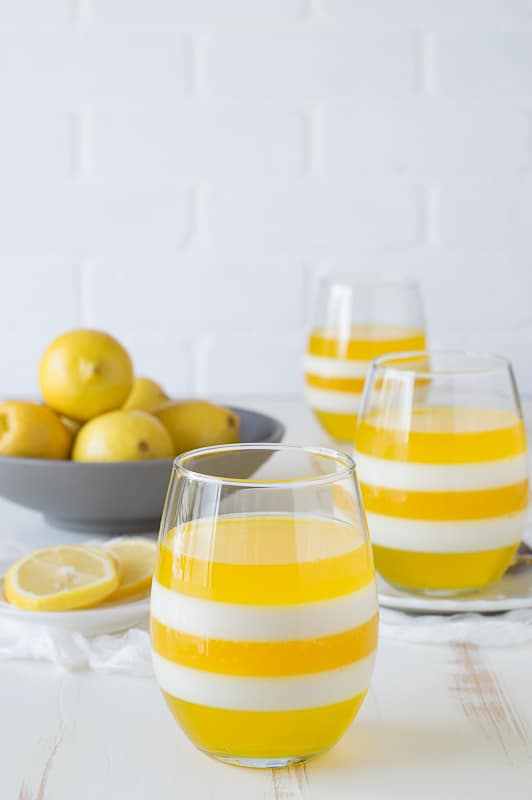 I love the brightness of these lemon jello cups. They remind me of a glass of lemonade, which reminds me of lemonade stands. I remember setting up lemonade stands on our street when I was younger. I think we might have sold cookies too, it was fun.
It's a bummer because it seems like no one values lemonade stands anymore. Kids don't seem to have them as much and I think us driver's are to blame too. We're too busy. We don't want to stop. And as much as we loved having our own lemonade stands when we were kids, we don't love the super sugary lemonade anymore. I'd rather quench my thirst with an iced coffee – anyone else agree?
If your kiddos are thinking about having a lemonade stand this summer, convince them to sell iced coffee instead, I think it will be more profitable. Plus it will teach them valuable lessons, like how to make coffee.. and you'll really benefit when they start bringing you coffee in bed :)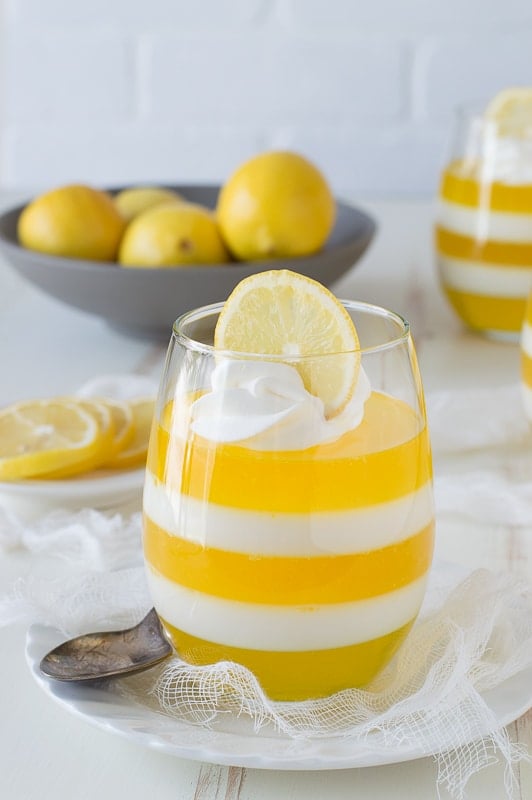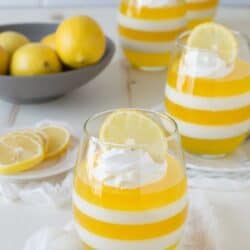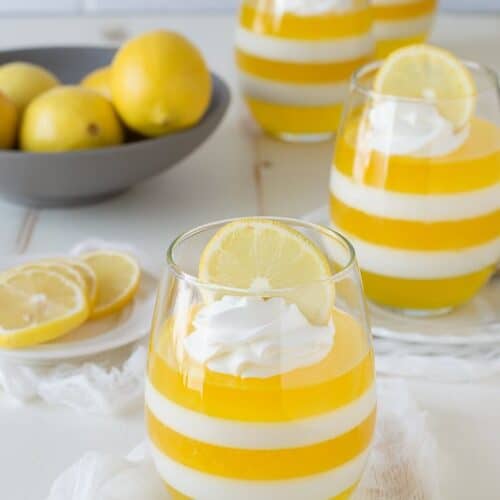 Layered Lemon Jello Cups
I love the brightness of these lemon jello cups. They remind me of a glass of lemonade, which reminds me of lemonade stands. Isn't it fun how food connects to memories?
Ingredients
Jello Layer
1

box

lemon jello

,

3 oz,

1 ¼

tsp

plain gelatin

,

1/2 packet

1

cup

boiling water
Creamy Layer
1

can

sweetened condensed milk

1

cup

boiling water

½

cup

cold water

2

packets

plain gelatin
Instructions
In a mixing bowl, combine the lemon jello and gelatin. Add in 1 cup boiling water and stir until dissolved. I let my jello mixture sit for a few minutes to cool down before pouring the jello into my cups. Divide the among evenly among your cups.

Place the cups in the fridge to set.

Begin to prepare the creamy layer. In a mixing bowl, combine the sweetened condensed milk and 1 cup of boiling water. Stir to combine. In a separate smaller bowl, combine the 1/2 cup cold water and 2 gelatin packets, stir to mix. Allow the gelatin mixture bloom/set for 2-3 minutes.

Pour the gelatin mixture into the sweetened condensed milk mixture, stir to combine.

Once your jello is set, add in the creamy layer, making it as thick or thin as you'd like. You will have leftover cream mixture, which you're suppose to, use that for the next creamy layer.

Once the cream layer is set, add the next jello layer, then repeat with another creamy layer, and such going forward. Note: If the sweetened condensed milk/gelatin mixture sets while you're waiting for the jello to set, simply warm it up on the stove over low heat until it's liquidy.

If desired top each jello cup with a dollop of cool whip and a lemon slice once all of the layers are set.
Notes
Equipment used: 15 oz glasses.
Jello layer:

You will need to repeat the jello layer, if you want 3 jello layers, repeat this section 3 times
Creamy layer:

this makes about 3 cups, which was enough for the 4 large jello cups I made
Calories:
405
kcal
,
Carbohydrates:
73
g
,
Protein:
11
g
,
Fat:
9
g
,
Saturated Fat:
5
g
,
Polyunsaturated Fat:
1
g
,
Monounsaturated Fat:
2
g
,
Cholesterol:
34
mg
,
Sodium:
236
mg
,
Potassium:
369
mg
,
Sugar:
72
g
,
Vitamin A:
264
IU
,
Vitamin C:
3
mg
,
Calcium:
287
mg
,
Iron:
1
mg
While your kids are outside selling lemonade (or iced coffee!) you can whip up these fun jello cups for them as a surprise!