Football Themed Dirt Cups
Football Themed Dirt Cups – a fun football dessert to make for game day, super bowl, or a football themed birthday party!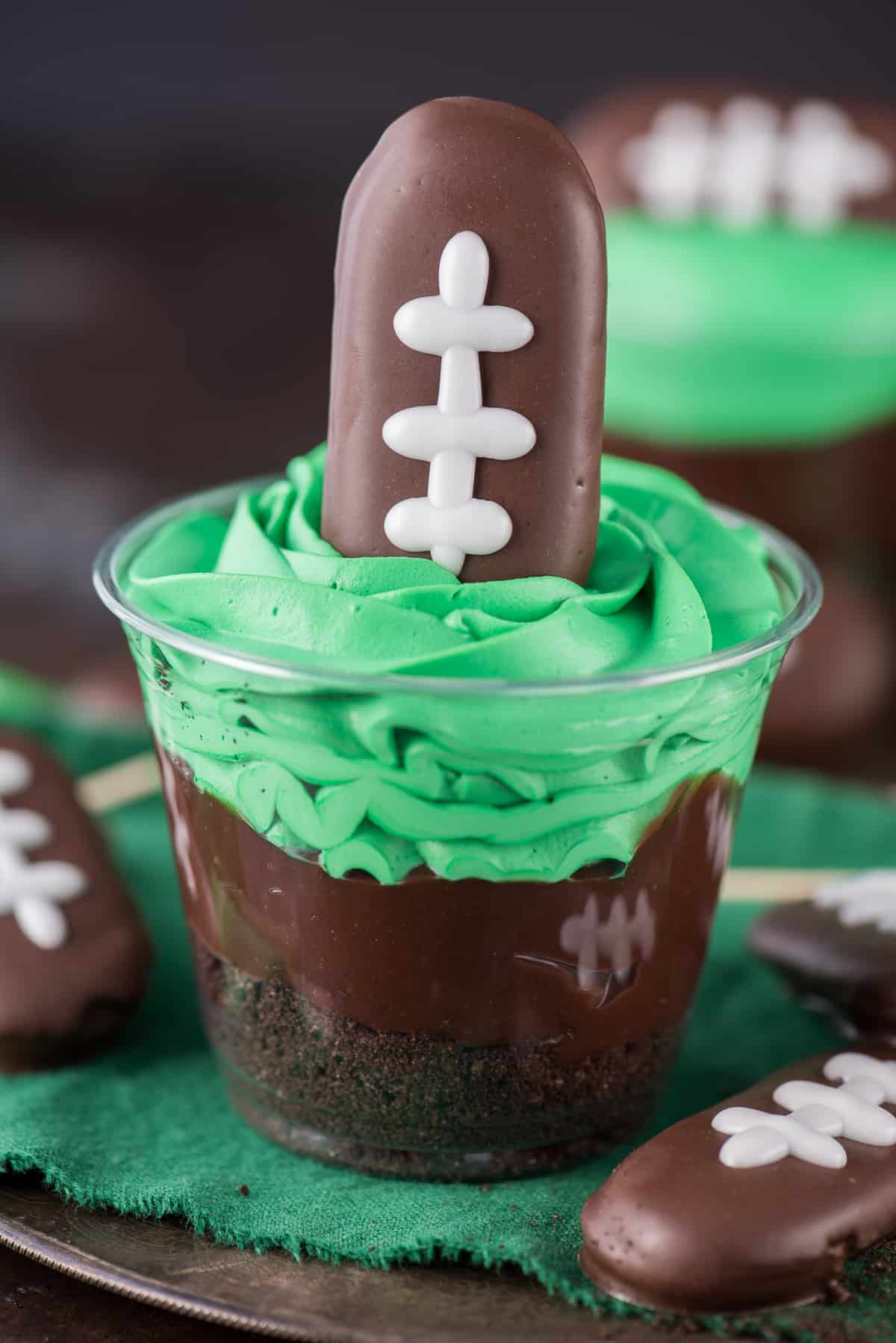 I don't know much about football and that's okay with me.
I didn't grow up watching football or rooting for a specific team. Maybe because I always lived in states where the teams weren't that good!!
Ryan doesn't even watch football, so I am usually oblivious to everything that leads up to the Super Bowl. And when it's super bowl Sunday, I'm really there to talk to other people, eat food, and only pay attention to the TV during half time!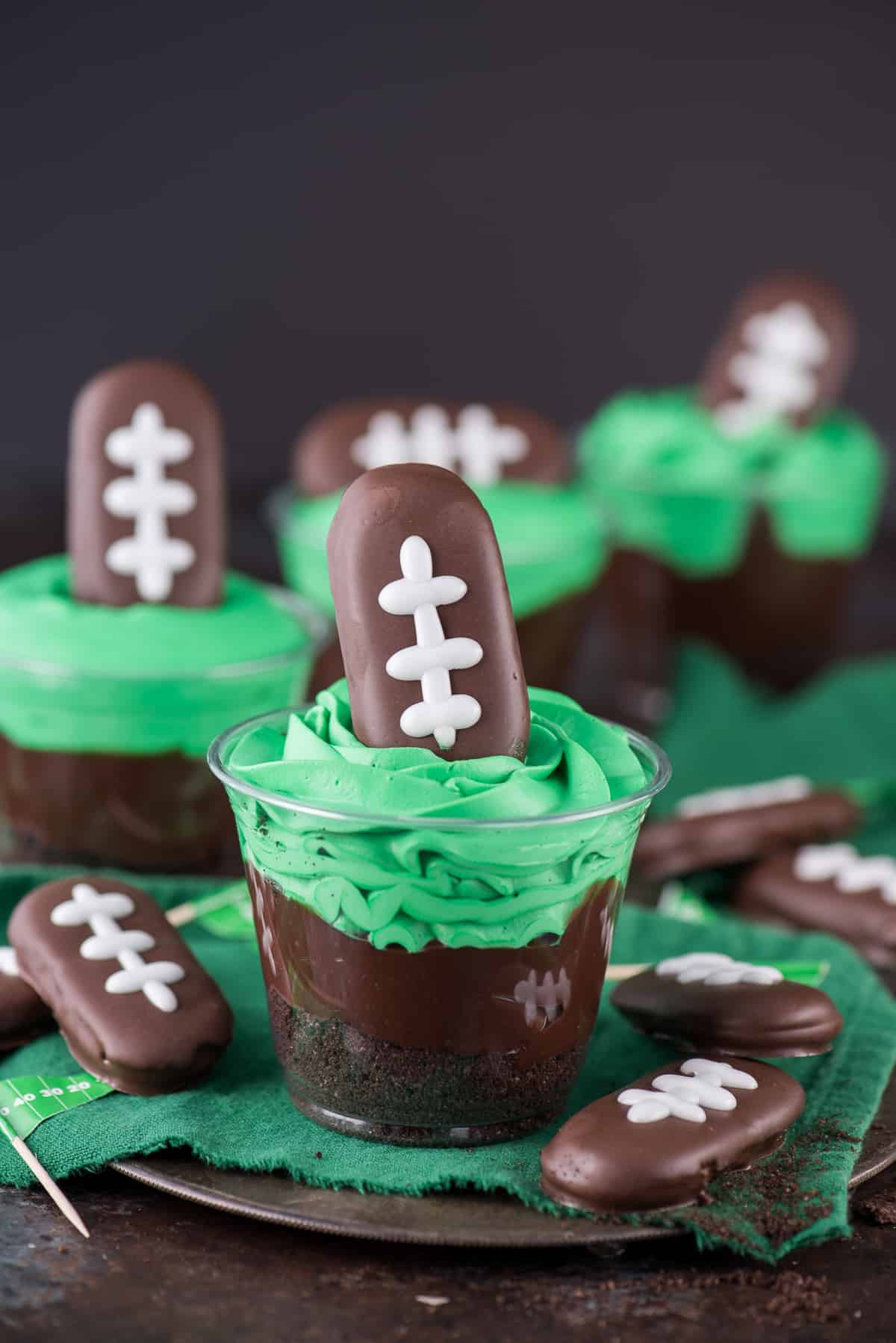 Football Themed Desserts? I'm In!
But this year the Vikings are one game away from making it to the super bowl, and having grown up in Minnesota, this is kind of exciting! Especially because the super bowl is in Minneapolis. Although, by the time this recipe is posted, the game will be over and we'll know if they are going to the super bowl or not!
I hope they win this next game, because I would be a little more excited to watch the super bowl!
And the other thing I know is that the Patriots always seem to be in the super bowl… which is boring to me.
So that's all the football talk you'll get from me – onto the best part, the football desserts!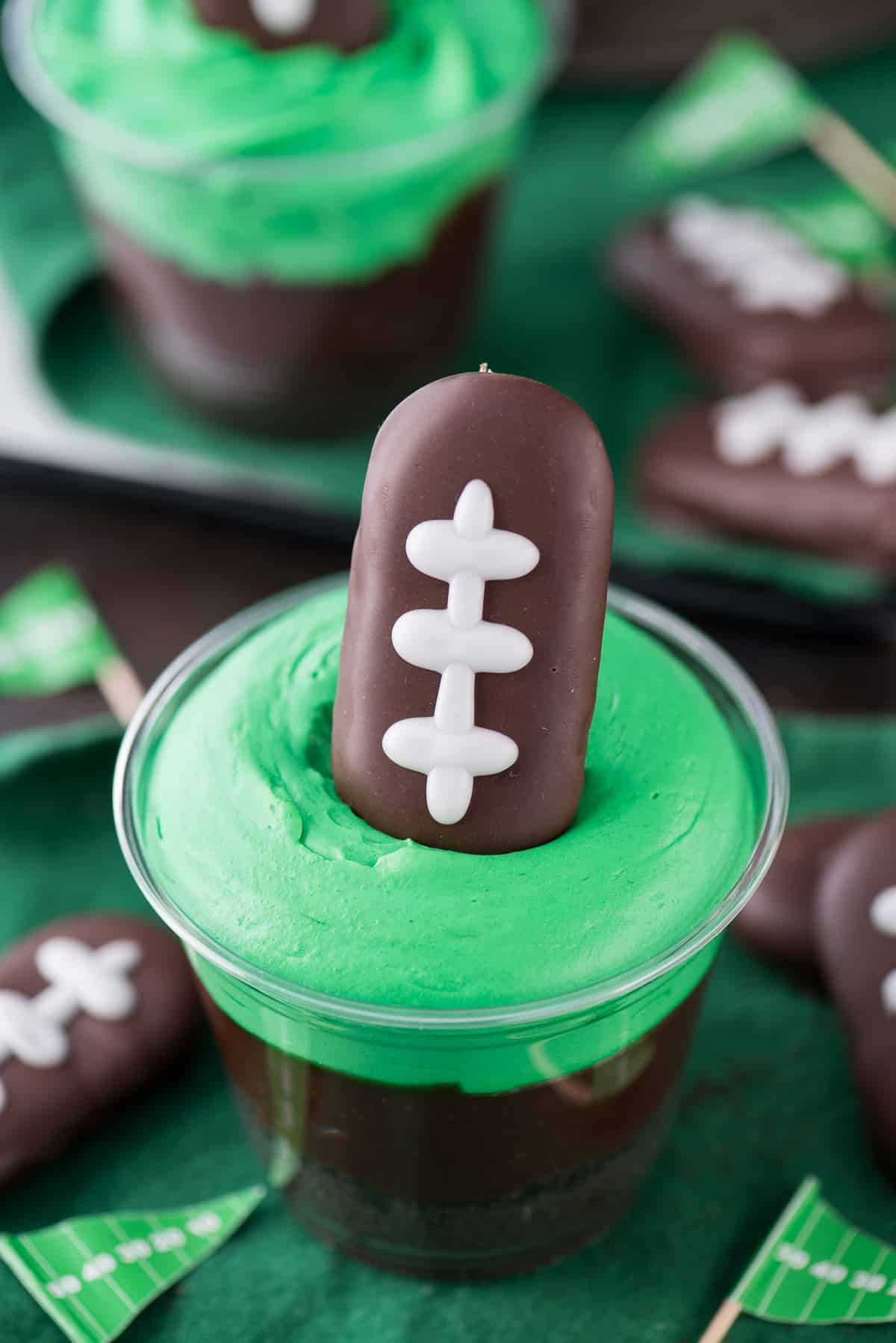 My Own Spin On Football Themed Dirt Cups
Every year I like to share at least one football themed dessert. I think it's fun to have themed food for an occasion like this. Besides, when else is it acceptable to transform almonds into footballs?!
This is our take on a football themed dirt cup! Dirt cups are known for their layers of oreo crumbs and pudding, usually with a gummy worm or two. I kept these football pudding cups simple – for the most part!
There's an oreo crumb layer, a chocolate pudding layer, green whipped cream, and then a Milano cookie dipped in chocolate with royal icing stitches on top.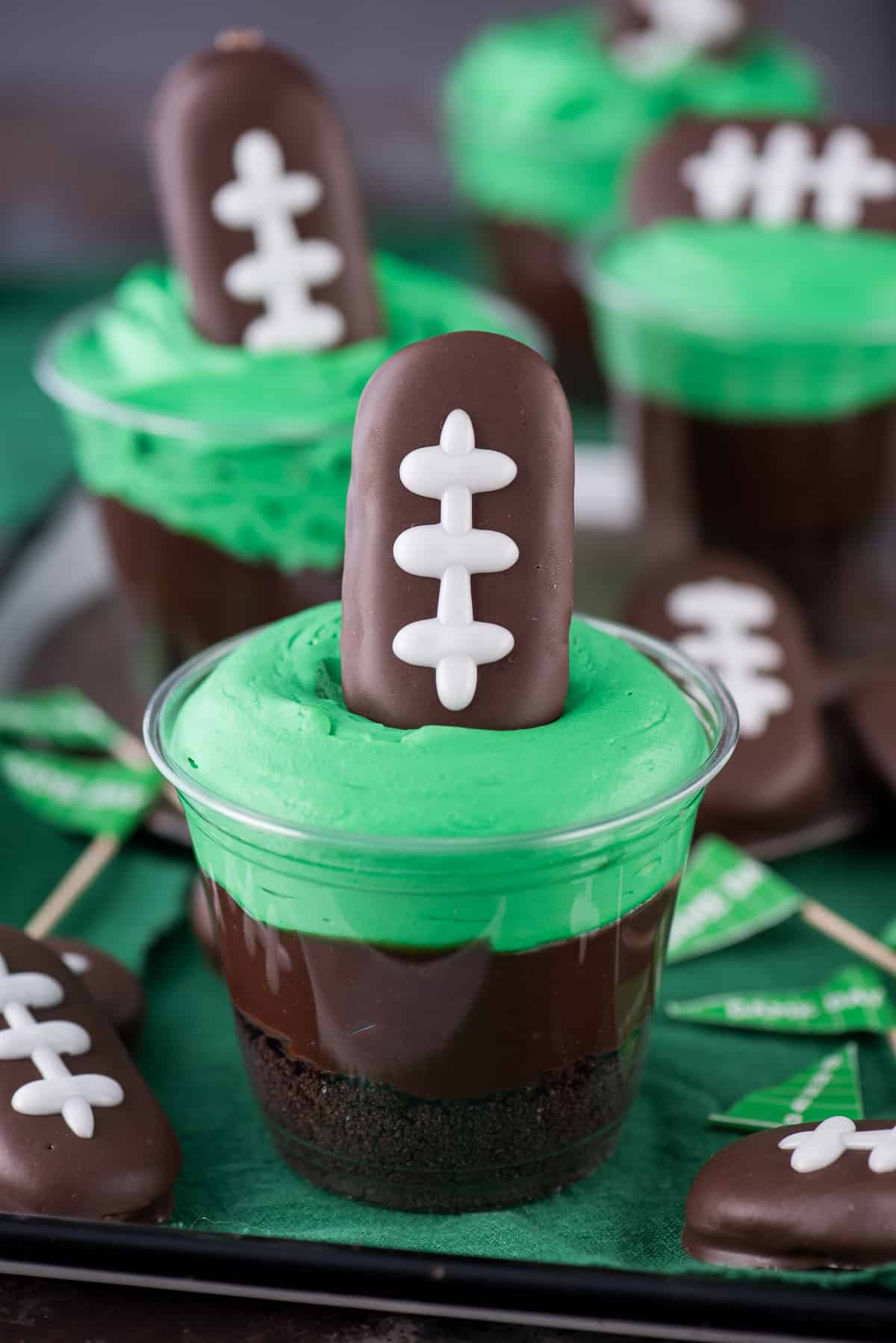 You could make these football themed dirt cups even easier by substituting the milano cookie for football sprinkles or a football party pick.
The smaller the cups you use the more dirt cups you'll be able to make, so keep that in mind. I used 9 oz plastic cups and I only got 4 dirt cups from one box of pudding. I think these game day dirt cups would be perfect in 5-6 oz cups!
More Football Treats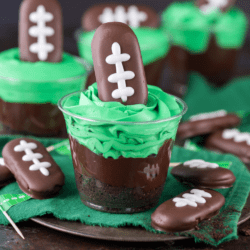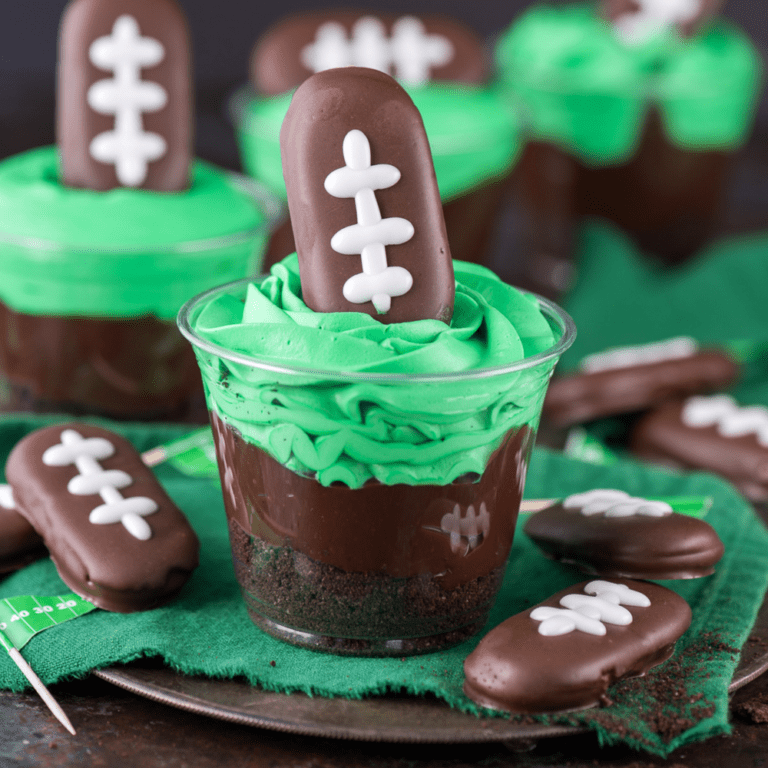 Football Themed Dirt Cups
Football themed dirt cups – a fun football dessert to make for game day, super bowl, or a football themed birthday party!
Ingredients
Milano cookies

Chocolate almond bark or chocolate candiquik

1

package

oreos

,

pulsed into crumbs

1

box

chocolate pudding

,

plus milk listed on the back

2

cups

heavy whipping cream

½

cup

powdered sugar

green food coloring
Small batch royal icing
½

cup

powdered sugar

½

tsp

meringue powder

2

tsp

water
Instructions
It's best to make the football cookie part ahead of time so the chocolate and royal icing have time to harden.

In a small pot over low heat, melt the chocolate almond bark or chocolate candiquik. Dip one Milano cookie into the chocolate at a time, use a fork to remove the cookie from the chocolate, and set it on a silicone lined baking sheet to harden. Dip all the cookies and allow the chocolate to harden.

To make a small batch of royal icing, combine powdered sugar, meringue power and water into a small bowl, use an electric mixer to beat it until it's combined and smooth – 2 minutes. Transfer the royal icing to a squeeze bottle for optimal control.

After the chocolate dipped cookies harden, draw football stitches on each cookie with the royal icing. I find it easiest to draw the center strip on all the cookies first, let it harden, then go back and add the stitches to each cookie.

Place a metal or glass mixing bowl and beaters in the freezer while you prepare the pudding. This bowl will be used to make the whipped cream.

Make the pudding as directed on the back of the box. Allow the pudding to set in the fridge.

Blend the oreos in a blender or food processor until you have oreo crumbs.

Remove the bowl from the freezer, and add the heavy cream, powdered sugar and green food coloring to the bowl, mix with an electric mixer until stiff peaks form, 3-4 minutes.

To assemble the dirt cups, place 1 tbsp of oreo crumbs (or more) in the bottom of each cup. Layer with a large spoonful of chocolate pudding. Spoon or pipe on the green whipped cream. Top each cup with a football cookie right before serving. The pudding cups can be made ahead of time and stored in the fridge, but we sure to add the cookie to the top right before serving.
Notes
I used 9 oz cups and was able to make 4 cups using 1 box of pudding. You can use smaller cups to yield more dirt cups.
Calories:
631
kcal
,
Carbohydrates:
56
g
,
Protein:
4
g
,
Fat:
45
g
,
Saturated Fat:
28
g
,
Polyunsaturated Fat:
2
g
,
Monounsaturated Fat:
13
g
,
Cholesterol:
170
mg
,
Sodium:
401
mg
,
Potassium:
157
mg
,
Fiber:
1
g
,
Sugar:
46
g
,
Vitamin A:
1766
IU
,
Vitamin C:
1
mg
,
Calcium:
82
mg
,
Iron:
1
mg