Football Bark
This recipe for football bark is perfect for game day or super bowl! Only 7 ingredients and ready in under 2 hours.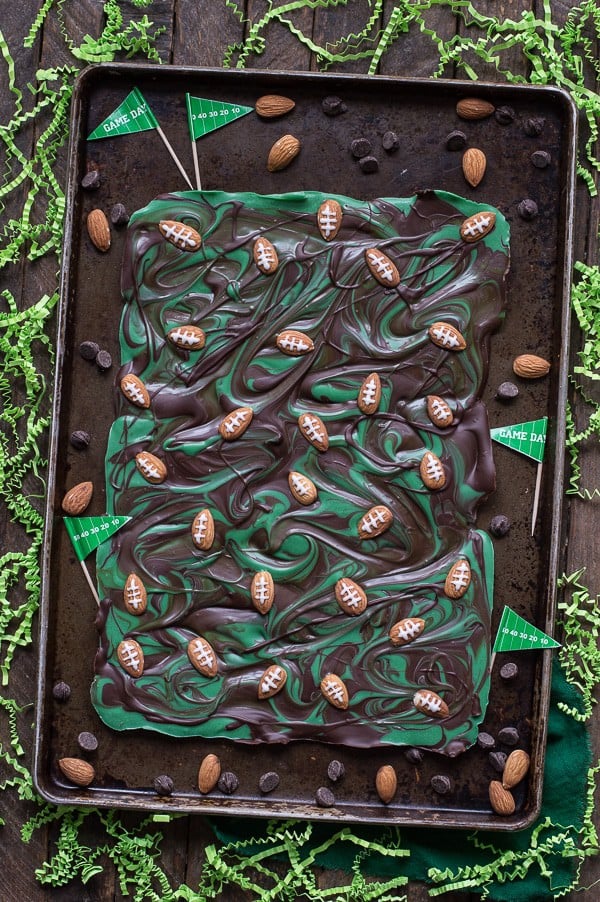 I'm going a little nuts.. we're on week 2 without a working washing machine.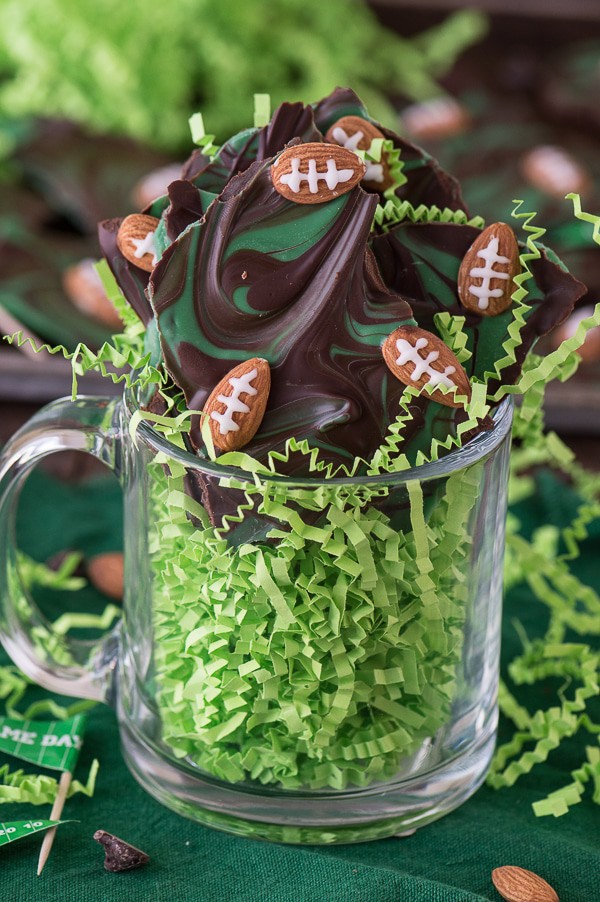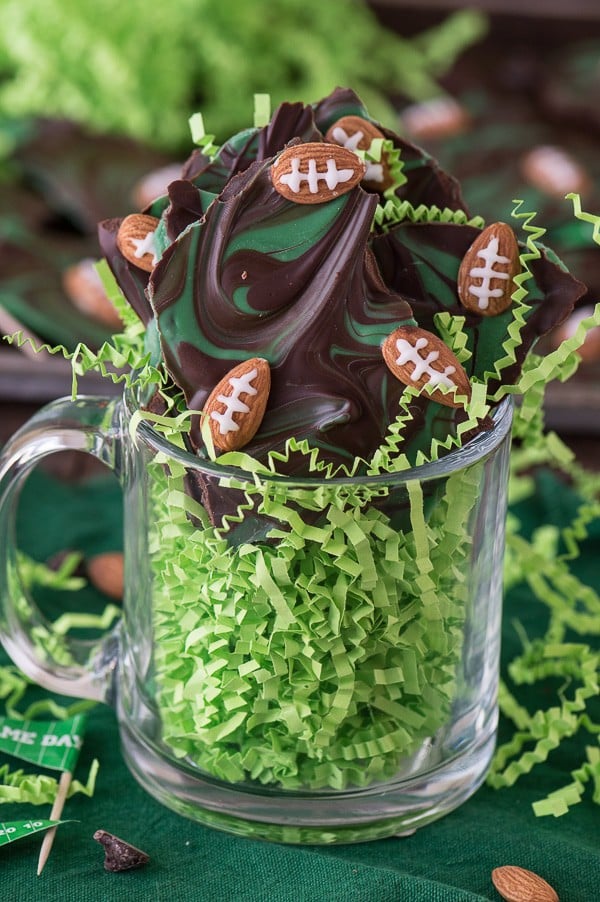 Bless my sweet husband. The washer needed a new belt, so he put that on, but since the machine is circa 1970s, one of the screws broke in half – like the actual screw part is still in the washer but the head of the screw broke off and we have no way of getting it out. So Ryan bought clamps to help secure that part of the machine. But now the water hose is leaking, from both ends!
Although.. the one good thing about not having a working washer is that I have more time to do other things, like cook (boo), clean the bathrooms (boo) and brainstorm cute Super Bowl treats :)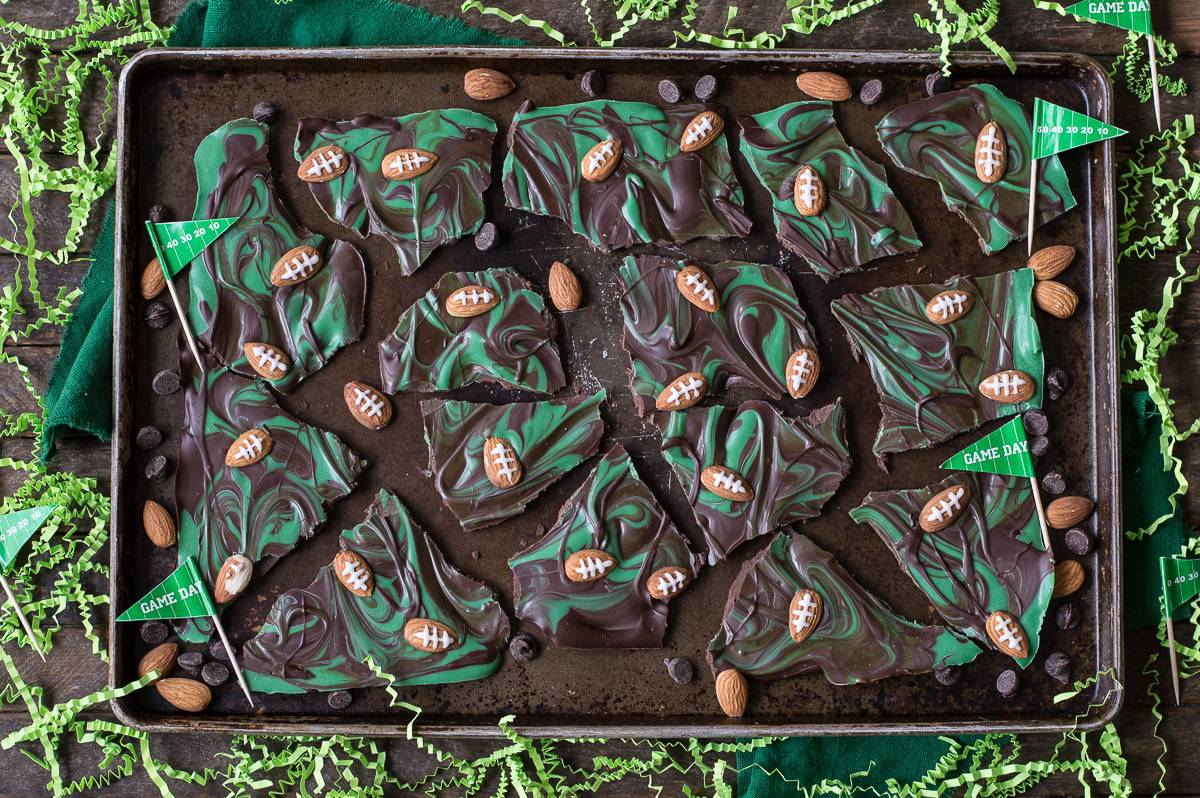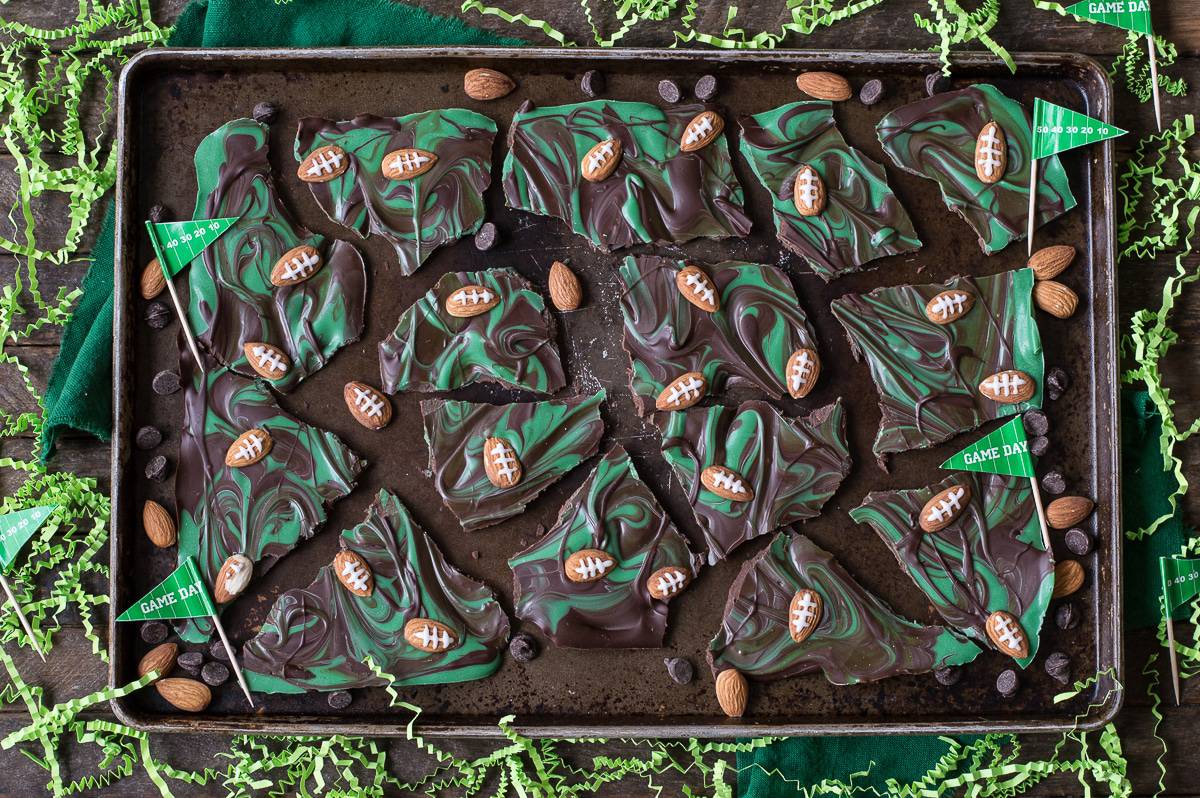 If you've been around for a while, there's no hiding that I love making football themed desserts. In all honestly, it's the only way I can get into football, hahaha.
To make this ultra fun football bark you'll need semi-sweet chocolate chips, green candy melts, a little vegetable oil, a small batch of royal icing, and whole almonds. I included 8 process shots and a short 30 second video at the end of the post to help visually walk you through how to make this bark! It's super easy and I think it's going to become my game day snack.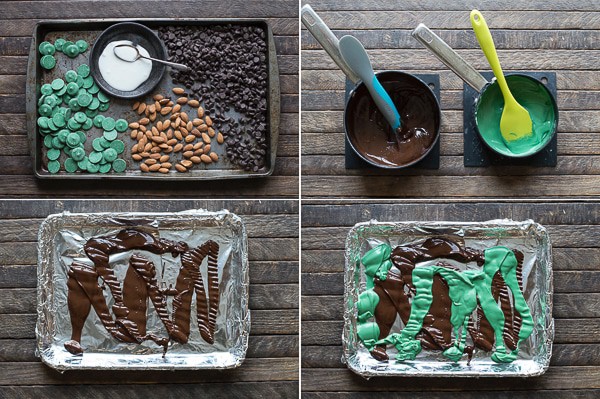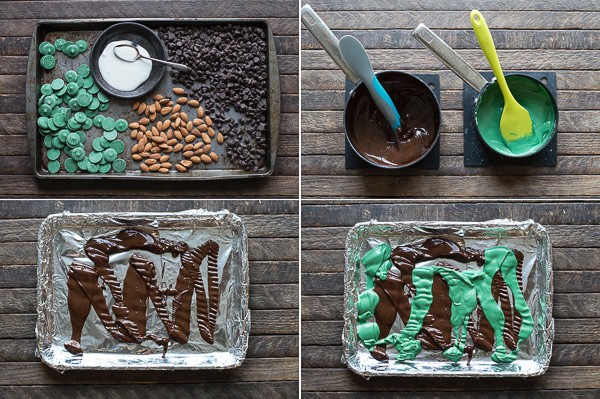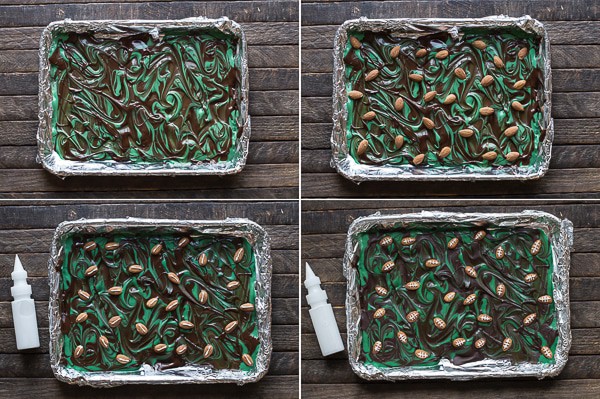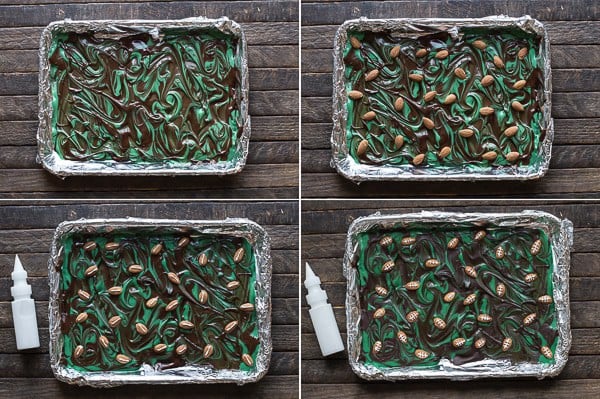 I love that you can make this bark multiple days before you want to serve it or the same day! Just be sure to give yourself at least 2 hours to make the bark and let it harden before breaking it into pieces.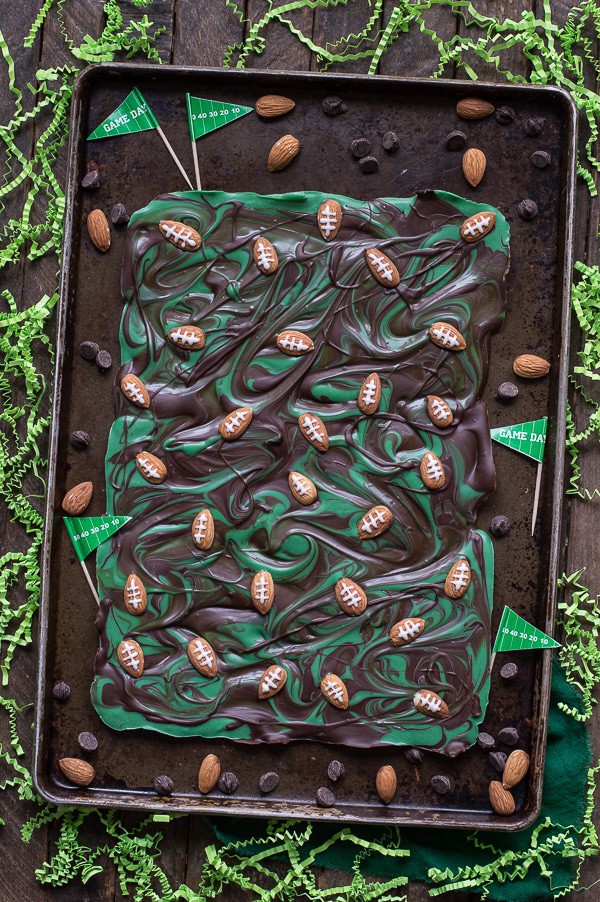 Football Bark
Additional Time: 2 hours
Total Time: 2 hours
Ingredients
1 & 1/2 cups semi-sweet chocolate chips
1/2 tbsp vegetable oil
1 & 1/2 cups green candy melts (like Wilton brand)
1/2 tbsp vegetable oil
whole almonds
Small batch of royal icing
1/2 cup powdered sugar
1/2 tsp meringue powder
1/2 tbsp water
Instructions
Cover a 10 x 15 inch baking sheet that has edges with tin foil.
You can melt the milk chocolate and green candy melts at the same time if you'd like.
For the milk chocolate: combine the chocolate chips and vegetable oil in a pot over low heat on the stove. Occasionally stir with a spatula until the chocolate is smooth and melted.
For the green candy melts: combine the green candy melts and vegetable oil in a pot over low heat on the stove. Occasionally stir with a spatula until the chocolate is smooth and melted.
Add the melted chocolate to the pan. You can put all of one chocolate on the pan first and swirl in the other one. Or you could put a mix of both chocolates on the pan and then go back and swirl in the rest. Swirl the chocolates using a butter knife or small metal spatula.
Add the whole almonds to the chocolate.
Refrigerate the bark for 15-20 minutes before adding the details to the almonds.
To make the royal icing: Combine the powdered sugar, meringue powder, and water in a mixing bowl and mix until the icing has a matte appearance, about 2 minutes. You may need to add a little more water to get the right consistency. You don't want the icing to be runny, but have a thicker consistency, but you don't want it to be too thick where you can't get it out of the squeeze bottle. Transfer to a squeeze bottle or ziploc bag with one corner cut off.
On each almond draw the center football stripe.
Allow the royal icing to harden, 10-15 minutes before adding the football stitches.
Draw 3 stitches on each almond.
Refrigerate the bark for 40-60 minutes or until the chocolate no longer feels soft when you press your finger on it.
Break the bark into smaller pieces.
Store in a container or plastic bag. I like to keep mine in the fridge!