Want our top 10 essential dessert recipes?
Get our favorite classic recipes in your inbox! It's 100% free, but we might make you hungry!
Easy Oreo Cupcakes
Easy Oreo Cupcakes – The only thing better than a stack of oreo cookies is an oreo cupcake. If you are the type of person who likes food combinations, like a snicker's bar + donuts = snicker's donuts or rolo's + brownies = rolo brownies, then I think you'll like this combination.. oreos + cupcake = oreo cupcake :)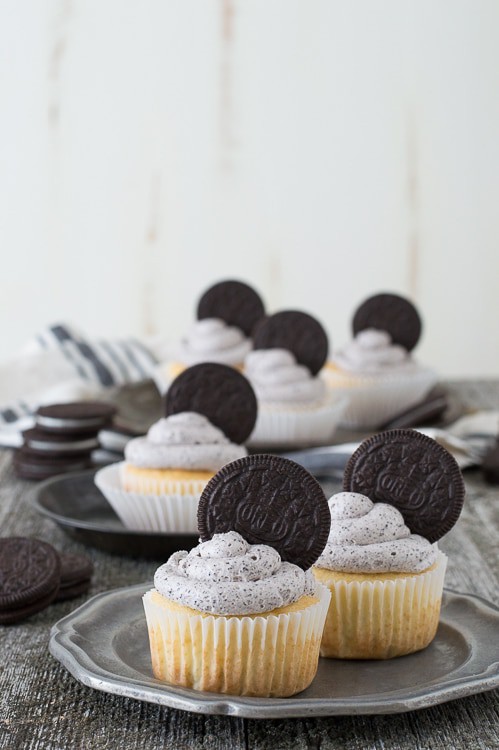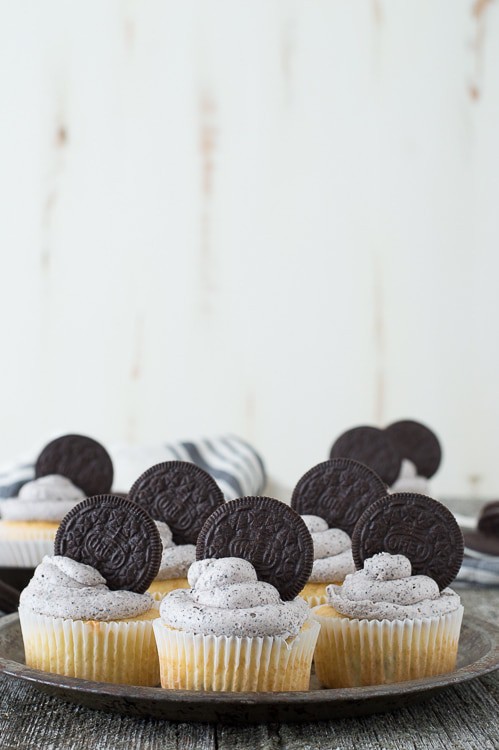 Oreo Cupcakes
There are a ton of things that go well with oreos..
oreos + peanut butter
oreos + mint
oreos + coffee ice cream
oreos + cheesecake
But this oreo cupcakes creation may just be the best thing that's ever happened to oreos. It's not just an oreo cupcake – it's a cupcake with a whole oreo baked into the bottom and then it's topped with homemade oreo buttercream.
Does it sound good? Because, trust me, it's really good. And here's my favorite part… it's easy to make!
For these oreo cupcakes you'll need a box of white cake mix (plus the ingredients on the back of the box), powdered sugar, butter, vegetable shortening, and oreos. You'll also need a muffin pan, cupcake liners, and a piping bag or a large ziploc bag with one corner cut off.

Frosting Your Oreo Cupcakes
If piping frosting onto a cupcake seems a little intimidating, I'll let you know my secret.. I used to be intimidated too! But, it's not difficult to do once you try it out. Also, this oreo cupcakes recipe is designed so that you don't need any special equipment like fancy piping tips, a ziploc bag with one corner cut off is perfect. Instead of zipping the bag closed, be sure to twist the bag several times where the frosting ends.
For the buttercream on these oreo cupcakes, I started piping on the outside edge and made my way in towards the middle of the cupcake, stacking the frosting as I went around in circles.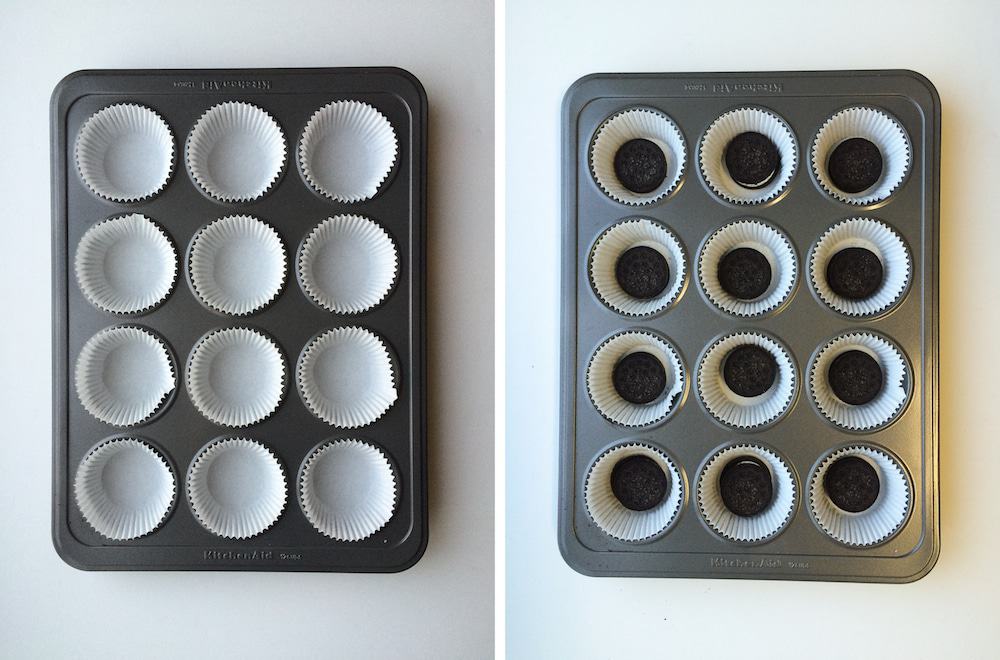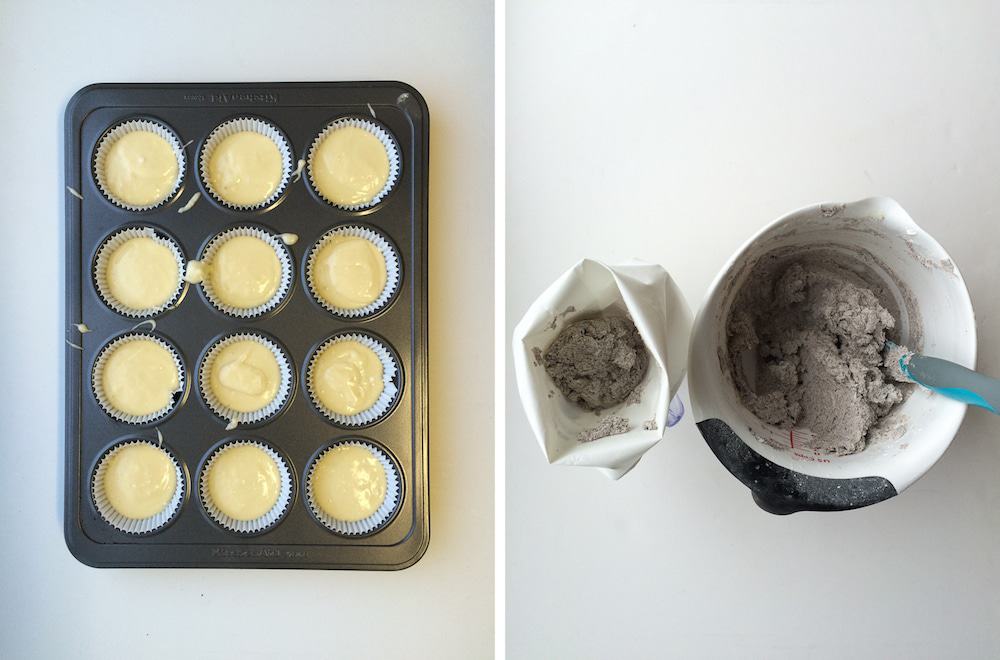 Place your choice of cupcake liners in a muffin pan. Then place one oreo in each cup. Divide the batter among the cups, filing them about slightly over 1/2 full. Don't get crazy when filling the cups with batter, because the cupcakes will puff up a ton when baking.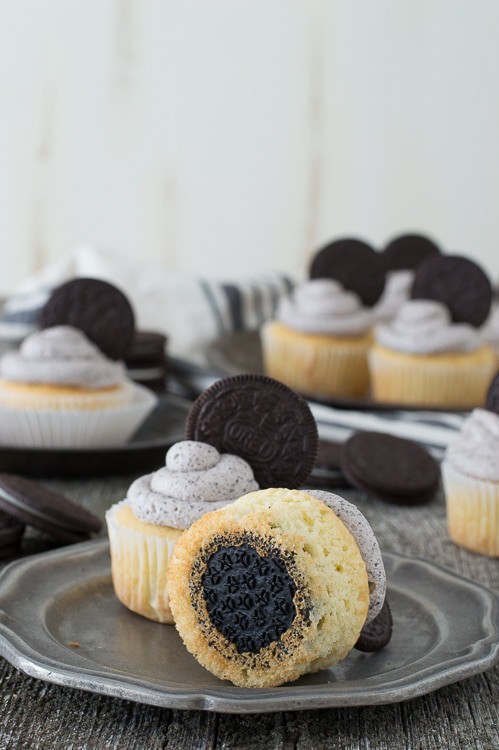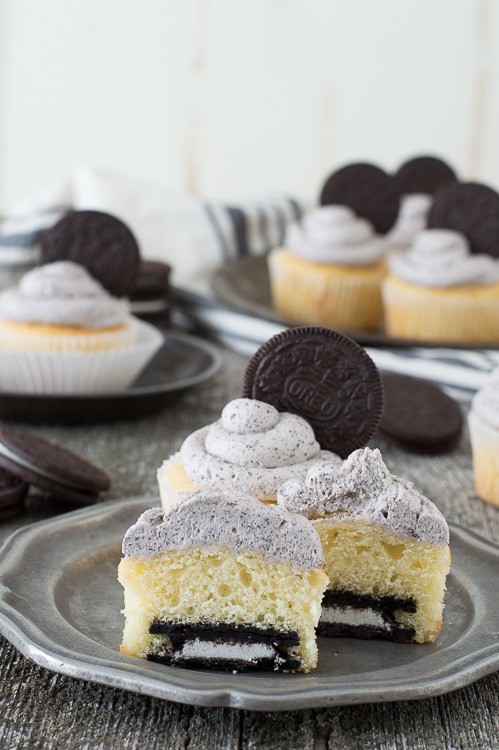 With a surprise oreo baked into the cupcakes, these oreo cupcakes become irresistible!
Easy Oreo Cupcakes
Yield: 12-18 cupcakes
Total Time:1 hour 20 minutes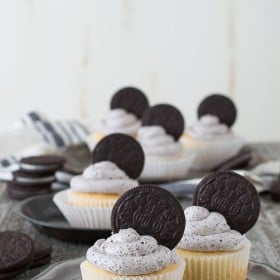 Ingredients:
Oreo Cupcakes
1 box of white cake mix, plus all of the ingredients listed on the back
1 package of Oreos
Oreo Buttercream
1 stick butter, room temperature
1/2 cup vegetable shortening
3 cups powdered sugar
1/2 tsp vanilla
6 tbsp Oreo crumbs
Directions:
Oreo Cupcakes
Preheat the oven according to the directions on the cake mix box. Next, prepare the cake mix as directed.
Place cupcake liners in the pan.
Add one oreo to each cup.
Pour the batter in the cups, filling each slightly over 1/2 full.
Bake as directed on the cake mix box, based off the directions for cupcakes.
When the begin to golden and a tooth pick inserted into the middle comes out clean, remove the cupcakes from the oven and allow them to allow in the pan for 10 minutes.
Remove the cupcakes from the pan and allow them to continue to cool on a cooling rack. Make sure the cupcakes are completely cooled before adding the frosting.
Oreo Buttercream
In a mixing bowl, combine the room temperature butter and shortening, beat using an electric mixer for 2 minutes, until light and fluffy.
Begin to add in the powdered sugar, about 1 cup at a time. Slowly beat the mixture until the powered sugar is incorporated. Continue this process until you've added all of the powdered sugar.
Add in the vanilla and oreo crumbs, and beat until just combined.
Transfer a portion of the frosting to a large ziploc bag or piping bag. Push or squeeze the frosting down, getting rid of any air pockets. If using a ziploc bag, cut half one corner, making a hole between the size of a dime and a penny.
Begin to pipe the frosting onto a cupcake, starting with the outside edge and working your way into the center of the cupcake, progressively stacking the frosting as you go around in circles.
Garnish with either half an oreo or a whole oreo.
Serve and enjoy!
It is best to eat the cupcakes the same day you add the frosting. See the baking tools we used in our
amazon affiliate store
.
Products used to make this recipe
(may include affiliate links)