Chocolate Mud Cake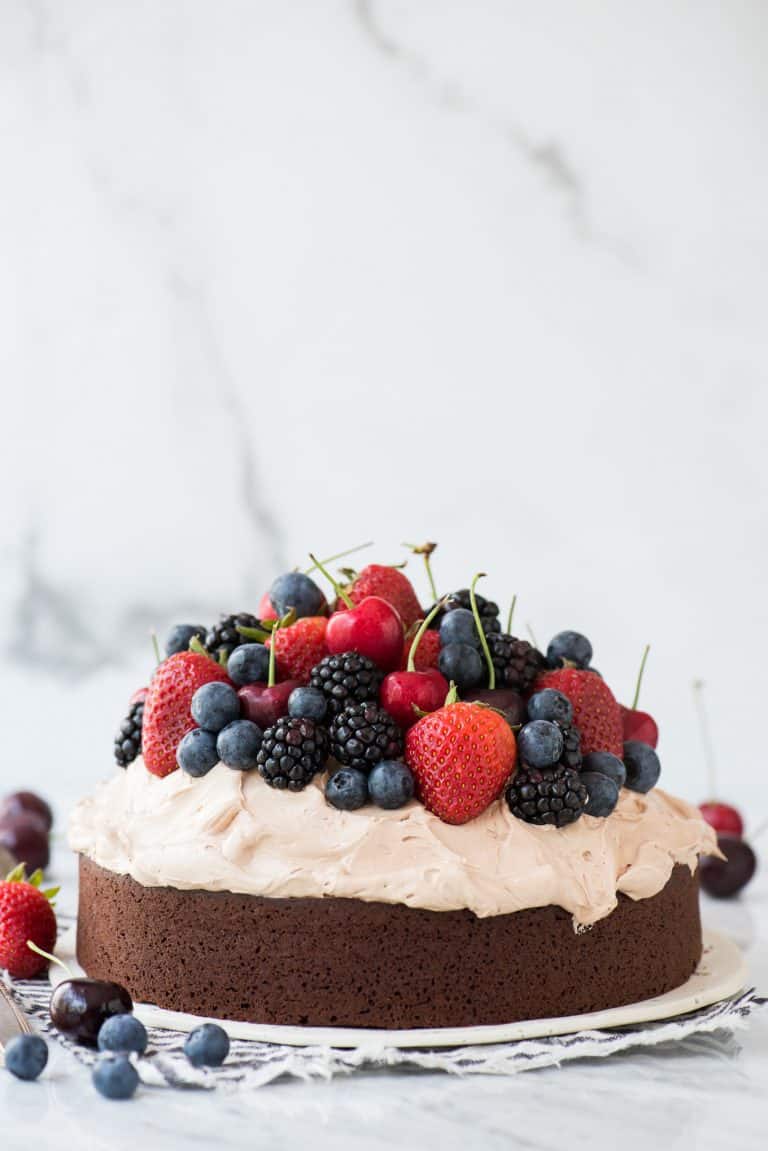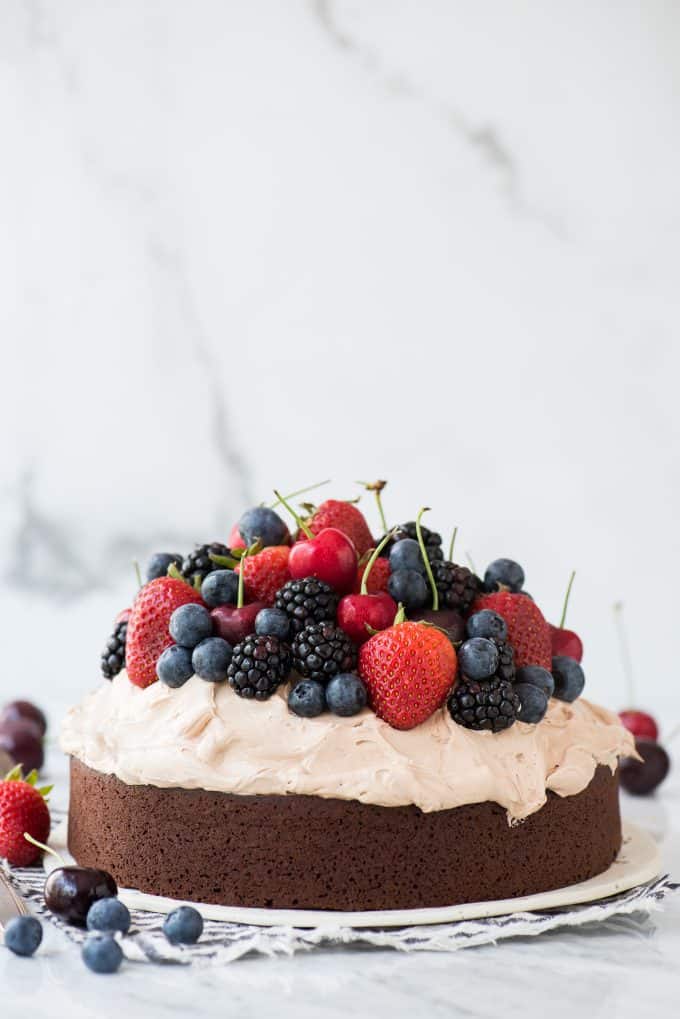 What is Mud Cake
Mud cake is a dense, moist, fudgy cake. It's like a cross between a brownie, fudge and flourless chocolate cake. It's thick, rich and chocolatey. 
How to Make Mud Cake
Mud cake consists of melting chocolate, sugar, and butter until smooth.
Stir in the milk and allow the chocolate mixture to cool for 10 minutes.
Whisk in the eggs, then mix in the dry ingredients. 
Pour the batter into the prepared pan and bake.
There is no beating of butter and sugar, like you would see in a traditional fluffier cake recipe. Mud cake is a delicious dense chocolate cake in the best way possible. I know dense can be a weird word to describe a cake, but it's thick!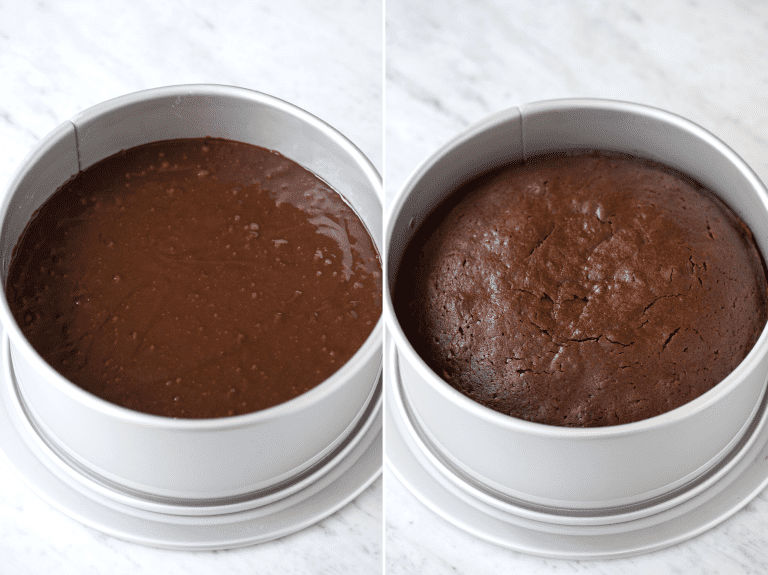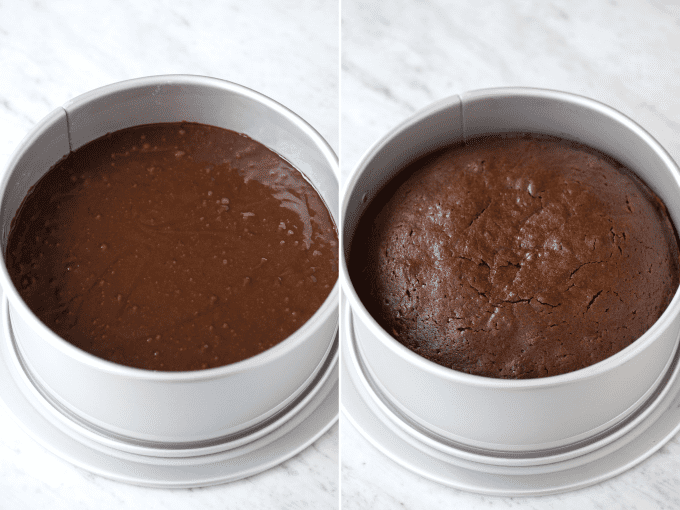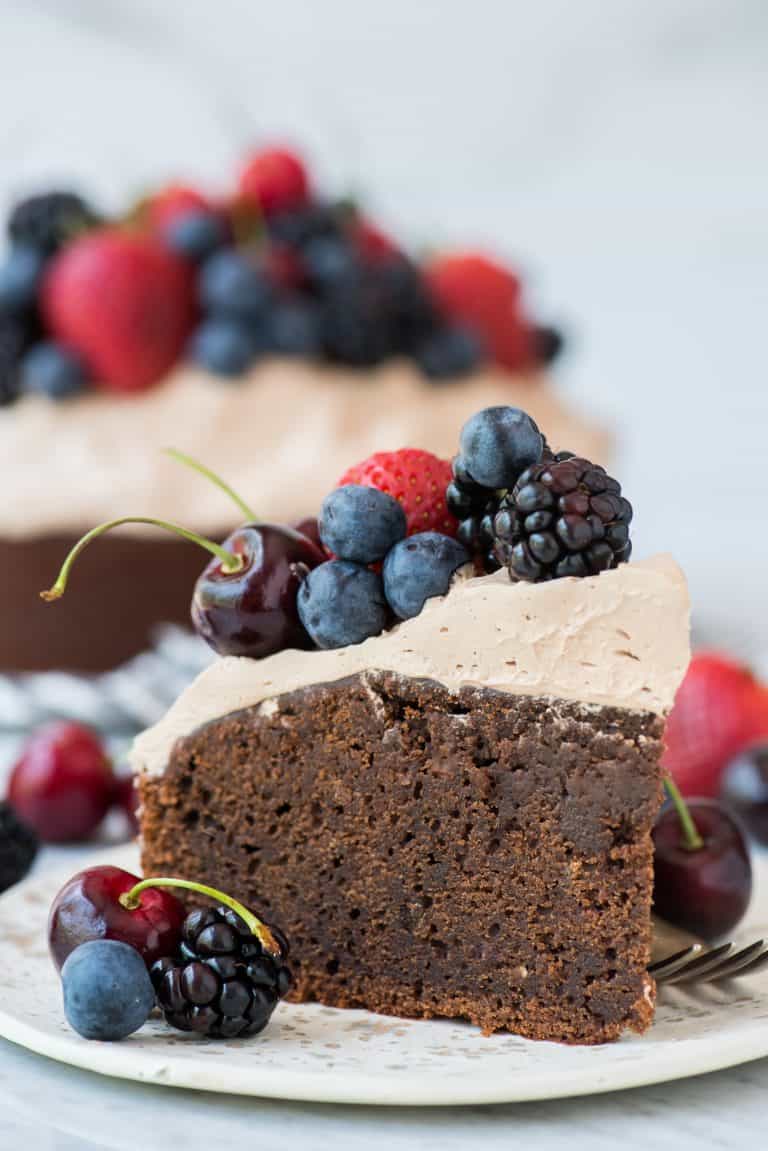 Mud Cake Frosting
Mud cake can be topped with a variety of frostings. Chocolate ganache is a staple mud cake frosting. You can also pair it with a traditional buttercream frosting or a whipped cream.
I choose to pair mine with a whipped chocolate buttercream. A whipped  buttercream is lighter  and fluffier than traditional buttercream.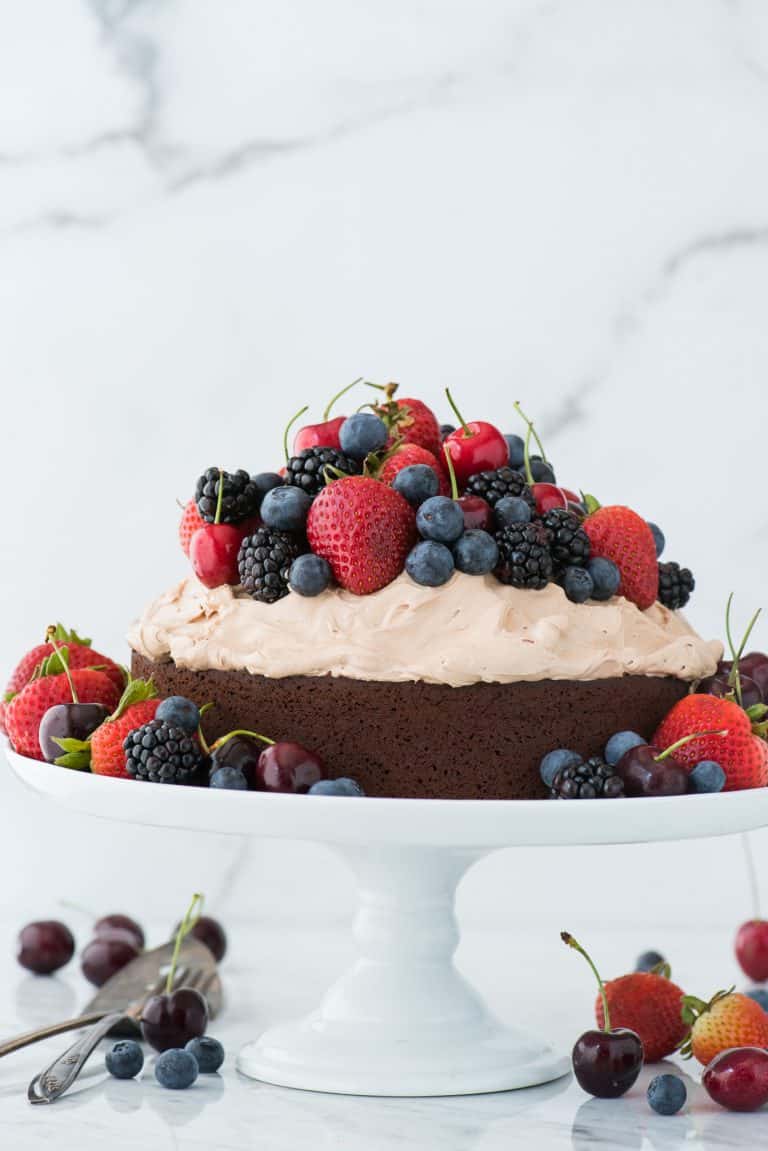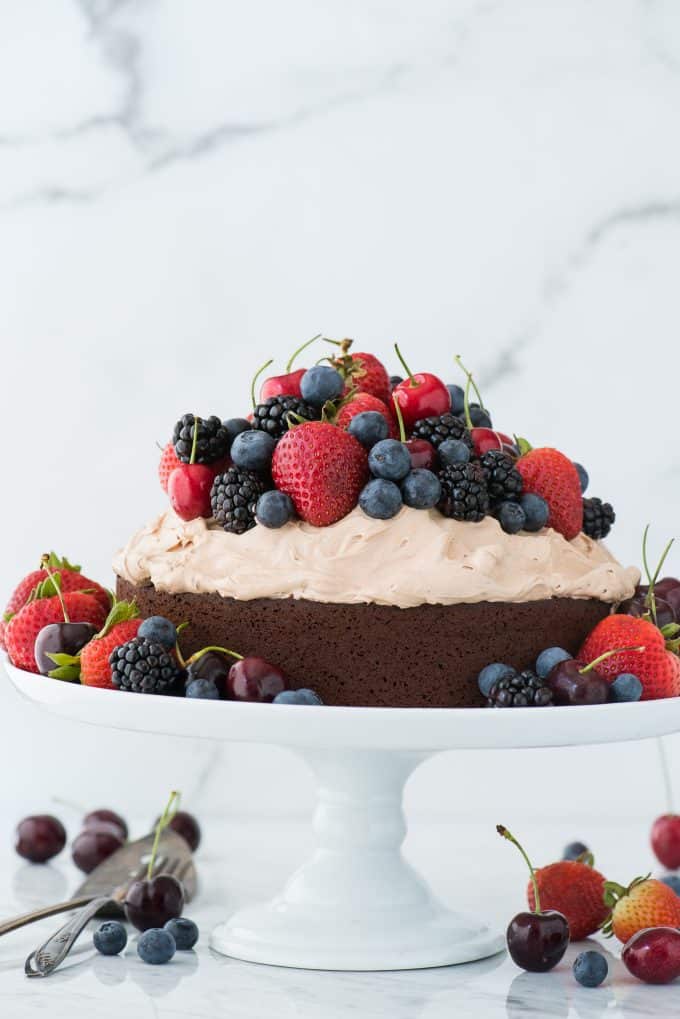 What Pan to Use
I recommend baking mud cake in a springform pan. This is a pan that has removable sides and bottom.
If you don't have a springform pan, I recommend using a regular 8 inch pan. Be sure to butter the sides and line the bottom with parchment paper for easy removal.
Time Breakdown
20 minutes to prep the cake batter
70-80 minutes to bake
30 minutes to cool
10 minutes to make the frosting and frost the cake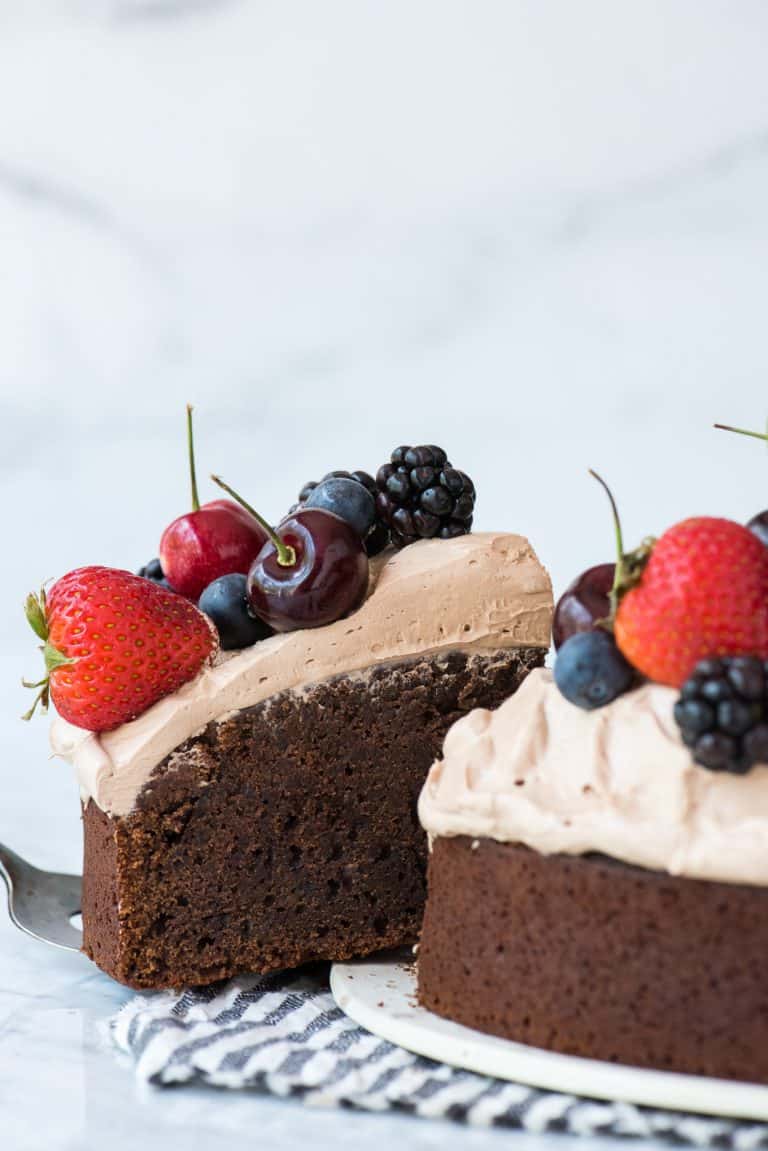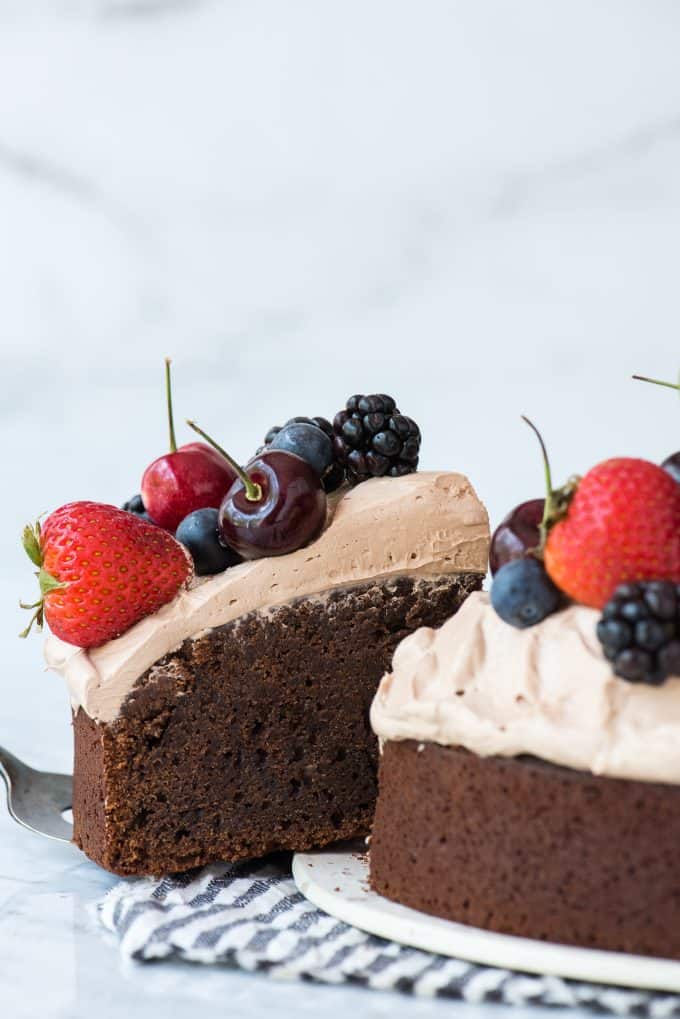 How to Store Cake
This cake can be stored in an air tight container either on the counter or in the fridge for up to 3 days. 
To ensure extra moistness, wrap the cake in plastic wrap first, then place in the container. 
Tips
Mud cake is not the type of cake you'd want to use for a layer cake. I recommend making the recipe as a single layer cake. 
Serve with fresh berries to balance the intense chocolate flavor.
Use a 4 oz bittersweet chocolate baking bar – like Baker's brand. 
Use either skim, 1% or 2% milk.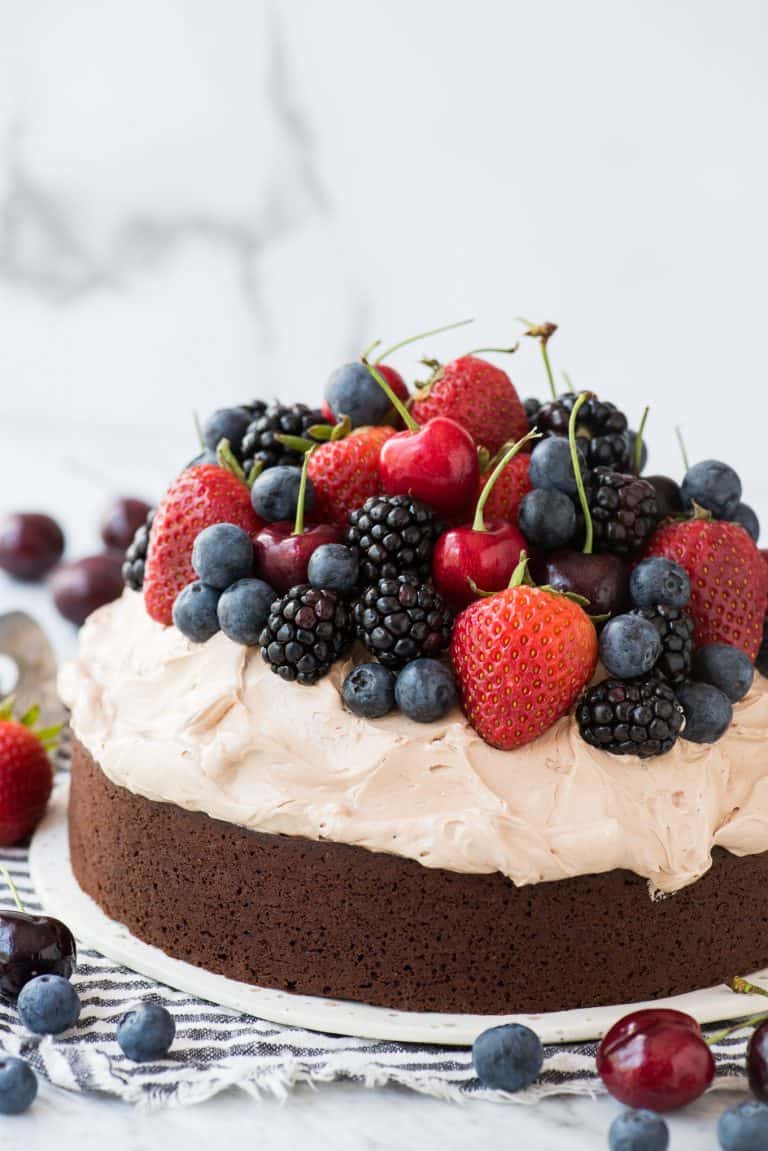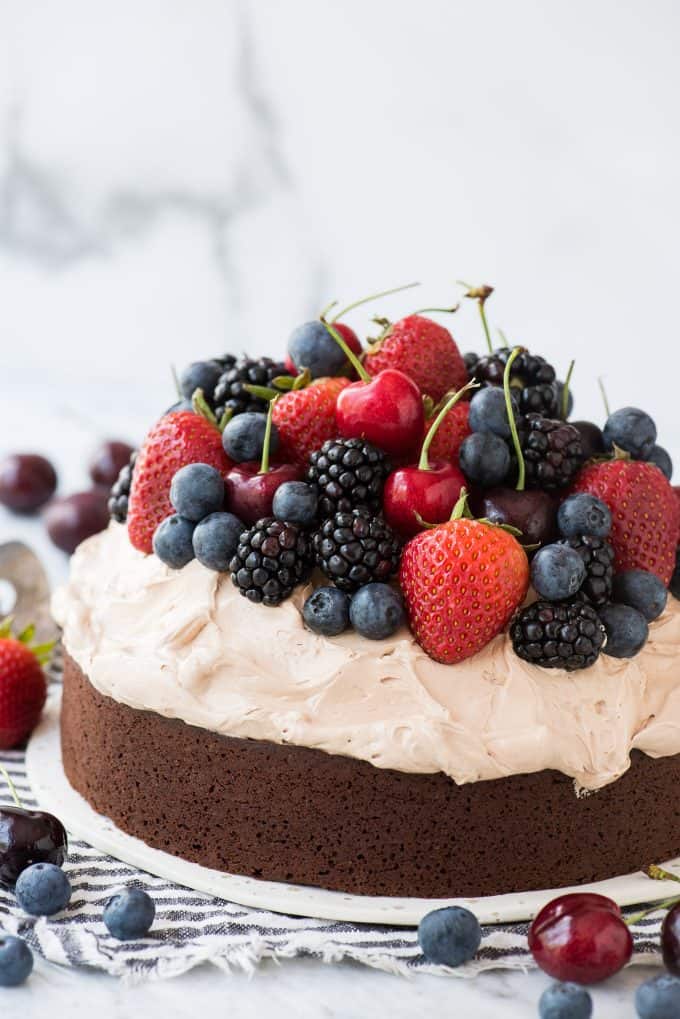 More Chocolate Desserts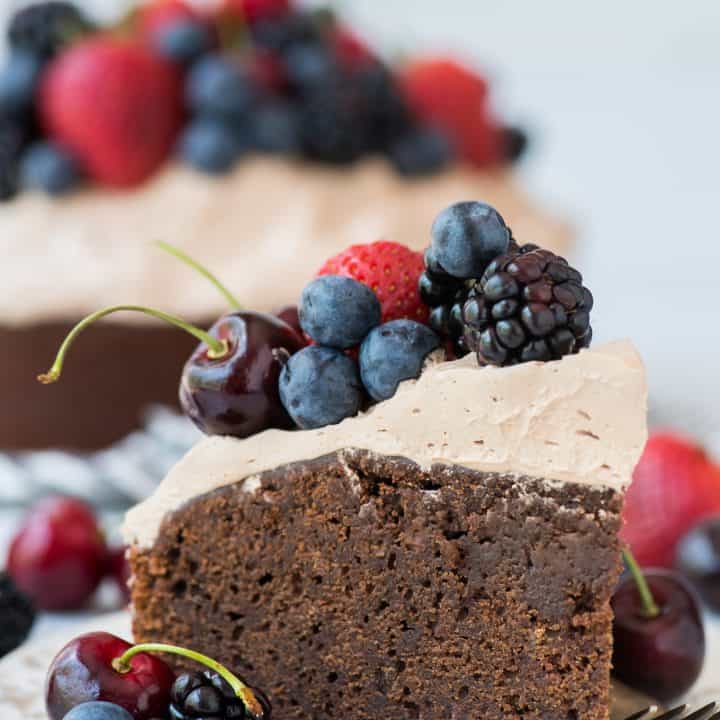 Chocolate Mud Cake
Yield: one 8 or 9 inch cake
Prep Time: 30 minutes
Additional Time: 1 hour 30 minutes
Total Time: 2 hours
Chocolate mud cake is a thick, rich, chocolatey cake! This chocolate cake is a cross between a brownie, fudge and flourless chocolate cake.
Ingredients
Cake
4 oz bittersweet chocolate, chopped
2 sticks (1 cup) unsalted butter, cubed
1 & 1/2 cups granulated sugar
1 cup milk (skim, 1% or 2%)
2 eggs
2 cups all purpose flour
3/4 tsp baking powder
1/8 tsp salt
2 tbsp natural unsweetened cocoa powder
Whipped Chocolate Frosting
1 cup milk or semi-sweet chocolate chips, melted
2 sticks (1 cup) unsalted butter, softened
1/2 cup powdered sugar
1 tsp vanilla extract
Instructions
Cake
Preheat the oven to 325º F. Butter the bottom and sides of an 8 inch round cake pan or springform pan. Line the bottom with a parchment paper circle for easy cake removal.
In a medium pot over low heat, combine the chopped bittersweet chocolate bar, butter, and sugar. Stir occasionally until everything is melted and smooth. Remove the pot from the heat, stir in the milk and allow the mixture to cool for 10 minutes.
Pour the chocolate mixture into a mixing bowl.
Add the eggs, beating on low with an electric mixer to combine.
Gradually add in the all purpose flour, baking powder, salt and cocoa powder. Mix on low to combine.
Pour the batter into the prepared pan. Bake for 70-80 minutes or until a toothpick inserted in the middle comes out with moist crumbs.
Allow the cake to cool in the pan for 30 minutes, then transfer the cake to a cooling rack to cool completely.

Frosting
Place the chocolate chips in a microwave safe bowl and microwave for 2 minutes on 50% power. Stir. Continue to microwave on 50% power until melted, roughly another minute. Allow the chocolate to cool for 5 minutes.
Place the butter in a mixing bowl and beat with an electric mixer on high for 2-3 minutes. Add in the melted chocolate, powdered sugar and vanilla extract, beat on medium until combined and fluffy.
Spread the frosting over the cake. Top with fresh fruit or chocolate shavings if desired. Slice and serve.
Notes
Follow our chocolate ganache from this recipe if you prefer that for the frosting.