Worth the Wait Adoption Party
Worth the wait theme adoption party! Featuring slow animals – sloths, inchworms, turtles and snails! Tons of cute food ideas!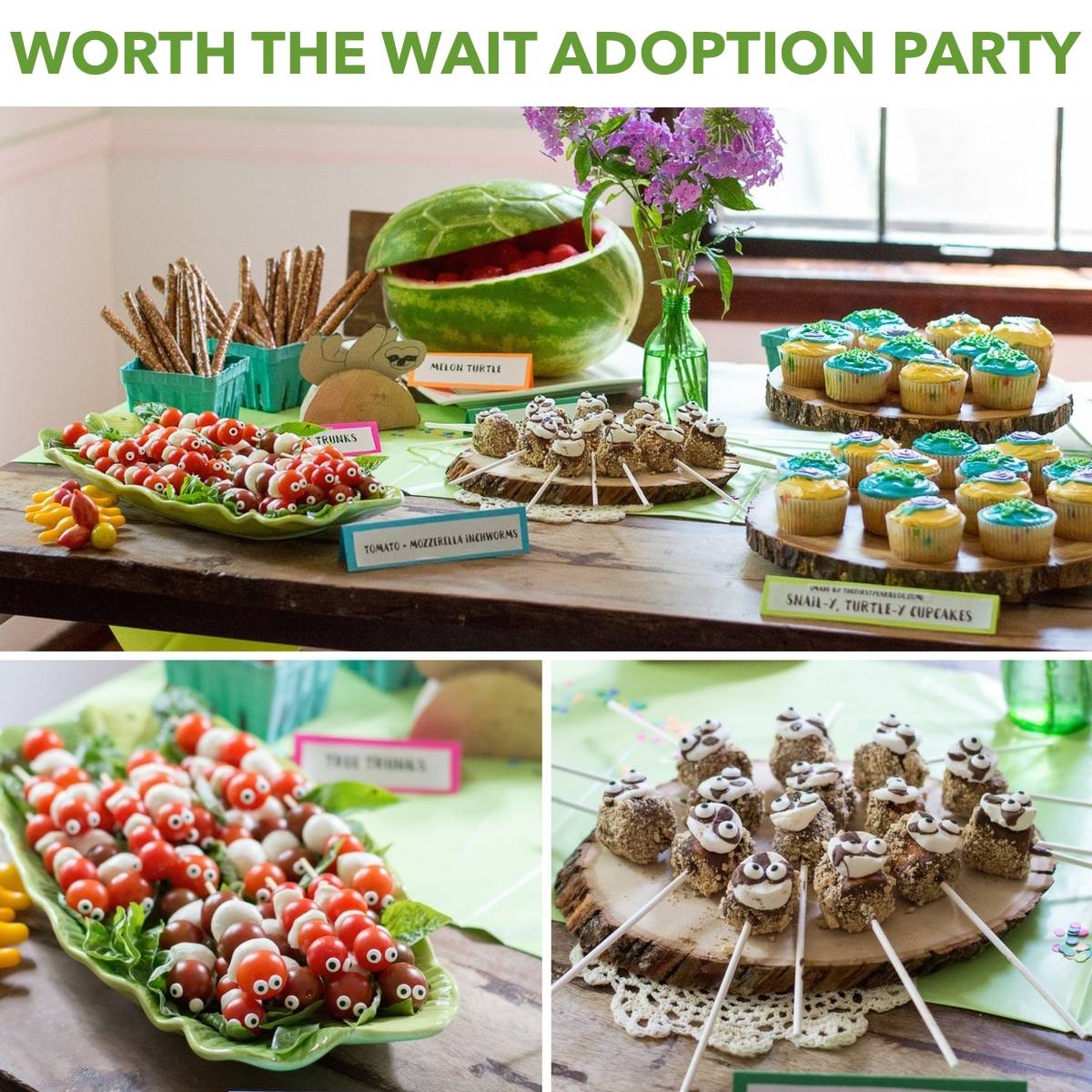 We have some dear friends who recently finalized their adoption for their adorable 2 year old son – finally making them a family of 4!
My friend Lindsay, who blogs about life as a mom and jesus follower at Hope Unswerving, asked for my help in brainstorming food and treat ideas that fit with their "Worth the Wait" adoption theme! The party featured slow animals such as turtles, inch worms, sloths, and snails. Lindsay was really the mastermind behind pulling everything together and making everything look adorable!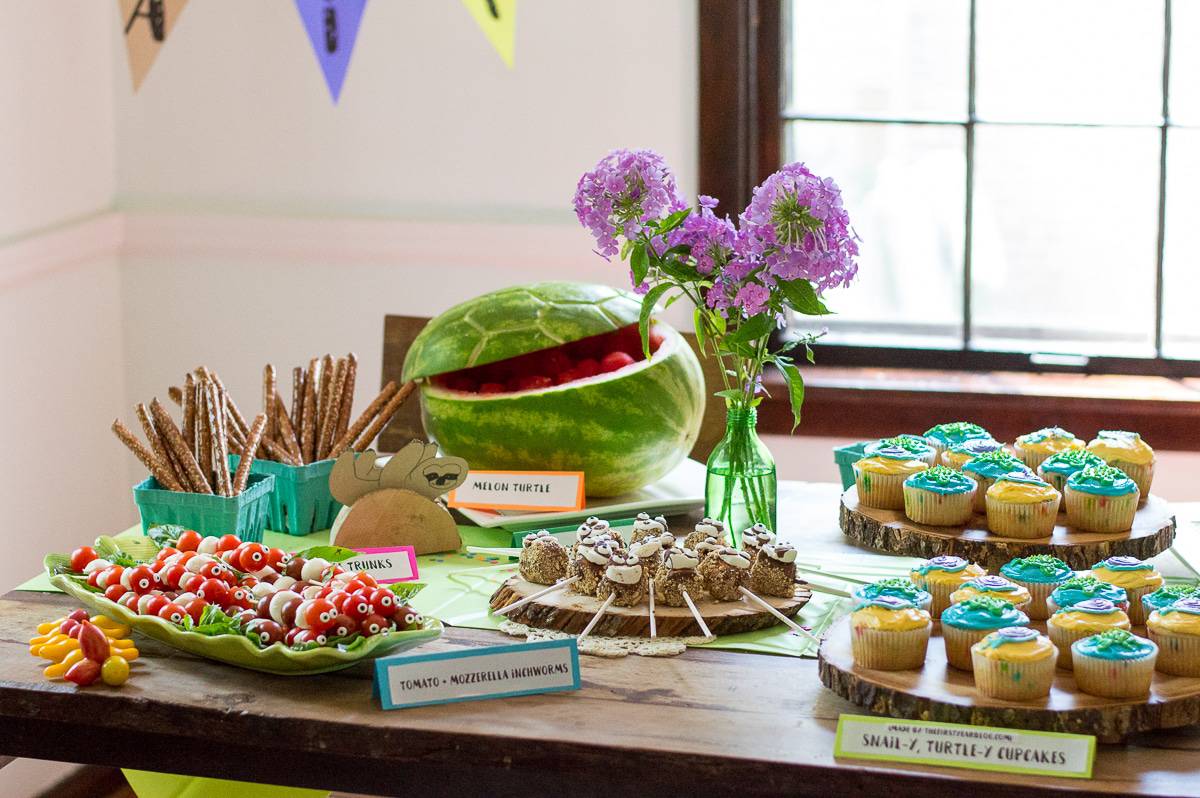 Lindsay is also sharing a blog post about the party on her site Unswerving Hope. She has printables that you can download so you can recreate your own worth the wait party! You'll be able to download the cute (hand drawn!!) animals we used around the food table plus the letters to make a fun "worth the wait" banner. Everything is gender neutral so this theme is perfect for celebrating the adoption of a girl or boy! If you love the ideas that Lindsay created, head over to her party post and leave a comment letting her know – she put her heart and soul into this party and wants the ideas and printables to be a gift for families who are adopting!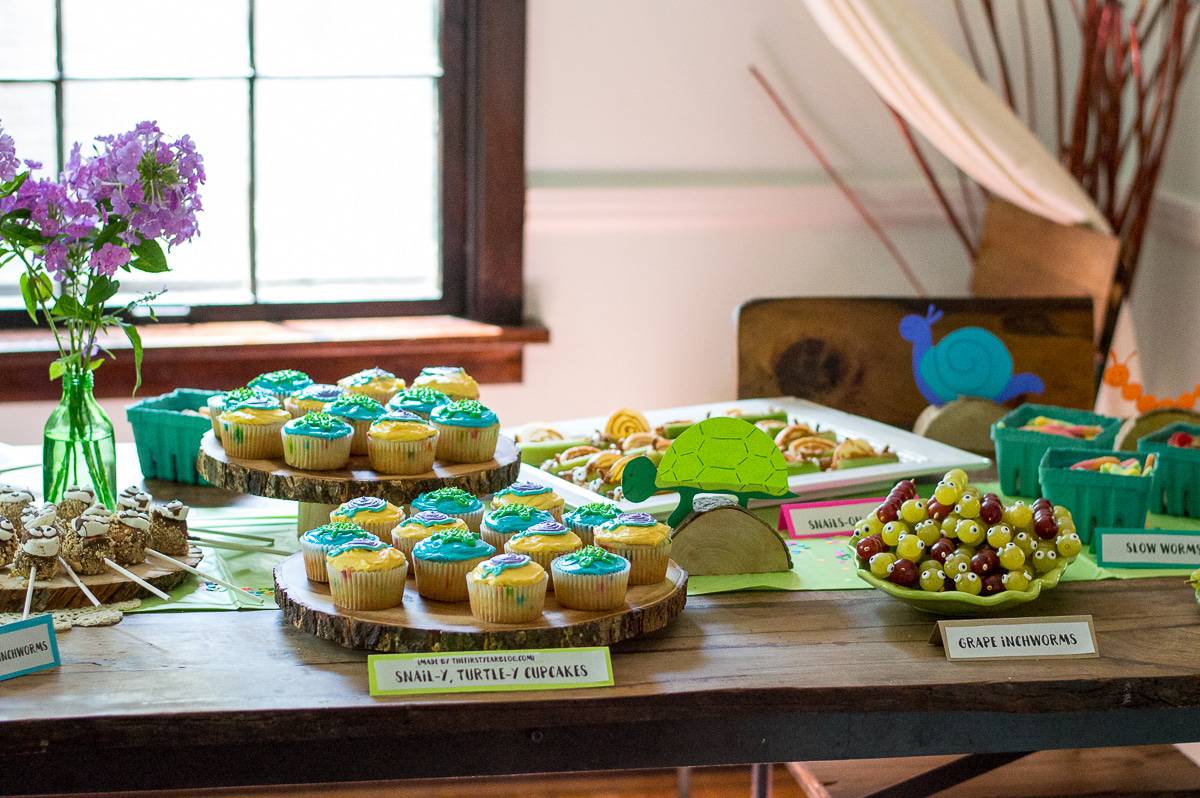 Here is a recap of the food that made this party so memorable!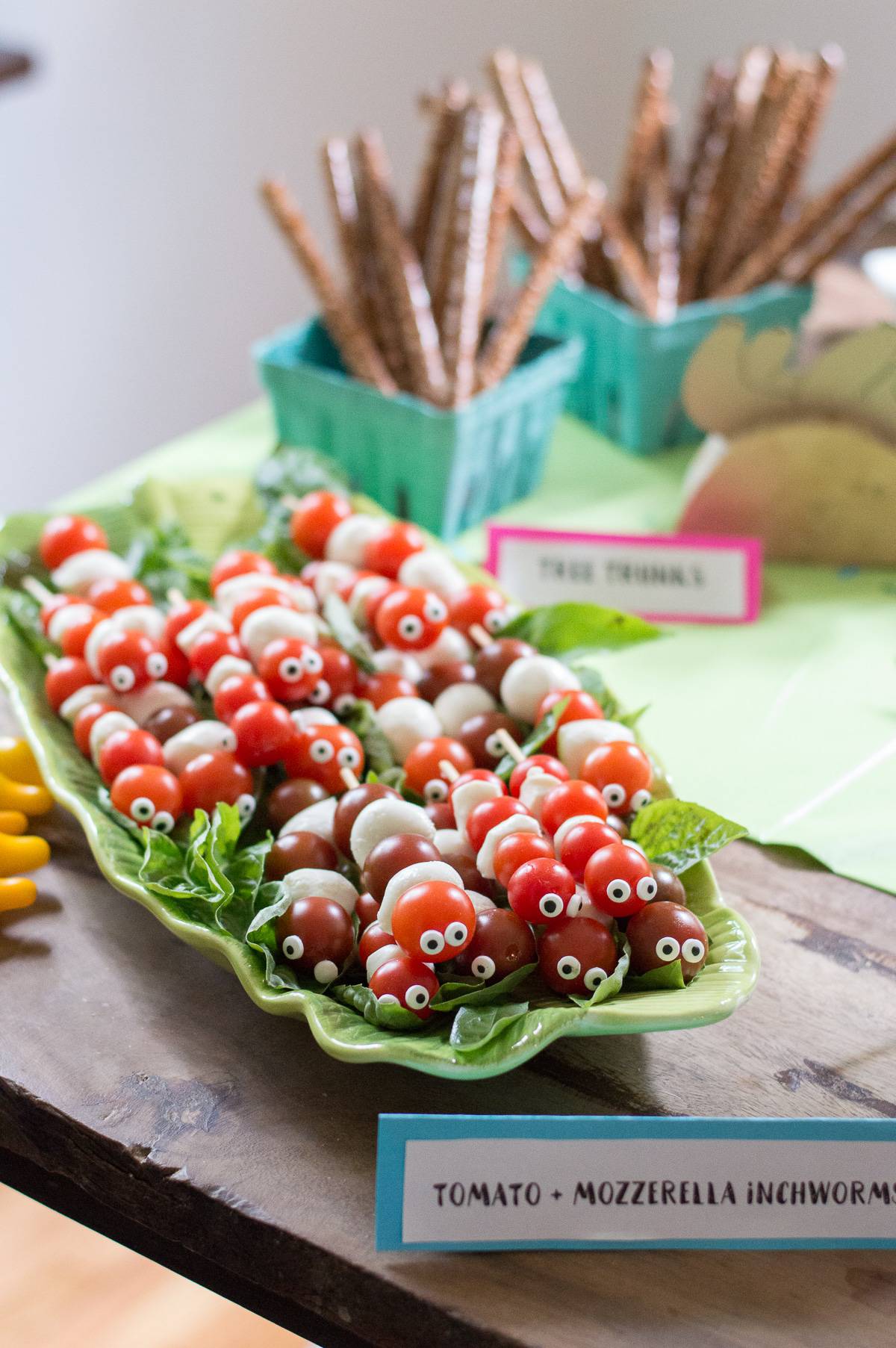 Tomato and mozzarella inchworms! Assembled on small wooden skewers with candy eyeballs that were attached with edible craft glue. We displayed them on a cute green platter with fresh basil leaves.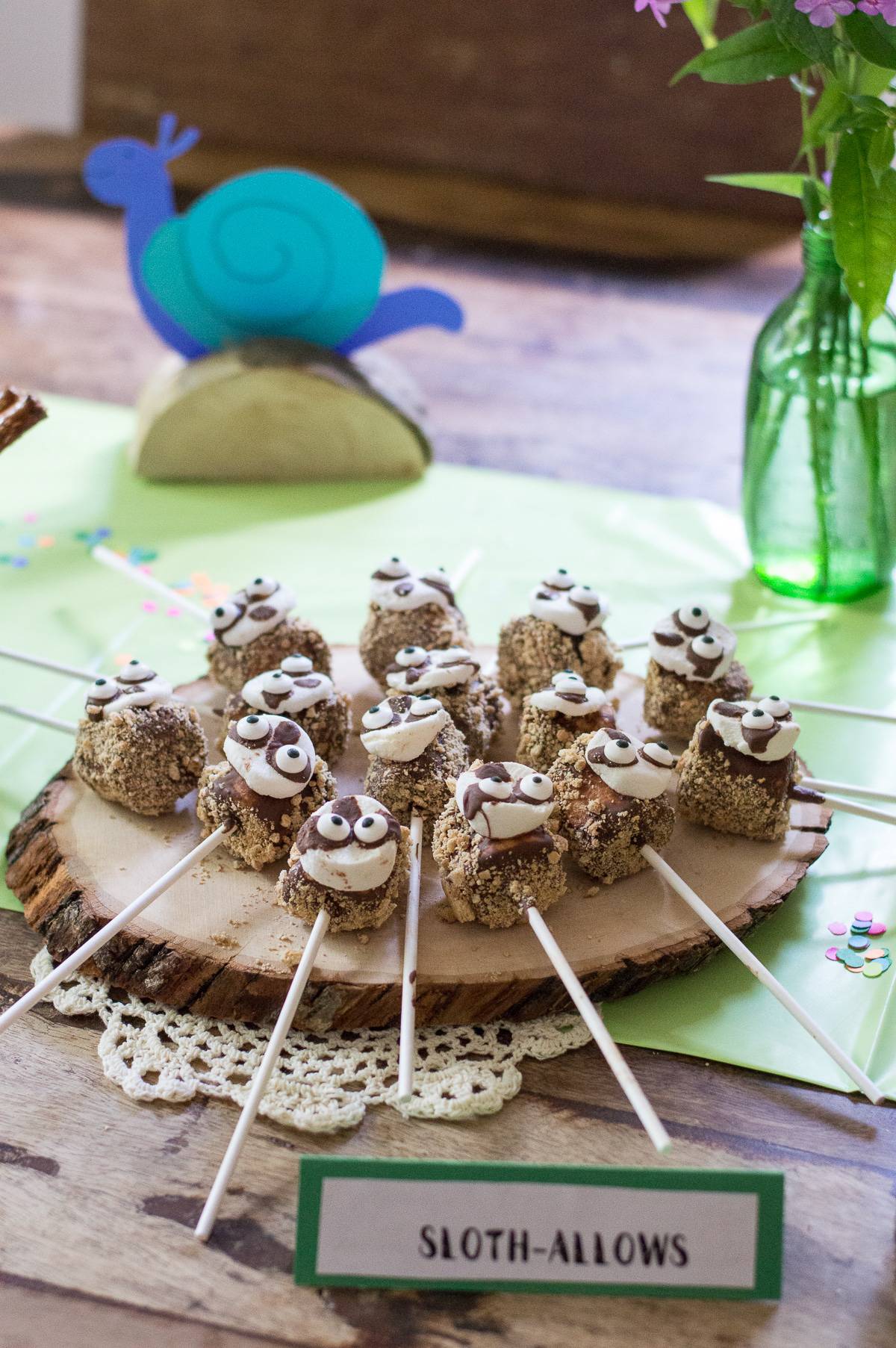 These are adorable! We're calling them sloth-allows! It's a large marshmallow rolled in chocolate and graham crackers, with half a large marshmallow on top for the sloths face with more chocolate and eye balls!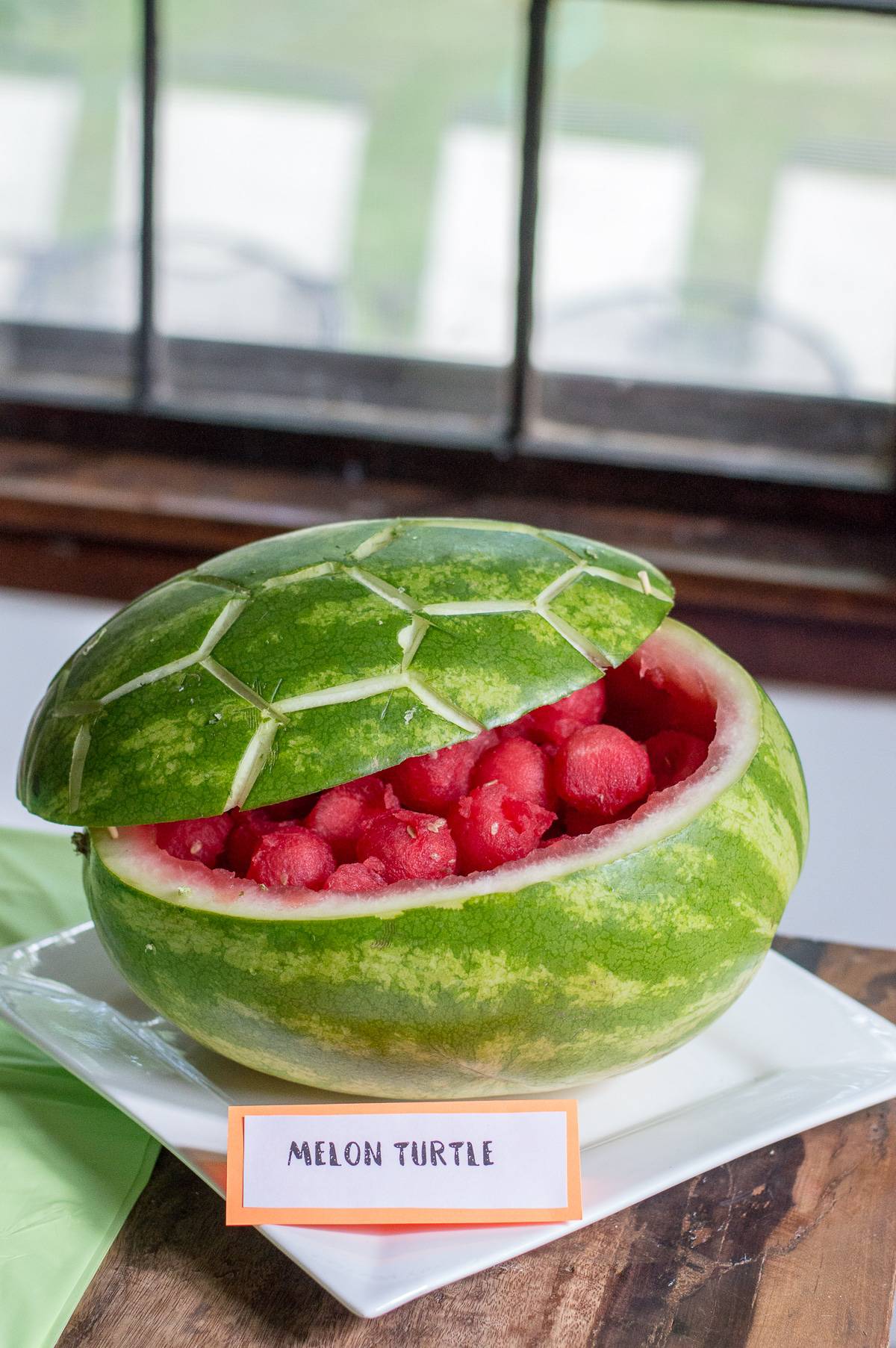 An easy melon turtle! Cut part of the watermelon off to make a turtle shell. Carve a turtle shell pattern into the melon with a knife, carving tools or screw driver :)
These are the cupcakes I made for the party! Very simple funfetti cupcakes with snails and turtles piped on with frosting.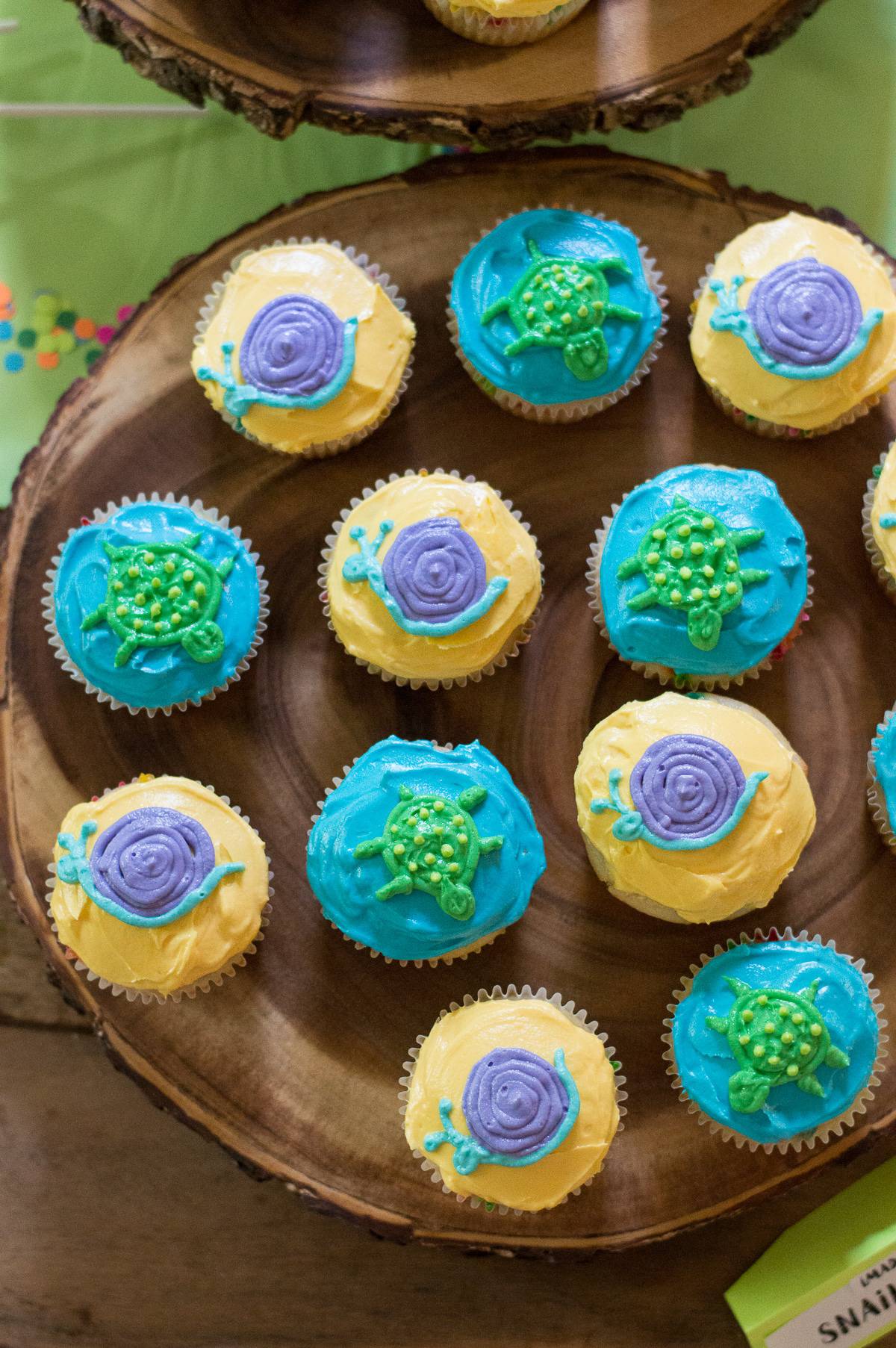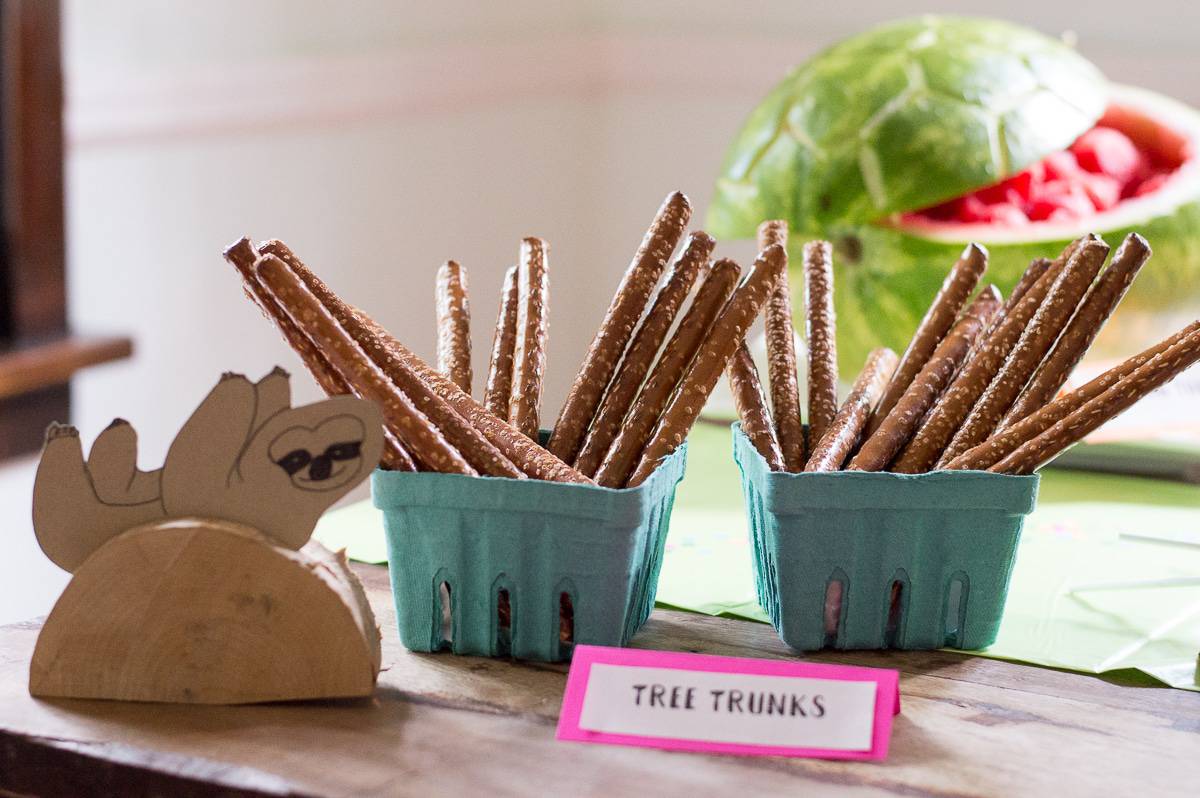 Tree trunk pretzel rods!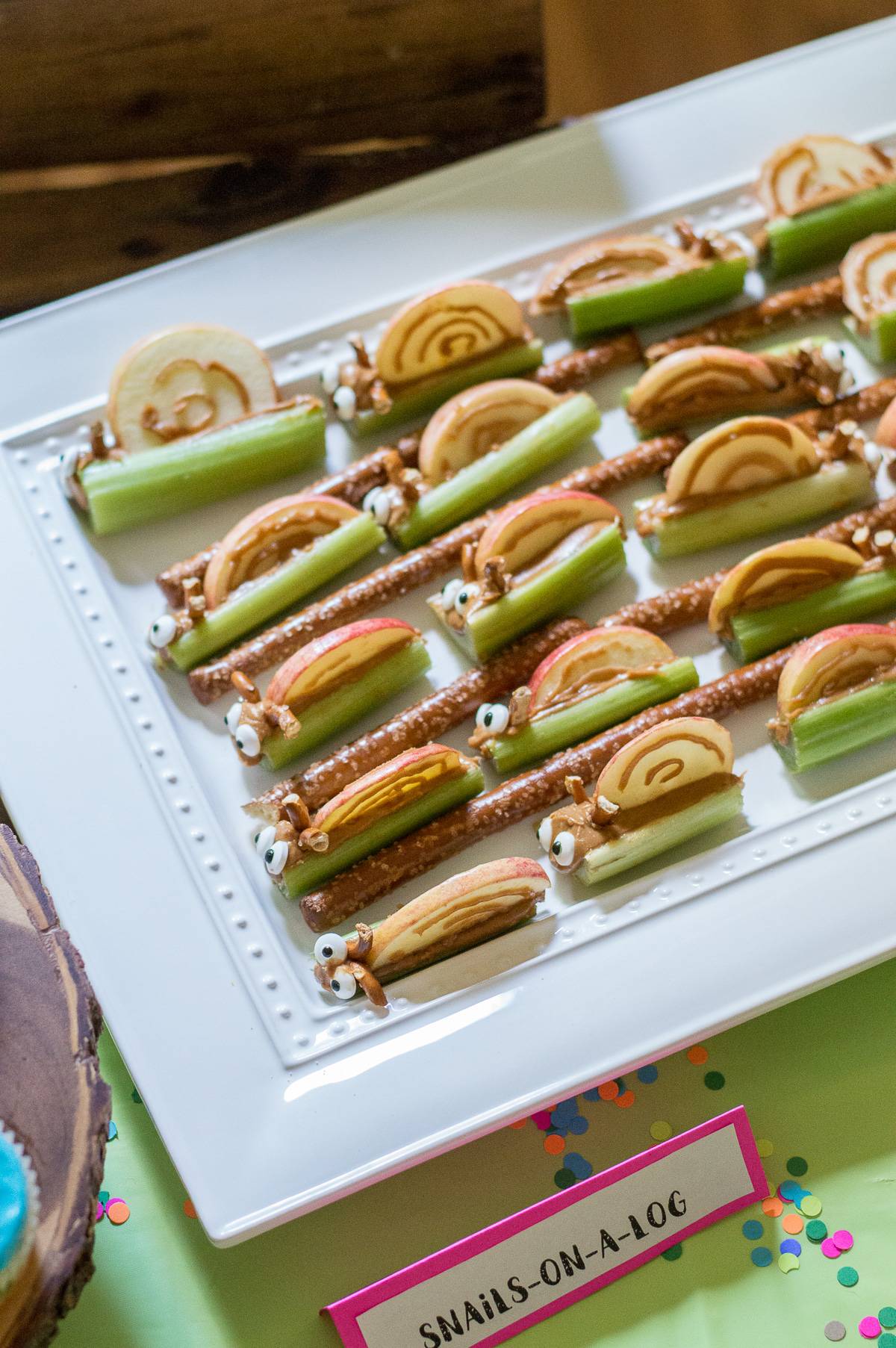 This is one of my favorites – snails on a log! Made with celery, peanut butter, an apple slice, pretzel pieces and candy eye balls!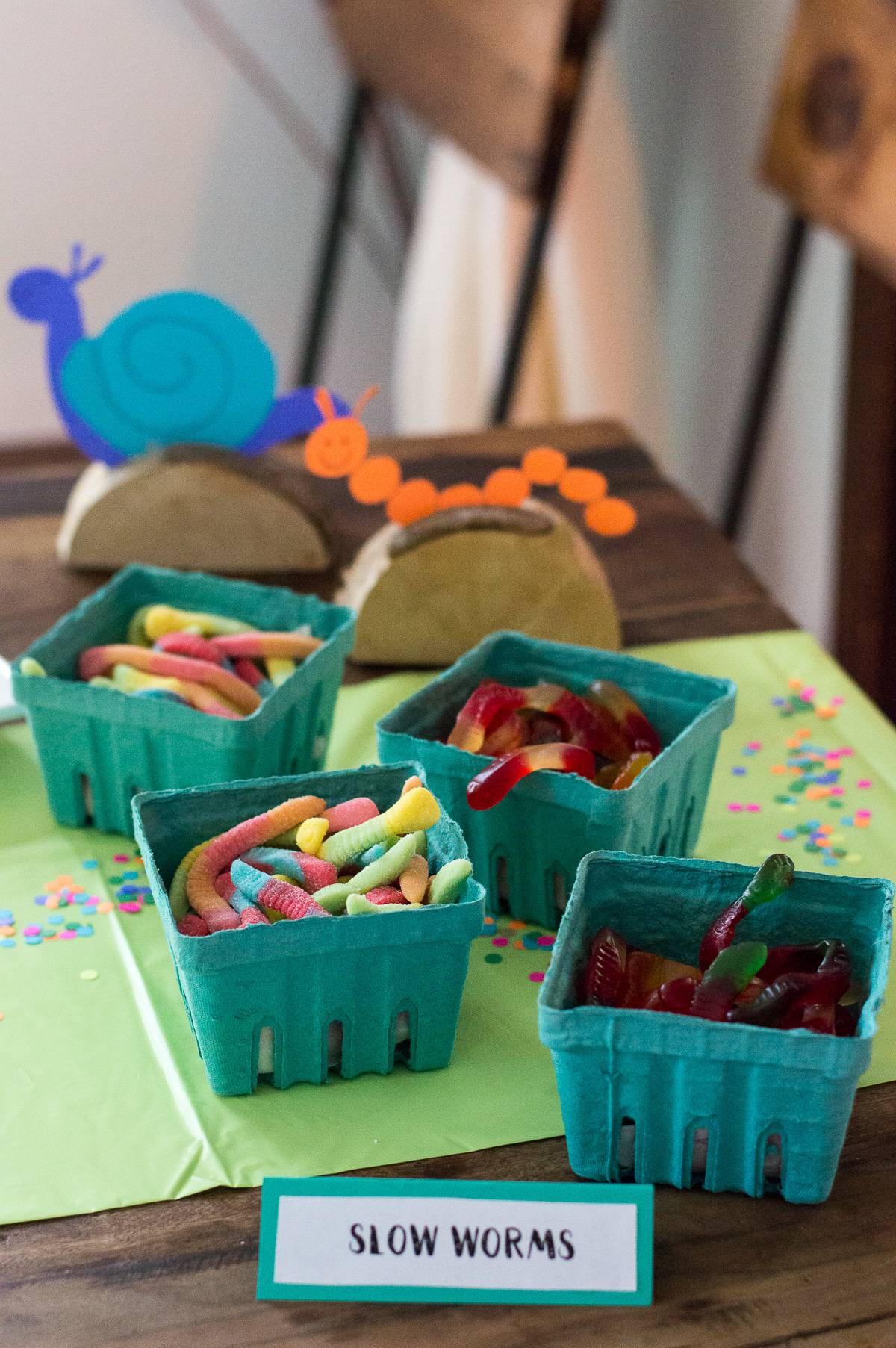 A popular treat with the kids – slow worms or inch worms aka gummy worms and sour gummy worms!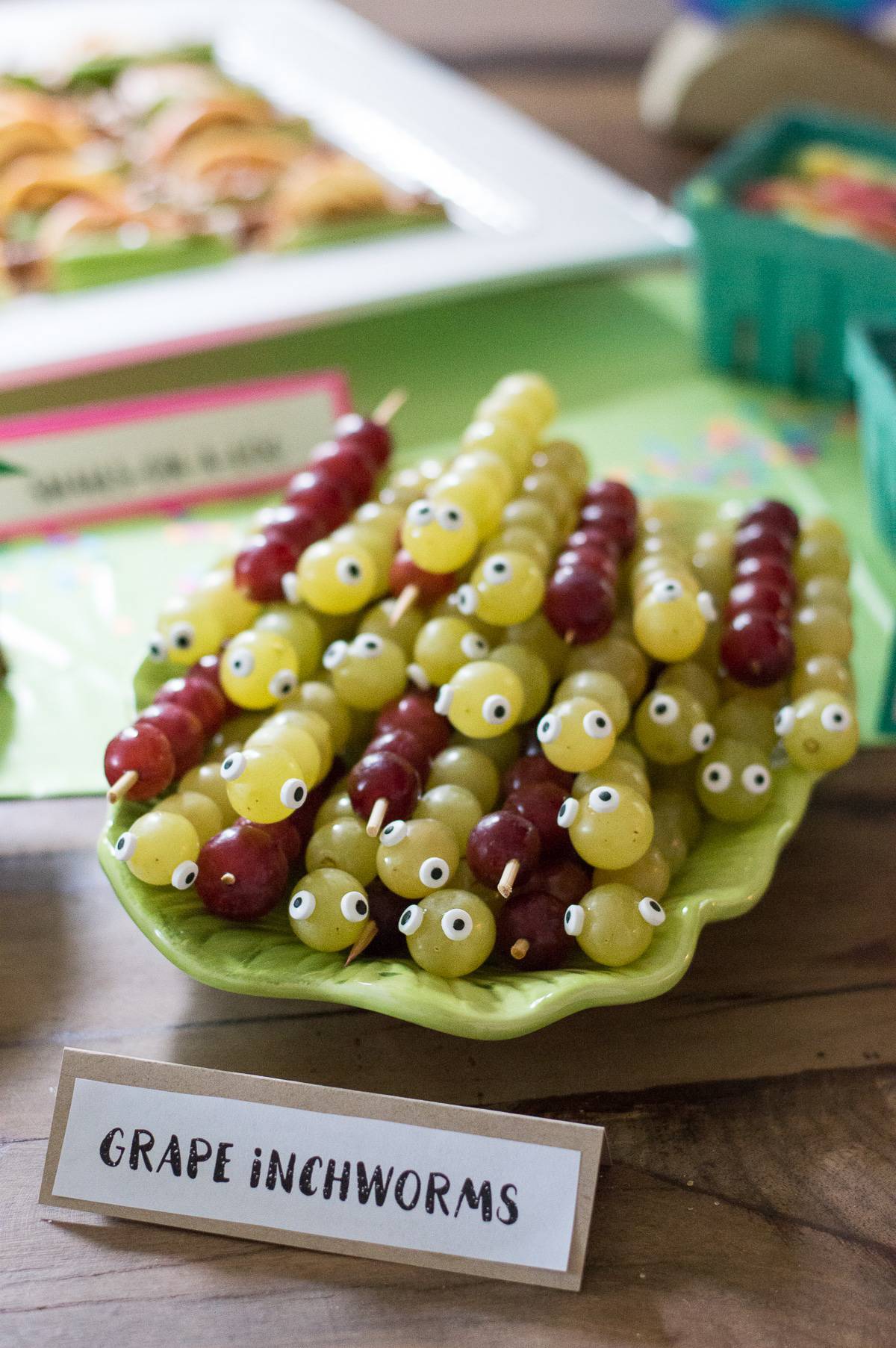 Easy to make grape inchworms! Made with green or red grapes assembled on wooden skewers with candy eye balls attached with edible craft glue.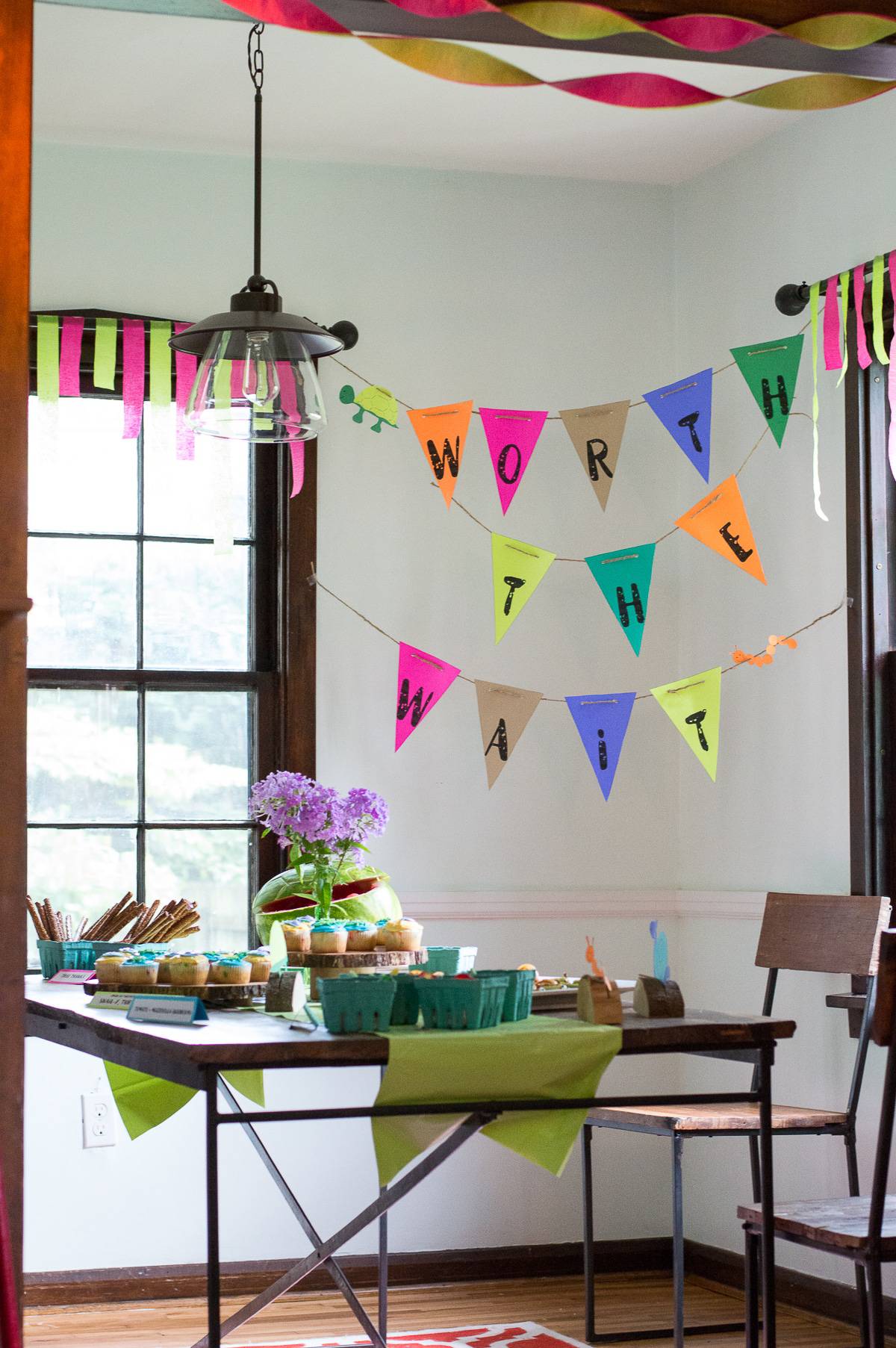 It was such a special day to celebrate this family! Visit Lindsay's site for more party details and printables!