Valentine's Day Slice N' Bake Cookies
Homemade Valentine's Day Slice N' Bake Cookies with a step by step video!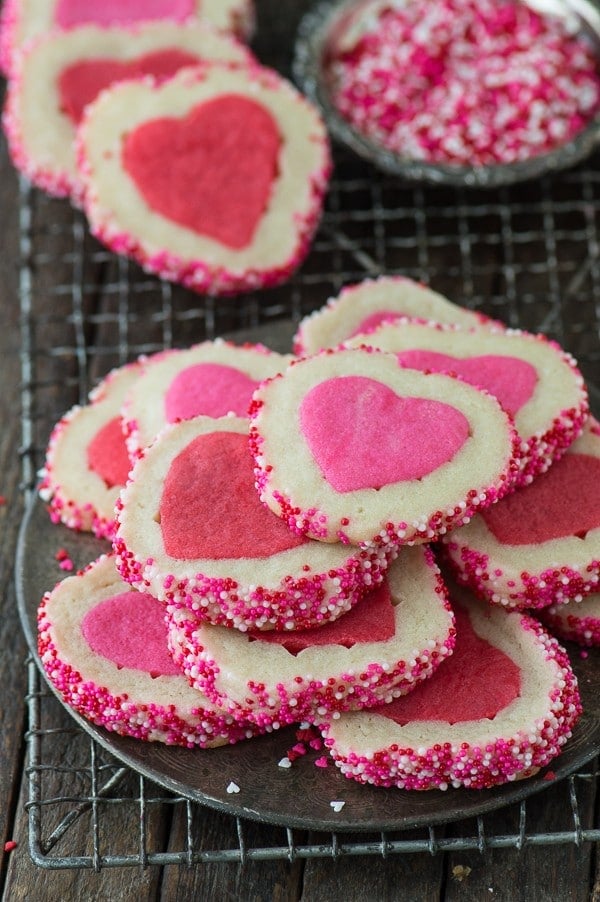 When you're a food blogger you quickly become known as the treat girl. And now there are so many people that call me the treat girl that sometimes certain groups of friends start harping on me if I haven't brought them desserts in while. Between bible study, small group, neighbors, friends, and the family I nanny for maybe I could start making a profit and offer to bring the treats to the highest bidder! Haha.

Everyone Loved These Valentine's Cookies!
I brought these Valentine's Day Slice N' Bake Cookies to my women's bible study and they loved them! First, they couldn't believe that they were homemade, they kept asking questions about how I made them. Since the process is kind of difficult to describe in words, I created a short step by step video that does a great job at walking you through what you need to do. The ladies also commented that the flavor and texture was phenomenal, plus that they were the cutest Valentine's Day cookies!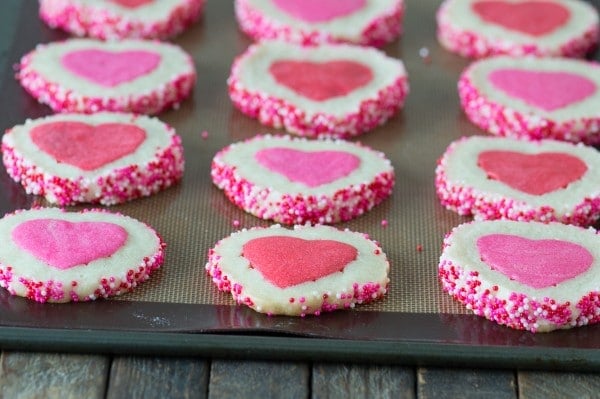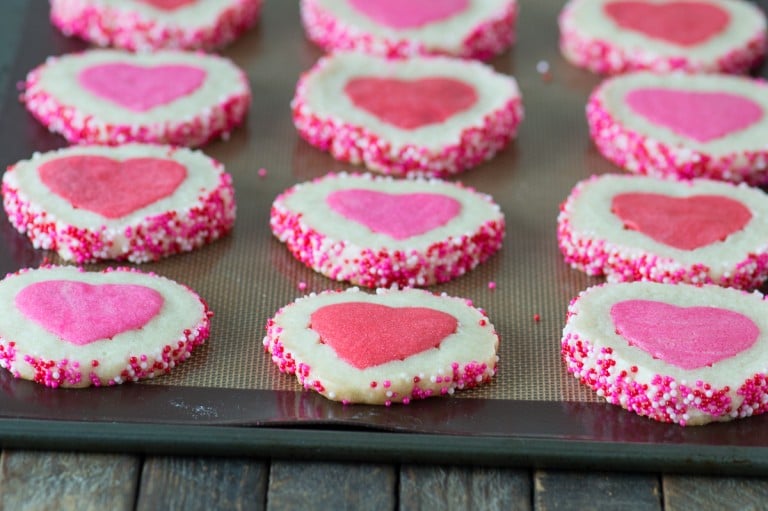 The first time I made Valentine's Day Slice N' Bake Cookies, I had a little baking fail BUT I learned that one step in the process is very crucial. Here it is – After the whole log is assemble and has been rolled in nonpareil sprinkles, wrap the cookie log in plastic wrap and refrigerate it for at least 2 hours. Refrigeration helps to harden the cookie dough, ensuring that when you go to slice the cookies, that the shape of the cookie dough will not get smushed. Trust me, don't skip this step.. smushed heart cookies won't look as cute.
The women at my bible study were also wondering if these cookies take a long time to make because they probably look like they take a long time to make.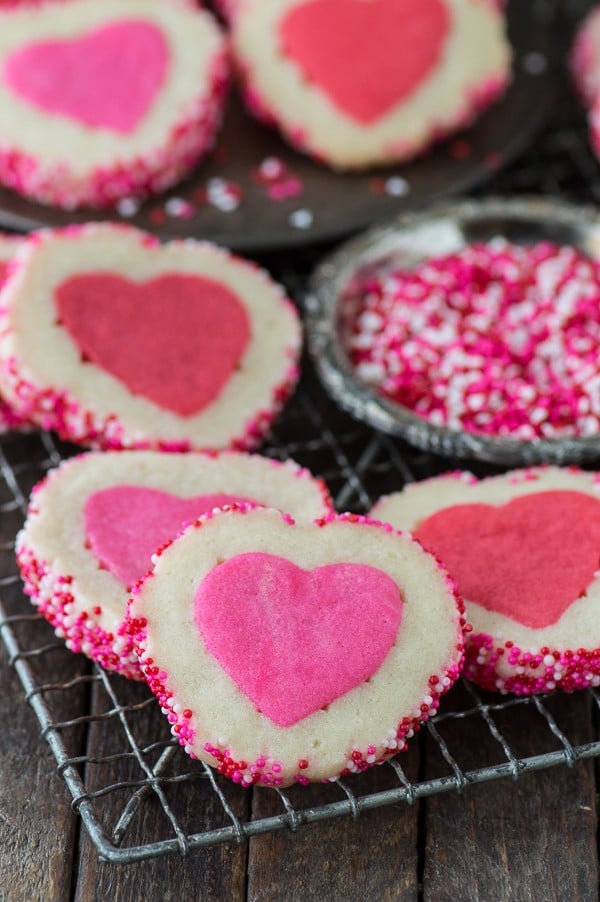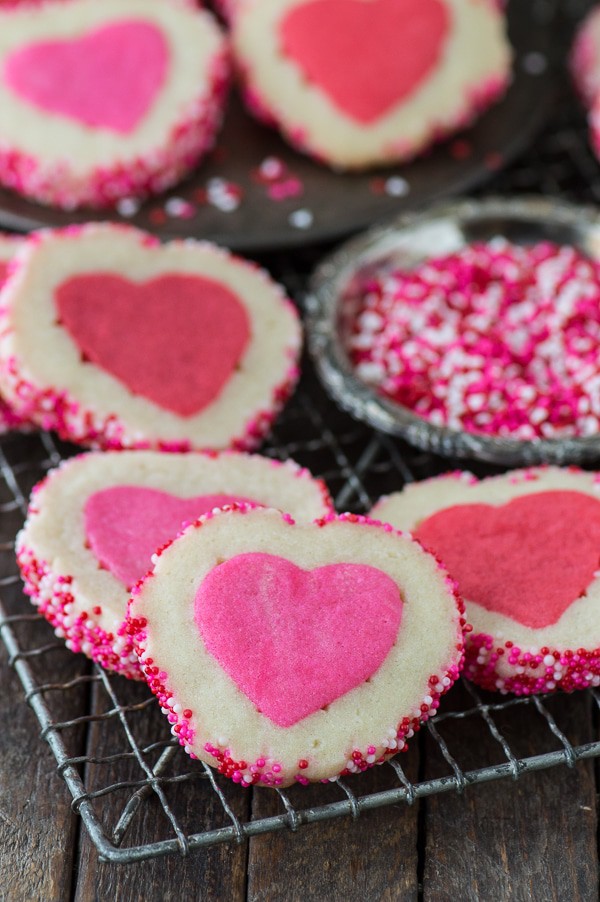 While you could buy a log of pre-made slice and bake cookies from the store, and literally only spend 10 minutes on them in total, let's be honest, no one will probably drool over them. And second, you can't customize them. Third, the store bought ones don't come with sprinkles – or at least from my knowledge they don't.. I guess I'm not completely sure because I never buy them!
How to Make These Valentine's Day Slice N' Bake Cookies
Since I am a very detailed, like to stay on schedule person here is a breakdown of how much time it will take to complete each task..
15 minutes to make and dye the dough
10 minutes to cut out heart shapes
30 minutes to refrigerate
10 minutes to roll long dough pieces, assemble, and cover in sprinkles
2 hours to refrigerate or overnight or longer until you want to bake them
15 minutes to bake and cool
A lot of the time required is for refrigeration or baking, so totaling up the active time, I'd estimate 35 minutes of hands on time! Doable, right?!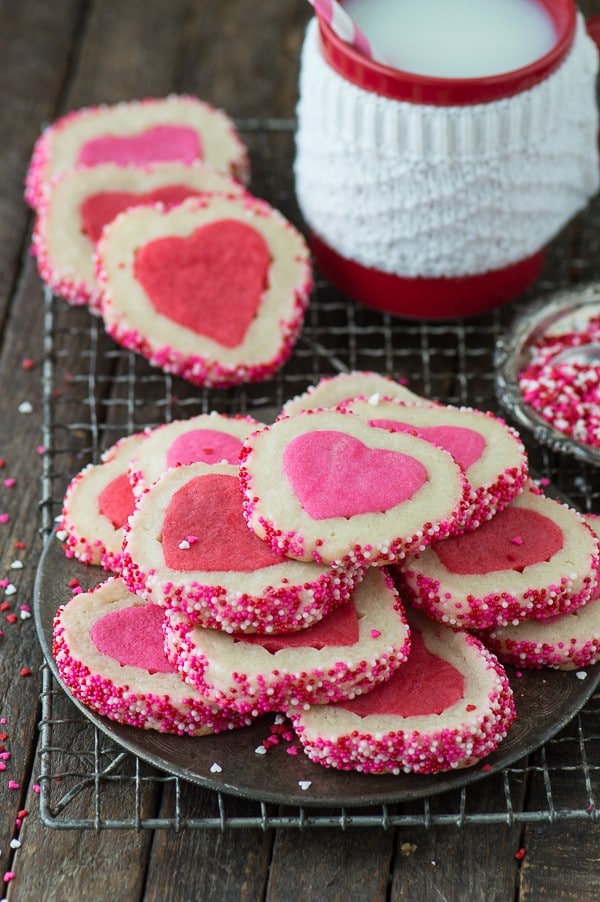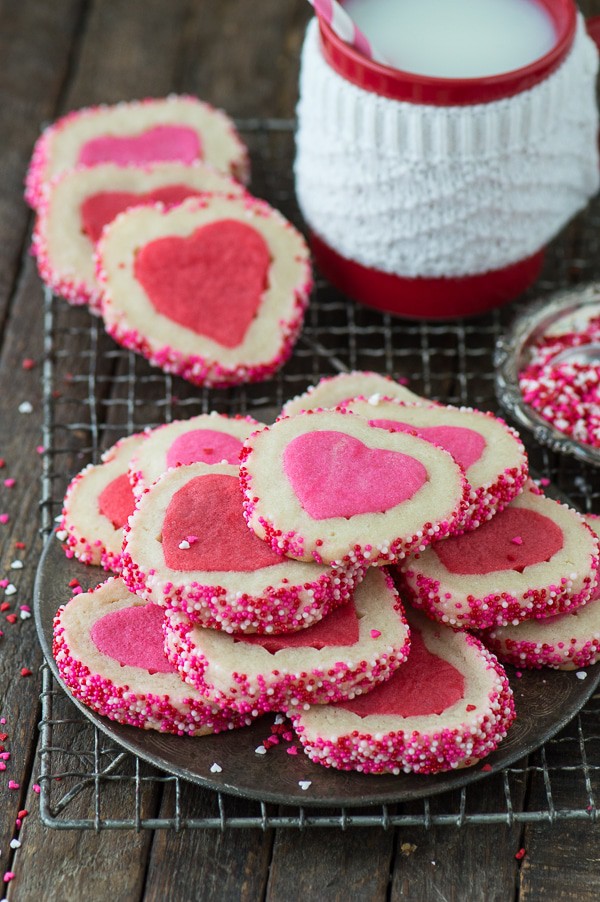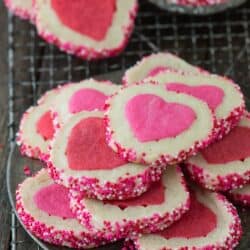 Valentine's Day Slice N' Bake Cookies
Homemade slice and bake cookies are such a great look! They are perfect to store in the fridge at the ready.
Ingredients
3

cups

all-purpose flour

2

teaspoons

baking powder

1

cup

granulated sugar

2

sticks

unsalted butter

,

softened (1 cup)

1

large

egg

1

tsp

vanilla extract

½

tsp

almond extract

pink and red gel food coloring

valentine's day nonpareil sprinkles
Instructions
In a bowl, combine the flour and baking powder. Set aside.

Place the sugar and butter in a mixing bowl and using an electric mixer beat until creamy, about 2 minutes.

Add in the egg, vanilla extract, and almond extract, beat.

Spoon the flour mixture into the wet ingredients, and mix gently until incorporated and dough forms with a spatula.

Pull out 1/3 of the dough, divide that ball into 2 - dye one section red and the other pink. Knead the dough until the color is incorporated.

Roll the colored dough to about 1/2 inch thick.

Use a lightly floured 1 inch cookie cutter to cut out your shapes. Re-roll the scraps to make as many hearts as you can.

Line up the hearts together on a piece of plastic wrap, then wrap them in plastic and stick them in the fridge for 30 minutes.

10 minutes before the hearts come out of the fridge, begin to roll the outside dough into long narrow ropes. The ropes need to be long enough to cover all of the center cut outs length wise.

Begin to place the ropes around the hearts, gently pressing the ropes to fit around the hearts.

Continue until the hearts are completely covered.

Place some nonpareil sprinkles in a baking dish, and gently roll the cookie dough in the sprinkles, covering all of the sides.

Wrap the cookie dough in plastic wrap and refrigerate for at least 2 hours or over night.

After the dough has been refrigerated, slice it into about 1/2 inch thick cookies. Place them on a baking sheet, at least 1 inch apart, and bake at 350º F for 8-10 minutes.

Allow the cookies to cool for 3-5 minutes of the baking sheet then transfer them to a cooling rack to cool completely.

Store in an air tight container.
Calories:
107
kcal
,
Carbohydrates:
14
g
,
Protein:
1
g
,
Fat:
5
g
,
Saturated Fat:
3
g
,
Polyunsaturated Fat:
1
g
,
Monounsaturated Fat:
1
g
,
Trans Fat:
1
g
,
Cholesterol:
19
mg
,
Sodium:
26
mg
,
Potassium:
15
mg
,
Fiber:
1
g
,
Sugar:
6
g
,
Vitamin A:
164
IU
,
Calcium:
17
mg
,
Iron:
1
mg