Want our top 10 essential dessert recipes?
Get our favorite classic recipes in your inbox! It's 100% free, but we might make you hungry!
Snickers Bar Ice Cream Cake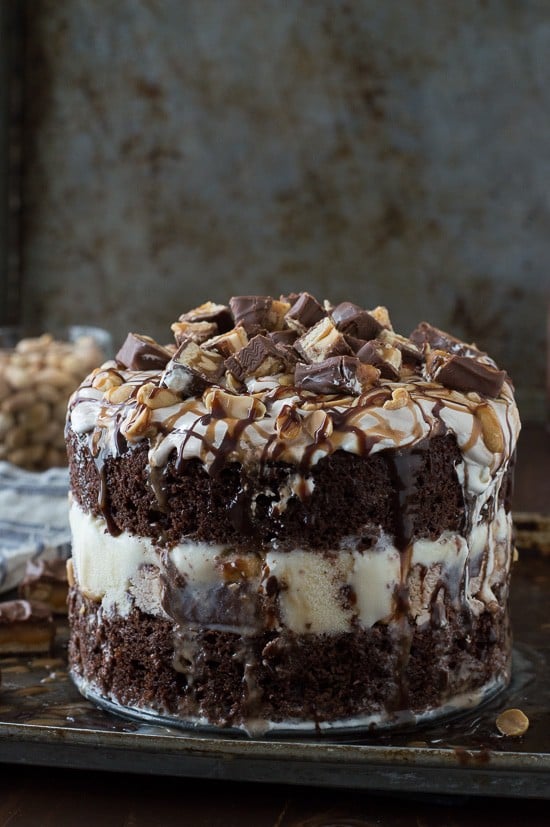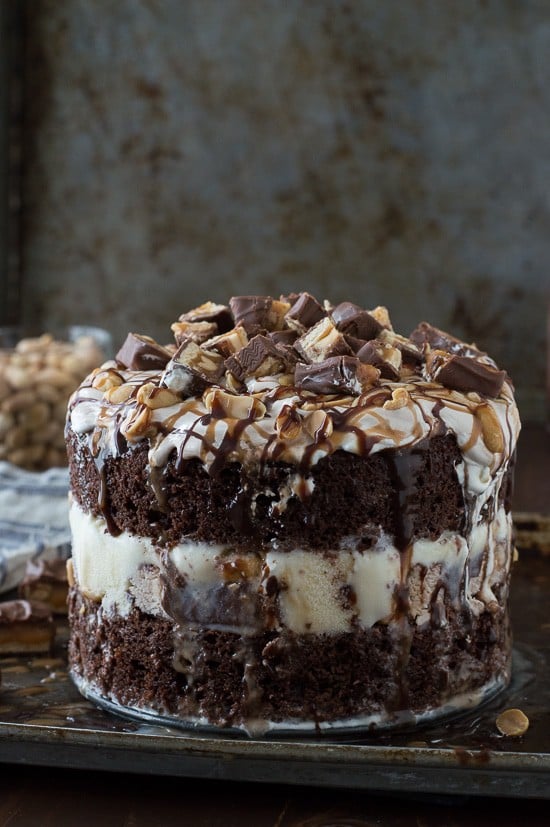 I created this recipe in partnership with Mars Ice Cream. As always, all opinions are my own.
Not only is July my birthday month, it's also National Ice Cream Month! I think those two celebrations are a pretty perfect pair because I really do love ice cream. Even during the middle of winter Ryan and I will still eat ice cream, that's how you know if you're a true ice cream lover.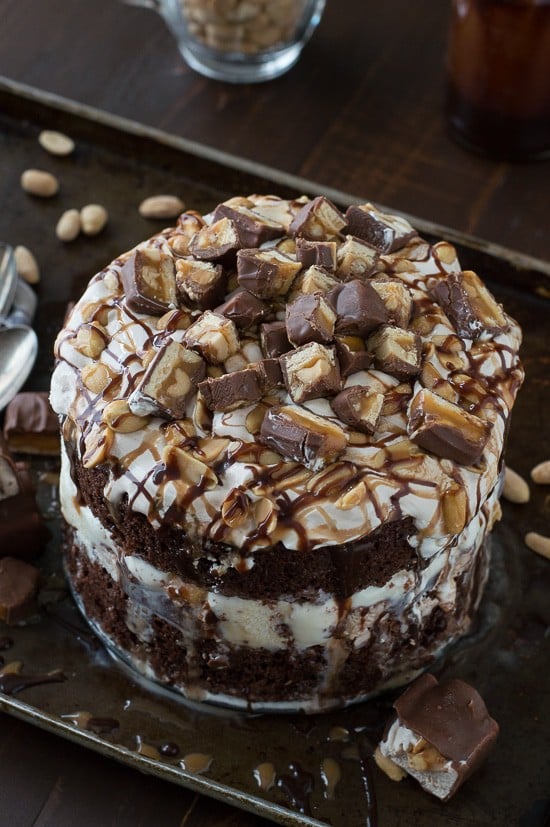 Birthdays require cake and when you're the birthday person, you get to pick your flavor, right? At least I hope that's how it works in your family! So I decided on a Snickers theme. Of course, when you're a food blogger AND you get to make your own birthday cake, it's going to be epic.
Here's the breakdown, layer by layer.
1. homemade chocolate cake, with real chocolate in the batter
3. the epic ice cream layer with Snickers® Mini Ice Cream Bars and vanilla ice cream
4. gooey caramel sauce and peanuts
5. another layer of homemade chocolate cake
6. to top the cake – cool whip, caramel sauce, chocolate sauce, peanuts and chopped up Snickers® Candy Bars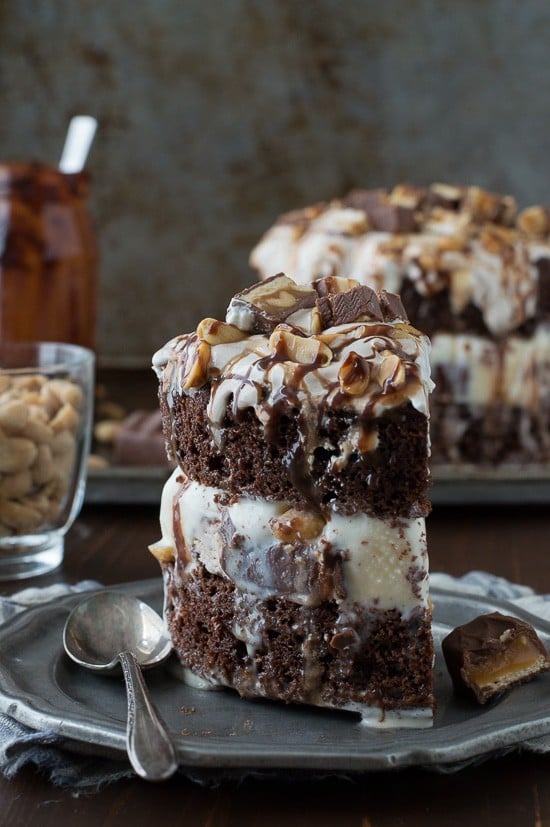 With Snickers® Ice Cream Bars and Snickers® Candy Bar pieces, it's a Snickers lover's dream. Go big or go home, right?! I'd say it's the perfect ice cream cake to celebrate any summer birthday! If you don't have any summer birthdays in your family, don't fret because you can celebrate National Ice Cream Day on July 19th! See, there's always a reason for cake!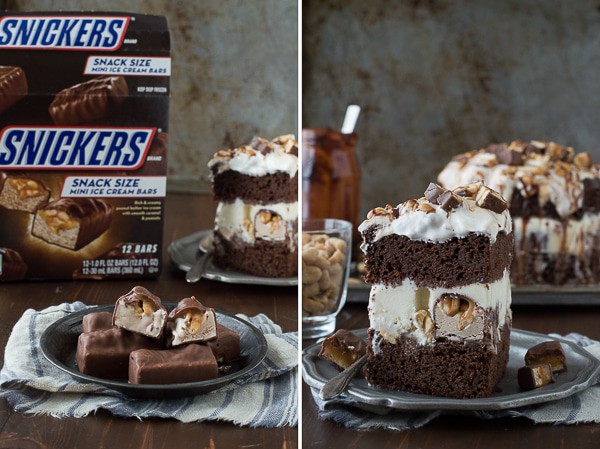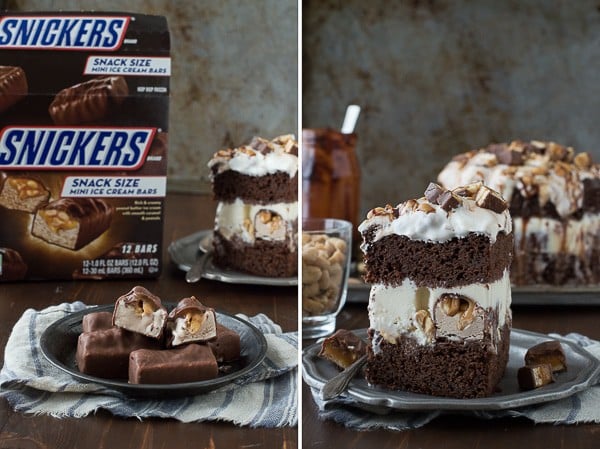 Do you see that Snickers® Ice Cream Bar peeking through? DELICIOUS!
Snickers Bar Ice Cream Cake
Yield: one 3 layer 6 inch cake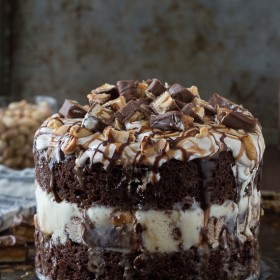 Ingredients:
Chocolate Cake
1/2 cup cocoa powder
1 cup flour
1 tsp baking powder
1/2 tsp baking soda
1/4 tsp salt
1 stick butter, room temperature
3/4 sugar
2 eggs
1 tsp vanilla
1/3 cup sour cream
2 tbsp melted chocolate, cooled
Additional
Snickers® Ice Cream Bars Minis (come in a pack of 12)
Vanilla ice cream, softened
Caramel sauce
Peanuts
Cool whip
Chocolate sauce
Snickers® Candy Bar, chopped
Directions:
Chocolate Cake
Preheat the oven to 350º F.
Using butter grease the bottom and sides of two 6 inch round cake pans or springform pans and line the bottoms with a round piece of parchment paper. To ensure even baking, place a bake even strip around each pan. You can make your own homemade bake even strip by cutting a towel or shirt to fit the size of your pan. Get the fabric really wet, then squeeze out the dripping water but do not squeeze it too dry. Secure the fabric around the pan with a safety pin.
In a small mixing bowl, combine the cocoa powder, flour, baking powder, baking soda and salt. Gently mix using a spoon.
In a larger mixing bowl, combine the butter and sugar, beat using an electric mixer until fluffy. Add in the eggs and vanilla, lightly beat.
Add in the sour cream and melted chocolate, mix by hand using a spatula.
Add half of the flour mixture to the wet ingredients, do not dump it in, rather take spoonfuls of the flour mixture and gently shake it over the wet ingredients. Fold in the mixture until no flour remains. Repeat with the other half of the flour, folding it in and scraping the sides and bottom of the bowl to incorporate everything.
Evenly divide the batter between the 2 pans, with about 1 & 1/3 cups in each pan.
Bake for 25-27 minutes or until a toothpick inserted in the center comes out clean.
Once the cake is done baking, allow it to cool in the pan on a cooling rack for 10 minutes. After 10 minutes, carefully remove the cake from the pan. If using a springform pan, remove the sides and bottom. Allow the cake to cool completely on a cooling rack. Once cool, remove the parchment paper round from the bottom of the cake. If you need to level the top of your cake, do so now using either a cake lever or knife.
If you'll be assembling the cake later, wrap the cake layers really good in plastic wrap and place them in the refrigerator, which is good for up to one week.
To assemble the cake
Place one layer of chocolate cake in the bottom of a 6 inch springform pan.
Unwrap 8-10 Snickers® Ice Cream Bar Minis and place them on top of the chocolate cake. Drizzle caramel sauce and peanuts on top of that layer. Fill in the areas surrounding the Snickers® Ice Cream Bars with vanilla ice cream. Spread the ice cream into an even, flat layer.
Place the cake in the freezer for about 30 minutes to 1 hour to set the ice cream layer.
Once the ice cream layer is frozen, add the second chocolate cake layer to the cake. The second layer of chocolate cake will stick up over the sides of the springform pan. Return the cake to the freezer for 1 hour.
Carefully remove the sides from the springform pan. You may find it helpful to use a flat metal spatula to go around the edges of the pan to loosen the cake before removing the springform pan. Once the sides are removed, return the cake to the freezer for 1-2 hours.
Spread cool whip around the top of the cake. Add peanuts, caramel sauce, chocolate sauce, and chopped up Snickers® Candy Bar pieces. Keep the cake in freezer until ready to serve.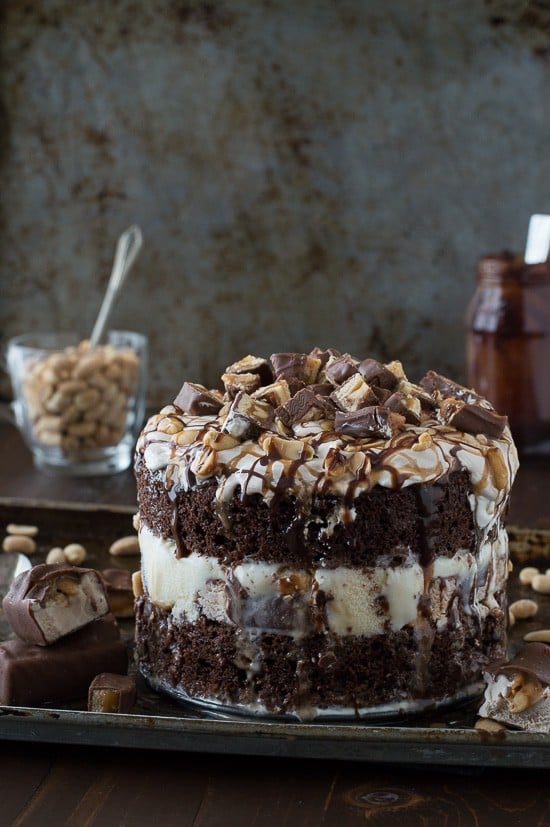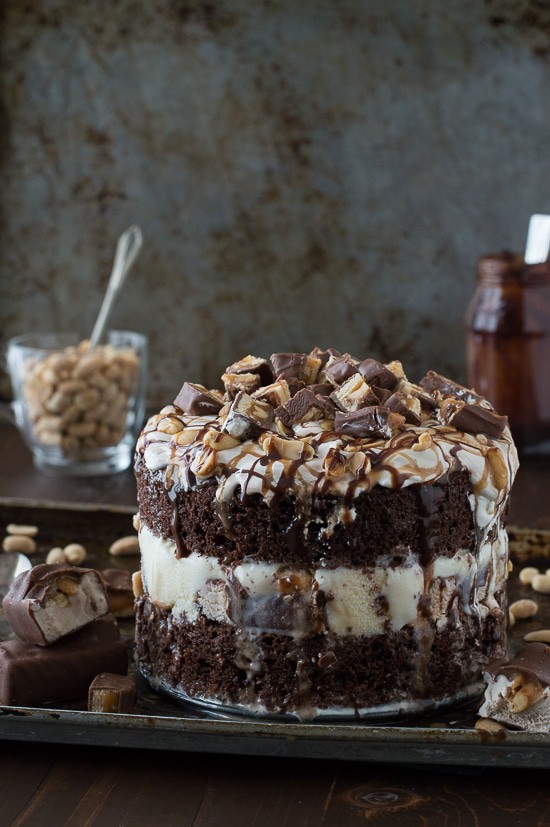 I would totally be on board for national ice cream YEAR! Anyone else?!