Skillet Apple Pie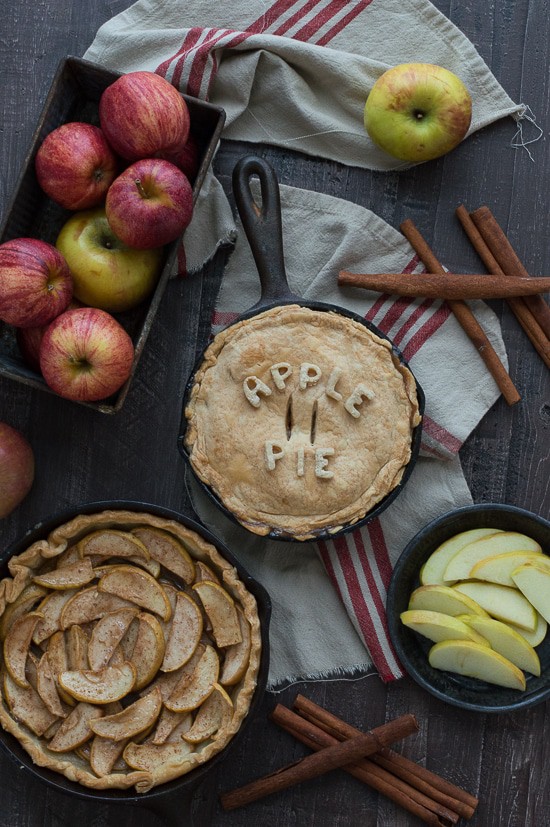 This fall is filled with a bunch of firsts.
I made a lattice crust for the first time ever. I used my cast iron skillets for the first time ever… meaning I seasoned my cast iron skillets for the first time ever too.
And now I made apple pie FTFTE (for the first time ever!)
Ain't nothing standing in my way this fall.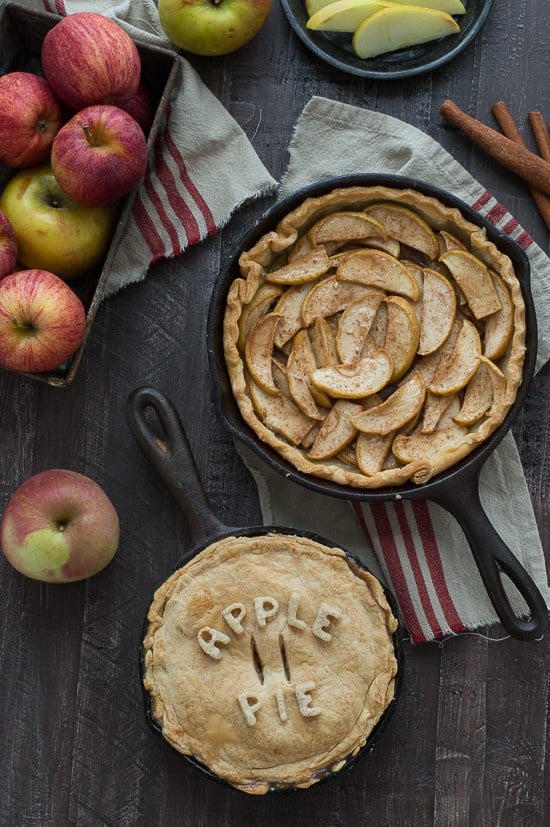 I followed the directions from The Kitchn on how to season a cast iron skillet. It's super easy, preheat the oven to 325º F, then wash and dry your skillet. Next apply a thin coat of vegetable oil all over the pan. Place the pan in the oven for 1 hour. Be sure to put a baking sheet below your skillet to catch any dripping oil. After 1 hour, turn off the oven and allow the pan to cool completely.
I honestly thought seasoning a skillet involved salt, good thing there's always google.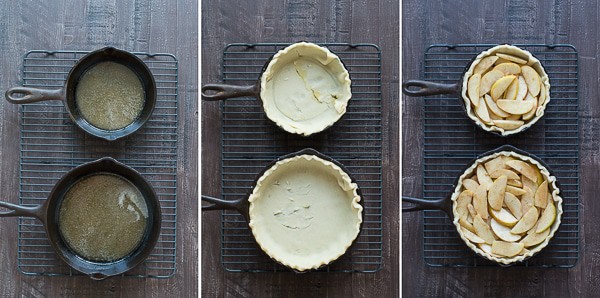 Now that your skillet is seasoned, let's make the pie. You could use homemade pie dough or store bought dough.. honestly I don't think it matters in the grand scheme of things, apple pie is the end goal not some special homemade pie crust that took you 2 days to make. I'm all for simplifying things where I can, but that being said, I did make this skillet pie with homemade dough so I'll provide that recipe in the recipe section.
You could make this apple pie in pretty much any sized skillet. I used a 6.5 inch and a 8 inch skillet, that way you can you decide if you want a lot of apple pie or like 2 giant servings. Or both :)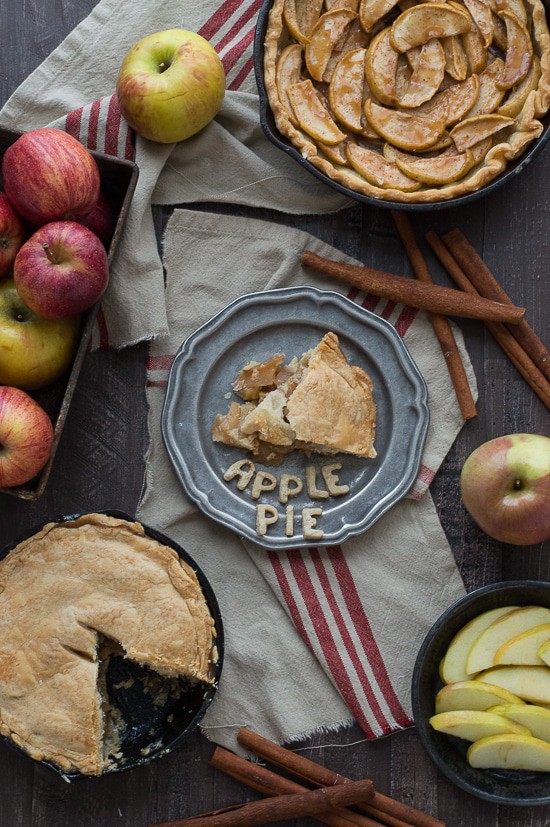 Let's talk about the cutest part of this pie – the pie crust letters! I'm going to let you in on a little secret.. the whole reason I made apple pie is because I wanted to use pie crust letters to spell something. Haha. After the pie is done cooking and it's cooled, you can "glue" the pie crust letters to the pie using a dab of caramel sauce on each letter.
I also created an open face apple pie and drizzled it with caramel sauce and added the "Happy Fall" lettering.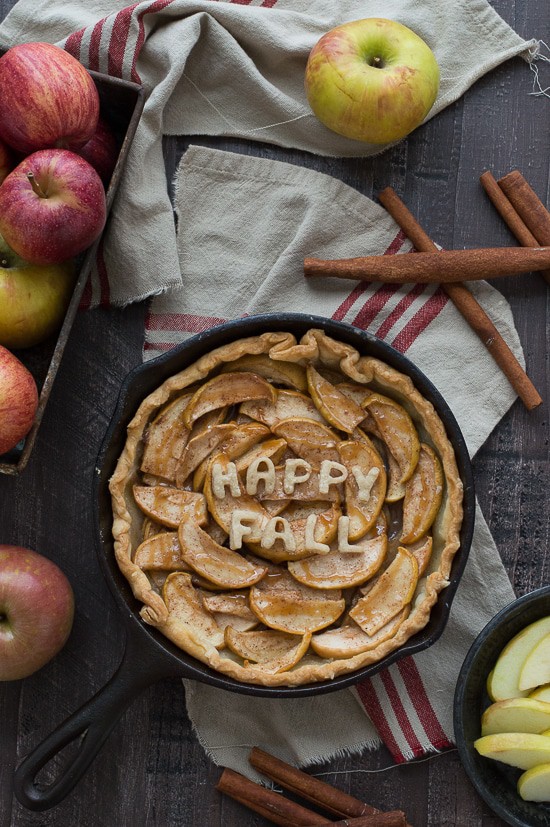 I don't think there is anything cuter than an apple pie that says "apple pie!"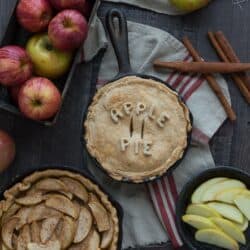 Skillet Apple Pie
Skillet desserts are so much fun! Straight from the oven to the table.
Ingredients
Pie Dough (this will make 2 crusts)
2

cups

all purpose flour

¼

tsp

salt

½

cup

vegetable shortening

1

stick

butter

,

cold and diced (1/2 cup)

1

large

egg

2

tsp

white vinegar

2

tbsp

water

,

ice cold
Apple Filling for 8 inch skillet
7-8

cups

apples

⅔

cup

sugar

3

tbsp

flour

2

tbsp

brown sugar

½

tsp

cinnamon

1

tsp

lemon

¼

tsp

nutmeg

To melt in skillet: 2 tbsp butter + 1/4 cup brown sugar
Apple Filling for 6.5 inch skillet
3

cups

apples

⅓

cup

sugar

1.5

tbsp

flour

1

tbsp

brown sugar

½

tsp

cinnamon

½

tsp

lemon

¼

tsp

nutmeg

To melt in skillet: 1 tbsp butter + 2 tbsp brown sugar
Instructions
Pie Dough
In a large bowl, combine the flour and salt.

Using your fingers or a pastry cutter, cut the vegetable shortening and butter into the flour mixture. It's okay to have several pea-sized pieces of butter remaining.

In a separate bowl, whisk together the eggs, vinegar and ice cold water.

Pour the wet mixture over the flour mixture and use a spatula to mix everything together until combined. The dough shouldn't be overly sticky, you should be able to form it into a ball with your hands.

Divide the dough into two equal balls. Wrap each ball in plastic wrap, flatten into a disc and refrigerate for at least 30 minutes or up to 4 days.
To prepare the filling
Dice or slice the apples fairly small. Place the apples in a large mixing bowl.

Add the lemon juice, sugar, flour, brown sugar, cinnamon and nutmeg to the apples and mix to combine.
How to assemble the pie
Remove the dough from the fridge.

Preheat the oven to 350ºF.

On the stove over medium heat, melt the butter and brown sugar in the skillet.

Using a rolling pin and extra flour, roll out one of the balls of dough into a large circle.

Carefully place the dough in the skillet over the melted mixture. Trim off any excess dough, but leave a little hanging over so you can crimp the top and bottom crusts together.

Add in the apple filling.

Roll out the second ball of dough into a circle.

Place the top crust on top of the apple filling, trimming off any excess dough that hangs over.

Crimp the bottom and top crusts together. Add a few slits to allow the pie to vent while baking.

Bake the 8 inch pie for 1 hour 20 minutes or the 6.5 inch pie for 1 hour or until the the crust is golden and the juices are bubbling up a bit.

Allow the pie to cool for 20 minutes before serving.
To make the pie crust letters
Roll out any leftover dough. Use alphabet cookie cutters to cut out your desired letters. Place the letters on a baking sheet and bake for 3-5 minutes or until golden and crispy.

After the letters have cooled, place them on the pie or "glue" them using a dab of caramel sauce on the back of each letter.
Calories:
275
kcal
,
Carbohydrates:
39
g
,
Protein:
3
g
,
Fat:
13
g
,
Saturated Fat:
5
g
,
Polyunsaturated Fat:
2
g
,
Monounsaturated Fat:
4
g
,
Trans Fat:
1
g
,
Cholesterol:
27
mg
,
Sodium:
93
mg
,
Potassium:
113
mg
,
Fiber:
2
g
,
Sugar:
23
g
,
Vitamin A:
236
IU
,
Vitamin C:
4
mg
,
Calcium:
14
mg
,
Iron:
1
mg