Rustic Wedding Series – 1

As we were planning our wedding last year, I fell in love with the idea of having a rustic theme. After lots of searching for ideas, too many trips to the paper store, and many dates were Ryan and I went rock hunting (you'll see why), we got everything pulled together for our wedding last June, with a tremendous amount of help, especially from my sister and mom!
I am sure other bride's are out their doing the same thing- looking for ideas and practical ways to make their dream wedding happen while staying within a tight budget. So, if you're digging the whole rustic theme, you've come to the right place for inspiration and money and time saving tips!
All photos were taken by Crystal Rose Photography, she is amazing!
Rustic Wedding Series – Part 1, Reception Decor
Personalized Table Numbers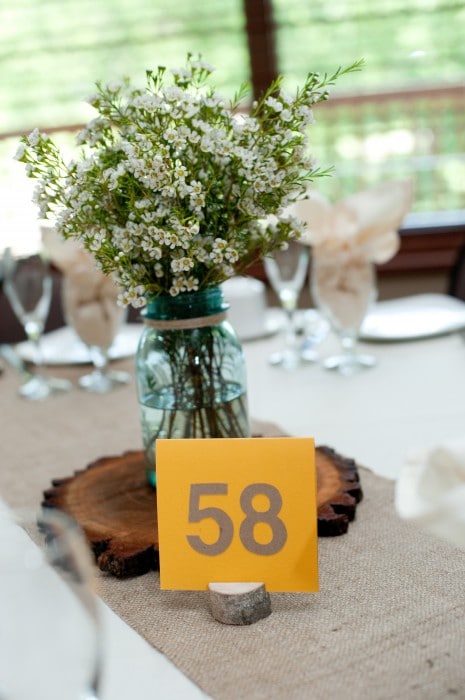 We decided we wanted to do something fun and not so traditional for the table numbers. So we picked numbers that were important to us (it got kind of difficult towards the end, we had around 24 tables) and on the back side of the card we explained why the number was significant.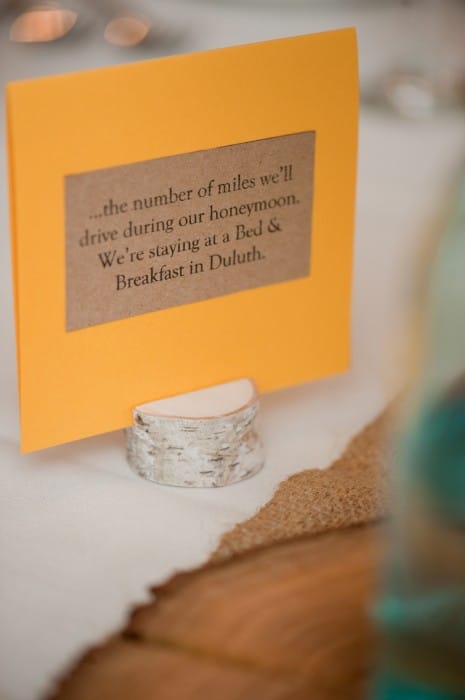 Other elements in the picture include: Burlap from Uline.com ..we were swimming in burlap, I got 100 yards for  about $50, the tiny wooden tree slice table number holders came from Etsy, the blue ball mason jars came from a sweet old couple who has listed them on craigslist, and the paper for the table numbers (and for the entire wedding) from Anchor Paper, a Minnesota based business.
Wooden Tree Slices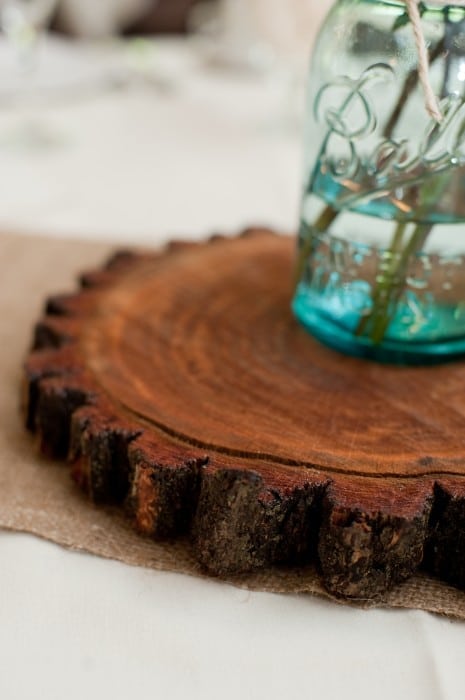 Right away I knew I wanted wooden tree slices as centerpieces. You can find them online (Save On Crafts) but they are pretty pricey, like between $10-40 for 1 slice! After a lot of searching, we found a mutual friend who was willing to cut them for us from wood in his backyard. We ended up dipping the tree slices in a wood sealant to help prevent them from cracking while they dried out.
We actually got the tree slices about a year before the wedding and stored them in our garage, so don't be worried if you have to store them for a while, ours didn't break. However, for the first couple of weeks right after they are cut, you will want to lay them out on the ground, otherwise if you stack them on top of each other, they will get moldy since they are releasing moisture.
Head Table Hanging Tree Branches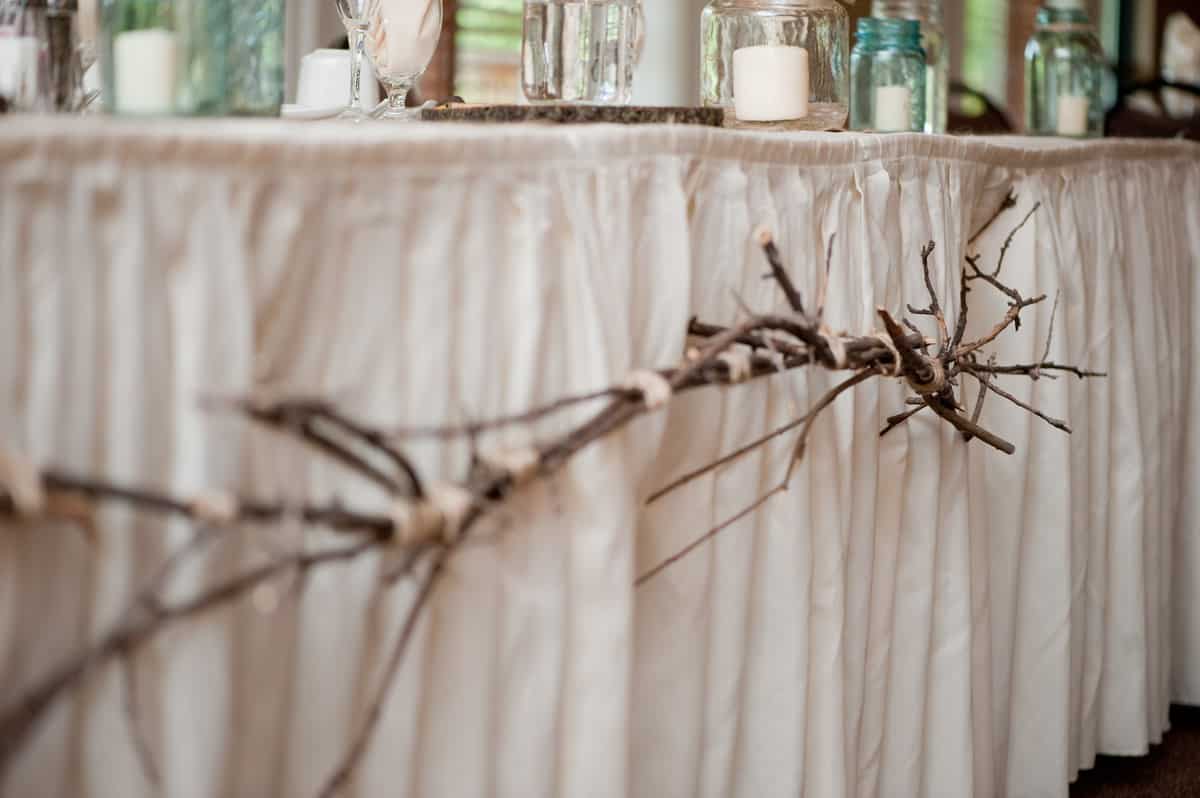 My sister came up with the idea to have something hang in front of the head table. It actually turned out great, but getting to that point took a lot of trial and error. We ended up tying small wooden branches and twigs (from our backyard) together with twine and fishing line. Then we rigged up several counter weights (aka bags of rocks) that were attached to the hanging braches with fishing line and placed on the back side of the head table. So the clear fishing line ran across the top of the table.
Rock Place Cards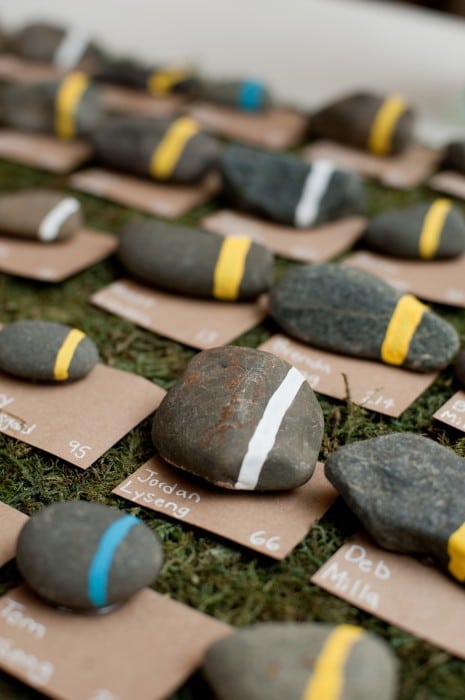 This is where the rock hunting dates come into play! We found rocks in front of various apartment buildings (oops!) and down by the Mississippi River. Each rock was painted with a colored stripe according to what meal our guest had ordered. The rocks were then attached to the paper card with hot glue. The moss mat that the rocks are sitting on was found at Save On Crafts. It was incredibly affordable and the best part, it didn't come apart or shed, the moss was actually sewn together!
See Part 2 of our Rustic Wedding Series for more reception decor and Part 3 for ceremony decor ideas.