Rolo Stuffed Brownies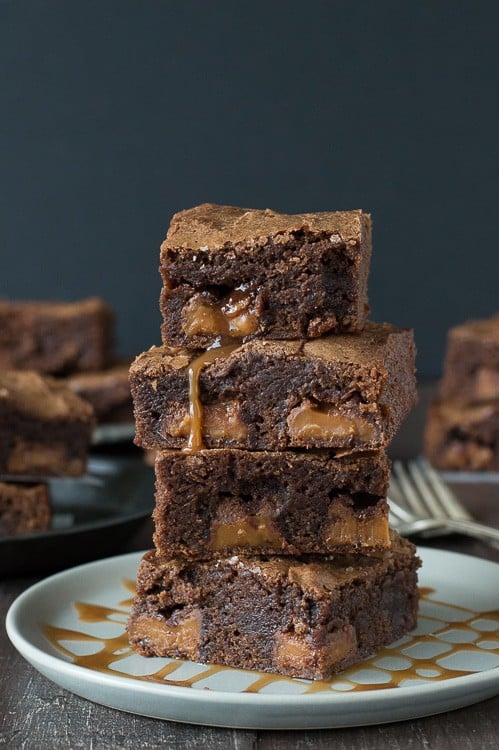 What's a girl to do with a bag of Rolo's? I could stash them in my freezer.
But then the caramel would get too hard, and I don't need a reason to see my dentist more than twice a year. I could leave them in my pantry.
Now.. we all know that's dangerous.
So I baked them into brownies. And not just any old brownies, my favorite brownie recipe. Even more dangerous.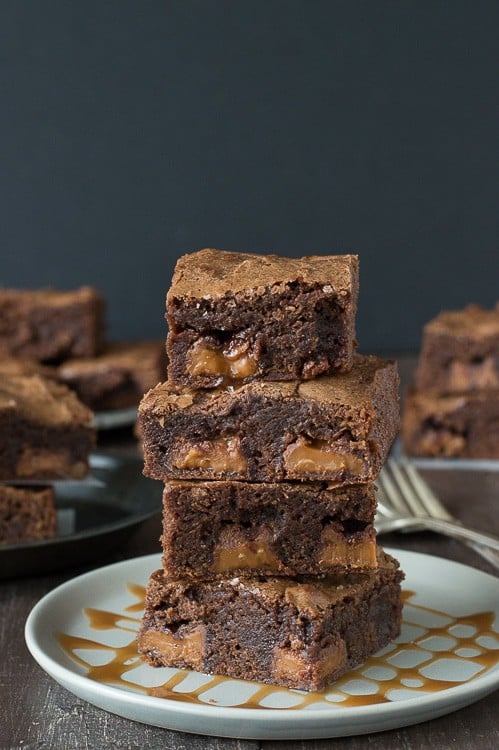 This recipe is good for type A people and type B people. Even if we can't agree on how quickly the folded laundry needs to be put away, we can agree that brownies stuffed with rolos is a really good idea.
It doesn't matter if you carefully unwrap each rolo, gently placing it bottom side down in the brownies, in a neat grid of course or if you get gold wrapper flakes all over your kitchen and kind of just throw the rolo's into the brownie batter.. we will both end up with amazing, gooey rolo stuffed brownies.
I'm the type who likes my rolo's neatly and evenly distributed throughout the brownie batter.
I want an even ratio of rolo's to brownies in every brownie.
But maybe your the type of person who wouldn't mind a mountain of rolo's piled high in the middle of one of your brownies. It does sound delicious and caramel-y, like it would require a gallon of milk.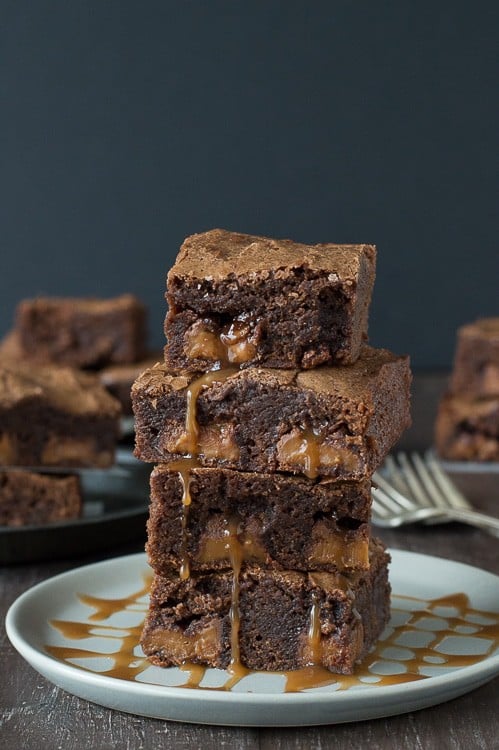 So take your pick, here is my method. Except, do you see the Rolo in the lower left hand corner? The one that's on it's side? I guess I do have a little type B personality in me :)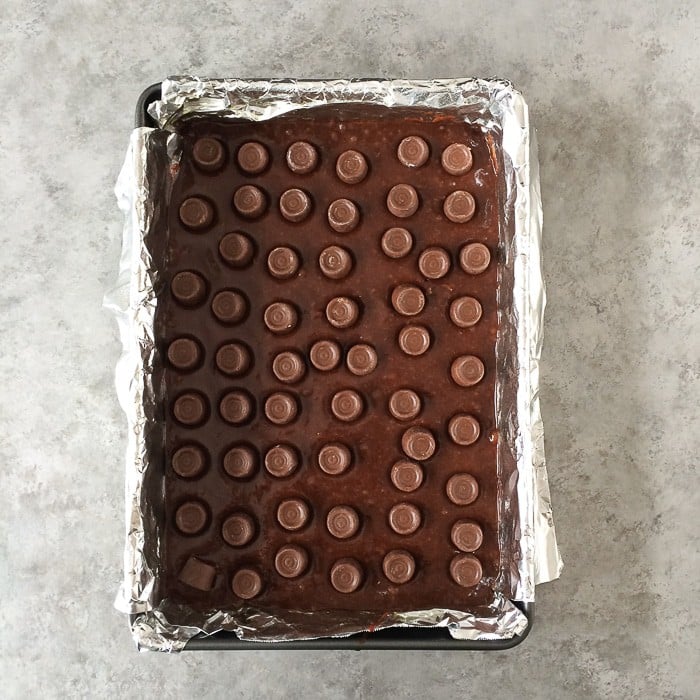 If you pop your brownie in the microwave for a few seconds before eating, the rolo's will soften up and the caramel will become gooey – bring on the caramel!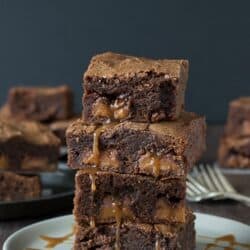 Rolo Stuffed Brownies
I took leftovers of my favorite caramel candy and put them in the best ever brownie recipe.
Ingredients
1 ¼

cups

all purpose flour

1

tsp

salt

2

tbsp

unsweetened cocoa powder

¾

cup

chopped chocolate chunks

10

oz

dark chocolate morsels

2

sticks

unsalted butter

,

cut into 1-inch pieces (1 cup)

1

cup

sugar

½

cup

packed brown sugar

5

large

eggs

,

at room temperature

2

tsp

vanilla extract

1

package of Rolo's

,

unwrapped
Instructions
Preheat the oven to 350 degrees F. Liberally butter a 9×13 inch baking pan. Remove the eggs from the fridge.

In a bowl, mix together the flour, salt, cocoa powder and chopped chocolate chunks. Set aside.

In a medium saucepan over low heat, combine the dark chocolate morsels, and butter. Stir the mixture occasionally until everything is melted. Once melted, remove the pan from the heat.

Add the sugar and brown sugar to the chocolate mixture in the saucepan and mix. If the mixture is not already at room temperature, allow it to cool for a few minutes before adding the eggs.

Add three eggs to the chocolate mixture and mix well. Add the remaining two eggs, and mix again. Stir in the vanilla.

Slowly combine the flour mixture into the chocolate mixture, stirring to mix. Avoid over mixing, if a little bit of the flour is visible that's okay.

Transfer half of the batter into the 9×13 inch pan, spreading evenly. Place 1 bag of unwrapped Rolo's in the pan and then cover with the rest of the batter.

Bake in the center of the oven for 30 minutes, rotating the pan at 15 minutes. Bake until a toothpick inserted into the center comes out with a few crumbs. Let the brownies cool completely before cutting.
Calories:
390
kcal
,
Carbohydrates:
46
g
,
Protein:
5
g
,
Fat:
21
g
,
Saturated Fat:
14
g
,
Polyunsaturated Fat:
1
g
,
Monounsaturated Fat:
4
g
,
Trans Fat:
1
g
,
Cholesterol:
74
mg
,
Sodium:
188
mg
,
Potassium:
205
mg
,
Fiber:
2
g
,
Sugar:
34
g
,
Vitamin A:
377
IU
,
Vitamin C:
1
mg
,
Calcium:
90
mg
,
Iron:
1
mg