Pumpkin Pie Cheesecake Shooters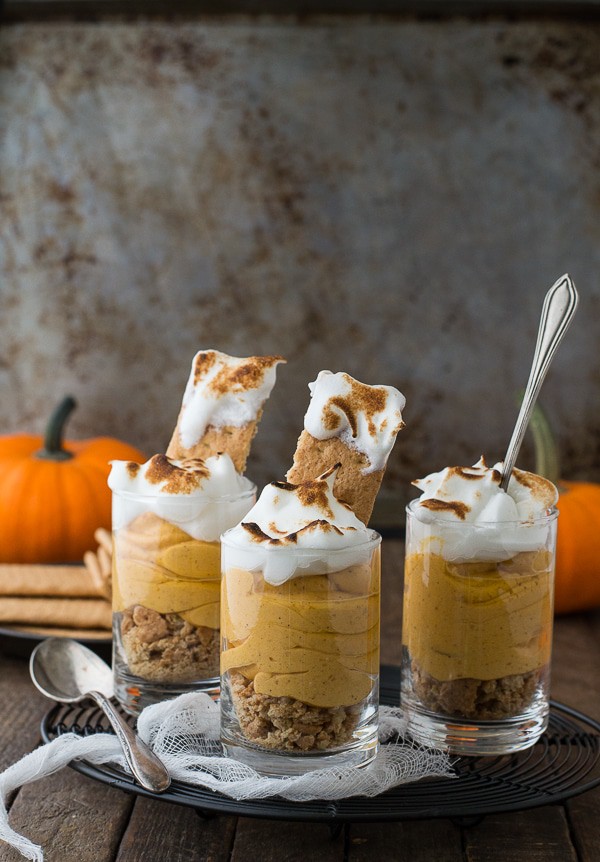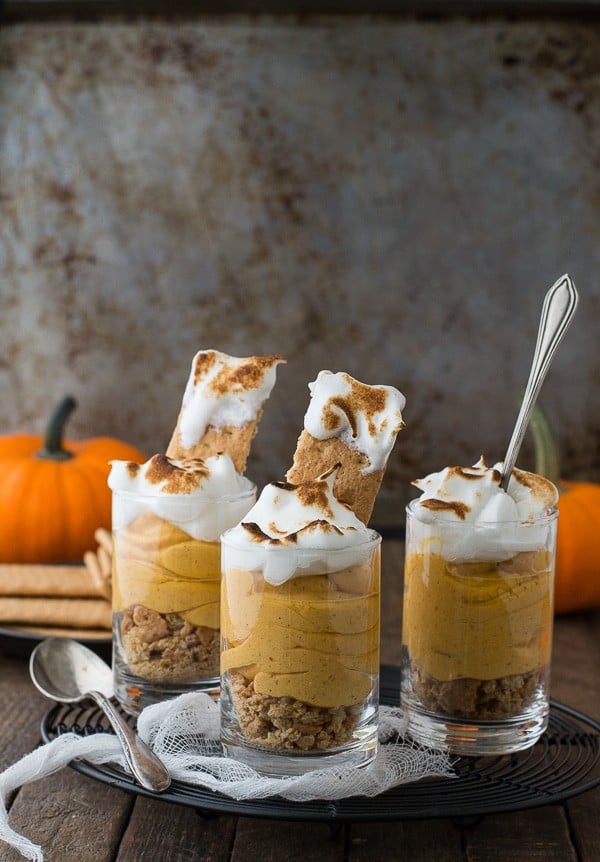 If I could order graham cracker crumbs in bulk from Amazon I would.
I dislike having to dirty up my food processor or blender just to turn crackers into crumbs.
So I took the lazy baker's method to making crumbs for these shooters. It goes like this.. put graham crackers in plastic bag and zip closed, then whack with rolling pin until satisfied :)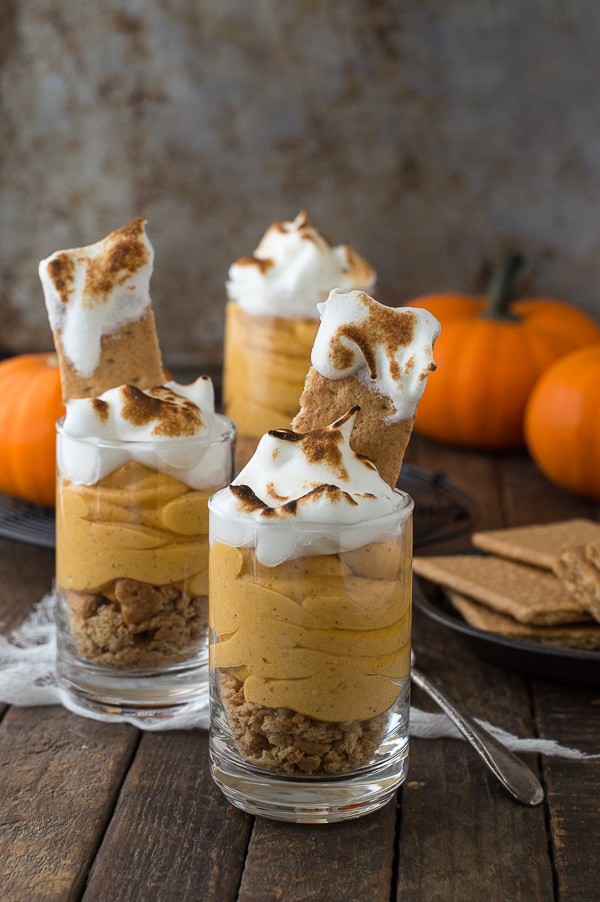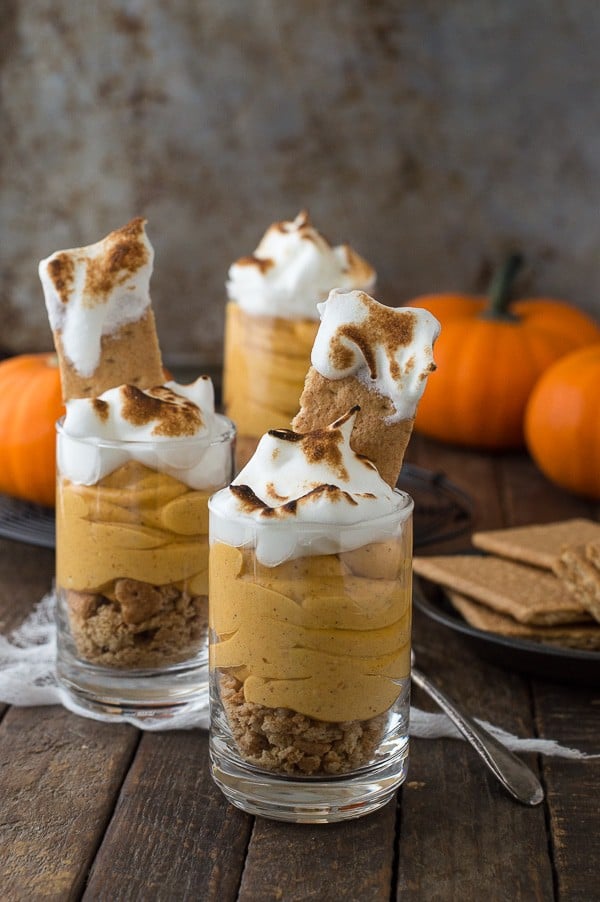 I just looked it up on Amazon and I can buy graham cracker crumbs in bulk in 3 pounds or 10 pounds! Woohoo!! I better get a few 10 pounds bags just to be safe and I better plan to make lots of cheesecake based desserts now hahaha.
These fun shooters are another way to enjoy pumpkin pie. I'm pretty sure I've never met a cheesecake I didn't like and I would pick pumpkin pie cheesecake over regular pumpkin pie any day. Pumpkin pie is just too one dimensional for me. Maybe if I added some chocolate sauce to it I'd feel differently. But cheesecake boasts so many different flavors – it's always a winner.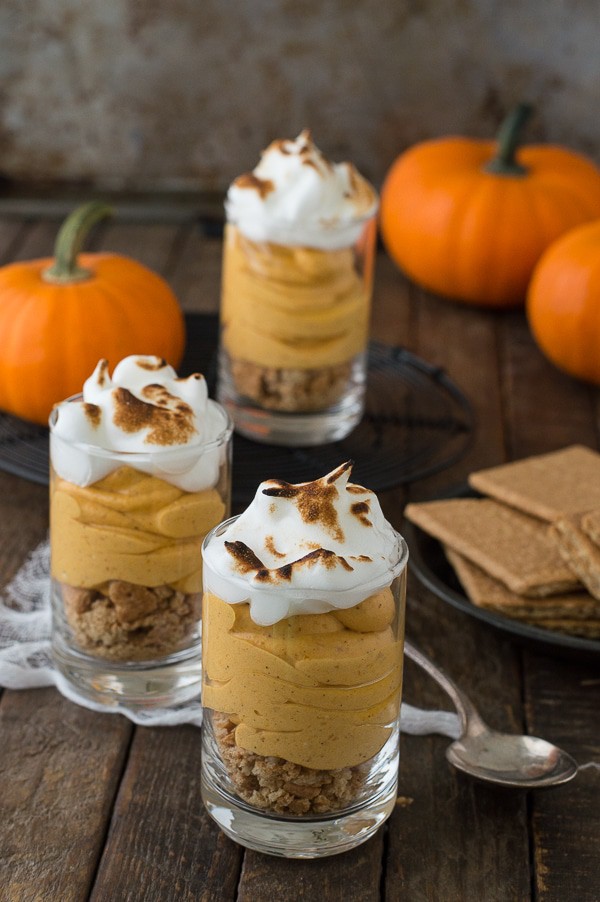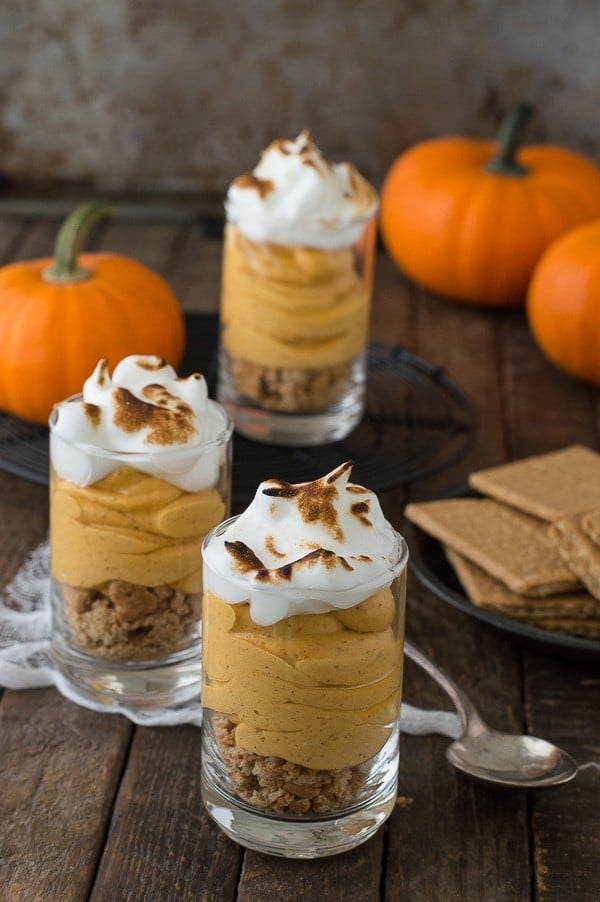 So we have 3 parts to this dessert..
1. graham cracker crumbs – buy them already crumbed, pulsed them in a blender, or use the whacking method
2. pumpkin pie cheesecake – cream cheese, pumpkin puree, and pumpkin pie spice
3. meringue – let's be real.. I used meringue just so I could torch it! It gives the shooters extra ummph. If you're wanting to substitute a dollop of cool whip for the meringue, that works too! But a kitchen torch makes a great christmas gift ;)
You can make the pumpkin pie cheesecake in advance, even a day ahead of time. After you add the graham cracker crumbs, pipe or spoon the cheesecake into each jar and then cover each jar with plastic wrap until you're ready to serve. The plastic wrap will help the cheesecake stay fresh and prevent the top from drying out in the fridge.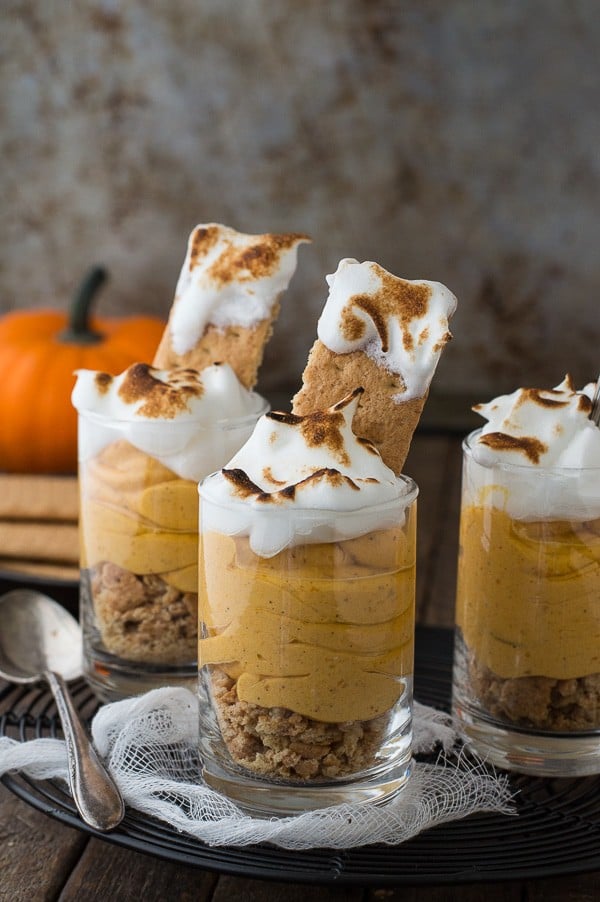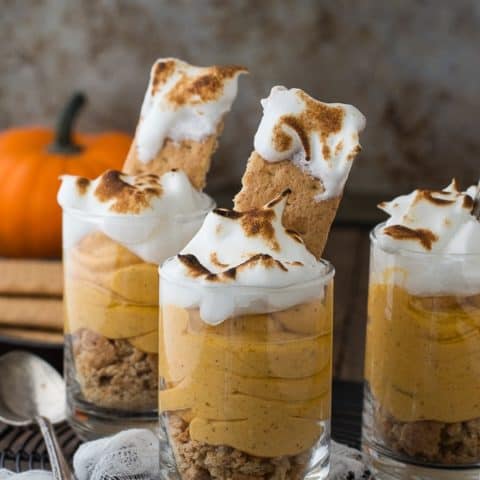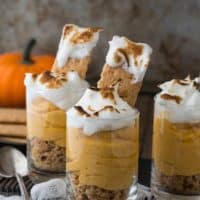 Pumpkin Pie Cheesecake Shooters
Ingredients
Pumpkin Cheesecake
1 package, 8 oz, cream cheese, room temperature
1 cup pumpkin puree
1/2 tsp pumpkin pie spice
Graham cracker crumbs, 2 tbsp per shooter
Meringue
2 egg whites
1/4 tsp cream or tartar
4 tbsp sugar
Instructions
Pumpkin Pie Cheesecake
Add about 2 tbsp graham cracker crumbs into each glass. I used 5oz glasses.
In a mixing bowl, beat the cream cheese using an electric mixer until smooth, 1-2 minutes.
Add the pumpkin puree and pumpkin pie spice, and beat until incorporated, 1-2 minutes.
Pipe or spoon the cheesecake into the glasses.
Cover each glass with plastic wrap and refrigerate until ready to use.
Meringue
In a mixing bowling, beat the eggs whites and cream of tartar.
When the egg whites foam, begin adding the sugar one tablespoon at a time.
Continue beating until stiff, glossy peaks form. Spoon the meringue over the cheesecake, using a spoon to create peaks.
Use a kitchen torch to lightly brown the meringue.