Pineapple Cookies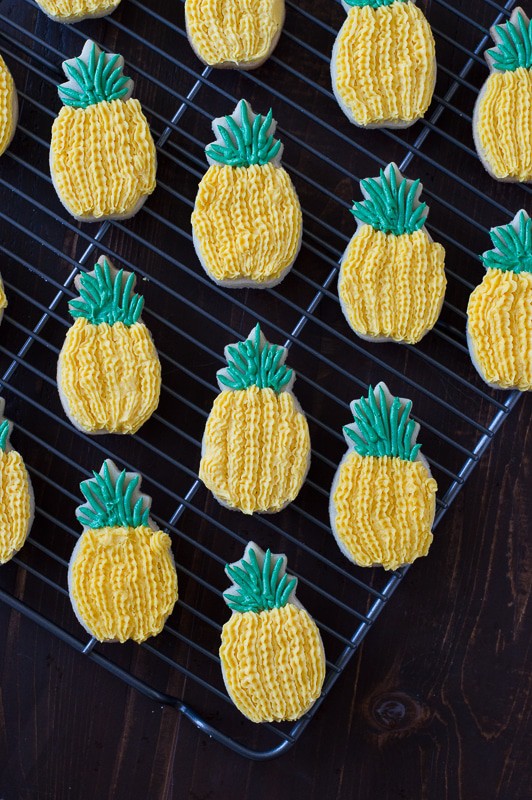 Pineapple Week Continues! If you missed our recipe for Pineapple Upside Down Monkey Bread, see it here.
My eyes have been tuned to all things pineapple. And not even real pineapples, like pictures of pineapples. I was at Kohl's last week and I saw a tank top with a sequined pineapple on it. It was so cute, I want a tank top with a pineapple on it! Next, I saw these cute pillows with a single pineapple on the front. I want pineapple pillows!
But what I really want is to munch on one of these ridiculously cute pineapple cookies while wearing a pineapple tank top while laying on my pineapple pillows.
Dream. Come. True. :)
Sometimes people leave comments asking where I get ideas for certain recipes. Well, my new favorite website is afforablecookiecutters.com because you can buy cookie cutters for 99 cents, and they had a pineapple cookie cutter. So I bought it because I had been toying around with the idea of doing a pineapple week.
Pineapple week leads to pineapple cookie cutter which leads to me thinking I want to make pineapple cookies that look exactly like pineapples. Kinda big shoes to fill! So I skipped my normal go-to frosting for sugar cookies (which is royal icing), and I opted for something that could give me more texture. Buttercream is a great frosting to work with because you can manipulate how it looks just by using different piping tips. For these pineapple cookies I used a wilton #18 tip for the yellow part and a wilton #5 tip for the green part. You can find piping tips online at amazon or in stores like Michaels and Walmart.
They are pretty darn cute, don't you think?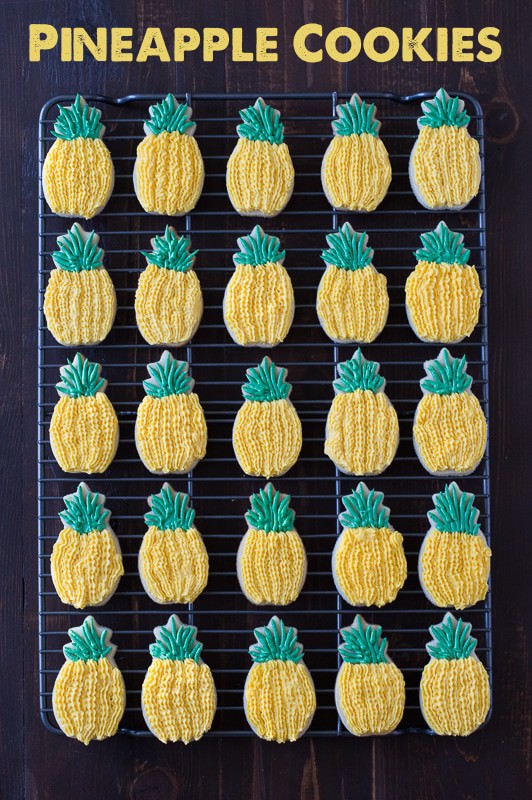 Is anyone else in the mood to throw a luau after seeing these fun cookies?! Pineapple Week has me dreaming of a tropical vacation to Hawaii!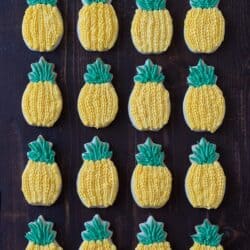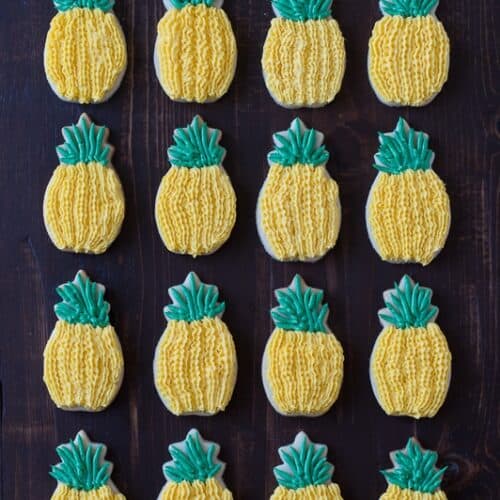 Pineapple Cookies
Buttercream makes the perfect frosting for any shape cookie you desire, such as these pineapple shape!
Ingredients
Cookies
1 ½

sticks

unsalted butter

,

room temperature (3/4 cup)

¾

cup

sugar

1

large

egg

½

tsp

pineapple extract or flavor

,

or more to taste

2 ¼

cups

all purpose flour

½

tsp

baking powder
Frosting
1

stick

butter

,

room temperature (1/2 cup)

½

cup

vegetable shortening

2.5-3

cups

powdered sugar

Yellow and green food coloring
Instructions
Cookies
In a mixing bowl beat the butter until it's fluffy using an electric mixer. Add in the sugar and beat until it's combined with the butter, it will be fluffy.

Add the egg and pineapple flavor, beat until combined again, 1-2 minutes.

Add in the baking powder and about 1/3 of the flour. Mix slowly until the flour is just combined. Continuing adding the flour until it's all incorporated. If the dough seems too sticky, add 1 tbsp of flour at a time until the dough isn't overly sticky to the touch.

Divide the dough into 2 equal balls. Flatten them into disks and wrap in plastic wrap. Refrigerate overnight.

Once the dough is done chilling, begin to roll one disk of dough out. On a lightly floured silicone baking mat or piece of parchment paper roll the dough out to about 1/8 to 1/4 of an inch thick, depending on your preference.

Place the rolled dough in the freezer for 15 minutes.

Preheat the oven to 350 F degrees.

After 15 minutes, remove the dough from the freezer and begin to cut out your shapes using a cookie cutter. Place the cut out cookies on a silicone baking mat or parchment paper and chill in the freezer for 20 minutes.

Bake the cookies for 9-10 minutes, rotating the pan half way through. The cookies should be light in color when you pull them out of the oven.

Allow the cookies to cool on the baking pan for 10 minutes. Then transfer them to a cooling rack.

Repeat this process with the remaining dough, including the scraps of the first batch, until all of the dough is gone.
Frosting
In a mixing bowl, combine the room temperature butter and shortening, beat using an electric mixer for 1-2 minutes, until light and fluffy.

Begin to add in the powdered sugar, about 1 cup at a time. Slowly beat the mixture until the powered sugar is incorporated. Continue this process, adding enough powdered sugar to make sure the frosting isn't too wet. I like to mix the buttercream by hand first, then use an electric mixer.

Divide the frosting into 2 bowls - add yellow food coloring to one bowl and green food coloring to the other and mix well. Put more frosting into the bowl that will be colored yellow, since that's the majority of the cookie.

Place the yellow frosting in a piping bag fit with a wilton 18 tip. Begin to frost the pineapple portion of the cookies, creating a spiky texture by slightly lifting the piping tip off and on the cookie. Pipe the frosting from the bottom to the top of the cookie, repeating until the pineapple portion is frosted.

Place the green frosting in a piping bag fit with a wilton 5 tip. Begin to frost the leaf portion of the cookies, starting near the pineapple part and going out. To get spiky leaves, lift the piping bag up when you get to the end, repeat until the leaf portion is frosted.
Calories:
160
kcal
,
Carbohydrates:
18
g
,
Protein:
1
g
,
Fat:
9
g
,
Saturated Fat:
5
g
,
Polyunsaturated Fat:
1
g
,
Monounsaturated Fat:
3
g
,
Trans Fat:
1
g
,
Cholesterol:
22
mg
,
Sodium:
31
mg
,
Potassium:
12
mg
,
Fiber:
1
g
,
Sugar:
12
g
,
Vitamin A:
204
IU
,
Calcium:
7
mg
,
Iron:
1
mg