Out of the Kitchen November 2015
We're back with another Out of the Kitchen post – Here's what we've been up to for the month of November! Now I feel like I'm one of those crazy pet people because I'm sharing so many pictures of our kitten!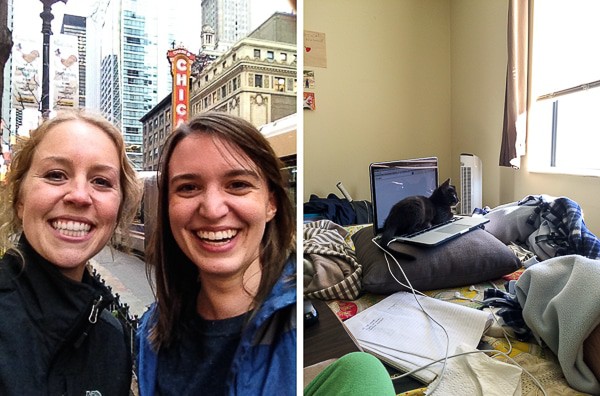 In the beginning of November I went to a blog conference (with hundreds of other food bloggers!) in Chicago. It was the first time I had the opportunity to meet blog friends in person. I had the chance to get to know Taylor from Food Faith Fitness and Annie from Maebells better – such inspiring bloggers those two are! Here is a picture of Annie and I underneath the Chicago sign, or at least part of it! The second photo – this is everyday life. Salsa insists on sitting on our keyboards, and the productivity levels goes dooowwn :)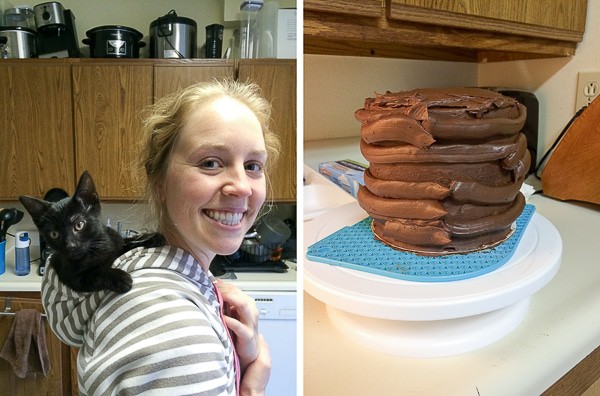 It's a cat in a hood! This is actually a great way to keep salsa off the counters but he can still see what's going on! The second photo – I posted this picture on Instagram too. It just shows that not every cake looks delicious in the beginning, hahaha.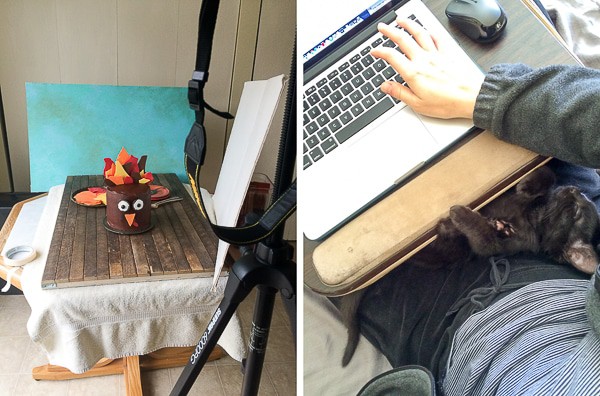 A behind the scenes shot from this fun turkey cake! If only turkey cake was popular all year! The second photo -and when Salsa isn't siting ON my keyboard, he's sitting in my lap looking sooo cute :)
How delicious does this hot chocolate cake look?! I like to say that now you can drink your hot chocolate and eat it too! The second photo – ah ha! I caught the nut gobblers that were eating our pumpkins! And if you look closely you can see Salsa sitting in the window!
This was a crazy day! I needed crushed up candy canes for some peppermint bark (I'll share the recipe soon!) so after scaring Salsa away by blending the candy canes in the blendtec, I left the crushed up canes in a dish on the counter and when I wasn't looking Salsa jumped up and knocked the bowl everywhere – on the floor, in the burners on the stove, in the silverware. Crushed up candy canes are a pain to pick up because they are sticky!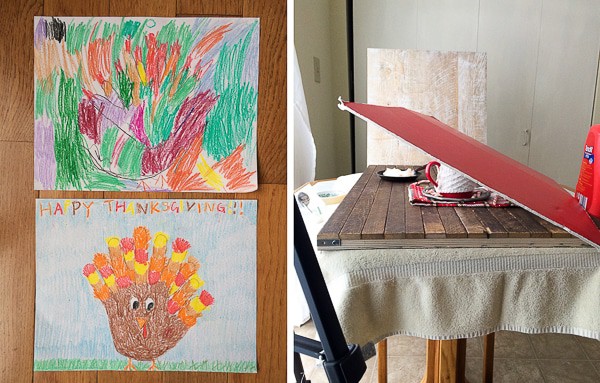 Turkey hands!!! One of my nanny kids and I got into the thanksgiving spirit by doing a little drawing! The second photo – I was taking pictures of peppermint buttercream when my bounce board fell right on top of my perfectly swirled frosting. Womp womp.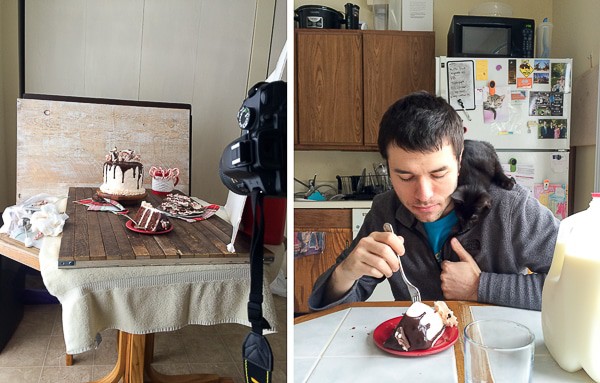 This cake is a good one guys – chocolate & peppermint, mmmm my favorite! Ryan enjoyed it too… and Salsa enjoyed some smells, haha!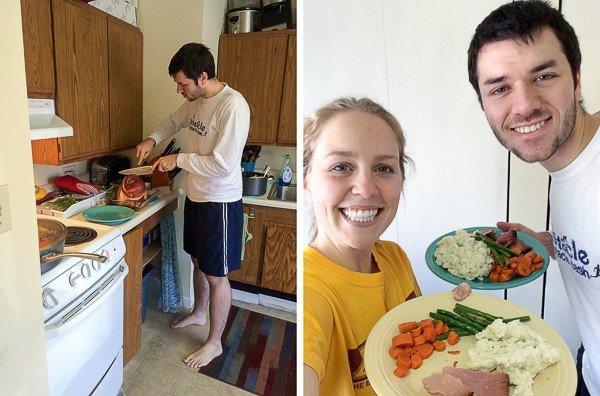 Ryan and I got to celebrate Thanksgiving just as the two of us! It was relaxing and delicious. Ryan learned how to carve a ham and I was on vegetable duty. No pumpkin pie for us but that's okay because we had ice cream!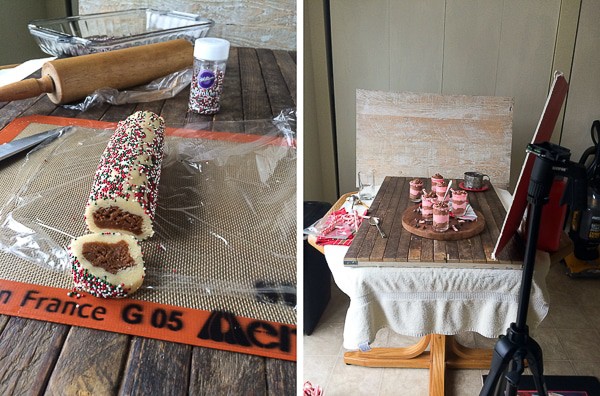 This was my first time trying my hand at homemade slice and bake cookies. What's the brown blob you ask? It's suppose to be a gingerbread man!! No worries, I tried again (and it worked!) and I'll be sharing the recipe next week with my super critical tip! The second photo – another chocolate peppermint dessert. Mmmm!!! Coming soon!
Getting more personal..
Anyone else feel like they need to take a deep breath already? Wheeww.
The holiday season is so busy. And we didn't even travel for Thanksgiving.
I feel like I should be so happy and joyful, since after all it's the most wonderful time of the year… right? But the pressure and the expectation is crazy. The gifts, parties, family commitments, the cookies, the holiday outfits, the tree.. where's the time to remember the reason for the season?
In the past I've jam packed my schedule so full that I don't have time to spend with Jesus. I've also spent too much time worrying about buying the perfect gift for so-and-so, or wanting to do too many christmas activities thing like driving around looking at lights, watching christmas movies, baking christmas cookies.. but I'm realizing it's okay to step back and slow down.
It's my prayer that instead of seeing all the things I need to do this Christmas, I would see all of the things Jesus did for me over the last year. Recalling all of those things helps me be joyful during this season of busyness.
—
See our previous out of the kitchen posts.