Out of the Kitchen June 2017
WE'RE BACK WITH ANOTHER OUT OF THE KITCHEN POST – HERE'S WHAT WE'VE BEEN UP TO FOR THE MONTH OF JUNE!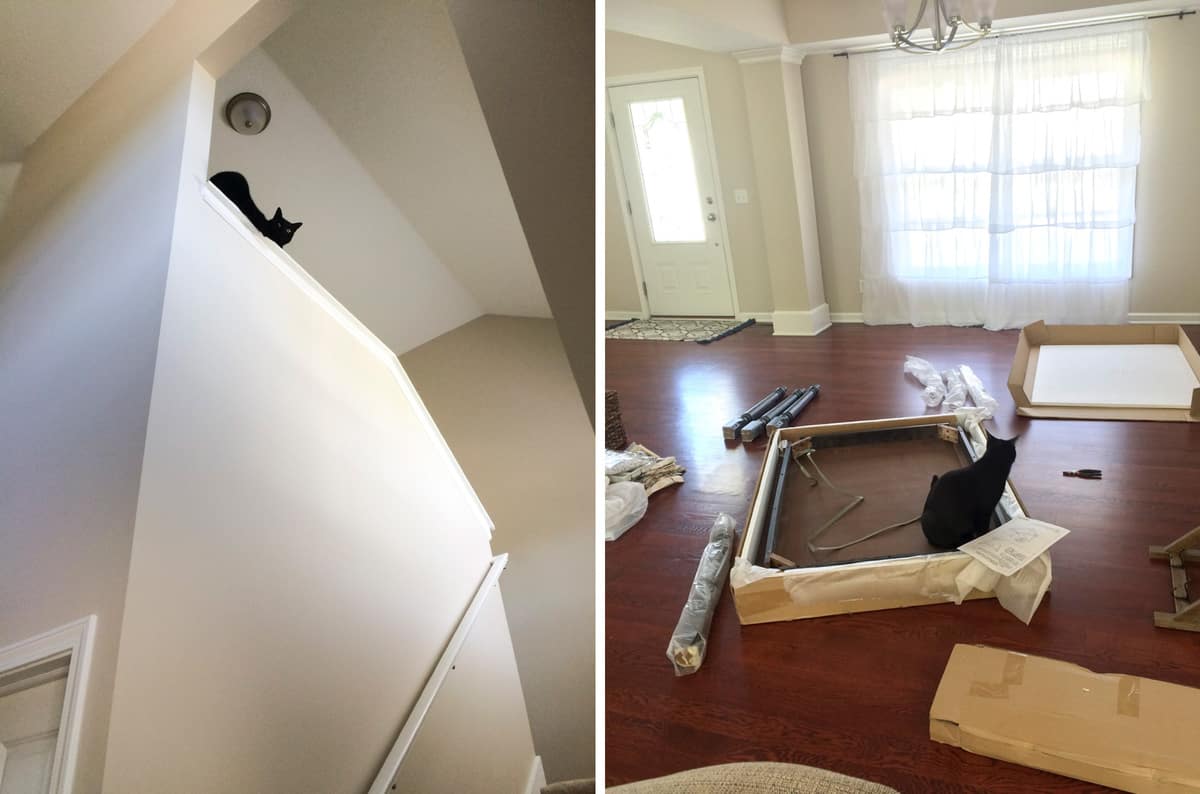 When you have a pet, how can you NOT take pictures of them? Salsa is my coworker and daily entertainment. There is a super high ledge in our new house that he likes to sit on. Ryan doesn't like when he sits up there.. but it's hard to stop a cat. Plus, Salsa has loved all the boxes we've been getting delivered. He's super good at sitting on furniture while we try to assemble it.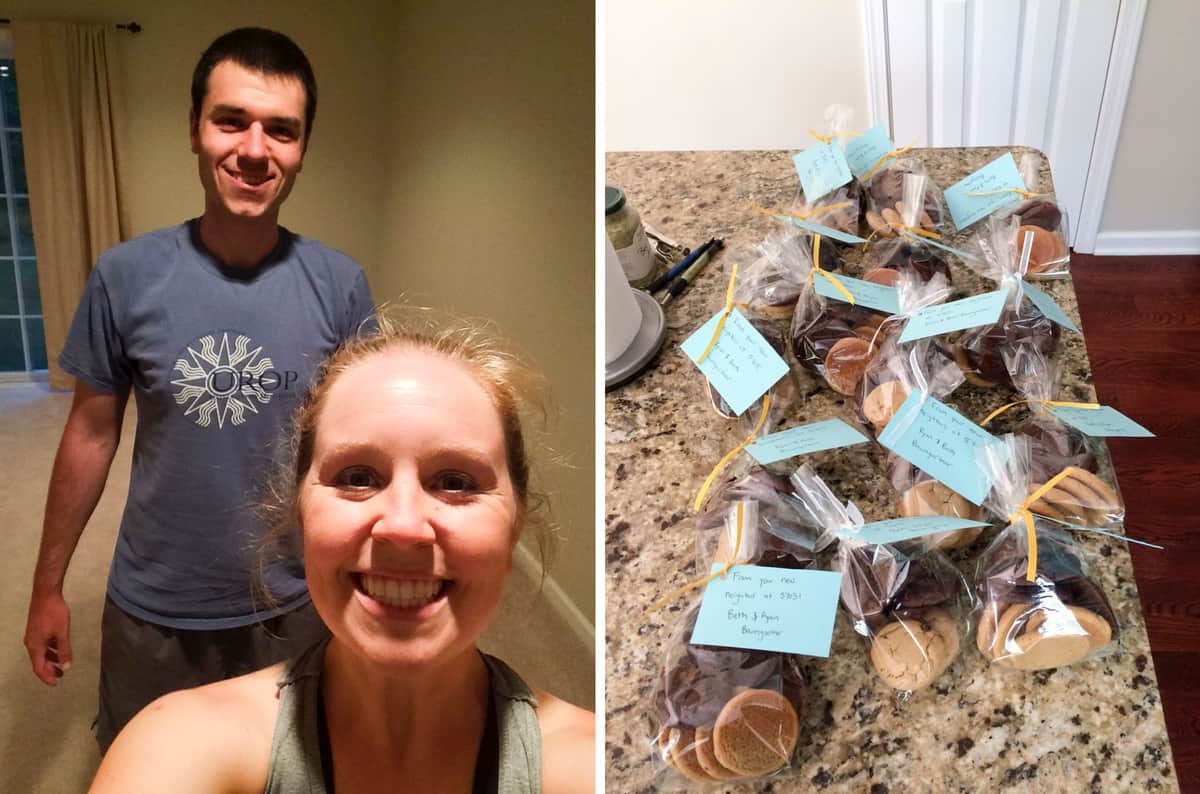 Ryan and I before a basement workout session! Now we have a workout space that isn't in the middle of our living room with all of the furniture pushed against the walls, yay! The second photo – we delivered cookies to our 15 closest neighbors. 15 might seem like a lot, but I wanted to deliver cookies to every single house on our street. I want to know the people we live by. We did have some great conversations with the neighbors we were able to meet.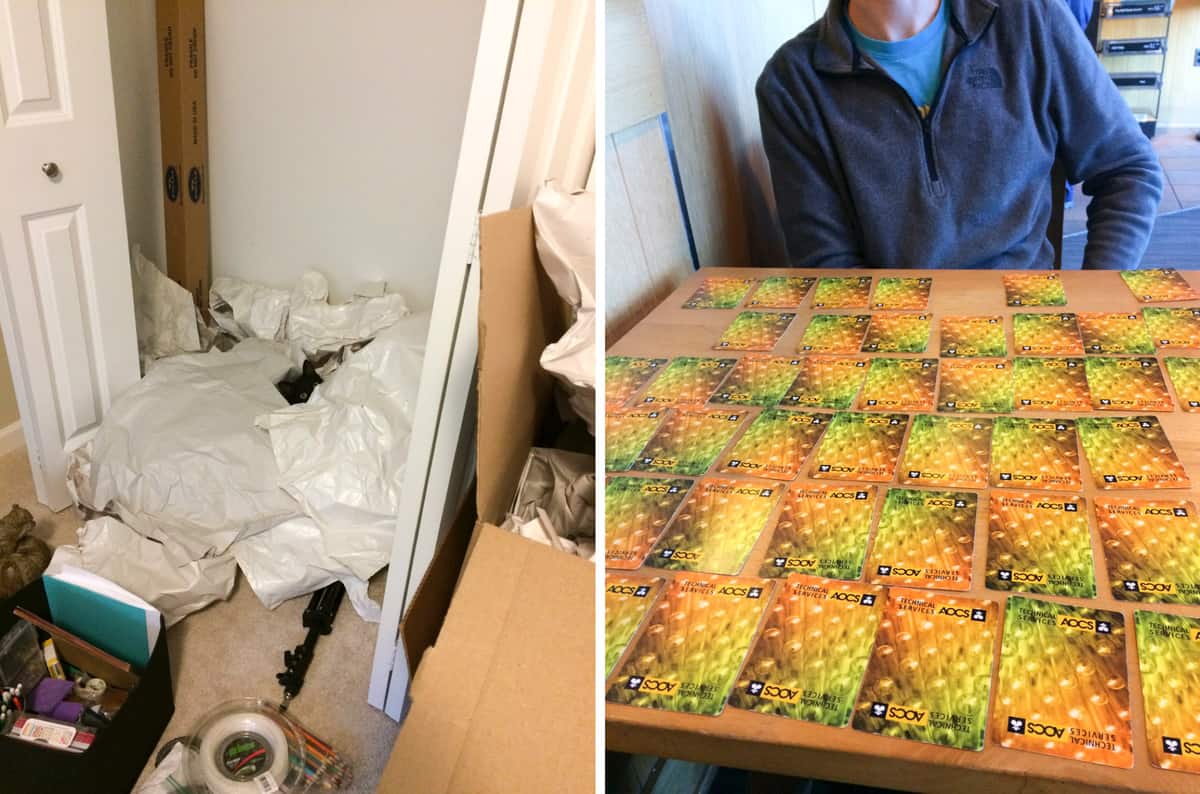 This is what my office looked like for quite a few weeks.. a big mess and it's actually still a mess! Salsa is so cute. The second photo – date night! We're trying to get back on our date night schedule. This time we played memory match with all the cards in a deck, lol.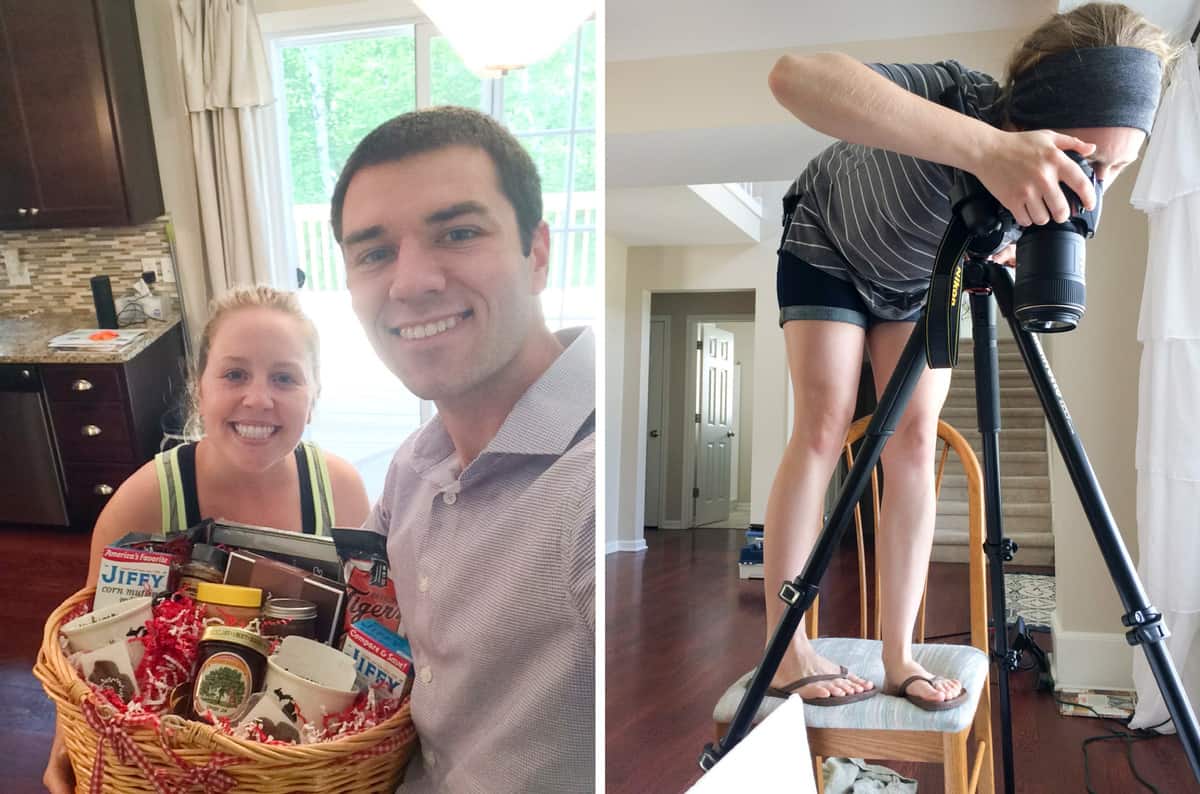 Aunt Darlene surprised us with a "Welcome to Michigan" gift basket! That was so sweet and fun to have local goodies to eat. The second photo – a behind the scenes from a photo shoot. I really need to get myself a step ladder.. pretty sure I said that 2 years ago too!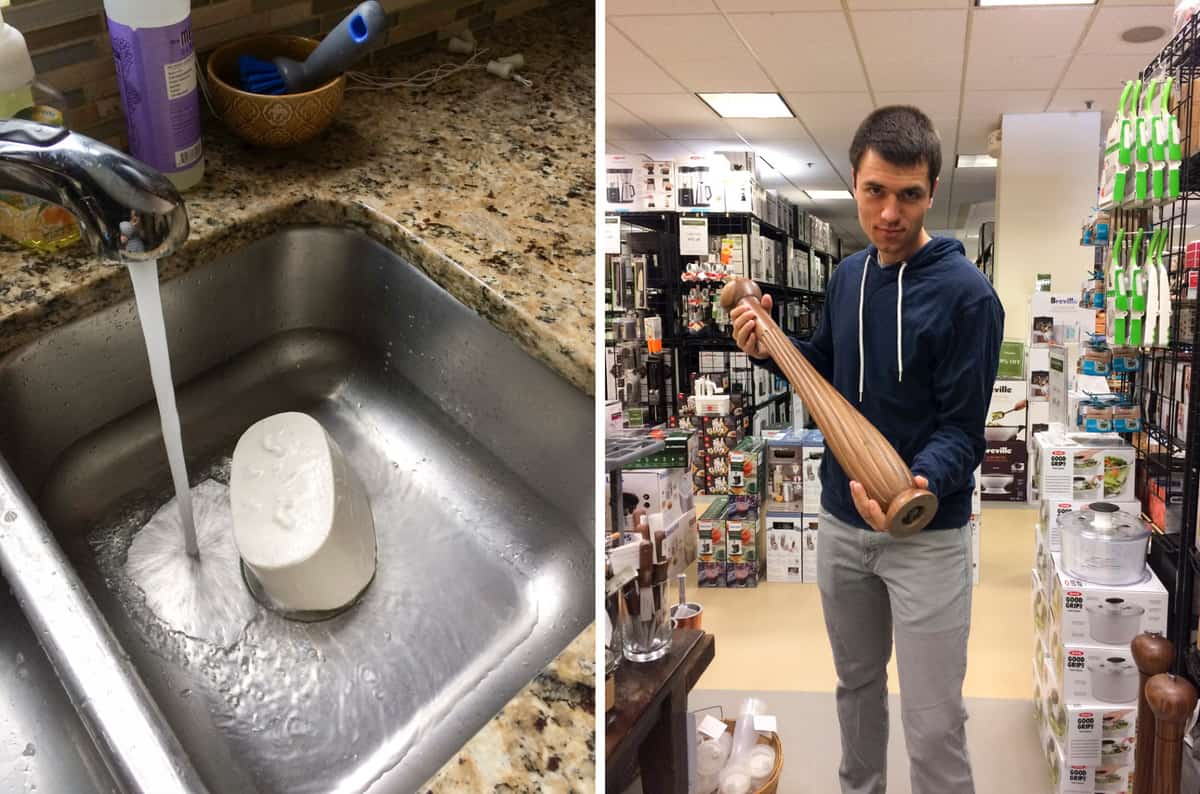 Okay! This is a moment of strength! Throwing the ice cream away so we don't eat it. We're trying to be healthier, so gotta get the bad stuff out of the house. The second photo – Ryan found the world's largest pepper grinder – fresh pepper anyone?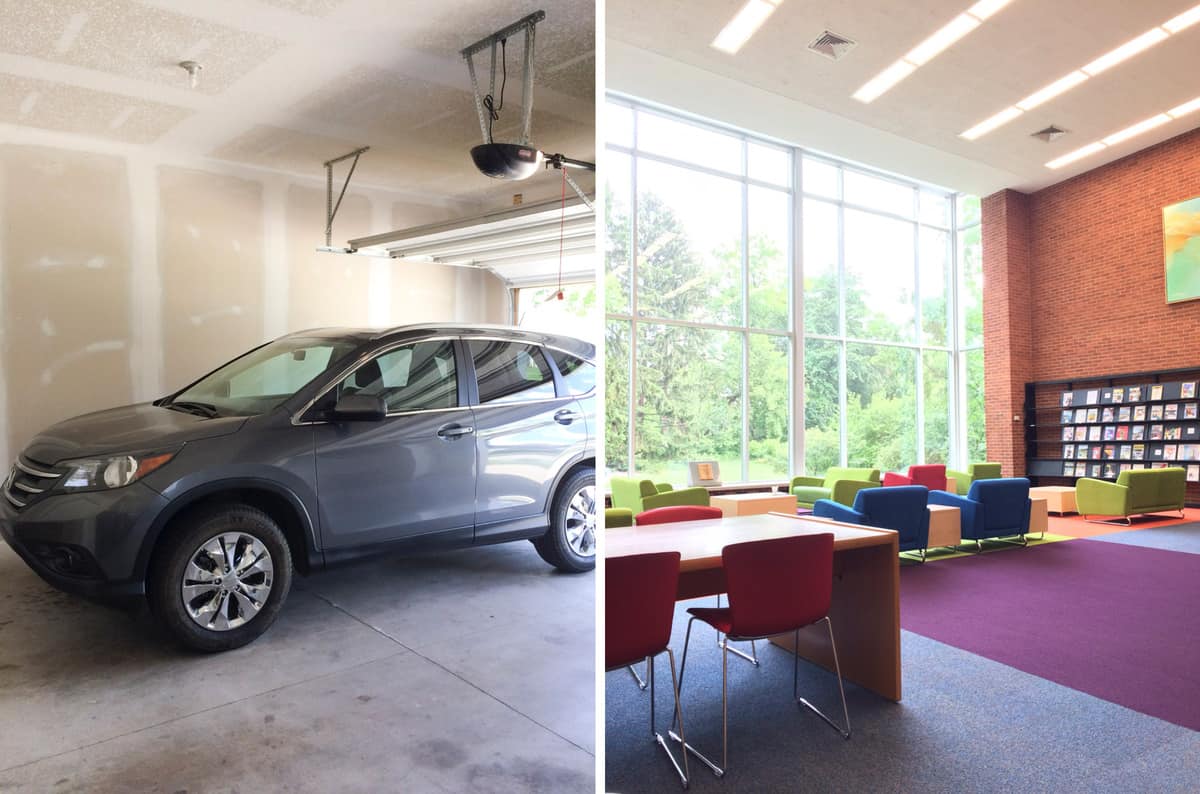 We got a second car! Now that we no longer live on a bus line, it was time to get another car, and it's been nice because I'm not stuck at home during the day anymore. And parking in the garage is a weird, exciting thing because we've never had a garage before. The second photo – I found a new favorite work spot at our library, the picture doesn't do those huge windows justice!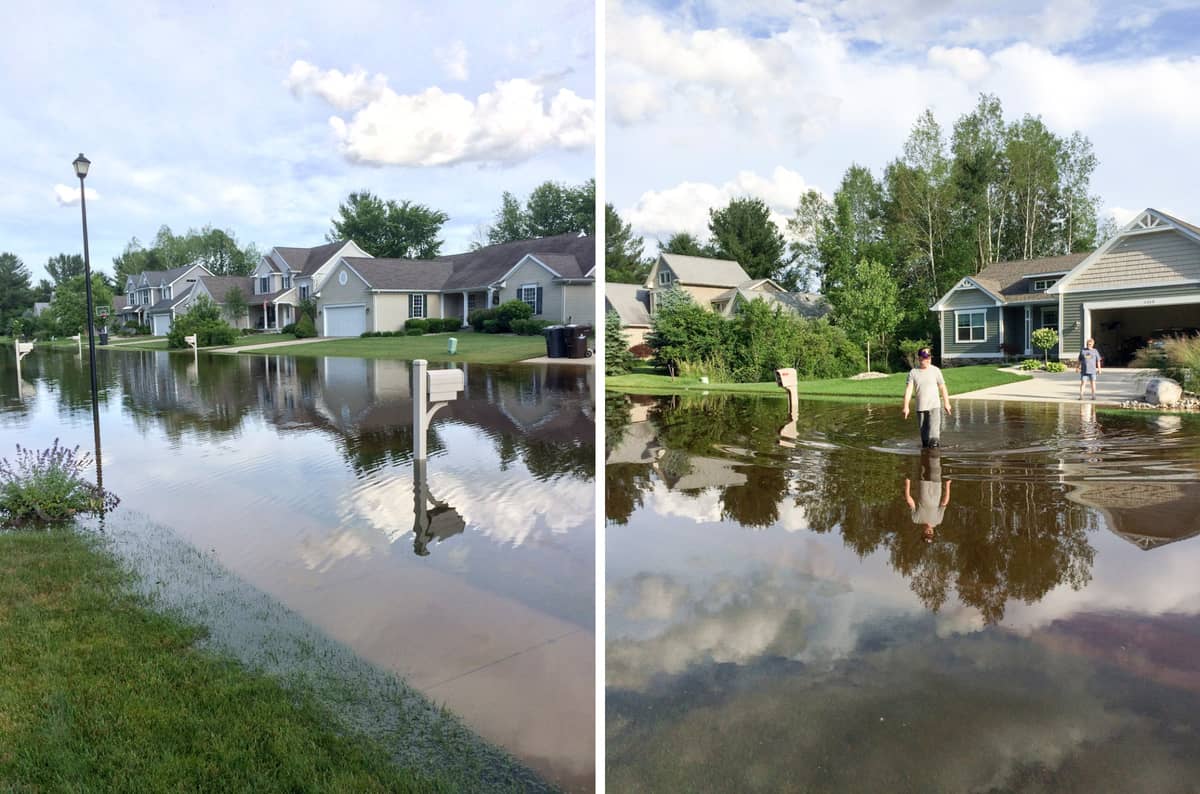 2 weeks ago it flooded pretty bad. This is 4 houses down from where we live, our portion of the road goes uphill slightly so we didn't have water in the street or in our basement, praise Jesus! It took 4 days for the water to recede, with lots of flooding everywhere in the city.
"I'm ready for my photo shoot, Mom!" And the second photo – Enlightened surprised me with ice cream!! It's similar to Halo Top, in that it's a healthier, high protein ice cream. It's realllly good. Plus, who doesn't love getting food in the mail?!
OPENING UP…
Friends, I have the hardest time getting these out of the kitchen posts out "on time". I mean, there is no set time, but when the end of the month rolls around, I'm like "AHHHH gotta write my out of the kitchen post" and then 7 days pass and we're already one week into July, so I start to think about skipping this month…
but you guys probably don't care when they are posted, right? I decided that I don't want to be legalistic about it, so who cares if it's 7 days into the new month, posting an update whenever is better than no update. Plus, I like looking back at these posts, so I know I would be bummed if I skipped this month.
So. Whewww!
We've had one full month under our belts in Michigan and in the new house. I love having more space (we came from a 600 square foot apartment) but I do not like yard work. I have no green thumbs and we inherited, which is now, a giant mess of a flower garden. We plan to dig everything up and pretty much start over, but we haven't gotten to that project yet because we JUST finished the never ending deck project. I think that took 6 weeks. But it feels good to have a cleanly painted deck, and we just bought patio furniture, so I am excited to sit out there in the mornings for breakfast and quiet time with Jesus.
In general Ryan and I both feel like we're settling into a rhythm. It feels good to be more familiar with the city. Is it silly that I think the transition has been a little easier since I can shop at the same grocery store? We had Meijer back in IL and they have Meijer here too in MI.
I've gotten involved with a women's bible study (it's my first Beth Moore study and I'm hooked!) and Ryan has found some guys to play racquetball with. We're still church "shopping" so it's difficult to feel connected to a church, but Lord willing, we'll find our place soon.
In terms of anxiety, I have been doing really, really well. It kind of shocks me when I really think about it, and sometimes I wish I could call up my former therapist from IL and tell her how good I'm doing, because I know she would celebrate with me. Through my counseling journey in IL, I learned that I really enjoy going to counseling and discovering more about myself, so I am continuing to see someone here in our new city.
I really miss seeing my "old" friends in person and keeping up with their weekly lives. I've had a lot of friends reach out to me and visa versa, so I have been able to keep up, but it is different. My bestie Ashley has been so good about calling and face timing me, and I so appreciate her intentionality. Sometimes the distance feels heart wrenching, have you ever felt that with a friend? Nothing can replace good friends.
I'm also learning that the line "I'm new in town" is the best thing ever. It gives you an excuse to meet anyone or randomly stop someone and ask them a question. Or if you go to a restaurant/store/etc for the first time, same thing applies, you can ask for recommendations because you're new in town! But at what point am I no longer "new in town"? 6 months?
Well, I'm excited to see what happens over the next month in terms of friendships and finding our place.. plus I'm turning 28 so that's a big deal too!
—
See our previous out of the kitchen posts.