Out of the Kitchen July & August 2018
The end of July and beginning of August were very busy since we took a trip back to Minnesota to see our families, so I never got around to posting July's out of the kitchen post.

So here's what we've been up to for July and August!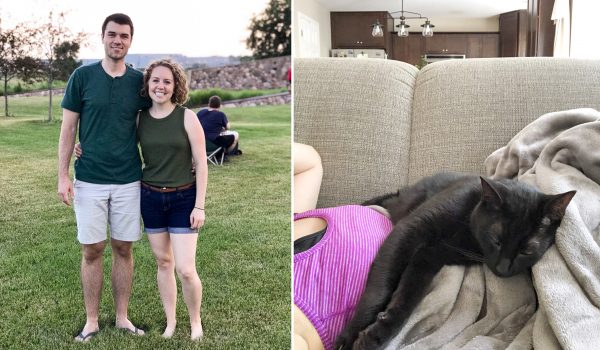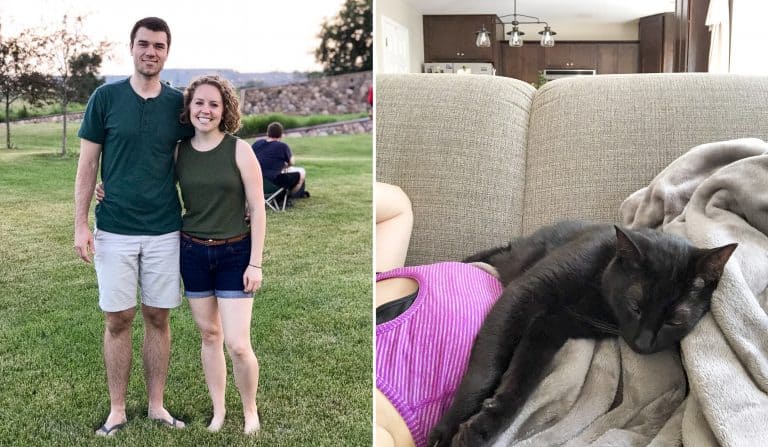 The first photo was taken on 4th of July. We had another couple over for a BBQ and met up with more friends for fireworks. It was soooo humid. But at least it kept the mosquitoes away. The second photo – the only time Salsa cuddles with me is when he thinks I'm unconscious. Usually I fall asleep and then he comes to lay on me, and it's the best when I wake up before him so I can enjoy his snuggles.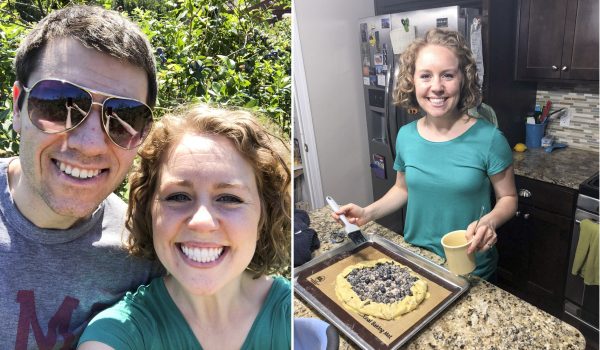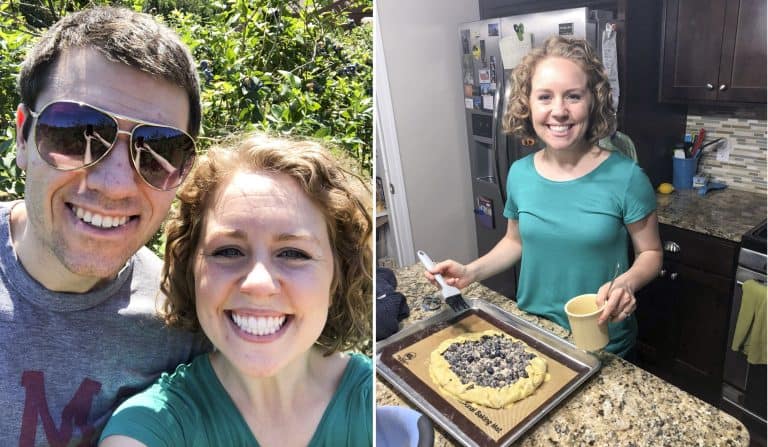 We did our annual blueberry picking day in July. We have quite a few berry farms around us! The best part about blueberry picking? All the blueberry goodies that follow. We made a blueberry galette (recipe here), blueberry muffins (this recipe is our fav) and blueberry pancakes.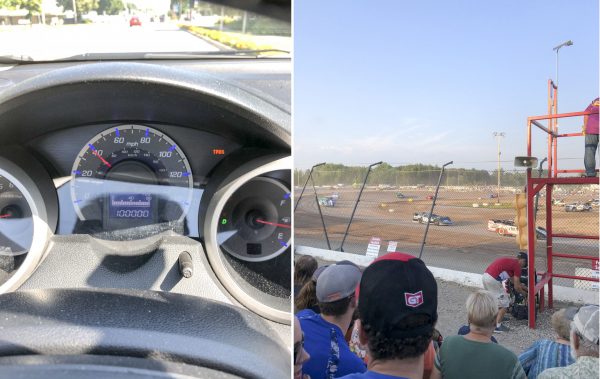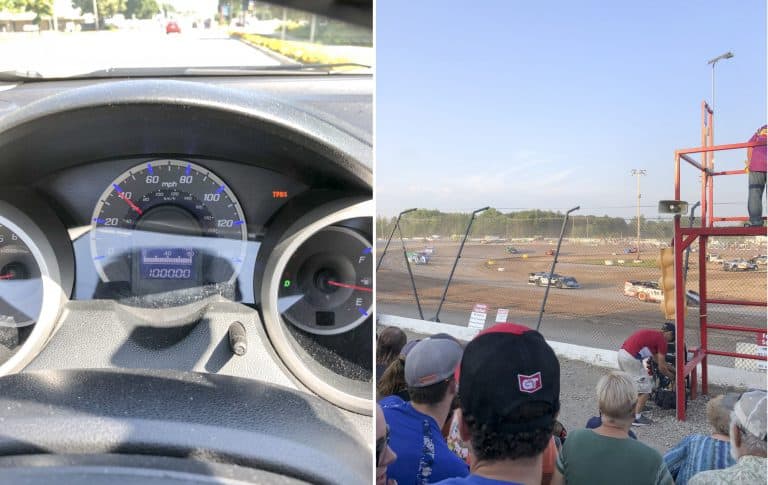 We hit 100,000 miles in one of our cars, so of course you have to take a picture to document it. That's actually the car Ryan drives every day, but he took my car and left it at the airport so I had the privilege of seeing the mileage counter turn over. The only other time we've hit 100,000 miles in a car, we were on our way to Duluth MN for our honeymoon! The second photo – we didn't grow up going to car races but it was a popular thing to do when we lived in Illinois and it's also popular here in Michigan. It was really fun, and thanks to friends we brought ear plugs and glasses which helped a ton!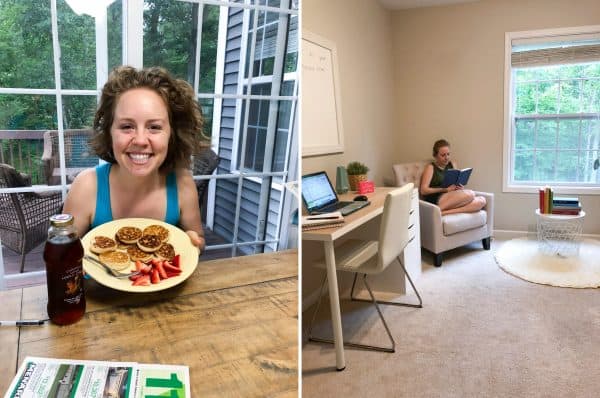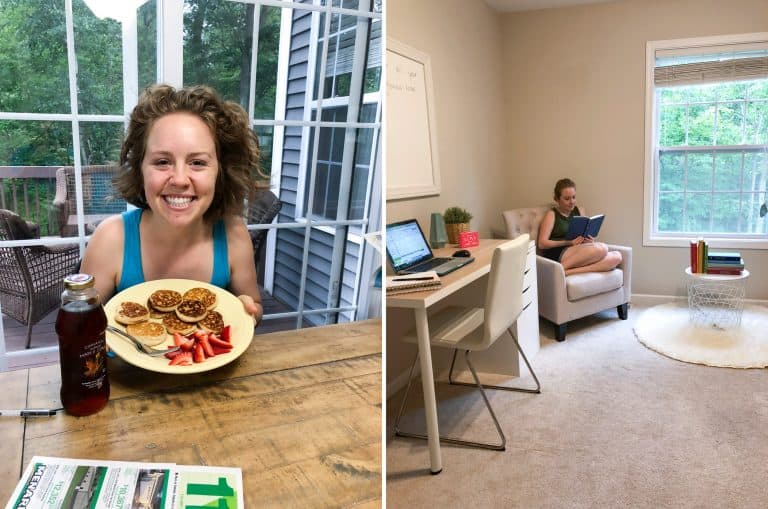 I celebrated my 29th birthday in July!! Ryan made tiny pancakes for breakfast (I literally think I'm still half asleep in this photo!). We road tripped down to Ikea so I could get some new office furniture (second photo). We also went to an awesome gluten free bakery and got some goodies.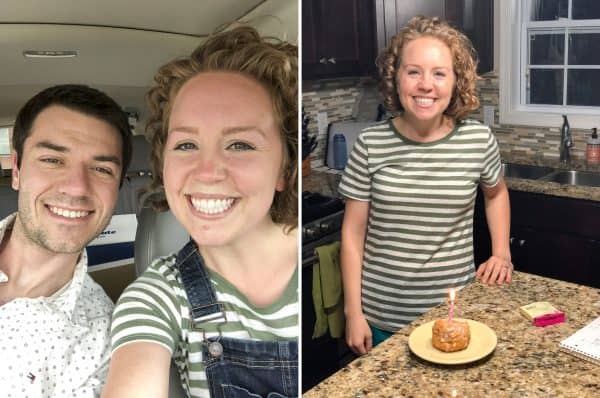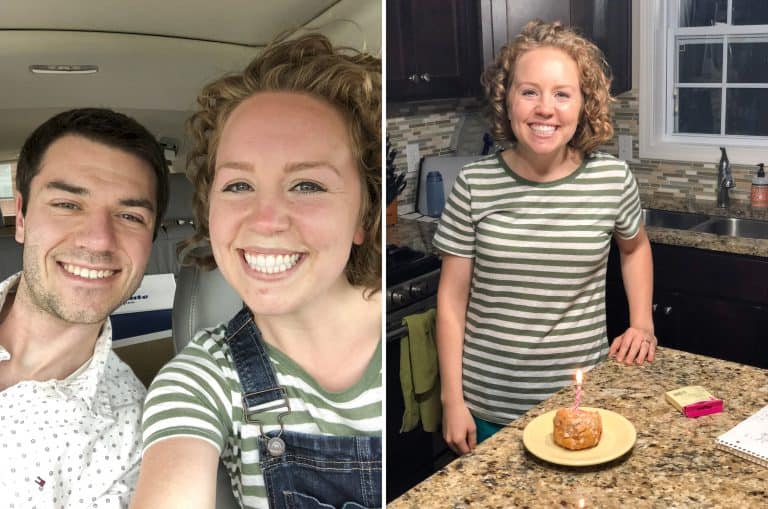 Still from my birthday, after our 5 hour ikea trip, Ryan surprised me with a couples massage. It was heavenly. We took this first photo right after our massages. The second photo – my birthday donut! It seems like donuts are becoming my birthday thing. I make cake all the time, but a good gluten free donut is special!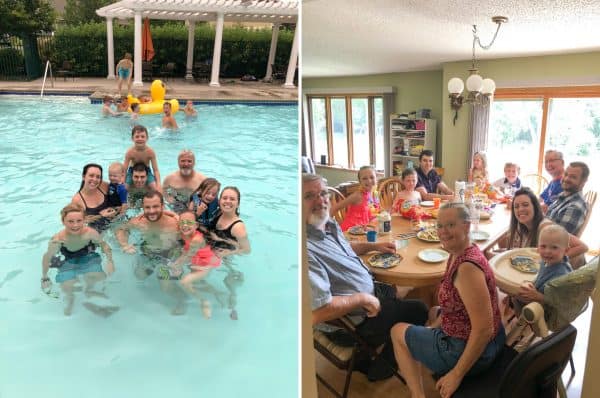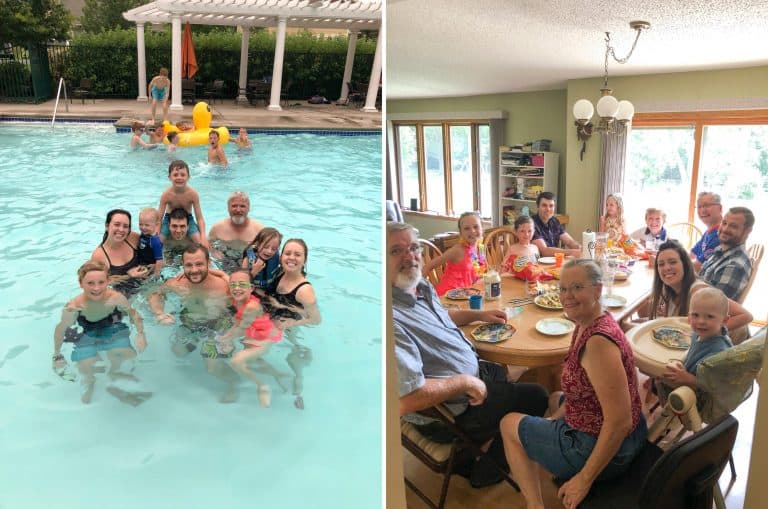 The first weekend in August we flew back to Minnesota to spend time with our families. Some of my favorite times with my family are around the table when we share a meal together and we also went swimming!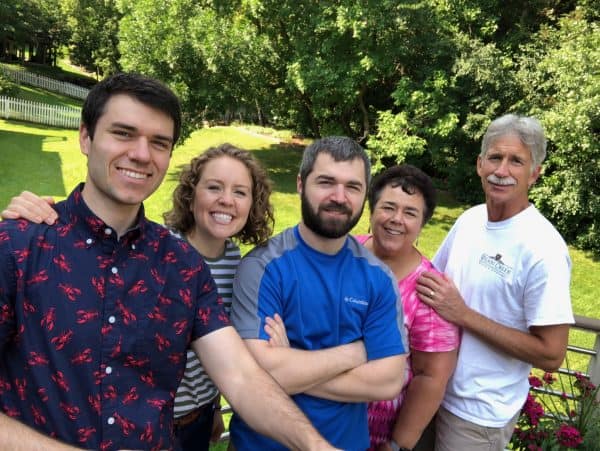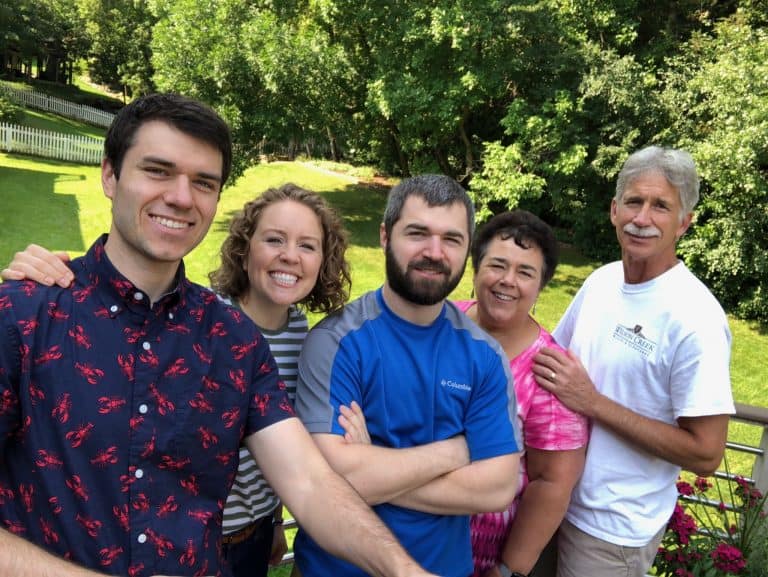 We also went to our 10 year high school reunion, which was a lot of fun. (Ryan and I went to the same high school!) Out of our close friends, we're the only ones that live outside of Minnesota so it was great catching up with everyone.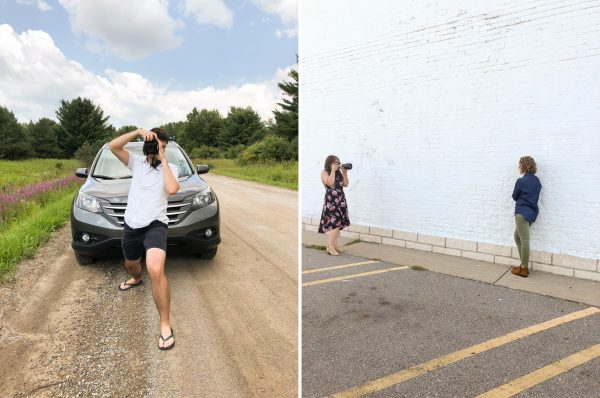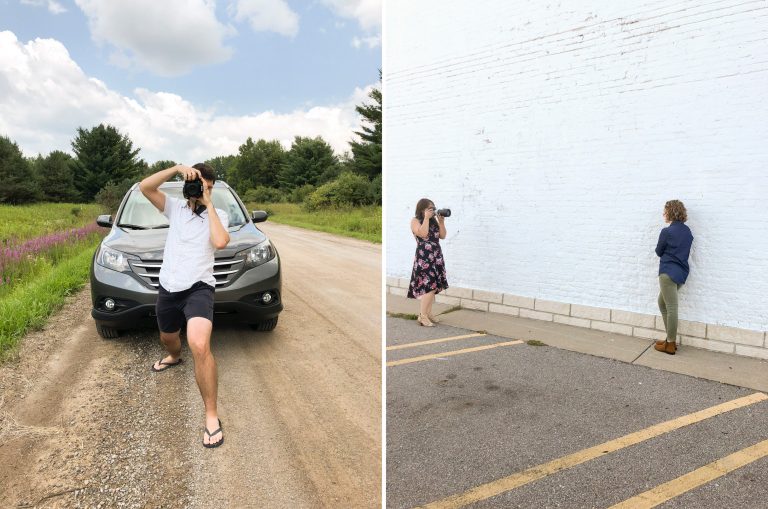 Here's a behind the scenes picture of how Ryan usually stands when he takes pictures for me. Since he's so much taller than me, he has to bend down so the camera is level with me!! I call him my "faux-tographer". The second photo – another behind the scenes picture! My friend and talented photographer, Miranda, took new head shots for me! You'll be seeing those pop up soon.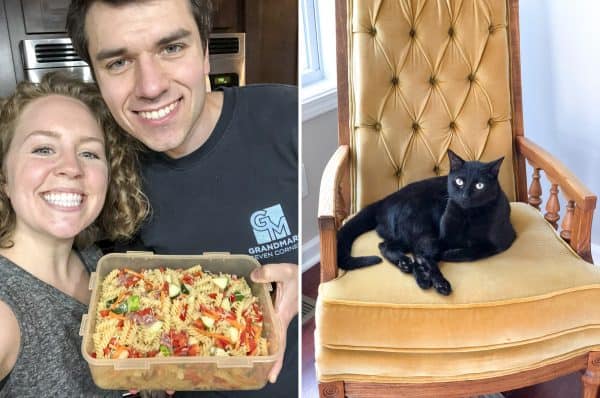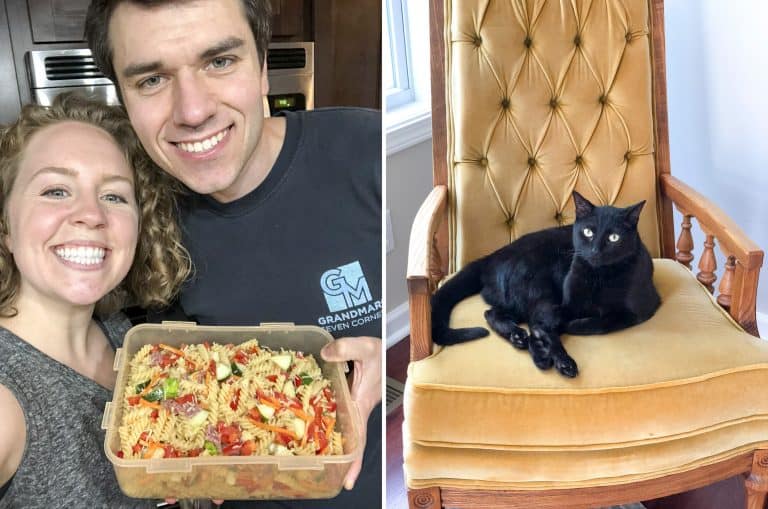 Ryan and I made pasta salad for the first time ever so it justified for a picture. It actually ended up not being so good.. we need to work on our pasta salad skills. The second photo – my sweet Salsa on the king's chair! Remember I found this chair at a garage sale for $15!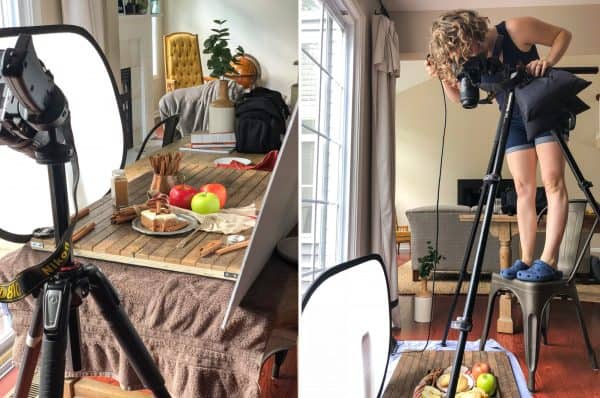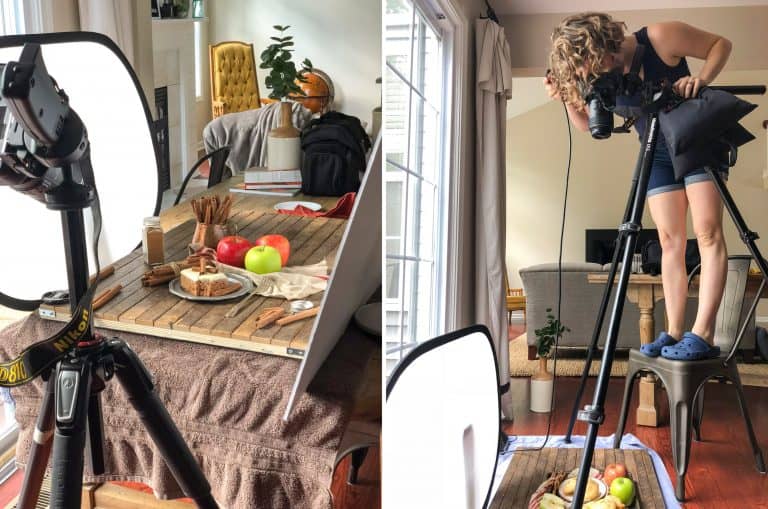 I've been working on fall recipes this week – two behind the scenes pictures from those photo shoots!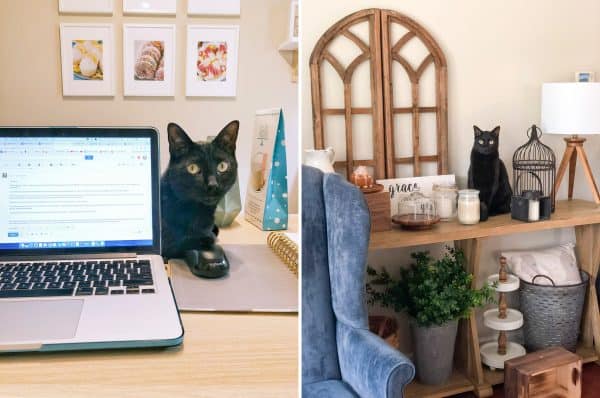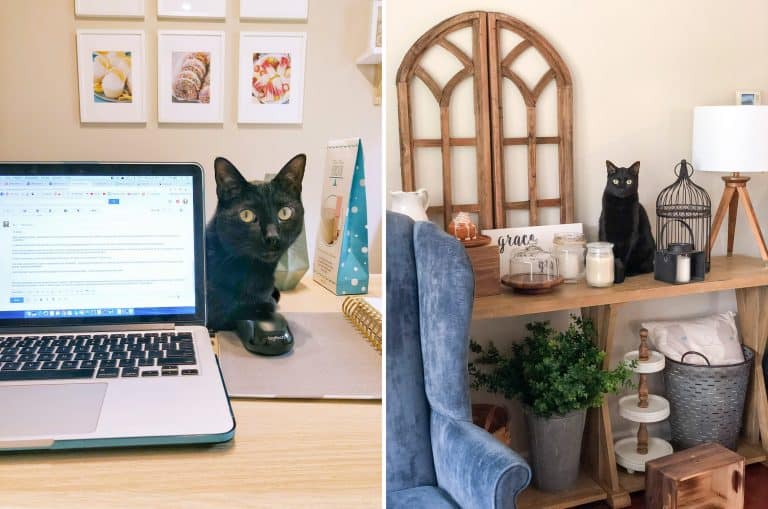 And last, more cat photos. Salsa is doing this new thing where he lays behind my computer on my desk. Except he takes up so much space and doesn't like when I move my mouse. The second photo – Salsa added himself to the decor, and he fits right in. Or maybe he's ready to decorate for halloween?!
Opening up…
We're wrapping up our second summer in Michigan. It's been a lot of fun, spending time with friends and going to various events. Last summer we just moved in and hadn't made too many connections so this summer kind of felt like our first summer here.
Ryan and I have gotten into the routine of going to the gym a few days a week after work to lift weights. We both really enjoy weight lifting, so it's fun to spend that time together and it's been cool to see the progress we've been making!
We've spent a lot of our time doing yard work, getting ice cream and going on walks too.
The first 3 weeks in August our church did 21 days of prayer. It's something that the Church of the Highlands in Alabama puts on twice a year, and I really enjoyed it in January and again this month. Each morning for the 21 days, there's an hour worship and prayer time led by church of the highlands that you can live stream either at home or at your local church. It was awesome to get up early, head to church and carve out time each morning to spend with the Lord.
If you've been following along in our previous out of the kitchen posts, I mentioned that Ryan and I were talking about relocating to Texas for 6 months for his job. We've decided to stay here and both feel really great about the decision. While Texas would have been a fun adventure, we're excited to stay here and continue to grow our relationships.
Plus we're talking about getting a fur friend for Salsa at the end of the month!
——
See our previous out of the kitchen posts.