Out of the Kitchen July 2017
WE'RE BACK WITH ANOTHER OUT OF THE KITCHEN POST – HERE'S WHAT WE'VE BEEN UP TO FOR THE MONTH OF JULY!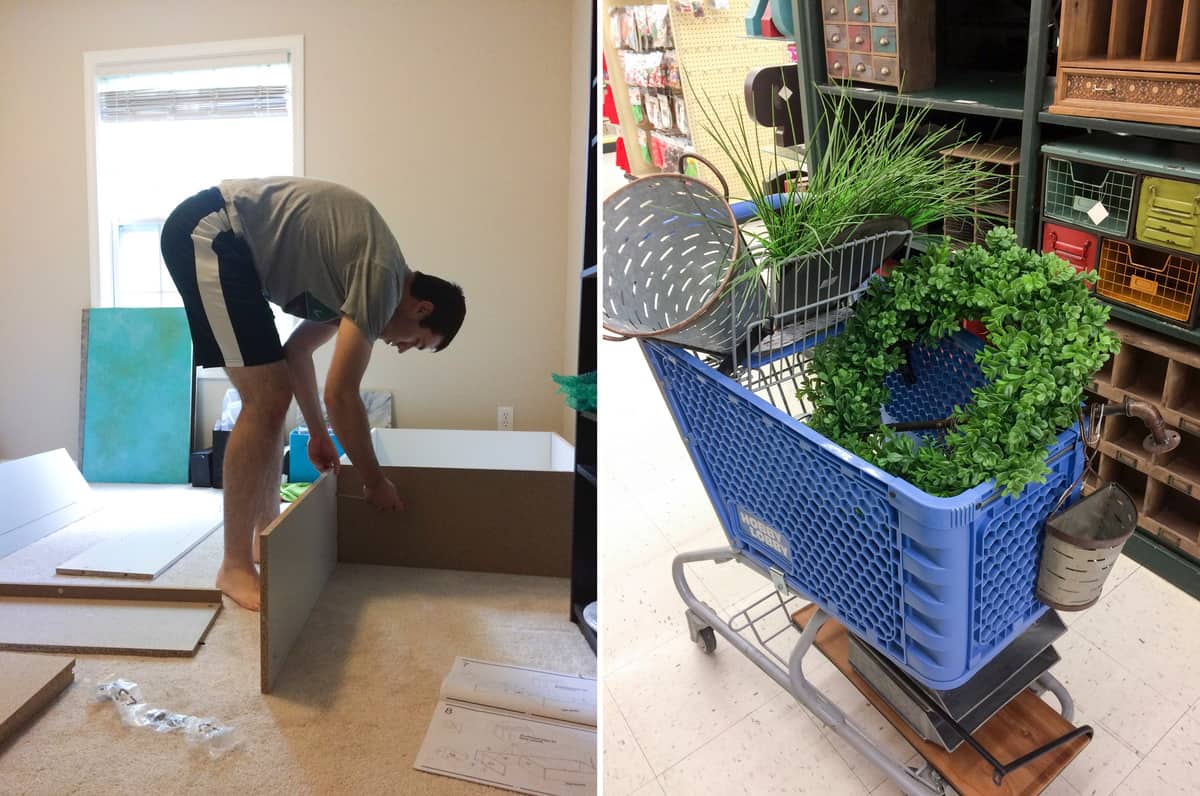 This month consisted of a lot of furniture putting togetherness. I got 3 large shelves for my office so I can store all my props and bakeware. Thanks to my great hubby who loves putting together shelves! The second photo – quite the Hobby Lobby haul! Everything I liked was on sale!! I really try to not buy anything unless it's 50% off.. lucky for me I picked a good week to go!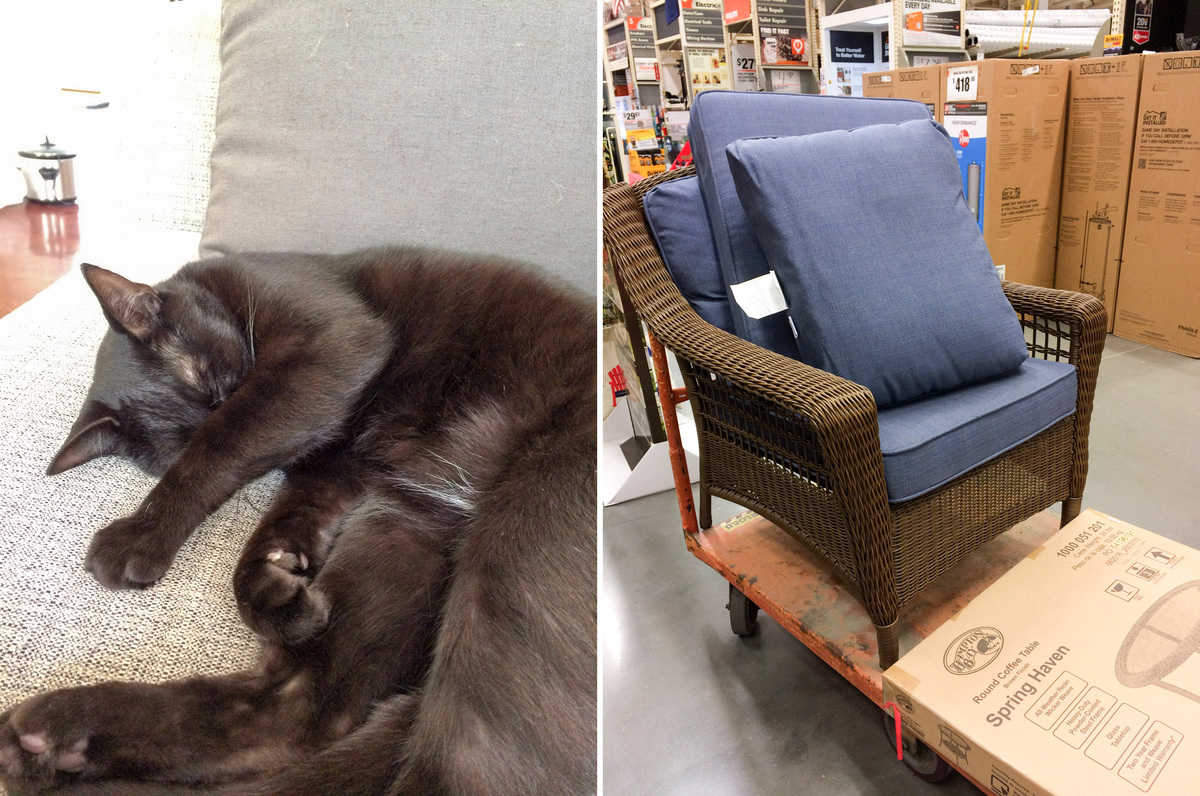 The cutest Salsa cat ever, meooow! The second photo – we bought patio furniture! Remember when I shared that we were re-painting our deck? Well now that we finally finished, we got ourselves from furniture and since home depot is getting rid of all their patio furniture, we got it on sale!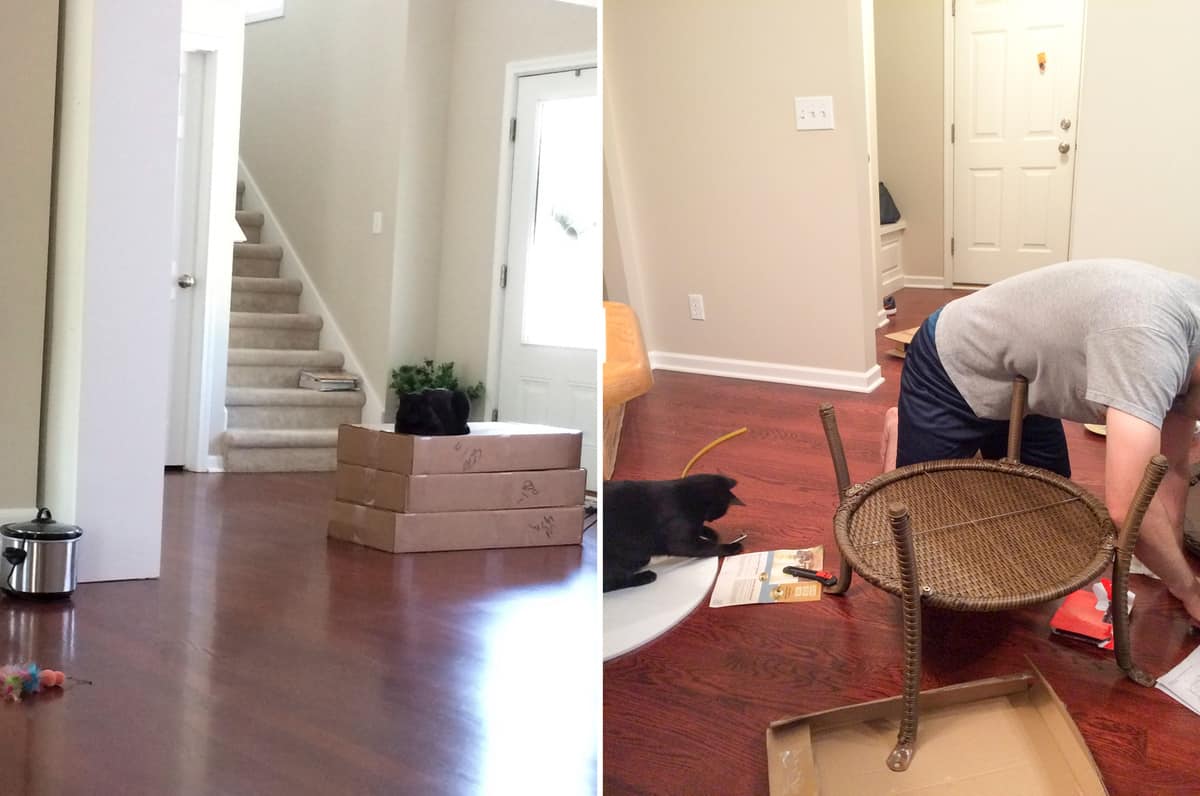 So do you see Salsa sitting on his mountain of boxes?! The second photo – just hanging out on Sunday night putting the patio furniture together, of course with Salsa's help.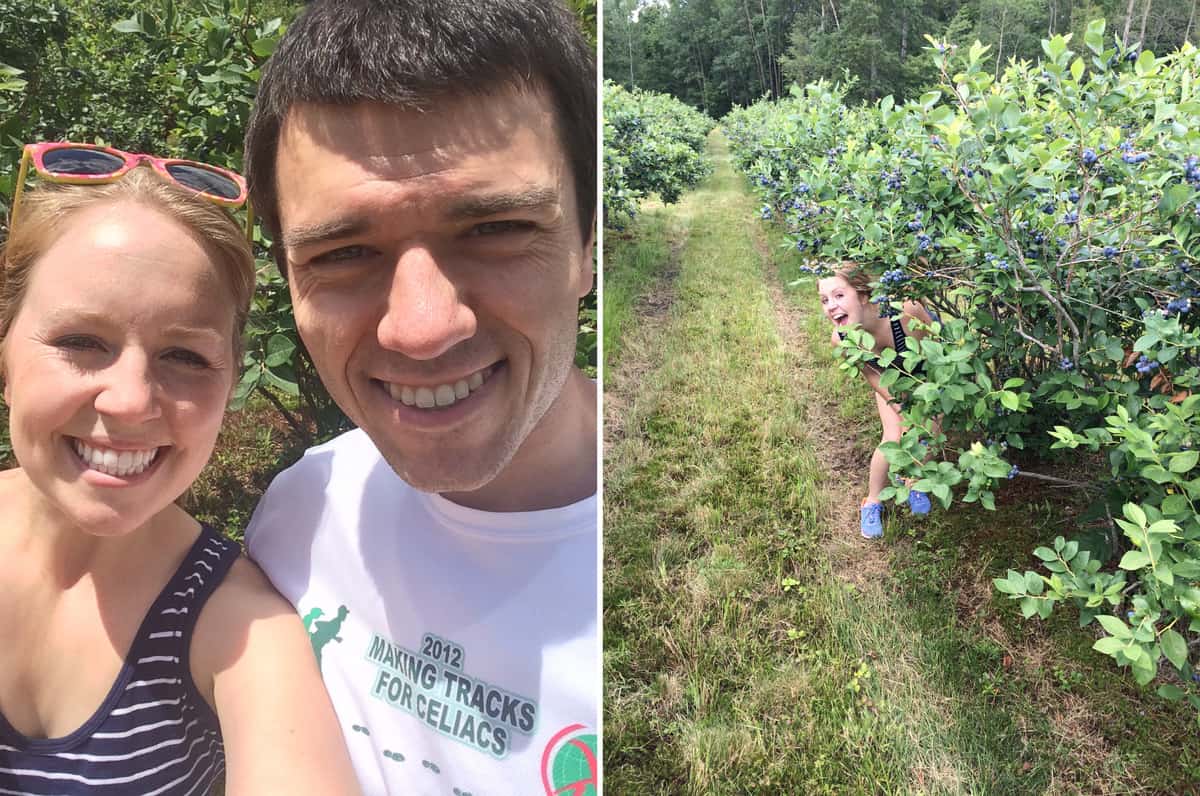 We went blueberry picking!! We had never picked blueberries before, but we live about 20 minutes from a whole bunch of farms. We went on a perfect weekend and there was only one other couple there. We picked 8 pounds – some went into blueberry muffins and the rest we ate within a week! We'll definitely have to go back.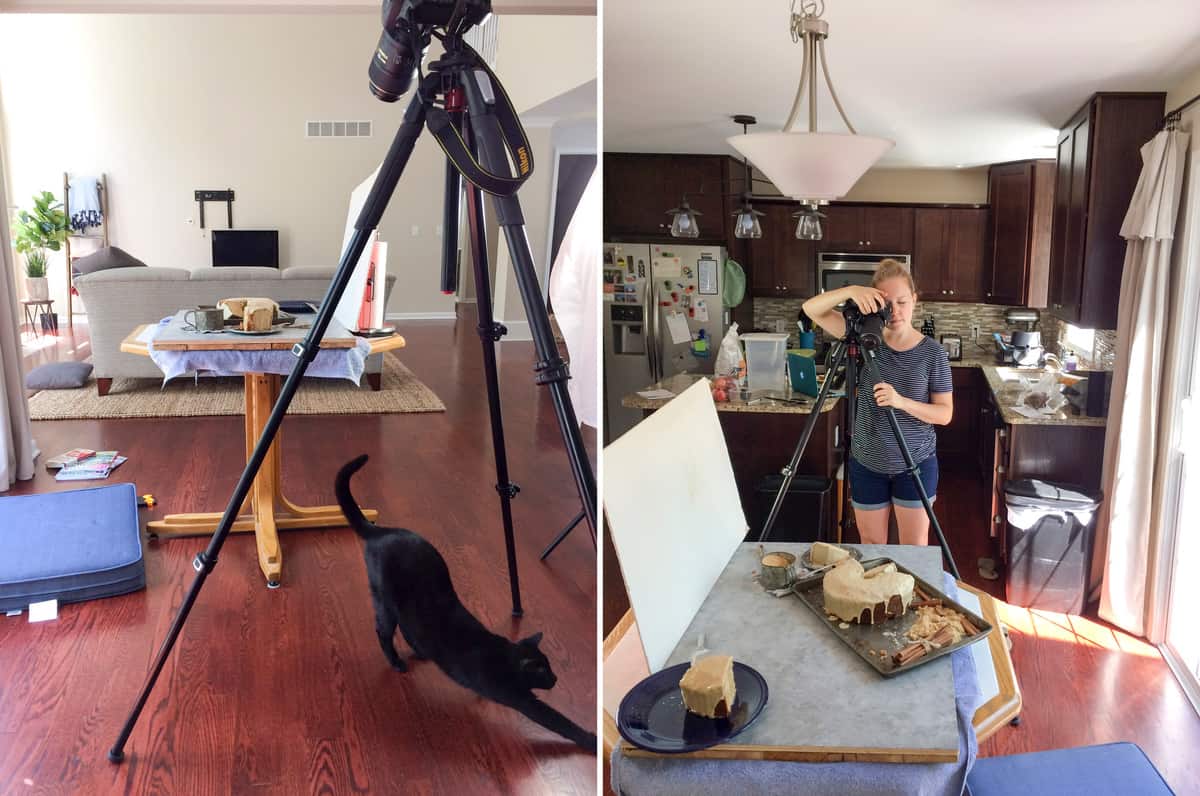 Do you see the blue cushion on the ground? That's one of our outdoor patio seats, but Salsa has claimed it as his cat bed. It's so cute. Before he got up to stretch, that's where he was sleeping while I was doing a photo shoot. The second photo – a view of the same shoot from the other direction! I was working on brown sugar pound cake which will be on here soon!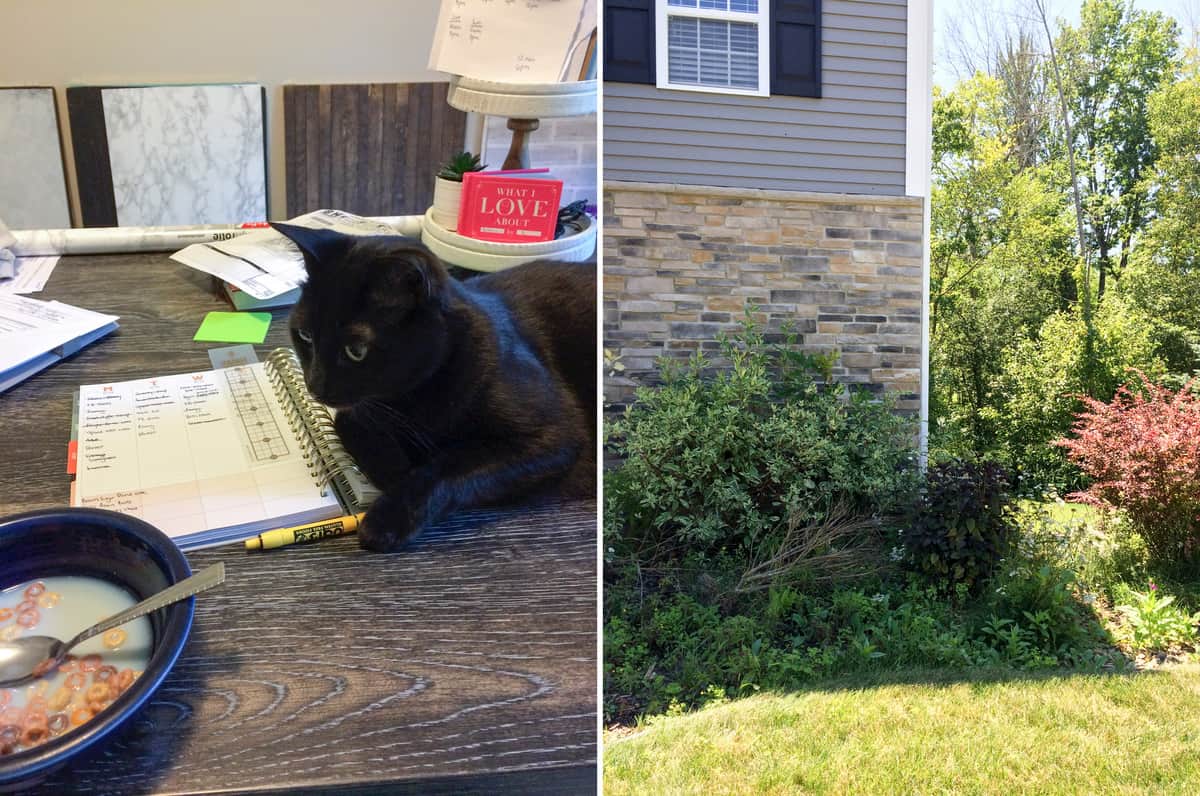 Salsa likes to join me for breakfast! He has a really weird thing about cheerios.. whenever I pour my cereal, he comes running. And then he likes to sit on my calendar or computer so I can't do anything :) The second photo – we spent the weekend doing yard work. I wanted to take a picture of the "before" of this portion of our yard.. we haven't done anything with it yet because we're working on other areas, but we inherited a jungle of weeds and too much foliage.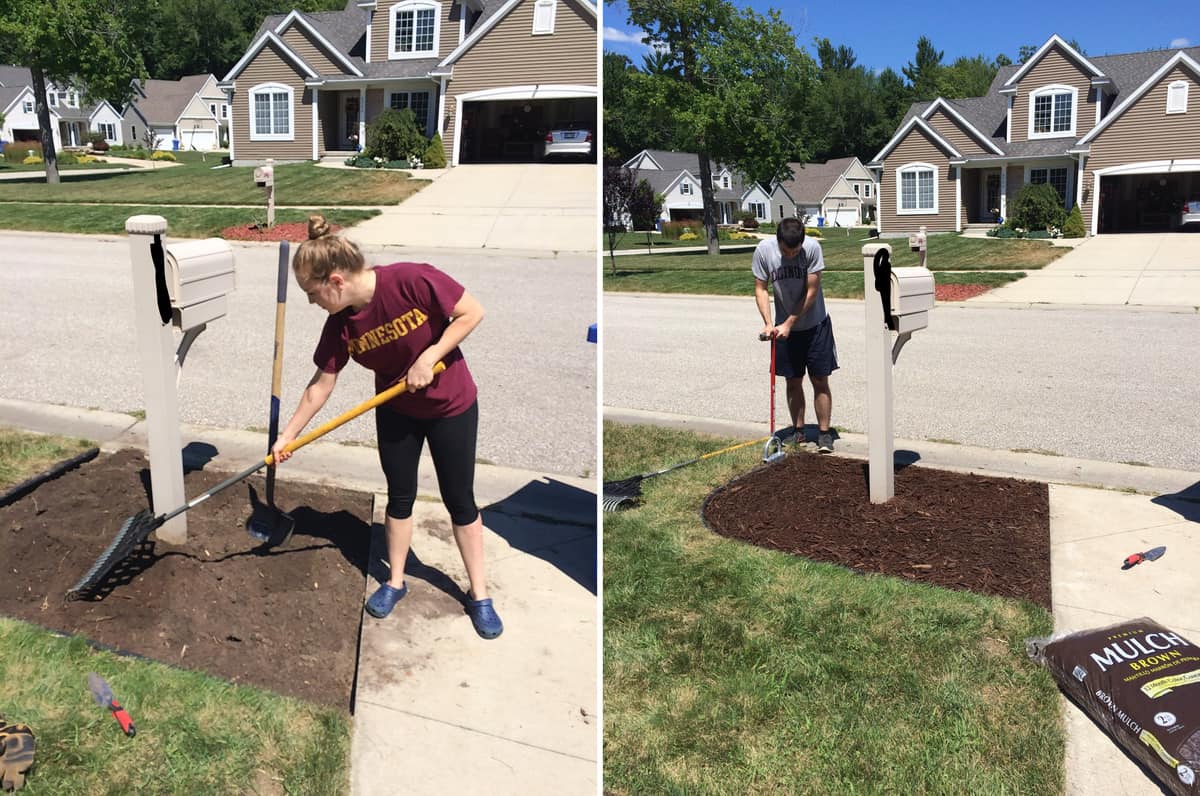 So I forgot to take a before picture of the area by our mailbox, but there were plants like up to the middle of my legs and lots of weeds. So we pulled everything out, removed the old mulch and added new mulch. We didn't add any plants this year since the lowe's guy said it was a little late in the year, so maybe next year we'll add something!

We went on our first dinner date since moving! And the restaurant we went to ended up being reeaallly fancy and we are not fancy people at all. There were things on the menu that we had no clue about, but it was fun making new memories together.
OPENING UP…
July has been the best month since we moved to Michigan. I think it's because we feel settled and have a pretty good routine. Our house is still very unfurnished so it doesn't "feel" 100% like home but over time we'll acquire more furniture. I think the next thing on my wish list would be a kitchen table.
Ryan and I have gotten into a great routine of going to the gym twice a week after work and pumping iron. When we started I couldn't even bench the bar, but now I can! It's really neat to see improvements. And in general we are eating healthier. No more ice cream every night :(
I feel like I am really seeing God's goodness in his plan for us to be here. We're walking out of a really hard, looooooong season of intense grad school into a season of abundance and rejuvenation.
We've met some awesome people in 'this can't be a coincidence' type of way. When my plans for how I thought things would go once we moved (like I thought and prayed that we would find our church right away) didn't happen, I felt God saying, it might not happen the way that you prayed, but it's going to be good. He has been slowly showing us his plan, and we're finding a lot of peace and joy in it. I genuinely feel really happy.
We're talking about getting a puppy (we've always wanted a dog) so we checked out tons of books from the library on how to prepare and how to drain your puppy. Honestly, the books make me question if we're ready for a dog, which is good on one hand.. obviously we need to know what we're getting into with adopting a dog, and on the other hand it makes me sad because I just want a dog in my life and I didn't think so many things would need to change or it would be so time intensive the first year.
And once we get a dog, it's not like life can ever go back to the way it was. Please tell me I am not crazy, I am sure that all of these thoughts are similar to what people feel before they have kids. I have a friend who tells me I will never feel 100% ready to have kids, but when that baby is born, you find yourself eager to let go of your former lifestyle and embrace this new one. Do you that it's the same with dogs? If we are analyzing the decision to get a dog this much.. do you think we'll ever be convinced we can tackle kids?!
Along with a possible dog in the future, I'm really excited to decorate the house for the upcoming holidays, and yes I'm talking about Halloween and Christmas when they are 3-5 months away!
—
See our previous out of the kitchen posts.