Out of the Kitchen January 2017
WE'RE BACK WITH ANOTHER OUT OF THE KITCHEN POST – HERE'S WHAT WE'VE BEEN UP TO FOR THE MONTH OF JANUARY!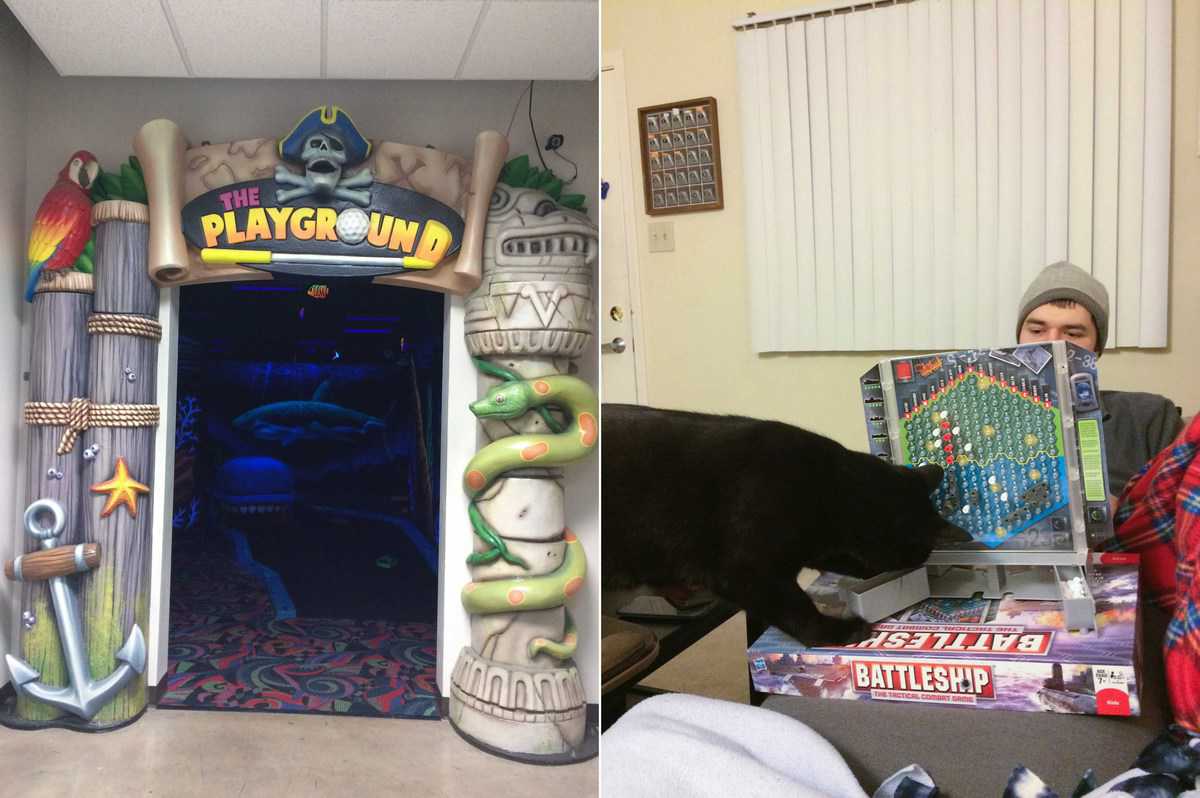 We discovered indoor BLACK LIGHT mini golf!! It was fun and they had tricky holes. Not to mention we had the entire place to ourselves on a Saturday night! The second photo – Salsa was curious about our game of battleship. I was hoping he'd tell me where Ryan put his boats ;) I ended up winning the game, which I almost always win battleship when we play – I think I have good intuition.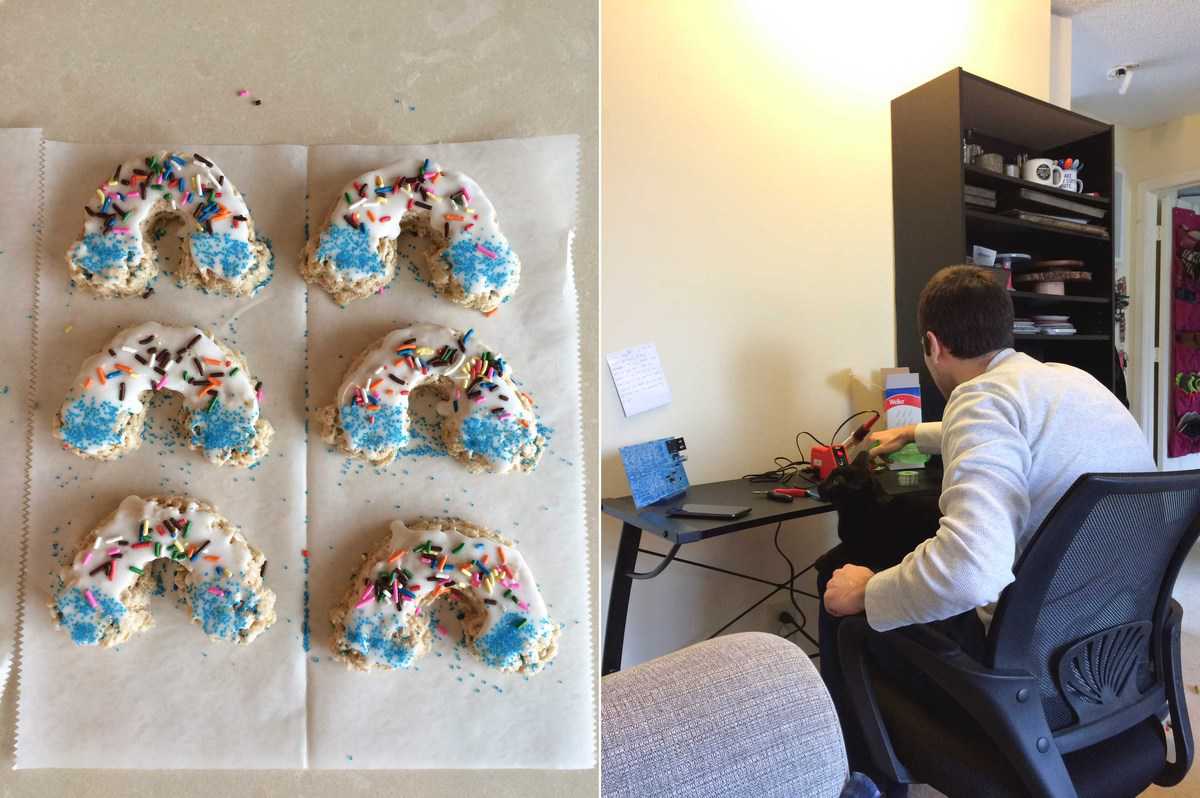 I was able to spend time with my friend Ashley this month! Ashley and I met because we were both nannying for families that lived in the same city. Now that I'm blogging full time, it's nice to carve out time to see her! We made rainbow rice krispies with her nanny kids. The second photo – Salsa has this weird pull to sit in Ryan's lap whenever he has his soldering iron out – which seems to dangerous! But Salsa just likes to sit there watching Ryan put together his radio kit.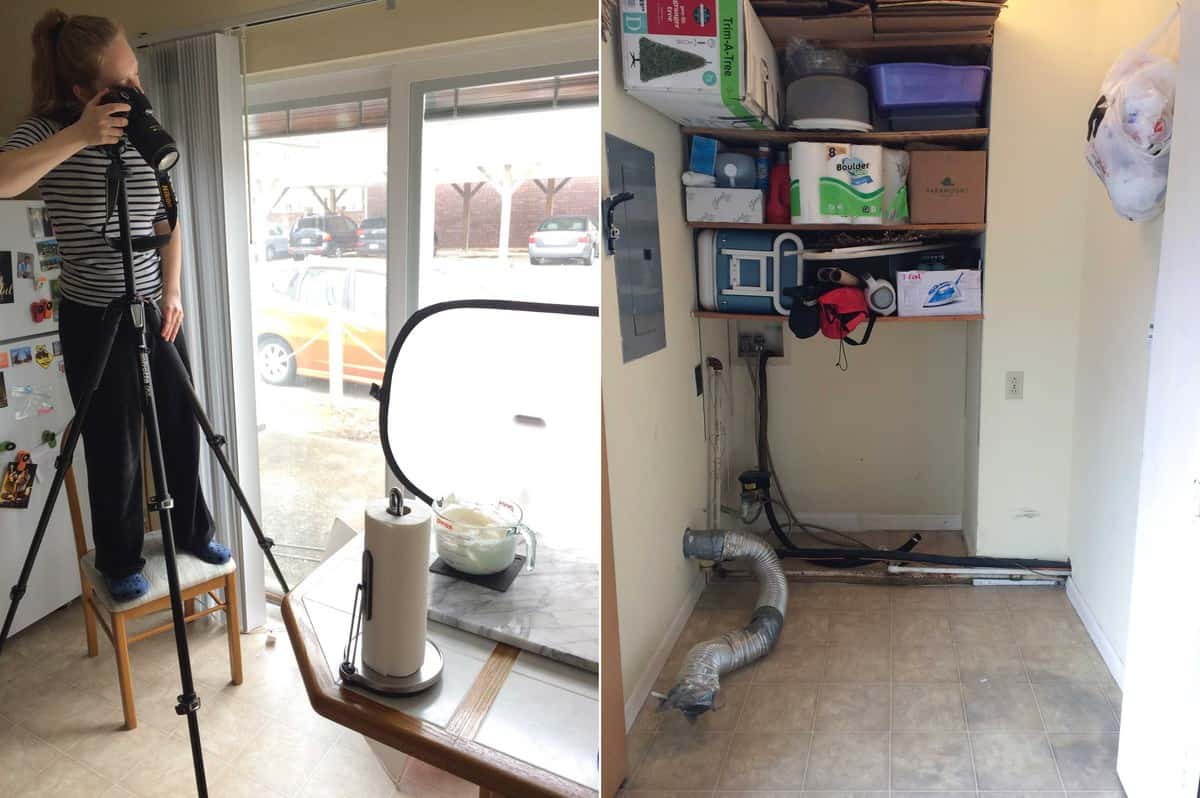 Behind the scenes shots of me are harder to come by these days – but I had Ryan snap one while he was working at home with me one day. I actually think I was in the process of shooting a video. The second photo – we survived without a washer and dryer for 3 weeks – but a BIG thanks to the friends who let us do laundry at their houses! Originally when we moved in we bought a washer and dryer off craigslist for $100 – those 1970s models lasted us 4 years and now we have a brand new set (which we'll have to leave when we move in May!).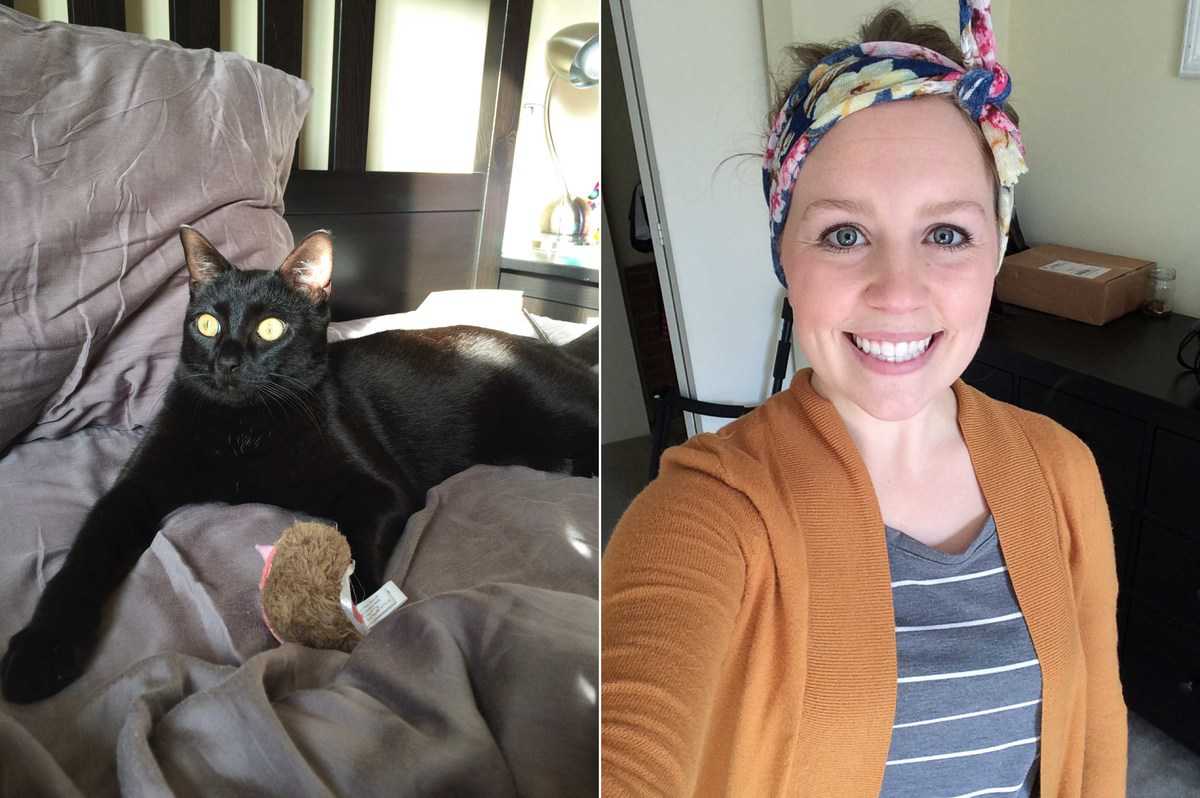 Salsa has been causing me anxiety. We had to take him into the emergency vet TWICE in one weekend because he stopped peeing, but was in his litter box every other minute trying to go. Well, we thought this was resolved and he acted normal for a few days and just yesterday he started acting weird again. The vet thinks he's anxious about something… :(  The second photo – I am loving my headband from Blue Eyed Baby Couture on etsy. It's so soft and not tight at all, but at the same time it stays on my head! I want to order another!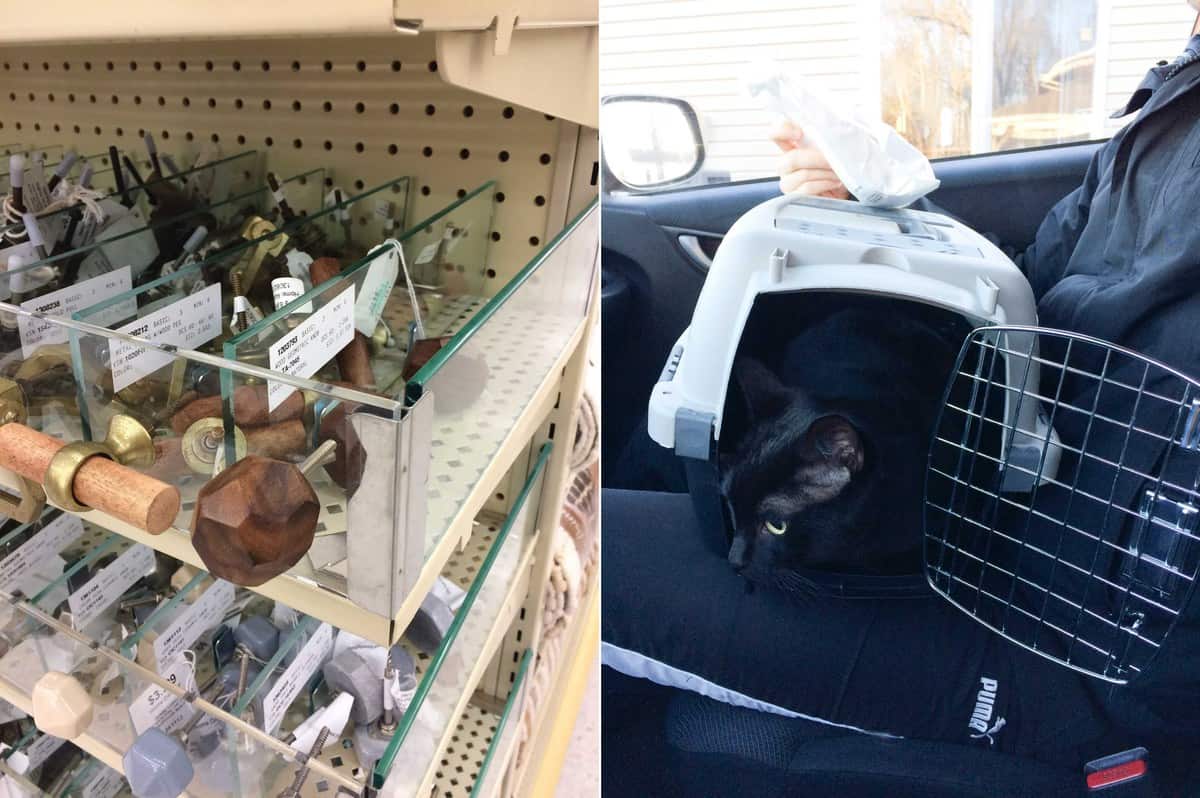 I fell in love with a few knobs at Hobby Lobby. I actually bought that geometric wooden ball one hoping it would work on the dresser I repainted, but I think I'll have to choose a lighter colored knob. The second photo – our sad Salsa after the vet trips.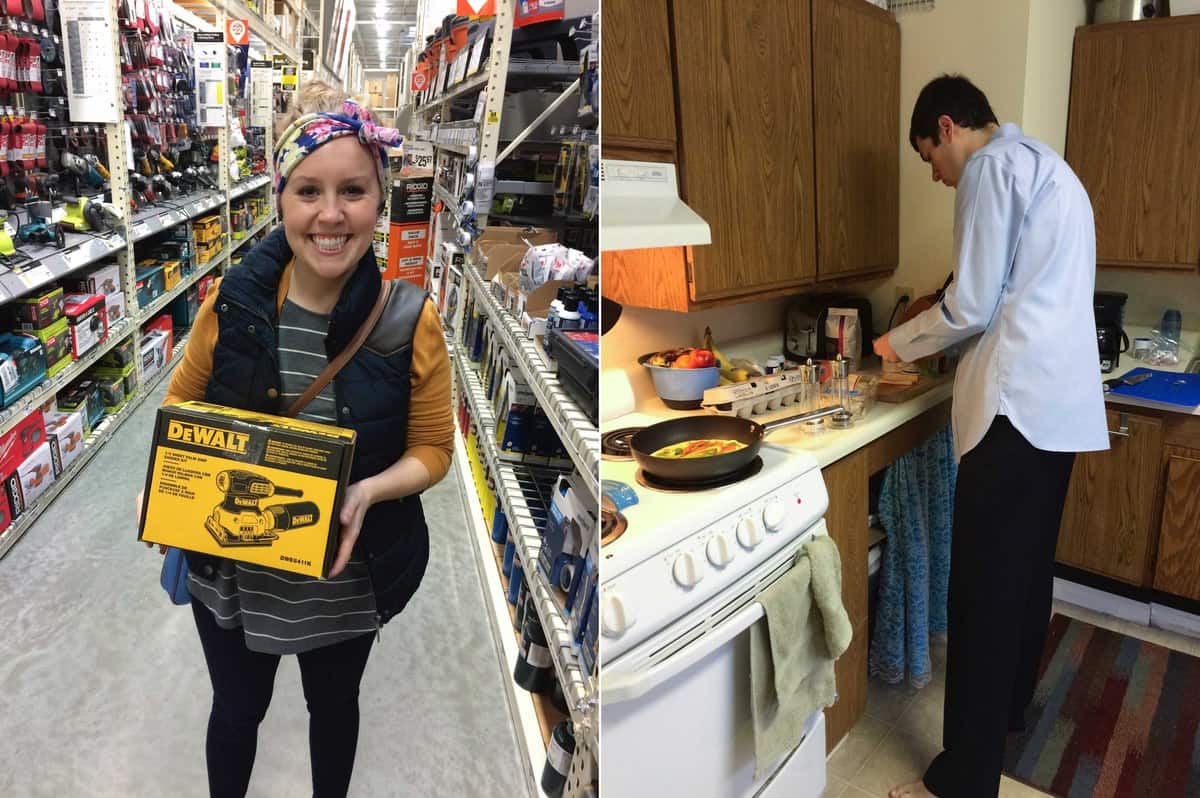 Woohooo!! First tool! An electric hand sander!! Ryan's been encouraging me to find a hobby (because I made my first hobby – this blog – into my job lol). So I'm trying out the hobby of painting furniture – more pictures below on that. The second photo – Ryan has totally changed his breakfast routine. He used to eat cereal and literally run out the door, but now he's been making omelets. It's cute, he eats his omelet while drinking coffee and listens to the news. He says he's preparing for this real job post grad school.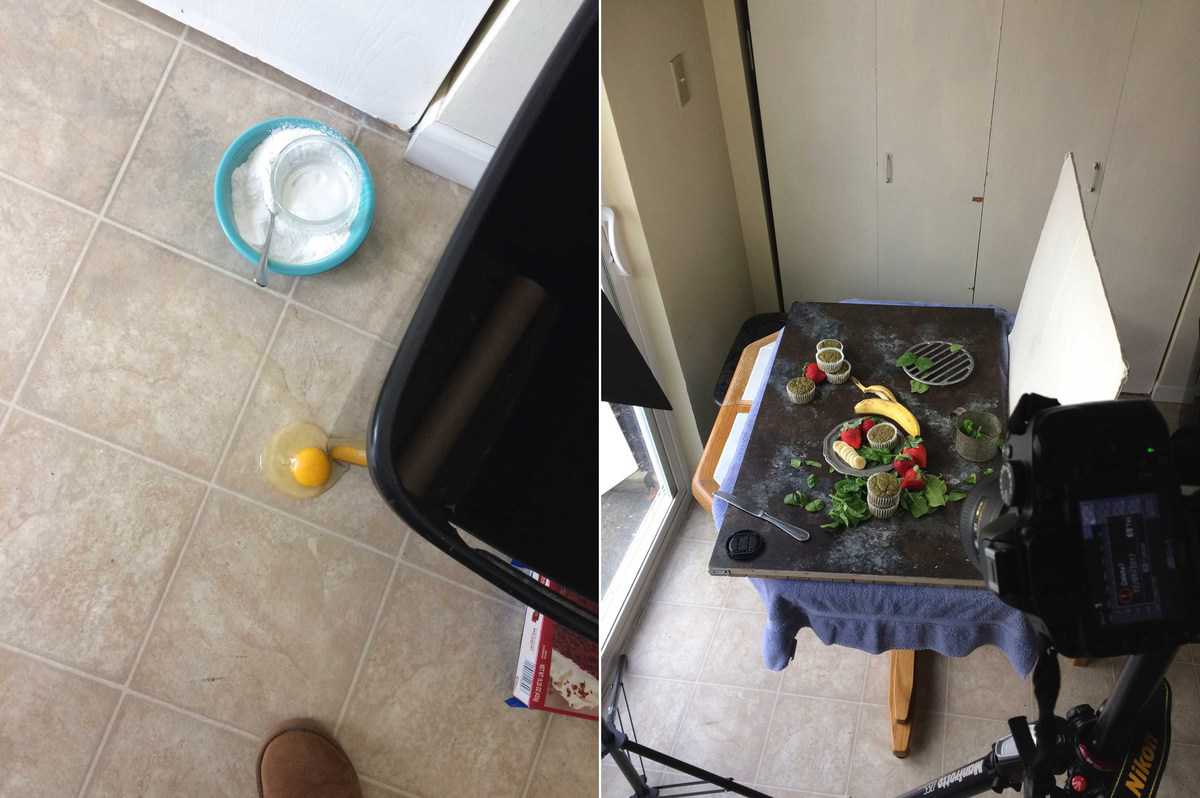 Dropping an egg on the floor totally stinks. They are hard to pick up and the mess gets everywhere. The second photo – behind the scenes of a recipe I was updating – green monster smoothie muffins! I originally took the pictures in 2014, so they needed an update now that my photography is better!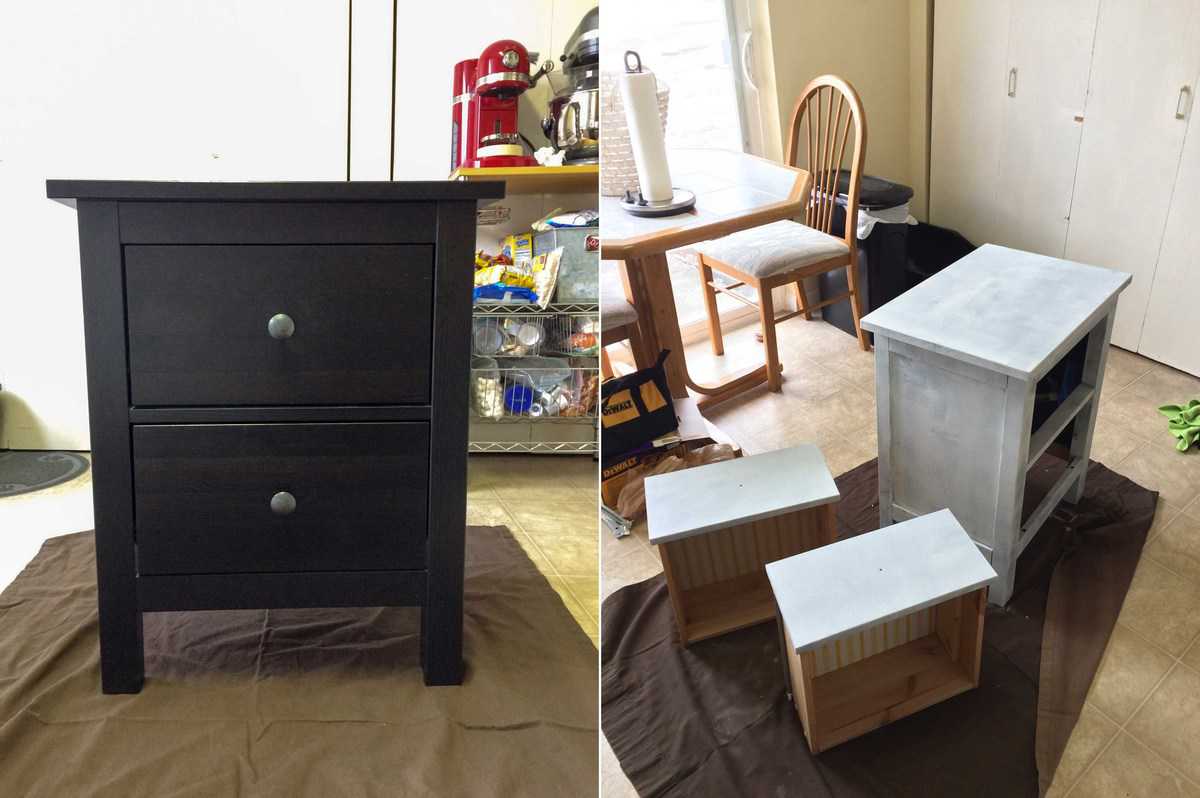 So this is my new hobby! I'll still in the middle of this project as I write this, but I learned how to sand, prime and paint an ikea dresser. I also learned how not to do those things and what paint brushes work best. I painted the dresser elephant skin gray (not pictured) and next I need to give it a protective coating and re-pick out knobs again! I'll share a photo of the finished dresser next month.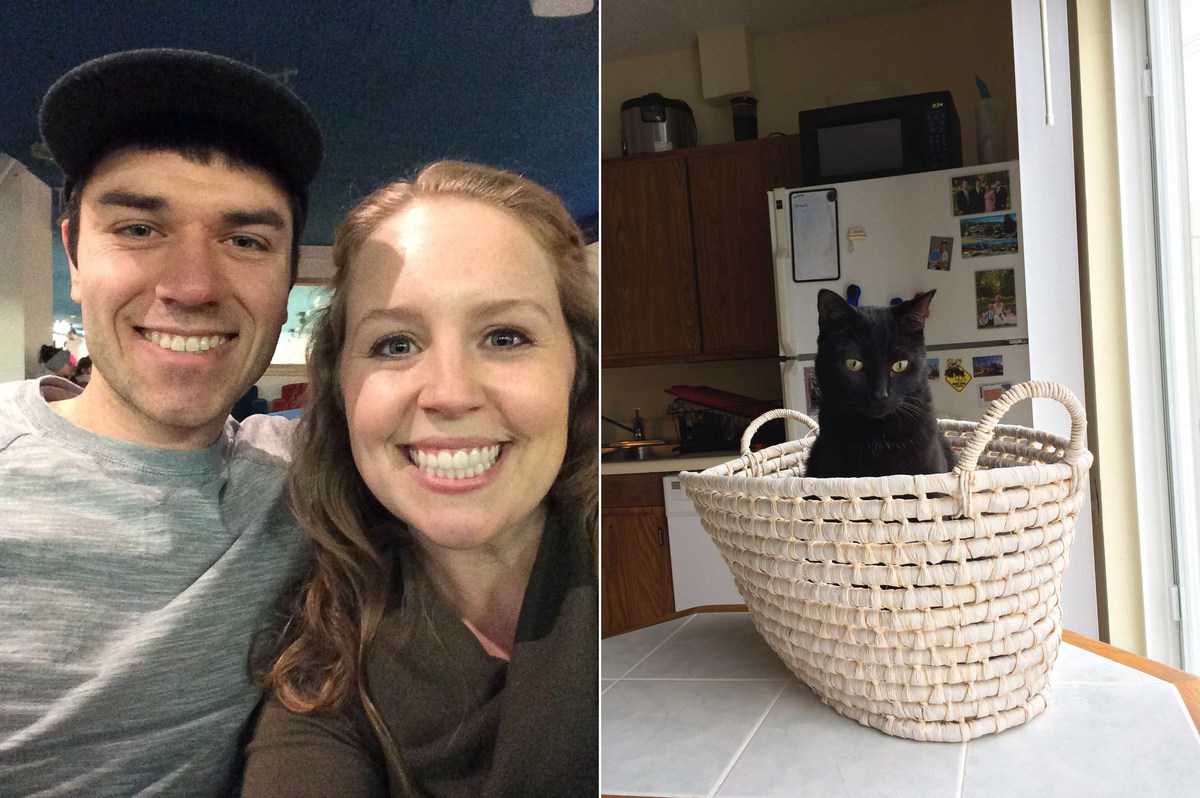 Finding things to do in the winter can be hard, especially if you don't want to go out to eat all the time. So Ryan and I got creative and went to the rec room at the college near us and rented a wii and a few games for the night! We found out that we both liked the wii sports game where you do the hammer throw lol. The second photo – this basket was another project I did, it was originally plain raffia and I painted in with a white chalk paint. Someone likes sitting in it :)
OPENING UP…
January has been an emotional month. Not in a bad way and not in a good way, just emotional.
As the calendar turned from December to January I was concerned about how the blog would fare. January is slow, it's the start of the first quarter and there's just not the same momentum as the holiday season. I felt like I was doing everything to try to get sponsored work (working with companies) lined up. And still nothing has panned out. My heart felt convicted. I've been trying in my own power to make it happen. But His timing is perfect. This period of rejection and waiting caused me to question the value of my blog and the value of my talents. And isn't that exactly what the enemy wants? He wants me to question my worth. Even though the Lord hasn't brought any sponsored work to the table, He's been showing me the depth of my talent and encouraging me to continue to glorify Him.
Another thing I've been working through – 2017 is the year of the move. Not just the move but THE move. Not across town to a new house, but across the country to a new state where they only person I know is our realtor. So far the excitement about becoming home owners and the process of house hunting has kept me distracted from the sadness I feel about leaving, but I know I need to let myself feel that sadness at some point. I've learned that I need to prepare myself for change before it happens. So anyone know how to prepare yourself to leave everything that feels comfortable?
The Holy Spirit has also convicted me of putting too much emphasis on a house. I find myself thinking that life will be perfect once we move and have a house. But I realize that once we move and I have what I think is this perfect house, I'll be lonely.
There are so many mixed feelings – excitement and eagerness to begin house hunting and get that in stone, but the desire to slow time down to stay here, where it feels like home. As we're going through this season of waiting, He's teaching me that my focus should be on the person of my faith rather than on the object of my wait.
—
See our previous out of the kitchen posts.