Out of the Kitchen August 2017
WE'RE BACK WITH ANOTHER OUT OF THE KITCHEN POST – HERE'S WHAT WE'VE BEEN UP TO FOR THE MONTH OF AUGUST!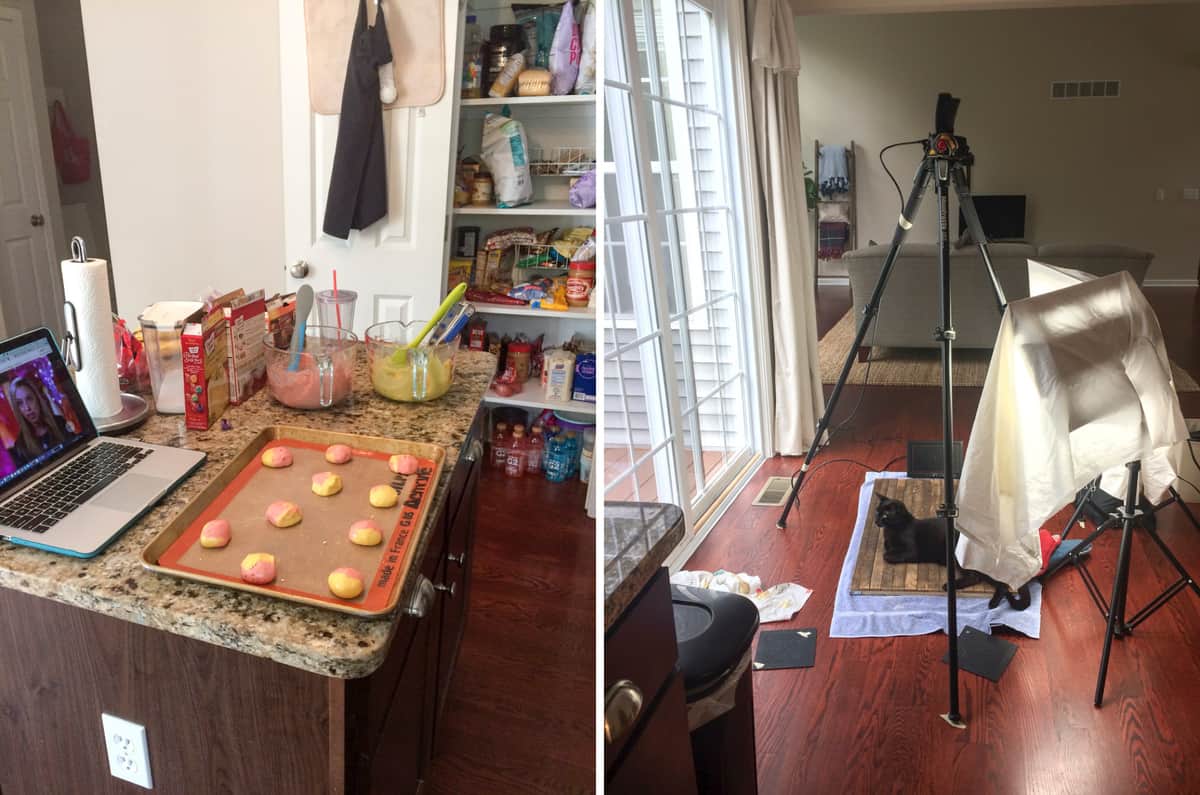 I have 5 nieces and nephews that live in Minnesota and this year they each get to pick what type of cookies they want me to make and mail them! One of my nieces picked strawberry lemonade cookies, they turned out super good with neat swirls in them! The second photo – Salsa likes to do this.. when I bring my supplies out to shoot he likes to lay in the middle on my photography boards, lol.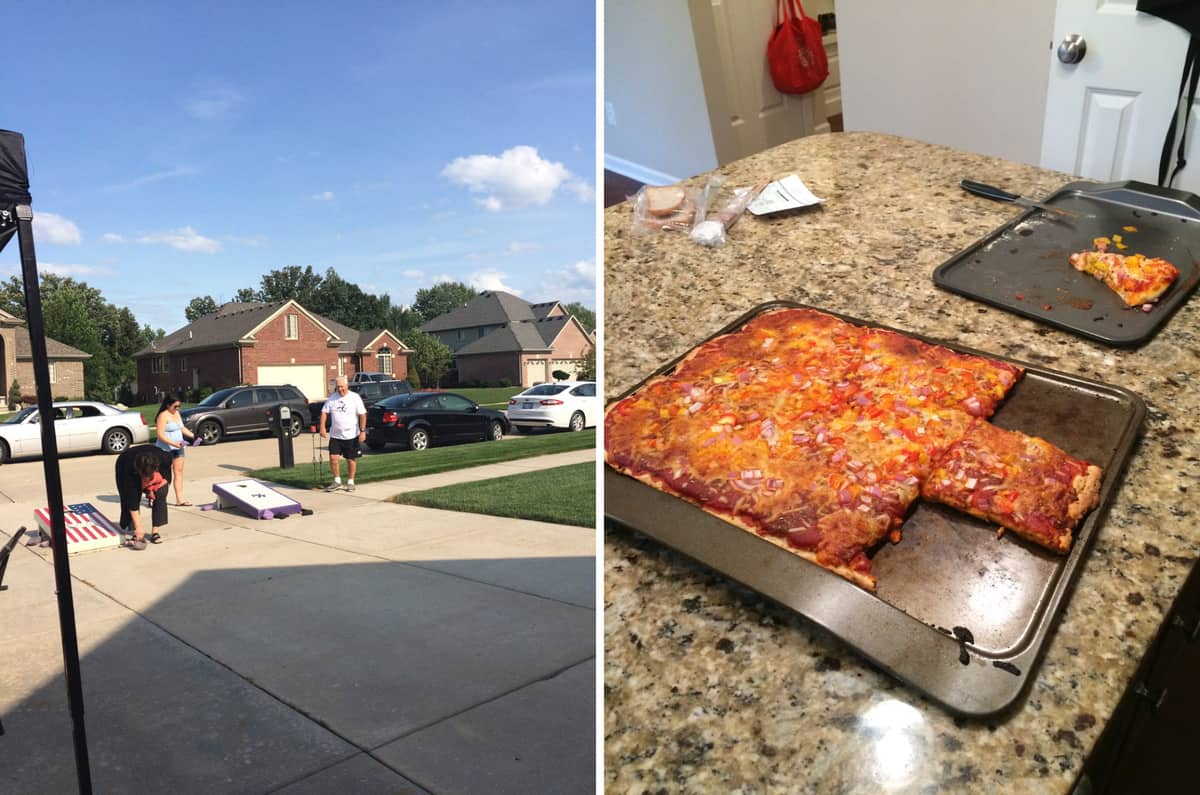 We were able to spend time with Ryan's extended family and had an intense bag toss tournament! Ryan and I were on separate teams, but we both lost. The second photo – this is a big deal because we never make homemade pizza. It's hard to find a good recipe for gluten free crust, but we're going to work on perfecting our recipes.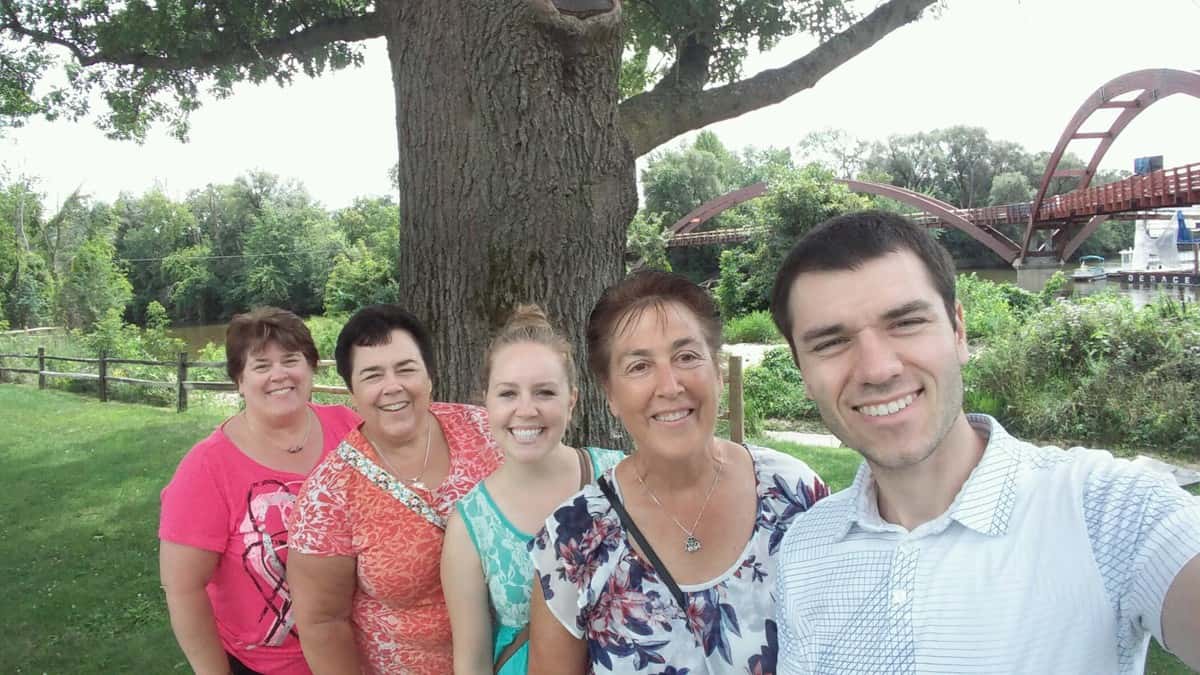 Ryan's mom and 2 aunts came to see our new house. We got to show them around town, and take them to our favorite ice cream place!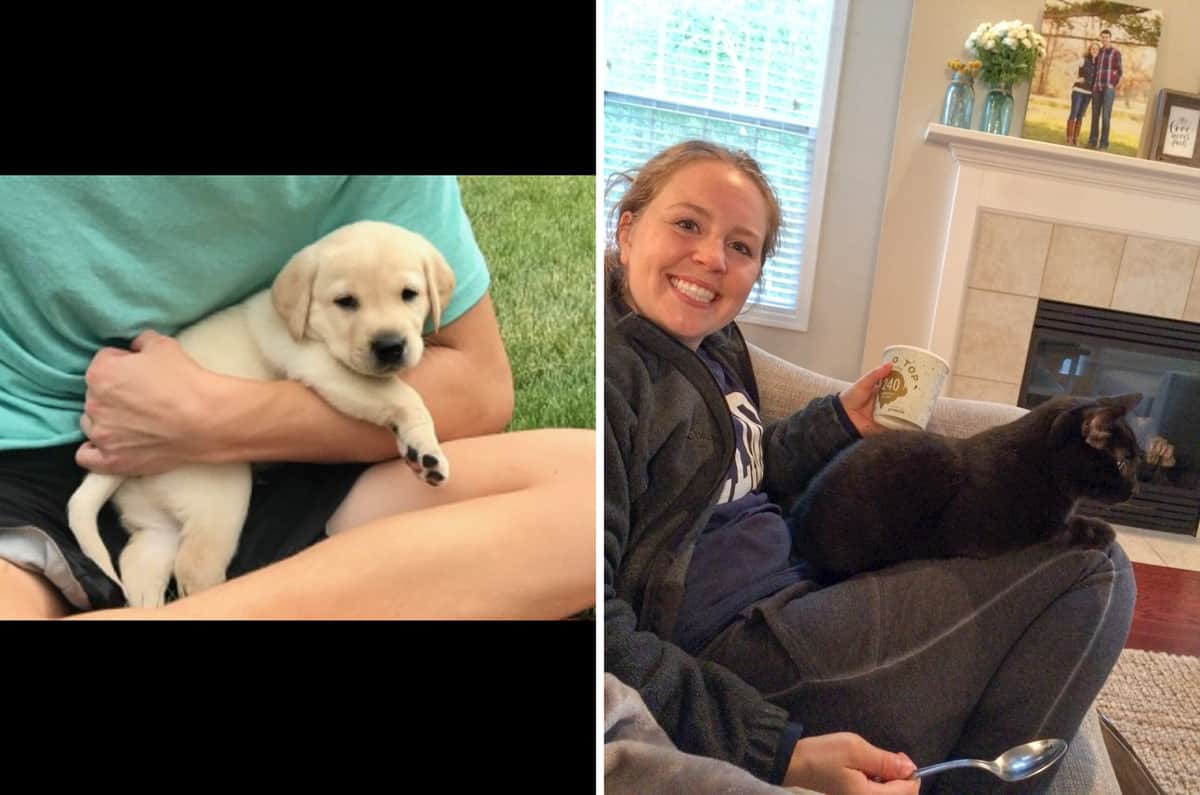 BIGGEST NEWS! We put a deposit on this little yellow lab!! We'll be picking him up in mid September – just wait for all the puppy pictures! I'm a little worried about Salsa.. I don't think he will like the puppy right away. But he likes playing with the dogs toys right now!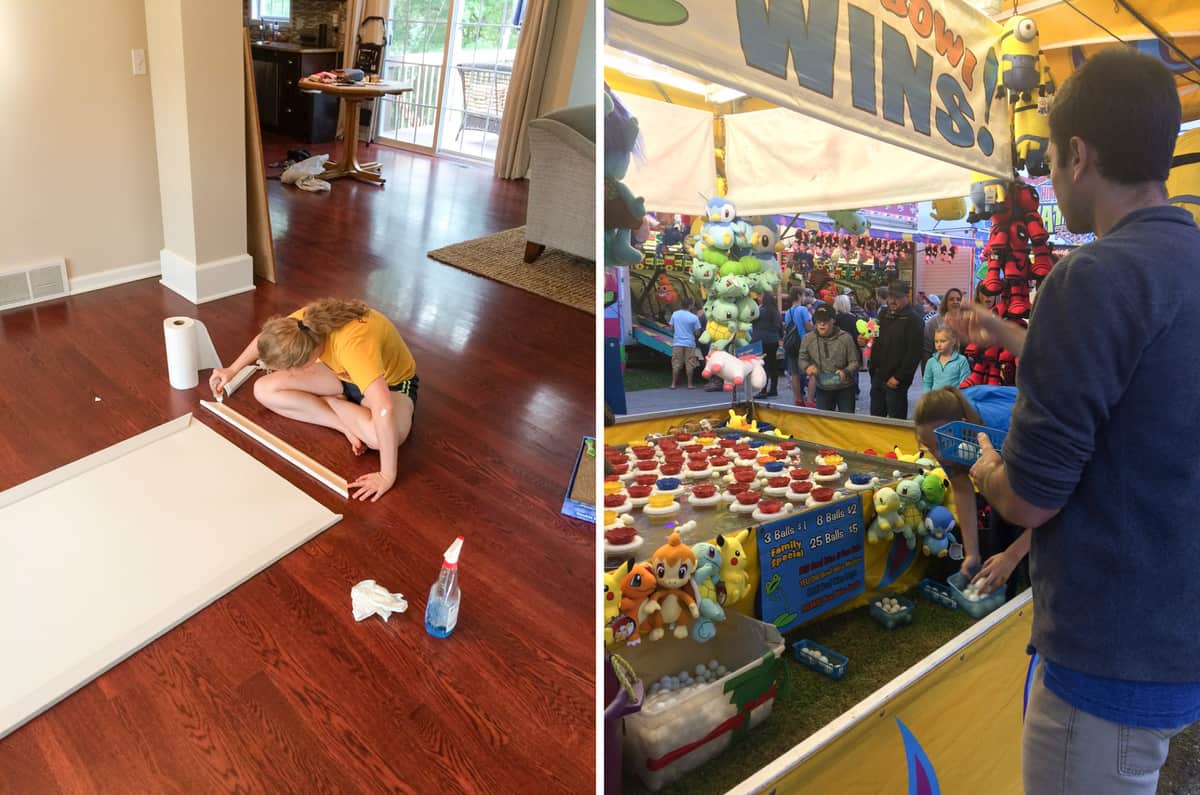 Ryan and I worked on framing a giant white board for my office. The project was fairly cheap (about $30). We found a white board type board called Mark-R-Board from lowes, so that's a good way to go if you want a large white board! The second photo – we went to the county fair with friends and it was a lot of fun! We saw all the animals, enjoyed french fries and played a few games. I think Ryan is secretly a game junkie!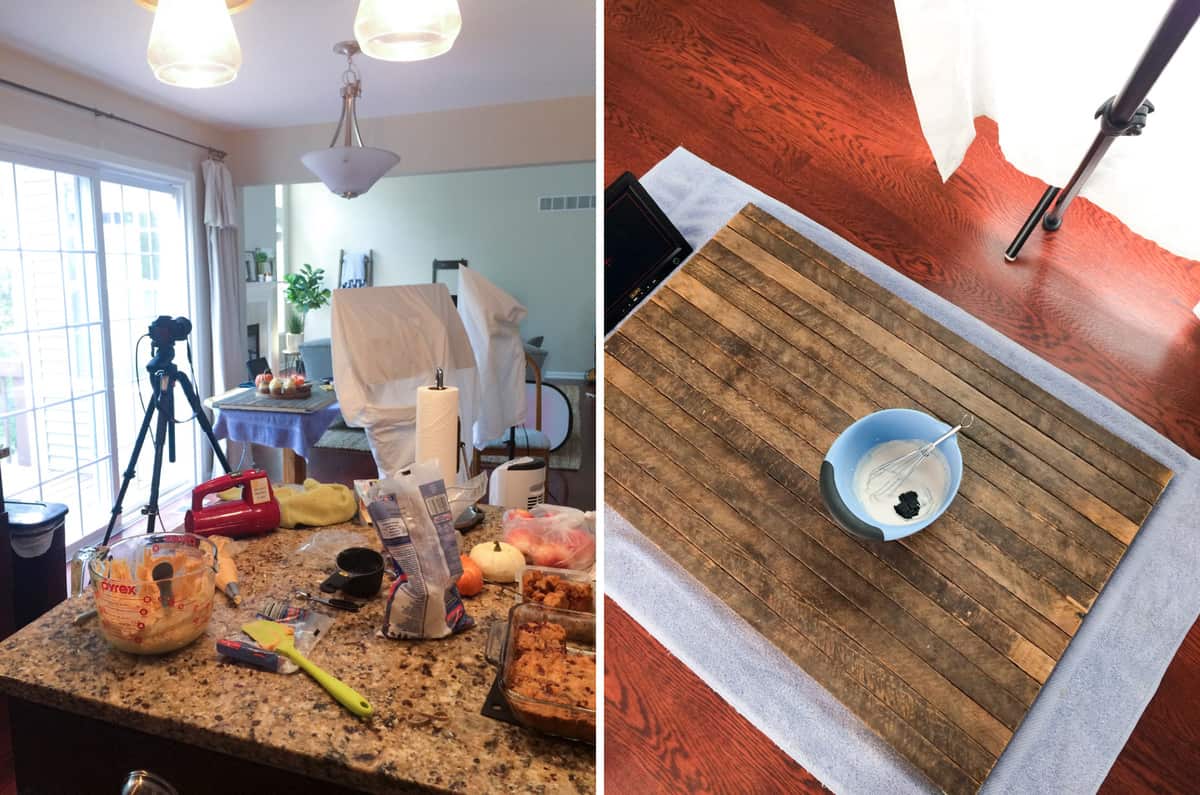 A photo of a busy kitchen with a few different recipes happening and on the same day I dropped my lens cap in a bowl of whipped cream.. booo!!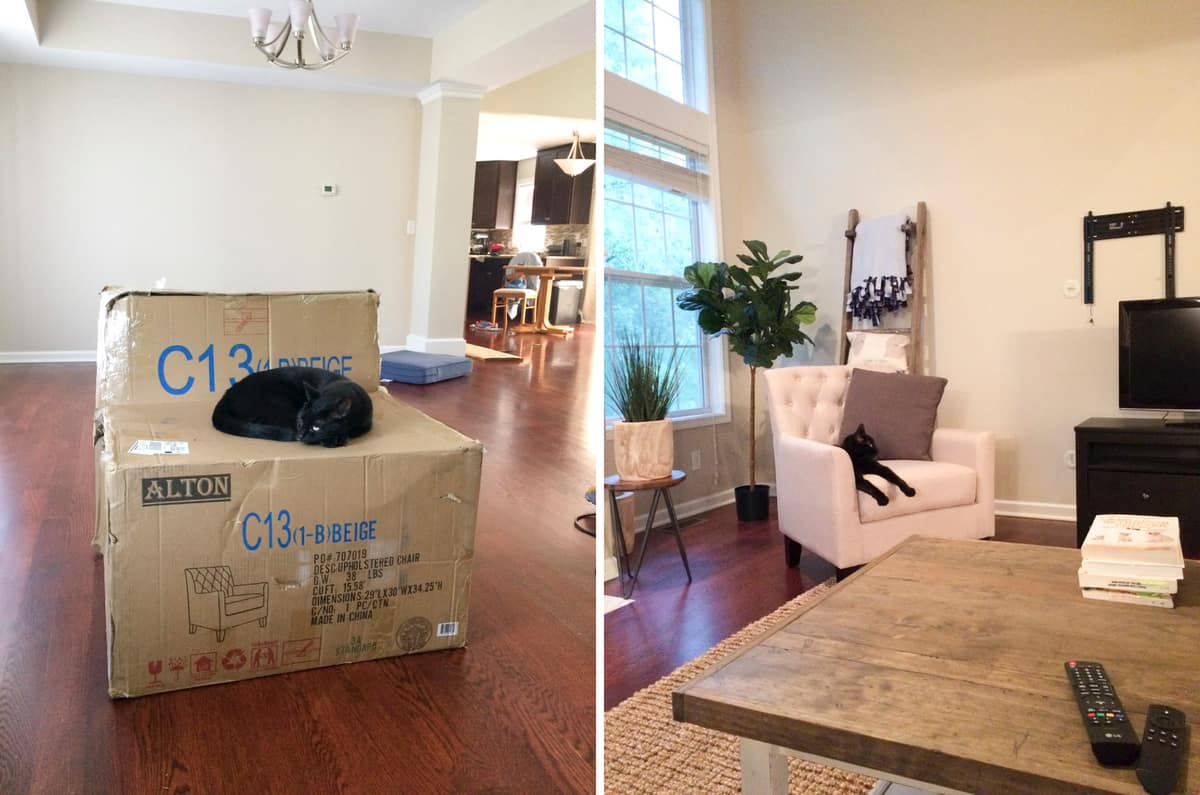 We got a new chair delivered from Way Fair and Salsa has taken to liking it VERY quickly!! He's obsessed. It's suppose to be our dog chair because we're hoping to train the dog to not go on the couch, but he can sit on the chair.. but Salsa and the dog might have to battle for it.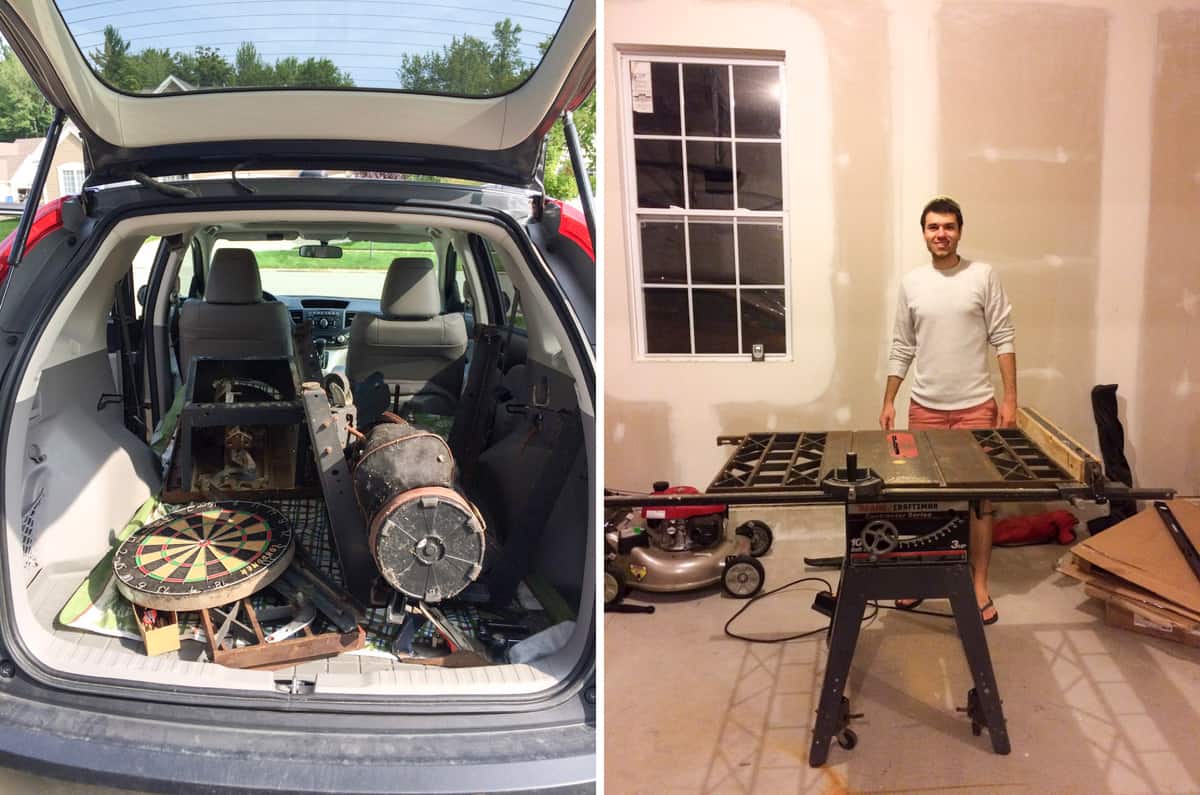 We stopped at a gem of a garage sale! Ryan found a table saw, a full set of golf clubs, a dart board, and a few other things for only $100!! He's excited to have a table saw, it will help with our project to put up shelves in the garage.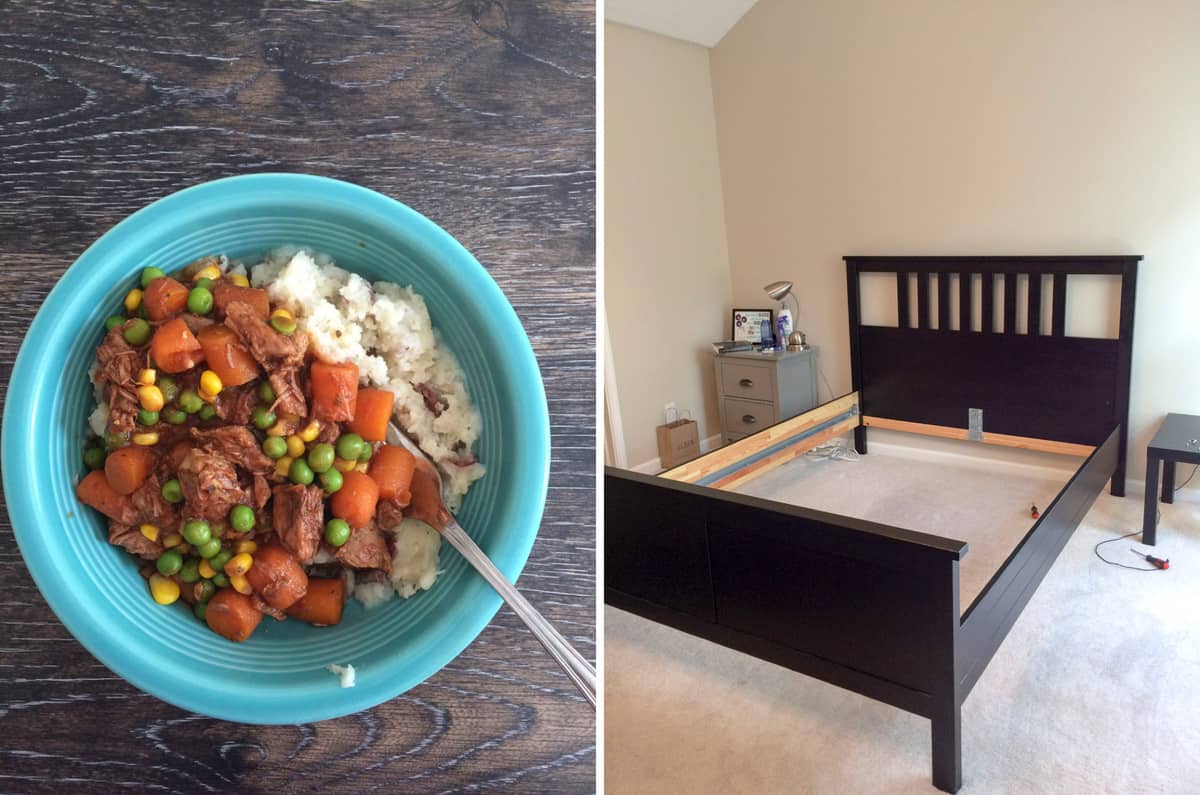 We made a new recipe that we loved for dinner! It's crock pot shepherd's pie from a fellow blogger! We'll be making it a lot! The second photo – I'm working on painting our bed frame white, I'll show you an after photo once I finish!
OPENING UP…
So it's official – we're getting a dog! A little lab puppy will be joining our family in September! I'm nervous and excited, and it's going to be a lot of work. Our focus is to train him well, so a lot of time will be dedicated to that. And I probably won't be able to sleep in like I have been doing, plus lots of other adjustments, but I can't wait for those puppy snuggles. I am guessing that Salsa will not like the dog for a while, it's going to be a big adjustment! I will apologize in advance for the massive amounts of puppy photos I share on instagram.
Not as cute as a puppy.. I had my first run in with anxiety this month since we moved to Michigan. Usually my anxiety is somewhat predictable (traveling or big events are triggers) but this flare was different and caught me off guard. My anxiety is predictable in the sense that each time it comes back I experience a lot of physical side effects. These side effects breed more anxiety because I try to web MD all my symptoms (never a good idea!) and start to believe that I have this or that issue… and eventually I come to terms that it's all anxiety related. It's hard to imagine that anxiety can cause you to feel like a walking zombie with headaches, knots in your stomach, sore eyes, and never ending hunger pains in the midst of gagging when the anxiety gets more intense. I feel like I'm not in control of my body.
Why am I sharing this with you? Because anxiety of any type feeds off of silence and if you never hear about another's experience with anxiety, you might think that you're abnormal. But that is not true, friend. I'm a normal person with a job, a husband, friends, and a church family and I still walk through anxiety. You are not alone. I do not have it all together, and that's why I share the hard times and the good times with you – because this is real life.
Each time I go through a bout of anxiety, God teaches me something. I'm not quite sure about this one yet, but is it weird to say that I'm thankful for my anxiety? I'm never ever thankful when it's happening, but after I get some distance from it, I can see through the fog. It's empowering to be thankful for anxiety, because then there is nothing to be afraid of. It helps me to realign my focus – to rest and develop deeper dependence on Jesus. This time, especially, I found myself holding onto the promise that suffering will end when Jesus calls me home, but until then, I have accepted that anxiety is part of my story and because of my anxiety, vulnerability also gets to be part of my story; and it isn't my anxiety that makes me stronger, it's my vulnerability.
—
See our previous out of the kitchen posts.