Out of the Kitchen April 2019
I never got around to posting March's out of the kitchen, so we're doing a combo post – here's what we've been up to for March and April!
My mom and stepdad came to visit from MN in the beginning of March! It was so fun having them here and showing them around our town. We played a lot of fun games and shopped local for some goodies for them to take back to my nieces and nephews.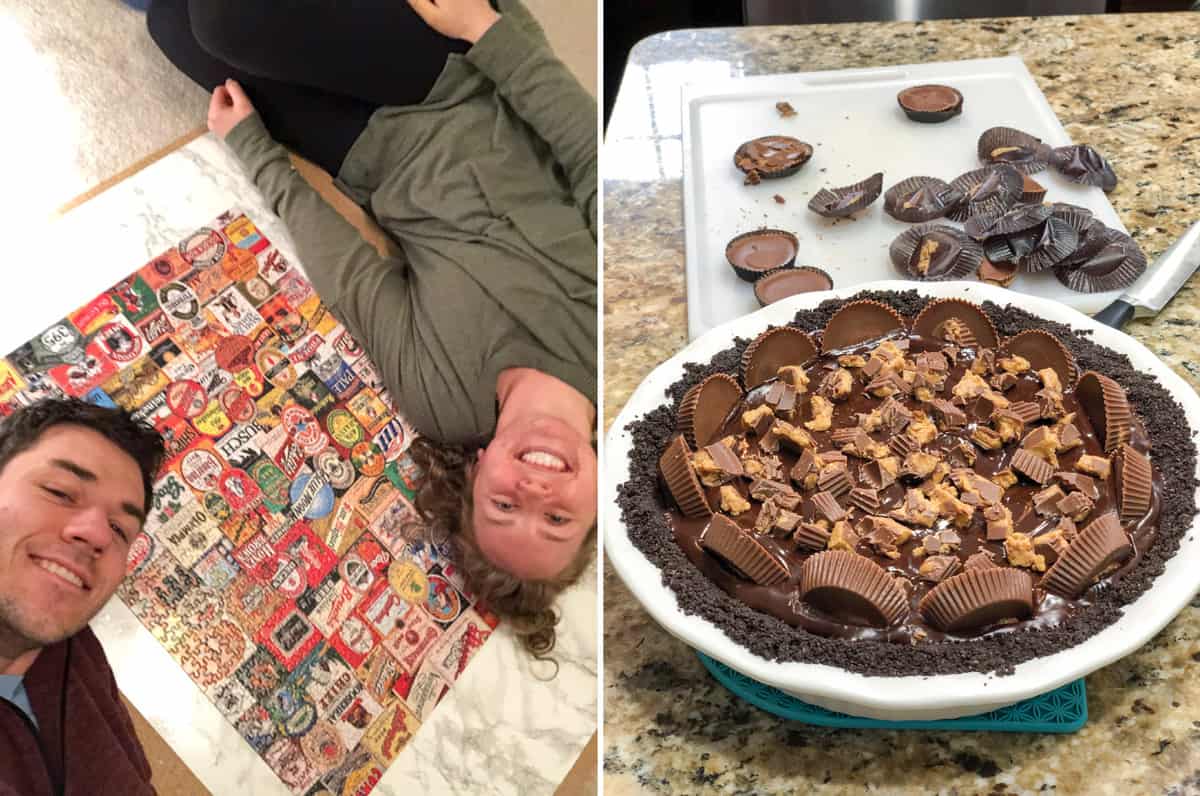 Ryan and I are really into puzzles right now. It's our thing! Here's a picture with our 4th puzzle we completed. The second photo – I made my famous peanut butter cup pie for Ryan to take to work for pi day!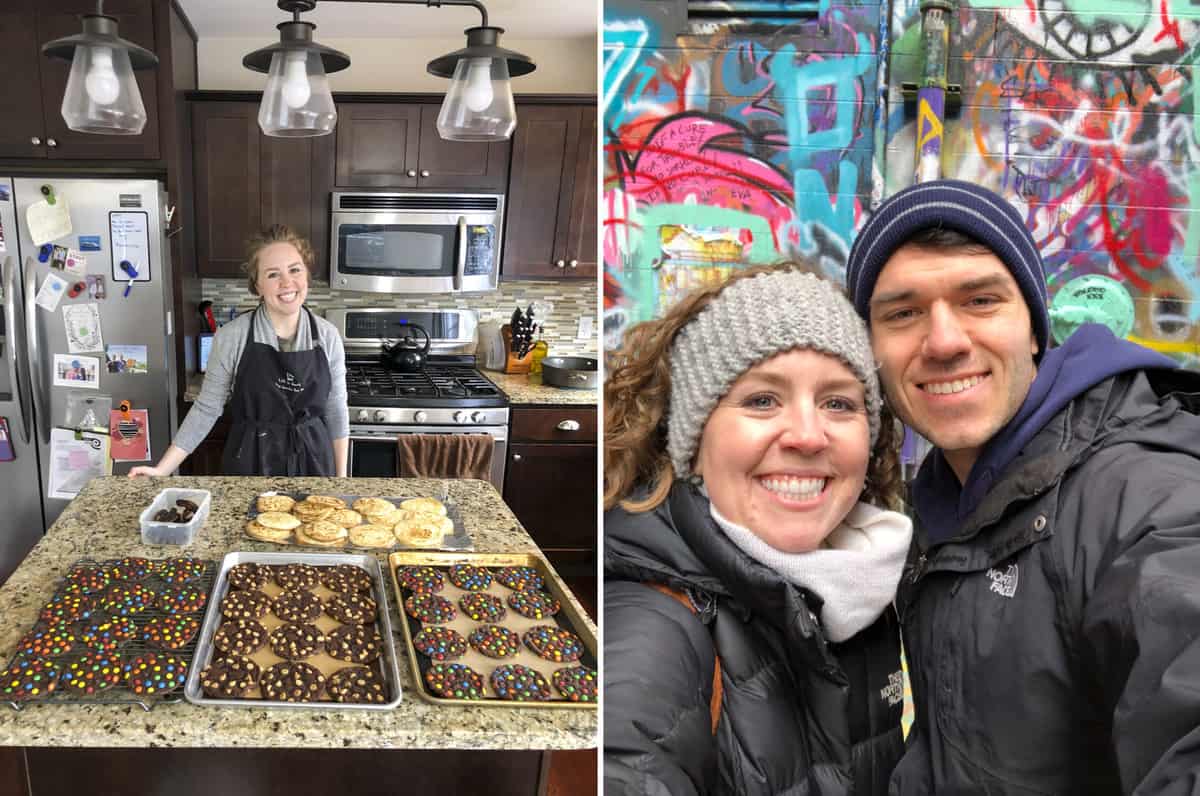 Pancakes & cookies! I was working on recipe testing cookies that week – and then I made a whole bunch of pancakes to store in the freezer. The second photo – we spent 2 weekends in March in Ann Arbor, seeing a naturopath to see if we could get some more perspective about what's going on with my hormones. We decided that the specialist we saw wasn't a good fit and we may be looking for another. But it was fun seeing the University of Michigan's campus and stocking up on goodies from Trader Joe's!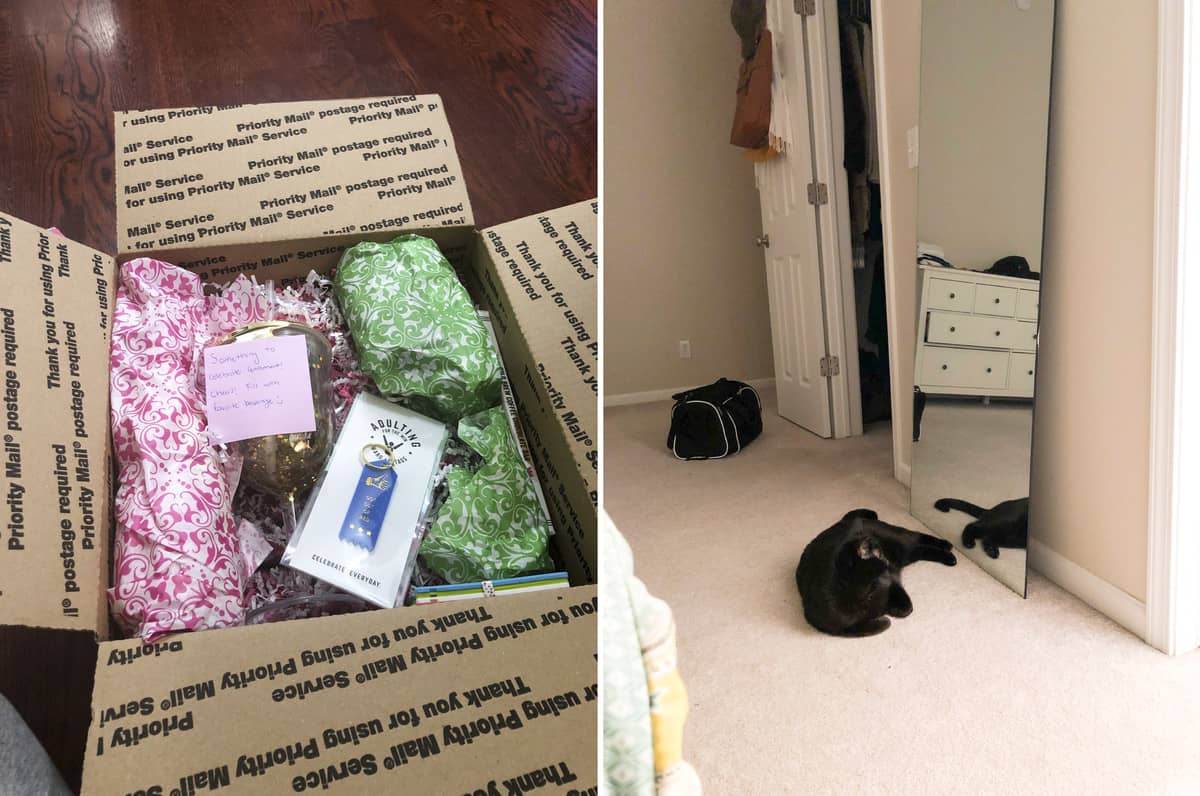 We sent a really fun retirement/birthday box to Ryan's mom to celebrate those milestones! The second photo – Salsa is a hoot. One night before bed he laid down in front of the mirror – it's like he's admiring how handsome he is.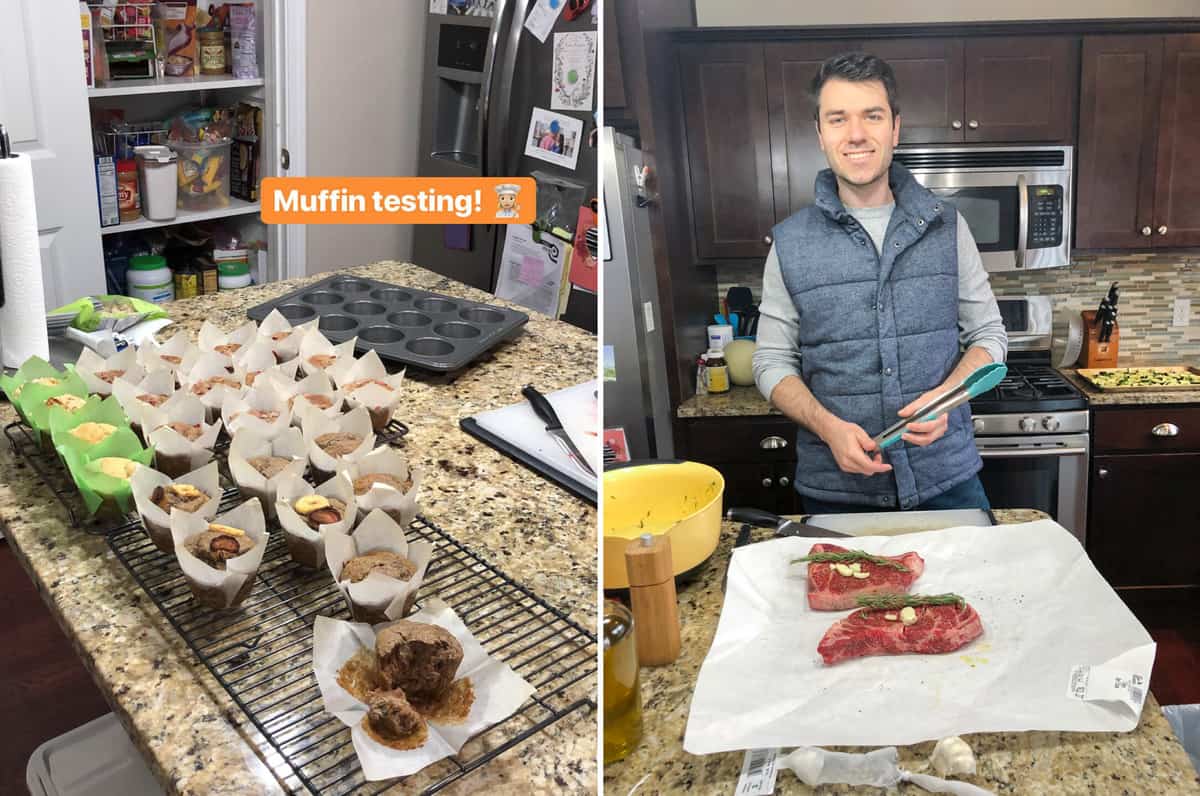 That week I was recipe testing muffins! Lots of muffins. I've shared 2 of the recipes so far – strawberry banana muffins and lemon poppy seed muffins. The second photo – Ryan made some fancy steaks on the grill! I don't actually love steak, so he grilled me some hot dogs ?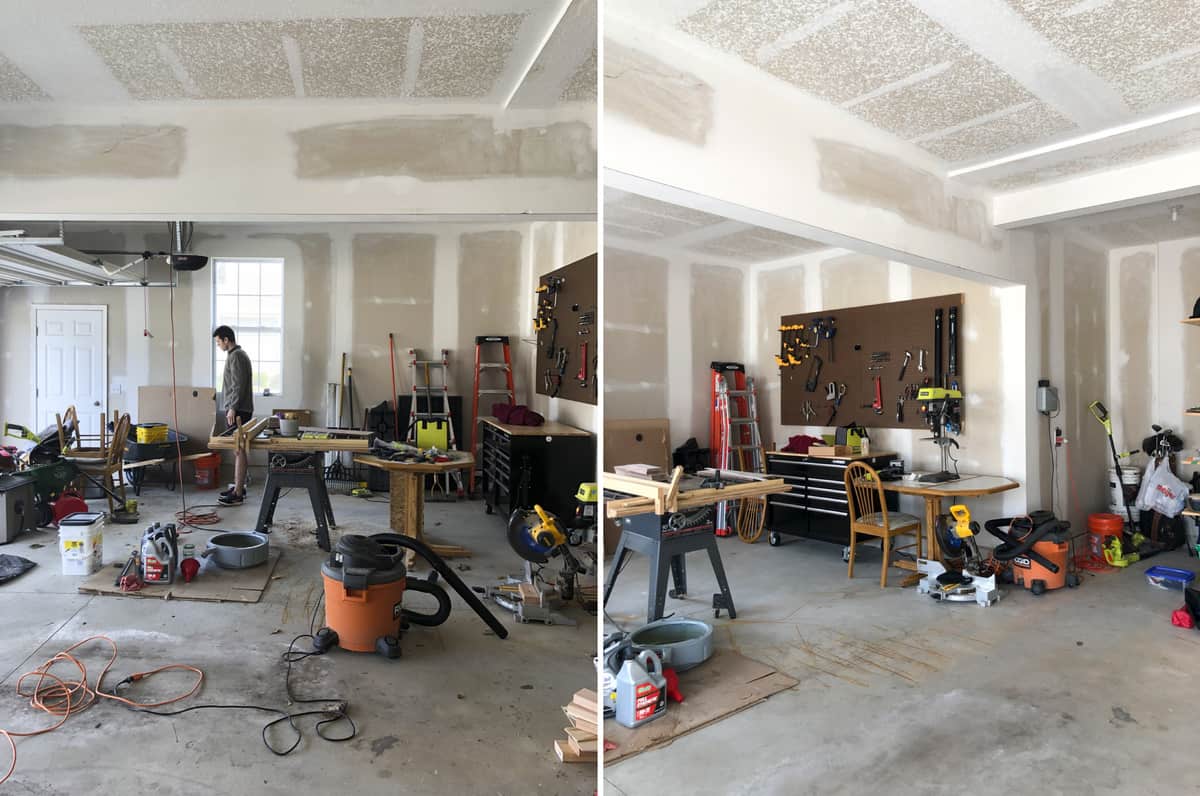 We did the annual garage clean out once the weather warmed up! The garage seems to be the catch all for lots of junk. It feels good to start the spring out with a cleaner garage.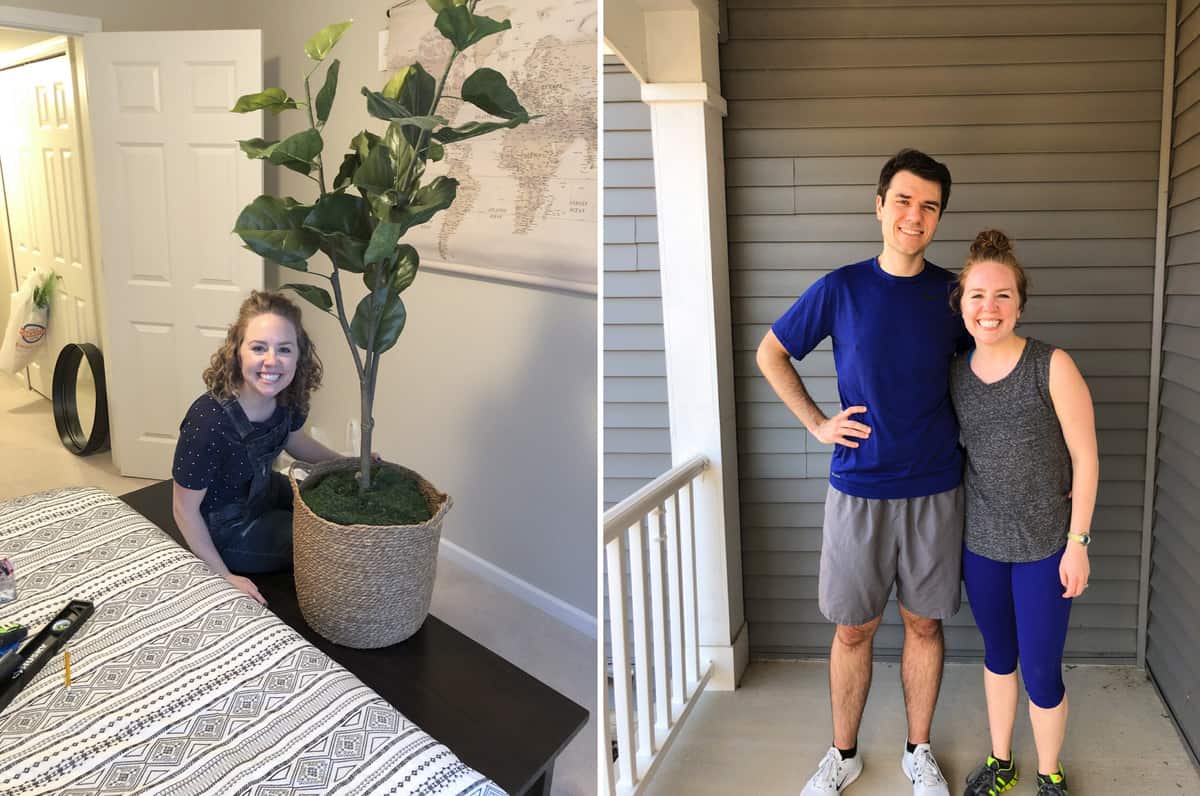 Ryan and I have been working on decorating our guest bedroom – it's turning out really good! I turned this tree with a little base from hobby lobby into a statement tree by propping it up inside a basket and covering the top with faux moss. Easy and so cute! The second photo – this was slightly embarrassing, Ryan and I went on a run together and we were so matchy.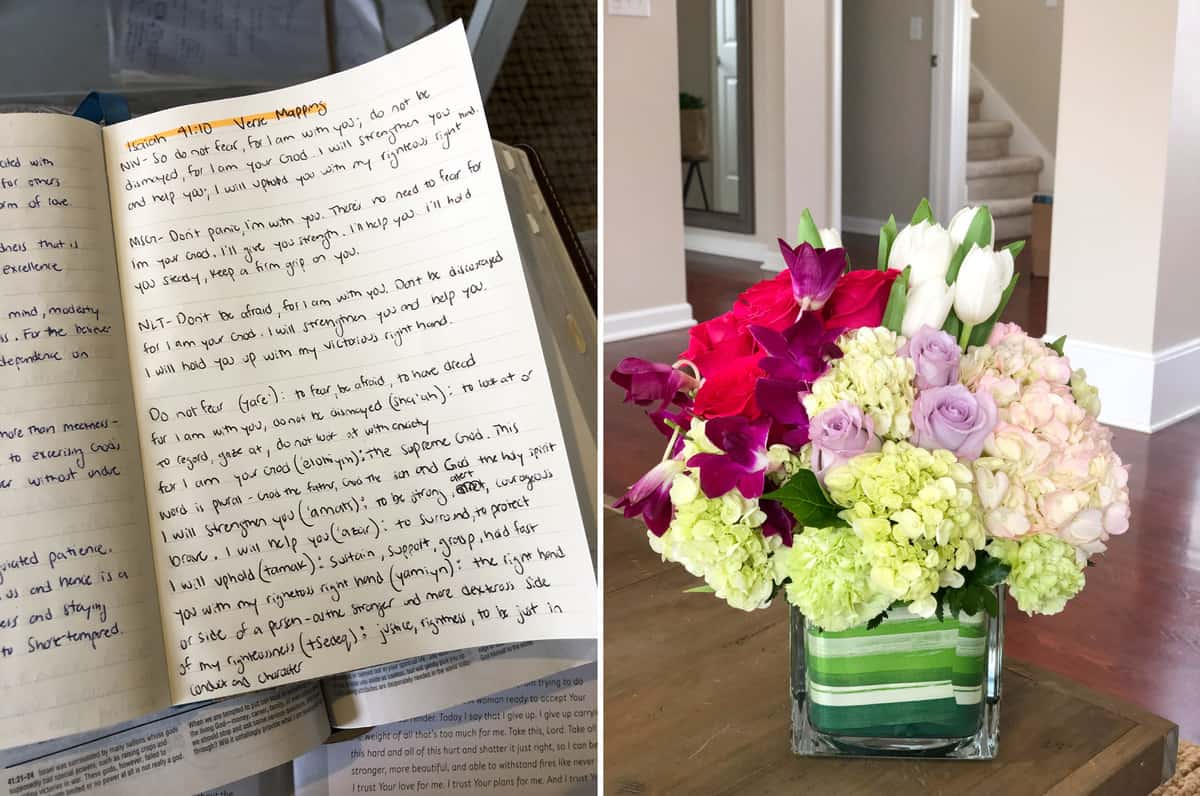 I started bible verse mapping in March and it's been so helpful in understanding scripture better. The gist of verse mapping is to write down a scripture in several translations. Then look up the words/recurring themes that happen across the translations in the original hebrew. Then you write down the definitions of those words. Its been an awesome way to understand the bible! The second photo – Pinterest sent me the prettiest bouquet of flowers. When the delivery guy showed up, I was like "Awwww, my husband is so sweet" then I read the card and realized they weren't from him ??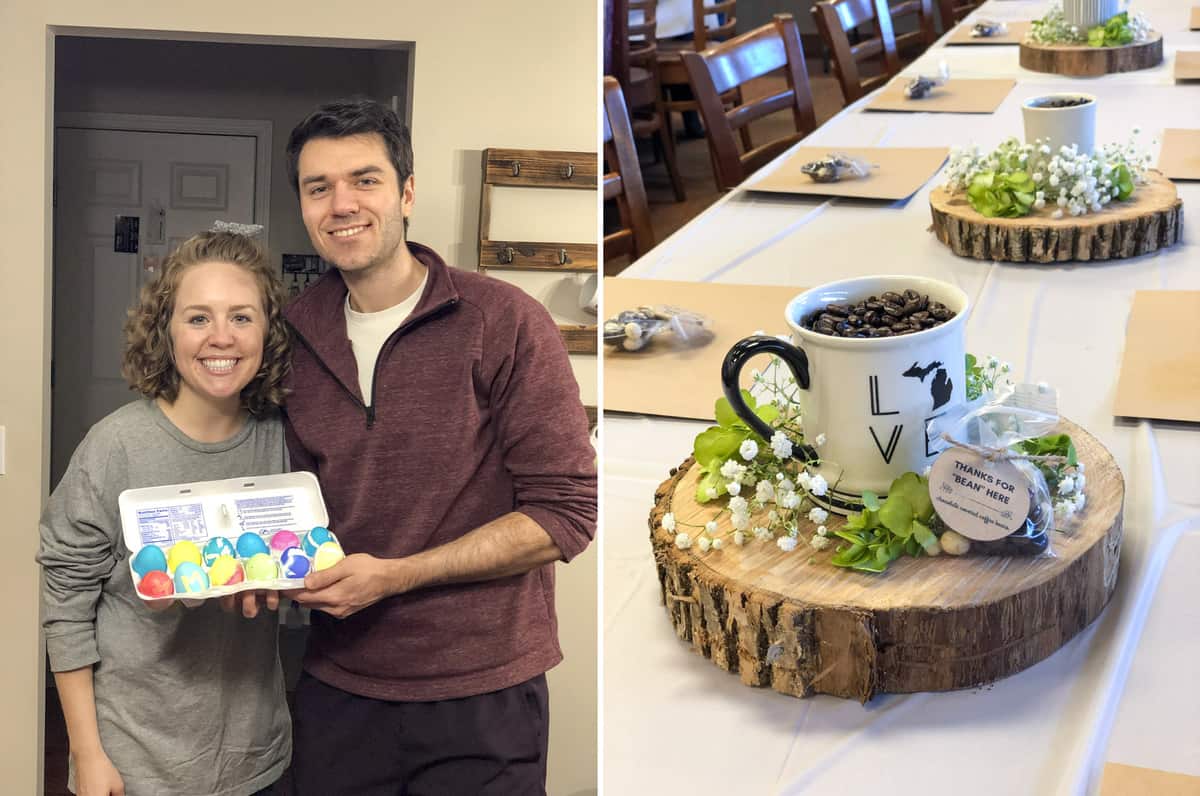 We dyed easter eggs with our besties Steph & Neil. Apparently Ryan really like blue, 4 out of his 6 eggs were blue. The second photo – I helped decorate for a women's luncheon for our church. The theme was fill up my cup lord, so we decorated with coffee cups filled with beans, wood slices, flowers and then each lady was able to take home a little bag of chocolate covered coffee beans that said "Thanks for bean here!"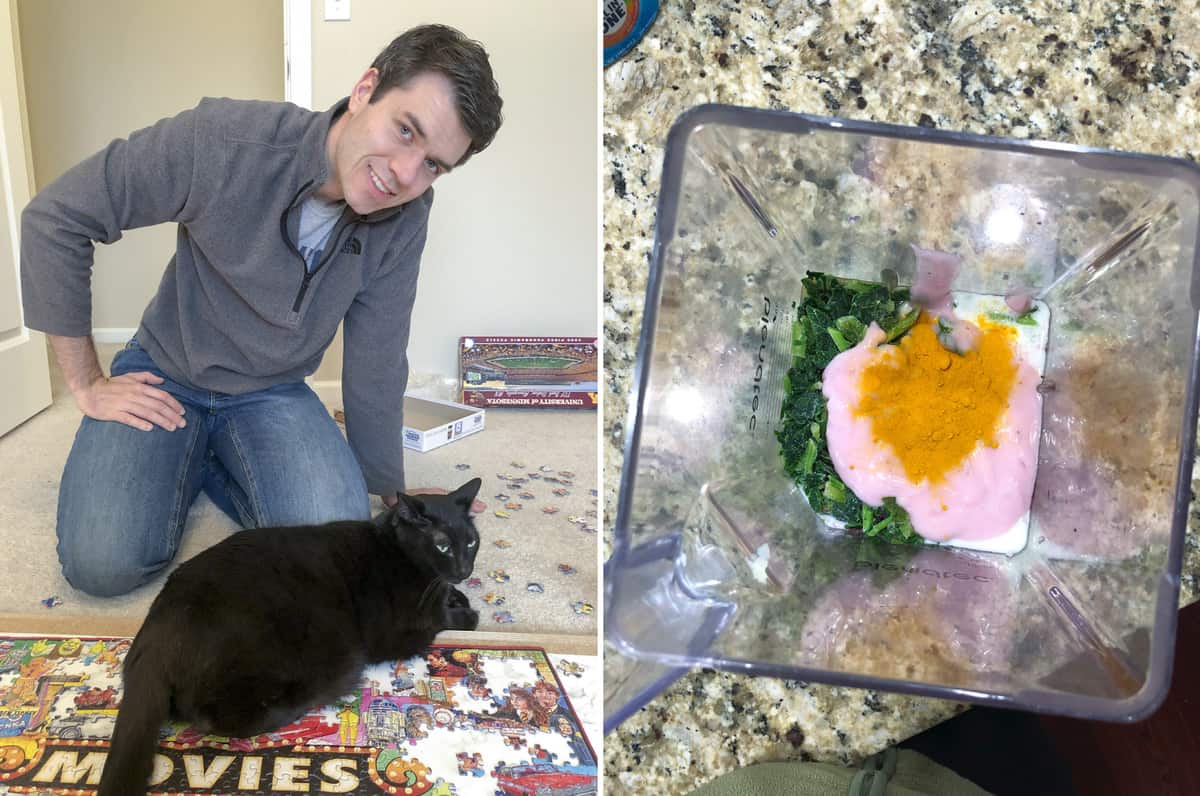 I don't know how, but Ryan managed to catch the flu again this year. It was almost the same time last year he got the flu and spread it to me. So this year once he got sick, I took so many preventative measures. I did have a super sore throat for 3 days, but with all my natural remedies I didn't get any other symptoms. Once we were feeling better we quarantined ourselves in the house for the weekend just to make sure we weren't contagious but we worked on another puzzle. The second photo is a picture of my turmeric smoothie – I drank a lot of those to help get over the sickness!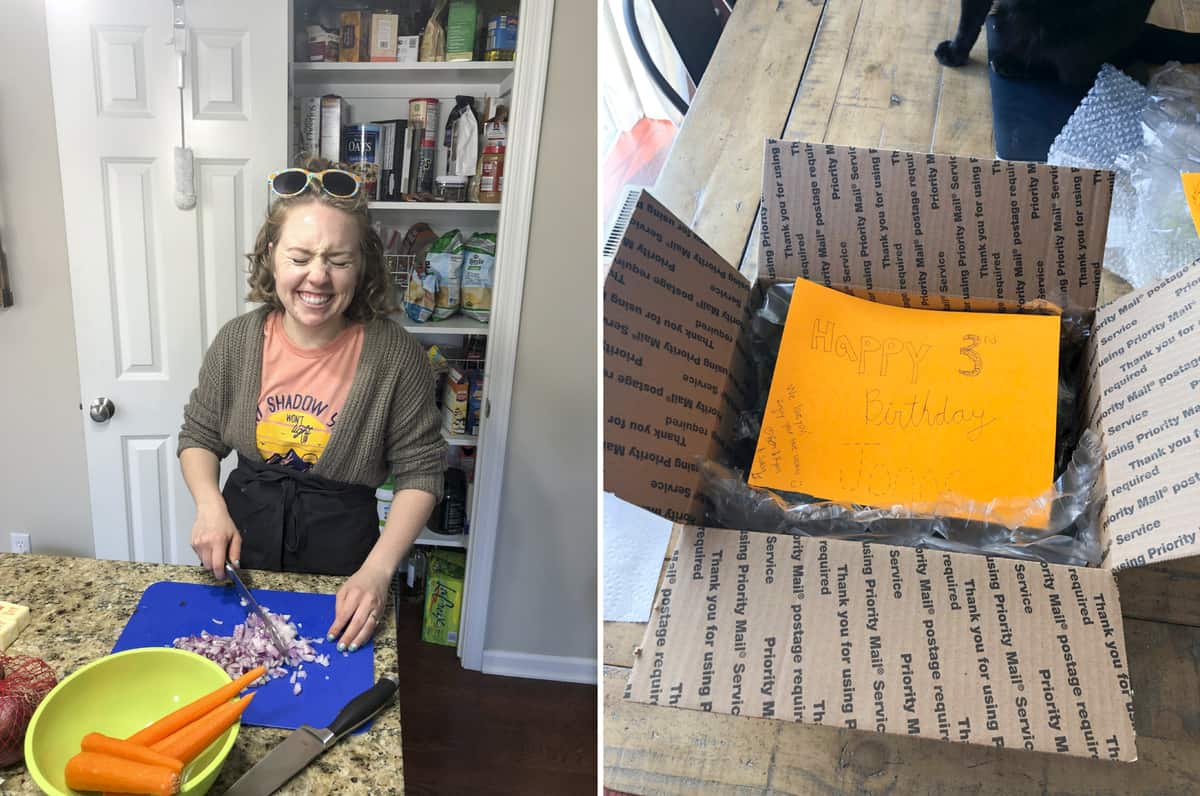 I read somewhere that if you wear sunglasses while chopping onions, they won't make you cry. That is false. Very false. The second photo – Jonas, my youngest nephew, celebrated his 3rd birthday and he picked blue cookies so I sent him blue sugar cookies in the mail!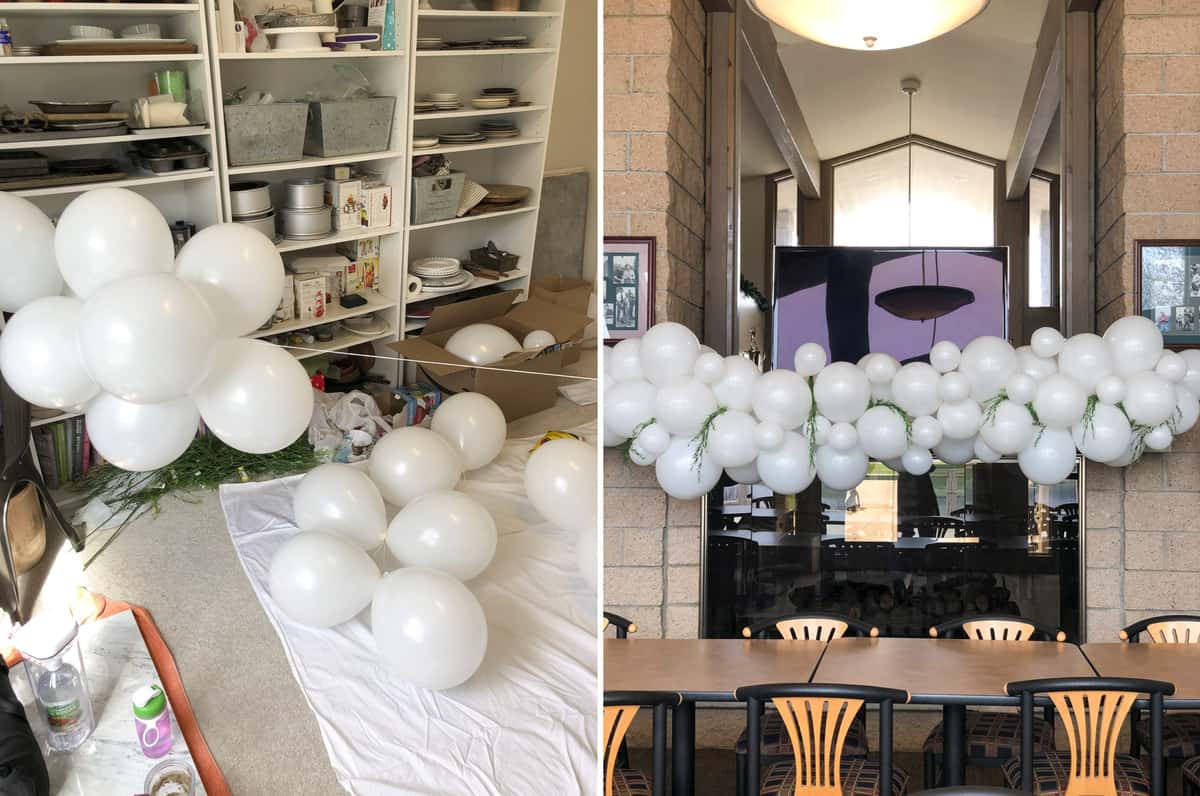 I had so much fun doing the balloons for my friend Steph's baby shower! I created my first ever balloon garland, it turned out so pretty once the greenery was added! I can see more balloon garlands in my future!
Here are the letter board posts I shared on my instagram this month! Click each picture to go to instagram.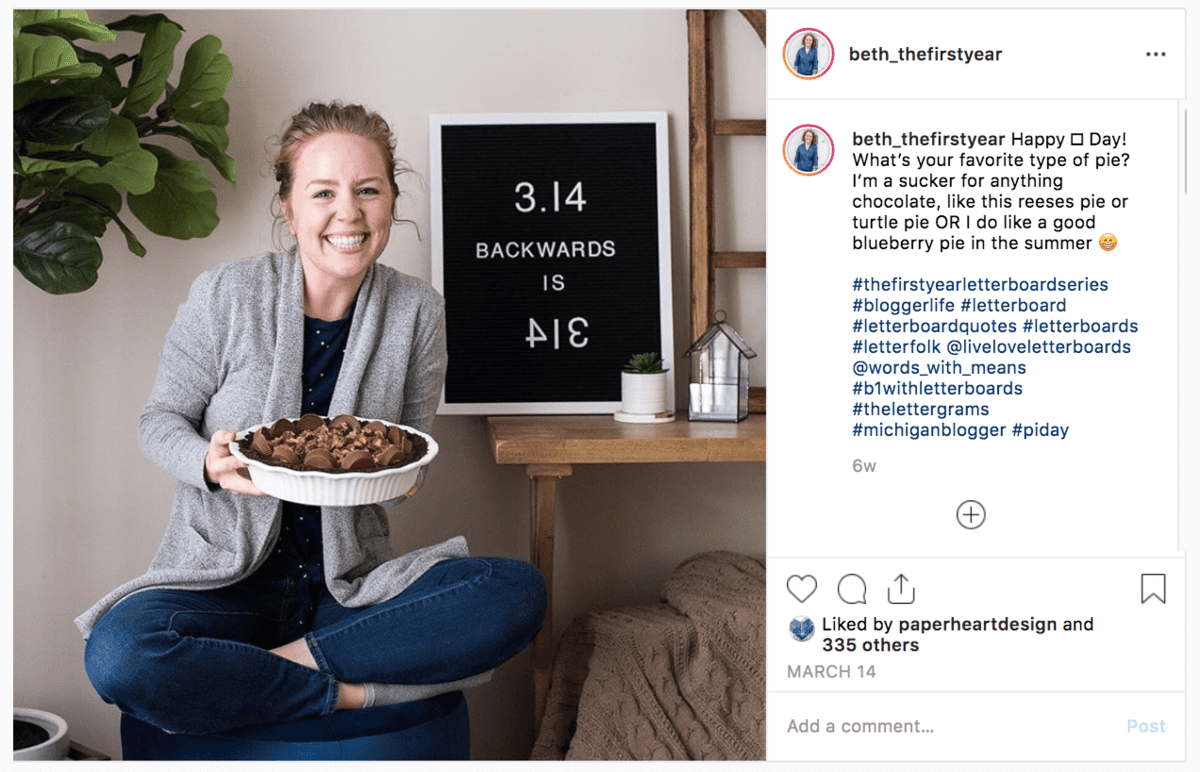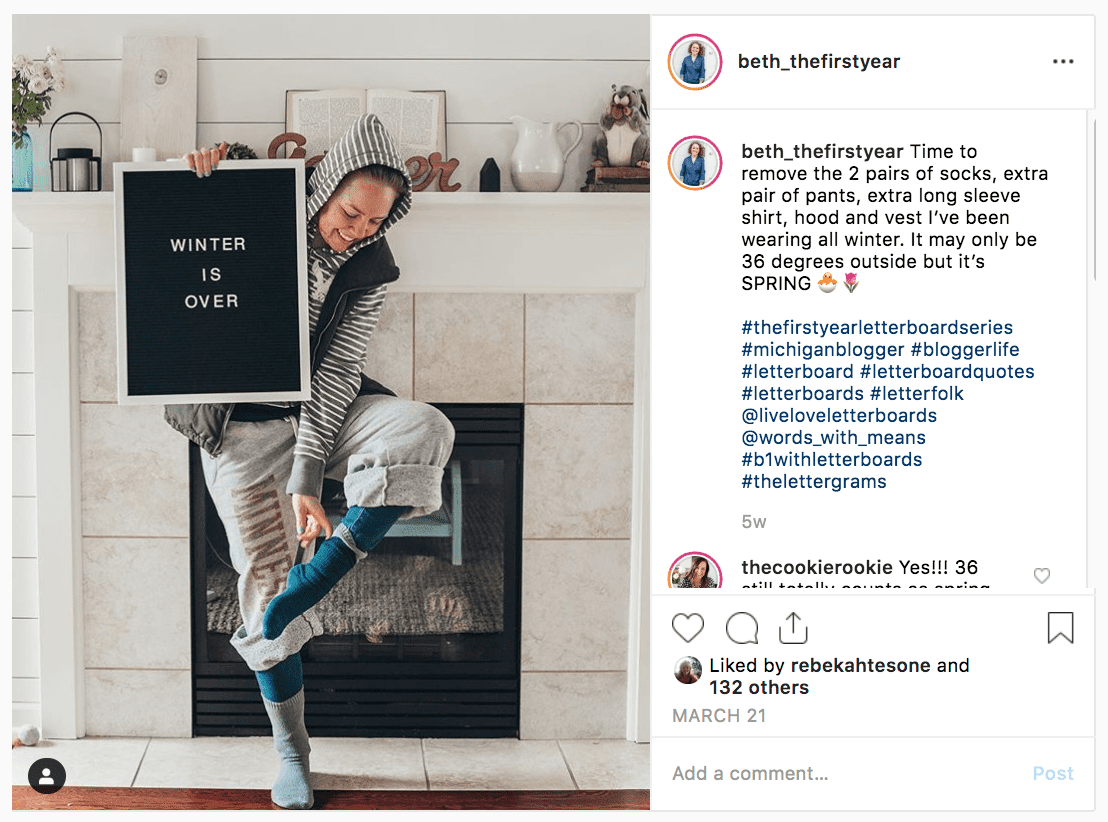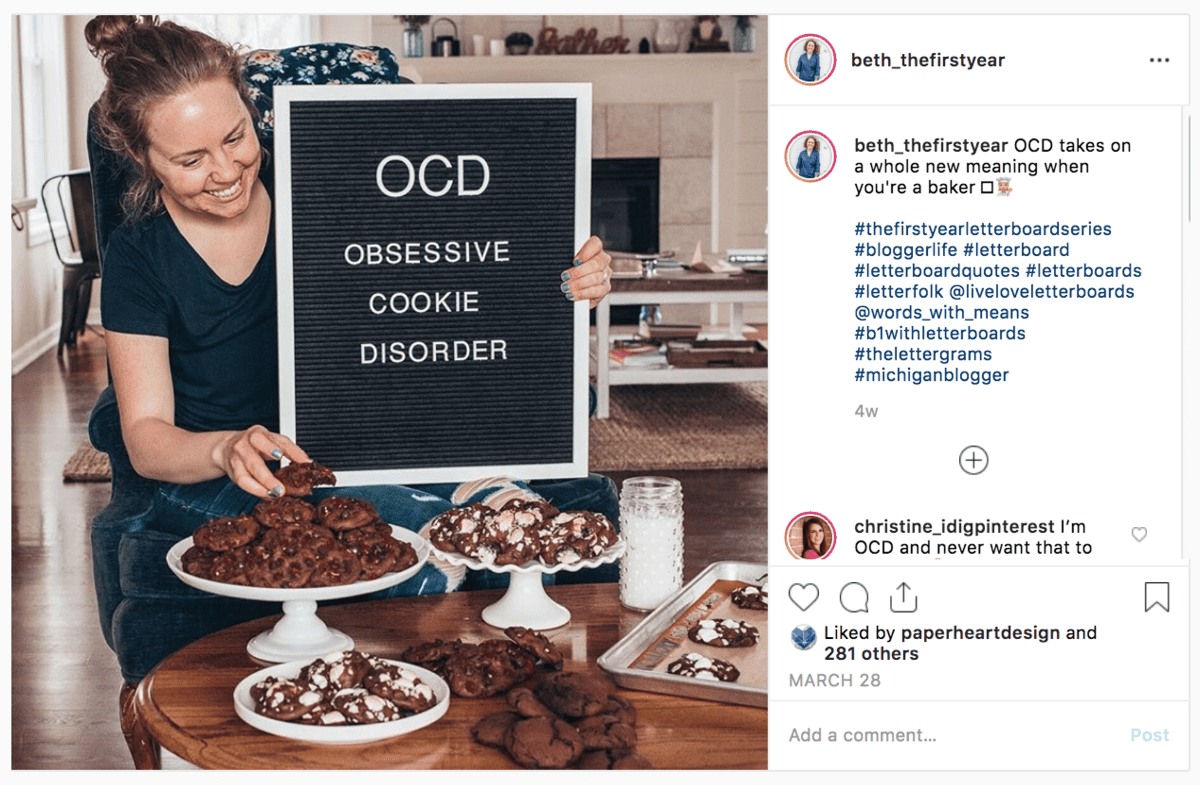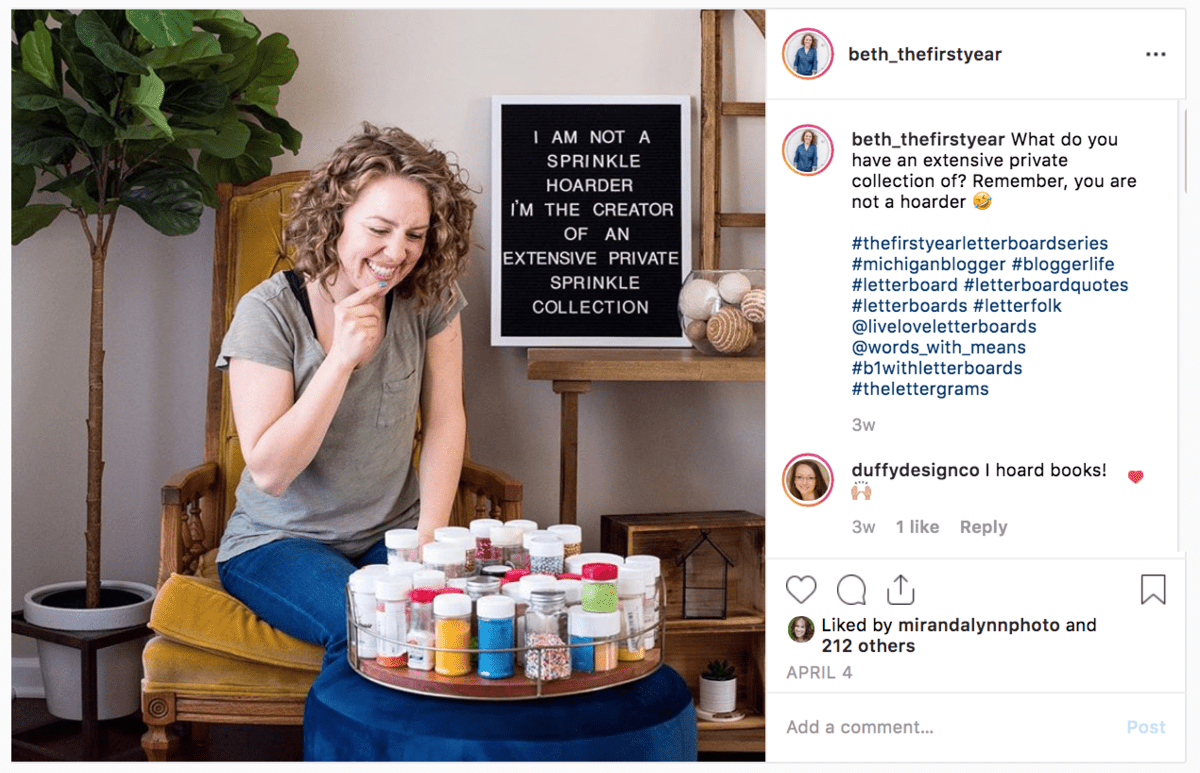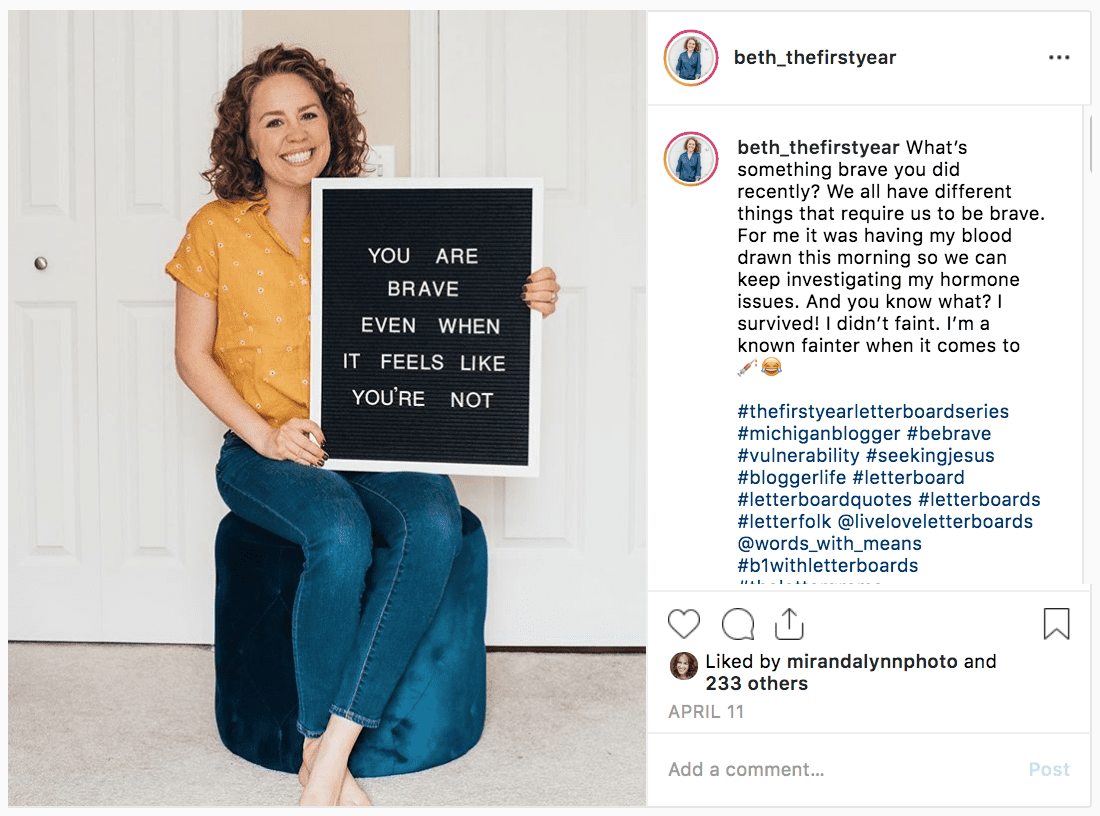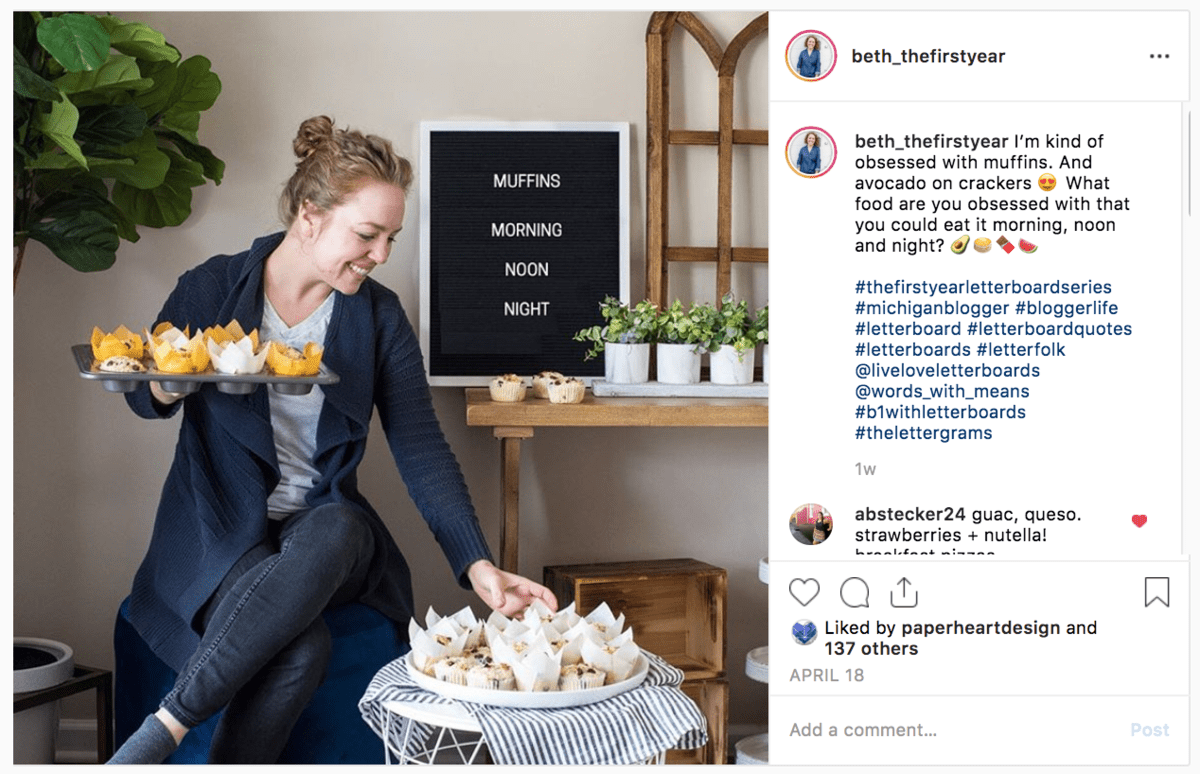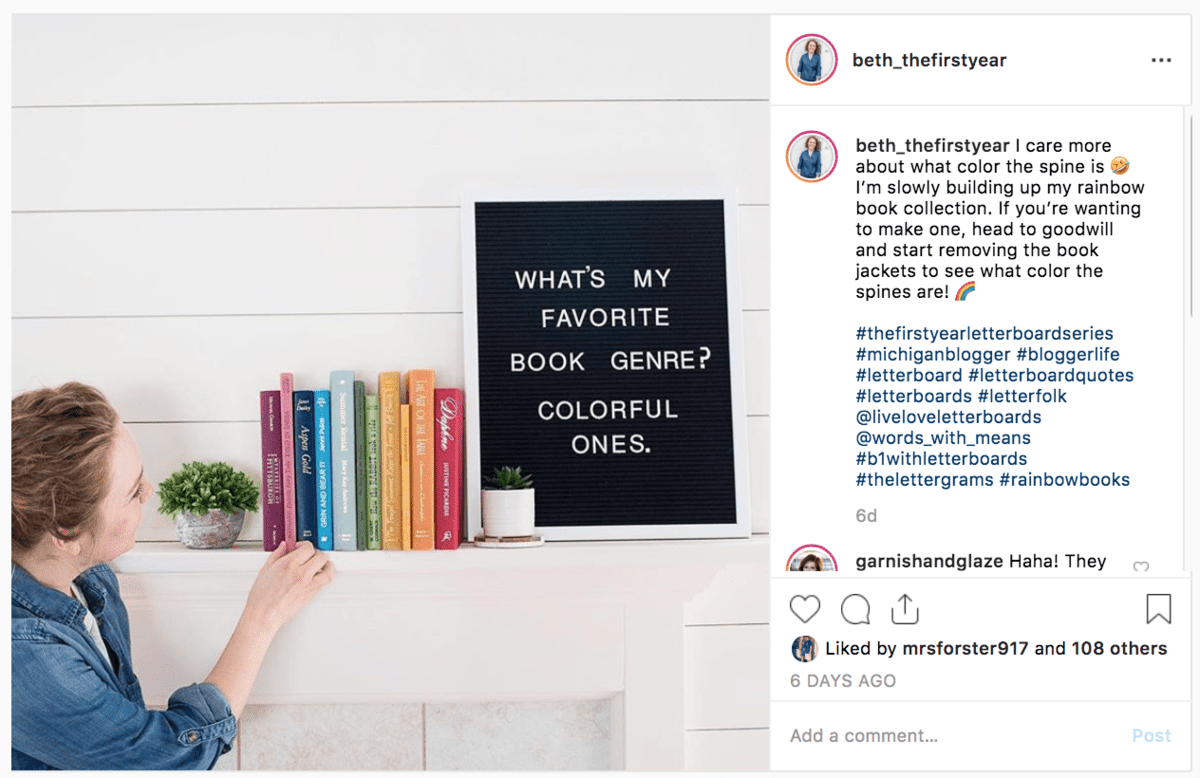 ———-