Out of the Kitchen April 2016
WE'RE BACK WITH ANOTHER OUT OF THE KITCHEN POST – HERE'S WHAT WE'VE BEEN UP TO FOR THE MONTH OF APRIL!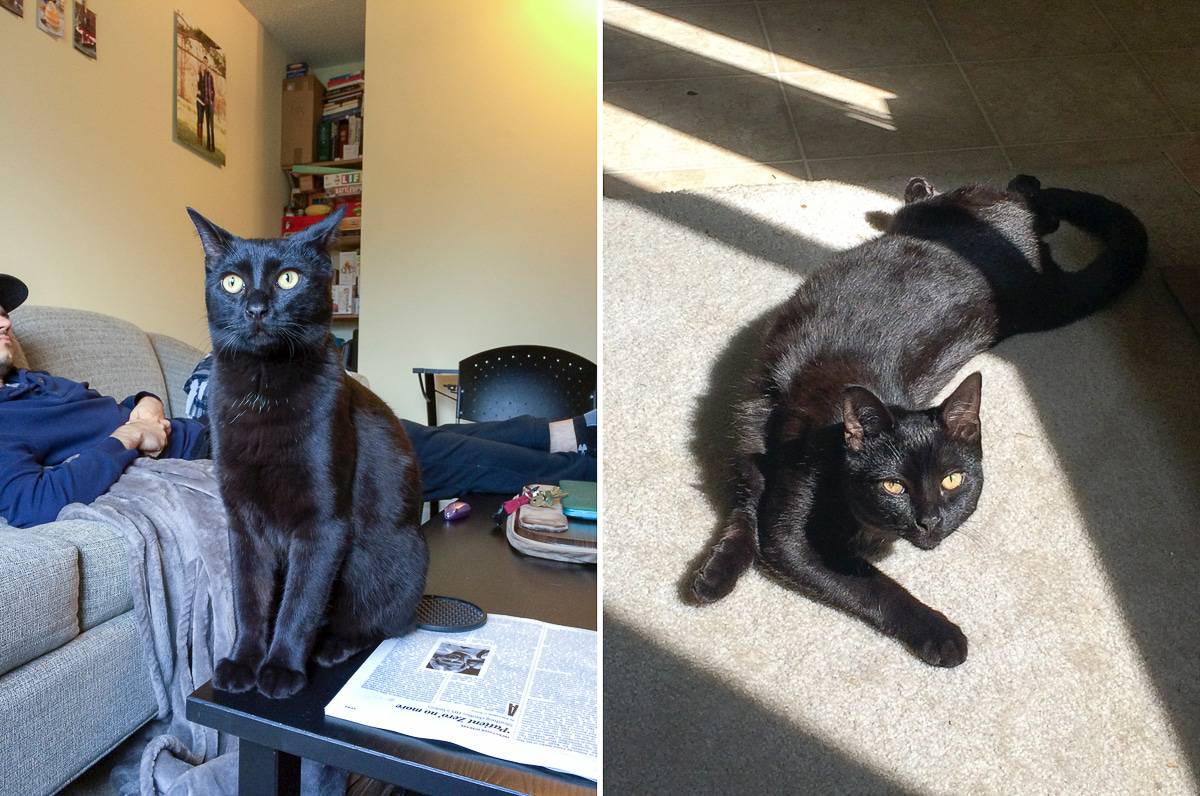 So we don't have any cute kids, but we have one cute cat. Salsa is a total momma's boy. He snuggles with me a lot. He even likes to sleep on my neck while I am sleeping, which isn't so fun. We have about 10 nicknames for him.. ranging from bean, butters, and salsi or combinations such as salsi bean, beansies. #catproblems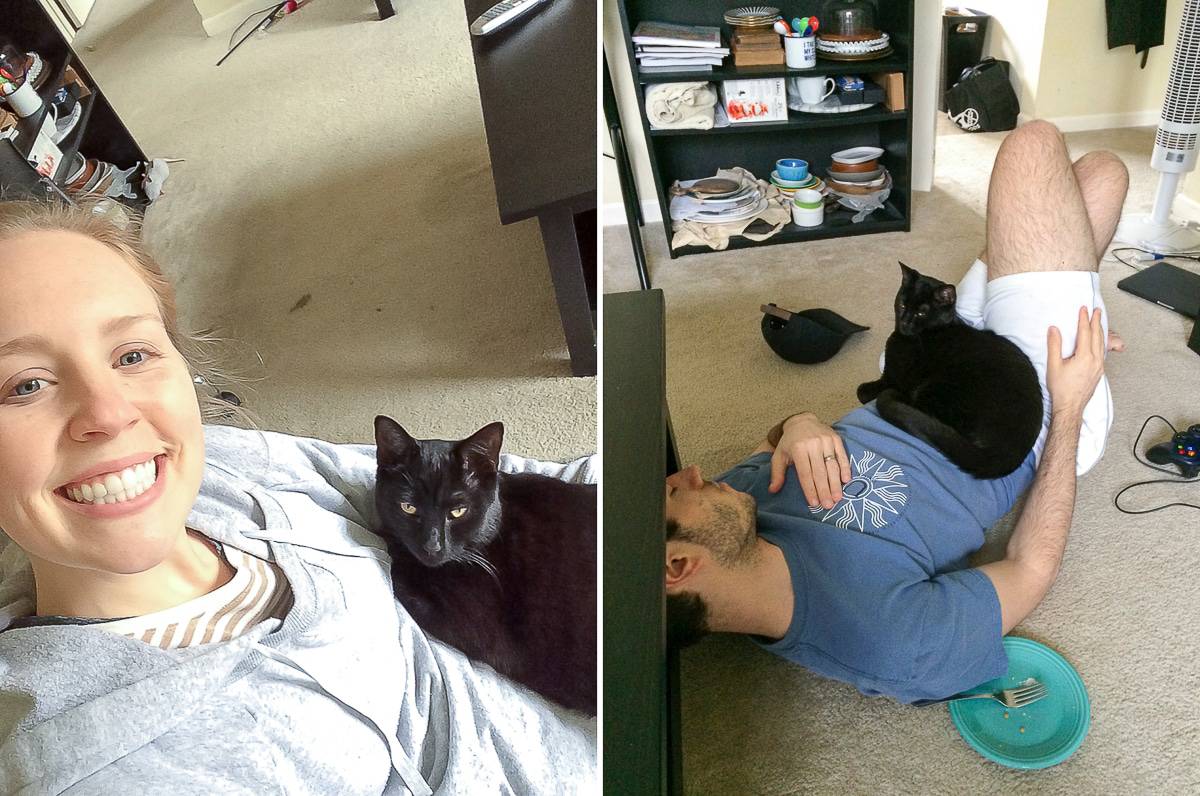 Exhibit A – cuddling :) The second photo – exhibit B, the semi-rare cuddling with Ryan.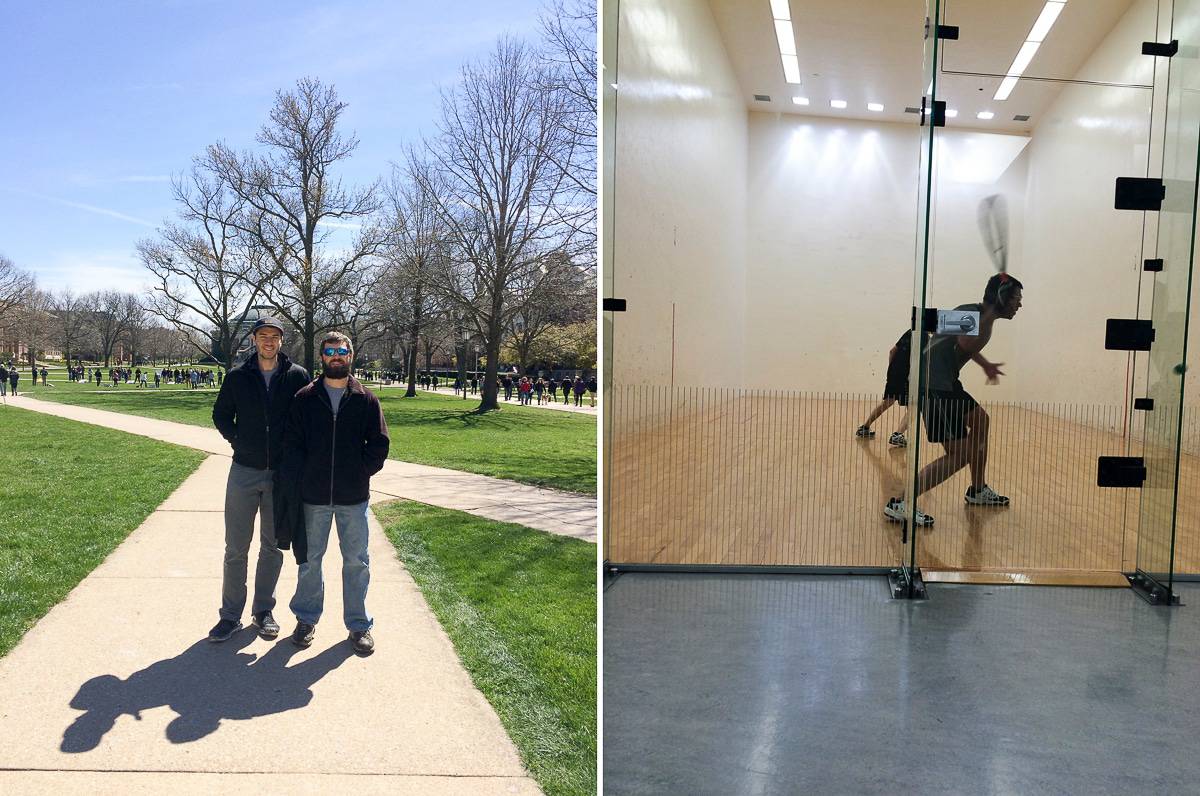 Ryan's younger brother visited for a weekend! Check out that beard. We showed him around our city and campus and we had to get the obligatory brother photo to send back to Mom! The second photo – Ryan competed in a racquetball tournament. He has mad skills and placed second in doubles!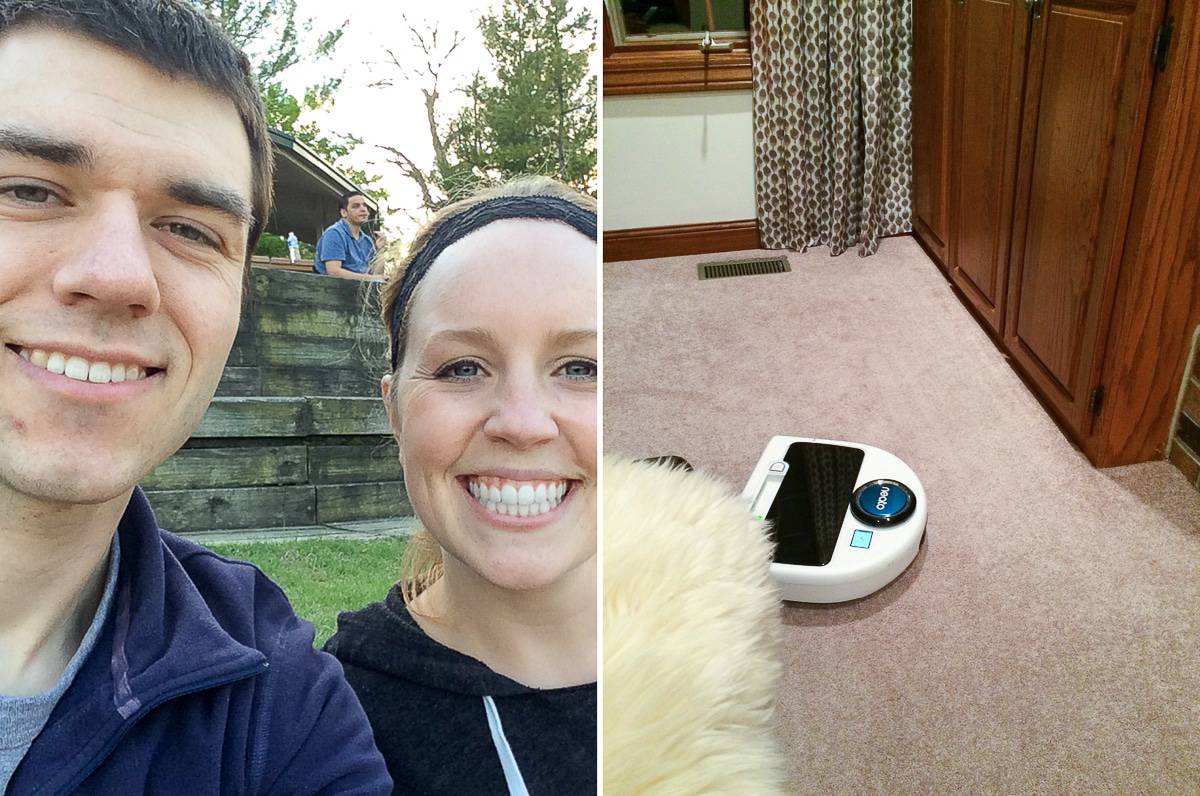 A photo from a Tuesdate (aka – a date on tuesday night!). It was finally nice enough to sit by the "lake" – which when you're from MN you laugh when people call tiny bodies of water lakes.. because let's be real they are man made ponds. So we got DQ and sat by the pond :) The second photo – friends of ours have a robotic vacuum. We got to see him in action, it's so smart and even fits in the places you can't vacuum. I want one!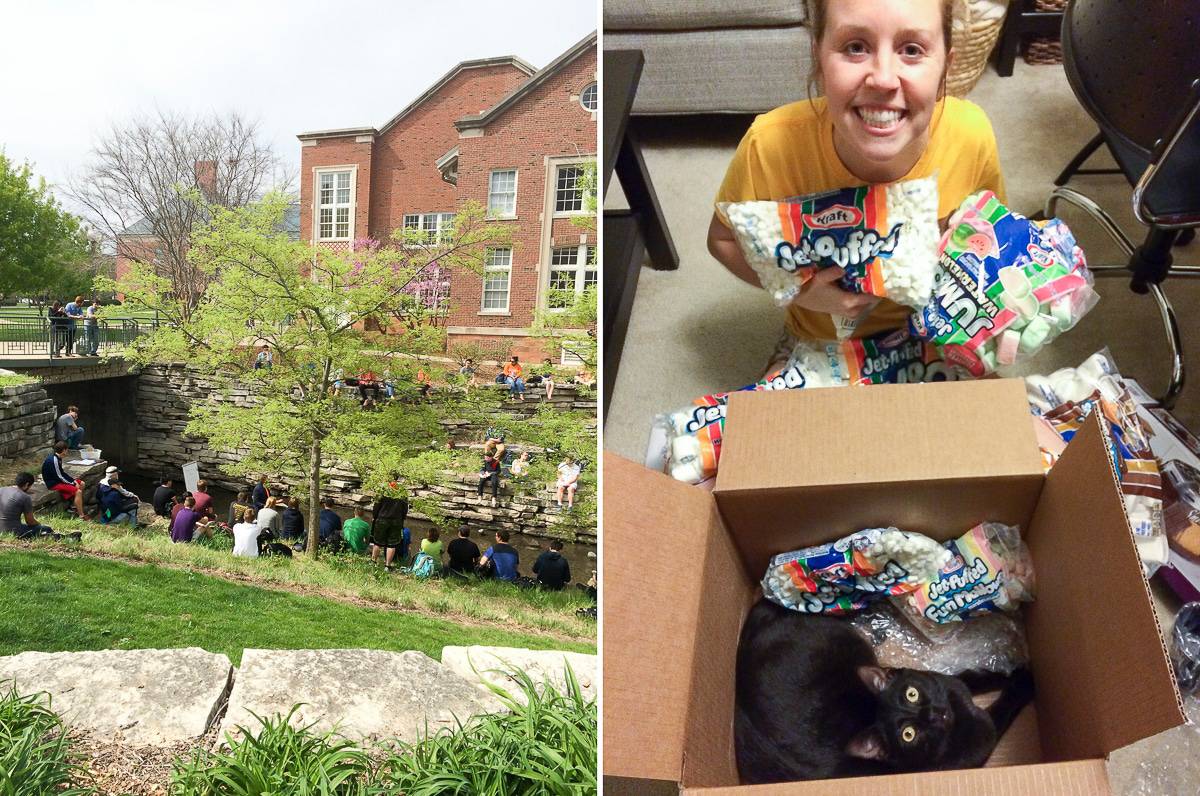 Strange things happen on college campuses. This professor decided to hold class in the middle of a stream. He set up an easel and wore rain boots and a tie. Classy. The second photo – we're got a HUGE package from our friends at JetPuffed! I am putting the marshmallows to good use and Salsa is clearly enjoying the box.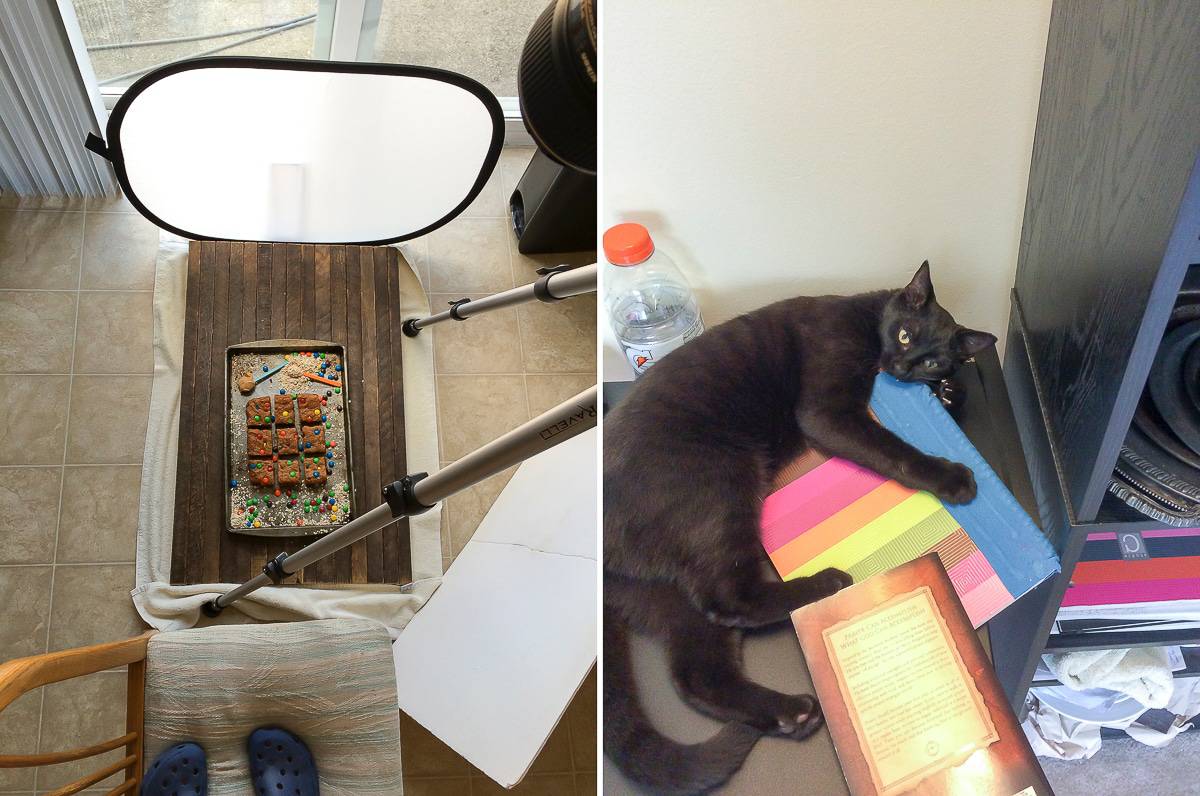 A sneak peek from some healthier monster cookie bars! The second photo – this is why I don't get anything done when I work from home. Salsa is everywhere. Laying on top of my computer, biting my notebooks to shreds. So sometimes it's necessary to leave Salsa at home and go to the library.

How fun is this?! I decided to take a panorama during a baking/shooting day to show you what you normally don't see. While I'm pointing my camera at the food, this is everything that's going on around me!
GETTING MORE PERSONAL..
"Ryan, I just want to be normal."
I say this all the time.
I think "normal" people don't have problems. At least they look normal to me because they don't seem to be working through any issues.
In my mind, normal people don't experience anxiety. Human beings experience anxiety.
Normal people don't have 10 things wrong with them at one time. Human beings experience many issues at one time.
Normal people don't get anxious about going out to eat or having to travel. Human beings respond differently to different situations.
I'm sharing this because I don't want you to think I'm normal and you're not.
She has a food blog with perfect looking pictures, she looks normal!
The camera is good at hiding the things I don't want to share.. I just don't point it in the direction of the ugly things.
But going through ugly things is normal.
"It's His presence plus His promise that chase away our anxious thoughts." -Proverbs 31 Study, Lysa TerKeurst
His presence:
The Lord is near – Phil 4:5
The Lord is near to the brokenhearted – Psalm 34:18
I am with you and will keep you wherever you go – Genesis 28:15
His promise:
You, dear children, are from God and have overcome them, because the one who is in you is greater than the one who is in the world – 1 John 4:4 
For I hold you by your right hand—I, the Lord your God. And I say to you, 'Don't be afraid. I am here to help you. Isaiah 41:13
Through His Word, God has taught me that faith is not only a one time decision, it's an everyday decision. Everyday I have the choice to stand among these perceived lies or stand in his truth of who I am.
—
See our previous out of the kitchen posts.