No Bake Buckeye Bars
No bake buckeye bar recipe with a chocolate crust, creamy peanut butter filling, and topped with chocolate ganache. Serve them chilled or frozen!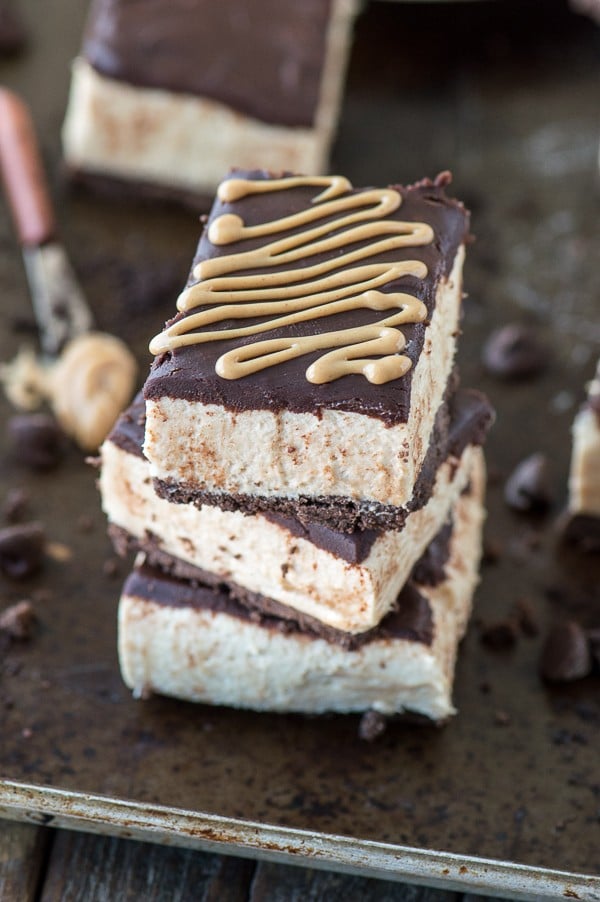 The truth is that I had no clue what buckeye desserts were until I started blogging. I didn't even know that it all started with buckeye candy.. or peanut butter fudge dipped partially in chocolate.
And I didn't know that they were named after the nut of the ohio buckeye tree.
Wikipedia is so helpful :)
Now there is a whole realm of buckeye desserts – fudge, brownies, cake, cookies, pie. I suppose you could think of any recipe with peanut butter & chocolate as a buckeye recipe more or less!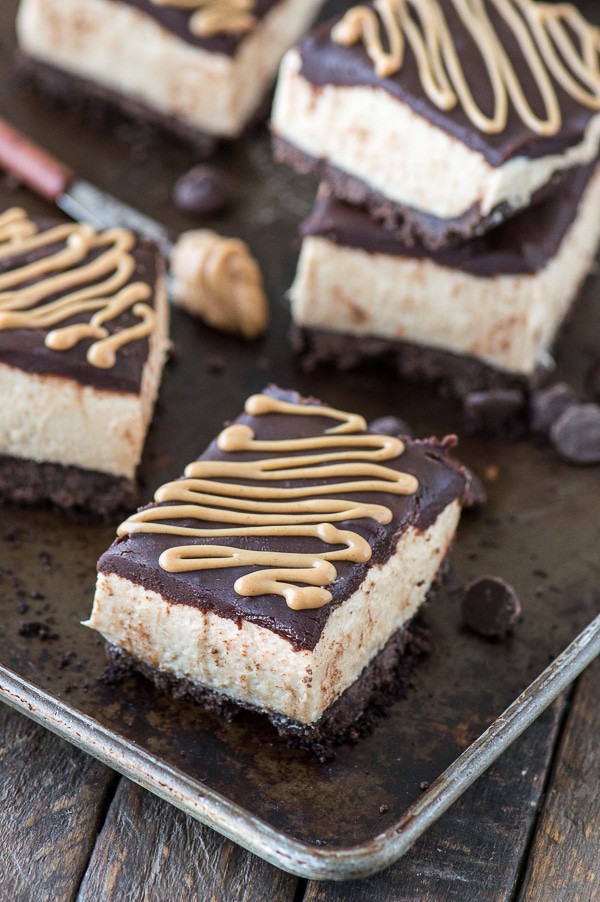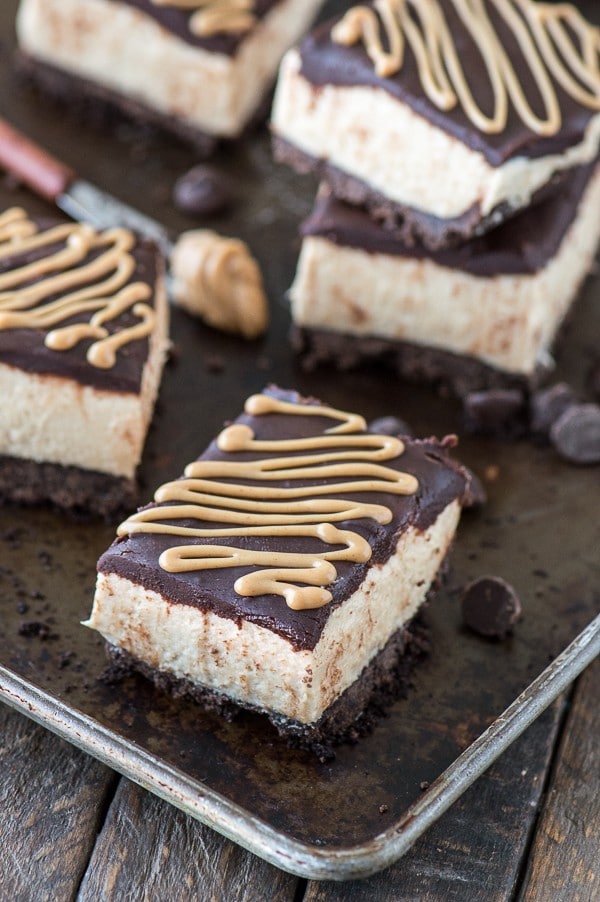 The thing that you're going to love about this recipe is that it is completely no bake, and you know what that means – the perfect summer time dessert! It is only February and I am already dreaming about summer.. anyone else?!
The crust is 1 sleeve of crushed chocolate graham crackers and melted butter, mixed well and pressed into the bottom of an 8 inch square pan.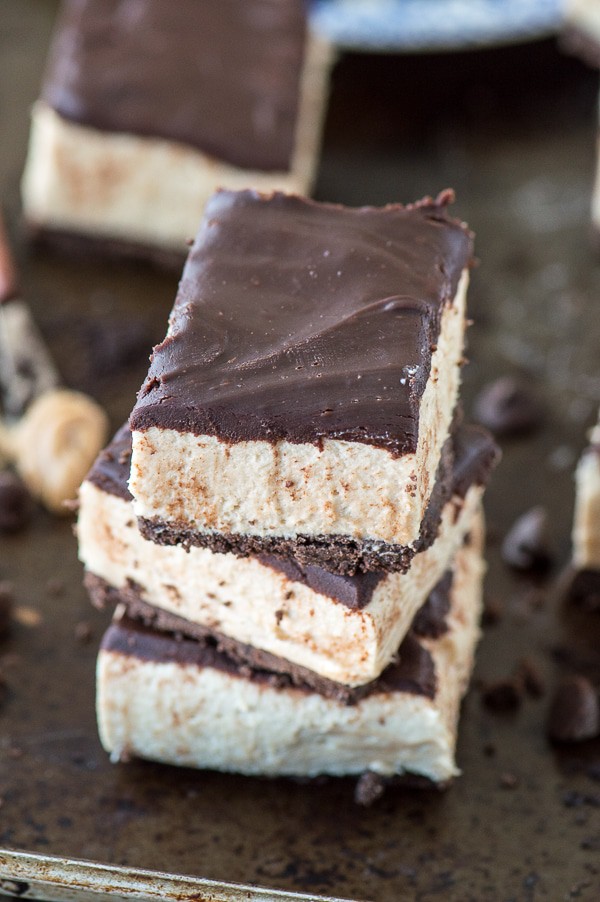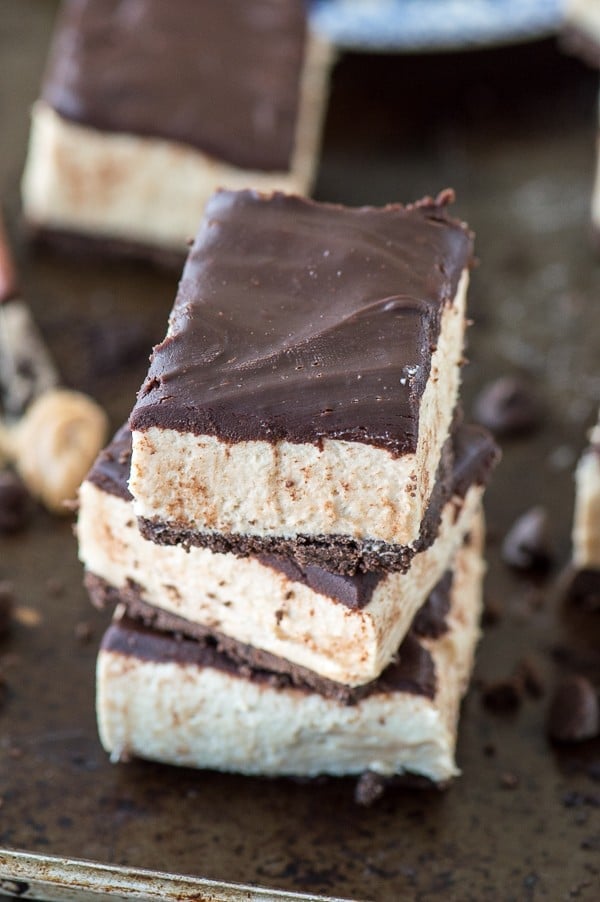 The peanut butter layer has peanut butter, cream cheese, powdered sugar, vanilla extract and heavy cream. Mix everything today, except the heavy cream, until smooth. In a separate bowl beat the heavy cream into stiff peaks. Combine the peanut butter mixture and the whipped cream, mix and spread smoothly over the crust.
Here's the hardest part.. waiting. 5 hours for the bars to set. I think it's almost easier to just make the bars on one day and plan to serve them the next. That way you're not (I'm)patiently waiting for them to be set.
Once the peanut butter filling is set, add the chocolate ganache. It's weirdly one of my favorite things to make. Probably because it only requires 2 ingredients :)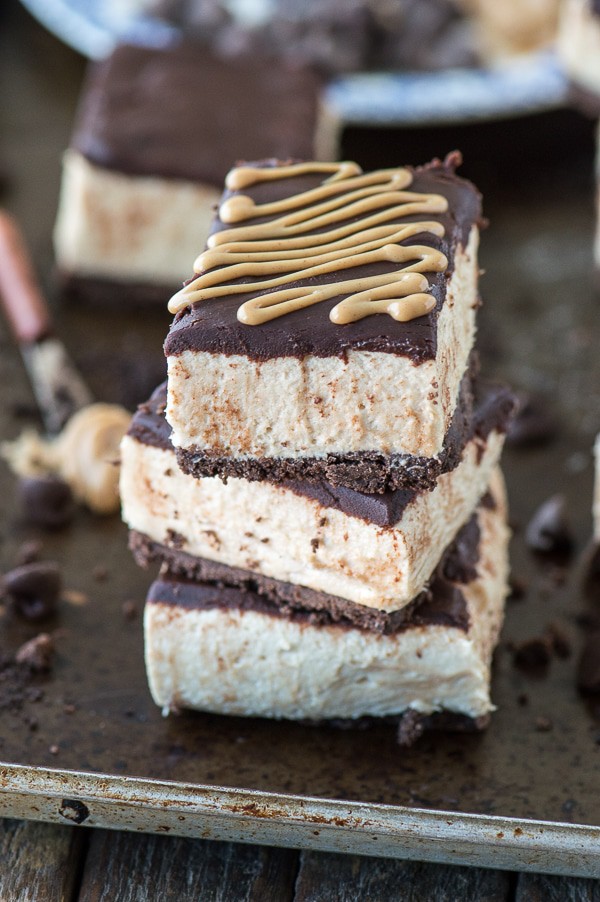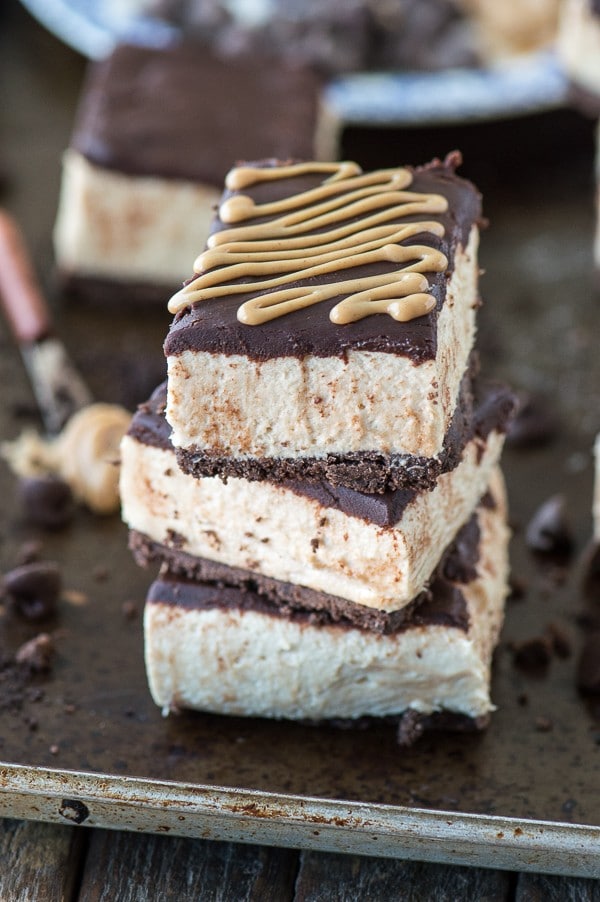 I drizzled melted peanut butter on top of some of the bars for an extra fun presentation.
You could serve these bars chilled from the fridge, or they are really good if you cut them into squares, freeze them and serve them frozen. Versatility, I love it.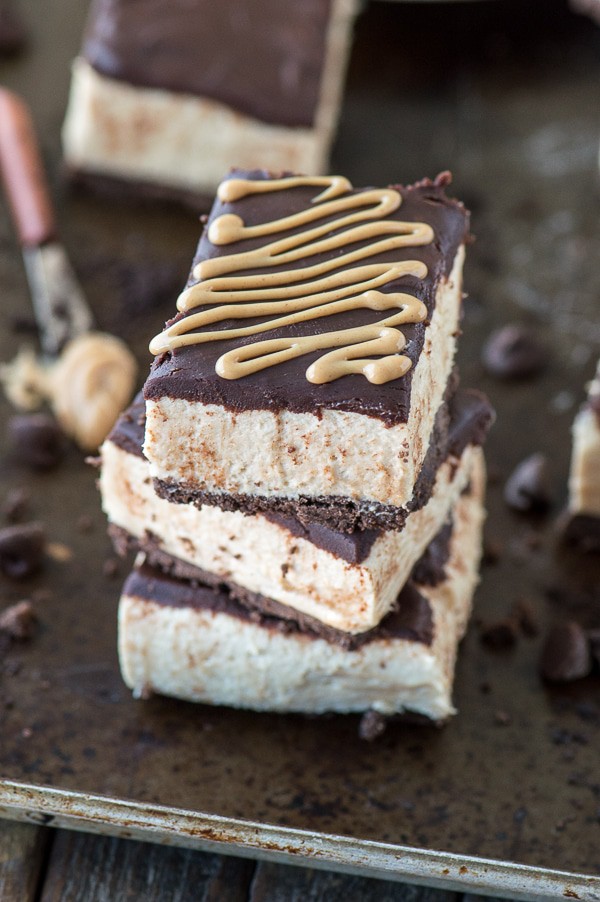 No Bake Buckeye Bars
Yield: one 8 inch square pan
Additional Time: 1 day
Total Time: 1 day
Ingredients
Crust
1 cup chocolate graham cracker crumbs (about 1 sleeve of graham crackers)
6 tbsp unsalted butter, melted
Peanut Butter Layer
3/4 cup creamy peanut butter
8 oz (one package) cream cheese, softened
1 cup powdered sugar
2 tsp vanilla extract
1 cup heavy cream
Chocolate Ganache
1/2 cup chocolate chips
1/4 cup heavy cream
Instructions
Crust
Blend the chocolate graham crackers in a blender or food processor until they are crumbs.
In a small mixing bowl, combine the graham cracker crumbs and melted butter. Mix well.
In a lined or unlined 8 or 9 inch square baking pan, press the crumbs firmly into the pan.
Place the pan in the refrigerator for 30-60 minutes.
Peanut Butter Filling
In a large mixing bowl, combine the peanut butter, cream cheese, powdered sugar, and vanilla extract and beat using an electric mixer until well combined.
In a smaller mixing bowl, beat the heavy cream until stiff peaks form.
Add the heavy cream mixture to the peanut butter mixture and beat on low to incorporate.
Spread the peanut butter filling evenly on top of the crust.
Cover the pan with plastic wrap and place in the freezer for 5 hours.
Chocolate Ganache
Place chocolate chips in a medium heat-proof bowl.
In a small pot over low heat, heat the heavy cream until just before boiling.
Pour the heavy cream over the chocolate chips. Allow the mixture to stand for 1-2 minutes.
Use a spatula to stir the mixture until smooth.
Allow the ganache to come to room temperature before adding it to the bars.
Cover in plastic wrap and return the bars to the fridge or freeze until the ganache is set.
Cut into squares, garnish with melted peanut butter if desired. Serve chilled from the fridge or frozen from the freezer.