Nilla Wafer Snowmen Cookies
Make these simple snowmen cookies using nilla wafers and royal icing!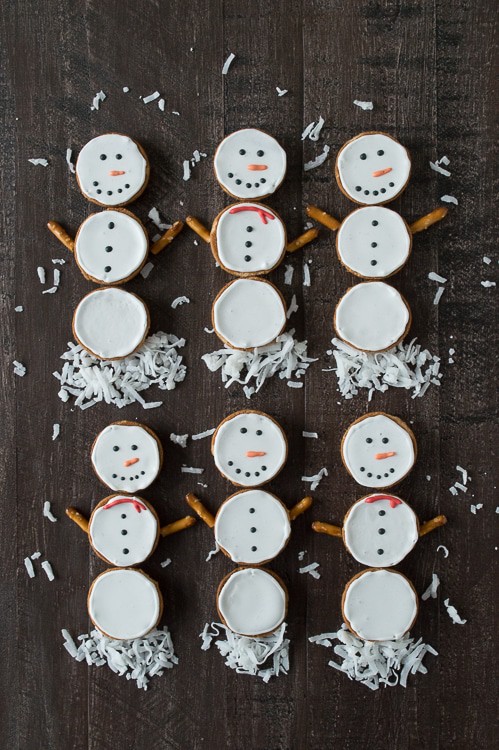 Last week was Ryan's 25th birthday. I think it's a super fancy birthday mainly because you can call it your quarter century birthday! I made it known that he was half way to being over the hill.. but then he reminded me that I already beat him there by about six months :)
I like to do special things on birthdays, but since it was his quarter century birthday, I wanted to do something extra fun, so I woke him up with 25 balloons! The balloons covered the entire bed, I could barely see his head when I took a picture! On one of the balloons I drew a picture of my face and I thought about putting it on my pillow to pretend like it was me, but I thought that could be super scary to wake up to.. "AH! Honey you look so rubbery!"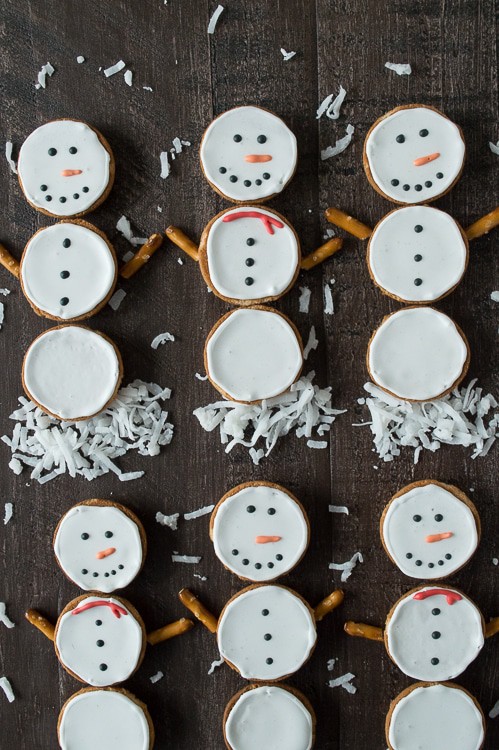 I've been shuffling around the house, kicking balloons as I go and just to sit down at the computer I had to move 8 balloons from under the desk and nearly popped one while moving the chair. But Ryan doesn't want to get rid of them yet. Which is very sweet, because I did tell him that everyone of those balloons is filled with lots of Beth air, meaning lots of love :)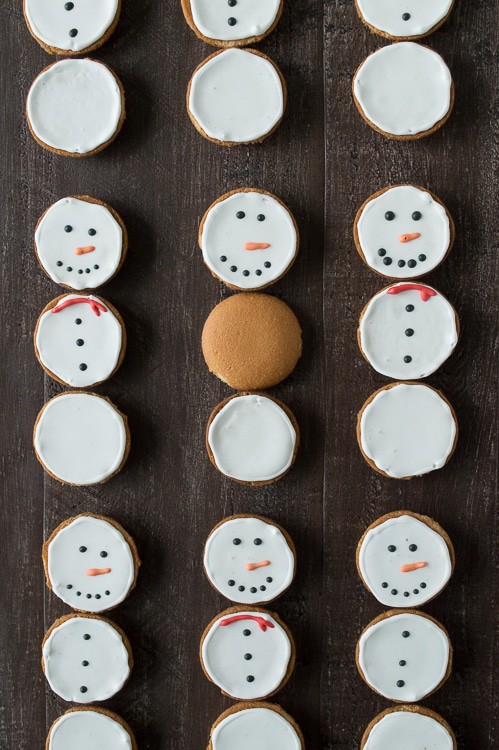 I don't think there is such a thing as too many christmas cookie recipes, so we're going to add another one to the collection. And this one is super easy because it uses Nilla Wafers. Which means there is no rolling, cookie cutters, or baking involved!
Nilla wafer don't have the same texture as a soft-baked sugar cookie, but this recipe is intended to be quick and easy. These nilla wafer snowmen would be great for your kids' school party, or you could use the nilla wafer snowmen to decorate gingerbread houses or as decoration on a holiday cake or to decorate another dessert. If all else fails, give them to your preschooler.. they will love eating snowmen cookies, regardless if they are more crunchy.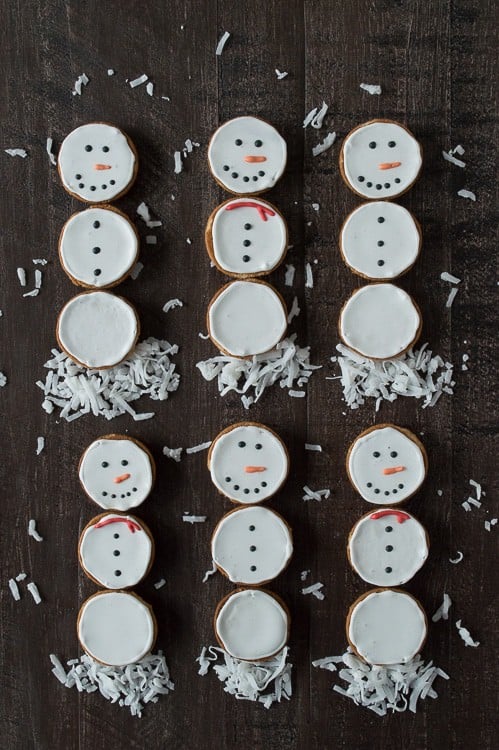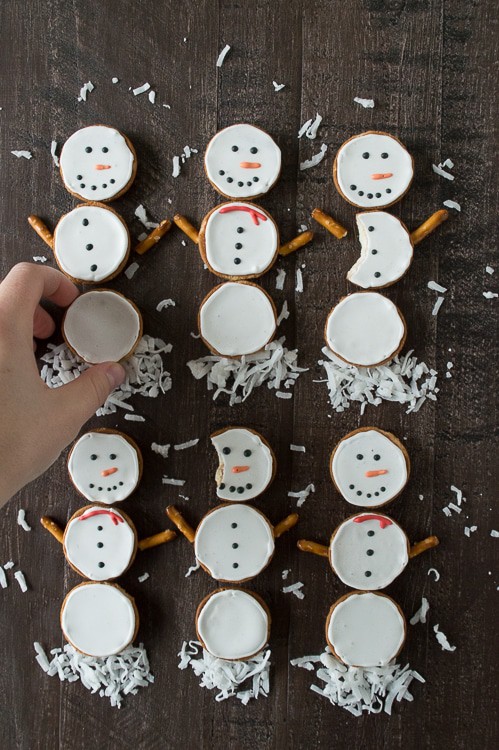 I think these are so cute and I don't mind that the cookies are more crunchy.. looks like someone already had a few bites!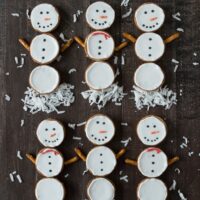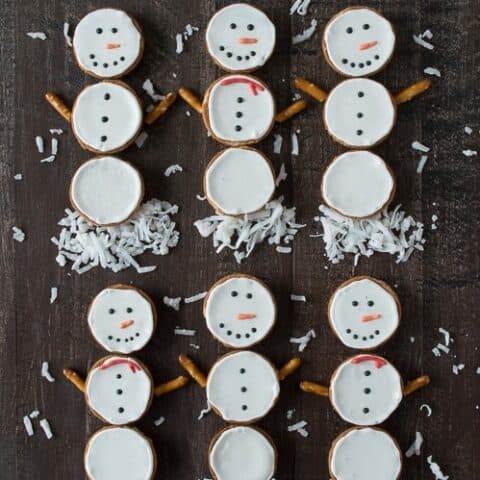 Nilla Wafer Snowmen Cookies
Make these simple snowmen cookies using nilla wafers and royal icing!
Ingredients
1

box

Nilla Wafers

pretzels and shredded coconut for display

,

optional
Royal Icing
4

cups

powdered sugar

2

tbsp

meringue powder

5

tbsp

water

plus red

,

orange, and black food coloring
Instructions
Combine the powdered sugar, meringue powder, and water in a mixing bowl and mix on low speed until the icing has a matte appearance, about 7-10 minutes.

Transfer some of the icing to a squeeze bottle and cover the rest of the frosting in the bowl with a damp washcloth. This is to prevent the icing from hardening.

Begin to outline the edges of the nilla wafers. It is best to have your arm and hand resting comfortable on a table. Continue until all of the nilla wafers are outlined.

Clean the squeeze bottle as you will need it again, or use another squeeze bottle.

Reserve a small amount of white icing in another container. This icing will be used to make the snowman's eyes, mouth, nose, buttons, and scarf. Cover this container with a damp washcloth as well.

Use the remaining icing to flood the nilla wafers. In order to do that, you will need to add more water to the icing so the consistency is thinner. Add 1 tsp of water at a time, stirring by hand, until the icing runs off the back of a spoon.

Transfer some of the more watery icing to the squeeze bottle. Begin to flood the nilla wafers with icing, using a tooth pick to help spread the icing to the edges. You don't want to add too much icing, as this could cause the icing to overflow beyond the edges. Practice until you know how much icing you need.

Refill the bottle as needed with icing and continue to flood all of the nilla wafers.

Allow the frosting to set and dry completely before adding the snowman's details. Depending on how many wafers you are using some of them might be dry by the time you finish flooding. Otherwise wait until the icing is dry, which could be up to 1 hour.

Once the icing is dry you will want to start forming groups of 3 wafers. Each snowman needs 3 wafers. Based on how many snowmen you can create, this will determine how many faces and middles you'll need to decorate.

Split the icing you reserved earlier into 3 smaller containers - color each with a small amount of food coloring - one black for the eyes, mouth and buttons, one orange for the nose, and one red for the scarves.

Add those details to the snowmen, using a squeeze bottle.

Optional - add pretzel arms and shredded coconut when displaying the cookies.

Store the wafers in an air tight container.
Calories:
169
kcal
,
Carbohydrates:
38
g
,
Protein:
1
g
,
Fat:
2
g
,
Saturated Fat:
1
g
,
Polyunsaturated Fat:
1
g
,
Monounsaturated Fat:
1
g
,
Trans Fat:
1
g
,
Cholesterol:
1
mg
,
Sodium:
46
mg
,
Potassium:
10
mg
,
Fiber:
1
g
,
Sugar:
33
g
,
Calcium:
1
mg
,
Iron:
1
mg