Mixed Nut Turtle Pies
No bake mini mixed nut turtle pies with 2 layers of mixed nuts and a rich chocolate filling, all topped with chocolate and caramel!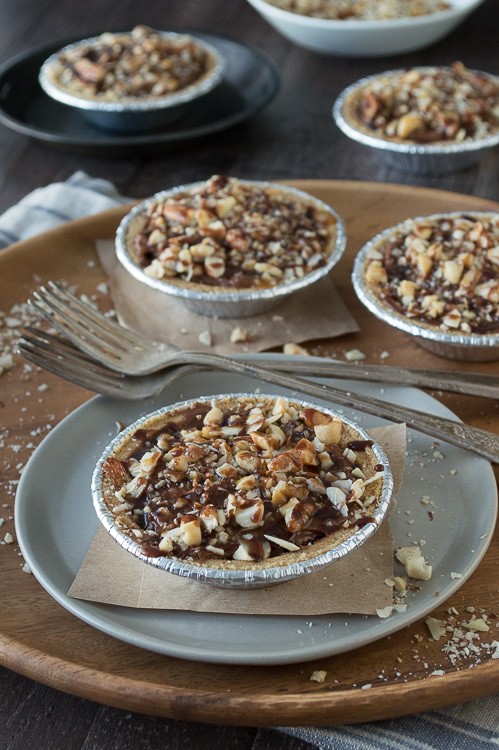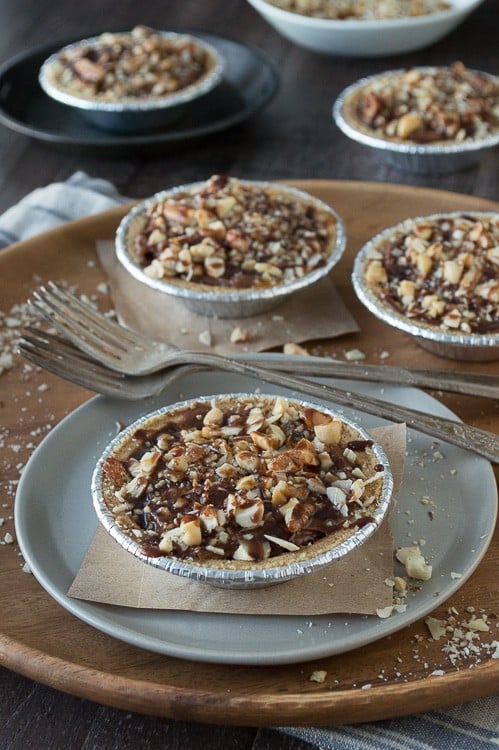 Things have been kind of nutty around here lately :)
Maybe it has something to do with the massive amount of acorn treats we've been eating! And today is no exception because we have another nutty recipe to share!
Too bad it's not another cute acorn treat, but it is a no bake pie, and that is equally as good!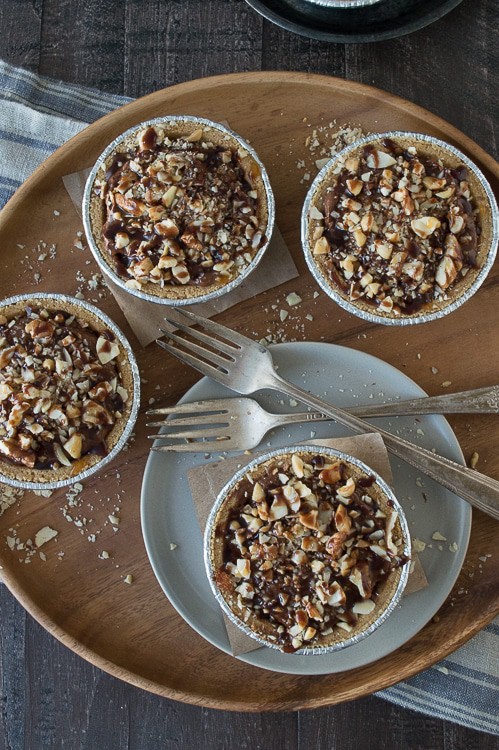 If there is one thing I really dislike doing, it would be making my own pie crust. Maybe it's because I grow up in the age where pre-made pie crust was readily available, and who really has time to make a homemade pie crust when you're already making a whole pie?
And they wouldn't sell pie crusts at the grocery store if they weren't good. Consumers determine supply, and there is never a shortage of pie crusts at my grocery store, so people must be buying them. And I am buying them too because I love that half of the work is already done for me.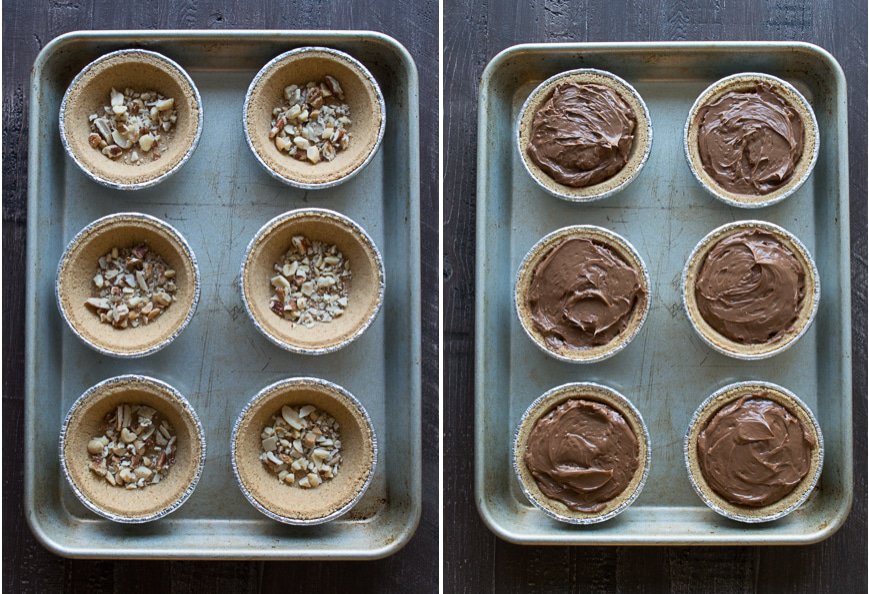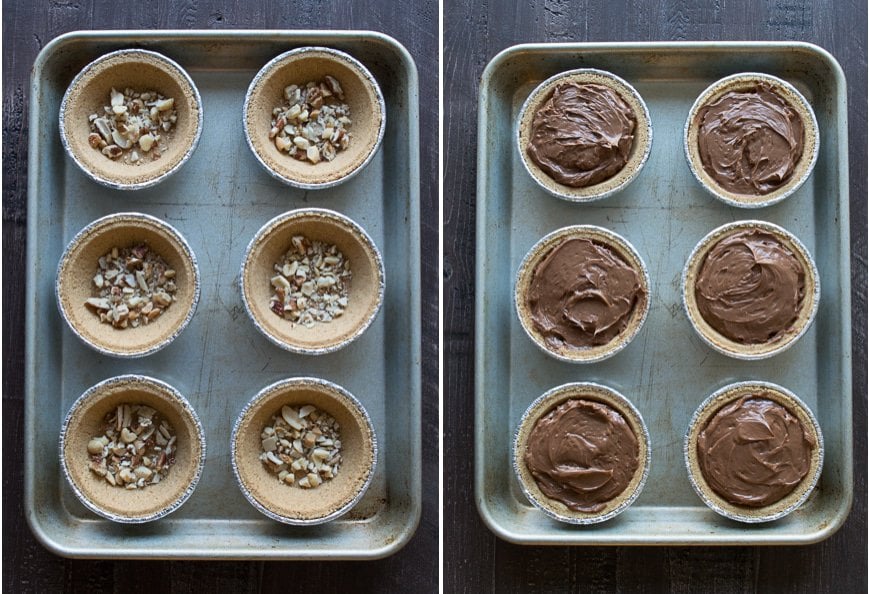 So #1: this recipe uses pre-made mini pie shells which means it saves you time!
And the other selling point? It's no bake!! So this recipe will save you space in your oven and you get to eat the pie sooner :)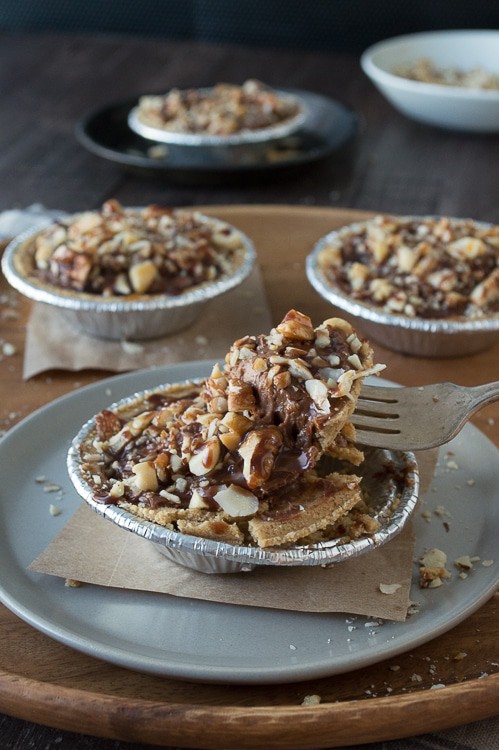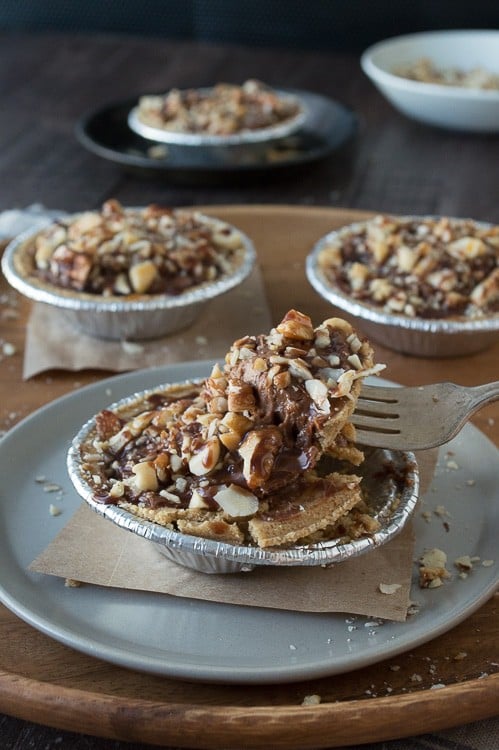 And the final selling point? This pie is all about the chocolate and nuts! Thank you, Mom, for sharing your love for chocolate and nuts with me. I now fully appreciate the deliciousness of a Mr. Goodbar :)
If you're planning on having a small dinner or dessert party, this would be a fantastic dessert to make! The recipe will make 6 mini pies – which is perfect for sharing with 5 friends or perfect for keeping them all to yourself and eating on 6 different days of the week :)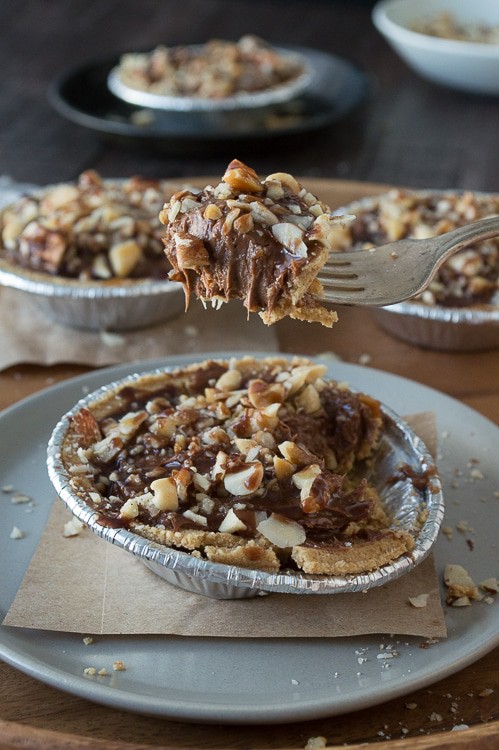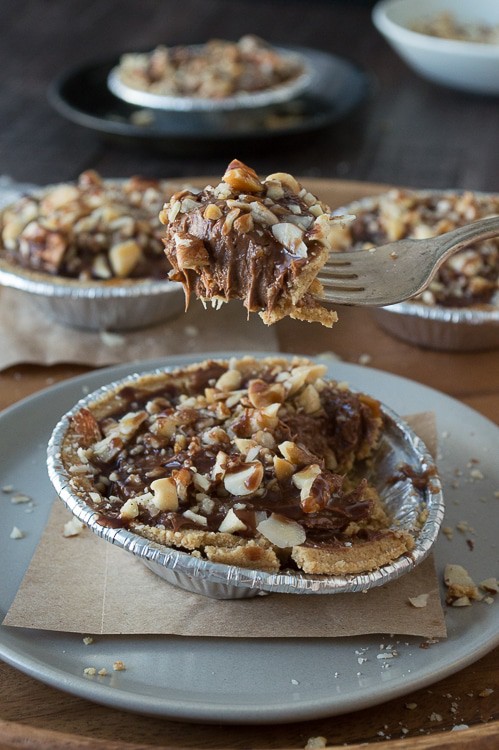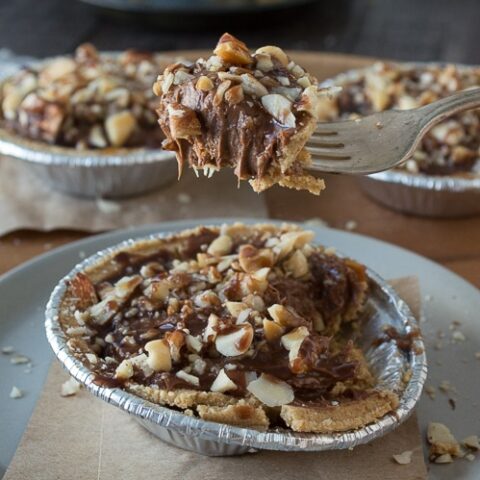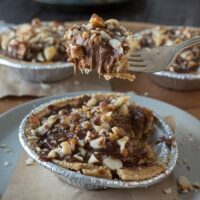 Mixed Nut Turtle Pies
Yield: 6 mini pies
Prep Time: 20 minutes
Inactive Time: 1 hour
Total Time: 1 hour 20 minutes
Ingredients
6 mini pre-made pie shells
1/2 to 3/4 cup mixed nuts (peanuts, pecans, and almonds)
1/2 cup chocolate chips
1 & 1/2 tbsp heavy cream
1, 8 oz, package cream cheese, softened
6 tbsp powdered sugar
Caramel sauce, to drizzle
Hot fudge sauce, to drizzle
Instructions
Put 1 tsp of mixed nuts in each pie shell.
Combine the chocolate chips and heavy cream in a small saucepan over low heat. Stir until the chocolate chips are melted. Turn the burner off and set aside.
In a bowl, combine the softened cream cheese and powdered sugar and beat using a hand mixer until fluffy, 2-3 minutes. Add the melted chocolate to the cream cheese mixture and beat for an additional minute, or until the chocolate is incorporated.
Evenly divide this mixture between the pie shells. I used 2 spoons to help distribute and smooth the cream cheese mixture once in the pie shells.
Top each pie with about 1 & 1/2 tsp of mixed nuts, place in the refrigerator to set for 1 hour.
Before serving, top each pie with caramel sauce and hot fudge.