Mango Coconut Cheesecake Jars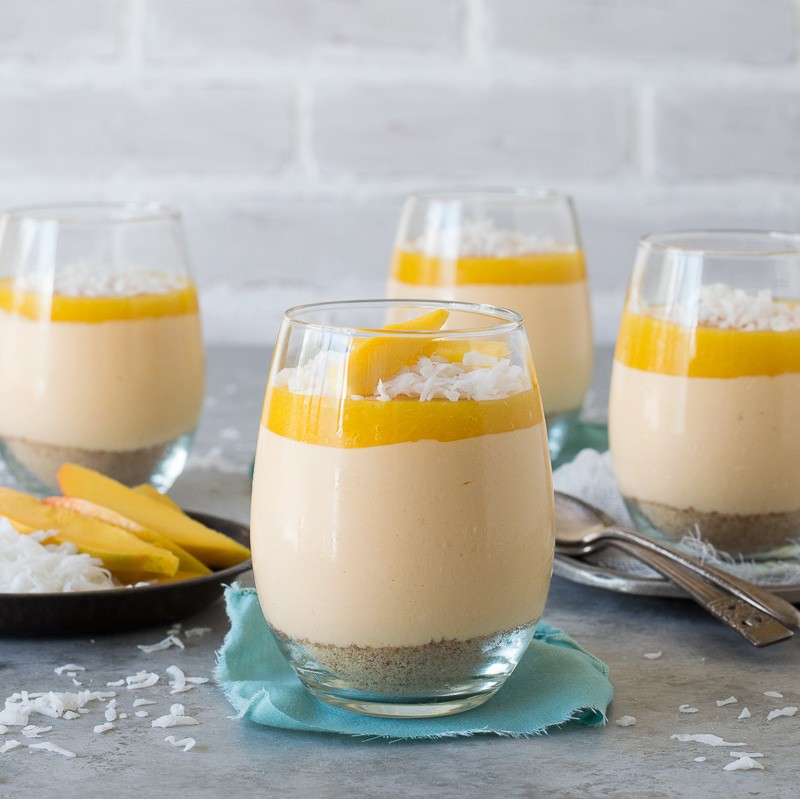 I recently finished a book called The Best Yes by Lysa Terkeurst. Usually when I'm done with a book, it goes back to the library or on our book shelf. But I can't seem to put this book on the shelf. If I put the book away on the shelf, it's like I'm done learning from it and I'm not ready to forget and "shelf" all of the wisdom I learned it. I know it sounds kind of silly, but the words that flowed from Lysa's book and into my heart, transformed a season of my life.
God has been tugging on my heart strings for a while about a few things and His wisdom in this book helped me change my mindset about some of the gullies that been holding me back.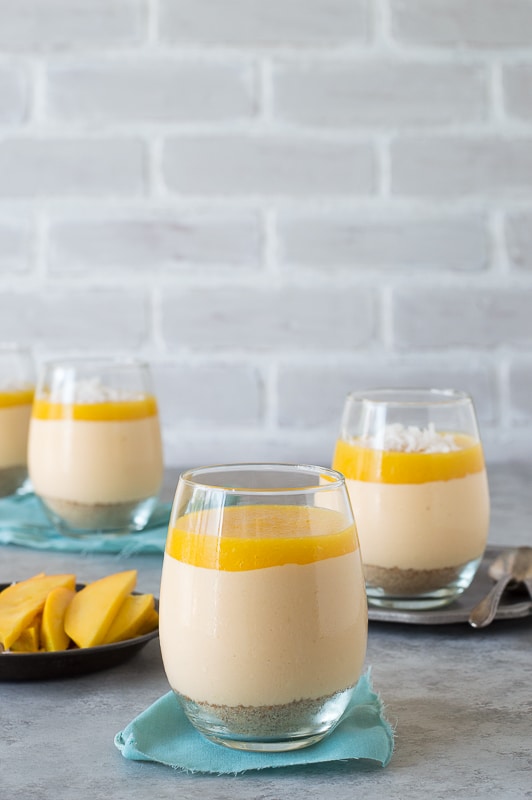 So this book has been sitting on my coffee table for a few weeks because I can't bare to put it on the shelf. But instead of being reminded that it's there, it's been buried under work papers, contracts, a few cook books, my calendar, and my long lost amazon gift card.
I use to be a yes girl, all of the time. Need me to do that for you? Because I will! Want me to take on another project, even though I'm swamped with 3 others – I'll do it! Being a yes girl seems admirable from the outside. It makes everyone around you think they you're so great because you have time to take care of your kids and husband, work, volunteer at church and at school, all while agreeing to run the neighborhood car pool and plan the annual summer fundraiser.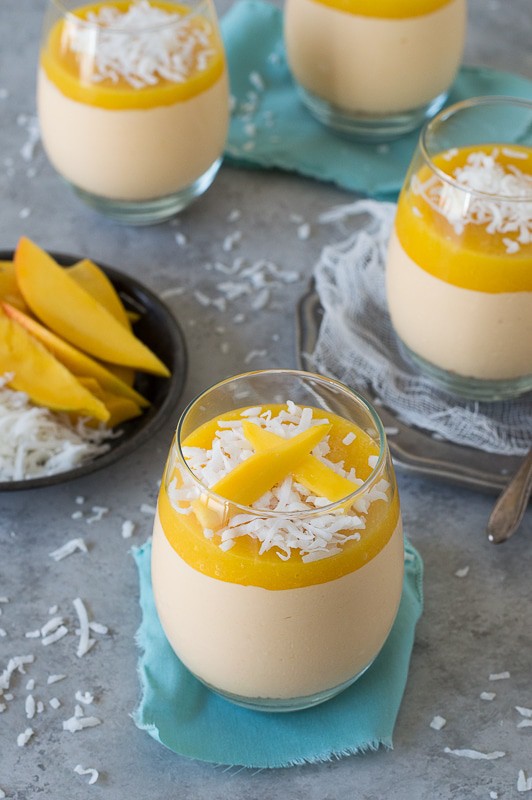 Wheww. And while everyone may think you're so great because you're helpful and generous of your time, you are feeling tired. Worn out. Unhappy. There is no room for rest in that life. And that was me. And sometimes is still me, especially yesterday.
I was asked to take on a longer term blog project, but I wasn't in love with the concept and I already had prior commitments that would make taking on this project difficult. But part of me wanted to say yes, the part that's a worry wart over money. I also felt like I didn't want to disappoint the client by saying no. So I stopped what I was doing and decided I needed to find some peace about this decision. I unburied The Best Yes and flipped through the pages looking for highlighted passages.
"Saying yes all the time won't make me wonder woman. It will make me worn out woman." I think God just spoke to me.
I spent a few more minutes looking through the book, being reminded of truth.
"Don't let the awkward disappointment of other's keep you from your best yes appointments with God."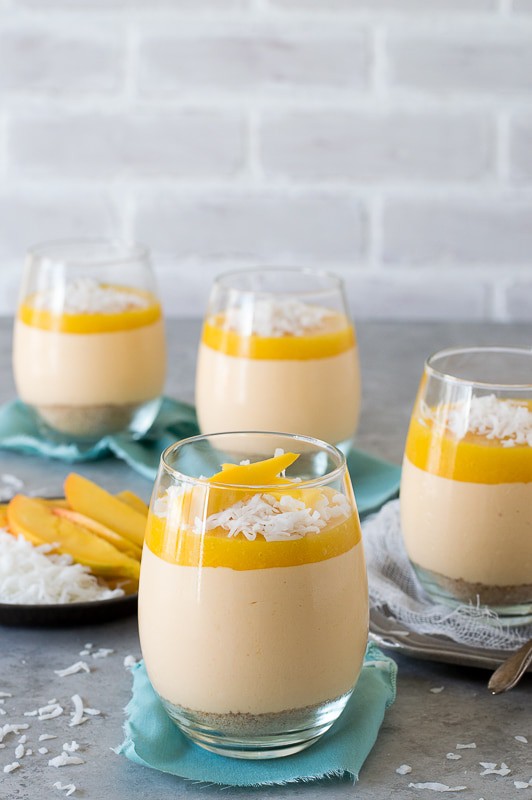 Just because God places opportunities in front of me doesn't mean he wants me to say yes to everything. It's about figuring out what opportunities meld my talents, the calling He has given me, with what my time will realistically allow – and saying yes to those opportunities will be far better than saying yes to everything. Even though saying "no" is difficult, in the process, I'm making room in my heart and my schedule to say "yes" to those opportunities God doesn't want me to miss out on, best yes opportunities.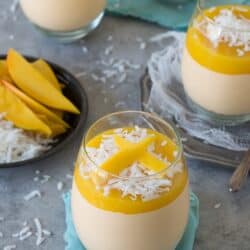 Mango Coconut Cheesecake Jars
Fresh mango puree tops sweet no-bake cheesecake filling in these pretty layered jars.
Ingredients
Graham crackers pulsed into crumbs

,

about 4 tbsp per cup equal to about one pack of crackers

2

packages

cream cheese

,

8 oz each, softened to room temperature

¾

cup

sugar

2

mangos

,

pureed into about 1 & 1/2 cups

¼

cup

coconut milk

½

cup

boiling water

1

packet

packet

To top: Shredded coconut and mango slices

,

optional
Instructions
Allow the cream cheese to come to room temperature.

Using a food processor or blender, pulse the graham crackers into crumbs. Divide the crumbs evenly among the glasses you'll be using.

Remove the skin from the mangos and cut the mangos into smaller chunks. Don't forget there is a seed in the middle. Place the chopped up mango in a food processor or blender and blend until smooth. Measure out how much mango puree you have, hopefully it's about 1 & 1/2 cups. Set aside.

Using an electric mixer, combine the cream cheese and sugar in a mixing bowl. Beat until the cream cheese is smooth and fluffy.

Add in 3/4 cup of the mango puree. If you didn't get 1 & 1/2 cups of mango puree, simply put in half of what you got. If you got 1 cup mango puree, put in 1/2 cup.

Add in the coconut milk. Beat the cheesecake mixture using an electric mixer until everything is incorporated.

Evenly divide the cheesecake mixture among the glasses. Place the glasses in the refrigerator to set for 45-60 minutes.

Once the cheesecake is firm (no longer liquid-y) begin to make the mango layer.

In a medium bowl, combine the boiling water and gelatin packet. Stir the gelatin until it dissolves. Add in the rest of the mango puree (half of whatever you had in the beginning) and mix well. Pour the mango layer on top of the cheesecake and return the glasses to the refrigerator to set for 30 minutes. You can also cover the glasses with plastic wrap and refrigerate them overnight.

If desired, before serving top each cheesecake with a sprinkle of coconut flakes and a few slices of mango.
Calories:
711
kcal
,
Carbohydrates:
74
g
,
Protein:
9
g
,
Fat:
44
g
,
Saturated Fat:
25
g
,
Polyunsaturated Fat:
2
g
,
Monounsaturated Fat:
11
g
,
Cholesterol:
124
mg
,
Sodium:
506
mg
,
Potassium:
402
mg
,
Fiber:
2
g
,
Sugar:
60
g
,
Vitamin A:
2642
IU
,
Vitamin C:
38
mg
,
Calcium:
147
mg
,
Iron:
2
mg
I love this book, if you want to check it out, you can visit Lysa's website here,
http://thebestyes.com/
.