Lemon Layer Cake
Homemade 3 layer lemon cake with lemon buttercream rosettes.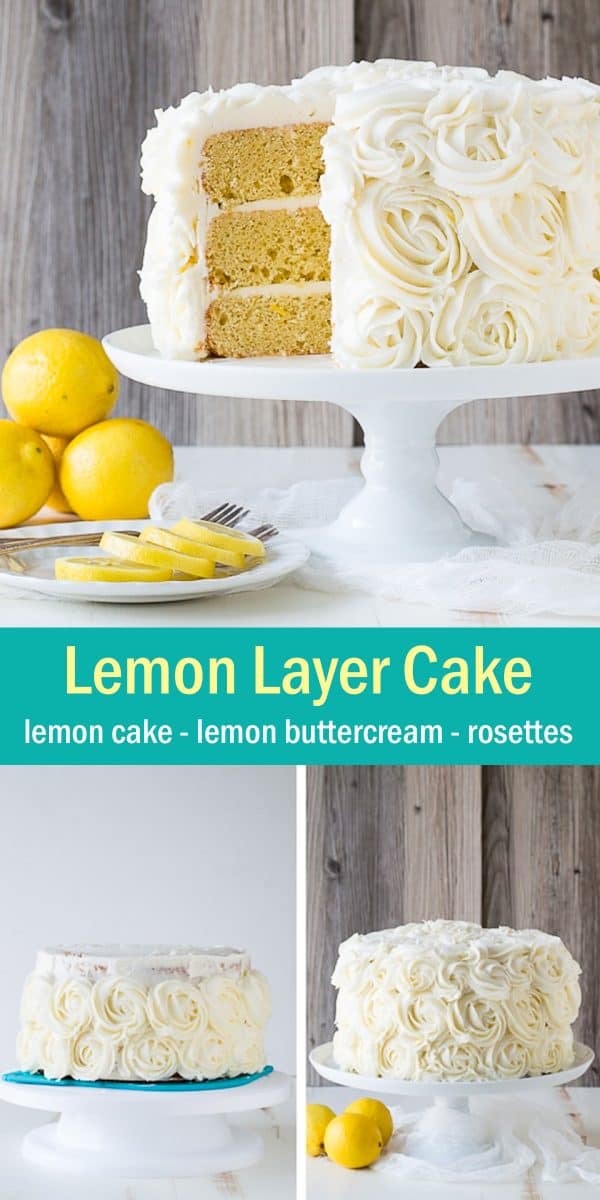 Whoa there! It's another cake! This is the first layered cake we're sharing that's covered in buttercream. We shared our first ever cake a few weeks ago, but it was a no bake cake.
You could say this is the first real cake we're sharing. Real as in it was made with flour, lots of butter, sugar, and love.
Cue the horns and applause because Ryan said that this lemon cake is the epitome of my blogging career ????????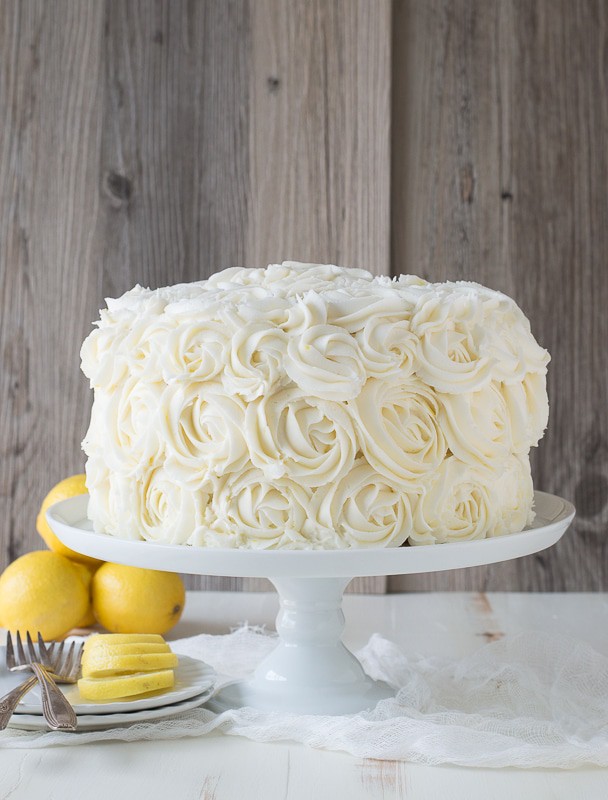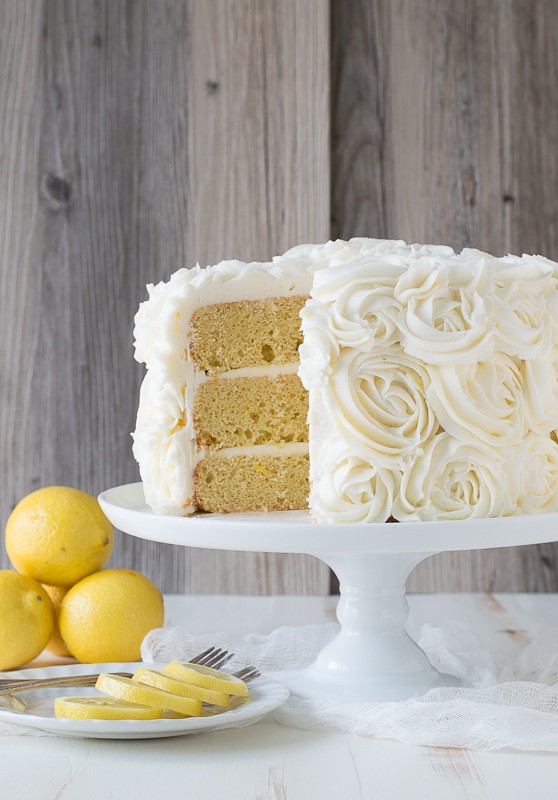 Lemon Layer Cake
It has enough butter and powdered sugar in it that it should be good. Since I've been baking cakes (I actually have 2 more cake recipes ready for ya!) I'm learning that butter is it's own currency. I'm no longer being willie nillie about my butter usage. If you want to spread butter on your toast, it's going to cost you. You can place your donation in the butter jar that's on the counter.
After calculating the price of one stick of butter and realizing that each cake recipe needs about 4-5 sticks.. I think I should just buy my own cow. Ryan has even joked about getting a mini fridge so I can use it as my butter fridge. I like that idea. Where would I put it in our 600 square foot house? Let's see.. on top of the regular fridge or it could act as a second night stand. That might come in handy.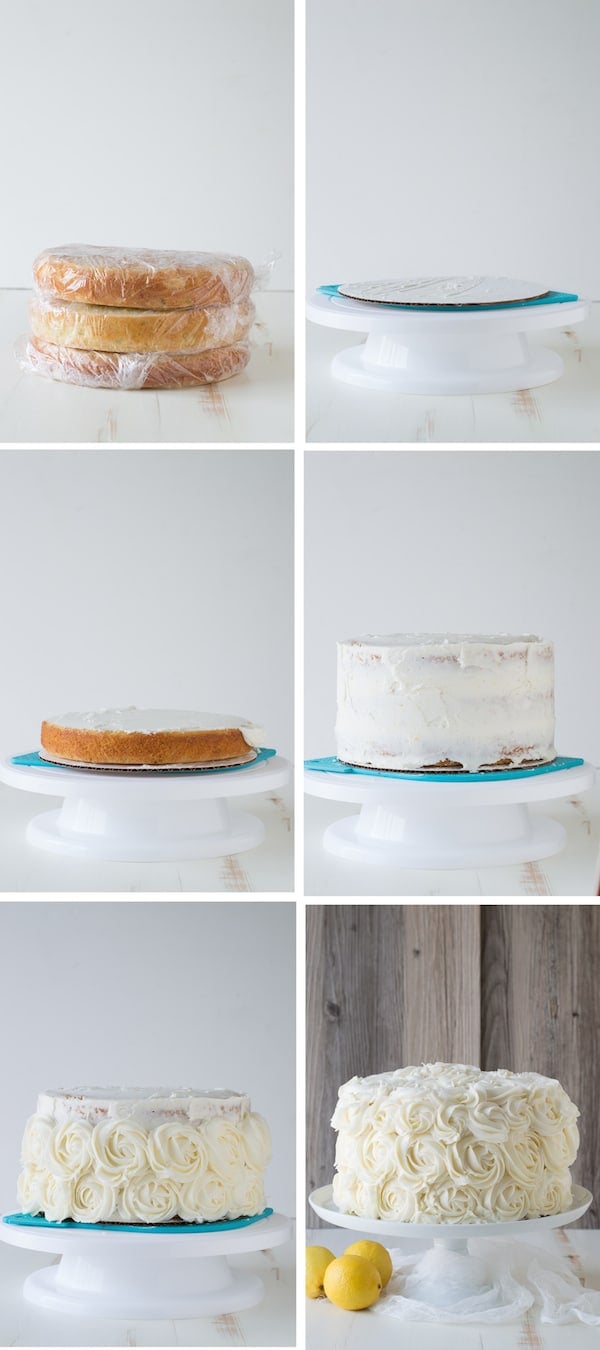 Storage in our tiny house is a problem for me. My sweet husband doesn't see it as a problem. He sees it as a solution – stop buying things.
Well.. good for me and bad for him, I just came up with the idea of putting a whole bunch of nets on our ceiling and storing things in them. I call this creative problem solving.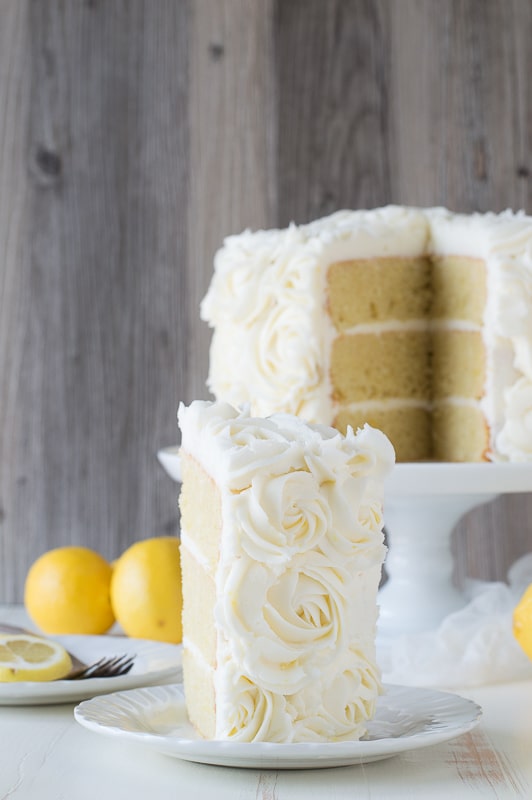 The rosette technique hides imperfections well, so if it's your first time frosting a cake, I would definitely suggest that method! This was the first time I've ever baked and frosted a tiered cake.. and I think you can do it too!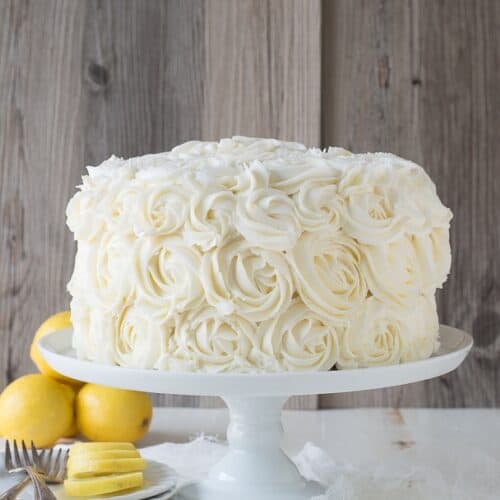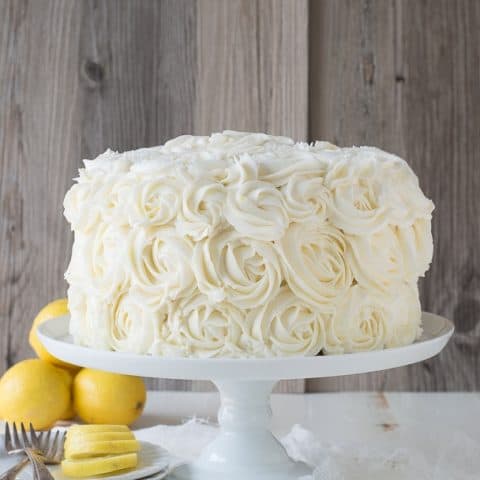 Lemon Layer Cake
Yield: one 3 layer 8 inch cake
Additional Time: 4 hours
Total Time: 4 hours
Homemade 3 layer lemon cake with lemon buttercream rosettes.
Ingredients
Lemon Cake - MAKE THIS RECIPE 3 TIMES, ONCE FOR EACH LAYER that way you decide how many layers you want
1 & 1/2 sticks butter, room temperature
3/4 cup sugar
zest of 1 lemon
3 eggs
1 & 1/4 cups flour
1 & 3/4 tsp baking powder
1/2 tsp salt
Lemon Buttercream (this will make enough frosting to frost the cake using the rosette technique)
4 sticks unsalted butter, room temperature,
8-10 tbsp lemon juice, from lemons
zest of 2 lemons
9-12 cups powdered sugar
Instructions
To bake the cake
Preheat the oven to 350 degrees F. Grease the bottom and sides of an 8 inch round cake pan or springform pan and line the bottom with a round piece of parchment paper. To ensure even baking, place a bake even strip around the pan. You can make your own homemade bake even strip by cutting a towel or shirt to fit the size of your pan. Get the fabric really wet, then squeeze out the dripping water but do not squeeze it too dry. Secure the fabric around the pan with a safety pin.
In a mixing bowl, combine the butter, sugar, and lemon zest, beat using an electric mixer until fluffy. Add in the eggs one at a time, lightly beating after each one.
In a smaller bowl, combine the flour, baking powder and salt, gently mix with a spoon. Gradually add half of the flour mixture to the wet ingredients, do not dump it in, rather take spoonfuls of the flour mixture and gently shake it over the wet ingredients, as if you were sifting in the flour. Fold in the mixture until no flour remains. Repeat with the other half of the flour, folding it in and scraping the sides and bottom of the bowl to incorporate everything. Scrape the batter into the prepared cake pan, using a spatula to evenly spread it out.
Bake for 22-27 minutes. Using a bake even strip will slow down the baking time, so if your cake is still wobbly in the center, allow it to bake longer.
Once the cake is done, allow it to cool in the pan on a cooling rack for 10 minutes. After 10 minutes, carefully remove the cake from the pan. If using a springform pan, remove the sides and bottom. Allow the cake to cool completely on a cooling rack. Once cool, remove the parchment paper round from the bottom of the cake. If you need to level the top of your cake, do so now using either a cake lever or knife. Wrap the cake really good in plastic wrap and place it in the refrigerator, which is good for up to one week.
30 minutes to 1 hour before you plan to assemble the cake, place the cake layers in the freezer. This will make them easier to frost.
To make the buttercream
In a mixing bowl, add the butter, beat using an electric mixer until fluffy. Add in the fresh lemon juice and zest, and gently mix by hand with a spatula. Begin to add the powdered sugar, about 2-3 cups at a time, mixing by hand. Continue adding powdered sugar until the frosting no longer looks wet and tastes good to you. Then I use my electric mixer once last time to make sure the powdered sugar is really incorporated and ready to go.
To frost the cake
I like to assemble my cakes on a turntable. Spread a small amount of buttercream on a 8 inch round cardboard circle. Place your first layer on top of the cardboard. Put buttercream on top of the layer and spread it as even as possible with an offset spatula. Repeat for each layer of cake. Once all of the layers are stacked, it's time to do a crumb coat. The crumb coat will help seal the crumbs in. Using your offset spatula, spread a thin layer of buttercream around the sides of the cake.
Place the entire cake on the turntable in the freezer for 20 minutes.
To pipe roses onto the cake, take a large piping bag set with a wilton 1M tip and fill it with buttercream. Push the buttercream down into the bag and twist the top of the bag tight. Start by piping roses onto the side of the cake. When creating the rose, start in the middle of the rose and pipe around the middle going in a swirl, going around 1 or 2 times, depending on what you like.
Once the side of the cake is covered in roses, move onto the top, starting at the outside edge and working your way into the center. After the cake is covered in roses, you may notice small spots where the roses didn't overlap. If you wish, simply pipe a little frosting into those spots.
The cake can be left at room temperature if you'll be serving it that day. If not, loosely cover the cake in plastic wrap and place it in the fridge.
Notes
You can bake this recipe in different sized pans. I recommend looking up the proper baking time for that size of pan. I trust the Wilton Cake Baking guide.
Recommended Products
As an Amazon Associate and member of other affiliate programs, I earn a small commission from qualifying purchases.