Lemon Crumb Cake
Lemon Crumb Cake – this breakfast cake is tender with the perfect amount of fresh lemon flavor! We love the crumb topping with lemon zest in it!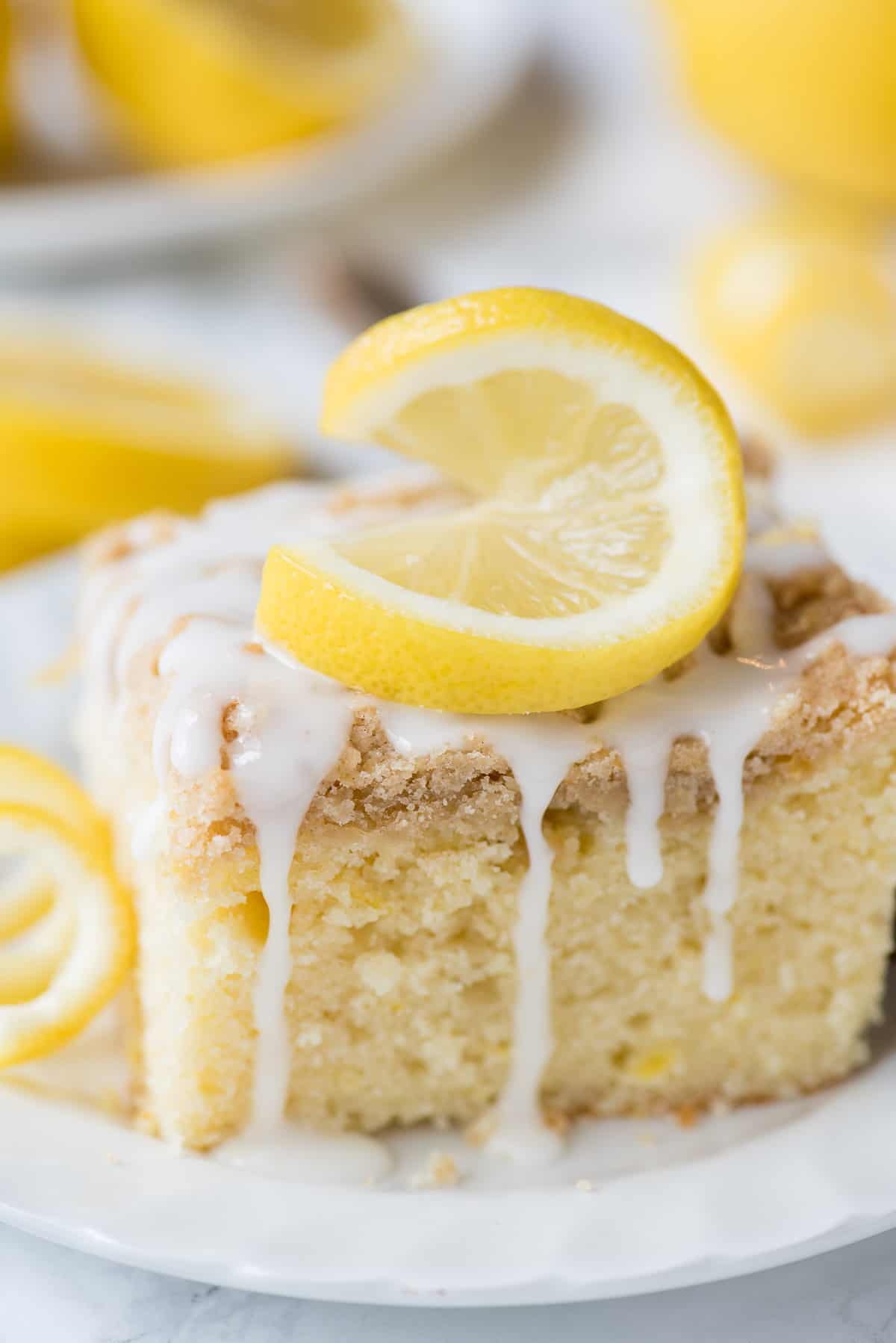 One of my bestie's lives in Illinois, we lived there for 5 years before our recent-ish move to Michigan.
We talk a few times a week and one day she was helping me brainstorm recipe ideas. The idea of lemon coffee cake came up, so I wrote it down on a sticky note I have in my computer.
I had a few other recipes I was working on, so I wasn't able to get to that one right away. But after she mentioned it several times, I knew it needed to happen. I love lemon and I love coffee cake.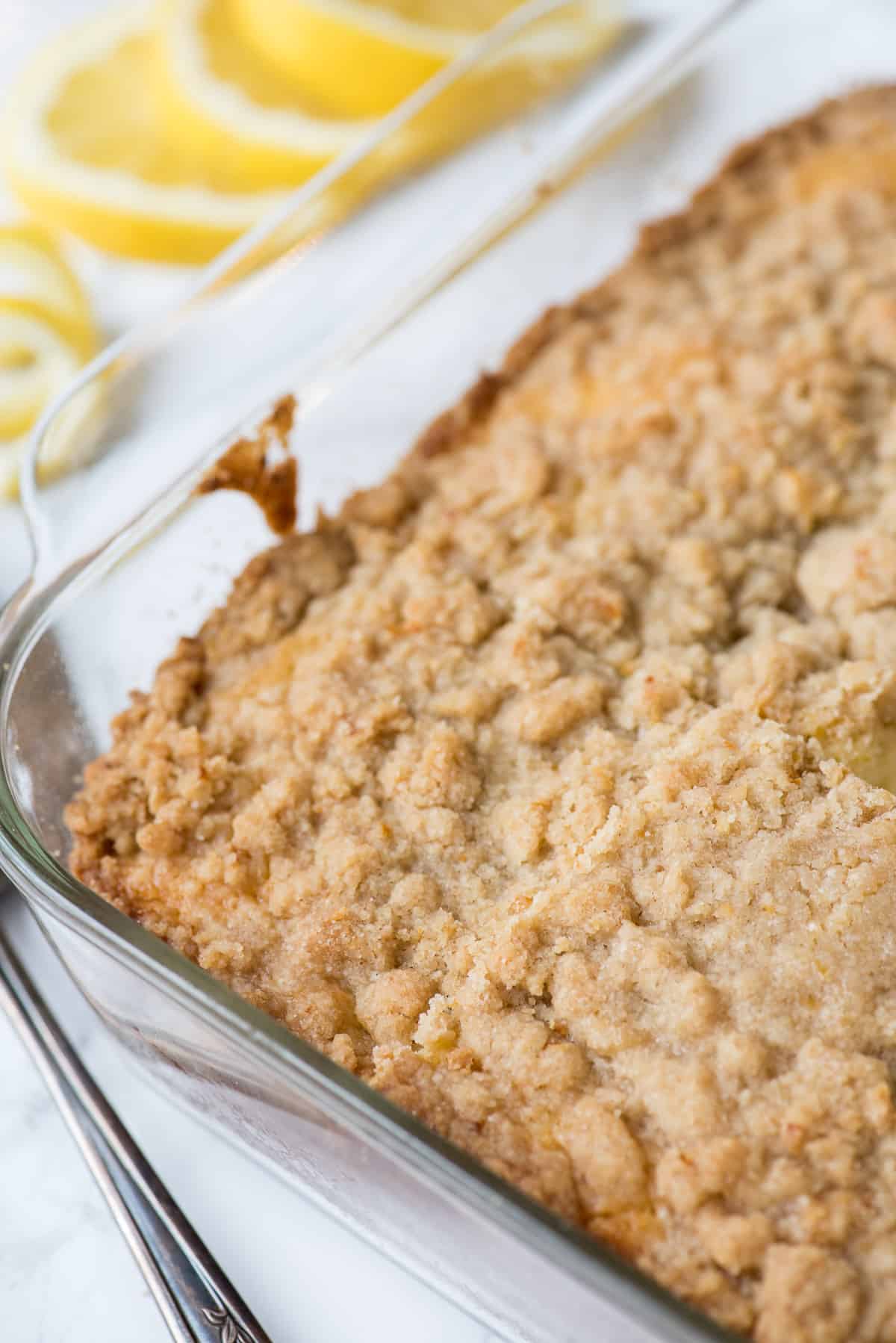 I wasn't sure if I should call it a lemon coffee cake or a lemon cake crumb, so I asked you guys on my instagram stories and the overwhelming response was lemon crumb cake!
I'm not 100% sure what the difference is between a crumb cake and a coffee cake – maybe the coffee cake has to have a cinnamon swirl in it?
Anyway, if you like coffee cake because of the crumb topping you'll love crumb cake (hello, CRUMB cake!).
I tested this recipe a few times so I could work on perfecting the amount of lemon. The result is a tender, lemon cake with fresh lemon zest and lemon juice. Plus, there is lemon zest in the crumb topping!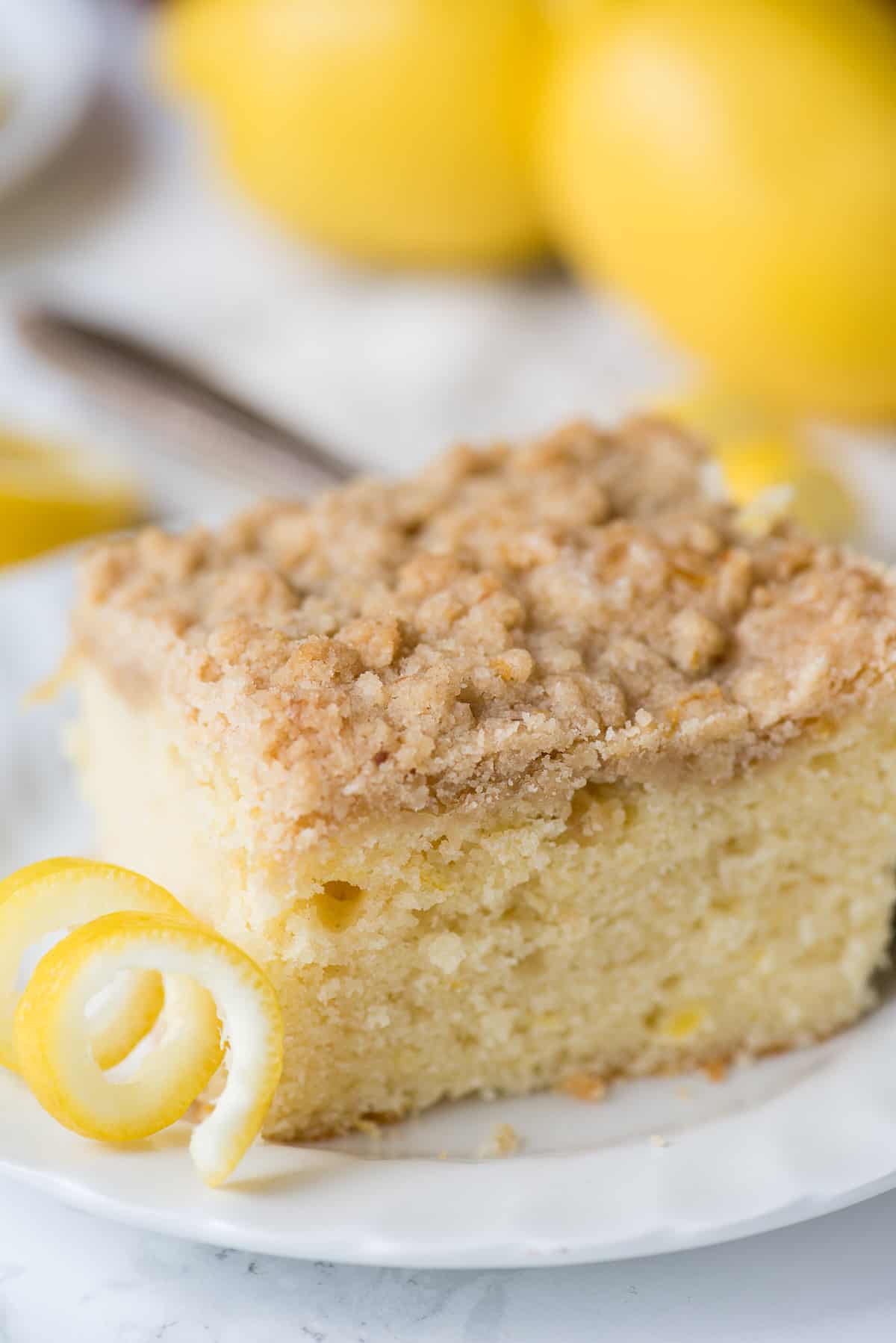 Troubleshooting Crumb Topping
The amount of butter in crumb topping is important.
Too much butter will result in a crump topping that melts and spreads during the baking process.
Too little butter will result in a dry and "flour-y" crumb.
The amount of flour in crumb topping is important.
Too much flour causes the crumb to be dry and overly crumbly.
Too little flour causes the crumb topping to not have enough stability and structure.
If you aren't a big crumb person, I would suggest halving the crumb recipe, or go without the crumb topping and use powdered sugar and lemon juice to make a glaze.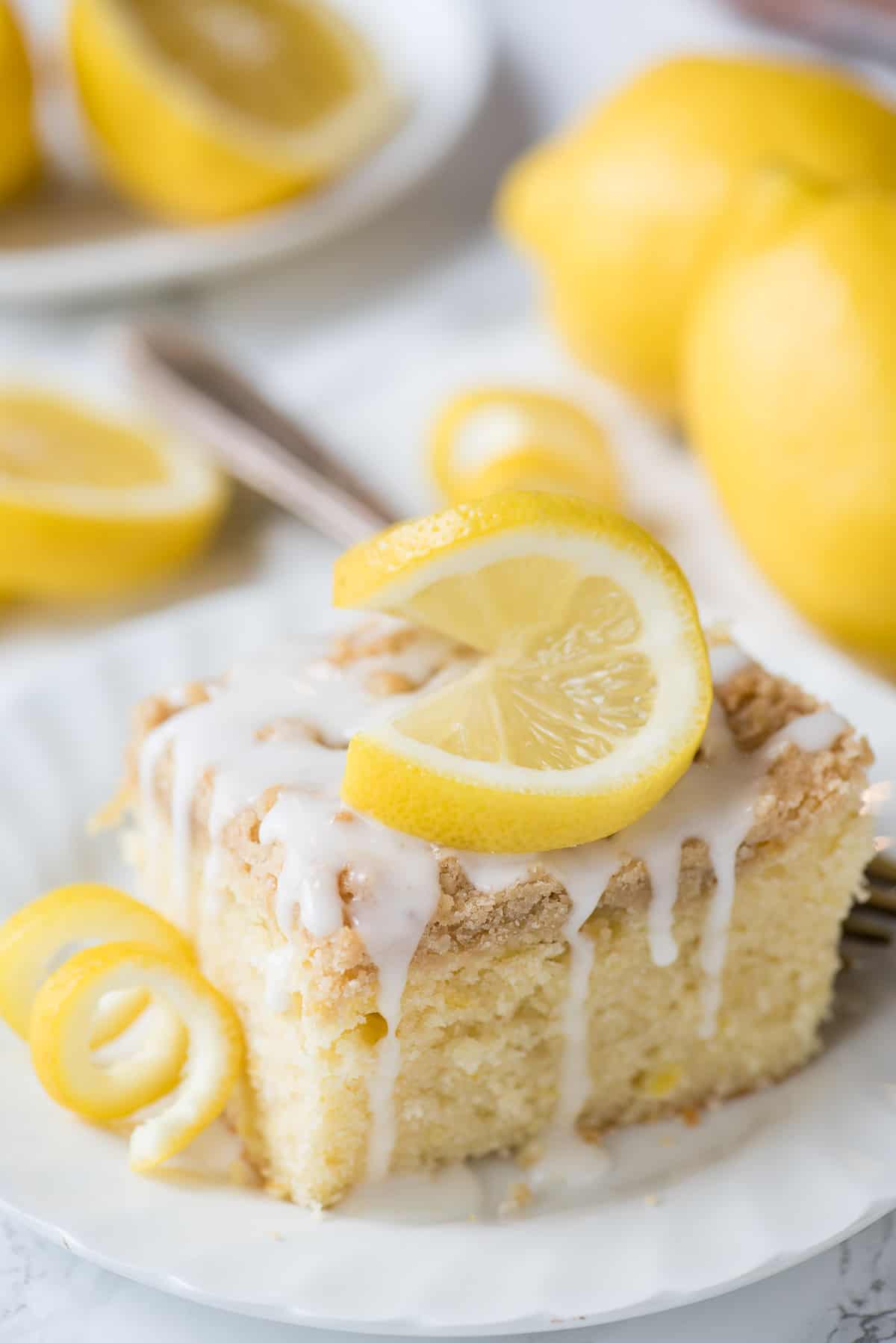 Tips
Measure the flour using the spoon and level method.
Pile on the crumb, pressing it lightly into the batter. 
Crumb size matters, be careful to not have too small or too large or clumps. 
More Lemon Desserts
More lemon recipes we love from other bloggers: Lemon Drop Bars, Outrageous Lemon Trifle, and Lemon Bar Dip.
Lemon crumb cake video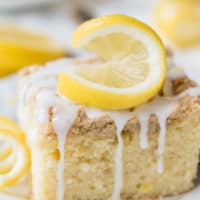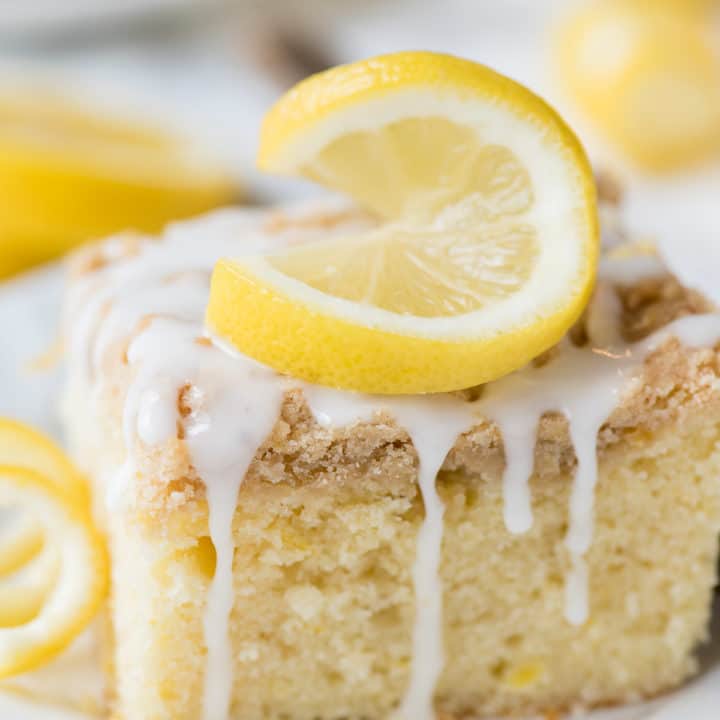 Lemon Crumb Cake
Lemon Crumb Cake – this breakfast cake is tender with the perfect amount of fresh lemon flavor! We love the crumb topping, it has lemon zest in it!
Print
Pin
Rate
Servings: 12 servings
Ingredients
Lemon Crumb Cake
1 stick unsalted butter, room temperature 1/2 cup
1 cup granulated sugar
3 large eggs room temperature
4 tbsp lemon zest from about 2 lemons
2 tbsp fresh lemon juice
1 ½ cups all purpose flour
¼ tsp salt
¼ tsp baking soda
¼ tsp baking powder
⅓ cup sour cream
Crumb Topping
¾ cup all purpose flour
6 tbsp brown sugar
½ tsp salt
1 tbsp lemon zest
6 tbsp cold unsalted butter cut into smaller pieces
Instructions
Make the crumb topping first. In a medium sized mixing bowl, combine the flour, brown sugar, salt and lemon zest. Add the cold butter pieces, use your hands or a pastry blender to cut the butter into the dry ingredients. Once the butter is cut in (pea sized pieces of butter are good!) place the crumb topping in the fridge.

Remove the eggs and sour cream from the fridge so they can become room temperature. Preheat the oven to 350º F.

In a medium mixing bowl, combine the flour, salt, baking soda, and baking powder. Set aside.

In a large mixing bowl, beat the butter and sugar together with a mixer for 2 minutes. Add in the eggs, lemon zest, and lemon juice, beat again until incorporated.

Add in the sour cream, mix with a spatula.

Add in the dry ingredients, half at a time, mixing by hand with a spatula just until incorporated.

Spray an 8×8 inch baking dish with non-stick spray. Transfer the lemon cake batter to the pan and spread evenly.

Remove the crumb topping from the fridge, spread it evenly over the cake, breaking up large pieces as needed.

Bake for 45 minutes or until a toothpick inserted in the center comes out clean. Allow the cake to cool, serve.
Video
Nutrition
Calories: 322kcal | Carbohydrates: 41g | Protein: 4g | Fat: 16g | Saturated Fat: 10g | Polyunsaturated Fat: 1g | Monounsaturated Fat: 4g | Trans Fat: 1g | Cholesterol: 85mg | Sodium: 204mg | Potassium: 70mg | Fiber: 1g | Sugar: 23g | Vitamin A: 519IU | Vitamin C: 4mg | Calcium: 35mg | Iron: 1mg