Kiwi Cupcakes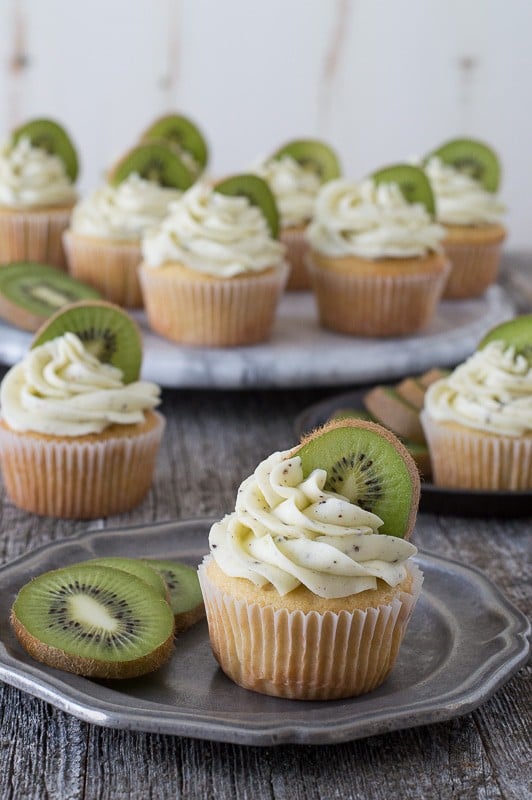 You might have noticed that there has been an explosion of cupcake recipes lately. And it all started with easy oreo cupcakes.
I never came out and said this but, I had a fear of frosting cupcakes. Not like a 'I think the cupcake is going to bite my hand off' fear. Like a 'I don't know how to pipe frosting and it looks scary, what if I mess it up' kind of fear.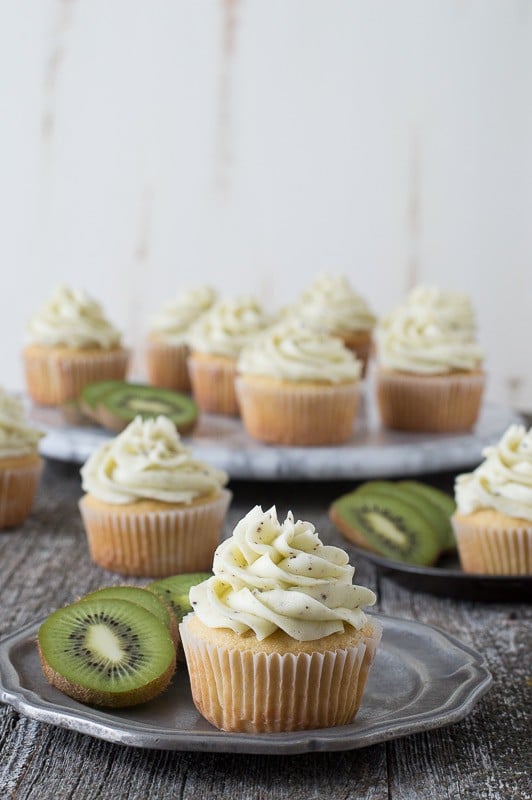 When I would look at my friend's blogs, I would just stare at their cupcake photos, thinking 'That is SO gorgeous… but how do they do that?!' I've even told my friend Lindsay from Life, Love & Sugar that I would be the first person to sign up if she started offering a class on how to make cupcakes and cakes.
So I set out to conquer my cupcake fear.
I had a few bumps along the way. For example, I already owned some piping tips so when it came time to actually pipe the frosting onto the cupcake, I thought I had all of the supplies I needed. But I was wrong. The piping tips I had were super small, but I didn't know they were small until I tried piping frosting with them. The tips I have are more for decorating and fine details. So I researched, ahem googled "best piping tips for frosting" and I learned that I needed to buy extra large ones.
I bought Wilton tips – star tip #1M, flower tip #2D, and round tip #2A. My favorite is #2D.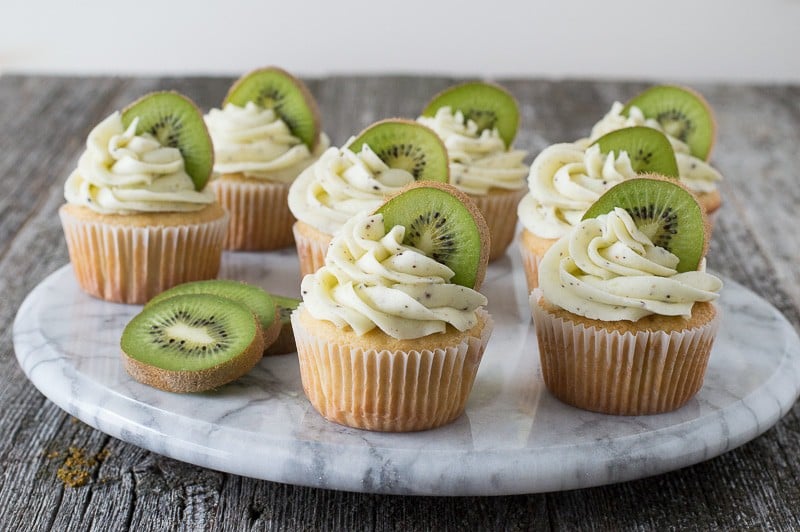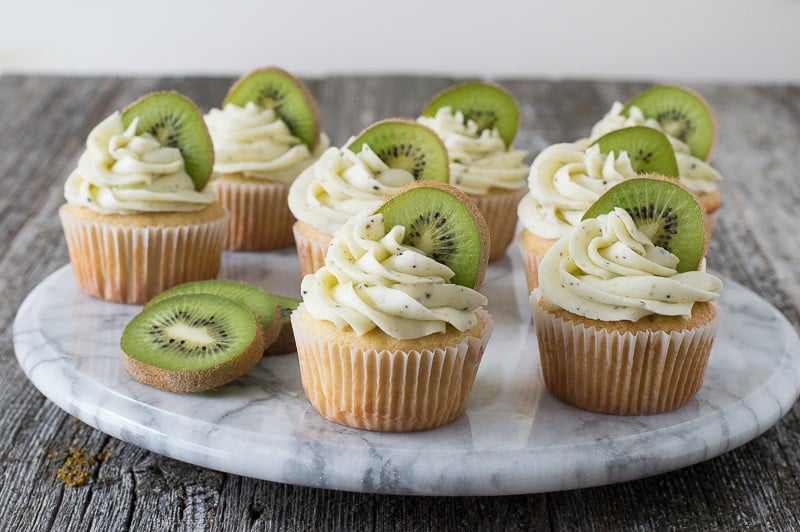 Once my piping tips arrived, I went back to google and search "how to pipe frosting on a cupcake". I would have probably been lost if it wasn't for the food bloggers who've already made tutorials on how to pipe frosting. I took their advice, went into my kitchen and I learned how to pipe frosting!
Of course now that I am on the other side, I think piping frosting is super easy. I haven't experimented with many techniques, but if you want big beautiful swirls, use a flower or star tip. Those are great choices for beginners!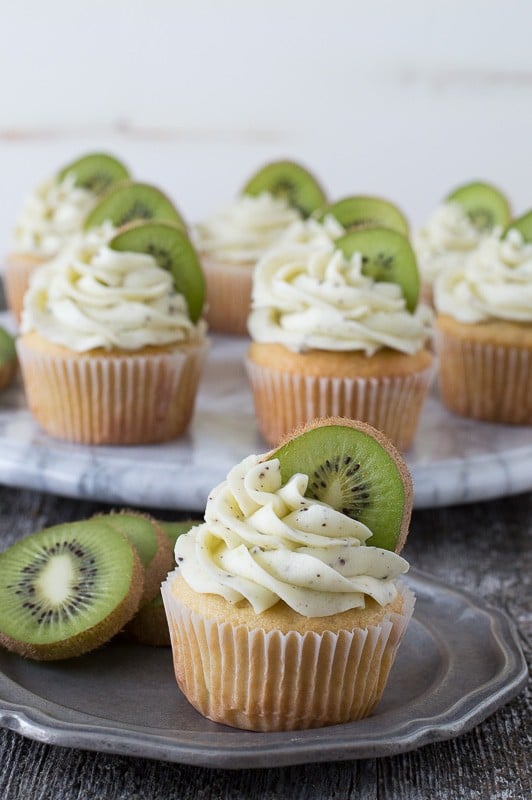 Let's answer the question of "How do I pipe frosting on a cupcake?" Begin to pipe the frosting onto a cupcake, starting with the outside edge and working your way into the center of the cupcake, progressively stacking the frosting as you go around in circles toward the center.
Now that I've learned how to pipe frosting on cupcakes.. the next thing I want to learn is how to make layered cakes! And the research starts all over again :)
The base of this cupcake recipe uses our vanilla batter. It's delicious and moist from the sour cream in the batter. The kiwi buttercream is really what this recipe is all about though! It's really easy to make, just add pureed kiwis to our original buttercream recipe.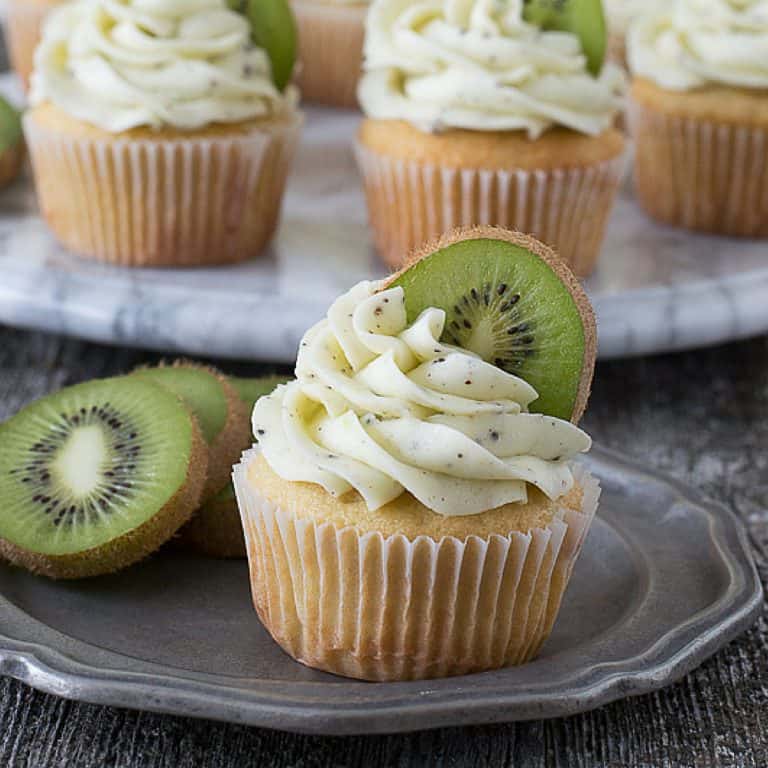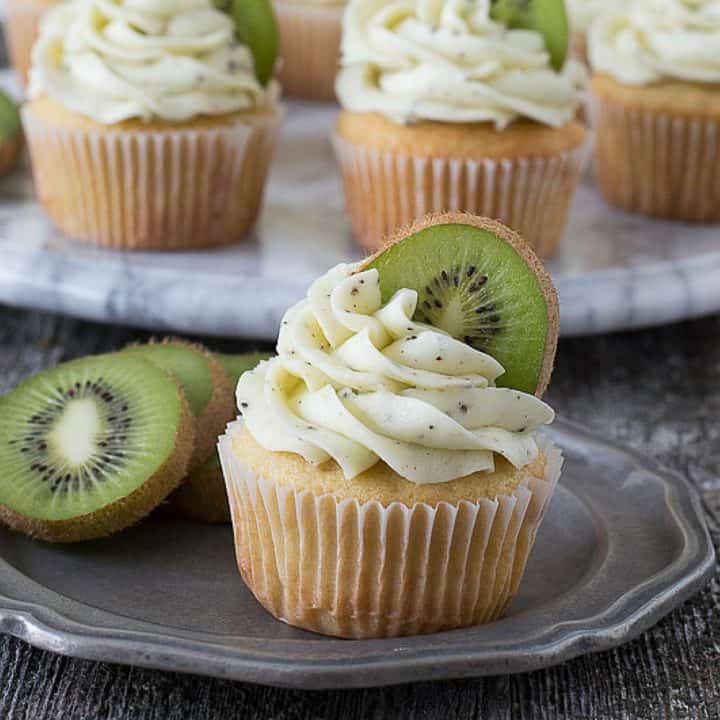 Kiwi Cupcakes
Yield: 12 cupcakes
Additional Time: 1 hour
Total Time: 1 hour
Ingredients
Cupcakes
1 & 1/2 cups flour
1 tsp baking powder
1/2 tsp baking soda
1/4 tsp salt
3/4 cup sugar
2 eggs
1 stick butter, melted
1 & 1/2 tsp vanilla
1/2 cup sour cream
Buttercream
1 stick butter, room temperature
1/2 cup vegetable shortening
2-3 cups powdered sugar
2 pureed kiwis, be sure to remove the white center from the kiwis, or puree them really good. The white part can clog up your piping bag if it isn't pureed well.
Instructions
Cupcakes
Preheat the oven to 350 degrees F.
In a small bowl combine the flour, baking powder, baking soda, salt and sugar. Whisk and set aside.
In a mixing bowl combine the eggs, melted butter, vanilla, and sour cream until combined.
Slowly add half of the flour mixture to the liquid, stirring to combine. Repeat with the rest of the flour mixture.
Divide the batter among a muffin pan lined with muffin liners, fill the muffin cups to be about a little more than 1/2 full.
Bake for 14-16 minutes or until a tooth pick inserted in the center comes out clean.
Buttercream
In a mixing bowl, combine the room temperature butter and shortening, beat using an electric mixer for 2 minutes, until light and fluffy.
Add in the pureed kiwi and mix until combined. If you see kiwi chunks in your puree, remove them as this time.
Begin to add in the powdered sugar, about 1 cup at a time. Slowly beat the mixture until the powered sugar is incorporated. Continue this process, adding enough powdered sugar to make sure the frosting isn't too wet.
Transfer a portion of the frosting to a large ziploc bag or piping bag. Push or squeeze the frosting down, getting rid of any air pockets. If using a ziploc bag, cut half one corner, making a hole between the size of a dime and a penny.
Begin to pipe the frosting onto a cupcake, starting with the outside edge and working your way into the center of the cupcake, progressively stacking the frosting as you go around in circles.
Garnish each cupcake with a kiwi slice.