Ice Cream Cone Cupcakes
These delicious Ice Cream Cone Cupcakes will fool just about anyone! These surprisingly look like ice cream cones from afar, but look closely!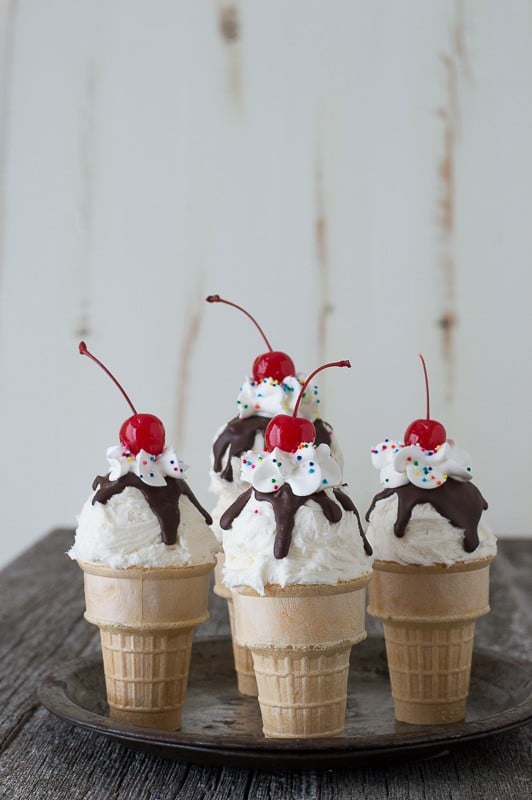 Muahahaha. Do you know what tomorrow is?
It's April Fool's Day!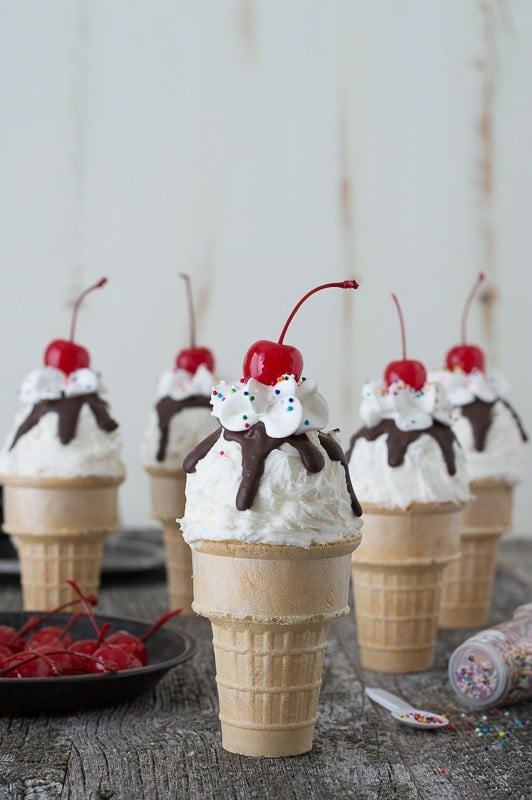 Ice Cream Cone Cupcakes for April Fools
Did I fool you? These look like ice cream cones, but they're really cupcakes. These Ice Cream Cone Cupcakes are cupcakes dressed up and disguised to look like ice cream cones! Is your brain just as confused as mine? Looking at the photos, my stomach is telling my brain it wants ice cream! What is yours telling you, ice cream or cupcake?
These Ice Cream Cone Cupcakes would be the perfect recipe to make for your kids or coworkers for April Fool's Day. At least this prank is sweet, literally and figuratively! Now I'm not saying that I'm not into all of those funny pranks.. I like pulling those pranks on other people, but I do not like having those pranks pulled on me!

How to Make Ice Cream Cone Cupcakes
To get you ready for April Fool's Day we're sharing some of our favorite pranks!
-replace the cream in an oreo with toothpaste
-make chocolate chip cookies out of mashed potatoes and black beans
-fill someone's desk drawers with candy, lots of it
-switch the bags inside two boxes of cereal
-put goggly eyes on everything inside someone's fridge or cupboards
-serve mashed potatoes and gravy to look like a milkshake with chocolate sauce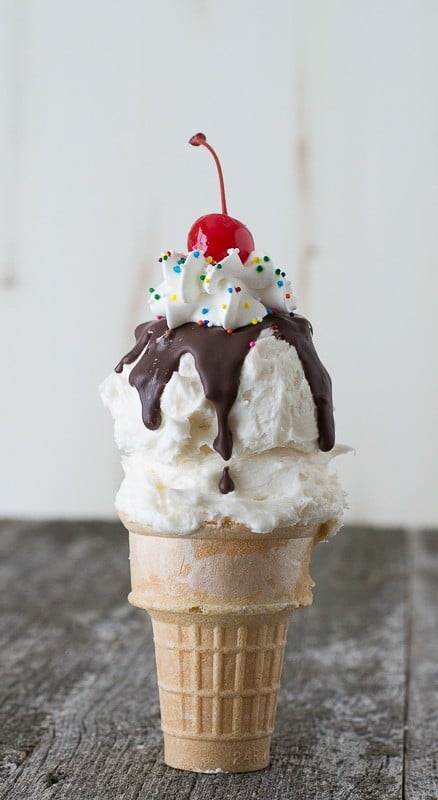 You can even make a double scoop ice cream cone cupcake!
A Few Good Pranks
I've been the victim of a few good pranks. In college I lived with 10 other sweet girls, but lots of harmless mischief occurred. I returned home from class one day, and headed to my bedroom, only to find my door handle had been covered in vaseline. Sneaky sneaky.. I'm not sure if someone ever fessed up to this one.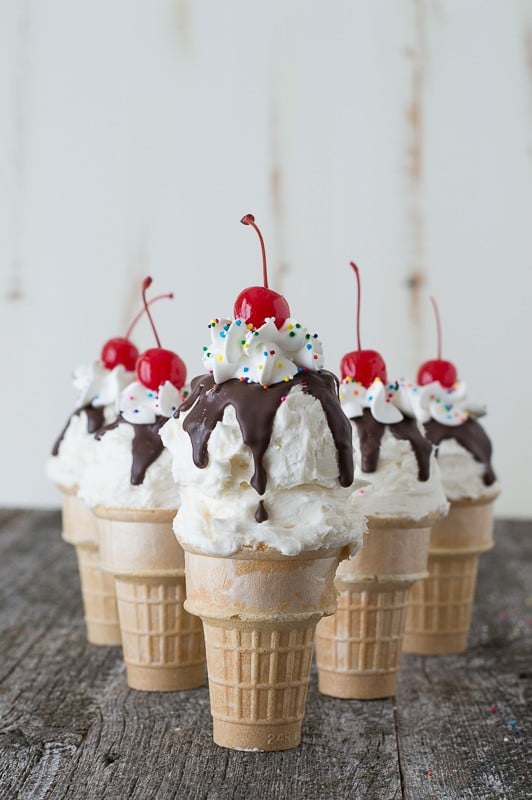 Earlier that same year, I accidentally hit the house we were renting while I was backing my car out, and took off a few shingles from the front of the house. I thought about trying to glue them back on, but realized they were ceramic and shattered into too many pieces.
So I just crossed my fingers and hoped our landlords wouldn't notice.
A few months after that incident, I came home to find a letter from my landlord taped to my bedroom door stating that I owed them a few hundred dollars to cover the cost of repairs. I was so mad, especially because I didn't have enough to pay for it!
I started to complain to my roommates, our house was in shambles anyways, why did they care about a few missing pieces? Well turns out.. April Fool's! My roommates had worked on creating this fake letter for a few days prior to April Fools Day, I didn't even realize it was April Fool's Day. But they even got the same letterhead design and name as our landlord. It looked really official, but I was relieved that it was fake!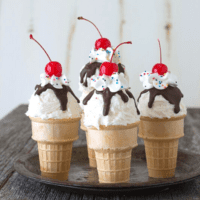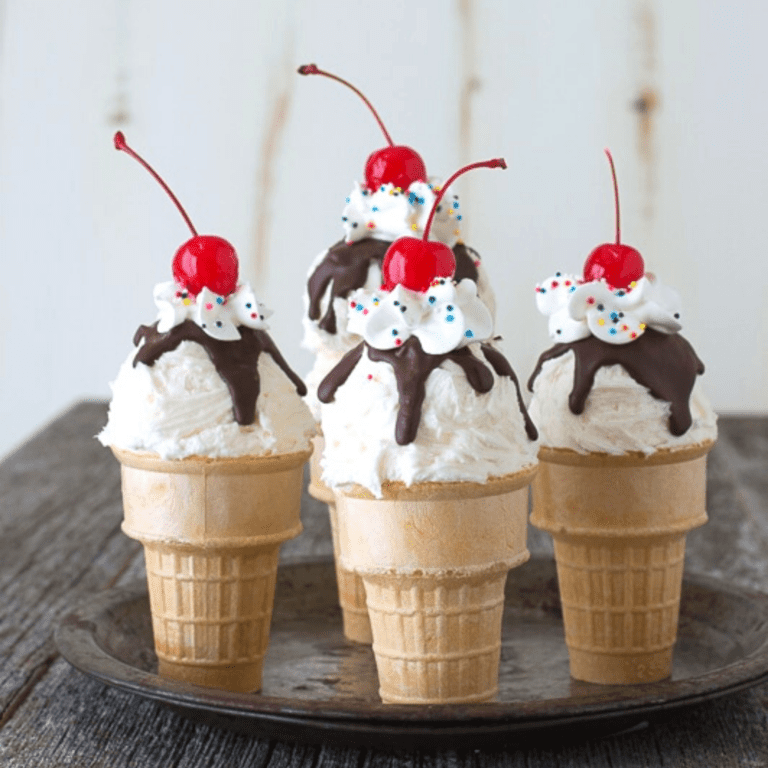 Ice Cream Cone Cupcakes
These delicious Ice Cream Cone Cupcakes will fool just about anyone! These surprisingly look like ice cream cones from afar, but look closely!
Print
Pin
Rate
Servings: 10 -12 ice cream cone cupcakes
Ingredients
Flat bottom ice cream cones
Cupcake ingredients see below
Vanilla buttercream ingredients see below
Chocolate Candiquik 2-3 squares
Vegetable shortening 1/2 tbsp
Cool whip
Sprinkles
Maraschino cherries
Cupcakes
1 ½ cups flour
1 tsp baking powder
½ tsp baking soda
¼ tsp salt
¾ cup sugar
2 large eggs
1 stick butter melted (1/2 cup)
1 ½ tsp vanilla
½ cup sour cream
Vanilla Buttercream
2 sticks butter room temperature (1 cup)
1 cup vegetable shortening
3.5-5 cups powdered sugar
½ tsp vanilla
dash of milk if frosting becomes too thick
Instructions
Cupcakes
Preheat the oven to 350 degrees F.

In a small bowl combine the flour, baking powder, baking soda, salt and sugar. Whisk and set aside.

In a mixing bowl combine the eggs, melted butter, vanilla, and sour cream until combined.

Slowly add half of the flour mixture to the liquid, stirring to combine. Repeat with the rest of the flour mixture.

To get the ice cream cones to stand up while baking, use a disposable foil baking pan and cut circles in the bottom of the pan that are large enough to hold a cone. Place the baking pan upside down on a regular baking sheet.

See here for a picture

.

Divide the batter among the ice cream cones, fill each about 1/2 full, they puff up a lot when baking.

Bake for 18-22 minutes or until a tooth pick inserted in the center comes out clean.

Remove from the oven and allow them to cool completely.
Buttercream
In a mixing bowl, combine the room temperature butter and shortening, beat using an electric mixer for 2 minutes, until light and fluffy.

Begin to add in the powdered sugar, about 1 cup at a time. Slowly beat the mixture until the powered sugar is incorporated. Continue this process, adding enough powdered sugar to make sure the frosting isn't too wet.

Add in the vanilla and beat until just combined. If the frosting becomes too thick, add in a dash of milk until you have the right consistency.
To assemble the cupcakes
Once the ice cream cone cupcakes are completely cooled, begin to add the frosting. Using a large cookie scoop, scoop buttercream frosting into the scoop as you would with ice cream. Use the cookie scoop release trigger to gently drop the frosting on top of each cupcake. Using a large cookie scoop to scoop the frosting will give the effect that the frosting is ice cream.

Melt 2-3 squares of chocolate candiquik and 1/2 tbsp vegetable shortening in the small bowl. Microwave of 50% powder for 2-3 minutes until the chocolate is melted. Stir to combine everything. Allow the chocolate to cool off slightly, about 3 minutes. Use a spoon to use chocolate on top of each cupcake. The chocolate should naturally harden and not drip all the way down the cupcake.

Pipe a dollop of cool whip onto each cupcake.

Add sprinkles and a maraschino cherry to each.

Serve and enjoy!
Notes
Equipment used: large cookie scoop used for scooping the buttercream to look like ice cream.
Nutrition
Calories: 773kcal | Carbohydrates: 76g | Protein: 4g | Fat: 52g | Saturated Fat: 24g | Polyunsaturated Fat: 7g | Monounsaturated Fat: 17g | Trans Fat: 4g | Cholesterol: 116mg | Sodium: 435mg | Potassium: 66mg | Fiber: 1g | Sugar: 57g | Vitamin A: 973IU | Vitamin C: 1mg | Calcium: 55mg | Iron: 1mg