Healthier Monster Cookie Bars
The BEST healthier monster cookie bars with no oil, butter, flour or sugar! Use coconut sugar or honey instead! Makes an 8×8 square pan so you don't have too many around!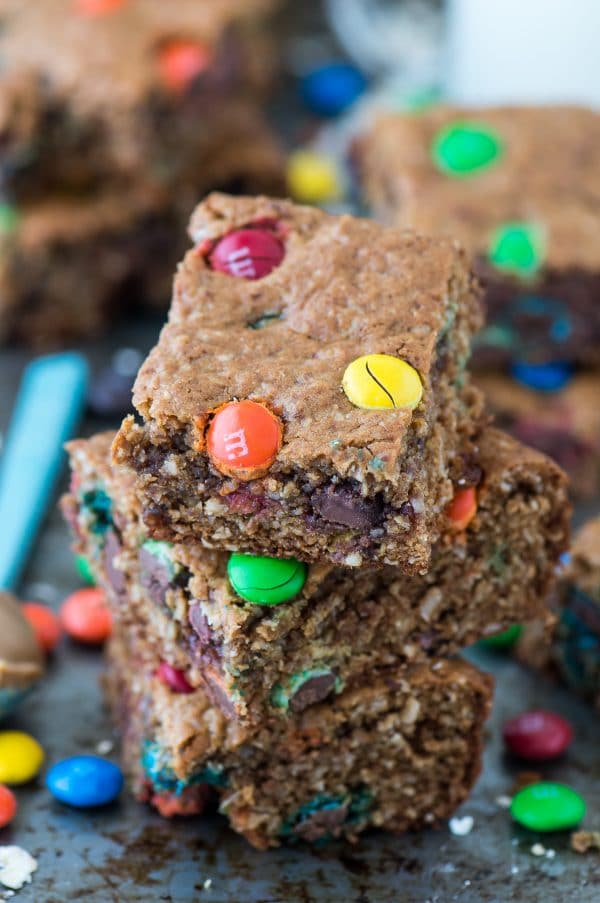 A few weeks ago I was asking the ladies in my bible study for recipe ideas.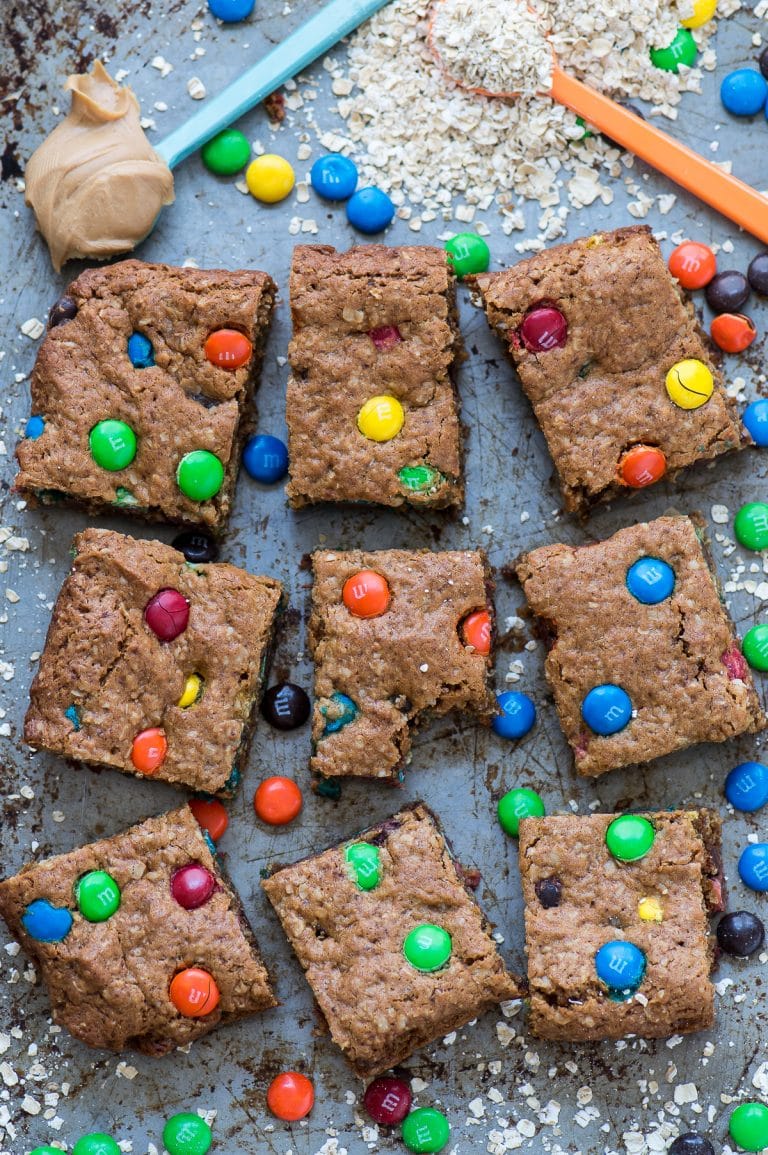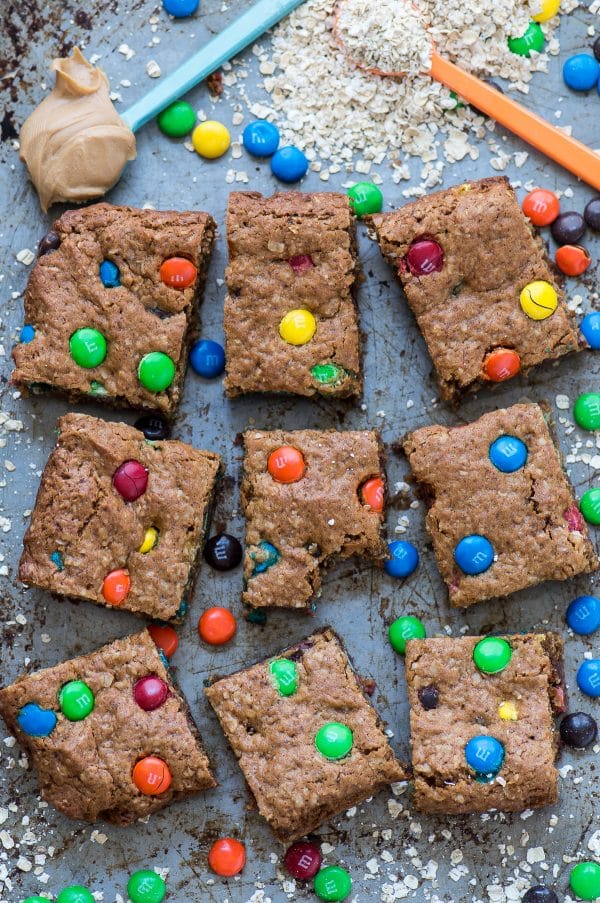 Let's be clear.. these friends are the type of girls who get up at 5am to work out, while I sleep for at least 2 more hours. Maybe I need to spend more time with them and it will eventually rub off on me. But I am pretty partial to afternoon workouts.
They said that they like when I post healthier dessert recipes (layered cakes are out the window, boo) but I thought about it, and I like when I share healthier desserts too, because I am more likely to re-make a quick & easy healthier sweet treat than a 3 layer cake and I figured there's probably a lot of you who agree with me!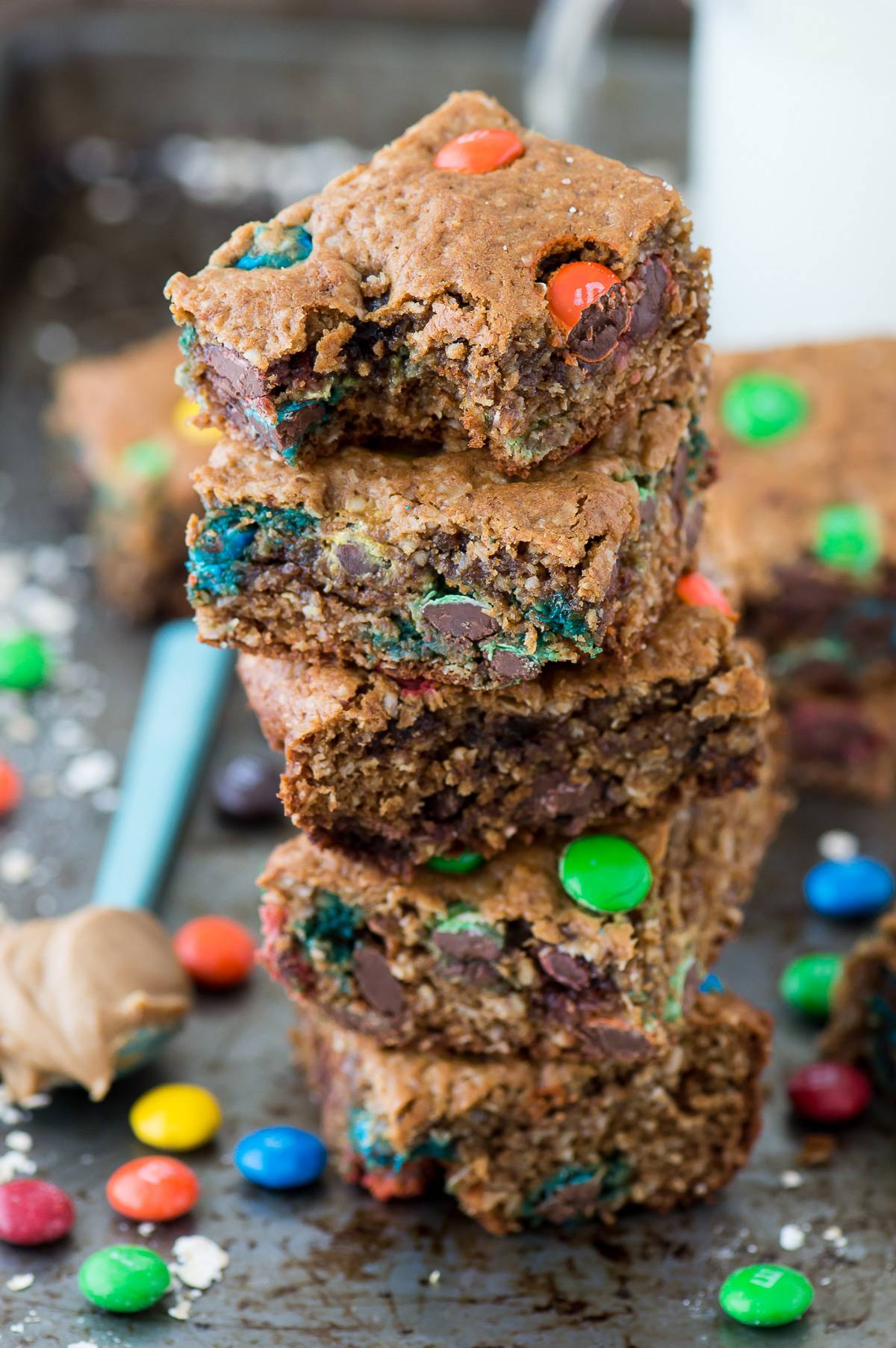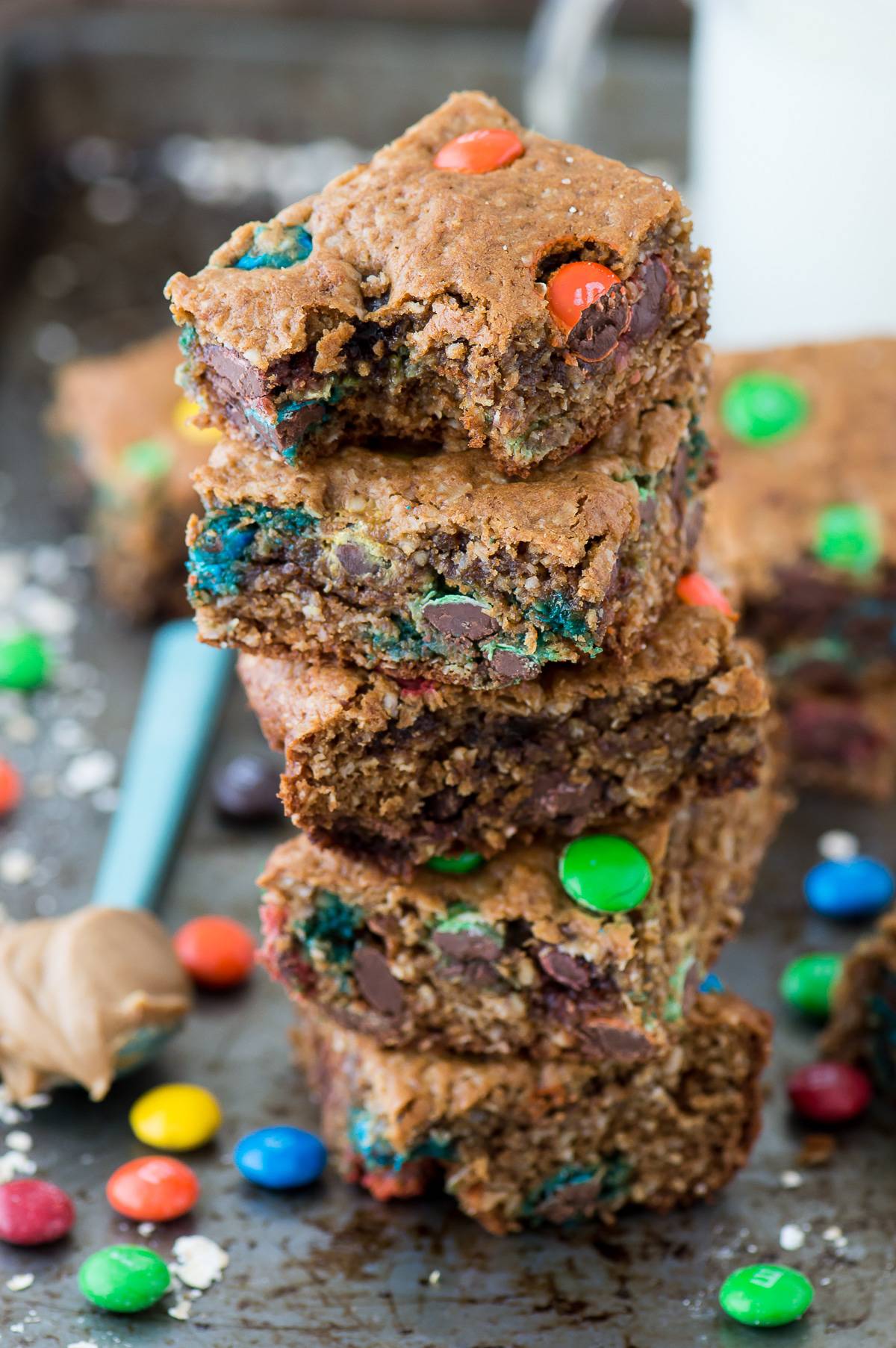 I've been dreaming about healthier monster cookie bars so I knew that was a good place to start.
This healthier recipe calls 3/4 cup of m&ms, and before you start commenting that m&ms are not healthy, I'm saying that this recipe is healthier than regular monster cookie bars. In a traditional monster cookie bar recipe you'll find 2 cups of sugar, a stick of butter, and up to 3 cups of m&ms and chocolate chips.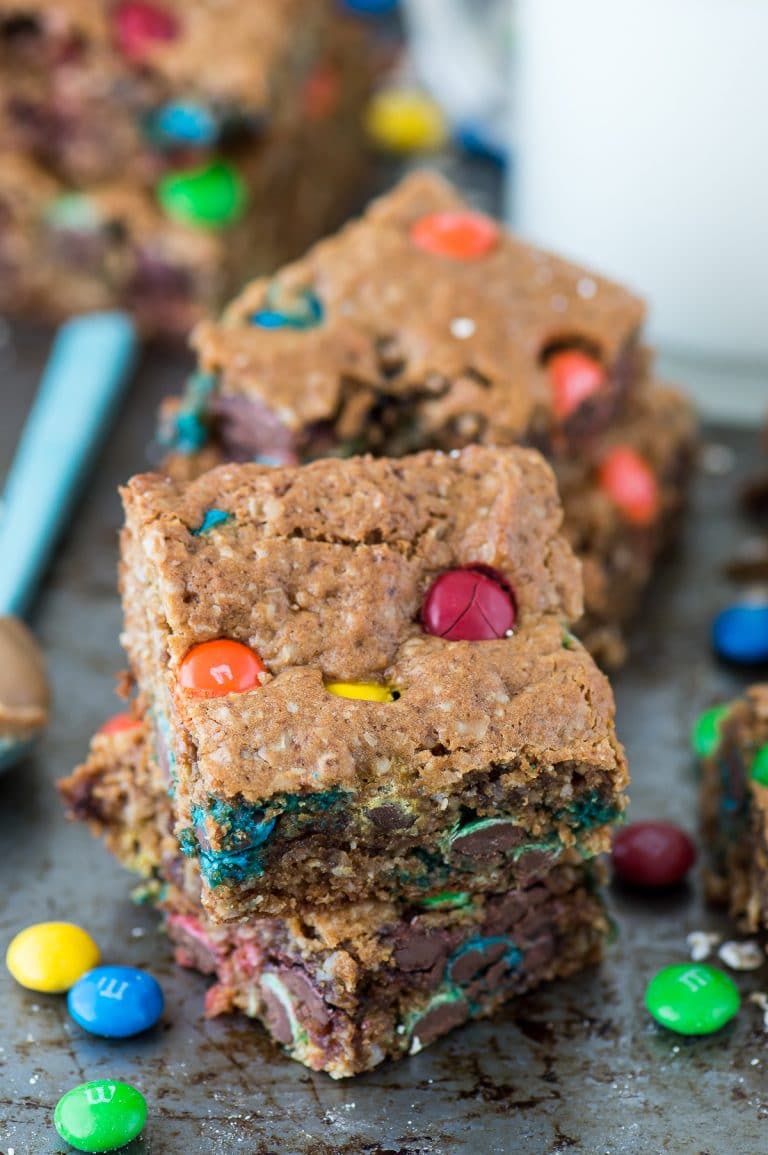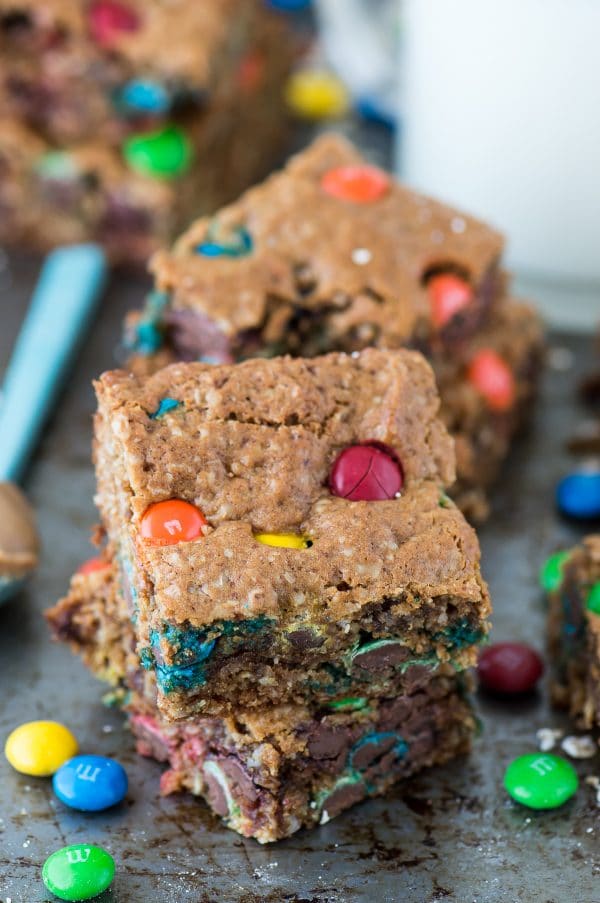 First, we scaled the recipe down to fit in a 8×8 square pan. Less in the beginning = less to eat :)
Second, we replaced the granulated and brown sugar with coconut sugar and/or honey. Still sugar, but healthier!
Third, we omitted the chocolate chips altogether and cut the m&ms back to 3/4 cup. Next time, I'd even scale it back to 1/2 cup. You could also use mini m&ms! You can go (semi) crazy because they're healthier!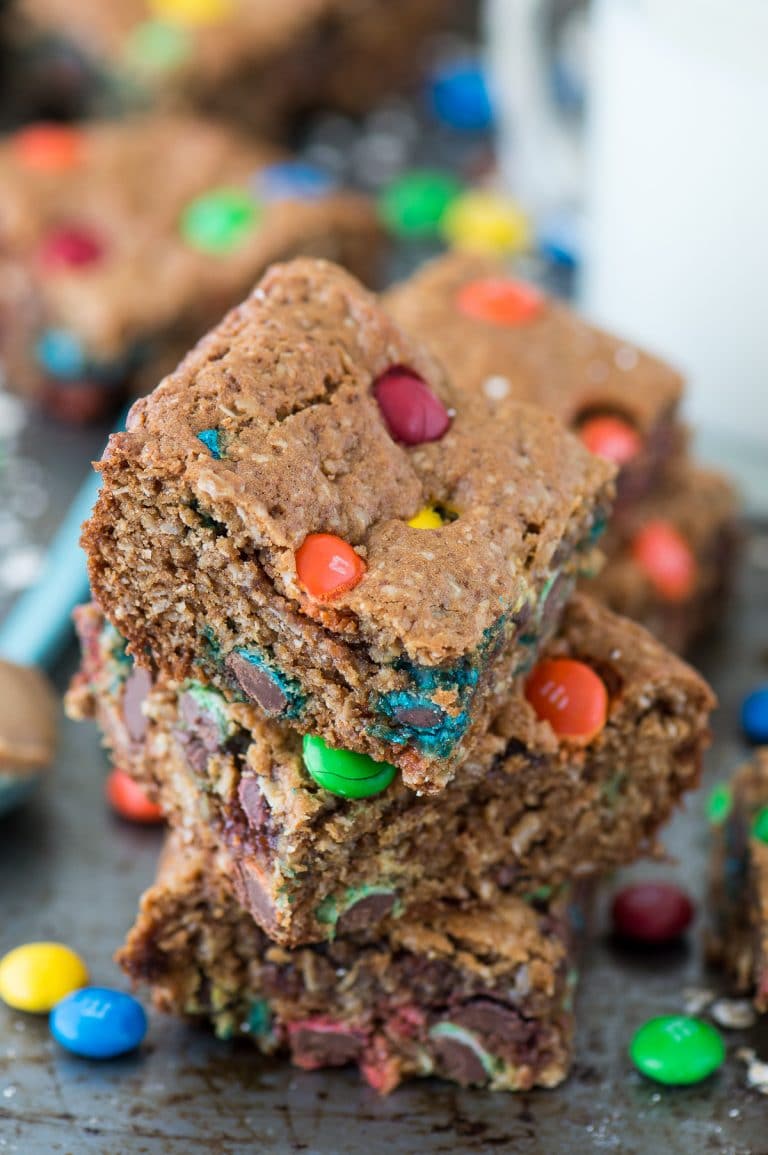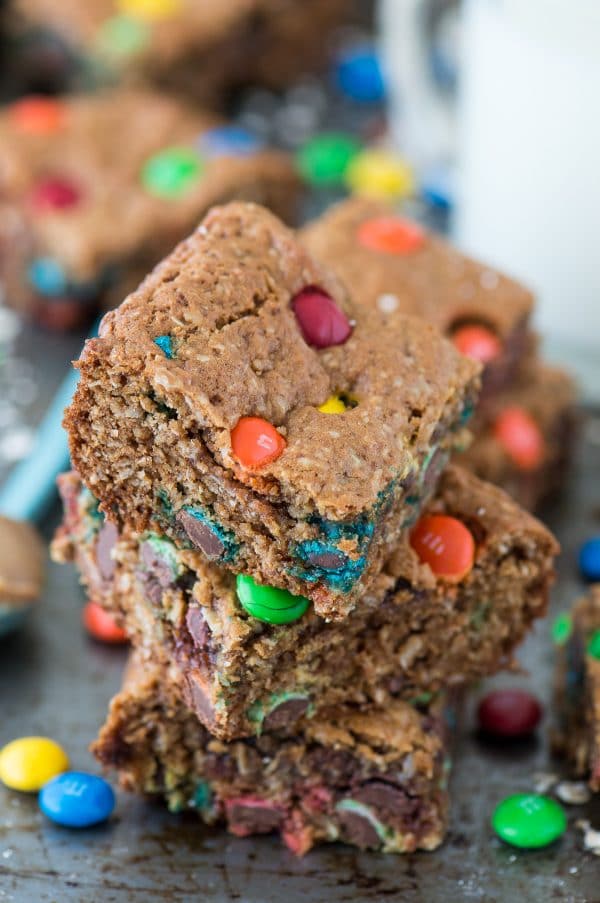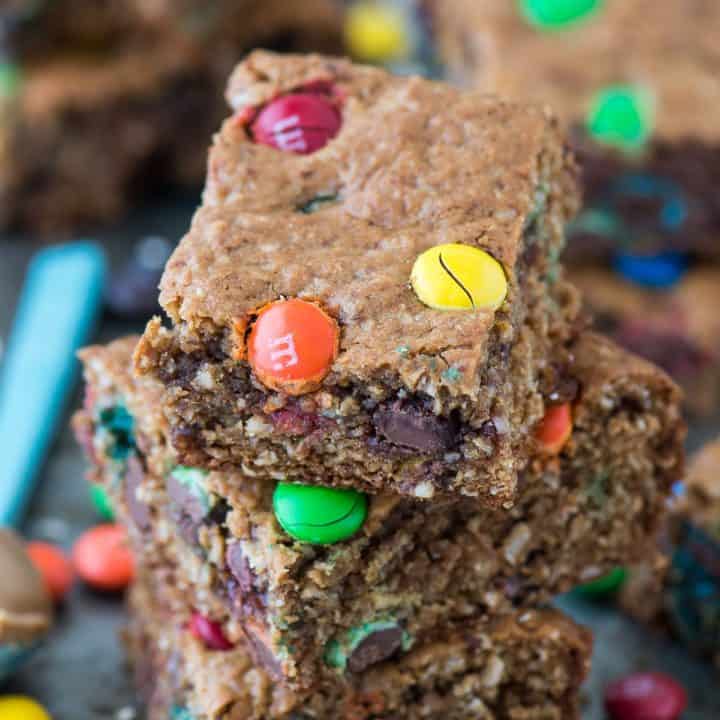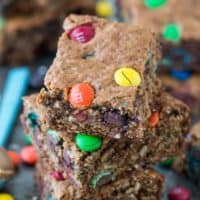 Healthier Monster Cookie Bars
Yield: 8x8 inch pan
Additional Time: 30 minutes
Total Time: 30 minutes
Ingredients
1 cup creamy peanut butter
2 tbsp honey
1/3 cup coconut sugar
2 eggs
1 tsp vanilla
1 & 1/2 cups quick cooking oats
1 tsp baking soda
1/4 tsp salt
3/4 cup m&ms
Instructions
Preheat the oven to 350º F.
Spray or line an 8x8 inch square baking pan with cooking spray or aluminum foil/parchment paper.
In a mixing bowl, combine the peanut butter, honey and coconut sugar, using a spatula or electric mixer.
Add in the eggs and vanilla, mix until incorporated.
Add the quick cooking oats, baking soda, and salt. Mix gently by hand.
Mix in the m&ms.
Pour the monster cookie mixture into the pan and use a spatula or your hands to evenly distribute the batter. The batter will be thick.
Bake for 18-23 minutes, or until the bars begin to turn golden on top.
Remove from the oven and allow the bars to cool completely before cutting.
Store in an airtight container.