Galaxy Monkey Bread Muffins
Galaxy Monkey Bread Muffins! Monkey bread turned into muffins with galaxy sprinkles and black cream cheese glaze! These are out of this world!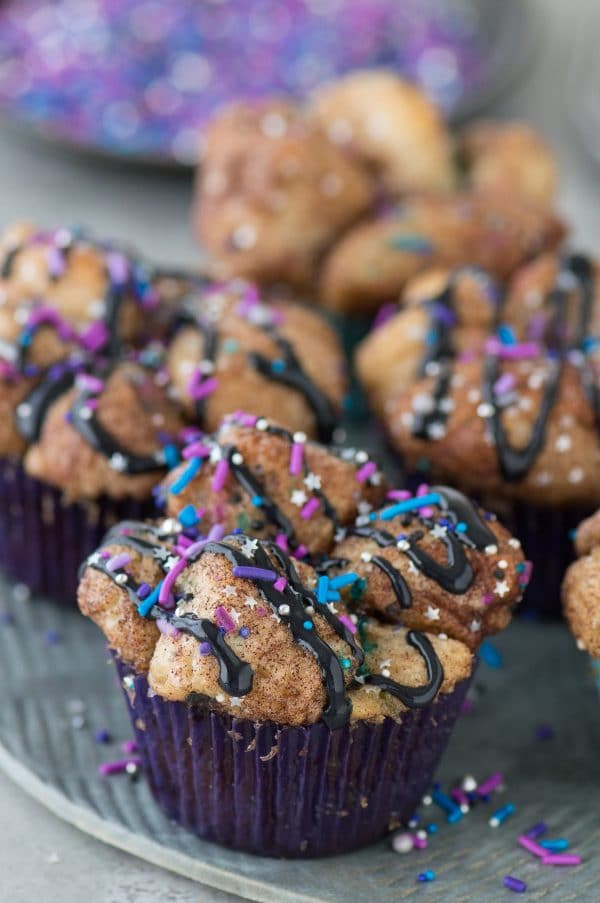 I hope you've tried the deliciousness that is monkey bread before! It's amazing. Like a cross between a cinnamon roll and cinnamon roll bites.
Monkey bread is typically made in a bundt pan but you can scale the recipe down and make it in a muffin pan! That way you get individual monkey bread muffins and they bake quicker so you get to enjoy them sooner!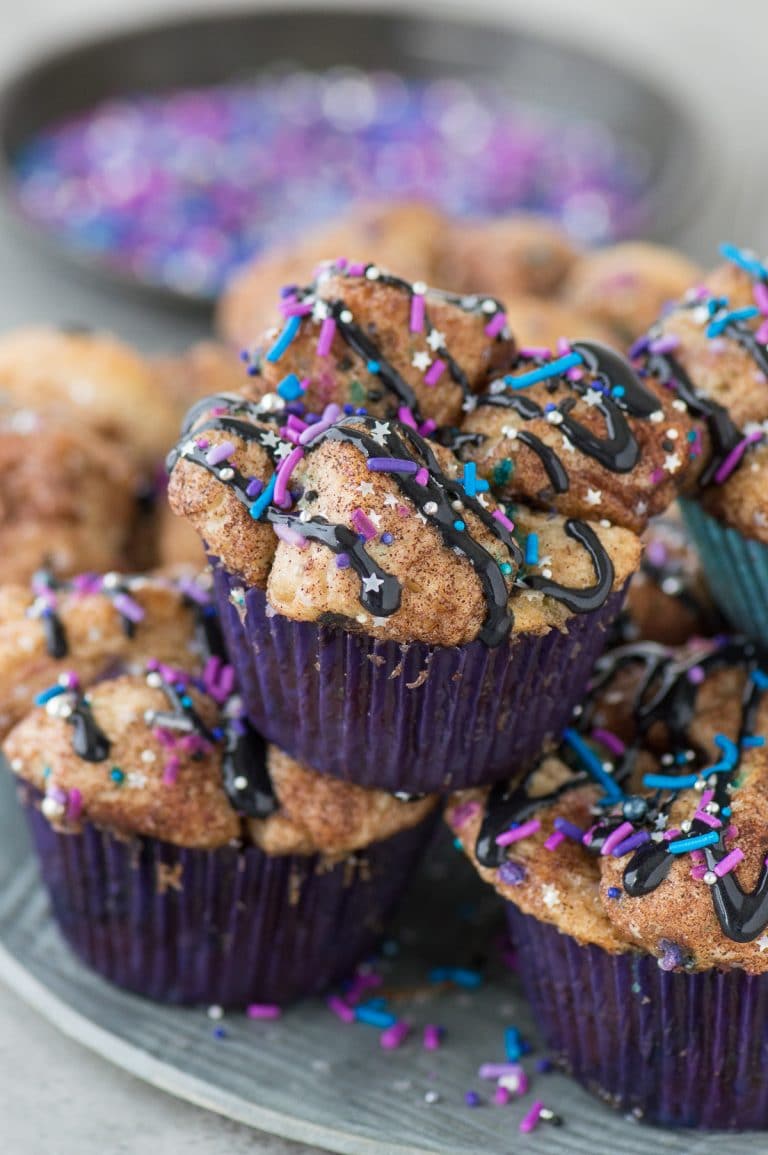 I used two 12 oz cans of refrigerated biscuit dough and that made 12 large muffins.
I have to admit that I am a little afraid of canned biscuit dough! It scares me when I have to pull the paper off to get the can to pop.
And then sometimes it doesn't pop and you have to whack it against the kitchen counter like 5 times. I usually ask Ryan to open the dough because I hate the surprise element – reminds me of a jack-in-the-box!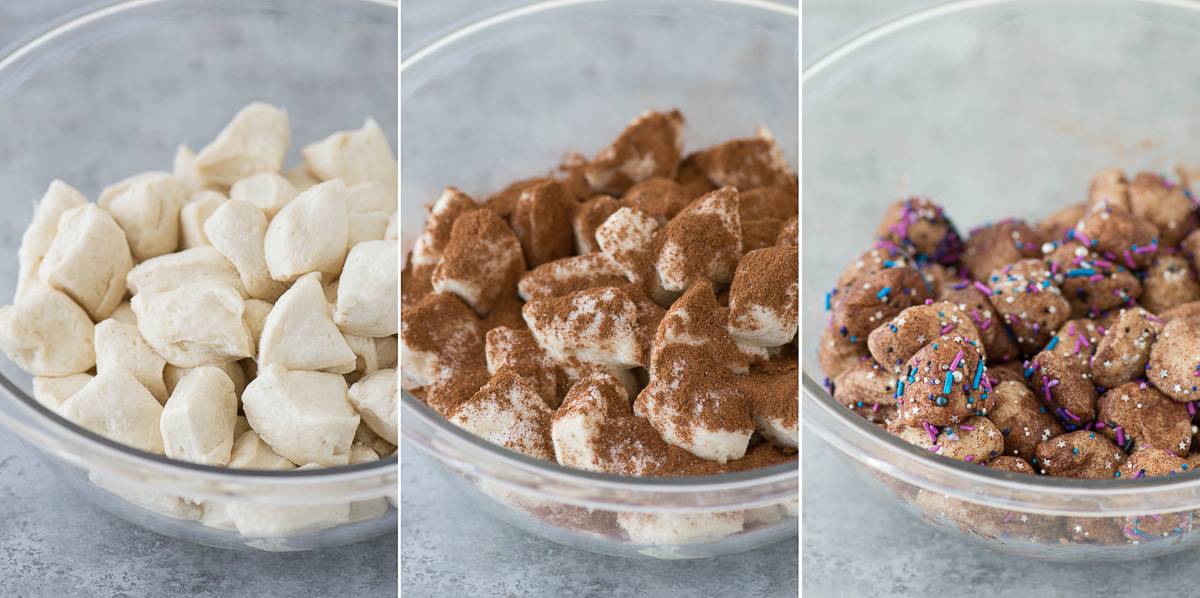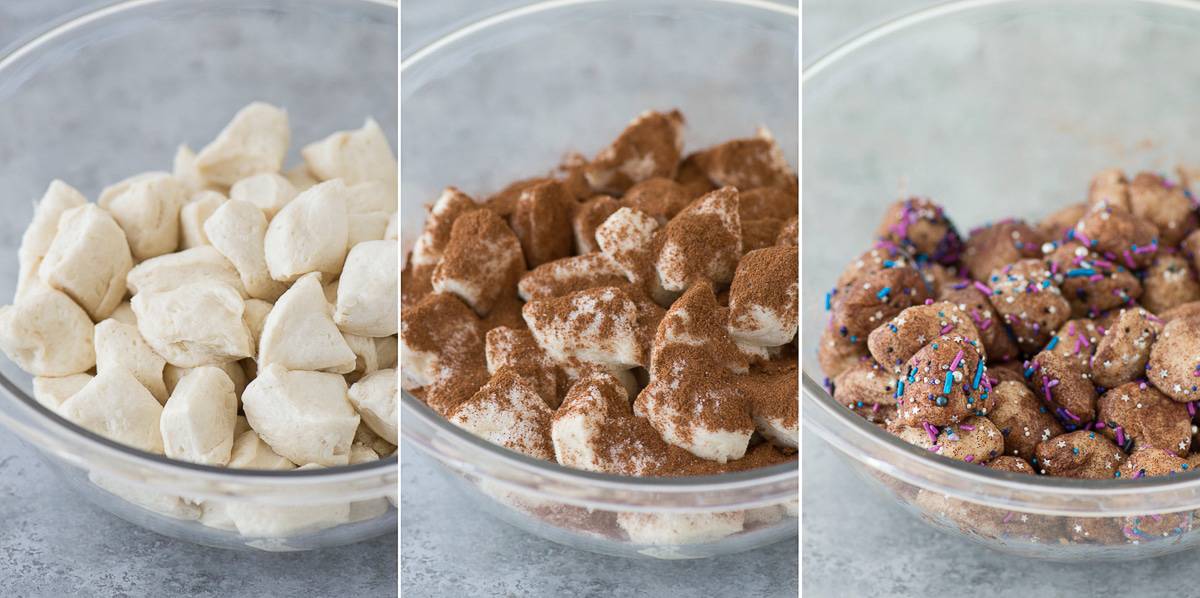 After the biscuits are opened, cut each biscuit into 4ths or 8ths. The only difference is how small you want each individual cinnamon bite to be. I cut mine into 4ths and didn't see have issues with that. I may try cutting them into 8ths the next time around just for kicks – so it's up to you!
Once the biscuits are cut, place them in a bowl or ziploc bag. Add the sugar, cinnamon and sprinkles, then cover the bowl or close the bag and shake until the pieces are evenly covered.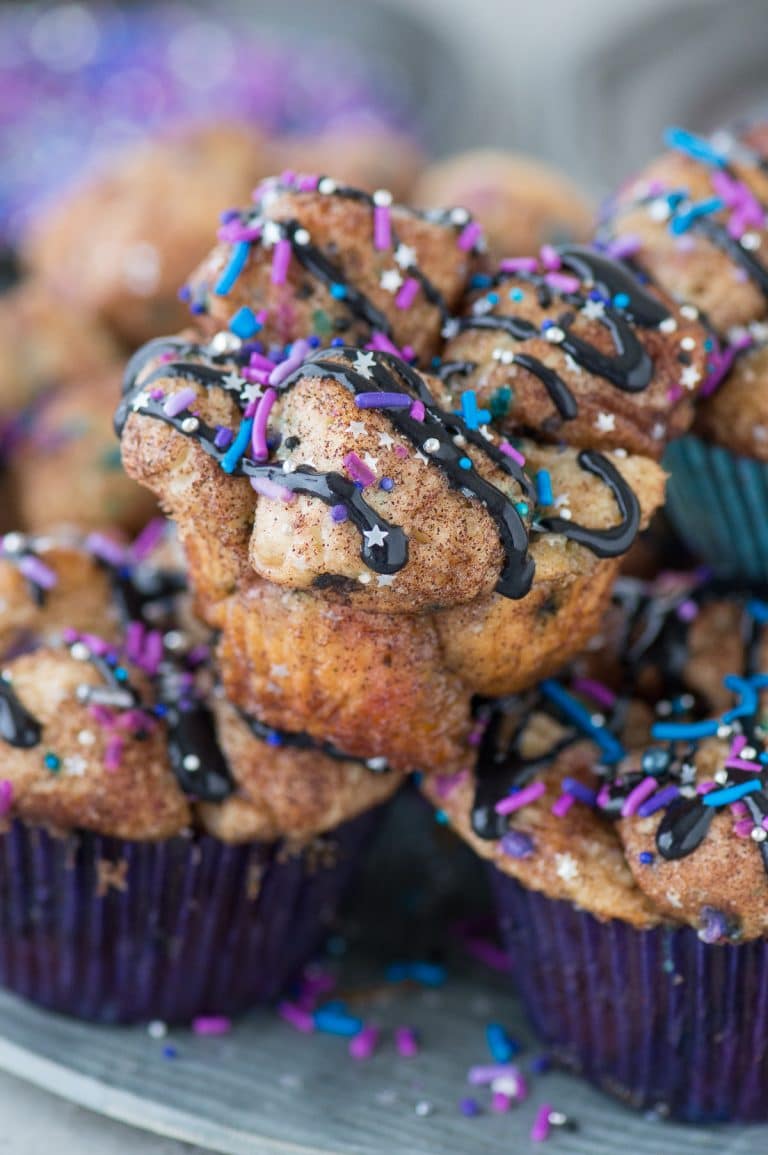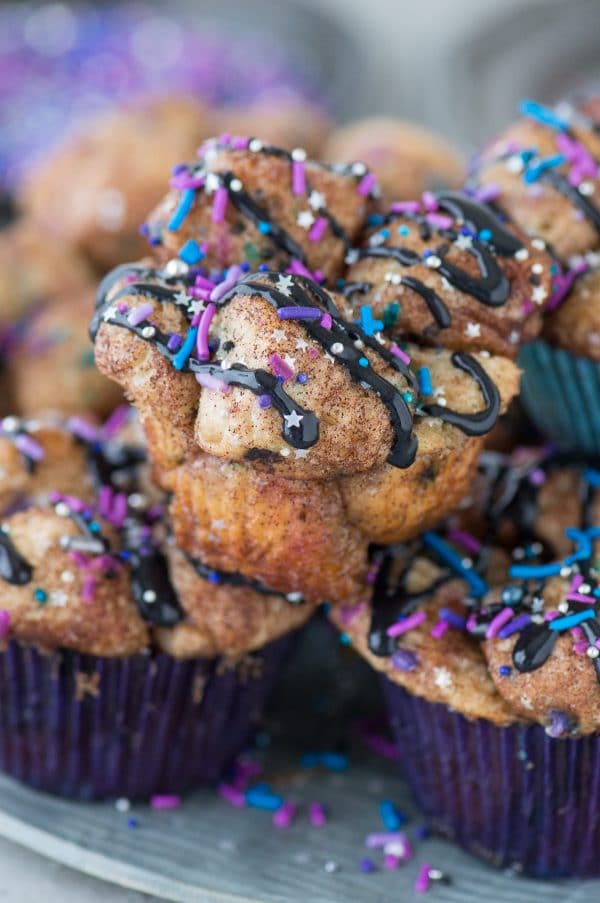 I bought a container of sprinkles from the Sweetapolita Shop to use in this recipe for a galaxy cake roll and I was really surprised by how long the container is lasting. It only contains 1 cup of sprinkles but I used a generous amount for the cake roll and that bottle was still about 6/8ths full!
So I decided that the galaxy sprinkles would make another appearance so now we have galaxy monkey bread muffins!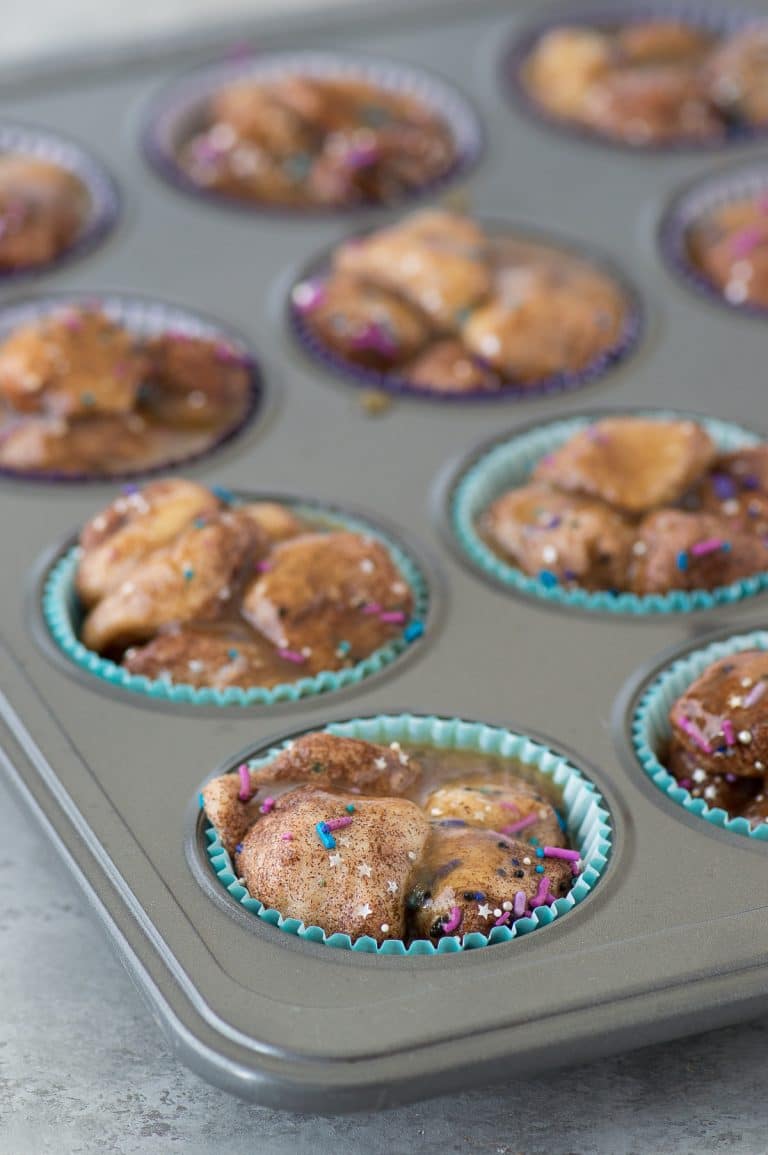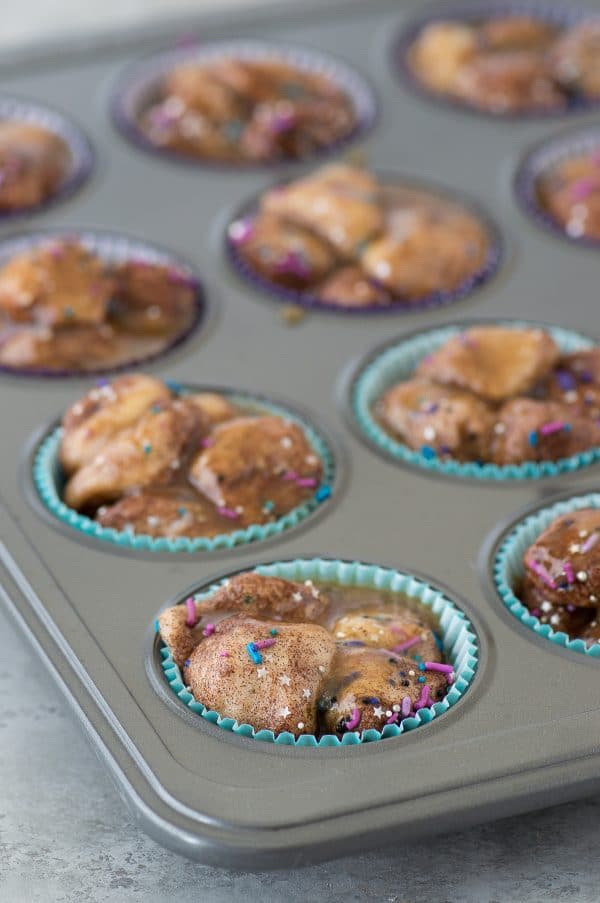 How could any kid or adult say no to a cinnamon roll muffin decked out with awesome sprinkles and out of this world galaxy black glaze?!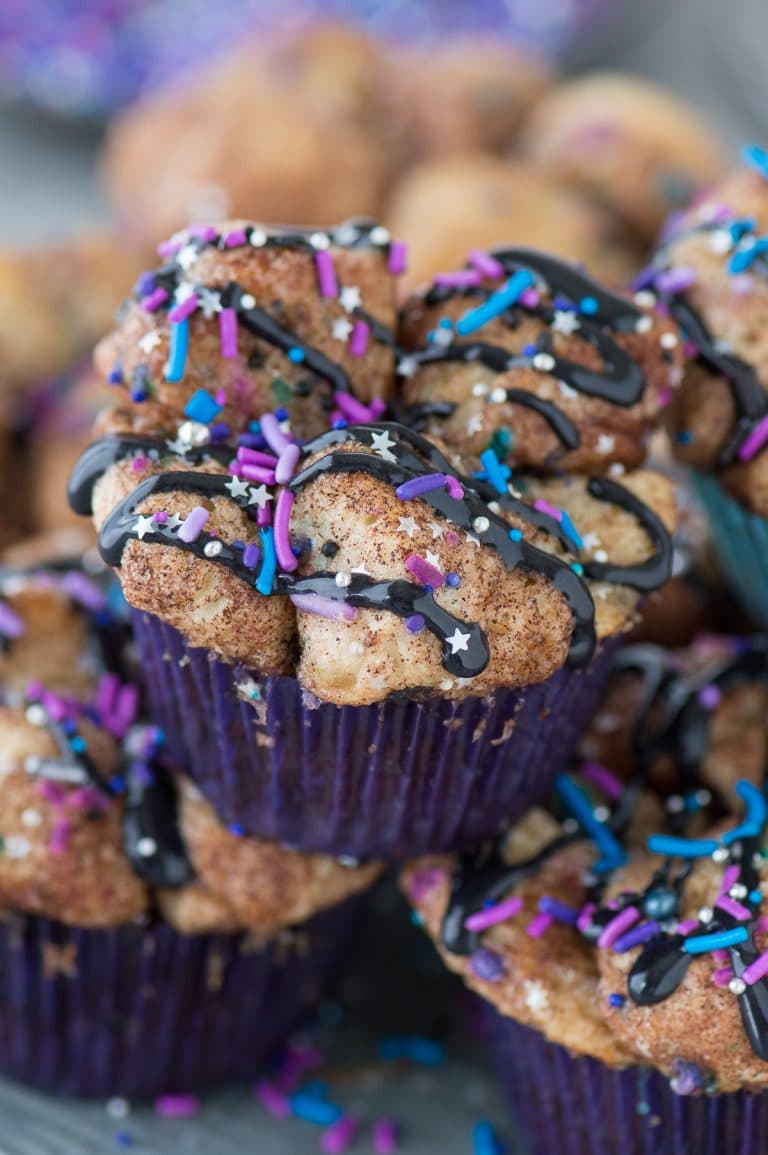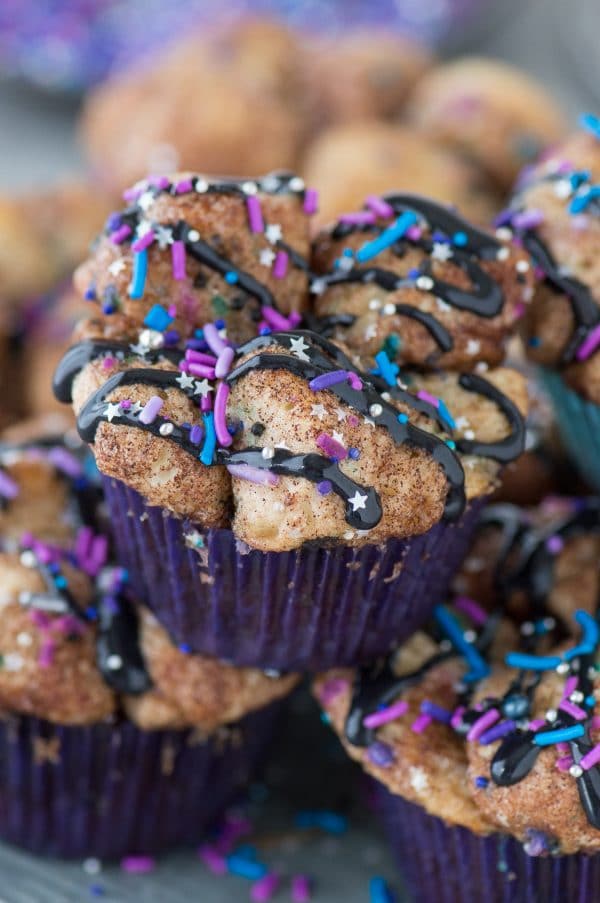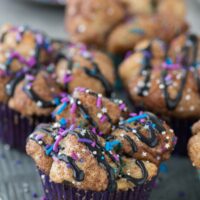 Galaxy Monkey Bread Muffins
Ingredients
Muffins
2 packages (12 oz each) refrigerated biscuit dough
1/4 cup granulated sugar
2 tbsp cinnamon
1 & 1/2 tbsp galaxy sprinkles, from Sweetapolita Shop
Cinnamon glaze
1/2 stick melted butter
1/2 cup brown sugar
1/2 tbsp milk
Cream cheese frosting
4 oz cream cheese, softened
1 cup powdered sugar
1 tbsp milk
black gel food coloring
Instructions
Preheat the oven according to the directions on the biscuit dough container - either 350 or 375ºF. Place a muffin liner in each muffin well.
In a small pot over medium-low heat, melt the butter, brown sugar and milk, bring to a boil, then remove from the heat.
Cut each biscuit into 4ths or 8ths using a pair of clean scissors. Place the dough in a bowl or ziploc bag. Add the sugar, cinnamon and sprinkles, then cover the bowl or close the bag and shake until the pieces are evenly covered. Add 6-7 biscuit pieces to each muffin well, pressing them together. Pour the cinnamon glaze evenly over each muffin. Bake for 13-17 minutes or until the biscuit pieces are no longer doughy.
Allow the muffins to cool for 10 minutes before removing from the pan. Use a knife to help remove them from the pan.
In a small mixing bowl, use an electric mixer to beat the cream cheese, powdered sugar, milk, and black gel food coloring for 1-2 minutes, or until smooth and completely incorporated. Drizzle the glaze over the monkey bread muffins. Top with additional sprinkles and serve warm.