Football Pudding Cups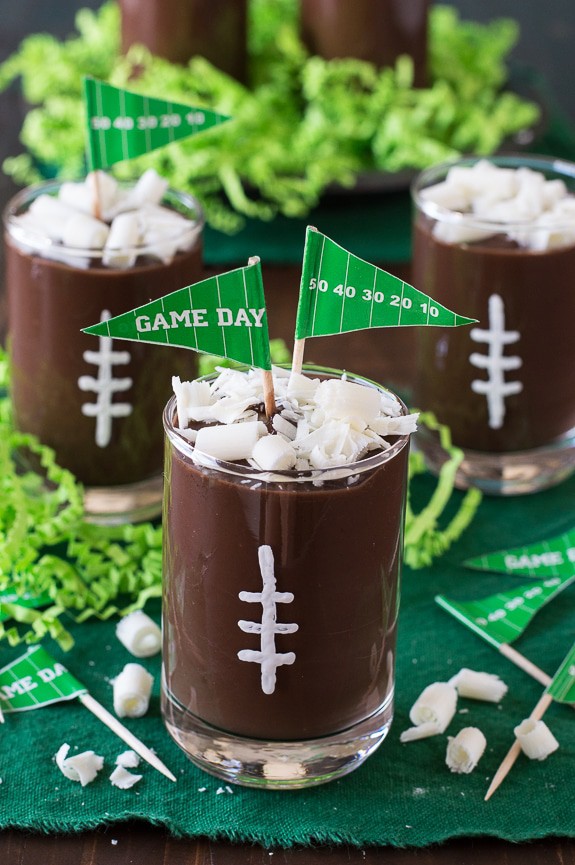 Last year I set out to understand football.
It takes up so much time on the television schedule between sundays, mondays, and saturdays that I found myself with nothing to watch but football at times.
But there's a problem.. I don't understand football. There's so many players and lines and pauses in the game. I can't even see the ball because it's being cuddled by some player.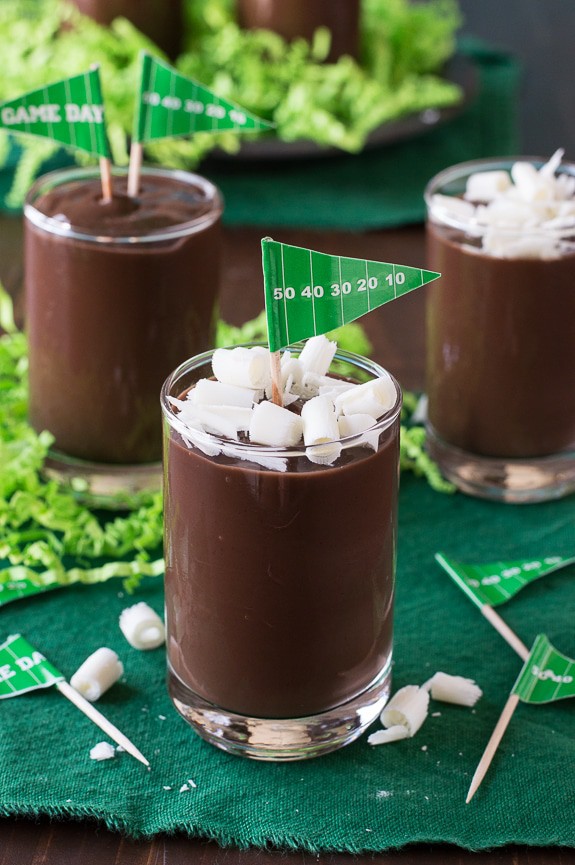 So I tried. I intentionally watched one game. It didn't last long. So next I tried to watch a game with Ryan but he couldn't focus on what was going on because I had a question every other minute. "What was that" "Who has the ball" "Why did he run out of bounds"
But this could be the year! I could become the biggest football fan. I just need to pick a team to cheer for and make sure I have a really good line up of food.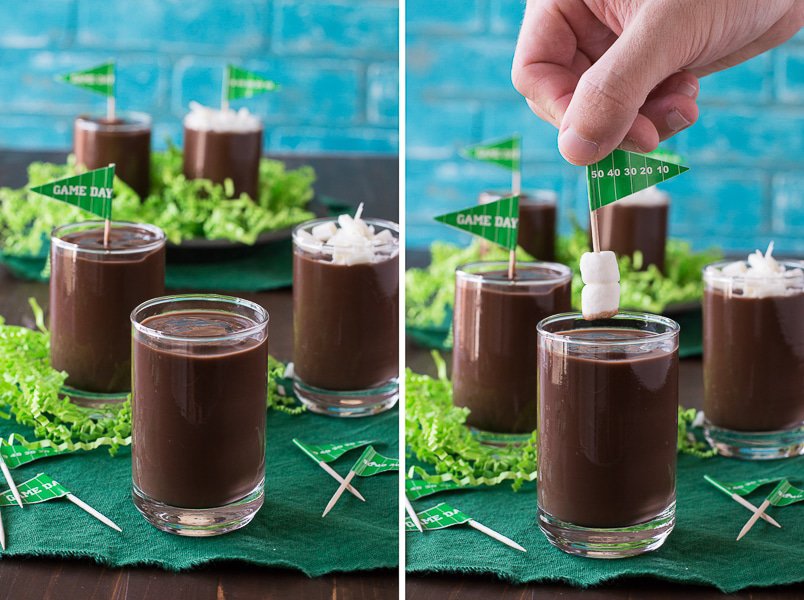 If you've been reading for a while you know that I don't just make cookies to munch on while I watch (or attempt) to watch football.. I'll make football shaped cookies with chocolate frosting and white icing for the stitches. It's go big or don't go at all in the cute treat department.
This fall we're teaming up with Silk to share a dairy free dessert that will get you in the mood for monday night football! Cute football food is exactly what I need to help me cheer on my favorite team.. aka, go whoever has the most points!!!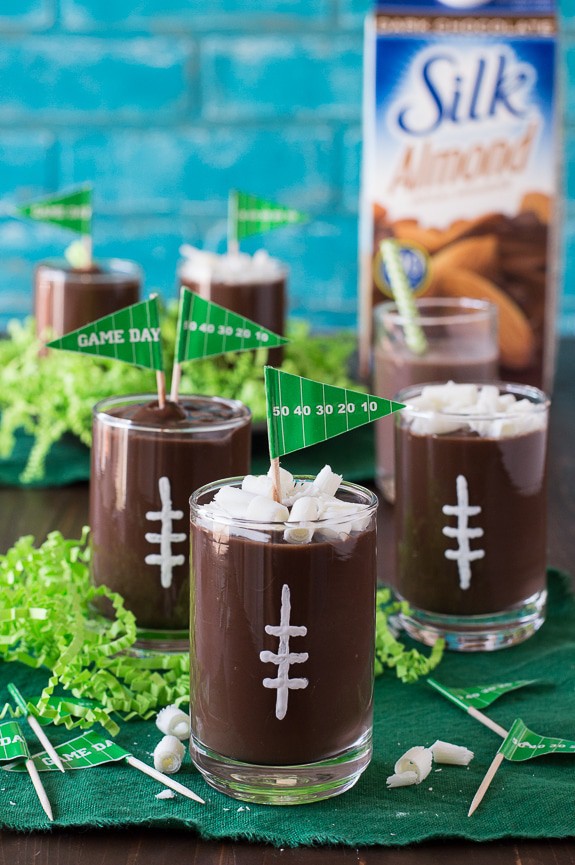 We easily made this homemade pudding dairy free by using Silk Dark Chocolate Almond milk. Which why haven't I been using chocolate almond milk for everything?! It's chocolatey, smooth, and perfect for those who want a diary free milk option.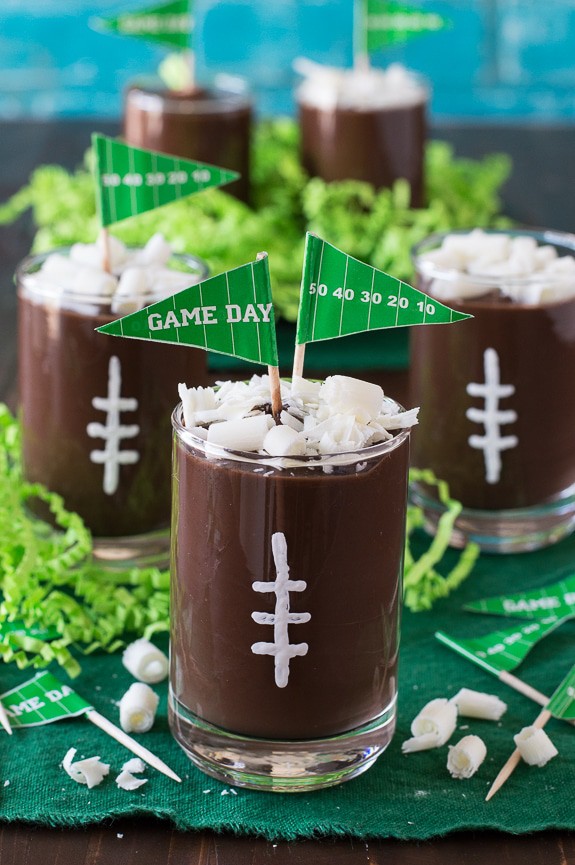 After you make the pudding and it's cooled down in the fridge, divide the pudding among glasses and allow it to set for 2-4 hours or overnight. To jazz up the glasses use some washable white paint to paint on the football stitches 30 minute before serving. For an extra touch we added dairy free white chocolate curls and some fun football food picks. To get the football pick to stay in the middle of the pudding, place two 2 mini marshmallows on the toothpick, then place the pick in the pudding.
Now I'm actually looking forward to the next monday night football game!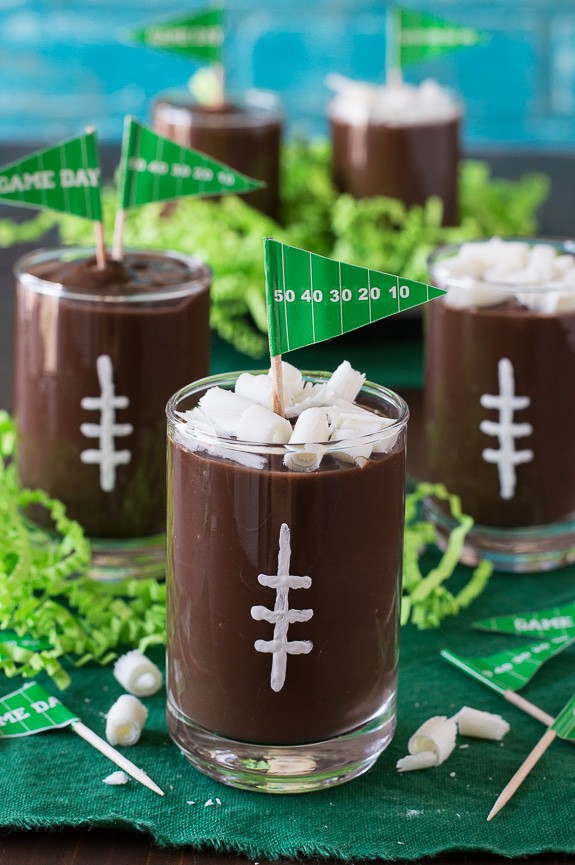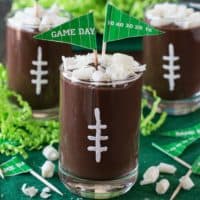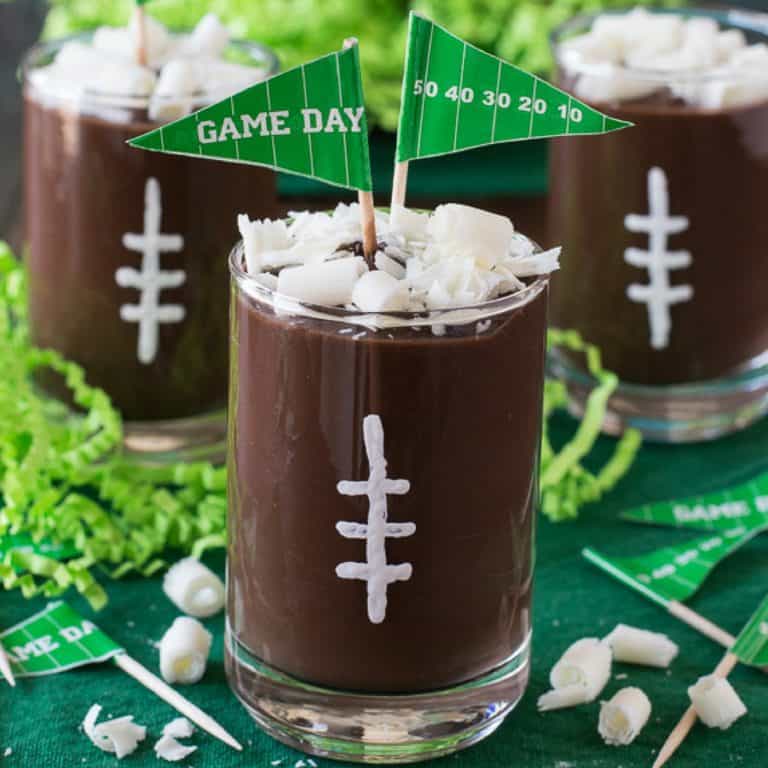 Football Pudding Cups
This homemade dairy-free chocolate pudding is perfect for your next game day gathering.
Ingredients
⅓

cup

sugar

3

tbsp

cocoa powder

¼

cup

corn starch

2 ½

cups

Silk Dark Chocolate Almond Milk
Instructions
In a medium pot, combine the sugar, cocoa powder and corn starch over medium heat.

Slowly add in the Silk Dark Chocolate Almond Milk, whisking constantly to avoid any lumps. Allow the mixture to come to a boil over medium to high heat, this may take up to 10 minutes.

Once boiling allow the mixture to continue to boil for 2-3 minutes as it thickens. Be sure to whisk constantly.

Remove the pudding from the heat and allow it to cool on the counter or in the refrigerator until the pudding is cool enough to divide among the glasses.

Cover each glass with plastic wrap and allow the pudding to set for 2-4 hours or overnight.

30 minutes before serving, remove the pudding from the fridge, wipe off any condensation and paint on the white football stitches if desired. Allow the paint to dry.

Right before serving, top each glass with dairy free white chocolate curls and a football food pick, which you can find on 

Amazon

.
Calories:
84
kcal
,
Carbohydrates:
18
g
,
Protein:
1
g
,
Fat:
2
g
,
Saturated Fat:
1
g
,
Polyunsaturated Fat:
1
g
,
Monounsaturated Fat:
1
g
,
Sodium:
137
mg
,
Potassium:
38
mg
,
Fiber:
1
g
,
Sugar:
11
g
,
Calcium:
128
mg
,
Iron:
1
mg
This conversation is sponsored by Silk. The opinions and text are all mine.