Espresso Coconut Macaroons
Delicious and chewy espresso coconut macaroons! Naturally gluten free dessert, espresso coconut cookie.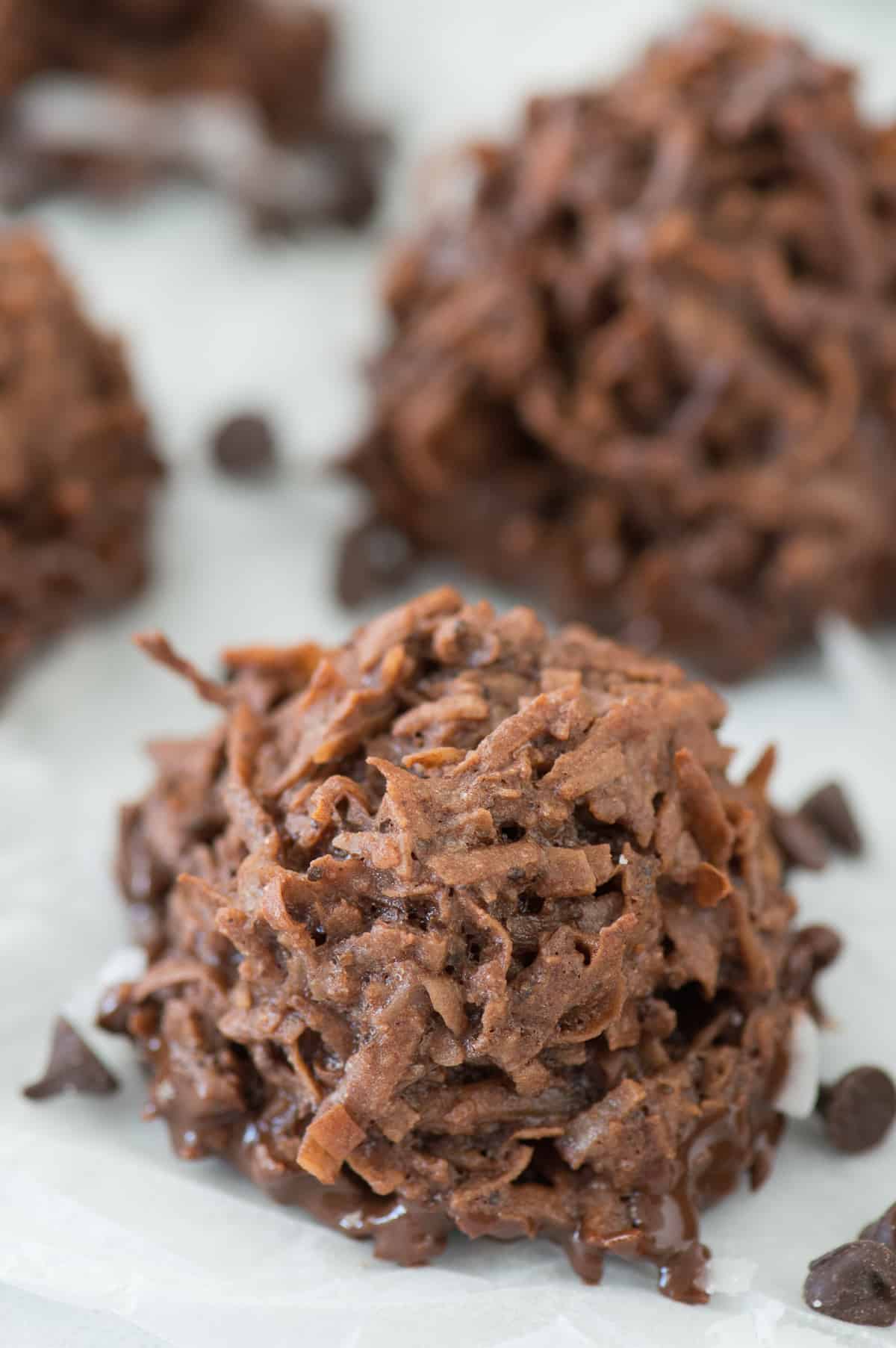 The one thing I really enjoy about being a food blogger is trying new types of desserts that I wouldn't normally make.
I like to stay within my comfortable bubble, making things that are familiar to me, but the accomplishment I feel when something new turns out great encourages me to keep trying new things!

So, this is our first ever macaroon recipe!
It's important to know the difference between coconut macaroons and french macarons (also called macaroons). French macarons have becoming more popular lately – those are the cookie like sandwiches that come in lots of different flavors.
Coconut macaroons are coconut based "cookies" where the bottom of the cookie can be dipped in chocolate. Coincidentally, both desserts are naturally gluten free!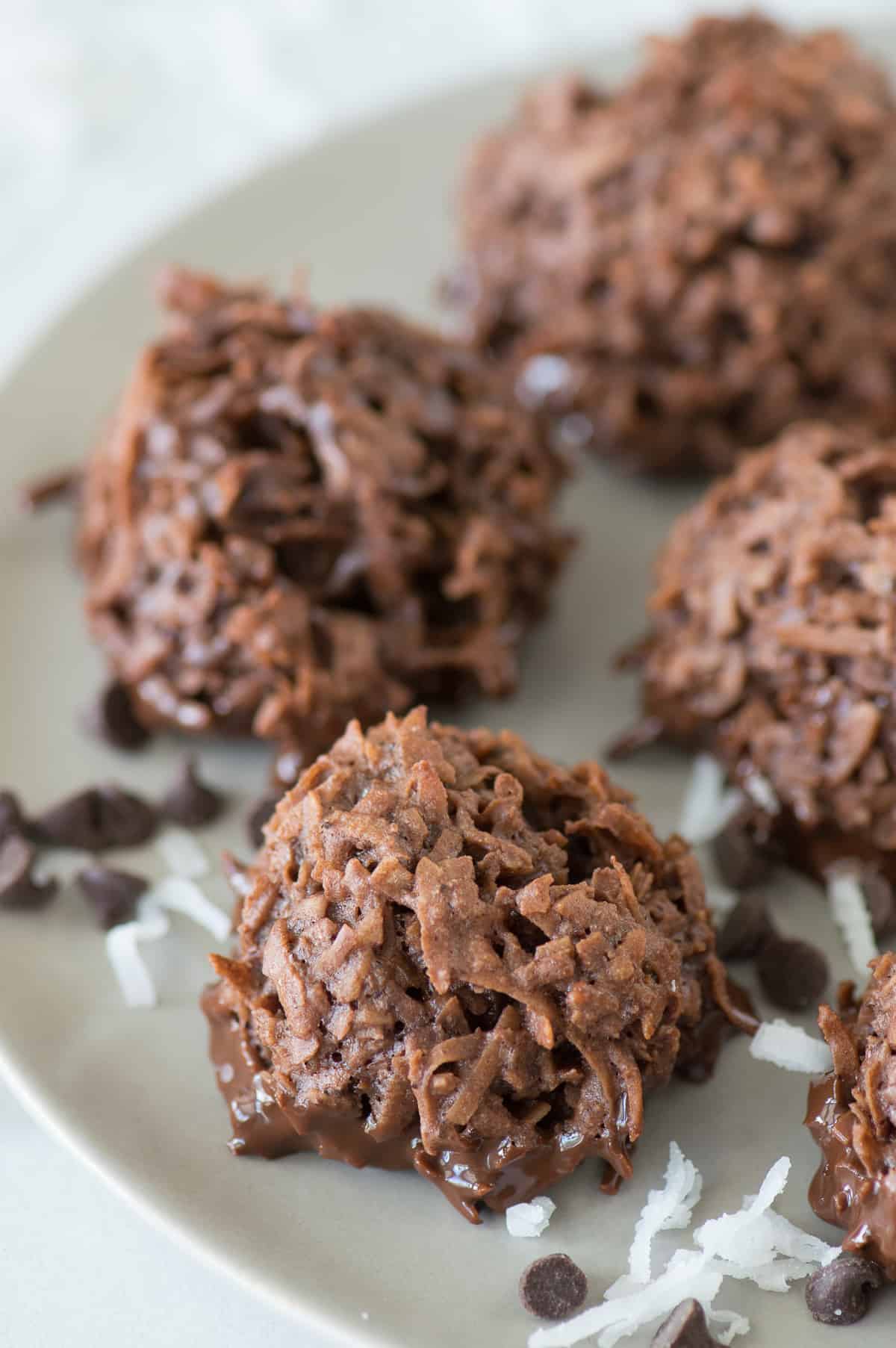 We're sharing a coconut macaroon recipe that has a delicious espresso flavor!
I am a coffee flavored dessert fan despite the fact that I don't actually drink coffee, because my body doesn't handle caffeine well.
But you tell me that something is coffee flavored and I'm all over it!
You'll need to use instant coffee in this recipe. We have instant decaf coffee in our pantry because we'll use it in brownie recipes or homemade coffee ice cream. If you don't have instant coffee at home, you could use espresso powder or espresso grounds. I haven't tried this recipe myself with espresso grounds, but it will achieve a similar flavor. Let me know if you try it with espresso grounds!
Have leftover coconut? Make cocadas! They are a popular coconut based cookie from South America.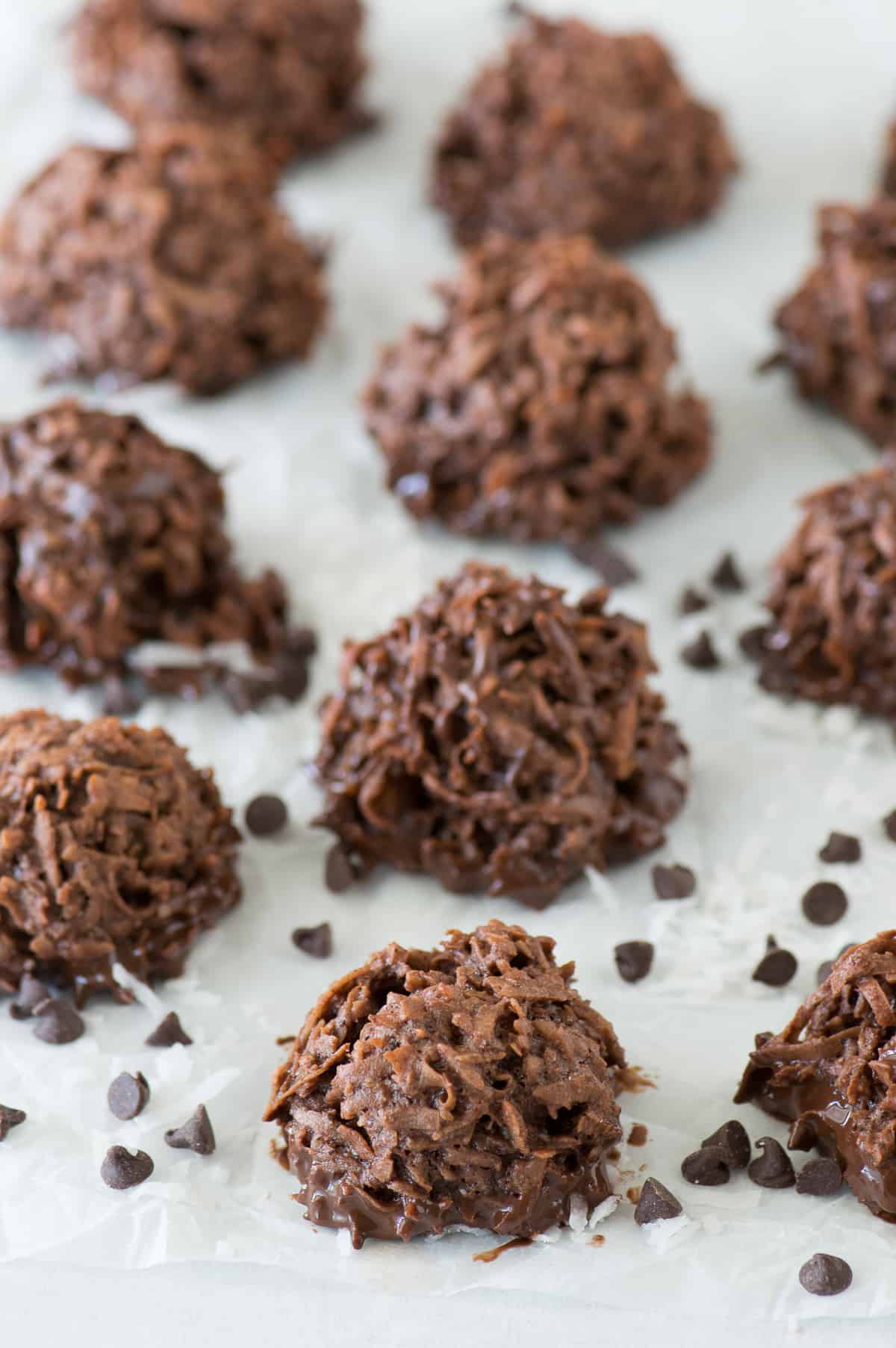 Espresso coconut macaroon video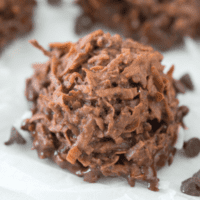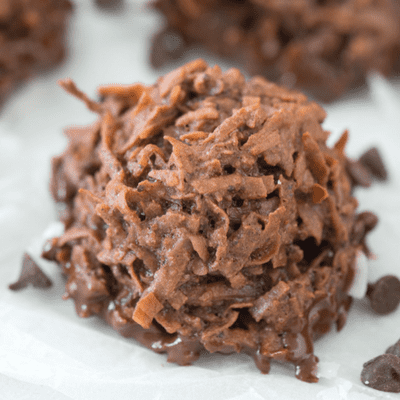 Espresso Coconut Macaroons
Yield:
14
coconut macaroons
Delicious and chewy espresso coconut macaroons! Naturally gluten free dessert, espresso coconut cookie.
Ingredients
2

large

egg whites

⅛

tsp

salt

½

cup

sugar

2

tsp

instant coffee

2

tbsp

cocoa powdered

1

tsp

vanilla extract

3

cup

shredded coconut
Instructions
Preheat the oven to 325º F.

In a mixing bowl, beat the egg whites and salt until frothy, about 1-2 minutes.

Gradually add in the sugar, while continuing to beat the mixture.

Gradually add in the instant coffee, cocoa powder, and vanilla extract while continuing to beat the mixture.

Use a spatula to hand mix in the shredded coconut.

Line a baking sheet with a silicone baking bat or parchment paper. Use a cookie scoop and your hands to form mounds, place the mounds of the baking sheet, about 1 inch apart. Bake for 25-30 minutes or until the macaroons feel firm on the outside to the touch.

Allow the macaroons to cool for 10 minutes before removing them from the pan. Allow them to cool completely. Optional, dip the bottoms in chocolate (like melted chocolate candiquik or melted candy melts).

Store in an airtight container for up to 1 week.
Calories:
130
kcal
,
Carbohydrates:
17
g
,
Protein:
1
g
,
Fat:
7
g
,
Saturated Fat:
6
g
,
Polyunsaturated Fat:
1
g
,
Monounsaturated Fat:
1
g
,
Sodium:
79
mg
,
Potassium:
89
mg
,
Fiber:
1
g
,
Sugar:
16
g
,
Vitamin C:
1
mg
,
Calcium:
4
mg
,
Iron:
1
mg