Cream Filled Chocolate Football Donuts
Cream Filled Chocolate Football Donuts – use refrigerated biscuits to make cream filled donuts! Decorate them to look like footballs for game day!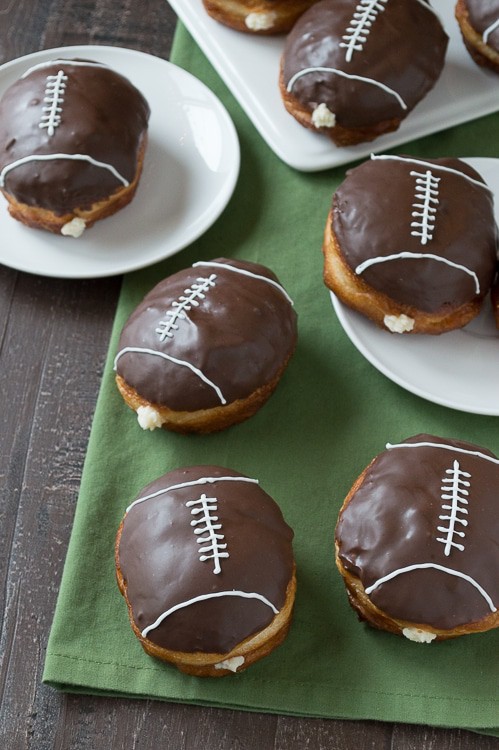 It's no secret that we love donuts. Have you seen the coffee lover's donuts and the snicker's donuts we've made?
Obviously, there is no post-holiday dieting going on here. Well, there kind of is. My idea of 'dieting' includes not buying ice cream when we're at the grocery store, but satisfying my sweet tooth with the brownies I stashed in the freezer. Oops.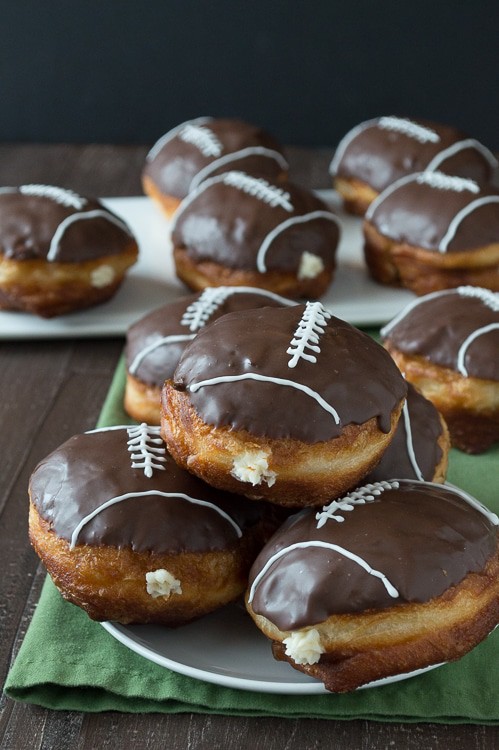 As much as I say we love donuts, it's almost more of a "I love donuts" thing.
Ryan will happily eat them, but he doesn't crave them like I do. And for the most part I'm okay with baked donuts. I know they aren't completely like the fried donuts you'd pick out from the donut shop, and yes they can taste similar to muffins, but if it's shaped like a donut, I'm happy because my body thinks it's a donut. Are you tracking with me?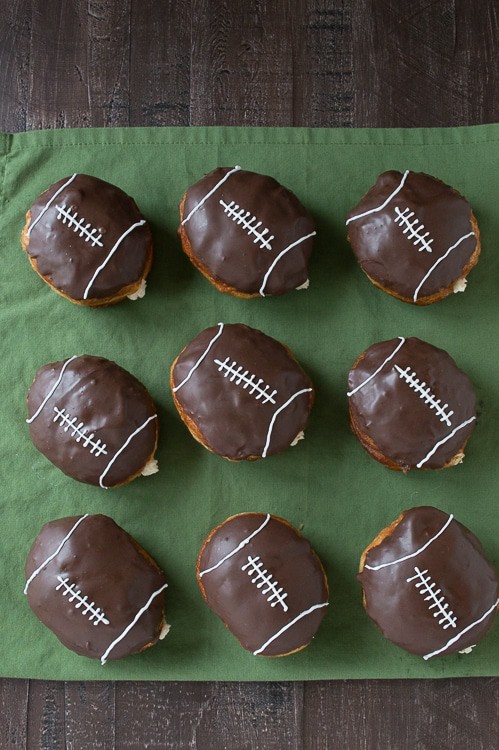 But Ryan's body must know the difference between a baked donut and a fried donut. For a while now he's has been saying that I should make fried donuts.
Eeekkkkk. Where is the fire extinguisher?!
That is all I am thinking when I imagine me trying to make fried donuts. A large pot of HOT oil and my kitchen going up in flames.
But, one day I had this idea to make cream filled football donuts for super bowl, and I can't put cream inside my regular baked donuts because, well, there is a hole in the middle.. so I didn't have a choice. If I wanted football donuts I needed to make fried donuts.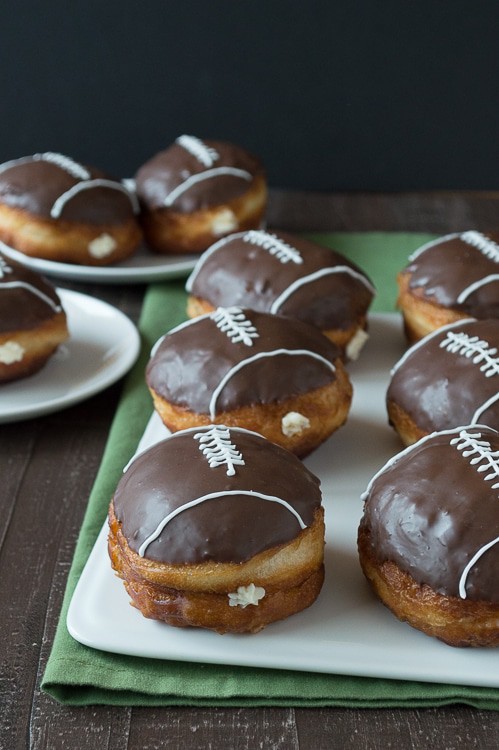 So I told Ryan I was going to make fried donuts. But under one condition, if the store didn't have a deep fry thermometer, I was off the hook and I wasn't going to make them!
Well, the store had a thermometer.. so I said a little prayer before dumping the oil into the pan.. "Jesus, if the kitchen starts on fire, please don't light my 4 consecutive neighbor's houses on fire." And Ryan offered to help me, which was a huge relief!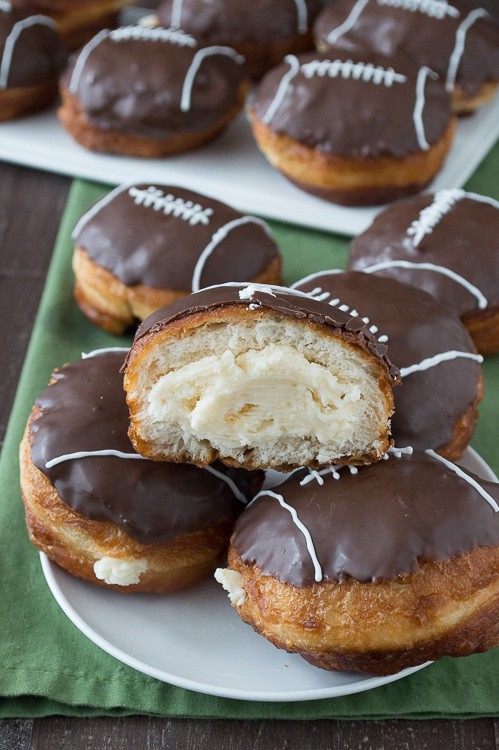 And you know what?! Making fried donuts was not difficult at all! I had these huge worries for nothing. They are easy peasy and I can reassure you that you can make these and you're kitchen will not start on fire!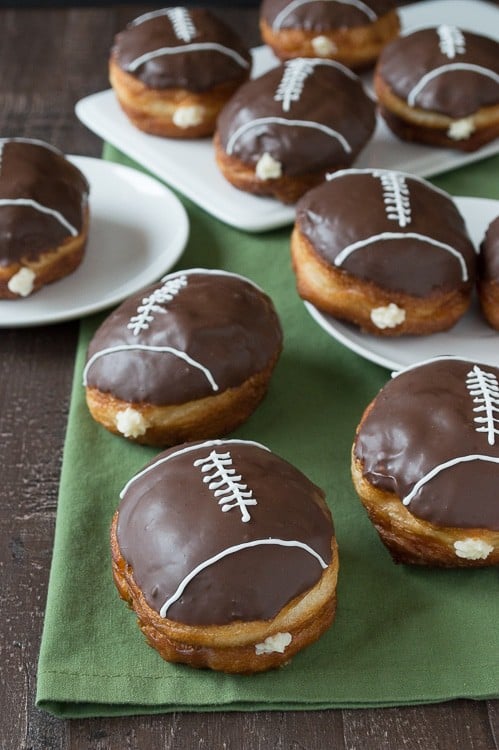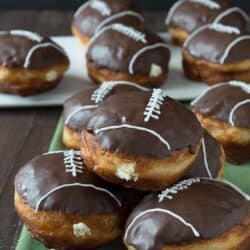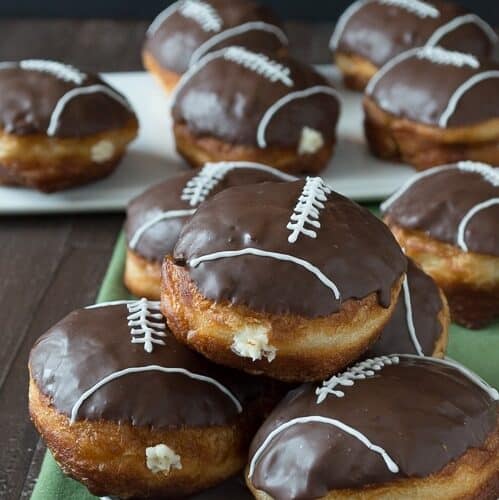 Cream Filled Chocolate Football Donuts
Cream Filled Chocolate Football Donuts – use refrigerated biscuits to make cream filled donuts! Decorate them to look like footballs for game day!
Ingredients
1

tube

flaky refrigerated biscuits

,

8 biscuits in a can

5

cups

canola oil

deep fry thermometer
Vanilla cream for the donuts
1

cup

unsalted butter, softened

,

2 sticks

3

cups

powdered sugar

2

tbsp

whole milk

½

tsp

vanilla
For the topping
2-3

squares

chocolate candiquik or chocolate melts

½

tbsp

vegetable shortening
Royal Icing
1

cup

powdered sugar

½

tbsp

meringue powder

1

tbsp

+ 1 tsp water
Instructions
To deep fry the donuts on the stove top: Put the canola oil in a tall pot, the oil should be at least 2 & 1/2 inches deep. Clip the deep fry thermometer to the pot, making sure it is in the oil. Begin to heat the oil until the temperature reaches 370 degrees F. It may take some time for the oil to reach this temperature, however, be aware that the oil can overheat if you're not paying attention to the temperature.

Once the oil reaches 370 degrees F, gently place 2 biscuits in the pot. Depending on your stove, the temperature may drop 10 to 15 degrees once you place the biscuits in. That is okay! Simply cook the donuts for 3 minutes on each side. Once cooked, remove the donuts and place them on a plate lined with a paper towel to absorb the excess oil. If the temperature of your oil does drop, before adding more biscuits to the pot, reheat the oil to 365-370 degrees.

Repeat this process until all of the donuts are cooked. Be sure to let the oil cool before disposing of it.
Vanilla Cream:
In a mixing bowl, beat the softened butter and powdered sugar for about 4 minutes, until fluffy. Add in the milk and vanilla and beat for another 2-3 minutes. Transfer the cream to a piping bag, or a ziploc bag with one corner cut off. Use the handle of a wooden spoon to poke a hole in the side of each donut. Begin to fill the hole in each donut with the vanilla cream. Try your best to divide the cream evenly between the 8 donuts.
Topping:
Melt the chocolate candiquik and vegetable shortening in the microwave for 2 minutes on 50% power. Continue to microwave on 50% power, stirring every 30 seconds until the chocolate is melted.

For dipping, it's easiest to transfer the chocolate to a small shallow dish, but large enough to fit a donut in. While hanging onto the edges of the donut, dip each donut into the chocolate and pause for a few seconds while the donut is upside down to allow to excess to fall off. Allow the donuts to cool on a tray completely before adding the football stitches.
To make the royal icing:
Combine the powdered sugar, meringue powder, and water in a small mixing bowl and mix on low speed until the icing has a matte appearance, about 3-5 minutes.

Transfer the icing to a squeeze bottle and begin to add the details on the footballs. I found it easiest to start by drawing the curved lines near the ends, then adding the straight line in the middle on all of the footballs, then go back and add the vertical stitch marks to all of the footballs.

Serve and enjoy!
Calories:
659
kcal
,
Carbohydrates:
88
g
,
Protein:
4
g
,
Fat:
33
g
,
Saturated Fat:
16
g
,
Polyunsaturated Fat:
5
g
,
Monounsaturated Fat:
10
g
,
Trans Fat:
1
g
,
Cholesterol:
62
mg
,
Sodium:
553
mg
,
Potassium:
146
mg
,
Fiber:
1
g
,
Sugar:
61
g
,
Vitamin A:
716
IU
,
Calcium:
40
mg
,
Iron:
2
mg