Christmas Tree Fruit Platter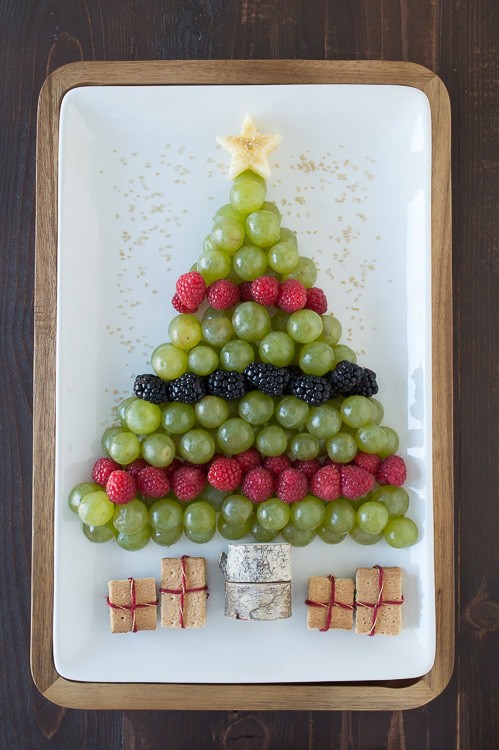 By now, I'm sure everyone has gobbled up our turkey fruit platter! It was so cute and perfect for Thanksgiving, but why let the fun stop there? So I decided to create a christmas tree fruit platter! This fruit platter would be a festive and healthy thing to make for an office holiday party or for your family to enjoy when you get together to celebrate Christmas. You could serve it for breakfast alongside pancakes, french toast, or oatmeal. It would also be great as a pre-christmas dinner appetizer! Or pair it with fruit dip and I can guarantee it will disappear!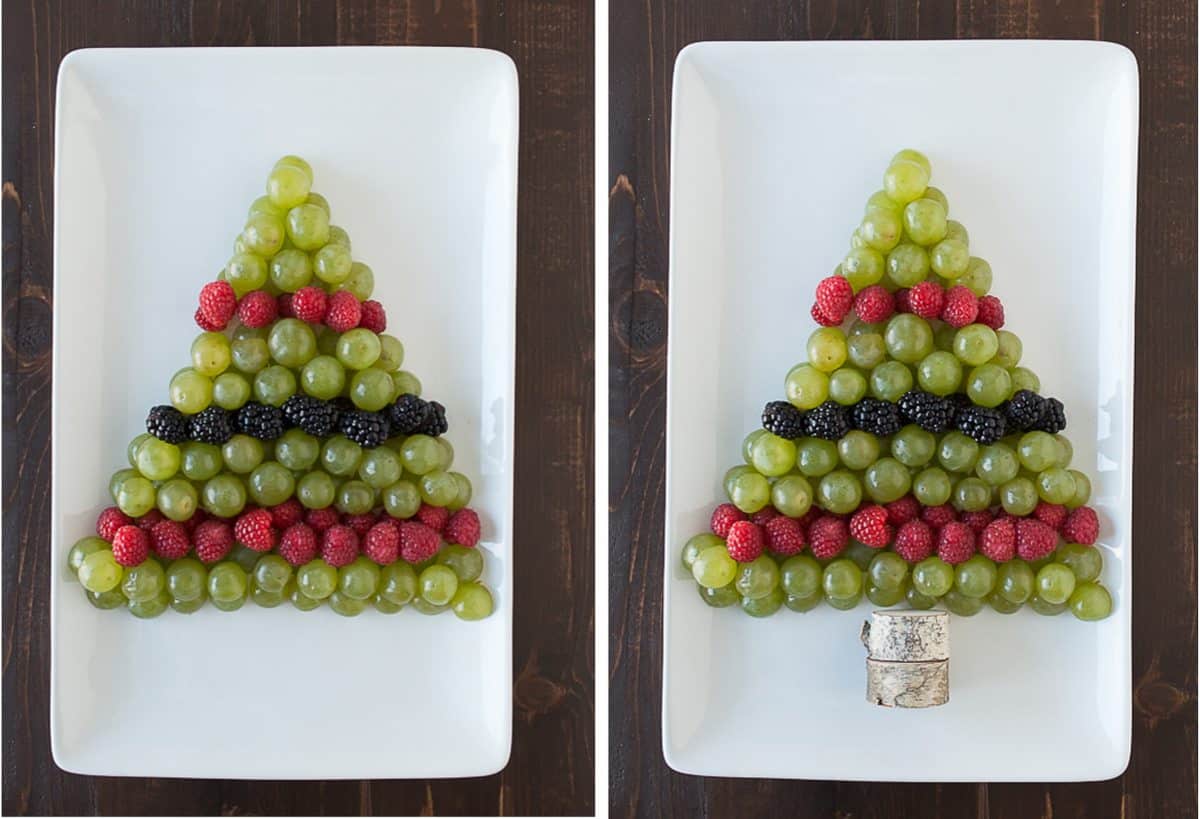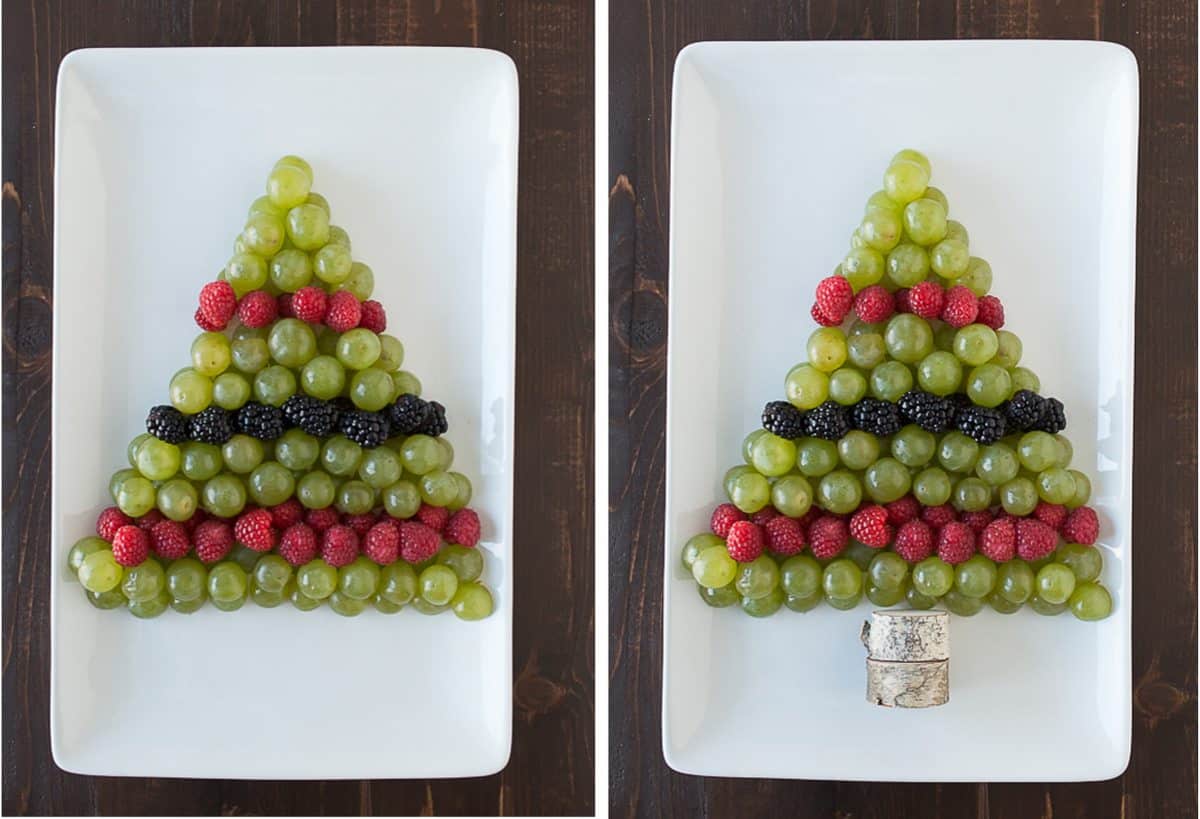 Some people were skeptical about my turkey fruit platter (cough cough, my family). They thought it would take too long to make. So my family set out to make a few turkey inspired fruit platters for Thanksgiving and they did a really great job, you can see a picture of their platters here!
If you're feeling a bit skeptical, thinking you don't have time to make a fruit platter shaped like a christmas tree when you have a hundred other things to prepare on Christmas Day, I have some suggestions for you..
1. Fly me to your house for christmas and I will make it for you :)
2. Talk your kids, nieces, or nephews into making it for you, I think they'd have fun!
3. Make it on a different day, not Christmas Day, so you can still enjoy it without having to mash the potatoes, carve the ham, and set the table.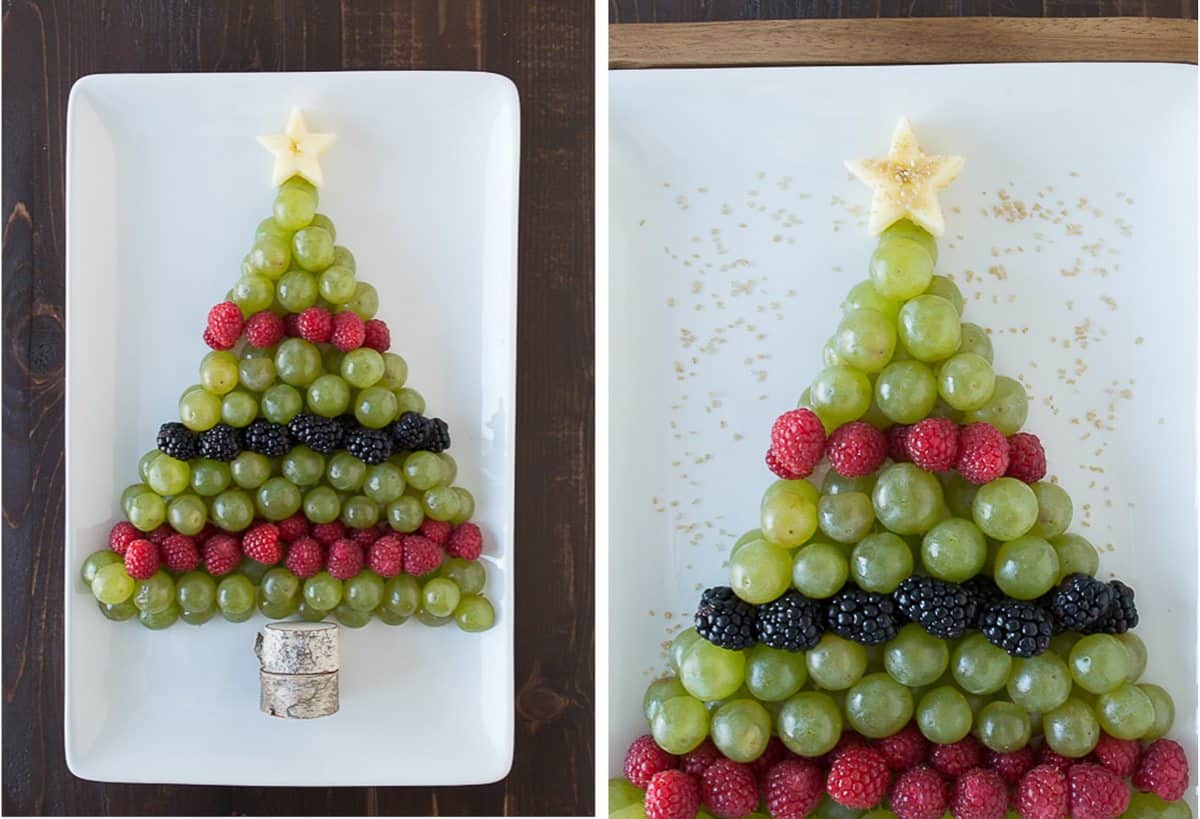 This fruit platter will take you 30 minutes max to make! To make the christmas tree fruit platter I used..
-a white platter measuring 15 inches by 10 inches
-an apple and a small star cookie cutter to cut out two stars, I liked the depth of having 2 stars, but you could use one
-grapes cut in half, this makes them much easier to work with and you don't have to worry about them rolling all over the place
-whole raspberries
-whole blackberries
-small square and rectangular graham cracker pieces and red/gold string to make the christmas presents
-two round wooden slices to make the tree trunk, laid on their side
-gold sprinkles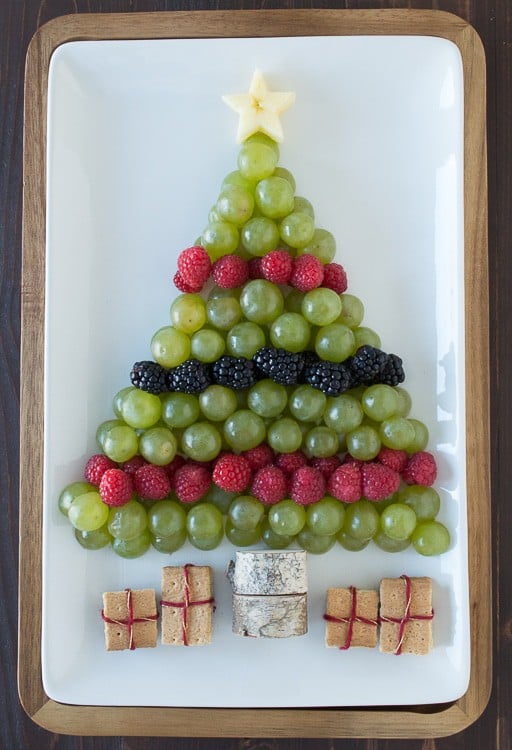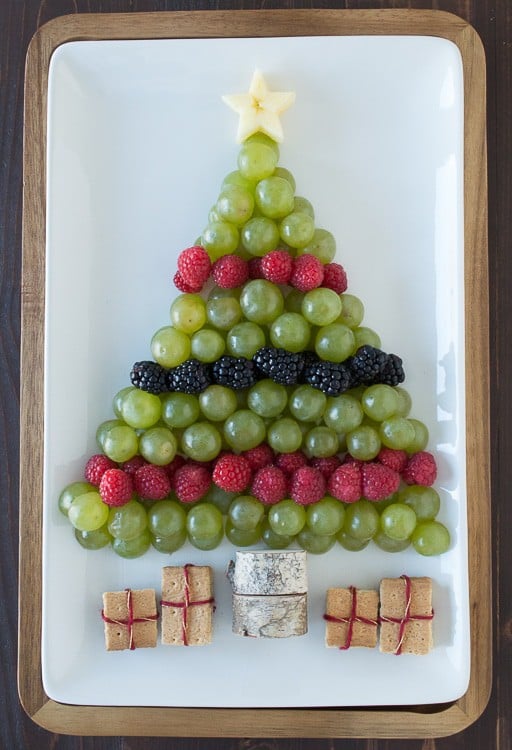 I layered the fruit, meaning I put the various fruits on the tray and then went back and added more of each fruit of top, creating 2 layers. Each present is made up of 2 graham cracker pieces, to add depth. The rectangular shaped presents are simply a large graham cracker (like from the store) broken into rectangles along the lines that are already on the graham crackers. To make the square presents, use a knife to cut off some of the graham cracker from a few of the small rectangular pieces you created by breaking a large graham cracker.
As for the tree trunk, those round wooden slices are something we had laying around the house, but most likely you won't have something exactly like that. If you want the tree trunk to be edible, you could use pretzel sticks, chocolate covered raisins, brown m&ms, or even another rectangular graham cracker piece.
Now that you know the logistics, I think you're ready to make your own!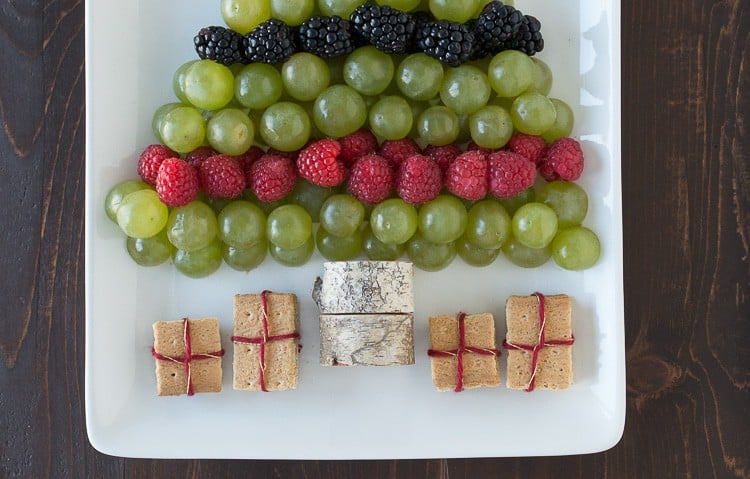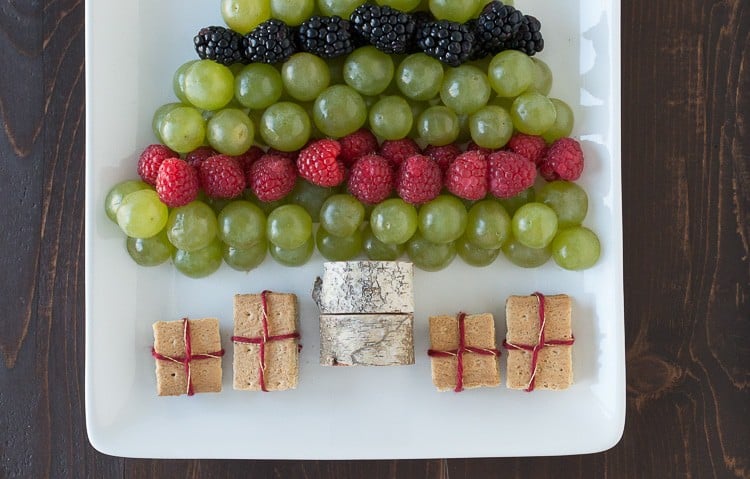 I think this christmas tree fruit platter is something that your family and friends will really enjoy this holiday season!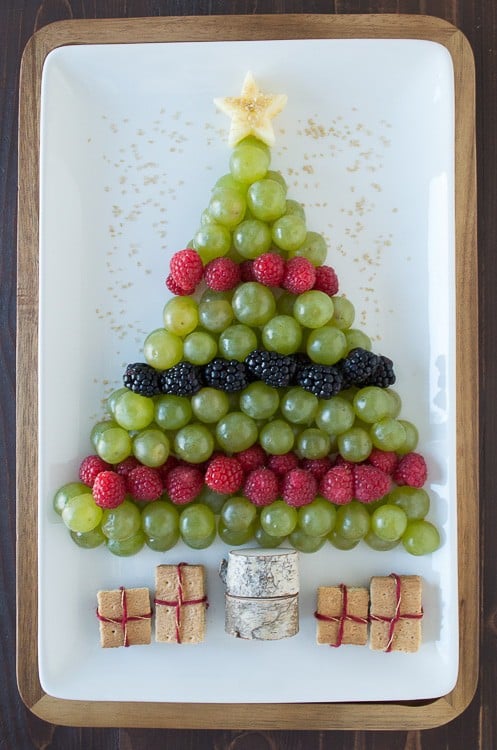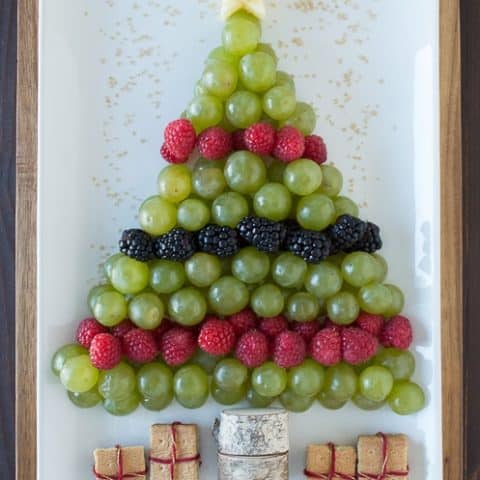 Christmas Tree Fruit Platter
Additional Time:
30 minutes
Ingredients
one apple and a mini star cookie cutter
grapes, washed, dried and halved
raspberries, washed and dried
blackberries, washed and dried
2 store bought graham crackers, to make the rectangular and square presents
string, for tying the presents
wooden slices or other tree trunk suggestions (pretzel sticks, chocolate covered raisins, brown m&ms) to make tree trunk
gold sprinkles
Instructions
Wash and dry all of the fruit. Cut the grapes in half.
Slice an apple into rounds and use a mini star cookie cutter to cut out 2 stars from the apple.
To assemble the tree, begin by placing the grapes near the bottom of the platter. Make sure you leave enough room at the bottom of the platter to add the trunk and presents. For the first layer of fruit (going from the bottom to the top) add 2 rows of grapes, 1 row of raspberries, 2 rows of grapes, 1 row of blackberries, 2 rows of grapes, 1 row of raspberries, and then 4 rows of grapes. As you are adding the fruit, be sure to taper the shape so it looks like a christmas tree.
Add a second layer of fruit on top of the layer you just created – 1 row of grapes, 1 row of raspberries, 2 rows of grapes, 1 row of blackberries, 2 rows of grapes, 1 row of raspberries, and then 3 rows of grapes.
Place the star at the very top of the tree.
Add your tree trunk to the base of the tree.
To assemble the presents, make 2 square presents out of 4 square graham cracker pieces, using 2 for each present. Make 2 rectangular presents out of 4 rectangular graham cracker pieces, using 2 for each present. Use red and gold string to tie the graham crackers together. Place tie side down on the platter underneath the tree.
Finish by adding gold sprinkles to the star and around the top of the tree on the platter.
Products used to make this recipe
(may include affiliate links)