Want our top 10 essential dessert recipes?
Get our favorite classic recipes in your inbox! It's 100% free, but we might make you hungry!
Chocolate Velvet Cake
Decadent and moist 2 layer chocolate velvet cake with chocolate milk in the batter! Top with fresh berries, chocolate shavings, chocolate chips – whatever you want!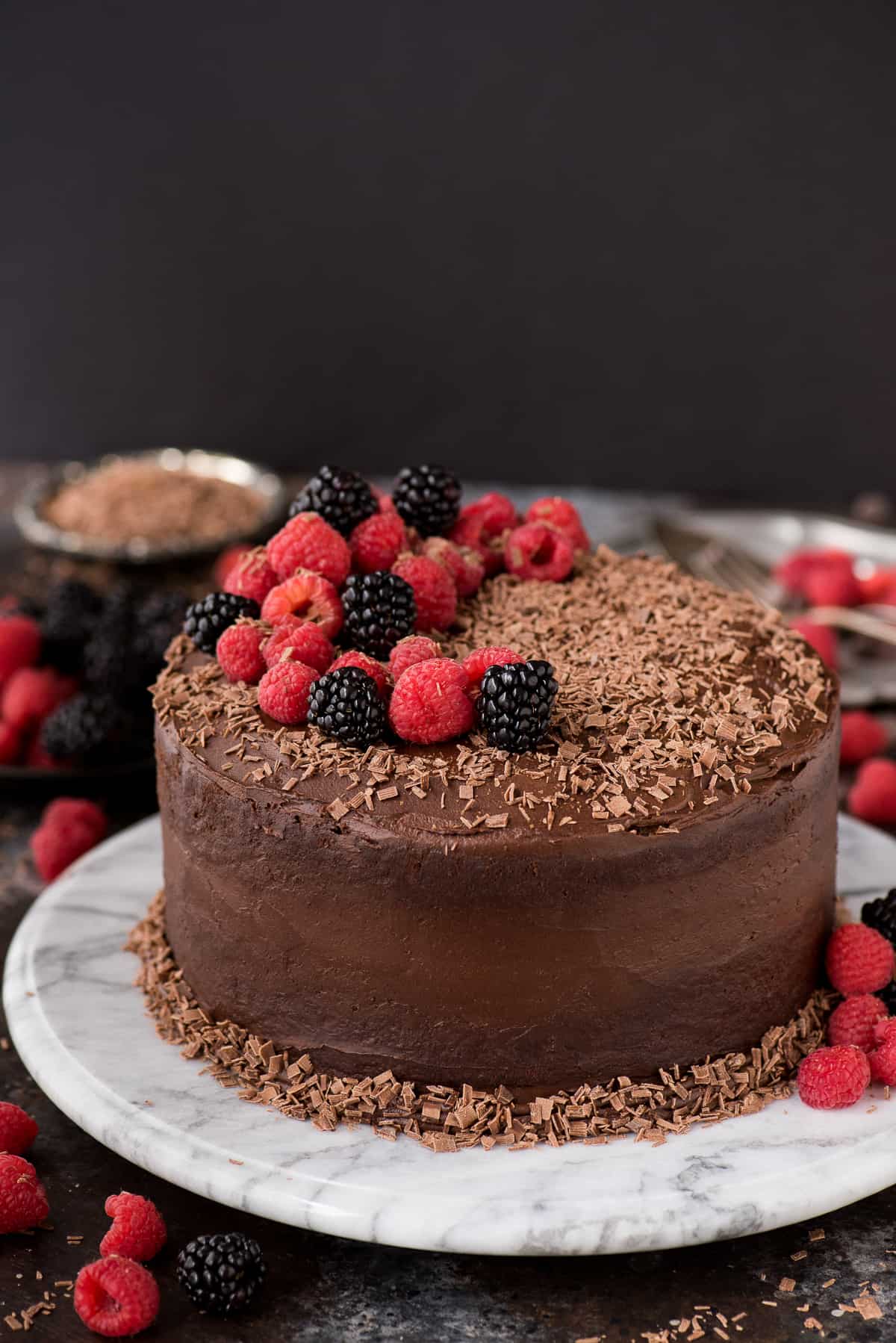 I created the recipe in partnership with Promised Land Dairy for their #FarFromOrdinaryMilk campaign.
What's a chocolate velvet cake you ask?
It's a layered chocolate cake that's so smooth and delicious that it gets to have velvet as a part of its name!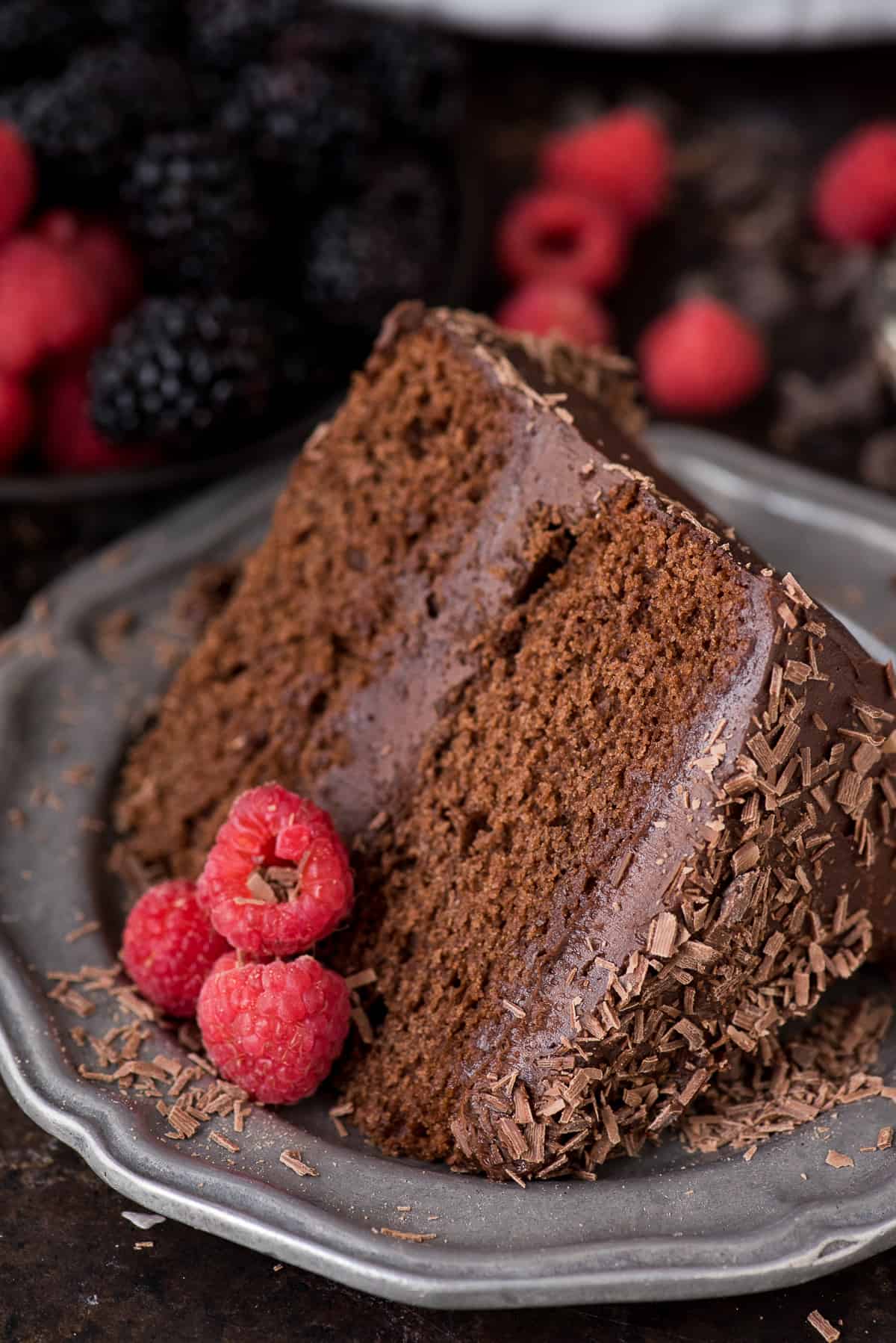 The one thing I love about cake (besides eating it!!) is that you can "dress it up" however you want! For this recipe I decided to do more of a naked cake feel – although admittedly, it's hard to tell because both the cake and the buttercream are chocolate!
A naked cake is a cake that doesn't have as much buttercream on the sides of the cake, so you can see the cake layers peeking through. See our other naked cakes to get a better idea.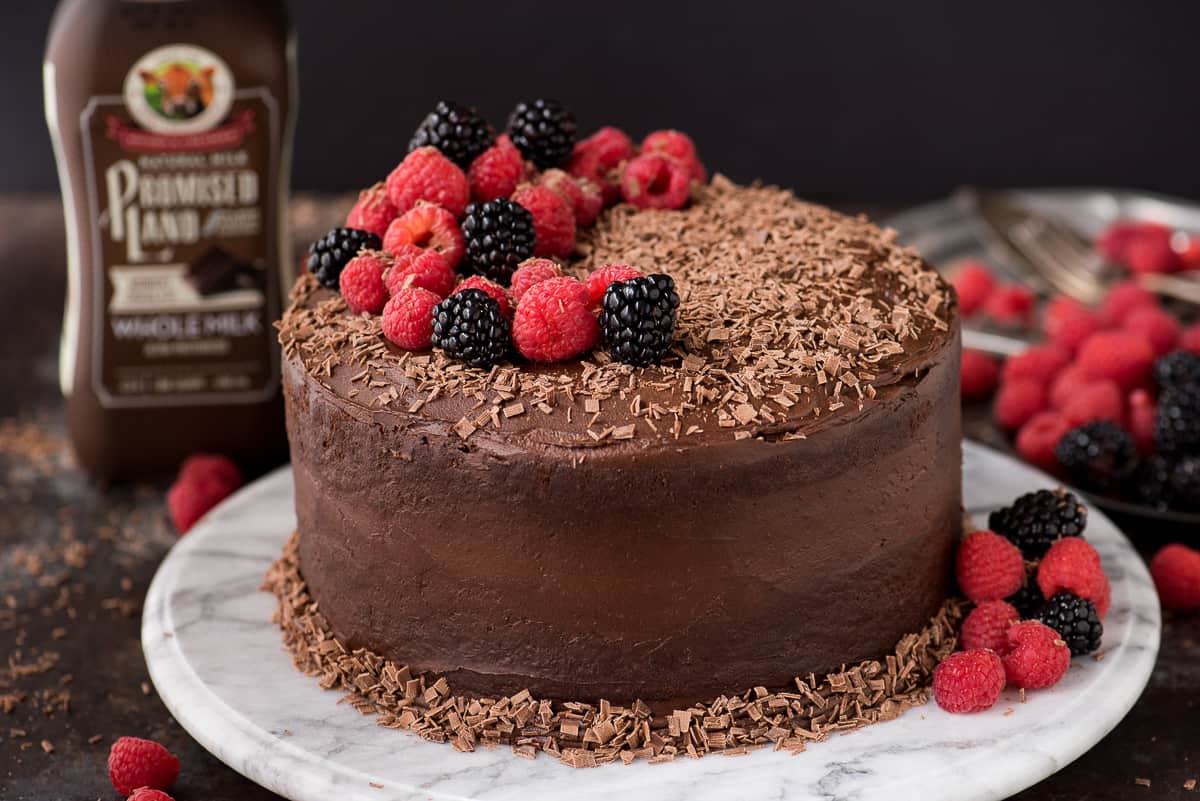 I topped this particular cake with fresh raspberries and blackberries and lots of chocolate shavings.
And I am going to let you in on my secret.. I use a chocolate bar and a vegetable peeler to make chocolate shavings! It's a time saver.
Here are some other ideas for how to dress up this cake:
Just BUTTERCREAM! This is 100% an option because who doesn't love a good chocolate cake with chocolate frosting? You don't have to go beyond that!
Drippy chocolate ganache
Chocolate curls – I'm still learning how to make these!
Buttercream roses or swirls
Fresh flowers
Chocolate chips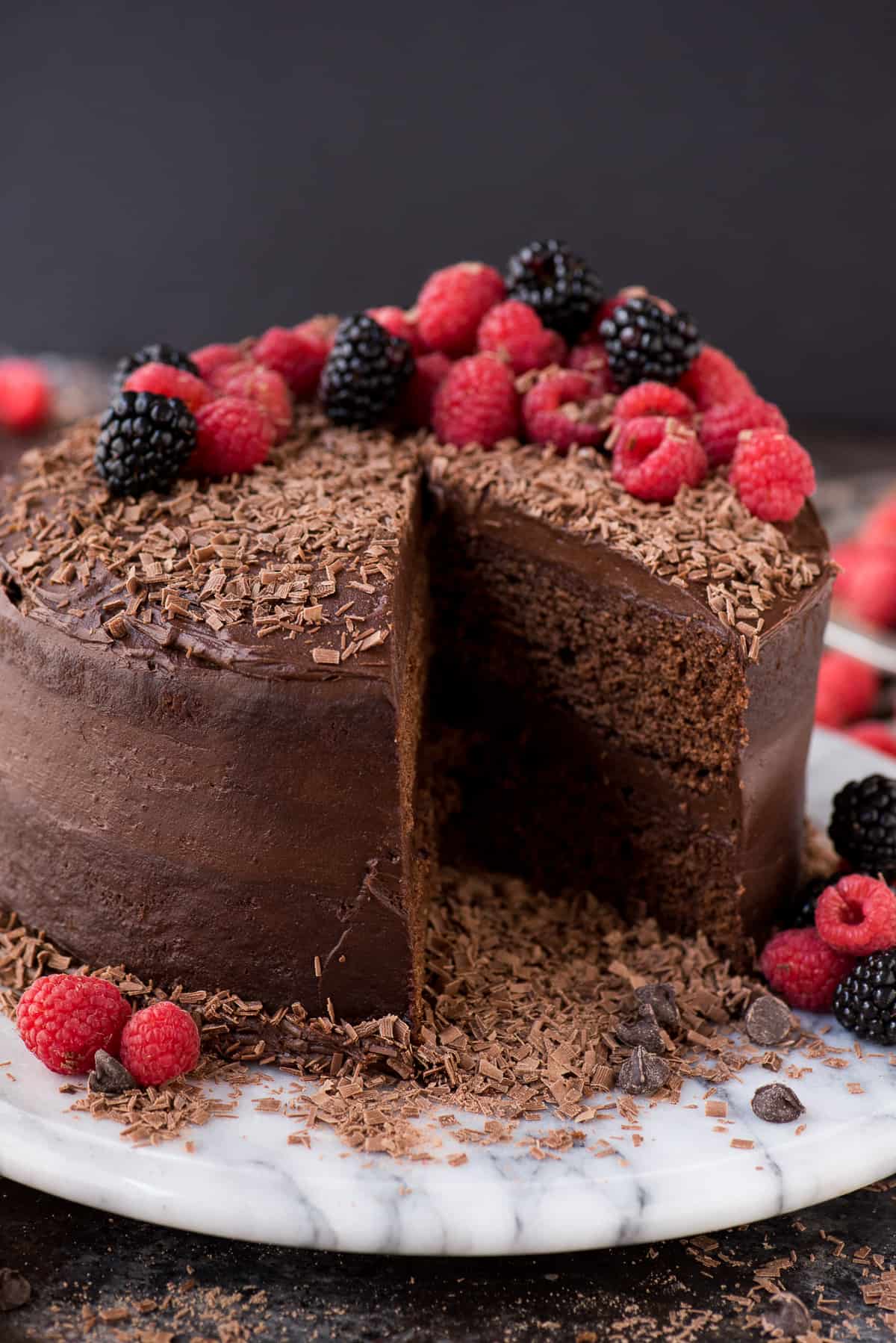 And since christmas is coming up, some chopped chocolate mints on top would be SO good!
I have a few tips that I follow to ensure that I can get the best layered cakes as possible.
1. Divide the batter evenly among the cake pans. I like to measure the batter, for example, I'll put 1 cup of batter in one pan and then 1 cup in the second pan. I continue to switch back and forth like that until all the batter is gone. This will help ensure that your cake layers are similar in height.
2. I use bake even strips on my cake pans. You can purchase bake even strips from Wilton or you can make a homemade version by cutting a towel into strips (about the same width as the height of your cake pans), soaking them thoroughly before wrapping them around the pan and securing with a safety pin. This will help ensure that your cakes bake flat and will help prevent doming or caving. I have used both the Wilton ones and homemade ones and I would recommend the Wilton ones if you're going to be using them frequently.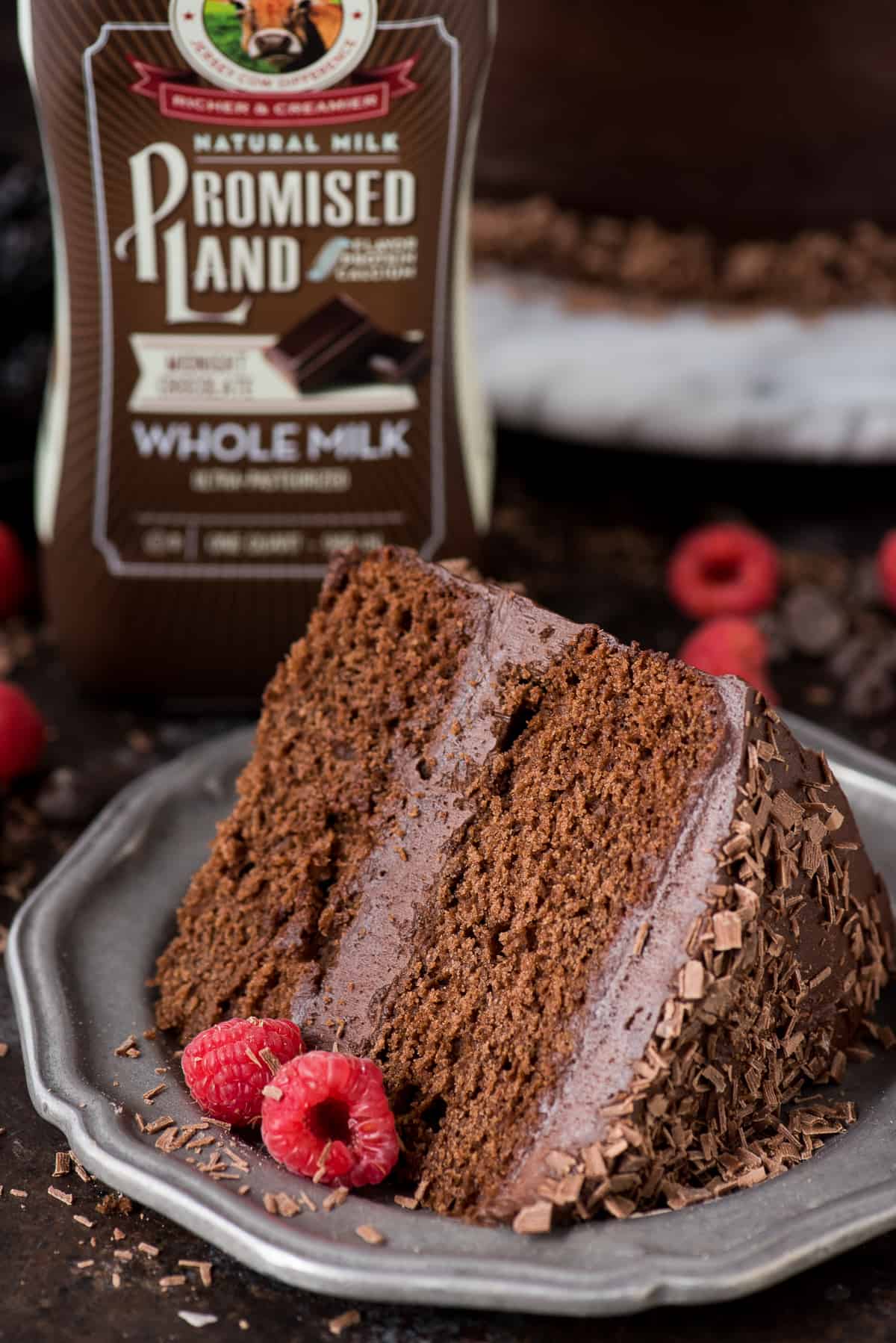 3. Chill the cake layers in the fridge before frosting the cake. Cold cake = less crumbs.
4. You can use chocolate milk in place of regular milk in a chocolate cake recipe! And why wouldn't you want to?! I'm all about chocolate on chocolate. I used Promised Land Dairy's Midnight Chocolate Milk to add a smooth, rich, natural chocolate flavor to the batter! It'll add a touch of sweet chocolate flavor to your favorite dessert recipes.
For a step-by-step of how to make this chocolate velvet cake recipe, watch this short video:
Chocolate Velvet Cake
Yield: 8 inch cake, 2 layers
Decadent and moist 2 layer chocolate velvet cake with chocolate milk in the batter! Top with fresh berries, chocolate shavings, chocolate chips - whatever you want!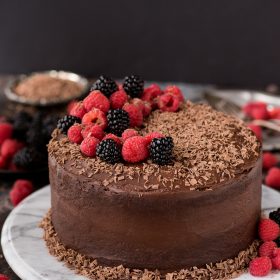 Ingredients:
Chocolate Cake
2 & 1/4 cups cake flour *see note below
2 & 1/2 tsp baking powder
1 tsp salt
1 stick unsalted butter, room temperature
1 & 1/2 cups sugar
3 oz unsweetened baking chocolate, melted & cooled
2 eggs
1/4 tsp baking soda
2 tbsp hot tap water
1 cup Promised Land Dairy Midnight Chocolate milk
Chocolate Buttercream
3 sticks butter, room temperature
1 & 1/2 cups vegetable shortening
1 & 1/2 cups cocoa powder
3-4 cups powdered sugar
To top the cake (optional): fresh raspberries, blackberries and chocolate shavings.
Directions:
Chocolate Cake
Preheat the oven to 350ºF.
Using butter, grease the bottom and sides of two 8 inch round cake pans or springform pans and line the bottoms with a round piece of parchment paper. To ensure even baking, place a bake even strip around the pan. You can make your own homemade bake even strip by cutting a towel or shirt to fit the size of your pan. Get the fabric really wet, then squeeze out the dripping water but do not squeeze it too dry. Secure the fabric around the pan with a safety pin.
In a small mixing bowl combine the cake flour, baking powder and salt. Set aside.
In a mixing bowl combine the butter and sugar, beat with an electric mixer until fluffy, 2 minutes. Add in the melted chocolate and eggs, beat to combine.
Place the 2 tbsp of hot tap water in a small bowl, stir in the baking soda then add to the batter. Add half of the chocolate milk to the batter, stir by hand with spatula to combine. Gradually add half of the flour mixture, mixing lightly. Repeat with the second half of the chocolate milk and second half of the flour mixture - mixing just until combined.
Divide the batter evenly between both pans, with about 2 & 1/4 cups of batter in each pan. Bake for 30-32 minutes or until a toothpick inserted in the center comes out clean.
Once the cake is done, allow it to cool in the pan on a cooling rack for 10 minutes. After 10 minutes, carefully remove the cake from the pan. If using a springform pan, remove the sides and bottom. Allow the cake to cool completely on a cooling rack. Once cool, remove the parchment paper round from the bottom of the cake. If you need to level the top of your cake, do so now using either a cake lever or knife.
Make sure the cake is completely cool before moving forward. If you'd like to make the cake several days in advance, wrap the cake in plastic wrap and place it in the refrigerator.
CHOCOLATE BUTTERCREAM
In a mixing bowl, combine the butter and vegetable shortening, beat using an electric mixer until fluffy. Add in the cocoa powder, and gently mix by hand with a spatula.
Begin to add the powdered sugar, about 1-2 cups at a time, mixing by hand first, then with the electric mixer. Continue adding powdered sugar until the frosting tastes good to you and is well mixed.
HOW TO ASSEMBLE
Spread a small amount of chocolate buttercream on an 8 inch round cardboard cake circle (or whatever you are choosing to put your cake on). Place your first layer of cake on top of the cardboard.
Add a generous amount of buttercream on top of the first layer, covering it in an even layer.
Place the next layer of cake on top of the previous one. Evenly cover the top of the cake with buttercream. Use a small offset spatula to add a thin layer of buttercream to the sides of the cake. Don't completely cover the cake layers as they are suppose to still be visible - however if you prefer, you can cover them fully.
Add fresh raspberries, blackberries, and chocolate shavings to the top of the cake.
Slice and serve.
*You can make your own cake flour at home by measuring out 1 cup of flour, then removing 2 tbsp of flour and replacing it with 2 tbsp of cornstarch. We sure to sift the flour and cornstarch mixture twice.
Products used to make this recipe
(may include affiliate links)