Chocolate Candy Cane Donuts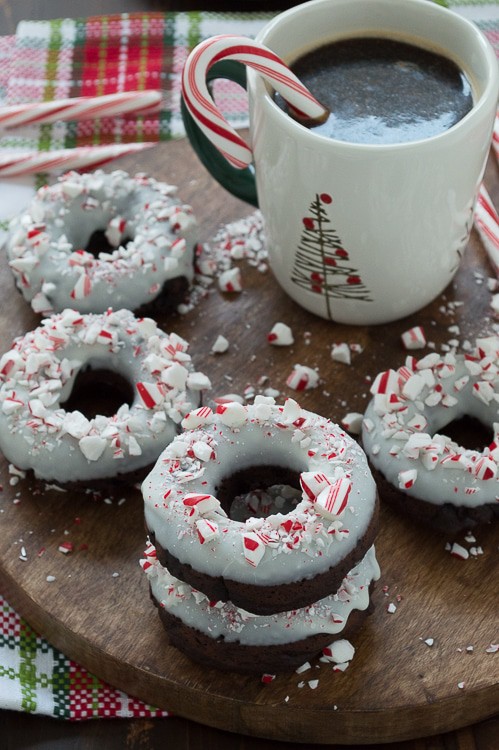 I should have pulled my sleeping bag out of the closet and unrolled it in the kitchen this week. I might have been sleeping on top of christmas sprinkles and mini chocolate chips, but I wouldn't have to look far for breakfast! Ha, just kidding.. I will not eat the sprinkles and chocolate chips off my floor.. that's what mice as for. Just kidding again :)
We are swimming in christmas cookies! My husband and I have been busy baking like a couple of Santa's elves, but I am so SO thankful he volunteered to help me. There is only so much one person can do when you need to unwrap 80 hershey kisses, roll cookie dough, switch the pans in the oven and box up cookies. So if we weren't busy enough baking cookies, I decided to whip up a batch of donuts too!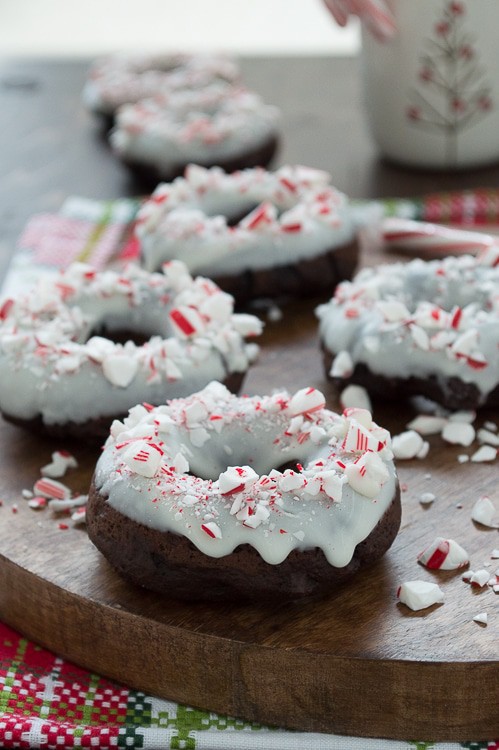 Donuts are way easier than cookies. I have it down to a system now. Combine the flour, sugar, salt, baking powder, and cocoa in a cereal bowl, mix gently. Combine the milk, egg, oil, and extract in a larger bowl, whisk, slowly dump the flour into the wet ingredients, stir stir stir, and voila, they are mixed! That takes less than 10 minutes. Spray the donut pan and transfer in the batter, I like to use 2 spoons, shake the pan slightly to get the batter level, and bake for 10 minutes. Let them cool for a few minutes, dip them in chocolate, and enjoy! Cookies are not that quick, but then again I didn't make 140 donuts, only 6 :)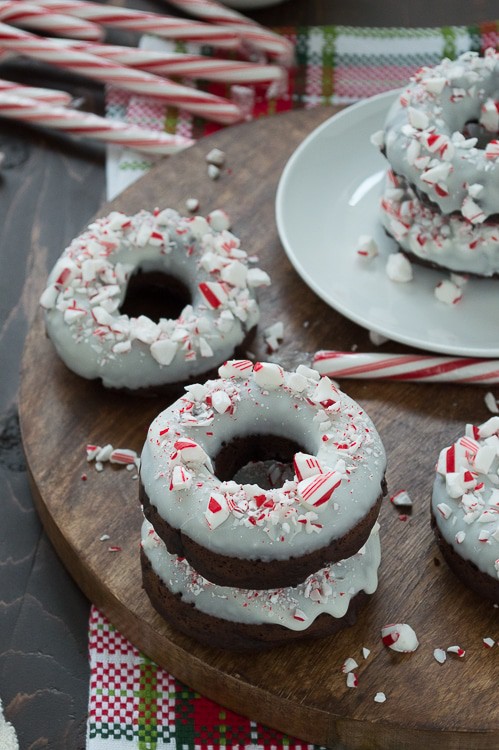 Are donuts an acceptable christmas cookie substitute? I'm really going to have to think about that option for next year!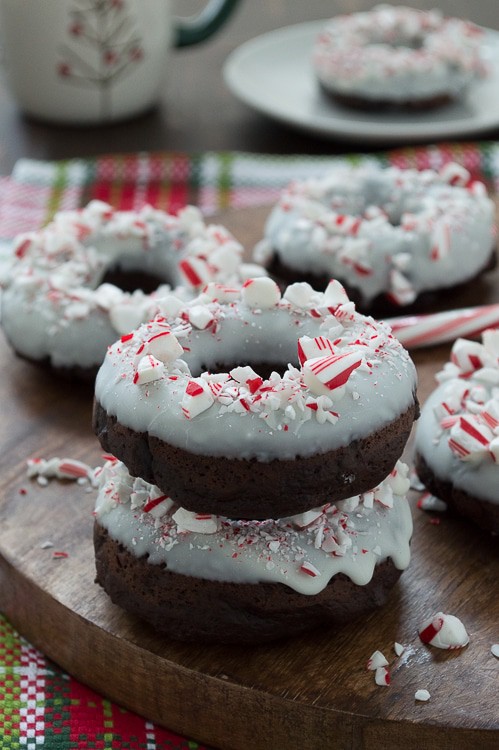 If you received a box of christmas donuts, what flavor combinations would you like?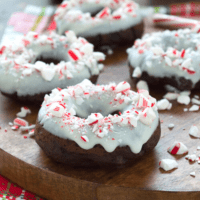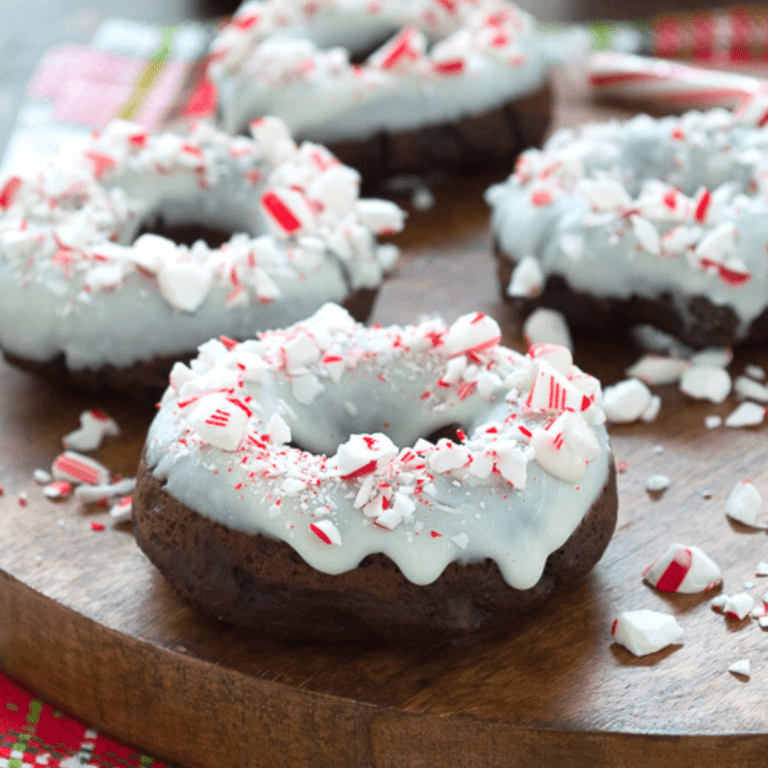 Chocolate Candy Cane Donuts
I love making donuts! The batter comes together so quickly and they bake up nicely. I'm making all the Christmas donuts this year!
Ingredients
1

cup

flour

½

cup

unsweetened cocoa powder

3

tbsp

sugar

1

tsp

baking powder

½

tsp

salt

6

tbsp

milk

1

large

egg

½

tsp

peppermint extract

3

tbsp

vegetable/canola oil

2

squares

vanilla candiquik

½

tbsp

vegetable shortening

3-4

candy canes

,

crushed (I like to put them in a ziploc bag and use my rolling pin to crush them)
Instructions
Preheat the oven to 325 degrees F. Spray a donut pan with cooking spray, use a paper towel to lightly spread/remove excess spray.

In a large bowl combine the flour, cocoa powder, sugar, baking powder and salt.

In another bowl combine the milk, egg, vanilla, peppermint extract and oil. Stir the dry ingredients into the wet ingredients, mix just until combined.

Transfer the batter to a large piping bag or use a ziploc bag with one corner cut off. Pipe the batter into the donut pan, filling each donut hole about 2/3 full.

Bake the donuts for 10-13 minutes, or until a toothpick comes out clean. Remove from the oven and let the donuts sit in the pan for 10 minutes before moving to a wire rack.

Melt the vanilla candiquik in the microwave. I like to microwave mine with a little bit of vegetable shortening for 2 minutes on 50% power. Continue to microwave on 50% power, stirring every 30 seconds until the chocolate is melted.

For dipping, it's easiest to transfer the chocolate to a small shallow dish, but large enough to fit a donut in. While hanging onto the edges of the donut, dip each donut into the chocolate and pause for a few seconds while the donut is upside down to allow to excess to fall off. Allow the donuts to cool on a tray for a few minutes before adding the crushed candy canes, however you don't want them to cool completely, otherwise the candy canes won't stick to the chocolate.

Use your fingers to sprinkle the crushed candy canes on top of the white chocolate, you may have to press the larger candy cane pieces into the chocolate slightly.

Enjoy or store in an airtight container.
Calories:
324
kcal
,
Carbohydrates:
45
g
,
Protein:
5
g
,
Fat:
15
g
,
Saturated Fat:
7
g
,
Polyunsaturated Fat:
5
g
,
Monounsaturated Fat:
3
g
,
Trans Fat:
1
g
,
Cholesterol:
33
mg
,
Sodium:
289
mg
,
Potassium:
164
mg
,
Fiber:
3
g
,
Sugar:
23
g
,
Vitamin A:
69
IU
,
Calcium:
73
mg
,
Iron:
2
mg