Cherry Peach Slab Pie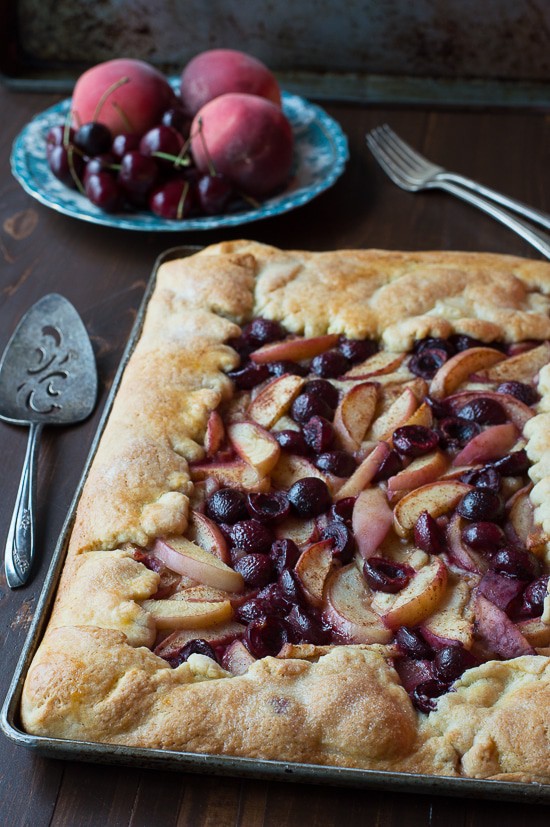 A few weeks ago I brought home a huge watermelon from the grocery store. You have been finding them at your grocery store too? I was so excited, I love watermelon! I sliced it all up and managed to fit it in a few different tupperware containers. I really need to buy one big tupperware container because the watermelon always ends up in like 3 different containers because there is just so much. But I'm not complaining.. I have a husband. Meaning I have a living, breathing garbage disposal. So when Ryan came home from work I put some watermelon on the table to have with dinner and I said "we have watermelon!" And you know what Ryan said? "I don't like watermelon." WHAT?!!!
Okay, no big deal. I can surely eat a 15 pound watermelon by myself.. said no one ever. A few days passed and I was't even making a noticeable dent. So I started to get desperate to find people to help me eat this watermelon. I convinced Ryan to take some to his chinese co-workers, which worked out great because they love watermelon. I also brought a ton for my nanny kids to eat, good thing they love watermelon too! I'm starting to think Ryan is the only human being who doesn't like watermelon..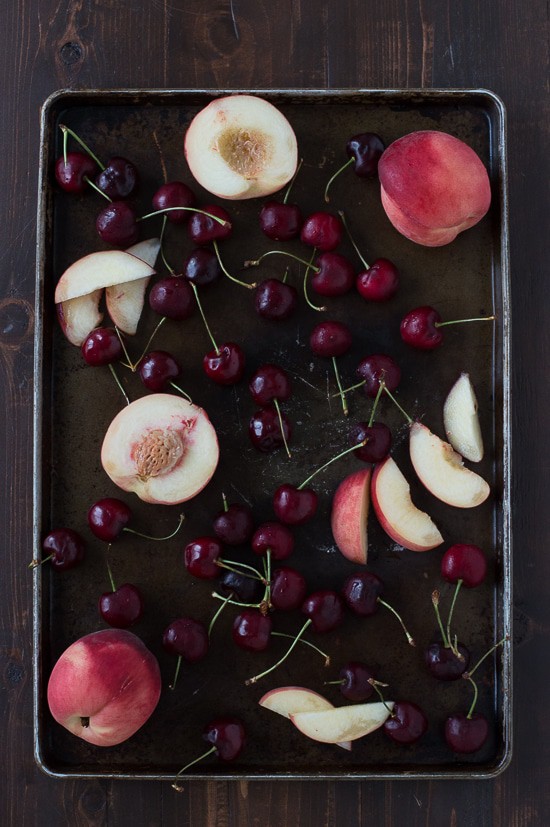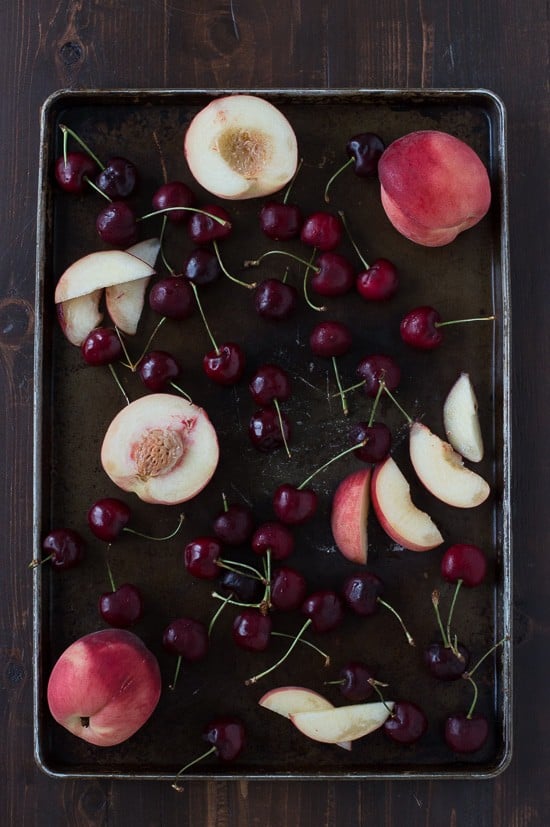 Fast forward to yesterday. I was at the store again and the watermelons were on sale and they looked so good. I'm sure you can figure out what happened.. I brought home another giant watermelon.
Lucky for Ryan I brought home some cherries too, which I know that he loves those! Combined with some white peaches, I made a tasty cherry peach slab pie. I thought about negotiating with Ryan.. "You can have a piece of pie if you eat 7 pieces of watermelon," ..haha, I didn't do that, but it could be a good strategy to get your kiddos to eat their dinner before dessert.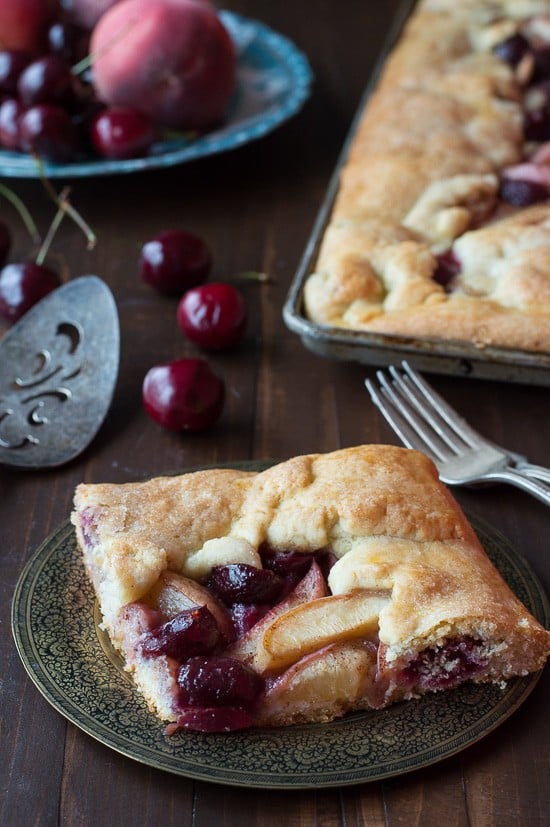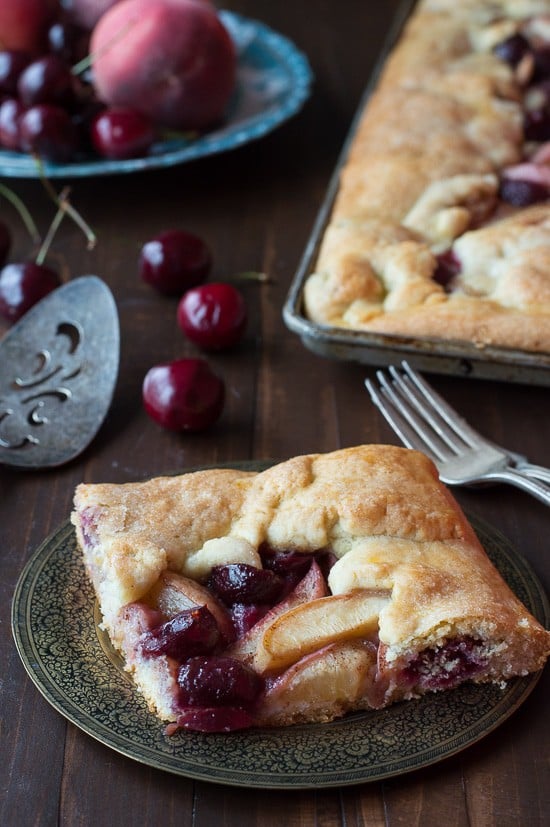 This slab pie is easy to make and you can substitute in any fruit. You could also turn this recipe into a galette, which is a circle out of the pan pie, where the center of the pie is uncovered, just like this slab pie.
One tip – you'll need to let the dough refrigerate for at least 1 hour. I've also found it super handy to make the dough a few days in advance, that way it's ready to use whenever I need it.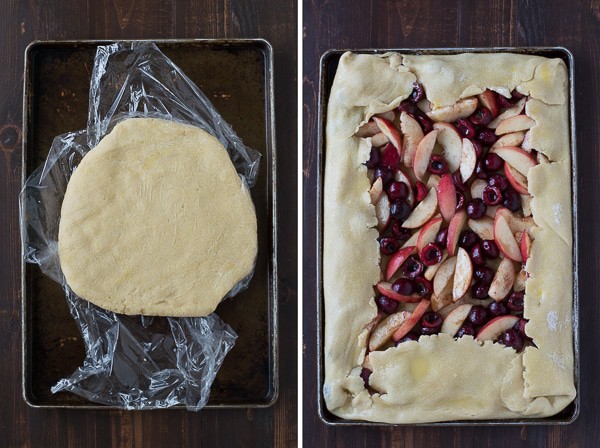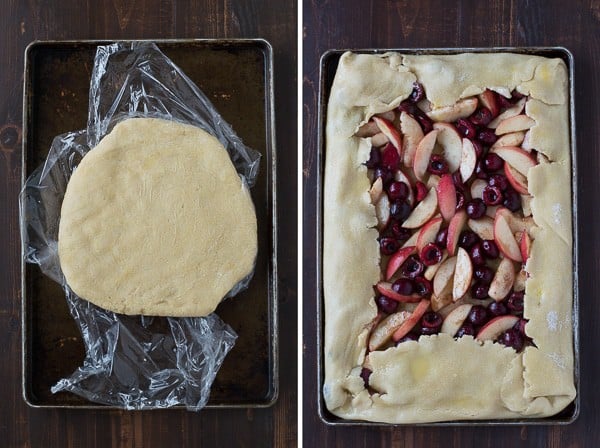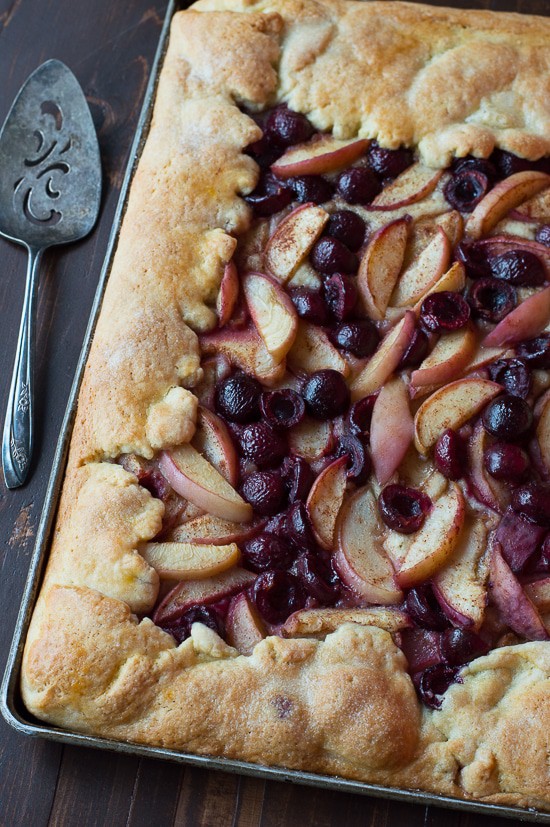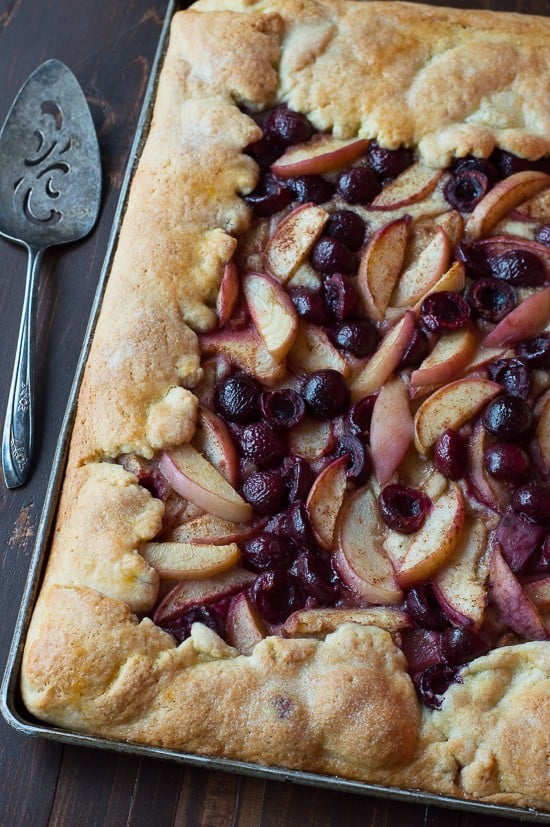 If you want to sub in other fruit, try rhubarb raspberry, peach raspberry, nectarine plum, strawberry peach, strawberry blueberry, apricot cherry, the possibilities are endless!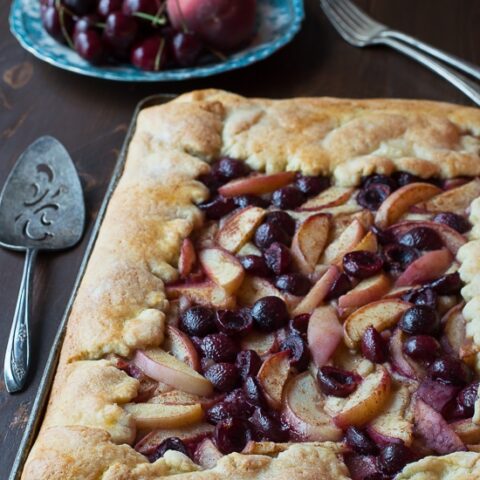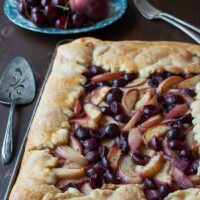 Cherry Peach Slab Pie
Yield: one 10.5 x 15.5 pie
Ingredients
Pie Dough
3 cups flour
3/4 cup powdered sugar
3 tsp baking powder
1/2 tsp salt
16 tbsp cold butter (2 sticks) cut into small pieces
3 egg yolks
3 tbsp cold milk
Filling
5 peaches, thinly sliced
2 cups cherries, pitted and diced in half
2 tbsp sugar + 2 tbsp sugar
1/4 tsp cinnamon
Egg wash: 1 egg beaten with 1 tbsp water
Instructions
In a medium bowl, mix the flour, powdered sugar, baking powder, and salt.
Using your fingers, cut in the butter until the mixture is crumbly.
Add the egg yolks and milk and mix until the dough is just combined.
Gather the dough into a ball and wrap with plastic wrap and refrigerate for 1 hour or up to 3 days.
Combine the sliced peaches, diced cherries, 2 tbsp sugar and cinnamon in a mixing bowl. Set aside.
Preheat the oven to 350ºF. Liberally spray the pan you're using with non-stick cooking spray. I recommend using a 10.5 x 15.5 jelly roll pan or something smaller in size if you don't have that exact size.
Using extra flour, begin to roll the dough into a large rectangle, large enough to fit the pan you're using and make sure you have some extra dough on the sides to fold the dough over.
Transfer the dough into the baking sheet.
Evenly distribute the fruit all over the pan. Fold the extra dough in towards the middle.
Brush the edges of the dough with the egg wash. Sprinkle 2 tbsp of sugar around the edges.
Bake for 35-40 minutes or until the crust is golden brown and the juices are bubbling.