Cherry Chocolate Chip Muffins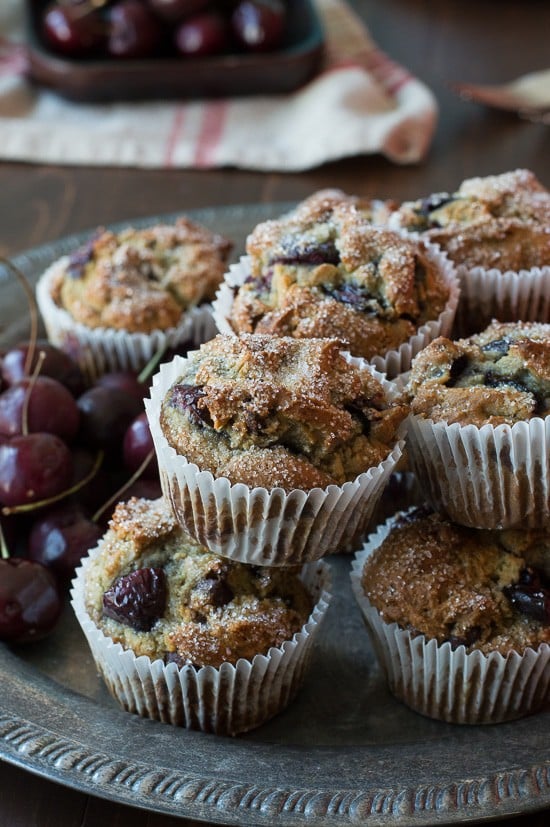 This girl LOVES muffins.
A dozen homemade muffins are just as good as a bouquet of flowers. They are like pure joy wrapped in little liners. I don't even have a collection of any cute muffin liners, but if I did, I am sure I would love muffins more than I do now.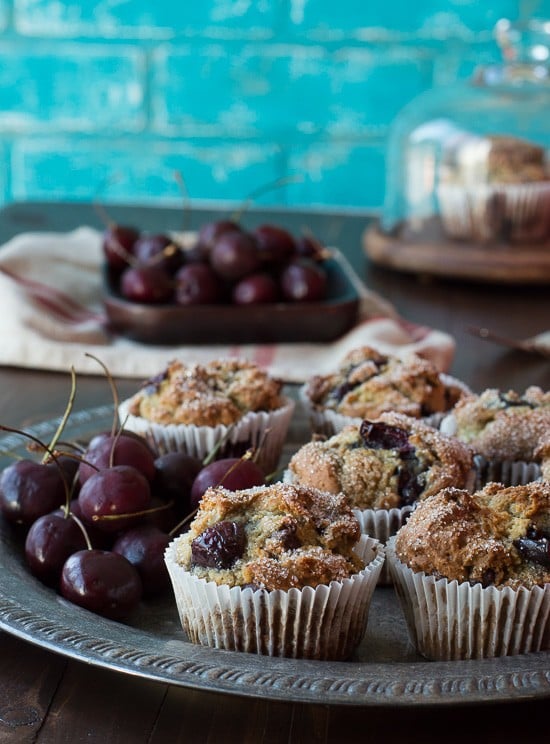 These muffins are simple to prepare. You'll need 2 bowls, one for the dry ingredients and one for the wet ingredients. You'll also need chocolate chips and fresh cherries. I would not recommend using frozen cherries because they have too much liquid and could alter the consistency of the muffin.
The most time consuming part of this recipe is pitting the cherries. I don't really have any miracle tip for how to speed up the process or how to make it less messy. I just slice the cherries in half, dig out the pit and them slice the halves in half again. Purple fingers are bound to happen, but to prevent the cherry juice from staining, wash your hands immediately after your done cutting the cherries. That's my miracle tip, haha :)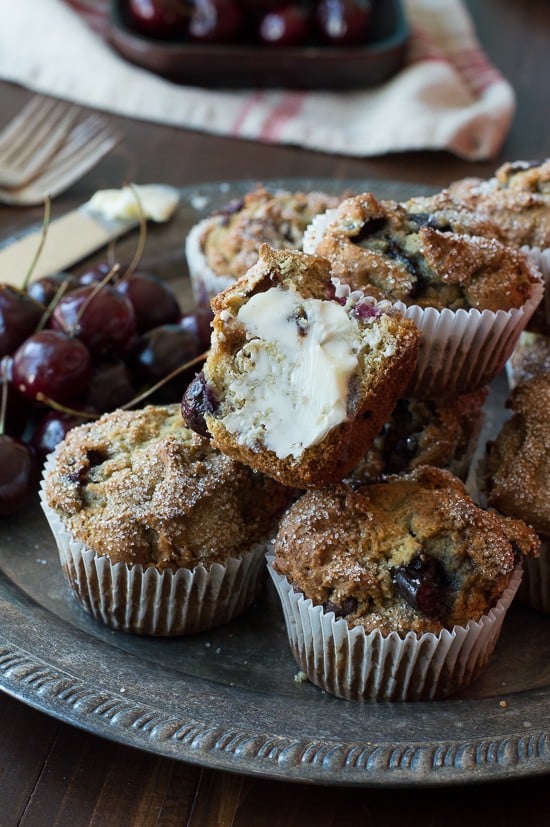 If you love how bakery style muffins have that crystalized sugar on top, you can get the same effect in your own kitchen! All you'll need is some white or clear sanding sugar. I purchased mine from Amazon or you may be able to find it at your local kitchen store. Before you put the muffins in the oven, shake sanding sugar over each and they'll come out looking just like bakery style muffins!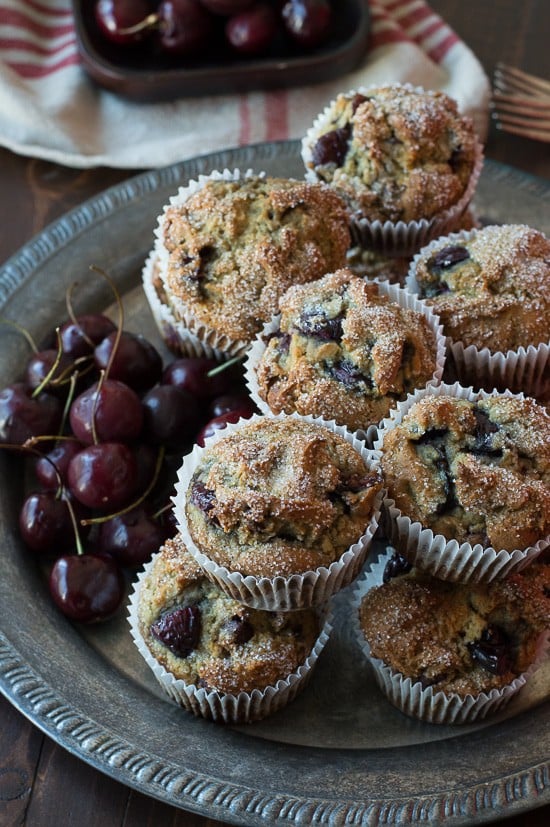 Warm them up or eat them cold, don't forget to spread some butter on these muffins!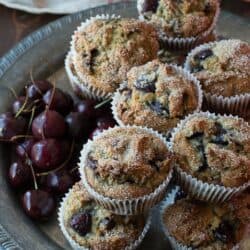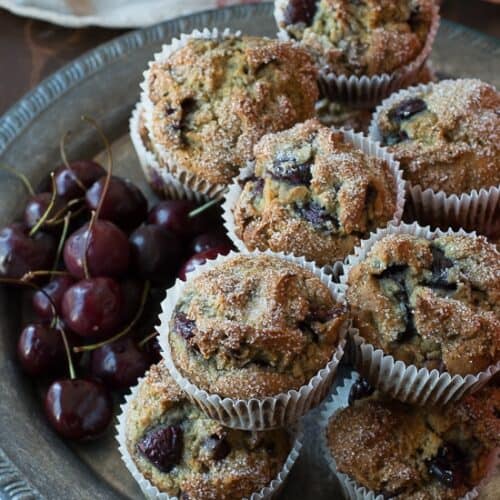 Cherry Chocolate Chip Muffins
Fresh cherries burst with flavor in these muffins, and I love to give them that bakery touch by adding sanding sugar on top.
Ingredients
2 ⅓

cups

all purpose flour

½

cup

sugar

2

tsp

baking soda

2

tsp

baking powder

½

tsp

salt

1

large

egg

½

cup

milk

⅓

cup

sour cream

¼

cup

vegetable oil

½

tsp

vanilla extract

1

cup

cherries

,

pitted and diced

½

cup

chocolate chips

Sanding sugar for the tops
Instructions
Preheat the oven to 425ºF. Place muffin liners in muffin tin.

In a small bowl, combine the flour, sugar, baking soda, baking powder, and salt. Set aside

In a larger bowl, combine the egg, milk, sour cream, vegetable oil and vanilla extract. Whisk to combine.

Sift in 1/4 of the flour mixture at a time, gently folding the batter, until all of the flour is incorporated.

Add in the cherries and chocolate chips, fold again to combine.

Fill each muffin cup full with batter. I like to use a cookie scoop to scoop batter into each cup, the batter will be thick. This gives each muffin a nice dome top. Sprinkle sanding sugar on top of each muffin.

Place the muffin pan in the middle of the oven and bake for 5 minutes at 425ºF. Then keeping the pan in the oven, reduce the oven temperature to 400ºF and continue to bake for 15-17 minutes or until a toothpick inserted in the center comes out clean.

Allow the muffins to cool for about 3 minutes in the pan, then take the muffins out and allow them to cool upside down on a cooling rack. This will help create muffins with a dome top.
Calories:
178
kcal
,
Carbohydrates:
33
g
,
Protein:
4
g
,
Fat:
4
g
,
Saturated Fat:
2
g
,
Polyunsaturated Fat:
1
g
,
Monounsaturated Fat:
1
g
,
Trans Fat:
1
g
,
Cholesterol:
21
mg
,
Sodium:
368
mg
,
Potassium:
80
mg
,
Fiber:
1
g
,
Sugar:
13
g
,
Vitamin A:
86
IU
,
Vitamin C:
1
mg
,
Calcium:
65
mg
,
Iron:
1
mg