Candy Bar Cake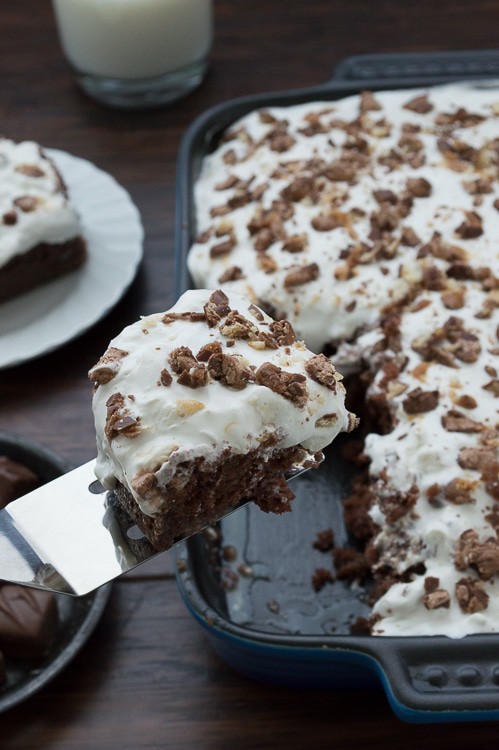 I have a secret to tell you. Don't tell anyone – especially not my husband Ryan.. I've been hiding halloween candy in our laundry room!! I'm doing it because I love him. It's just too dangerous to have it laying on the counter saying "eat me!" Surprisingly, knowing where it's hidden isn't a big temptation for me. Except for last night. I thought I could just have one piece. But then I decided that would counter act the time I just put in at the gym. So having halloween candy around the house is more dangerous than I thought, one piece here, another there.
And it's not like we're saving the candy for trick-or-treaters because we live in a neighborhood that doesn't really see any trick-or-treaters. That's why when I buy a bag, I have to use it in recipes. Then for some reason I don't feel as bad about eating it :) Anyone else have that rationale?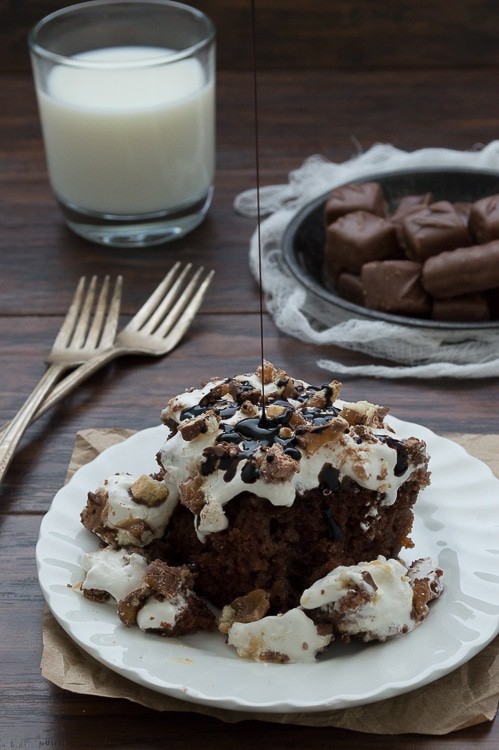 So what are you to do with that tempting halloween candy? I'm here to tell you your options.
Option 1. Sell your halloween candy to your dentist if they have a program like that. Brilliant idea, cash for candy.
Option 2. The Switch Witch. Your kids decide to let the Switch Witch take their candy and leave a toy in exchange. The downfall? Now the parents are hoarding the candy!
Option 3. Use that halloween candy in delicious recipes. This recipe for the Candy Bar Cake is the ultimate recipe to help you eat up that leftover candy. And it is honestly incredible!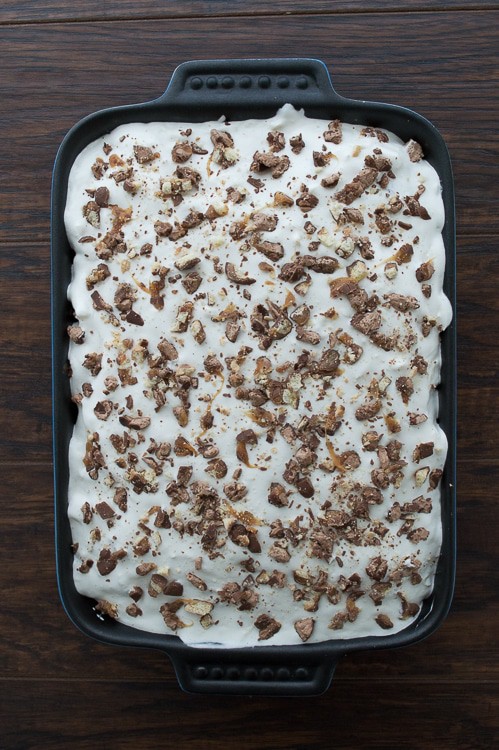 You can use any kind of chocolate candy you'd like, or even a mishmash of whatever ends up in your kid's halloween bucket! Top it off with some chocolate drizzle.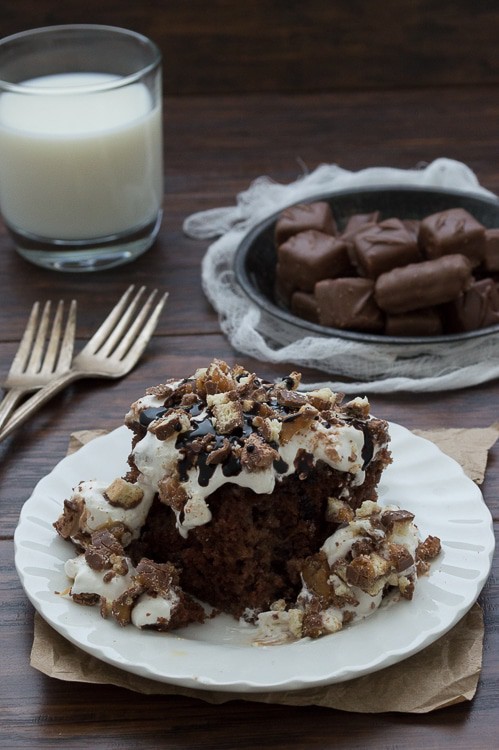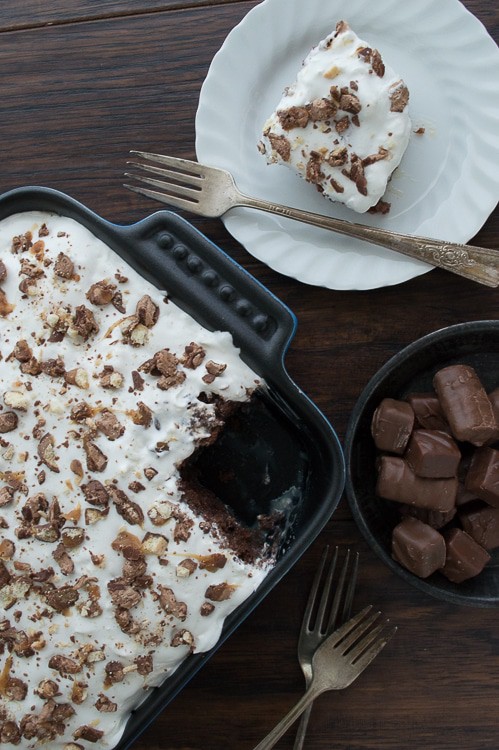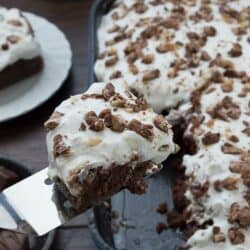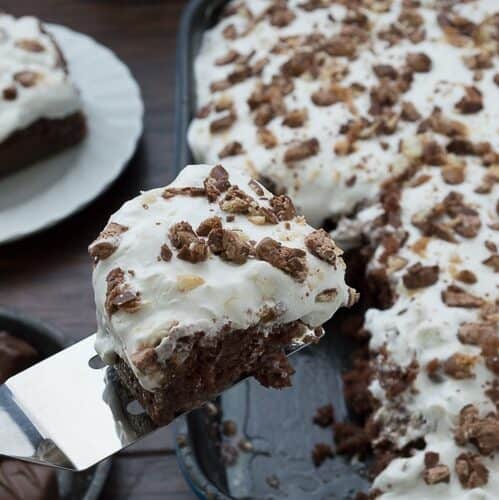 Candy Bar Cake
Sticking your leftover candy into a cake means you can enjoy eating it bit-by-bit.
Ingredients
1

box

German Chocolate Cake Mix

,

15.25 oz

7

oz

sweetened condensed milk

4

oz

caramel topping

10

mini twix bars

10

mini milkyway bars

10

mini three musketeers bars

1

container

cool whip

,

8 oz

1

package

softened cream cheese

,

8 oz

Chocolate drizzle

,

to top
Instructions
Preheat the oven according to the temperature on the back on the package.

Prepare the cake mix as directed on the back of the package, making sure to grease the 9x13 inch pan.

While the cake is baking, mix together the sweetened condensed milk and caramel topping. Set aside.

Also chop the mini candy bars into small pieces. Set aside.

Remove the cake from the oven once it's done baking. While the cake is still hot, poke holes all over the cake with a straw.

Pour the condensed milk/caramel mixture on top of the cake.

Sprinkle half of the chopped candy bars on top, slightly pressing them into the cake with your fingers or straw. Cover and refrigerate for 2-3 hours.

After it's chilled, mix the cool whip and cream cheese together and spread the mixture evenly over the cake.

Top the cake with the rest of the chopped candy bars.

Keep refrigerated. Drizzle with chocolate sauce before serving if desired.
Calories:
310
kcal
,
Carbohydrates:
46
g
,
Protein:
4
g
,
Fat:
13
g
,
Saturated Fat:
7
g
,
Polyunsaturated Fat:
1
g
,
Monounsaturated Fat:
3
g
,
Trans Fat:
1
g
,
Cholesterol:
20
mg
,
Sodium:
298
mg
,
Potassium:
172
mg
,
Fiber:
1
g
,
Sugar:
31
g
,
Vitamin A:
232
IU
,
Vitamin C:
1
mg
,
Calcium:
116
mg
,
Iron:
1
mg