Big Blog News!
Well, things might look a little different around here!
Can anyone spy the change? …trick question – everything is different because our site has a whole new design!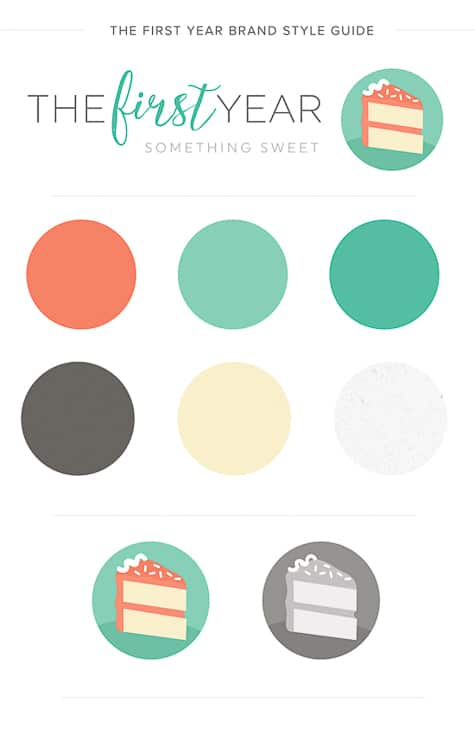 This new design has been in the works for a few months, and especially over the last few days I've been bursting at my seams with excitement! There are a lot of great features that will make it easier for you to browse our site.
1. Homepage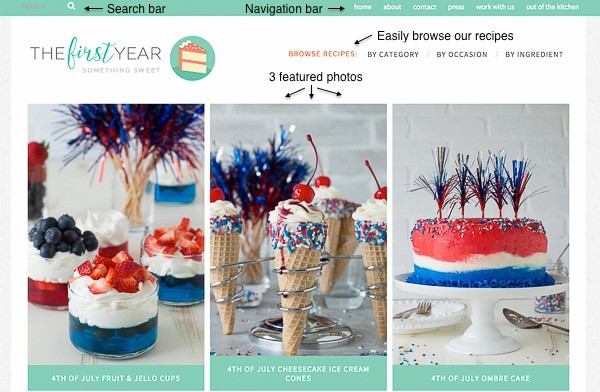 This is my favorite page, the homepage! You can easily search our entire site by typing something into the search bar in the very upper left hand corner. Easy peasy!
Next, on the opposite side from the search bar is the navigation bar. Everything you need to navigate our site, you'll find there!
Next, you can easily browse our recipes by category, occasion, and ingredient right from the homepage! If you click on one of those titles you'll be taken to the recipe index (more on that later!).
And we saved the best for last! On the homepage you'll see three big featured photos and recipes! If you click on one, you'll be taken to that recipe. The featured photos can change based on the season or if I wanted to highlight recipes that use the same ingredient (remember when we had pineapple week?!) I could display those particular recipes. It's one of my favorite features and I hope you like it too!
2. Sign up for our weekly e-newsletter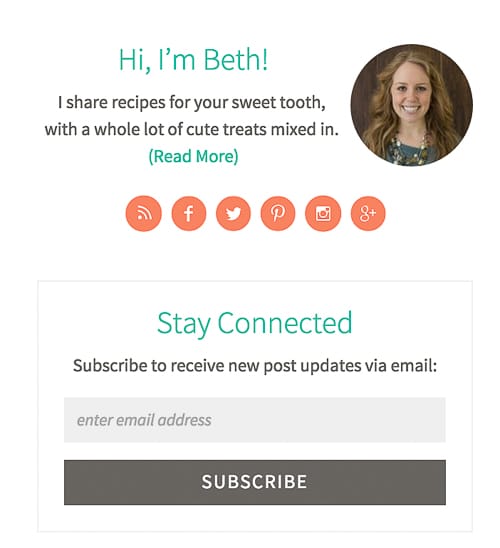 On the homepage, right underneath my short bio, you'll find a box where you can sign up to receive our weekly e-newsletter. Simply enter your e-mail address and click on the subscribe button! You will receive a confirmation e-mail, verifying that you want to subscribe, make sure you click yes in that e-mail and then you're good to go, you'll start receiving our newsletter in your inbox! I typically send out the weekly e-newsletter on Sundays or Saturdays.
If you're not sure what our e-newsletter is all about, once a week you'll get an e-mail from me that highlights the recipes we shared that week. We'll also share fun news updates and giveaways occasionally.
3. Right hand side bar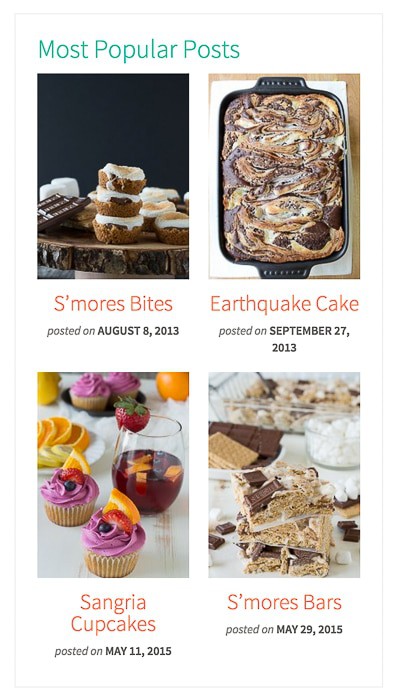 In the right hand side bar, past where you can sign up for our e-newsletter, you'll find a section highlighting our most popular posts, a featured section (right now it's all about cupcakes!) and a section listing our most recent posts. You'll be able to see the side bar on every page of our blog, not just the homepage.
4. Recipe index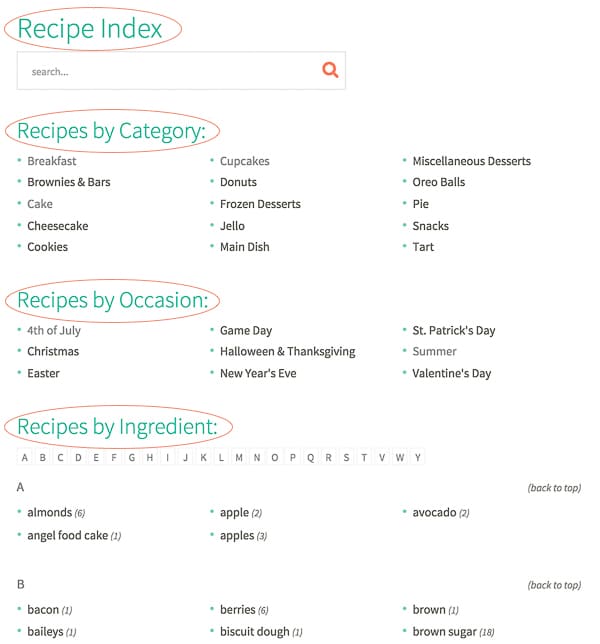 If you click on one of the categories under the "browse recipes" section on the homepage, you'll be taken to our brand spanking new recipe index! In the recipe index you'll find 4 different sections. First, is a search bar where you can search our site for anything! Second, you can browse our recipes by category. If you click on one of the subheadings, like cake for example, you'll be taken to our cake page!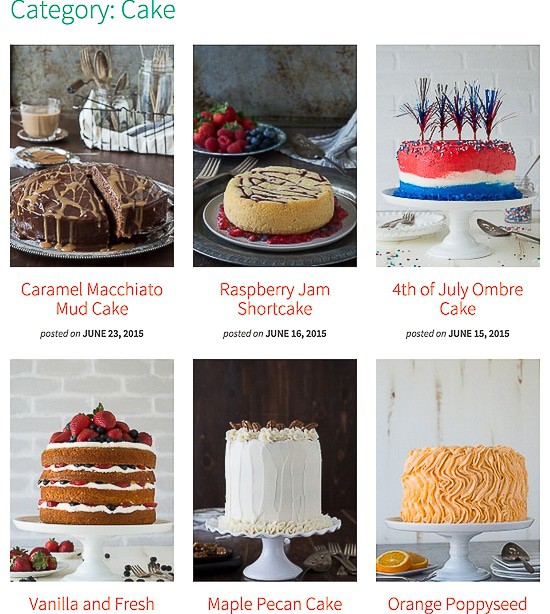 Going back to the main recipe index page, the third section, you can browse our recipes by occasion, which is really handy when a holiday is coming up! And the fourth, this one is fun, you can browse our recipes by ingredient. If you have a ton of almonds around your house and you want to use them up, click on the "almonds" link and you'll see all of our recipes that use almonds.
A BIG Thank You!
I want to give a big THANK YOU to Lindsay from Purr Design! Lindsay is so creative and talented, and made the whole process really smooth! She saved me from a heart attack when I thought I had deleted over 200 recipes. Wheeww, Lindsay to the rescue!
I still have a few kinks to work out concerning recipe formatting, so hang tight if things look wonky, but I hope you enjoy the new look as much as I do!