Apple Spice Cake with Caramel Drizzle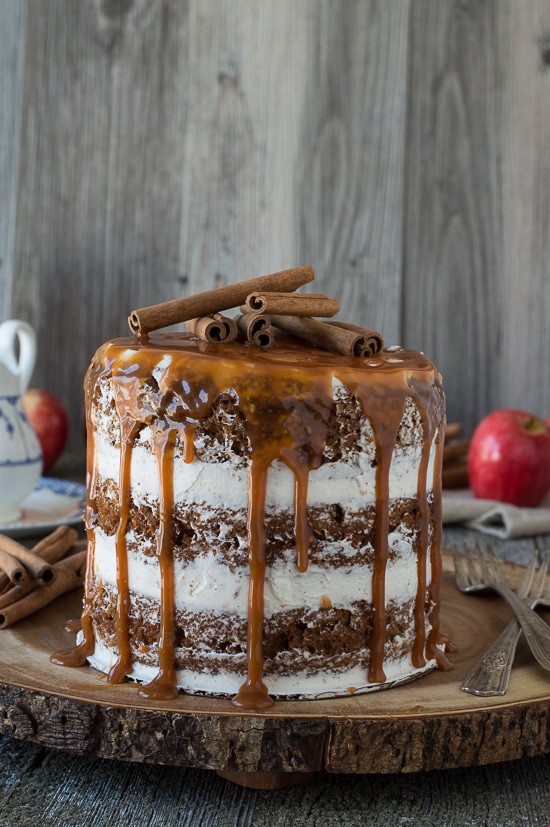 Each season needs a cake.
The last cake we shared was this awesome fresh cherry cake with drizzly chocolate ganache. I'd call that an end of summer cake.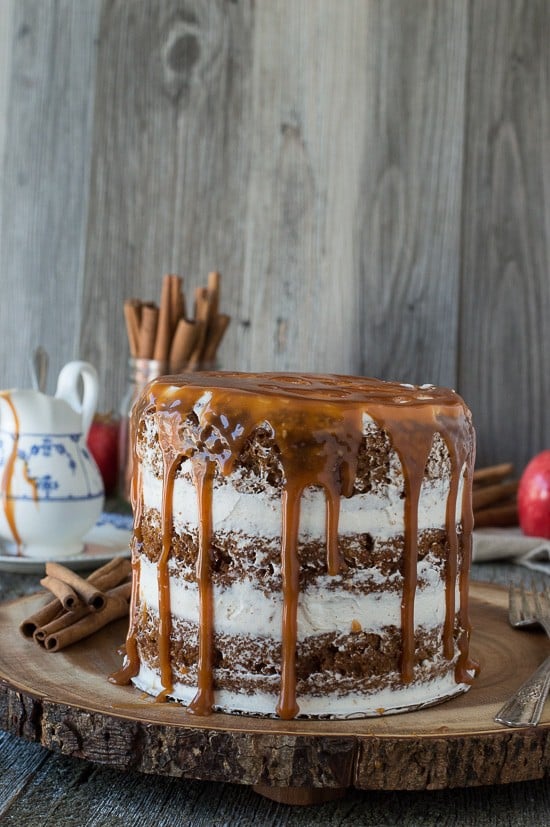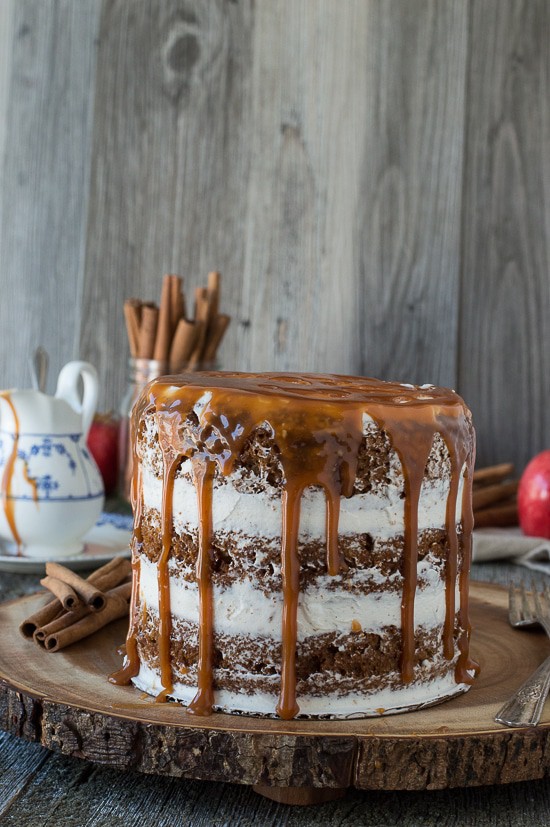 Out with one season and in with the other, so it's time for a fall cake! This one is complete with classic fall flavors like apple, spice, and caramel. It's perfectly moist and delicious and with our baking tips, you'll be able to make this apple spice cake in your kitchen!
The apple spice cake recipe we're sharing makes one 6 inch cake which I think can be great if you only want to make a 1 or 2 layer cake, instead of a mongo 3 layer cake! You could also make this cake in an 8 inch cake pan by doing 1 & 1/2 of the original recipe. So you have options!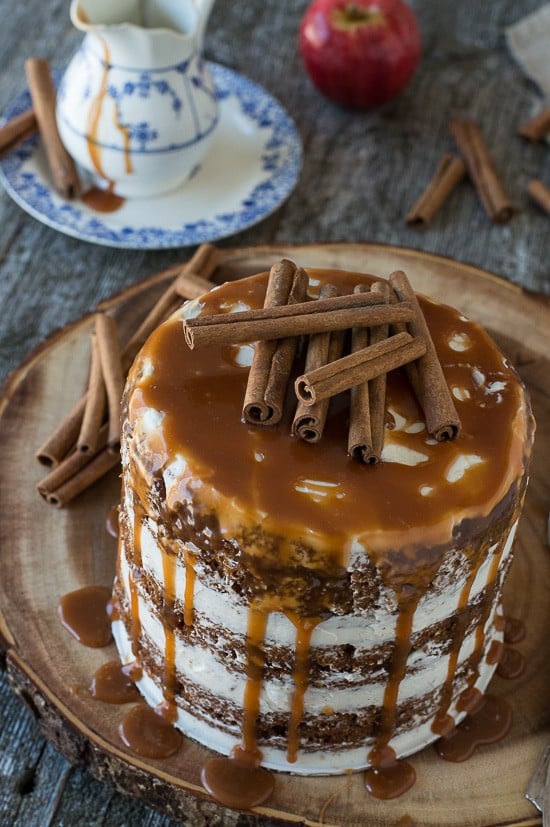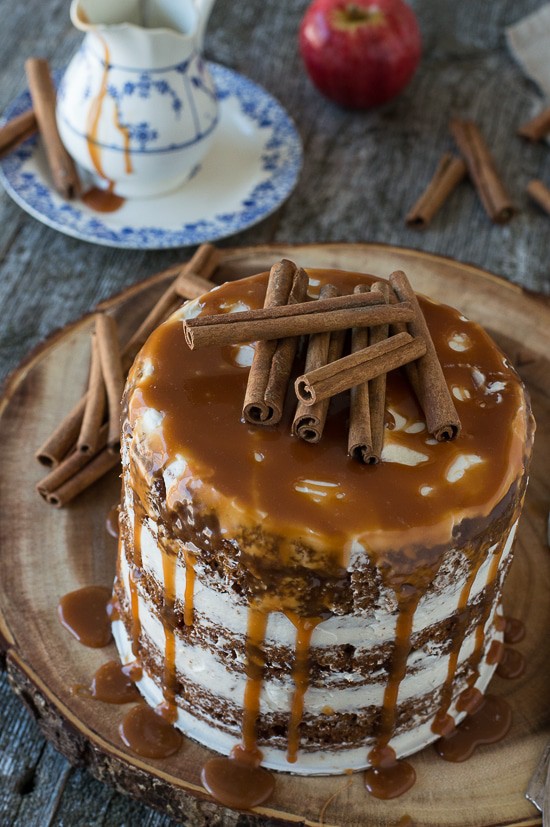 In between the apple spice cake layers is vanilla bean buttercream. I love Rodelle's vanilla paste because I don't have to buy vanilla beans and then scrape out the pods because they already did it for me and then jarred it. BOO YAH!
If you don't have vanilla paste, you can use pods from a vanilla bean, or regular vanilla extract, although the flavor won't be as prominent. Or skip the vanilla buttercream altogether and make cinnamon buttercream.
Buttercream is like a blank canvas and you can really turn it into any flavor you'd like.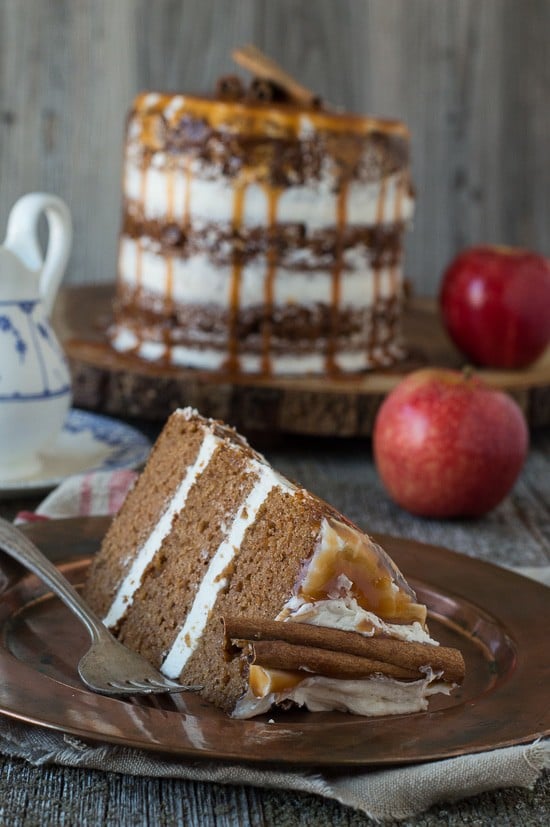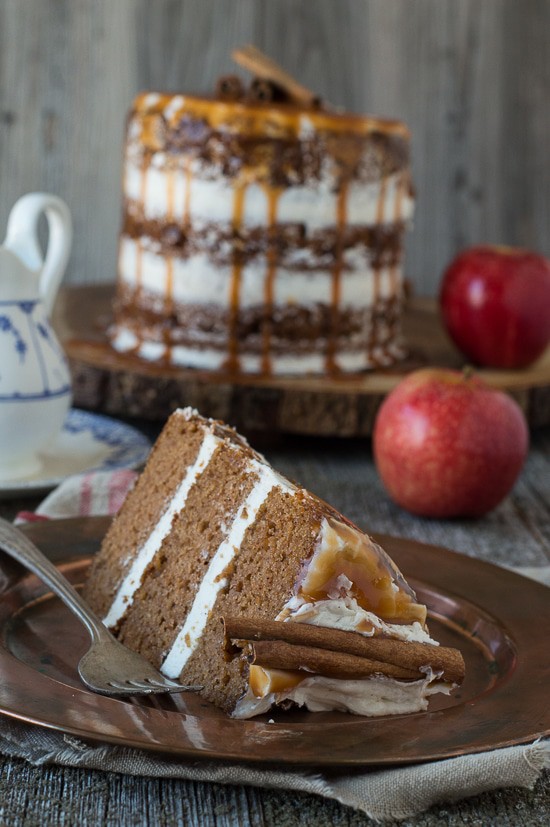 Technically this cake is a naked cake because you can see the cake layers since they aren't completely covered with buttercream. Naked cakes are fun to make because 1. they can be assembled quickly 2. you don't need a ton of buttercream 3. they don't have to look perfect.. rustic is the style you're going for!
The secret to getting the same amount of buttercream in between each layer of cake is to measure the buttercream! 1/4 cup of buttercream won't be a lot of frosting, so I'll normally use 1/3 cup or 1/2 cup in between each layer.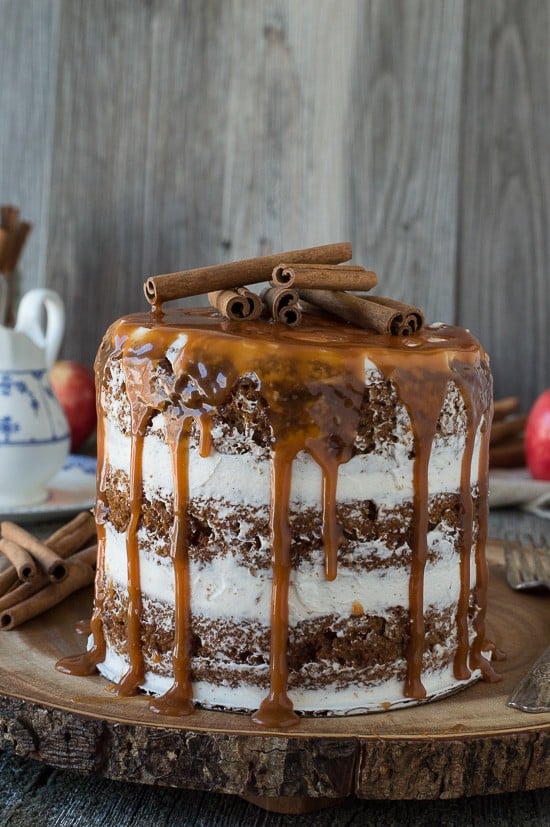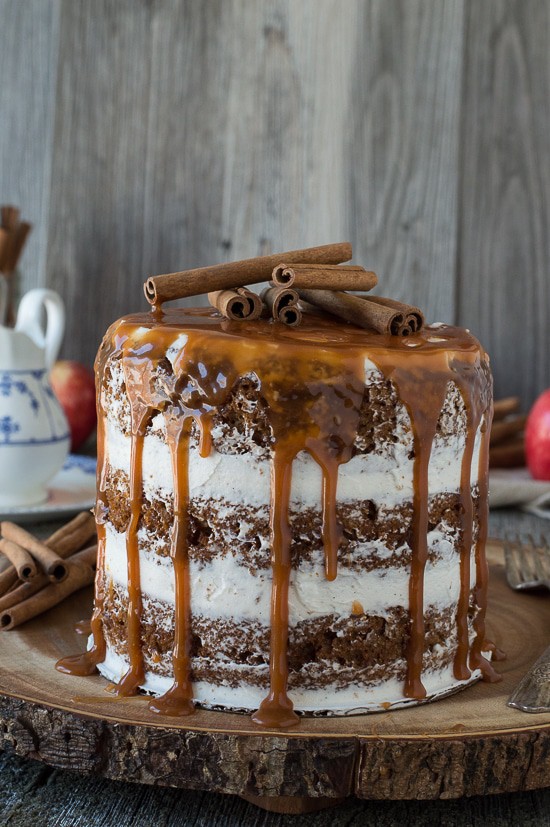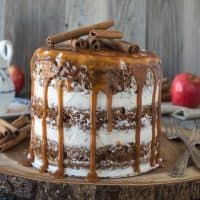 Apple Spice Cake with Caramel Drizzle
It's time for a fall cake! This one is complete with classic fall flavors like apple, spice, and caramel. 
Print
Pin
Rate
Servings: 16 servings
Ingredients
Apple Spice Cake (this recipe makes one 6 inch cake)
1 cup flour
½ tsp baking soda
1 tsp baking powder
¼ tsp salt
½ tsp cinnamon
¼ tsp cloves
¼ tsp allspice
½ stick butter room temperature (1/4 cup)
½ cup brown sugar
1 large egg
¾ cup unsweetened applesauce
Vanilla Bean Buttercream
2 stick butter room temperature (1 cup)
½ cup vegetable shortening
1 tsp vanilla paste or extract or vanilla bean pods
5-7 cups powdered sugar
Caramel Drizzle
¼ cup heavy cream
1 tbsp butter unsalted
¼ tsp salt
½ tsp vanilla extract
6 tbsp sugar
1 tbsp light corn syrup
1 tbsp water
Instructions
Apple Spice Cake
Preheat the oven to 350º F.

Using butter, grease the bottom and sides of an 6 inch round cake pan or springform pan and line the bottom with a round piece of parchment paper. To ensure even baking, place a bake even strip around the pan. You can make your own homemade bake even strip by cutting a towel or shirt to fit the size of your pan. Get the fabric really wet, then squeeze out the dripping water but do not squeeze it too dry. Secure the fabric around the pan with a safety pin.

In a small bowl combine the flour, baking soda, baking powder, salt, cinnamon, cloves, and allspice. Mix well.

In a larger bowl, combine the butter and brown sugar. Beat using an electric mixer until creamy, about 1 minute.

Add in the egg, beat again with the mixer.

Add in the applesauce, mix by hand with a spatula.

Gradually add in the flour mixture, mixing by hand until it's incorporated.

Scrape the batter into the prepared cake pan, using a spatula to evenly spread it out.

Bake for 23-25 minutes, or until a toothpick inserted in the center comes out clean.

Once the cake is done, allow it to cool in the pan on a cooling rack for 10 minutes. After 10 minutes, carefully remove the cake from the pan. If using a springform pan, remove the sides and bottom. Allow the cake to cool completely on a cooling rack. Once cool, remove the parchment paper round from the bottom of the cake. If you need to level the top of your cake, do so now using either a cake lever or knife. Make sure the cake is completely cooled, then wrap the cake in plastic wrap and place it in the refrigerator. This cake is good for up to one week like this.
Vanilla Bean Buttercream
In a mixing large bowl, combine the butter and vegetable shortening, beat using an electric mixer until fluffy, 2 minutes.

Add in the vanilla paste, beat using electric mixer.

Begin to add the powdered sugar, about 1-2 cups at a time, mixing by hand first, then with the electric mixer. Continue adding powdered sugar until the frosting tastes good to you.
Caramel Drizzle
Get the directions from

Allie at Baking a Moment

. I followed her directions, just halved the recipe! She has awesome step by step photo instructions that are easy to follow! Be sure to prepare your caramel sauce in advance because it needs to cool before adding it to the cake.
How to assemble the cake
Spread a small amount of buttercream on a 6 inch round cardboard cake circle. Place your first layer of cake on top of the cardboard. Put buttercream on top of the first layer and spread it as even as possible with an offset spatula. Decide how much or how little frosting you want in-between each layer, you can measure the frosting, I'd use 1/3 to 1/2 cup in between each layer.

Repeat this process for each layer of cake. Once all of the layers are stacked and frosted, spread some frosting on the top of the cake.

Next, go back and fill in the gaps between the cake layers with more frosting. The frosting between the layers does not need to look perfect. Use a small offset spatula to get the frosting in between the layers and to spread it around the cake. Don't completely cover the cake layers as they are suppose to still be visible.

Place the entire cake in the freezer or fridge for 20 minutes to harden the buttercream.

Once the caramel sauce is cooled, use a spoon to drizzle the caramel around the center and sides of the cake, allowing it to drip down the sides.

For decoration, add cinnamon sticks or another garnish to the top of the cake.

Serve and enjoy.
Notes
The apple spice cake recipe will make one 6 inch cake. That way you can decide how many layers you want. You could also bake this cake in a 8 inch cake pan by doing 1 and 1/2 of the original recipe, the bake time would increase to 35-40 minutes. You could also turn this recipe into cupcakes. The original recipe might yield between 8-10 cupcakes, I'm not 100% sure because I haven't tried it. I think the baking time would be around 15-17 minutes.
Nutrition
Calories: 435kcal | Carbohydrates: 57g | Protein: 1g | Fat: 23g | Saturated Fat: 12g | Polyunsaturated Fat: 3g | Monounsaturated Fat: 7g | Trans Fat: 1g | Cholesterol: 57mg | Sodium: 276mg | Potassium: 39mg | Fiber: 1g | Sugar: 50g | Vitamin A: 538IU | Vitamin C: 1mg | Calcium: 32mg | Iron: 1mg