Angel Food Bird Nest Cupcakes
Angel Food Bird Nest Cupcakes – a fun bird nest cupcake using angel food cake and toasted coconut!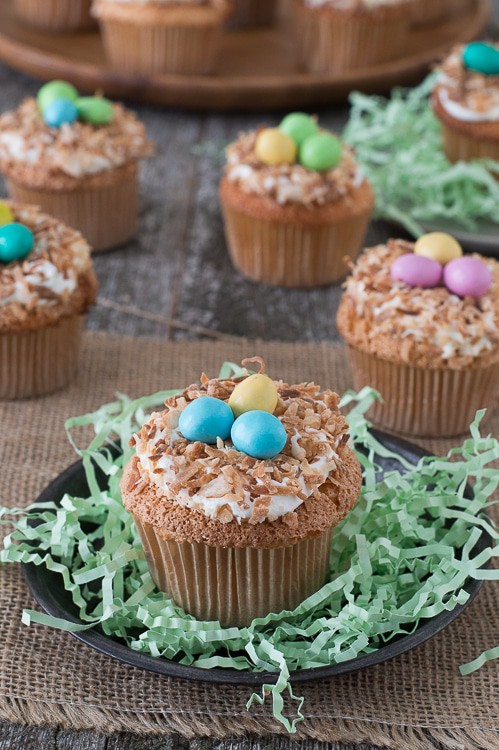 It's pretty common that bird nest desserts call for some sort of candy to stand in as the eggs. The most egg shaped candy tends to be peanut m&ms, so I set off to find some pastel colored m&ms.
I didn't plan this very well, but I set out to make these cupcakes right before easter candy was hitting the stores, so naturally I had a hard time finding pastel m&ms. I went to one store to pick up the supplies I needed, and after walking up and down the candy aisle looking for pastel m&ms, I decided to buy the regular peanut m&ms because I thought leaving the store with something was better than nothing.
I got home, opened the bag, looked inside and thought these colors are not going to work. In my mind, I was thinking that I couldn't put red, green, and orange m&ms on top of my cupcakes, it was going to look silly and not spring like at all.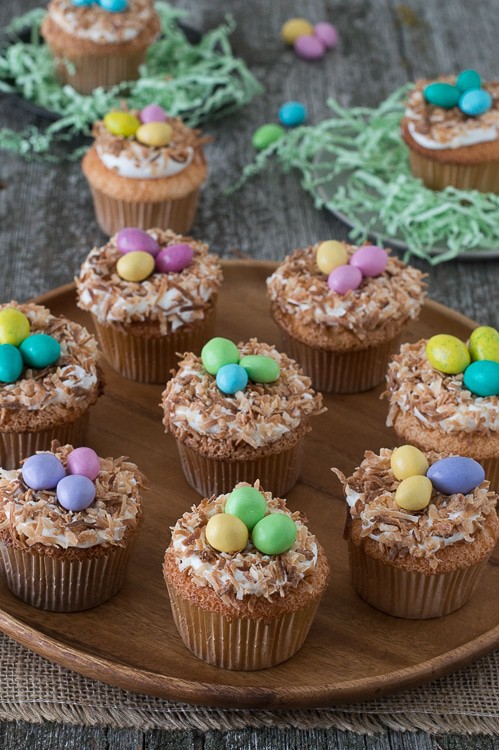 So I decided to hunt down pastel m&ms. I did what I always do when I can't find something in a store near me, I went to Amazon :)
Although I desperately needed pastel m&ms, I was not willing to pay $20 for a pack of 6 bags. So I decided to see if another store had them later in the week. I went, I searched, and I left empty handed.
I felt like a crazy woman driving around town looking for pastel m&ms.. which this happens to me somewhat frequently, like the one time I went to 5 different stores looking for lemongrass. I ended up finding the lemongrass at an Asian grocery store, I guess I just needed to go to the right place.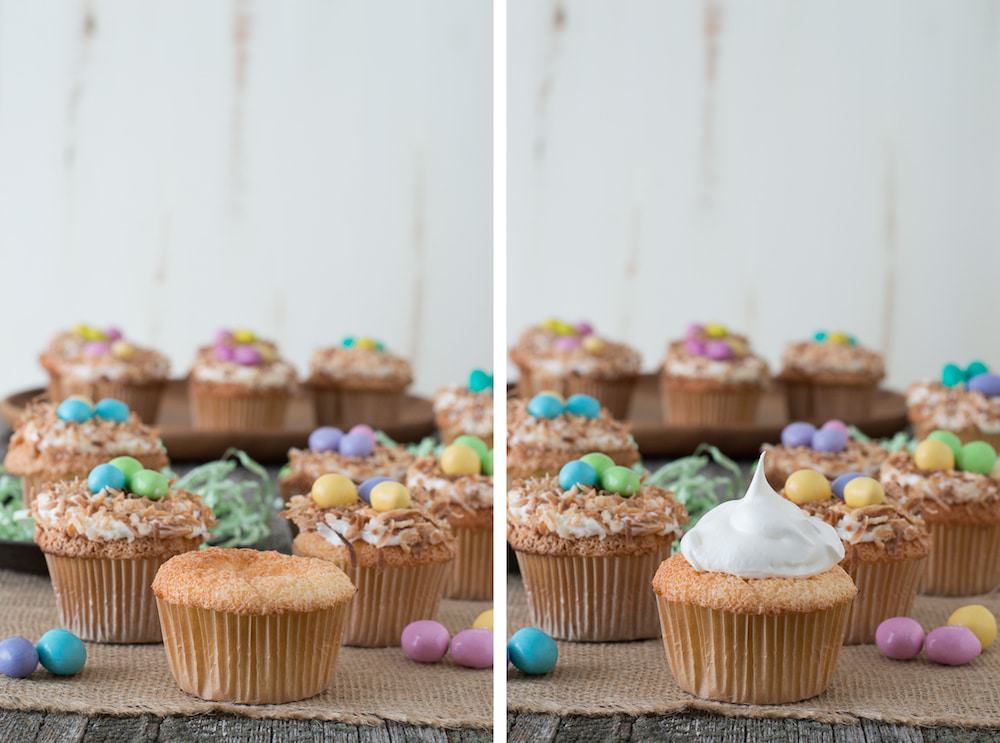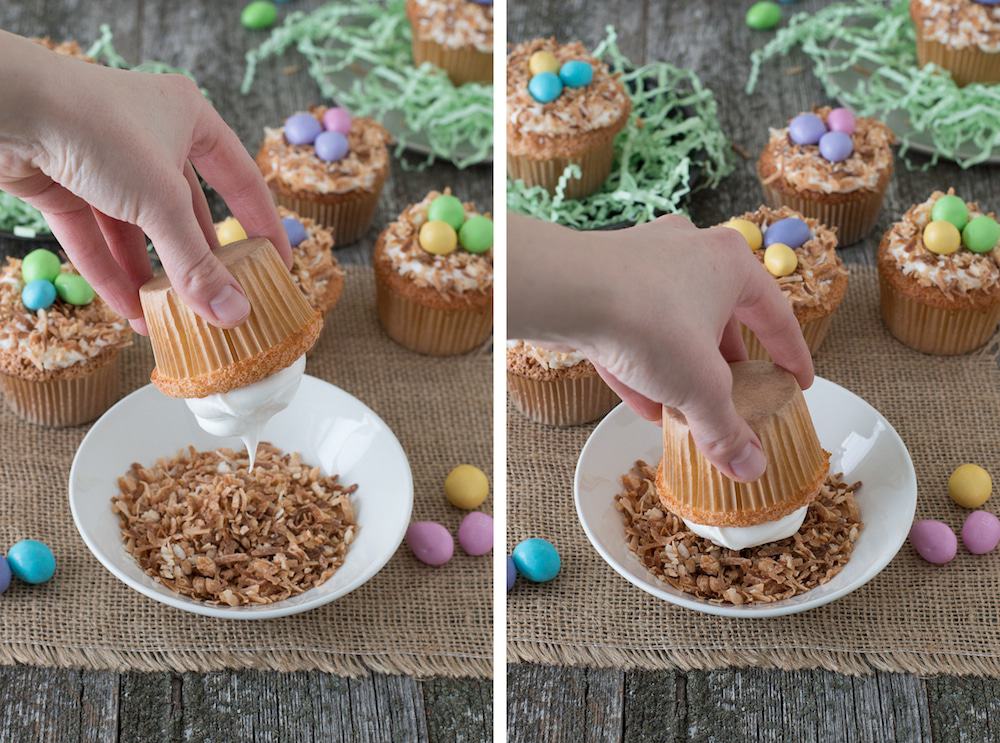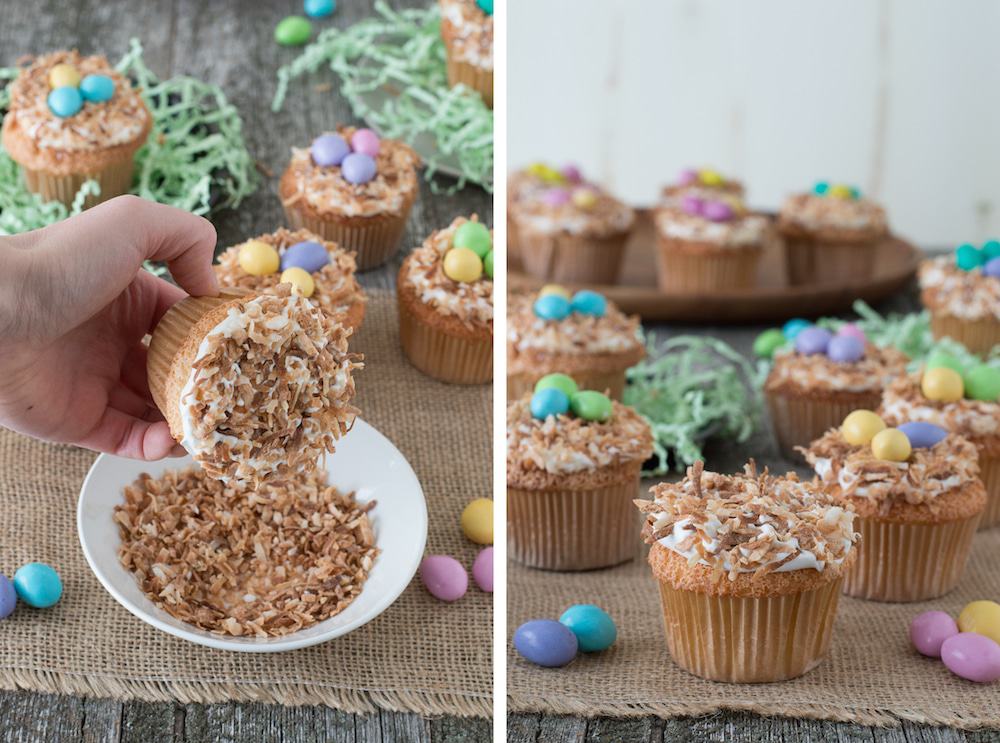 As I was feeling like a crazy woman, my mind went from thinking about the lemongrass, to the asian store, to… Walmart. I don't know why, but Walmart always seems to put their holiday candy out super early. They tend to be the store who has back to school supplies displayed in July, which puts a damper on your whole day, and leaves you saying "WHYYYY!!!"
So I went to Walmart and found a whole aisle of Easter candy. Wheew, sigh of relief.
But then I couldn't choose between the pastel peanut m&ms and the speckled peanut butter m&ms, so I got both and now I have 3 bags of m&ms at my house. I am currently hiding the leftovers in the laundry room, out of sight out of mind, right? The Jelly Belly jelly beans are also there :)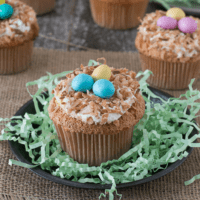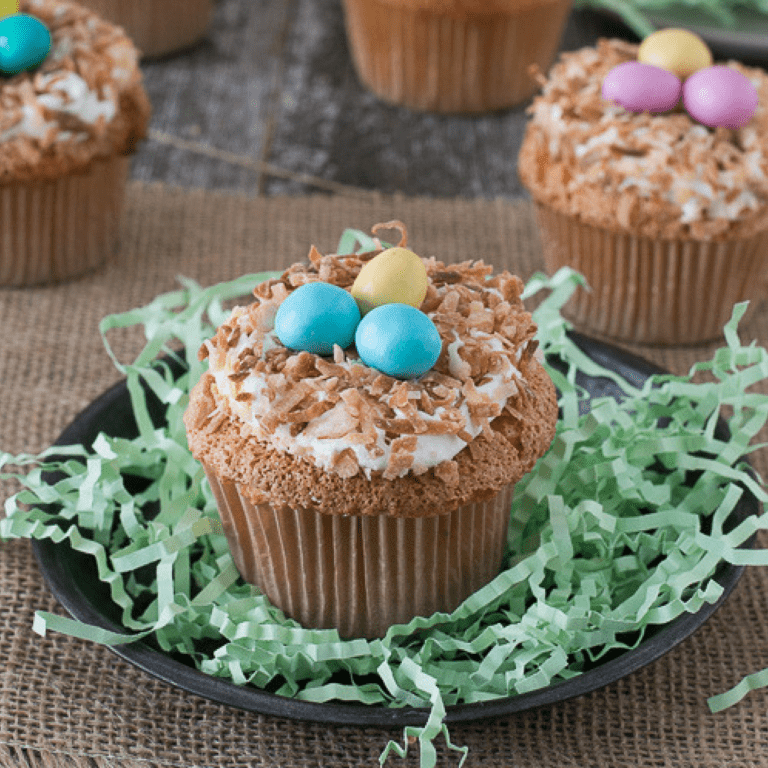 Angel Food Bird Nest Cupcakes
A fun bird nest cupcake using angel food cake and toasted coconut!
Ingredients
1

box

angel food cake mix

1

container

cool whip

½ to ⅔

cup

toasted coconut

pastel colored egg shaped candies
Instructions
Preheat the oven as directed on the box.

Prepare the angel food cake mix as directed on the box.

Line a muffin pan with muffin liners. Fill each cup no more than 1/2 full. Angel food cake puffs up a lot when baking, and you don't want your cupcakes to overflow. I would aim for 1/3 to less than 1/2 full.

Bake for 10-12 minutes or until the tops of the cupcakes are cracky and light brown.

Place the shredded coconut on a baking sheet. Place the coconut in the oven and turn it into broil. The coconut will only take a few minutes to toast. I like to stir my coconut as it's toasting, to make sure it's even.

Once the coconut is toasted, remove it from the oven and let it cool.

To assemble the cupcakes: Put the cooled coconut into a bowl. Doing one cupcake at a time, place a dollop of cool whip on the top of each cupcake. Turn the cupcake upside down and gently place it into the bowl with the coconut, allowing the cool whip to be covered by the coconut. Place the cupcake right side up and add three pastel colored candies.
Calories:
190
kcal
,
Carbohydrates:
38
g
,
Protein:
3
g
,
Fat:
3
g
,
Saturated Fat:
3
g
,
Polyunsaturated Fat:
1
g
,
Monounsaturated Fat:
1
g
,
Cholesterol:
3
mg
,
Sodium:
325
mg
,
Potassium:
74
mg
,
Fiber:
1
g
,
Sugar:
26
g
,
Vitamin A:
33
IU
,
Vitamin C:
1
mg
,
Calcium:
79
mg
,
Iron:
1
mg