Stuffed Peanut Butter Cup Donuts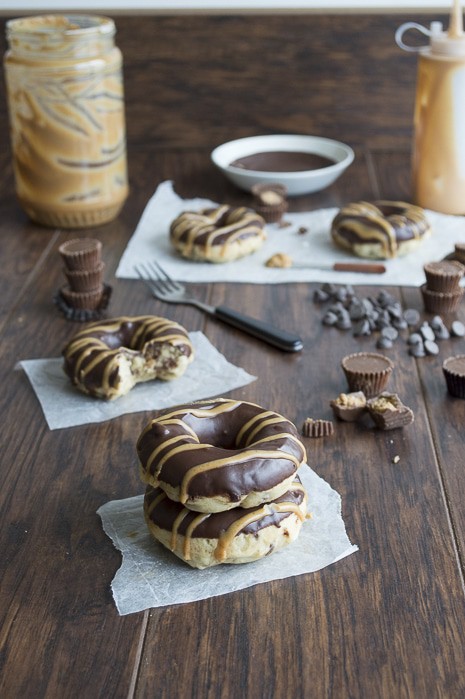 Anyone want to come over for breakfast?
We're having cereal.

Just kidding. We'll be having donuts stuffed with mini peanut butter cups, topped with chocolate ganache and drizzled with peanut butter.
If you're coming for breakfast, bring milk. And more peanut butter cups :)
Confession: I always have peanut butter cups in the house. For a while they were in the pantry. That became too tempting, I mean I'd be looking for a granola bar and I'd see the peanut butter cups staring at me, so they went in the fridge. But they ended up on the top shelf in the door of the fridge, and I would see them every time I went looking for the ketchup, jelly, or the 50 other condiments we stash in their. So they moved to the only other place.. the freezer! Now they are hiding way behind the frozen chicken and a bag of french fries. Good thing we don't seem to interested in eating the french fries.. otherwise hello peanut butter cups!

It's no secret, I  l-o-v-e donuts. I've shared donut recipes here, here, and here. I was even considering adopting the donut as the blog mascot for a while. It could still happen :)
These would be a fantastic donut to make around Halloween time – it will help you use up leftover halloween candy! Or you could surprise your family with these peanut butter cup donuts as a "let's get excited for Halloween" treat! You'll be awarded mom of the year.
Stuffed Peanut Butter Cup Donuts
Ingredients
Stuffed Peanut Butter Cup Donuts

1 cup flour
3 tbsp sugar
1 tsp baking powder
1/2 tsp salt
6 tbsp milk
1 egg
1/2 tsp vanilla
1 tbsp butter, melted
2 tbsp vegetable/canola oil
10 mini Reese's peanut butter cups, chopped

Chocolate Ganache

2/3 cup chocolate chips
1 tbsp vegetable/canola oil

Peanut Butter Drizzle

2 tbsp creamy peanut butter
1/2 tsp vegetable/canola oil
Instructions
Donuts

Preheat the oven to 325 degrees F. Spray a donut pan with cooking spray, use a paper towel to lightly spread/remove excess spray.
In a large bowl, combine the flour, sugar, baking powder and salt.
In another bowl, combine the milk, eggs, vanilla, butter and oil. Stir the dry ingredients into the wet ingredients, mix just until combined.
Transfer the batter to a large piping bag or use a ziploc bag with one corner cut off. Pipe the batter into the donut pan, filling each donut hole about 2/3 full.
Add the chopped peanut butter cups to the batter in the donut pan, using a toothpick to push them into the batter. Distribute the chopped peanut butter cups evenly.
Bake the donuts for 10 minutes, or until a toothpick comes out clean. Remove from the oven and let the donuts sit in the pan for 5 minutes before moving to a wire rack.

Chocolate Ganache

Combine the chocolate and oil in a shallow microwave safe bowl and microwave on 60% power, stirring every 30 seconds for about 2 minutes. You do not want the chocolate to be too runny. Let the chocolate sit for a few minutes so it can thicken before you dip the donuts into the chocolate. Dip each donut into the chocolate, allowing the excess to fall off. Let the chocolate covered donuts sit for 3-4 minutes before adding the peanut butter drizzle.

Peanut Butter Drizzle

Combine the peanut butter and oil in a shallow microwave safe bowl, and microwave on 60% power for 1-2 minutes, or until the peanut butter is melted. Drizzle the peanut butter over each donut, using a spoon.
http://thefirstyearblog.com/stuffed-peanut-butter-cup-donuts/
This is one recipe I think you just have to give in and make!