Vanilla and Fresh Berry Naked Cake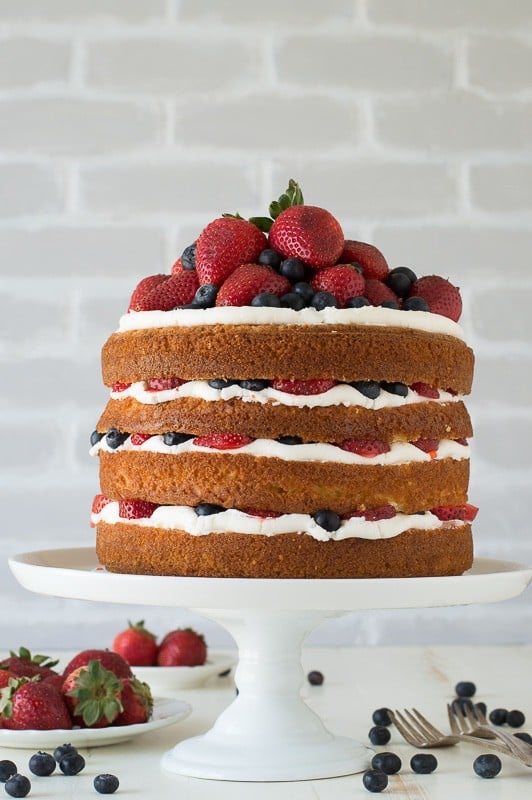 We still have 28 days until the 4th of July.. but it's already been all red, white and blue in my kitchen for the past 2 weeks! I'm in full on 4th of July mode, think containers of 4th of july sprinkles, tons of berries, and massive amounts of red, white and blue buttercream.. but every time I check the calendar, it's like "Oh yeah, we still have a couple of weeks!"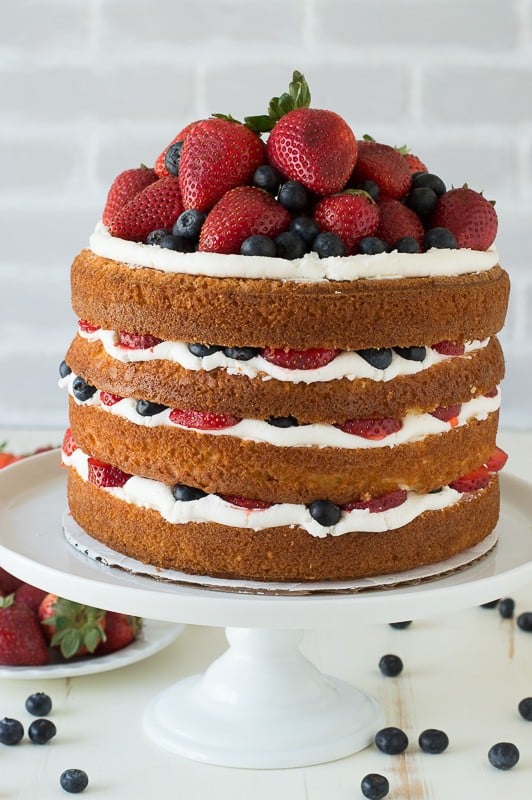 I have some great friends and neighbors who have been helping us eat everything I've been making, but every time I bring a 4th of july dessert to share, I feel like I have to preface it with an apology.. "Sorry, I know it's not 4th of July, but I hope you like it!"
And the worst part? By the time 4th of July rolls around, I'll be all tuckered out from stars and stripes that I probably won't make anything red, white, or blue. I keep reminding Ryan to enjoy it now because on the 4th I'll probably be stocking up on canned pumpkin. Just kidding. Or.. maybe I'm not kidding :)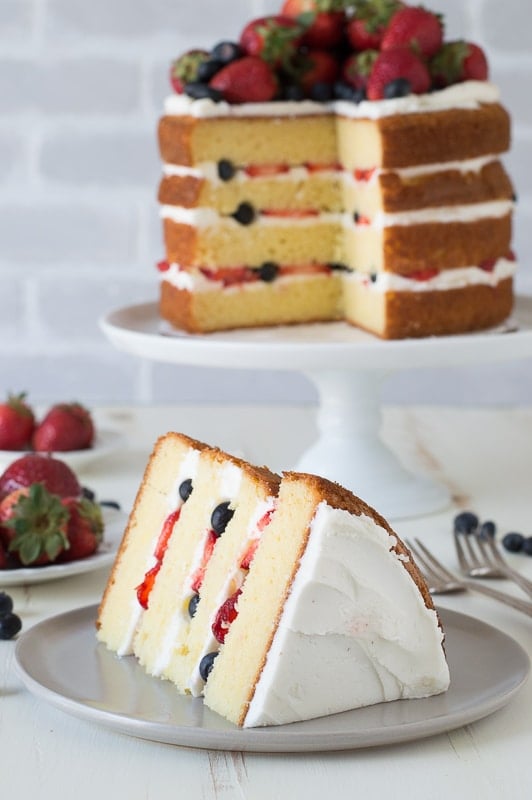 This vanilla and fresh berry naked cake is relatively easy to make. You don't need any kind of buttercream decorating skills (perfect for you, Mom! Just teasing!). But I have a few tips for you.
#1 – Buy more berries than you think you'll need. It takes A TON of berries to decorate the top of the cake, especially if you want it to look full. If you see the BIG containers of strawberries at your grocery store, buy 2 of those and that should be plenty. I'd buy 3 containers of blueberries.
#2 – Invest in bake even strips. This isn't just a naked cake thing, bake even strips will help all of your cakes bake evenly, meaning you won't be throwing away as much cake when you go to level them. You can buy bake even strips at places like BB&B or Amazon. You can also make your own at home. Cut up an old towel into strips. Soak the strips in water before each use, making sure to wring out any dripping water. Then secure them around your cake pans using safety pins.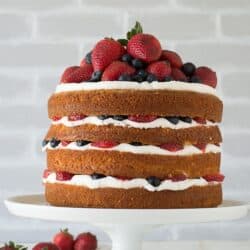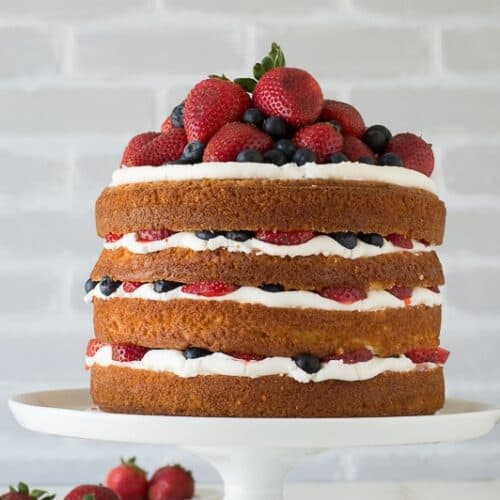 Vanilla and Fresh Berry Naked Cake
This vanilla and fresh berry naked cake is relatively easy to make. You don't need any kind of buttercream decorating skills.
Ingredients
Vanilla Cake (make this recipe 4 times, once for each layer, if you want a 4 layer cake)
1 ½

sticks

butter

,

room temperature (3/4 cup)

¾

cup

sugar

1

tsp

vanilla extract

3

large

eggs

1 ¼

cups

flour

1 ¾

tsp

baking powder

½

tsp

salt
Vanilla Buttercream
2

sticks

butter

,

room temperature (1 cup)

1

cup

vegetable shortening

1

tsp

vanilla extract

4.5-6

cups

powdered sugar
Fruit
Sliced strawberries

,

for inside the cake

Whole strawberries

,

to top the cake

Blueberries

,

for inside and to top the cake
Instructions
Cake
Preheat the oven to 350º F. Grease the bottom and sides of an 8 inch round cake pan or springform pan and line the bottom with a round piece of parchment paper. To ensure even baking, place a bake even strip around the pan. You can make your own homemade bake even strip by cutting a towel or shirt to fit the size of your pan. Get the fabric really wet, then squeeze out the dripping water but do not squeeze it too dry. Secure the fabric around the pan with a safety pin.

In a mixing bowl, combine the butter, sugar, and vanilla extract, beat using an electric mixer until fluffy. Add in the eggs one at a time, lightly beating after each one.

In a smaller bowl, combine the flour, baking powder and salt, gently mix with a spoon. Gradually add half of the flour mixture to the wet ingredients, do not dump it in, rather take spoonfuls of the flour mixture and gently shake it over the wet ingredients, as if you were sifting in the flour. Fold in the mixture until no flour remains. Repeat with the other half of the flour, folding it in and scraping the sides and bottom of the bowl to incorporate everything. Scrape the batter into the prepared cake pan, using a spatula to evenly spread it out.

Bake for 22-27 minutes. Using a bake even strip will slow down the baking time, so if your cake is still wobbly in the center, allow it to bake longer.

Once the cake is done, allow it to cool in the pan on a cooling rack for 10 minutes. After 10 minutes, carefully remove the cake from the pan. If using a springform pan, remove the sides and bottom. Allow the cake to cool completely on a cooling rack. Once cool, remove the parchment paper round from the bottom of the cake. If you need to level the top of your cake, do so now using either a cake lever or knife. Wrap the cake really good in plastic wrap and place it in the refrigerator, which is good for up to one week.

30 minutes to 1 hour before you plan to assemble the cake, place the cake layers in the freezer. This will make them easier to frost.
Buttercream
In a mixing bowl, combine the butter and vegetable shortening, beat using an electric mixer until fluffy. Add in vanilla extract and gently mix by hand with a spatula. Begin to add the powdered sugar, about 2 cups at a time, mixing by hand. Continue adding powdered sugar until the frosting no longer looks wet and tastes good to you. Then I use my electric mixer once last time to make sure the powdered sugar is really incorporated and ready to go.
To assemble the cake
I like to assemble my cakes on a turntable. Spread a small amount of buttercream on a 8 inch round cardboard circle. Place your first layer of cake on top of the cardboard. Put buttercream on top of the layer and spread it as even as possible with an offset spatula.

Fill a piping bag set with a large round piping tip with buttercream. Pipe a border of buttercream around the edge of the cake.

Place sliced strawberries and berries on top of the buttercream, evenly distributing.

Add the second layer of cake. Repeat the steps of spreading on the buttercream, piping on a buttercream border and filling the cake with fresh fruit. Repeat until all of the layers are on the cake.

On the very top layer, spread on some buttercream and pipe a buttercream border if desired. Top the cake with lots of fruit. I used an entire container of strawberries and half a container of blueberries.

Naked cakes are best served on the day they are made.
Notes
The provided cake recipe will make ONE 8 inch cake. Double, triple, etc. the recipe depending on how many layers you want to make. 
Calories:
678
kcal
,
Carbohydrates:
68
g
,
Protein:
3
g
,
Fat:
45
g
,
Saturated Fat:
22
g
,
Polyunsaturated Fat:
6
g
,
Monounsaturated Fat:
14
g
,
Trans Fat:
3
g
,
Cholesterol:
117
mg
,
Sodium:
414
mg
,
Potassium:
41
mg
,
Fiber:
1
g
,
Sugar:
57
g
,
Vitamin A:
891
IU
,
Calcium:
52
mg
,
Iron:
1
mg