Raspberry Jam Shortcake
I created this recipe in partnership with the One2One Network on behalf of ACH Food. I am partnering with them as a Become a Better Baker Blog Ambassador.
When it comes to summer time food, our list is long. It wouldn't be summer without watermelon, homemade popsicles, stopping for a glass of lemonade at the neighborhood lemonade stand, s'mores (of course!) and shortcake. And the list is always growing. Once we cross something off, another thing gets added – like hunting down the ice cream truck to buy $1 ice cream cones! We can help you knock a couple things off your 'must eat' summer bucket list like popsicles, s'mores, and shortcake! We can also help your prepare for your 4th of July cookout. Served with fresh berries and cream, this patriotic cake would look great on your picnic table!
This shortcake recipe uses Fleischmann's® Yeast which makes the cake spongy and light, perfect for topping with fresh berries and a dash of cream or whipped cream.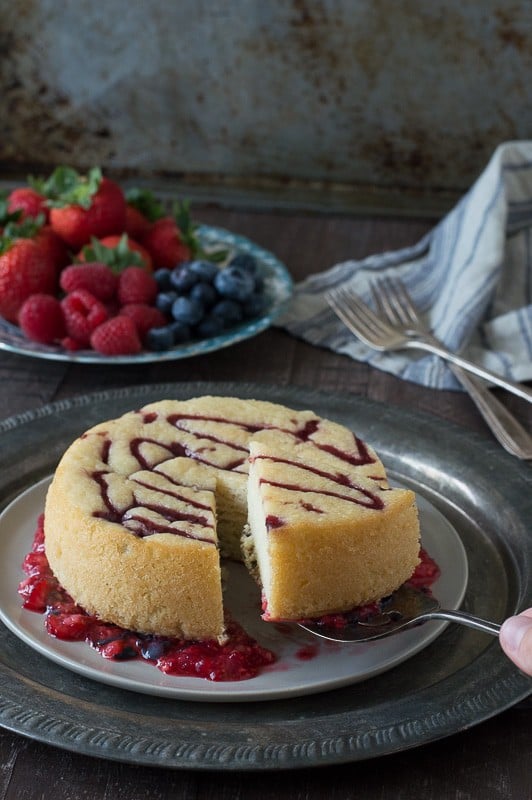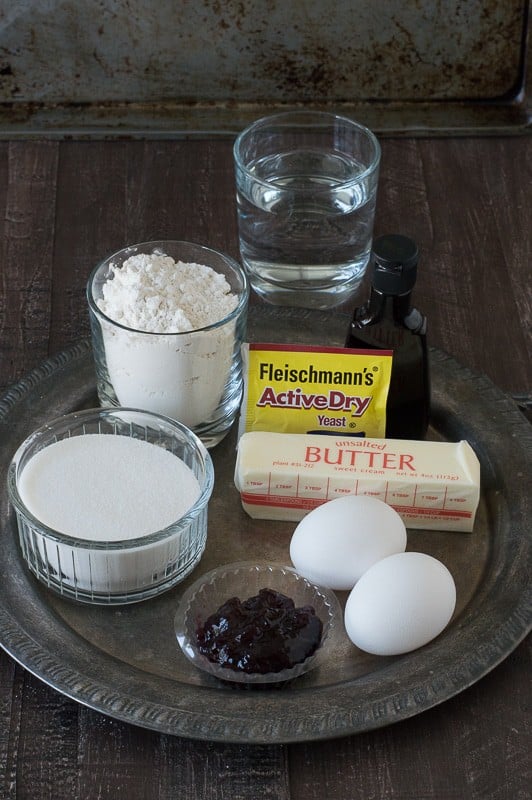 This might surprise some of you, but baking with yeast used to intimidate me! I think it's because I've thrown out more than my share of cinnamon rolls into the garbage after they didn't rise. I've learned a few tips along the way that have helped me, so maybe they will help you too!
Tip #1 – Water temperature. Many yeast based recipes call for warm water. Do not use the microwave to heat your water, because that will produce water that's too hot, which can kill your yeast. Instead, turn your faucet on, and once the water feels warm to the touch, you got it!
Tip #2 – Draft-free place. Your dough needs a draft-free place to rise. I've heard of people placing their dough on top of a preheated oven, or turning the oven on for a few minutes then turning it off and placing the dough inside the oven. But my secret spot is on top of my washing machine (while its not running) with the dryer running next to it. This way I'm not only getting some baking done, but some laundry too :)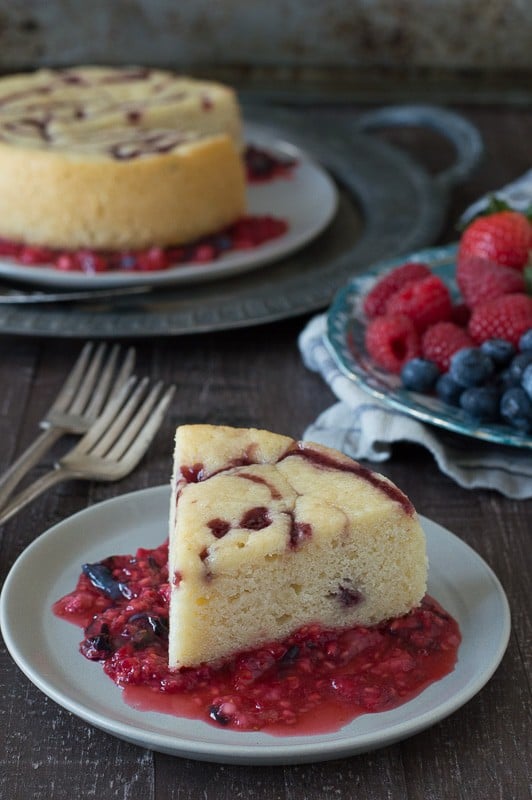 Ingredients:
3/4 cup warm water (100°F to 110°F)
1 envelope Fleischmann's® Active Dry Yeast
1 cup plus 1 tablespoon sugar, divided use
2 cups all-purpose flour
1/2 cup butter OR margarine, softened
2 eggs
1 teaspoon Spice Islands® Pure Vanilla Extract
1/2 teaspoon salt
1/4 cup raspberry jam/jelly mixed with 1/4 teaspoon water
Berries of your choice for serving, mashed up
Heavy cream or whipped cream for serving, optional
Directions:
Place the warm water in a large warm bowl. Sprinkle in the yeast and 1 tablespoon sugar; stir until yeast is dissolved. Add 1 cup flour; stir until smooth. Cover; let rise in warm, draft-free place until doubled in size, about 30 to 45 minutes.
Using electric mixer, beat butter and remaining sugar until light. Gradually add eggs, vanilla and salt, beating until well blended. Gradually add to yeast mixture with remaining 1 cup of flour, mixing well.
Butter the sides and bottoms of two 6-inch round cake or springform pans. Evenly divide the batter between the pans, with about 1 & 1/2 cups batter per pan.
In a small bowl, mix the jam and water until the consistency is thinner. Drizzle the jam on top of the batter, evenly dividing between the 2 pans.
Cover the pans; let rise in warm, draft-free place until doubled in size, about 1-1/2 hours.
Bake at 350ºF for 25 to 30 minutes or until a toothpick inserted in the center comes out clean. Cool for 5 minutes in pan; remove the cake from the pan and place on wire rack to cool. To serve, cut cake into wedges; add mashed up berries and heavy cream or whipped cream.
Adapted from
this
Fresh Berry Shortcake recipe found on Breadworld.com.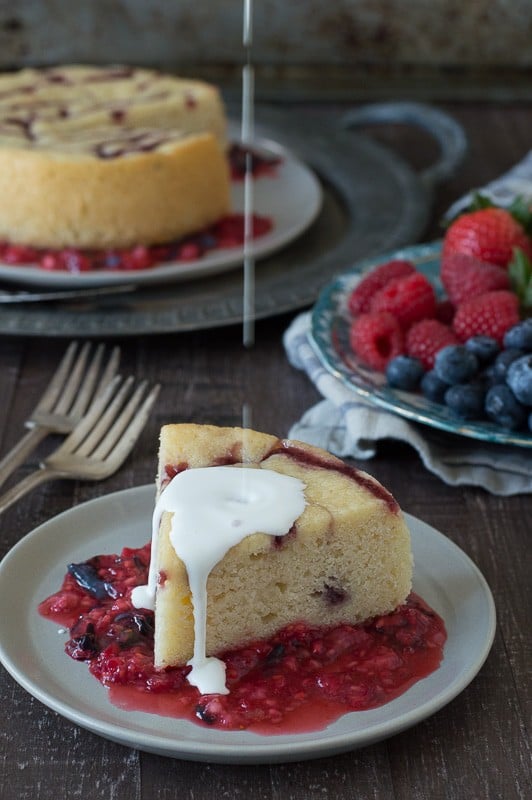 You can certainly top a slice of this shortcake with whipped cream, but my family recently introduced me to adding a splash of heavy cream to pie. At the time, it seemed ridiculous (I'm sorry for laughing, family!) but low and behold, I tried it with this berry shortcake, and it added the perfect amount of creaminess!