Want our top 10 essential dessert recipes?
Get our favorite classic recipes in your inbox! It's 100% free, but we might make you hungry!
Pumpkin Blossom Cookies
These are the most adorable fall cookies – pumpkin blossom cookies! A spice cookie with pumpkin spice hershey's kisses turned into PUMPKINS!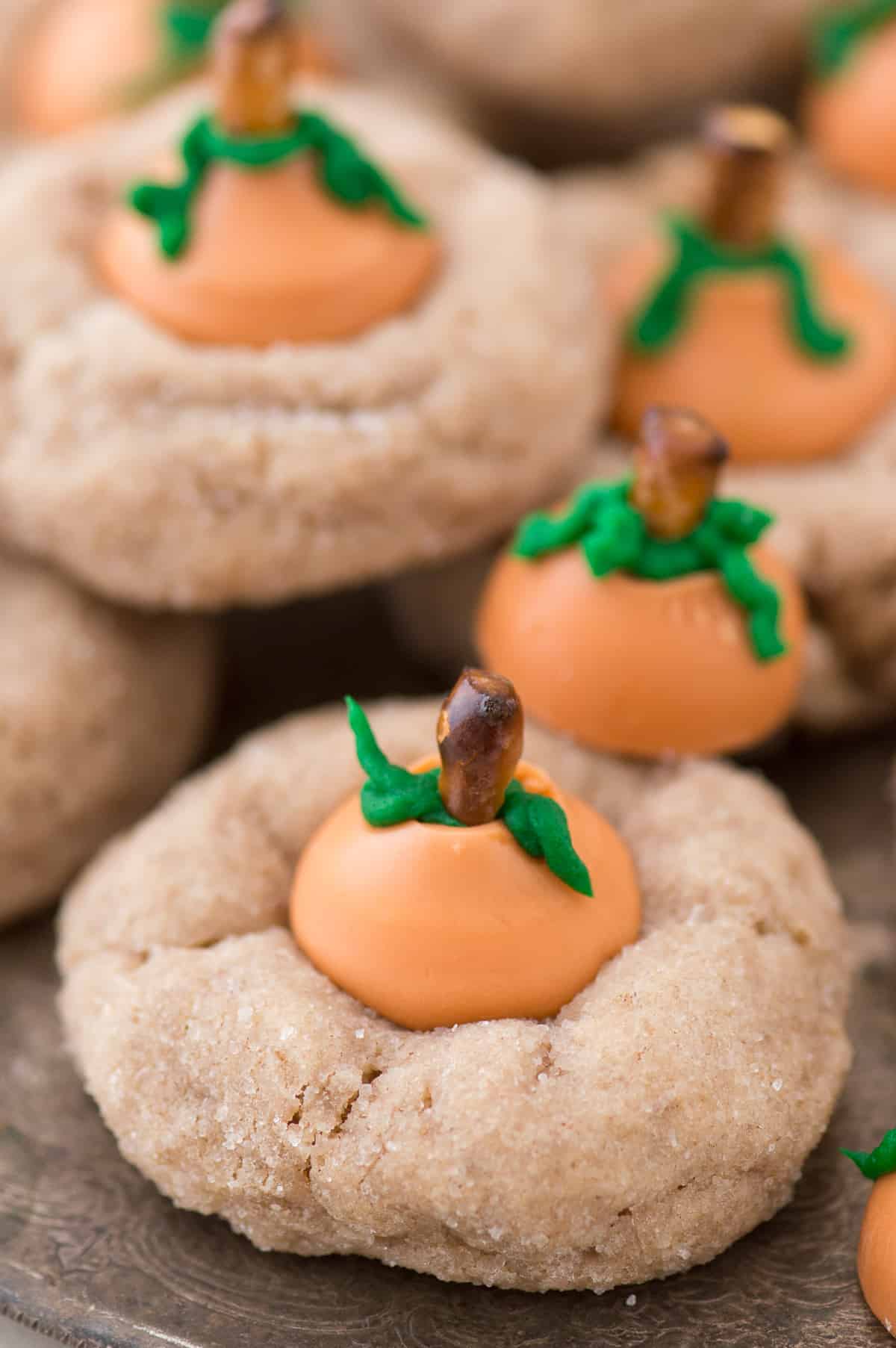 The worst part about needing specific ingredients for a recipe is not being able to find them! Then calling all the stores to see if they have what you need, then realizing one of the store's websites say that they DO actually carry the ingredient in store.
This was the story about trying to find pumpkin spice hershey's kisses. I am going to tell you right now – Target is probably the only store where you'll find these. If you go before all the fall baking stuff is gone, you should be able to find these kisses in the seasonal baking aisle.
I am not sure if these kisses are limited edition or why only Target carries these, but I hope they'll continue to be available for many falls to come!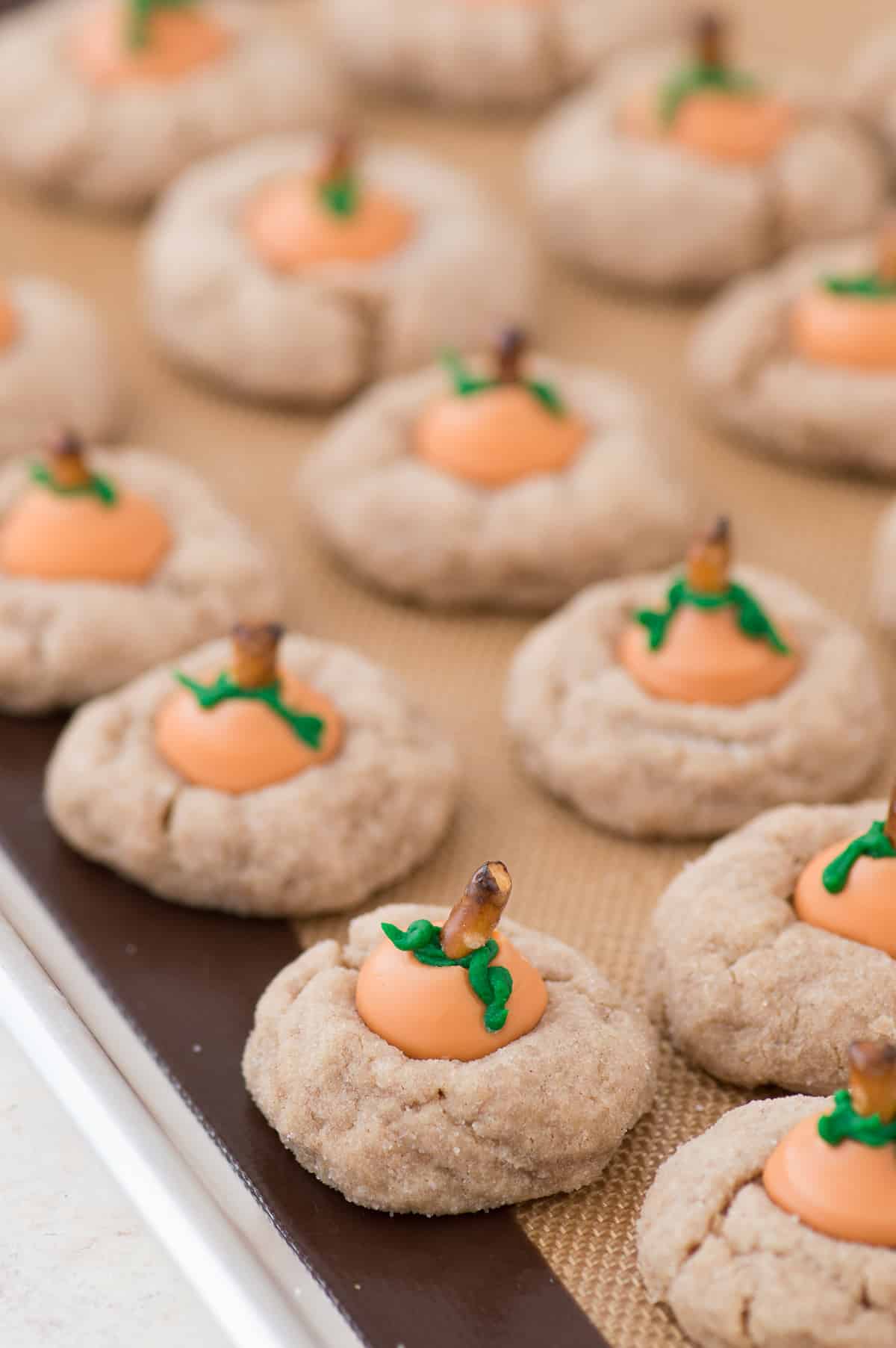 This idea for pumpkin blossom cookies all started when my nephew asked for peanut butter blossoms for this birthday. I have 5 nieces and nephews that live in Minnesota and for each of their birthdays they get to pick their cookie, and I make it and mail it to them!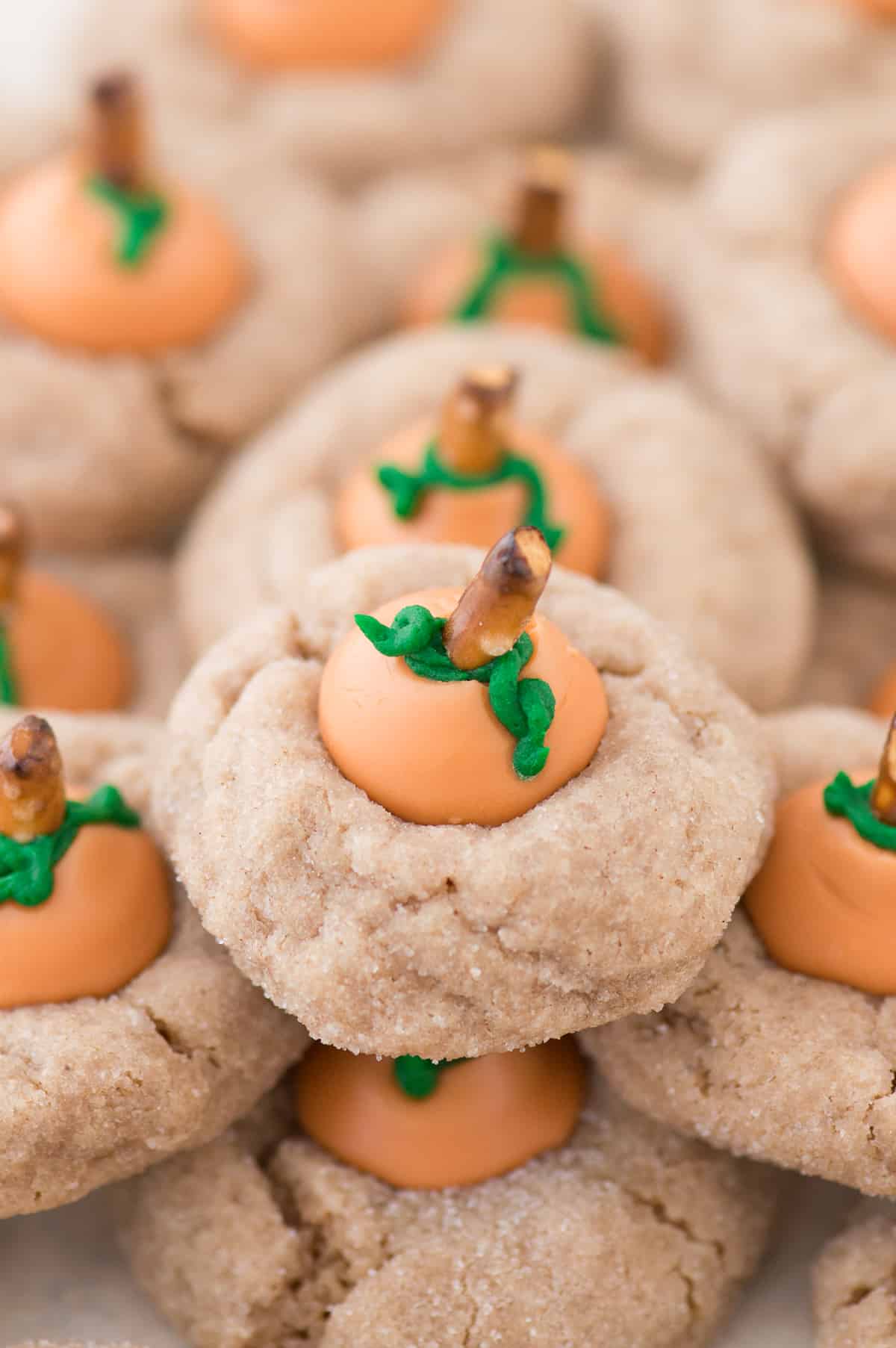 I knew that the pumpkin spice hershey's kisses would make the cutest pumpkins with a little tweaking. I did cut the pointy tops off the kisses so they looked more like pumpkins. Then all you need are some broken pretzel pieces and green buttercream.
The cookie base is crazy easy – it's a box of spice cake mix, eggs, butter, and cream cheese. They turned out AMAZING. Plus what's better than a spice cookie in the fall? Especially when topped with cute pumpkin kisses.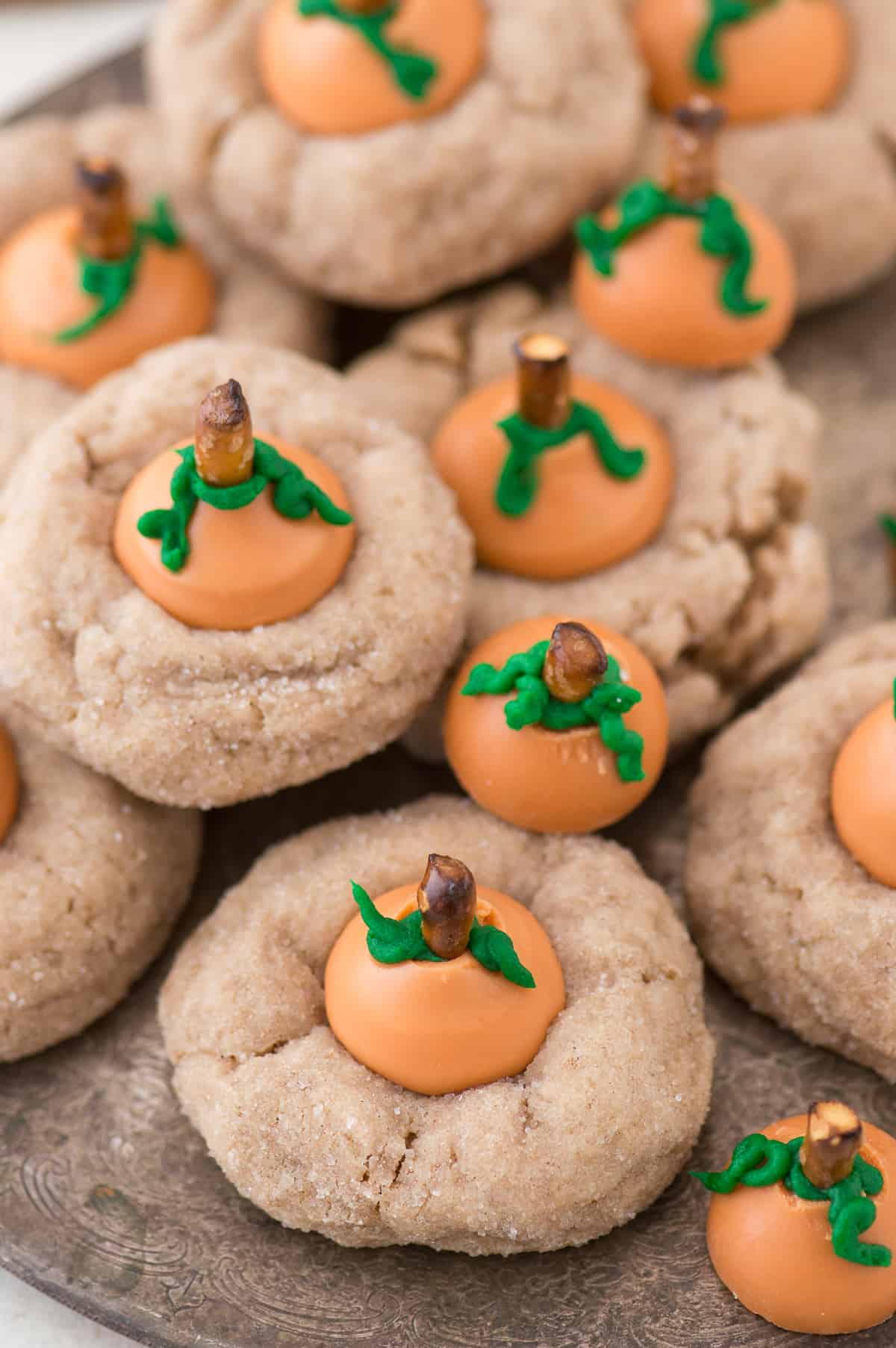 For a step-by-step of how to make this pumpkin blossom cookie recipe, watch this short video:
Pumpkin Blossom Cookies
Yield: 2 dozen cookies
Total Time:1 hour
These are the most adorable fall cookies - pumpkin blossom cookies! A spice cookie with pumpkin spice hershey's kisses turned into PUMPKINS!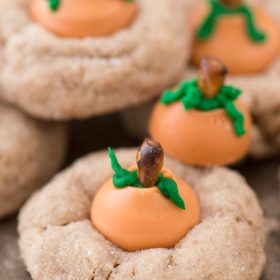 Ingredients:
1 egg
1 stick butter (1/2 cup) melted
1 package spice cake mix, 15.25 oz
4 oz cream cheese, room temperature
sugar (for rolling cookies in)
Pumpkin Spice Hershey's Kisses
Broken pretzels
Green Buttercream

2 tbsp butter
1/4 cup powdered sugar
kelly green food coloring
Directions:
Unwrap the pumpkin spice hershey's kisses. Cut the pointy tops of the kisses. Place the kisses in the freezer. This helps them maintain their shape once added to the hot cookies.
Prepare the cookie dough. In a mixing bowl combine the egg, butter, and spice cake mix, beat with an electric mixer until combined. Beat in the cream cheese. Refrigerate the dough for 30 minutes.
Meanwhile, make the buttercream. In a small mixing bowl, beat the butter until smooth. Add in the powdered sugar and kelly green food coloring, beat until combined. Transfer the buttercream to a piping bag fit with a small round piping tip.
Preheat the oven to 350º F. Form the dough into balls, using a cookie scoop or similar. Roll the dough balls into a bowl of sugar, place on a silicone lined baking sheet, slightly flatten the tops of the balls and bake for 8 minutes.
Remove the pan from the oven and allow the cookies to cool for 2 minutes, then put the frozen kisses on the cookies, pressing them in slightly. Pipe on the green buttercream leaves/vines and a broken pretzel for the stem. DO NOT MOVE THE COOKIES until the kisses are completely hardened.
Products used to make this recipe
(may include affiliate links)