Want our top 10 essential dessert recipes?
Get our favorite classic recipes in your inbox! It's 100% free, but we might make you hungry!
Pineapple Walnut Donuts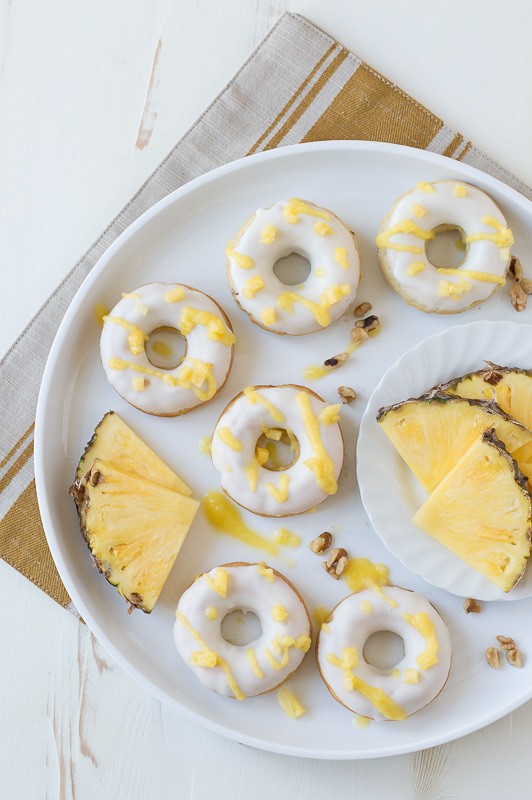 Things are getting pineapple-y around here! I'm bringing a batch of pineapple walnut donuts to the breakfast table and they are tropical and so good. I've been working with pineapple a lot lately which can only mean one thing.. we're getting ready for Pineapple Week! If you're a pineapple loving person, hang tight for a few more weeks and get a whole bunch of fresh pineapple ready because I'll be sharing three recipes all featuring pineapple. But in the mean time, we can enjoy pineapple donuts :)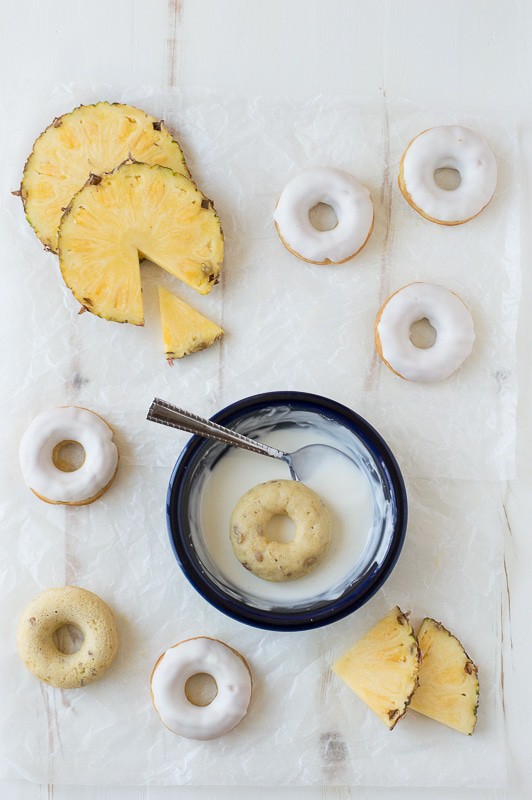 I'm not sure where the time went, but we're already settling into the first week in May and it almost caught me off guard. It felt like April took f.o.r.e.v.er. We have this giant wall calendar by our front door and for the whole month of April it was blank, which is rare. About halfway through the month, Ryan and I talked about filling it in, but instead we agreed that there was no point in filling out the calendar because of April showers.. they would just come wash everything away :)
Good thing the calendar has been filled out for the month of May because lots of events are going on – my mom's birthday, Mother's day, my middle brother's birthday, memorial day, and we're taking a trip to Minnesota. Wow, we have lots of M events going on.. May is going to be a mega month, haha!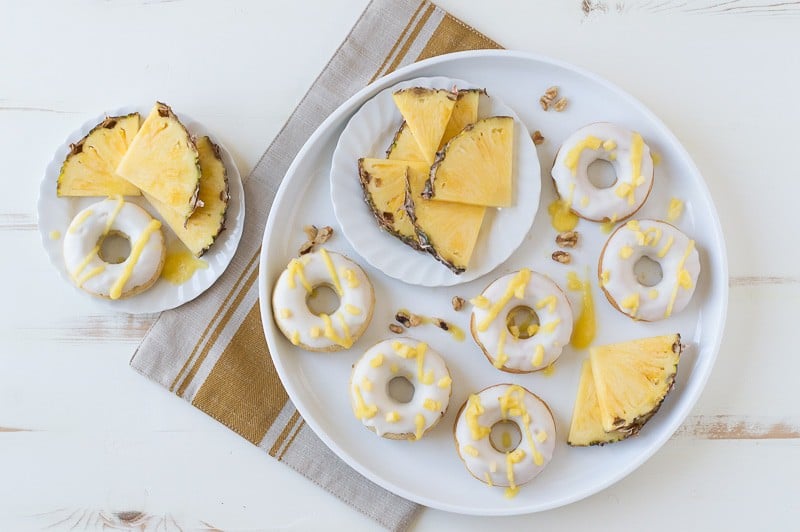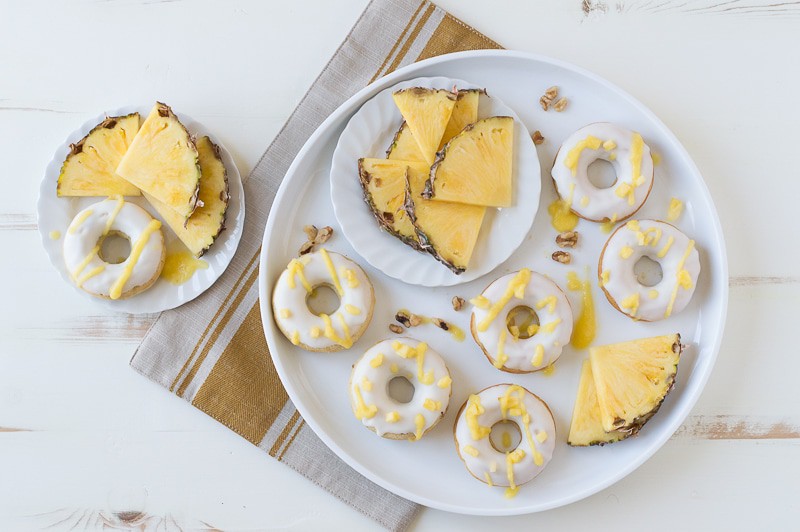 These pineapple donuts sound like a good option for any of these celebrations, but they would be especially fun for mother's day! You could have an entire tropical breakfast complete with hawaiian french toast, pina colada pancakes, and pineapple mango punch. All moms deserve a little trip to the tropics, even if it's just for one day!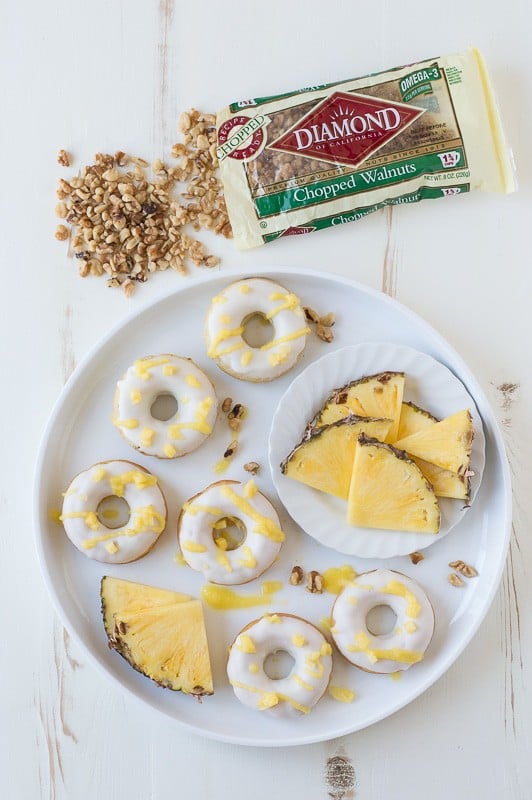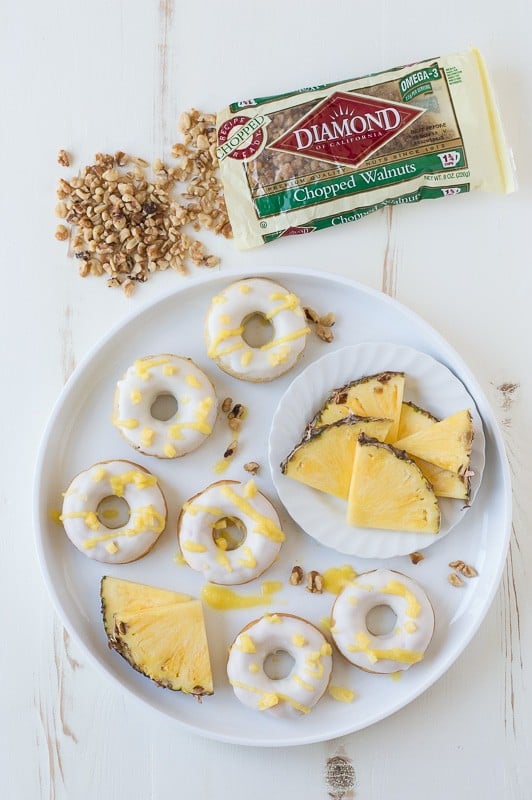 I created this recipe in partnership with the Diamond of California. As always, all opinions are my own, and thank you for supporting the organizations that make it possible for me to continue to provide quality content to you!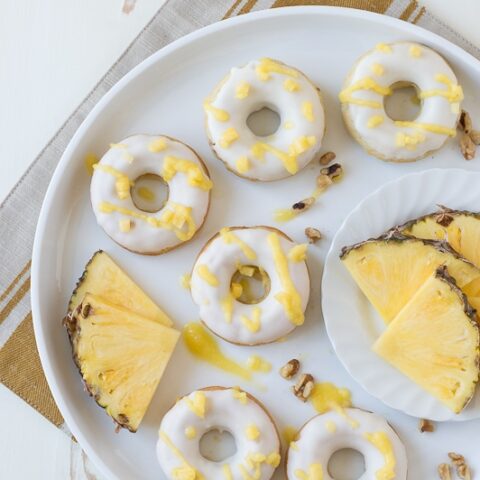 Pineapple Walnut Donuts
Ingredients
Donuts
1 cup flour
4 tbsp brown sugar
1 tsp baking powder
1/2 tsp salt
3 tbsp milk
1 egg
2 tbsp vegetable/canola oil
5 heaping tbsp chopped or crushed pineapple, it's okay it pineapple juice gets in too if using pineapple from a can
2 tbsp Diamond of California chopped walnuts
White Chocolate Glaze
2 squares of vanilla candiquik and 1/2 tbsp vegetable oil or 1/4 cup white chocolate chips and 3 tbsp heavy cream
Pineapple Drizzle
1/4 cup chopped or crushed pineapple, pureed in blender
Instructions
Donuts
Preheat the oven to 325 degrees F. Spray a donut pan with cooking spray, use a paper towel to lightly spread/remove excess spray.
In a large bowl combine the flour, brown sugar, baking powder and salt.
In another bowl combine the milk, egg, and oil until well blended. Stir the dry ingredients into the wet ingredients, mix just until combined.
Add in the pineapple and walnuts and gently fold to combine.
Transfer the batter to a large piping bag or use a ziploc bag with one corner cut off. Pipe the batter into the donut pan, filling each donut hole about 2/3 full. Alternatively, spoon the batter into the donut pan.
Bake the donuts for 10-14 minutes, or until a toothpick comes out clean. Remove from the oven and let the donuts sit in the pan for 10 minutes.
Remove the donuts from the donut pan and place them on a wire rack to cool.
White Chocolate Glaze
Melt either the vanilla candiquik and vegetable shortening or white chocolate chips and heavy cream in a small saucepan over low heat. Stir occasionally until the mixture is melted, about 8 minutes.
For dipping the donuts, it's easiest to transfer the glaze to a small shallow dish, but large enough to fit a donut in. While hanging onto the edges of the donut, dip each donut into the chocolate and pause for a few seconds while the donut is upside down to allow to excess to fall off. Place the donuts on a cooling rack.
Pineapple Drizzle
Put the chopped or crushed pineapple in a blender and puree until smooth. Transfer the puree to a squeeze bottle and top each donut with pineapple drizzle if desired.