Want our top 10 essential dessert recipes?
Get our favorite classic recipes in your inbox! It's 100% free, but we might make you hungry!
Mocha Buster Bars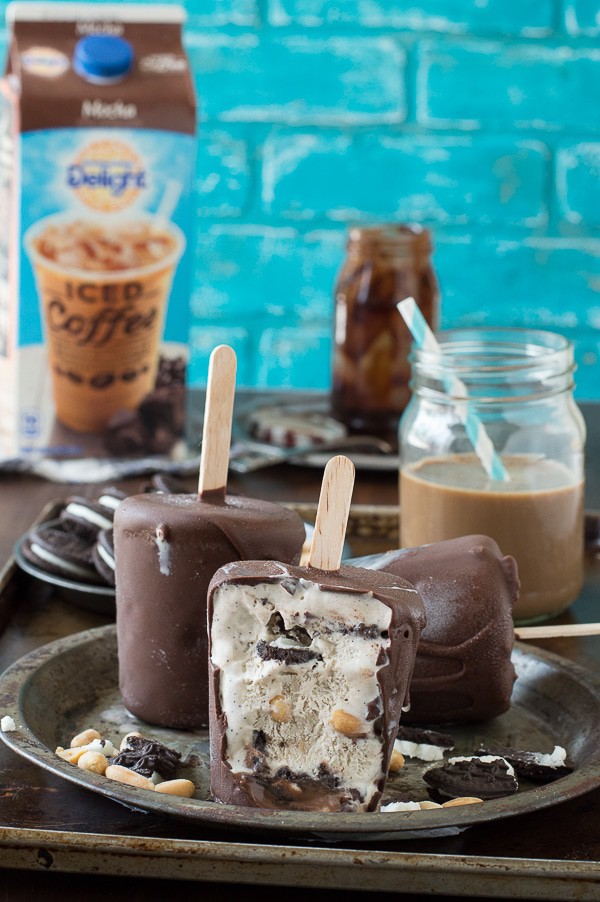 I'm crazy about coffee ice cream. Our favorite is called java chip but luckily it's hard to find at the grocery store. And yes, I mean luckily because otherwise I would buy it every week and probably try to hide it from Ryan behind the frozen peas in the freezer.
But it's kind of hard to keep the ice cream hidden when you walk into the living room with a huge bowl and sit next to the person you're hiding it from.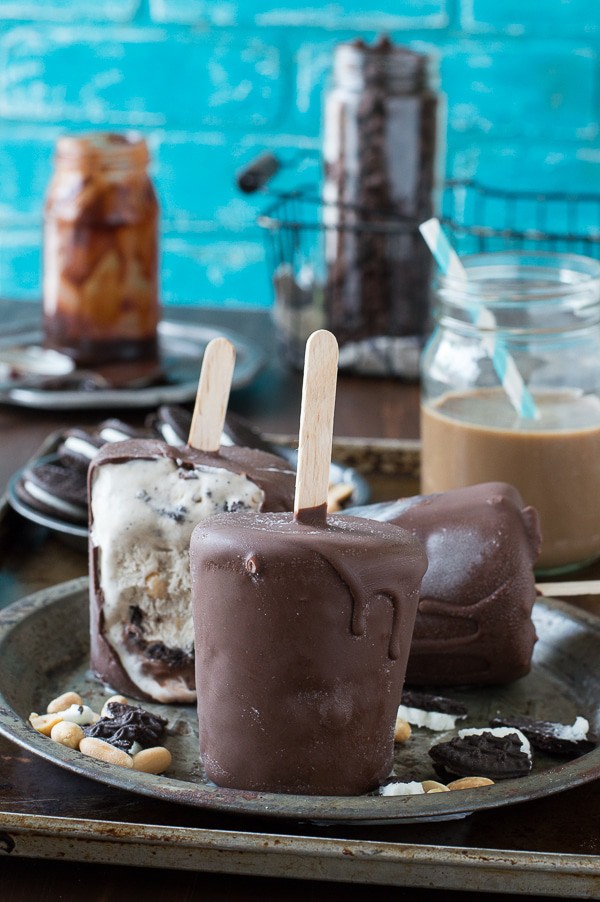 Naturally when you have a favorite ice cream, you probably have a favorite topping to go with that ice cream. And I sure do. Coffee ice cream pairs perfectly with oreos or brownies. Or oreos AND brownies. That could be one topping, especially if you mash them together.
This summer I started exploring no churn ice cream recipes because well.. I don't own an ice cream maker. So I suppose exploration started by default. But homemade ice cream is G-O-O-D!!
The possibilities are endless and the base recipe is easy – just heavy cream and sweetened condensed milk. And patience. That should definitely be included in the ingredients list, unless you have a liquid nitrogen tank and can freeze your ice cream in seconds. Good thing I'm married to a chemist. (disclosure: we do not own a liquid nitrogen tank) :)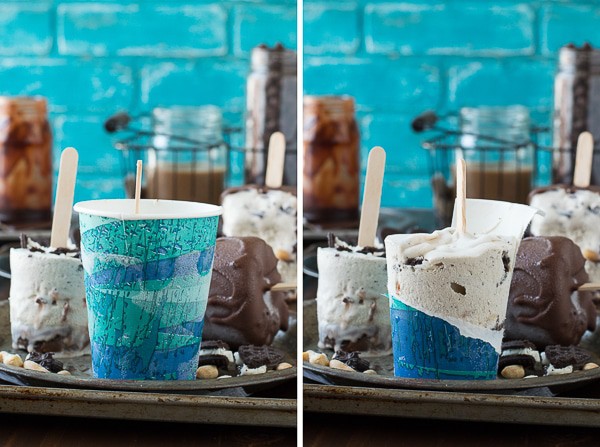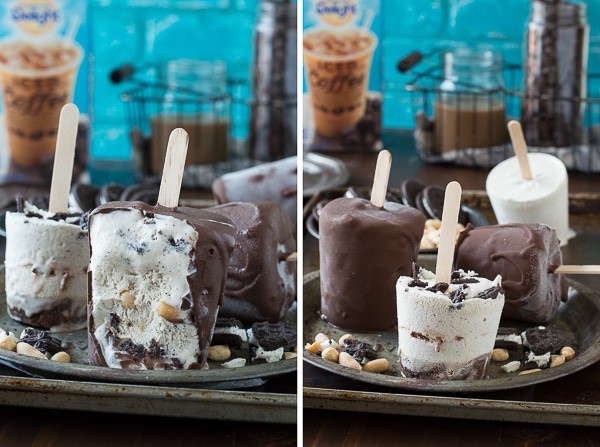 These mocha buster bars are simple to assemble. Load up the cups with goodness and once they are frozen, rip away the cup.
They are very adaptable so add in your favorite mix-ins and lets get the ice cream party started!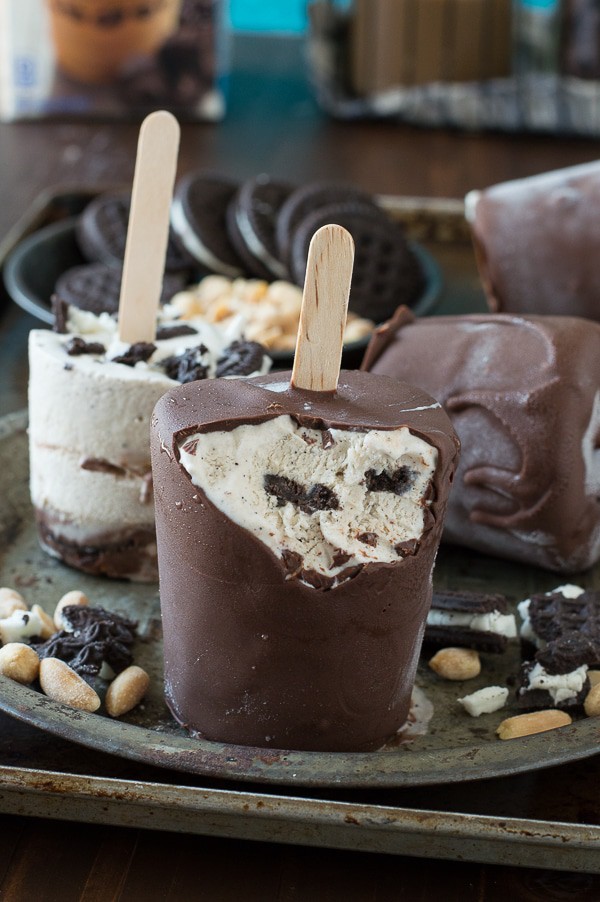 Mocha Buster Bars
Yield: about 8 buster bars
Total Time:freeze overnight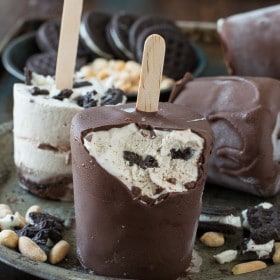 Ingredients:
Homemade ice cream
1 pint heavy cream
1 can sweetened condensed milk
4 tsp espresso grounds
6 tbsp International Delight Mocha Iced Coffee
Homemade Hot Fudge
3/4 cup sugar
1/2 cup cocoa powder, unsweetened
1/2 cup heavy cream
4 tbsp butter
1 tsp vanilla
1/8 tsp salt
Homemade Magic Shell
2 cups chocolate chips
2/3 cup coconut oil
Other
Peanuts
oreo cookies, chopped
Wax based cups
popsicle sticks
Directions:
Homemade Ice Cream
In a mixing bowl, beat the heavy cream into stiff peaks.
Stir in the sweetened condensed milk, espresso grounds and mocha iced coffee, making sure everything is incorporated.
Homemade Hot Fudge
In a saucepan over medium heat combine the sugar, cocoa, and heavy cream. Stir until the mixture is smooth.
Stirring occasionally, bring the mixture to a boil.
Add in the butter and allow the mixture to boil for 3-4 more minutes, stirring occasionally.
Remove the saucepan from the heat, stir in the vanilla and salt. Allow the mixture to cool to room temperature.
Homemade Magic Shell
In a saucepan over low heat combine the chocolate chips and coconut oil. Heat and stir until the mixture is melted and smooth. Allow the magic shell to cool to room temperature.
How to assemble
Place 8 cups on a small baking sheet lined with wax paper.
Add 1/4 cup of the homemade ice cream mixture to the bottom of each cup. Freeze 20-30 minutes.
After the ice cream has set add a popsicle stick to each cup. Then add a layer of hot fudge, chopped oreos, and peanuts. Freeze for 20 minutes.
Add 1/4 to 1/3 cup homemade ice cream on top of the previous layer. Freeze for 20-30 minutes.
Add a final layer of chopped oreos and hot fudge. Freeze the popsicles for 6 hours or overnight.
To remove the cups, use a scissors to cut a small silt at the top of the cups. Begin to peel the cup away.
Prepare to dip one popsicle in the magic shell at a time. Place the others in the freeze while dipping so they can stay cold.
Transfer the magic shell into a cup or container that is large enough to fit the popsicle in. Dip the popsicle into the magic shell, allowing the excess chocolate to fall back into the container. Scrape excess chocolate off the bottom of the popsicle. Return the popsicle to the baking sheet lined with wax paper in the freeze and repeat the dipping process with the remaining popsicles.
Keep them frozen until your ready to enjoy.
Sign up for the
International Delight newsletter
to receive coupons and enter giveaways, and connect with them on their
website
,
Facebook
,
Twitter
,
Pinterest
, and
Instagram
.
This conversation is sponsored by International Delight. The opinions and text are all mine.