Mocha Almond Fudge Ice Cream
No churn mocha almond fudge ice cream! Incredibly easy coffee ice cream recipe loaded with almonds and hot fudge swirls!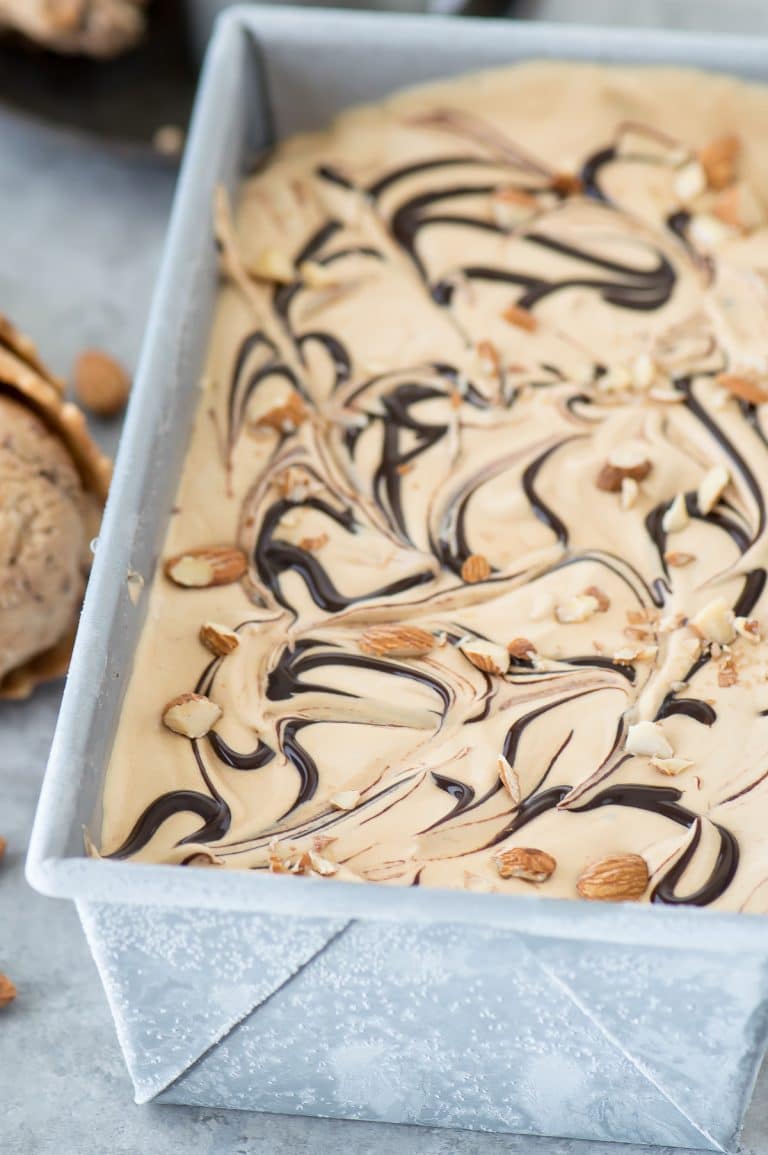 When summer rolls around and you find that you're consuming a lot of popsicles and ice cream, you might get the urge to buy an ice cream maker.
You figure instead of giving all of your money to DQ (guilty!) you should invest in something that allows you to make ice cream at home for a fraction of the cost.
But this next thing I am going to tell you is the best kitchen trick I've ever learned – followed by always keeping bananas in the freezer – ready?……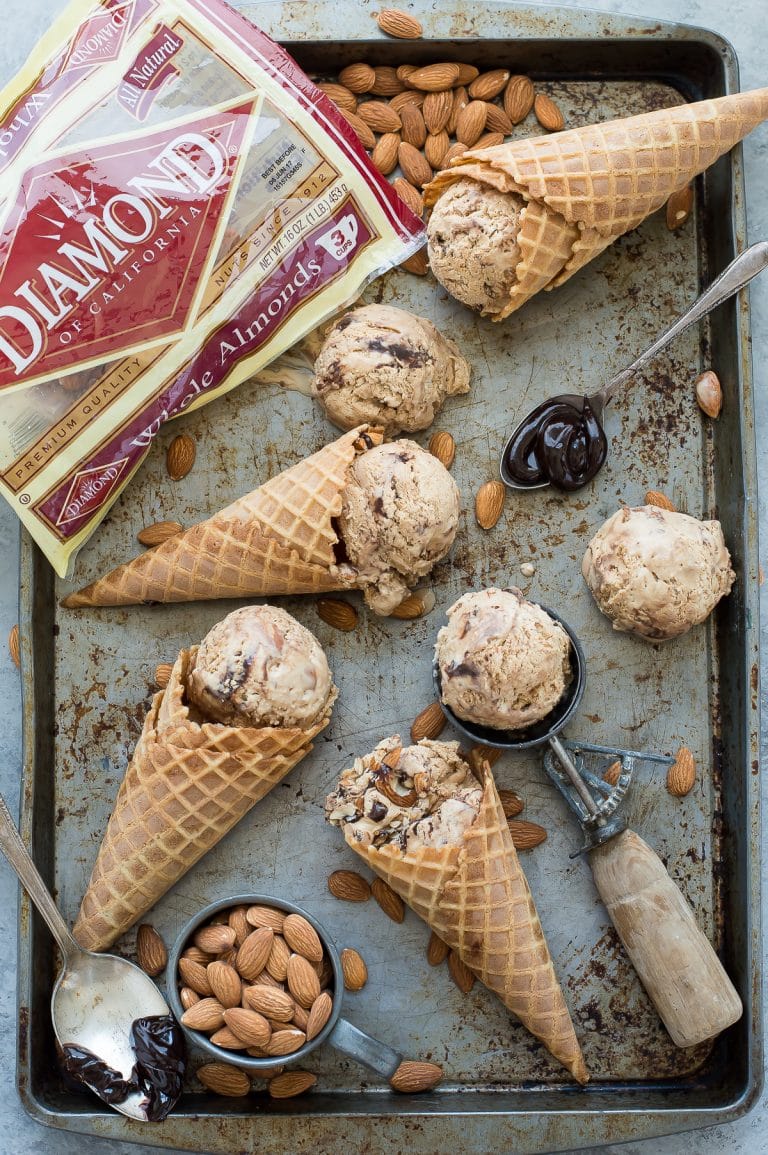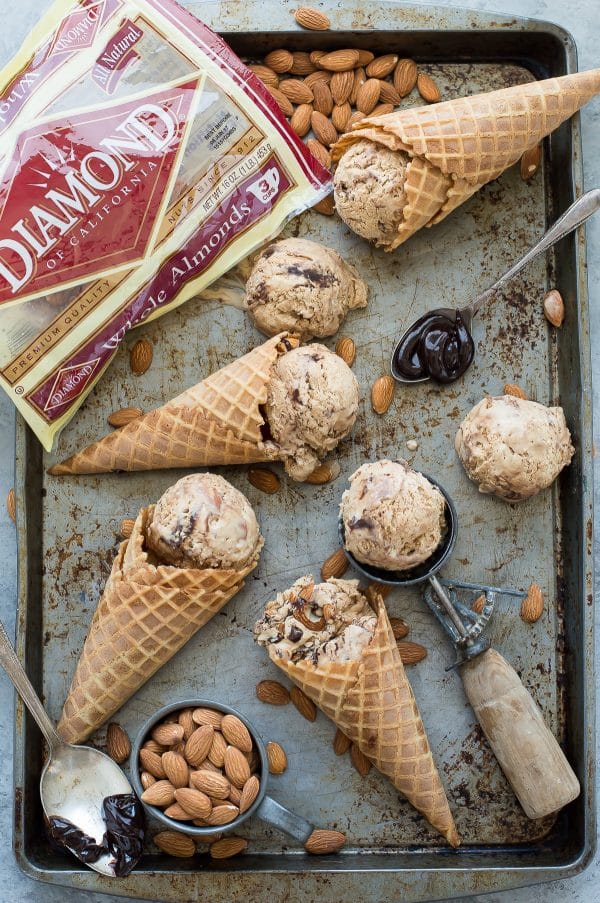 You don't need an ice cream maker to make ice cream at home!!
Assuming you already have a metal mixing bowl, a can opener, a freezer, a loaf pan and an electric mixer you won't need to buy anything fancy or special to make ice cream.
And don't worry if you only have a hand mixer (that's me! mixing by hand all day everyday!) – your hand mixer will be perfect! Plus I have this whole whipping heavy cream into stiff peaks down to a science.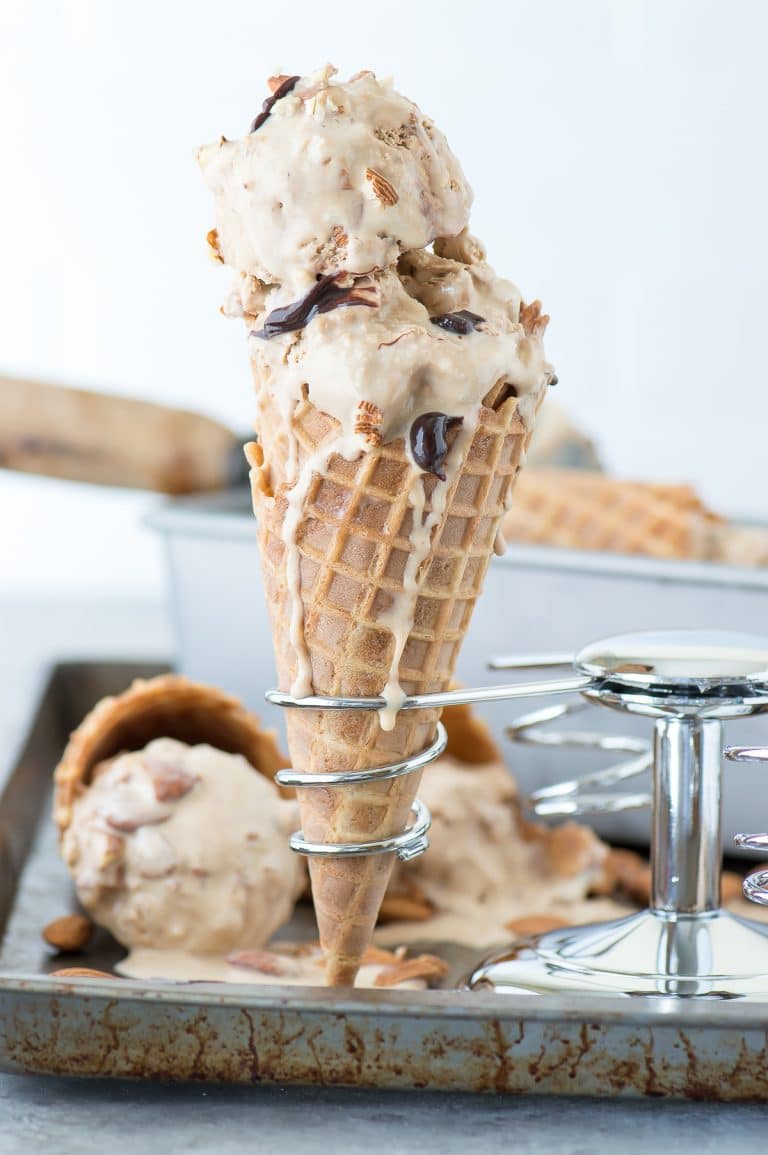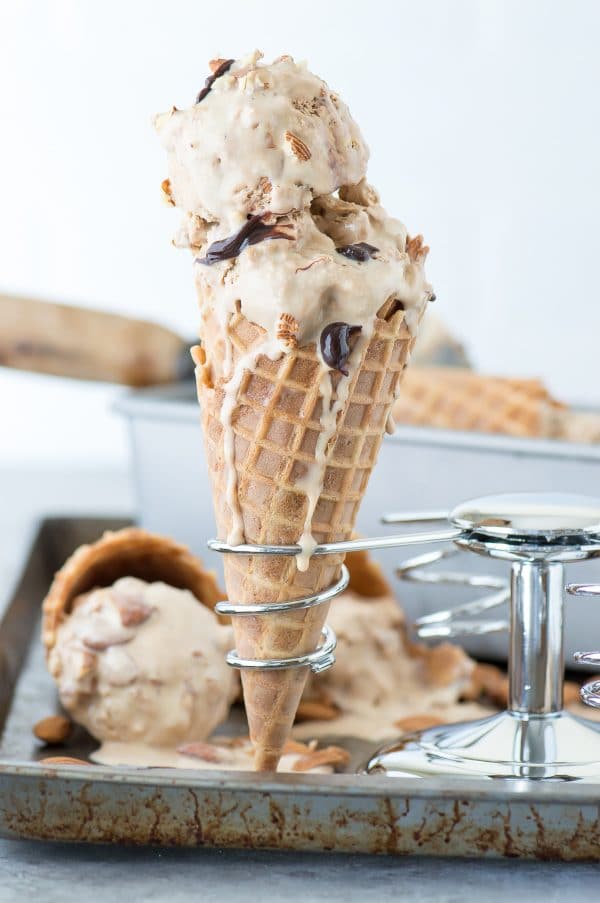 Here's my method..
I pour the heavy cream into the chilled metal bowl. Before I turn my hand mixer on I grab my phone and open instagram. Then I turn the hand mixer on and now I'm multitasking! Whipping and answering comments on social media.
This one woman show is hard work :)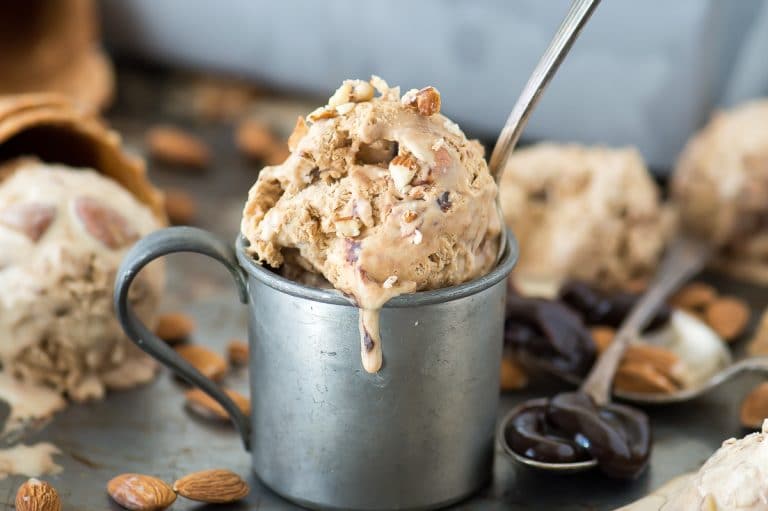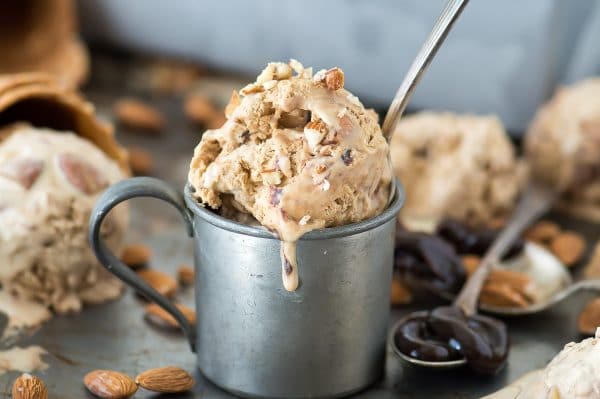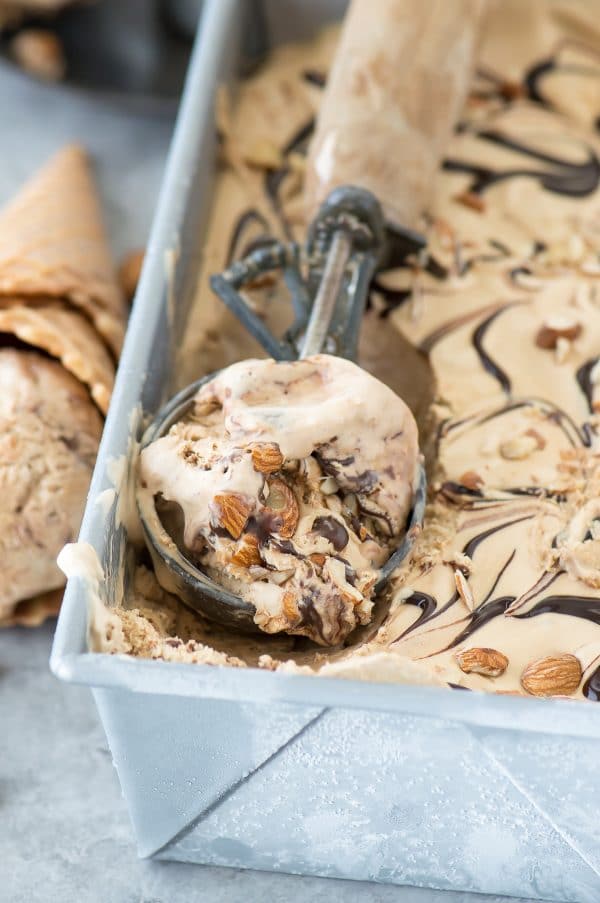 Beth's tips for making no churn mocha almond fudge ice cream
-you'll need to freeze this ice cream overnight
-we LOVED how coffee-y this ice cream was, definitely stronger than store bought coffee ice cream so adjust the amount of instant coffee accordingly
-to get almonds and fudge throughout the ice cream, I assembled in layers. Add ice cream to the pan loaf then almonds and hot fudge swirls, add more ice cream then almonds and hot fudge, etc.
I created this recipe in partnership with Diamond of California.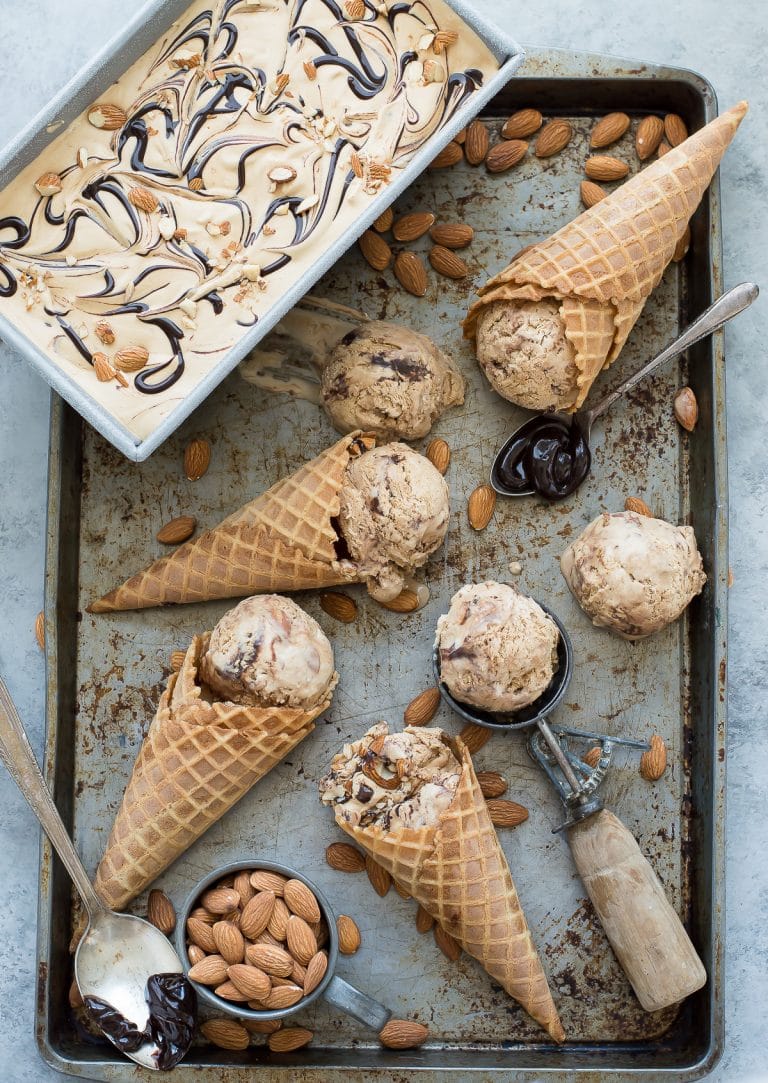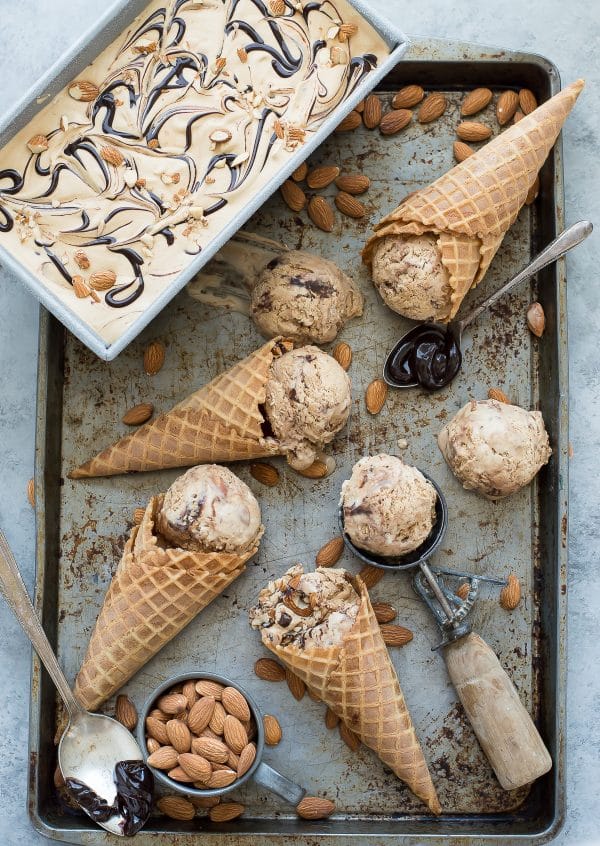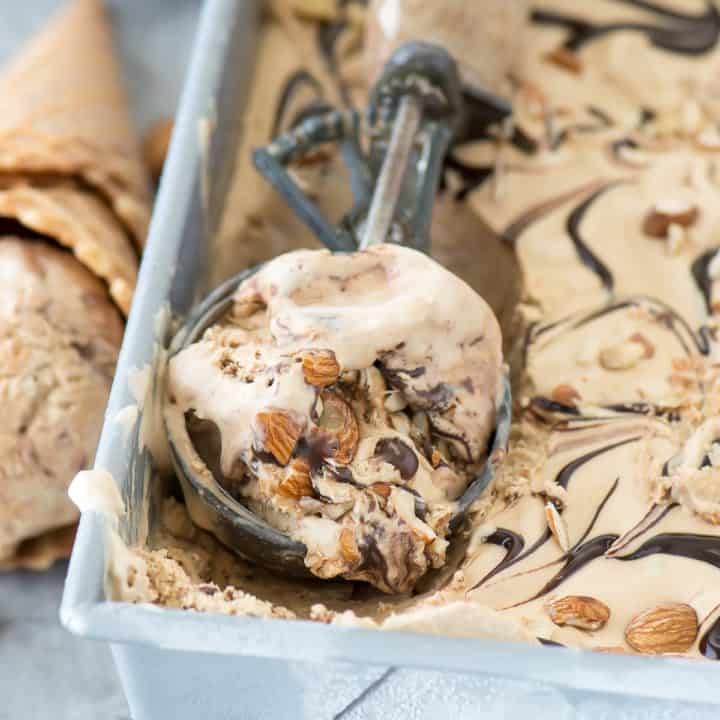 Mocha Almond Fudge Ice Cream
Yield: one 9x5 loaf pan of ice cream
Additional Time: 12 hours
Total Time: 12 hours
Ingredients
2 cups heavy whipping cream
2 tbsp instant coffee granules
14 oz can sweetened condensed milk
1/2 cup Diamond of California almonds, chopped
hot fudge
Instructions
20-30 minutes before beginning, place a metal mixing bowl and the beaters from the mixer in the freezer to chill.
Remove the bowl from the freezer.
Add the heavy cream and instant coffee, using an electric mixer beat the heavy cream into stiff peaks, about 3 minutes.
Stir in the sweetened condensed milk and mix with a spatula.
In a loaf pan (or similar pan that can be frozen) add a layer of ice cream then top with chopped almonds and swirls of hot fudge. Repeat the layering 3 times. Use a spoon or small squeeze bottle filled with hot fudge to easily add swirls.
Top the ice cream with almonds and hot fudge swirls.
Freezer overnight.
Once frozen, scoop and serve!